We use affiliate links. If you buy something through the links on this page, we may earn a commission at no cost to you. Learn more.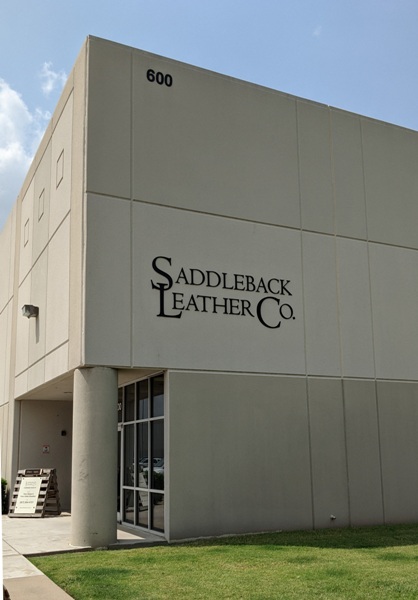 ARTICLE – I've discovered a real fondness for leather products, but it is so very difficult to find high-quality well-made leather goods. That's where companies like Saddleback Leather (Dave Munson and his wife, Suzette's company) and Love41 (which features Suzette's designs for women) come into the picture. They make some of the best-made leather goods out there. (And just an FYI, I don't work for Saddleback, in case you're curious – I'm writing this article just 'cause I wanted to).
While you can always purchase their products online at saddlebackleather.com to carry your gadgets and EDC items, if you happen to be visiting Fort Worth, Texas (or have a long layover here), you can visit Saddleback's showroom and see all the leathery goodness that they create. I stopped by the showroom to buy a couple of items recently (I happen to live in Fort Worth and Saddleback Leather is practically in my backyard).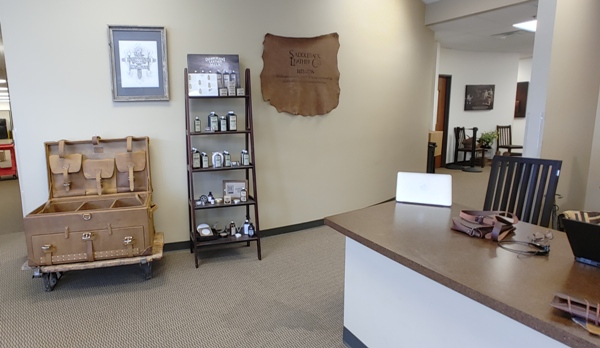 As I and my husband walked through the double glass doors, we were immediately greeted with that sweet aroma of leather and a smiling and super-helpful Saddleback employee named Grace. She showed us the showroom and answered all our questions.
There is a front desk there at the entry of the showroom. On the desk, you can see the Love41 Crossbody Koroha bag and the Saddleback Leather Cash & Receipt bag that I bought – Susan, another super friendly employee, helped us with our purchase and took excellent care of us.
Against the wall (in the photo above), you can see Saddleback's Leather Trunk and Chamberlain's Leather Milk leather care products (Dave's sister's products).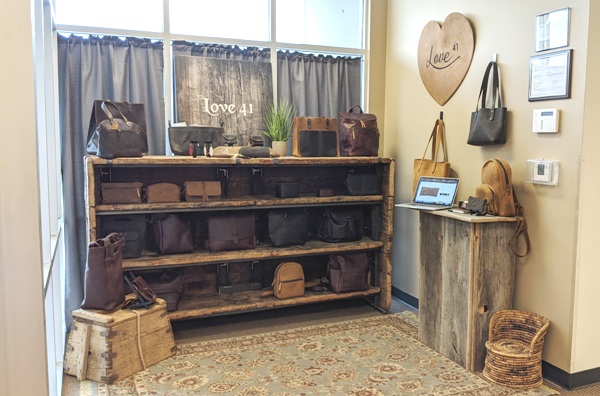 Just inside the glass doors to the left is a display of the Love41 products. The display includes purses, totes, backpacks, etc.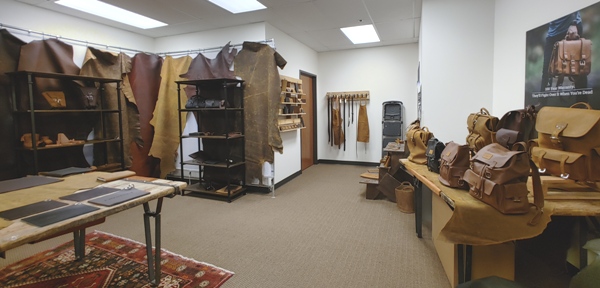 And in another room are Saddleback Leather products. They have bags, wallets, belts, etc. on display. Look at the full sheets of full-grain leather hanging on the walls – they're bigger than me (but I'm just shy of five feet tall, so is that really saying anything?)!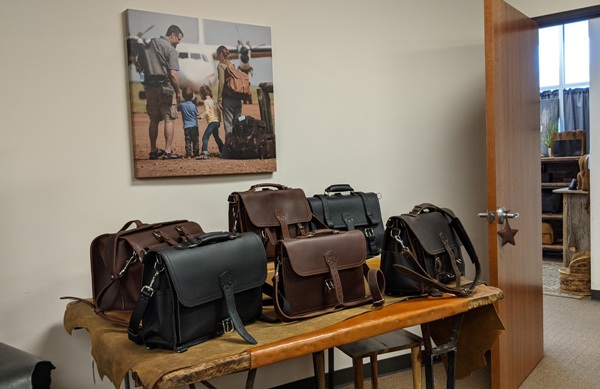 There's something about coming in and being able to see the leather products in person. You can see their relative sizes, color, weight, and how well-made all of the items are. Then, if you decide you want to purchase something, a Saddleback employee will run and get it for you from the warehouse right there in the building.
As a Gadgeteer, I've had the opportunity to review a few Saddleback products like the Saddleback Leather Drawstring Leather Backpack, Saddleback Leather Slim Laptop Briefcase, and the Saddleback Leather Thin Front Pocket Backpack. Dave is always refining, updating, and creating new products so you may not see those exact items available online. But what you can glean from our Saddleback reviews is just how well-made their leather goods are.
So, come on down to Fort Worth, Texas, y'all, and visit the Saddleback Leather Showroom! It's open Monday-Friday from 10:00 am-4:00 pm CST and is located at 600 Railhead Road, Suite 200, Fort Worth, TX 76106.
If you decide to purchase one of their products, you'll be going home with some of the best-made leather goods that money can buy. And guess what? If you buy a Love41 product, you'll be supporting Africa New Life Ministries (ANLM) and other organizations in Mexico and the US.
And to top it all off, we Texans will give you a warm Texas welcome and feed you some great BBQ! So, what are you waitin' for?!