We use affiliate links. If you buy something through the links on this page, we may earn a commission at no cost to you. Learn more.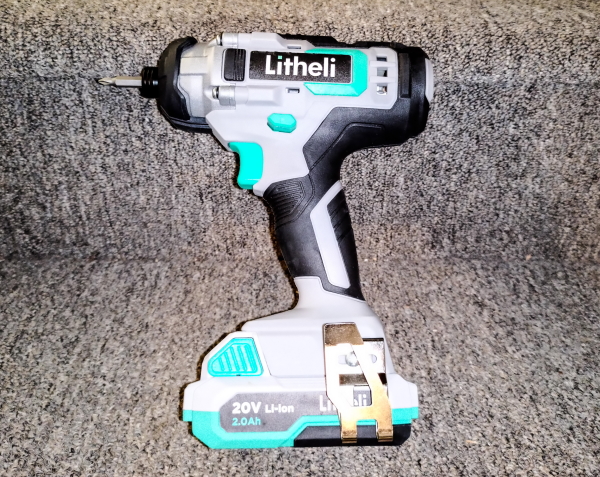 REVIEW – As I continue to work on my home and as I continue to seize every opportunity to test and review the great tools from the company Litheli, I now get to put the Litheli Impact Driver through the paces to see how it stands up.
What is it?
The Litheli Impact Driver features 1150 In-Lbs Torque and a 1/4″ Quick-Release Hex Chuck.
What's in the box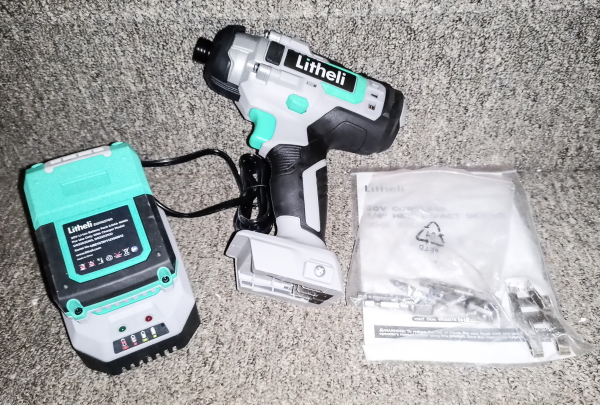 1 × 1/4″ Litheli Cordless impact driver
1 × Belt Clip
3 × 1/4″ Hex Socket Adapters
2 × Driver Bits
1 × 2.0 Ah Battery Pack
1 × 2.4 A Fast Charger
1 × Operator's Manual.
Design and features
Features
1150 In-Lbs for Efficiently Driving Screws/Bolts – 1/4″ Quick-Release Hex Chuck: Powerful motor delivers strong torque up to 1150 in-lbs (130 Nm / 96 ft-lbs). Stop wrestling with your rusty hand tools. Simply hold our auto-rotating power impact driver for efficiently fastening screws in the home & DIY projects of furniture, wall, electrical appliance, toy model, and digital products.
Cordless Power Tool – 20V Battery Platform + 1 Hour Fast Charger: 2000 mAh SMART-BRAINED Li-ion battery offers reliable power to ALL Litheli 20V power tools. It weighs 0.9 lbs and has all industry-leading protections to ensure user safety.
0-2900 RPM Variable Rotating Speed & 0-3000 IPM Impact Rate: Reach ANY speed from 0 to 2900 revolutions/min to suit different screws/bolts/nuts. Adjust the forward/reverse switch to change the rotation direction, and lock the tool by sliding the switch into the central position.
Newest Ergonomic Design: Rubberized handle ensures soft and effortless grip. 3 LED lights offer widened visibility in a dark working site. The compact size of 8.3″×7.0″×3.6″ enables use in tight places.
Specifications:
Continuous torque: 130Nm
Direction switch: Reverse, lock
Rotation speed: 0-2900 RPM
Impact rate: 0-3000 IPM
Speed control: Trigger
Speed mode: Variable
Battery: Lithium-ion
Rechargeable: Yes
Voltage: 20V
Capacity: 2.0Ah
Weight: 0.9Lbs
LED indicators: 4
Overcharge: Prevented
Overheat: Prevented
Short circuit: Prevented
Charger: Single port
Charging time: 1 hour
Bare tool weight: 2.77Lbs
LED light: 3 units
Chuck sides: Hex
Chuck size: 1/4″
Dimensions: 8.3″×7.0″×3.6″
The outer shell of this Impact Driver is likely plastic/ABS and the rest of the tool is made from rubber and metal. The following are photos of the tool from all sides.: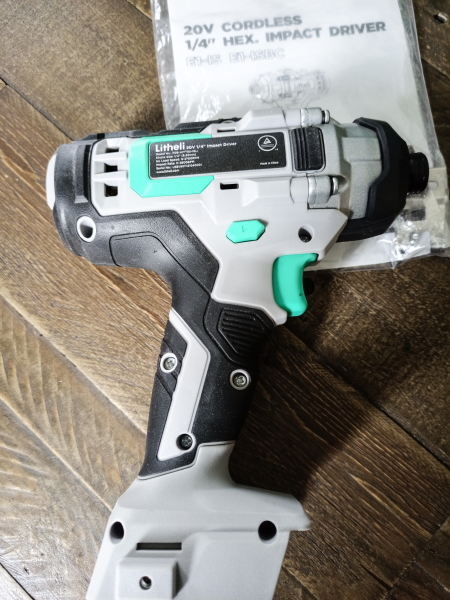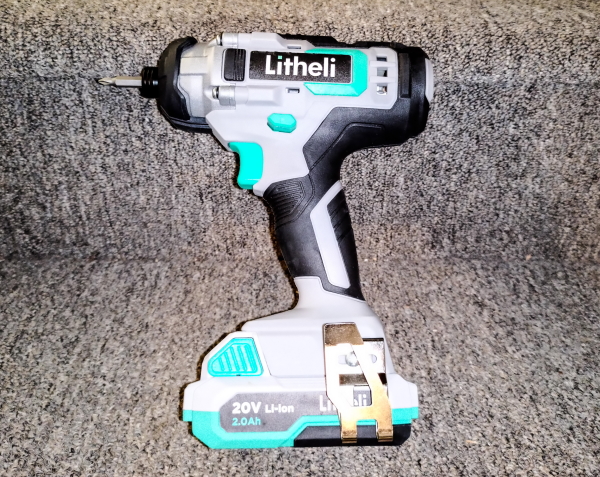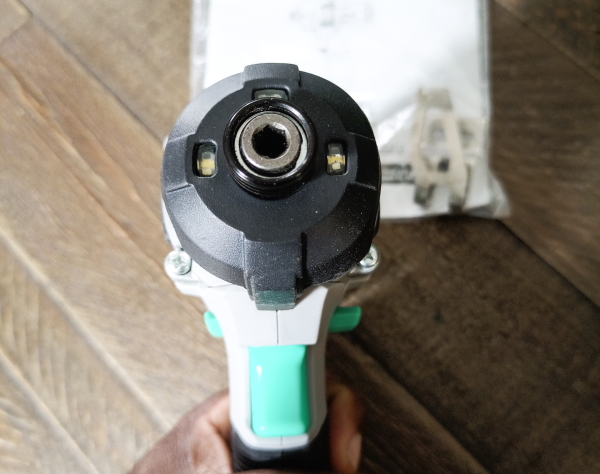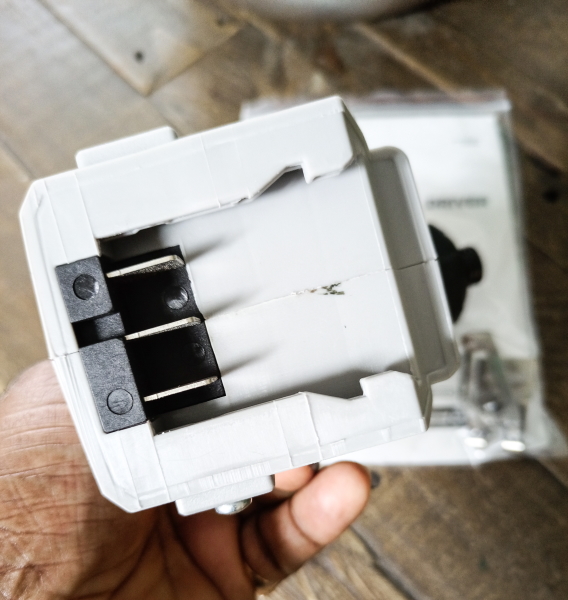 Performance
Once the battery is fully charged, this Impact Driver is ready to go. I have been remodeling parts of my basement, and I decided to test this tool to drive the stubby screws into the metal studs that I am using. Previously, I was using a standard drill, and while successful, it was tedious because with metal studs there is some flexing as you attempt to screw one stud into the other. The torque of the impact driver makes it a much better tool for this. Actually, when it was time to add Sheetrock, I had a contractor take care of that and he put aside his Dewalt tool for the Litheli tool. He actually told me that he will be purchasing the Litheli to use on his jobs from now on. He likes the solid feel and weight of the Litheli as well as the performance.
The following is some video of my Sheetrock guy using the Litheli Impact driver:
Overall, this Impact Driver performs flawlessly and is solid and reliable. I would not hesitate to use it to handle any of my jobs. Since I do have the Litheli ecosystem, I was able to use a battery with more capacity and it has been going strong on that same battery for almost 2 weeks.
What I like
The build quality
The performance
The sleek design
What I'd change
I am not a big fan of the way the belt clip attaches and the way I have to reach through the clip to screw it in. I feel like it can loosen from vibration. This is just my personal preference and not any type of defect.
Final thoughts
For the past few months, I have been looking around for an impact driver to meet my needs when a standard drill would struggle. Just as I was narrowing down my choices, I got the opportunity to test and review this one from Litheli. As a big fan of Litheli tools, I was excited and I have to say that once again I have not been disappointed. This Impact Diver performs flawlessly and seems to last forever especially if I use one of my Litheli 4.0 ah batteries. I give Litheli a well done and two thumbs up!!
Price: $67.99 (@Litheli with $12 off), $66.99 (@ Amazon with $10 coupon)
Where to buy: Litheli, Amazon
Source: The sample for this review was provided by Litheli