We use affiliate links. If you buy something through the links on this page, we may earn a commission at no cost to you. Learn more.

NEWS – Amazon's Dash Smart Shelf is a flat device that you use to sit a particular item on. The shelf tracks the weight of that item (household/office/pet supplies) and can automatically reorder it or notify you when it gets low.
When you have several people in your household or office using up certain items, you don't always know when you might need more of that item. That's when I think the Dash Smart Shelf would come in handy.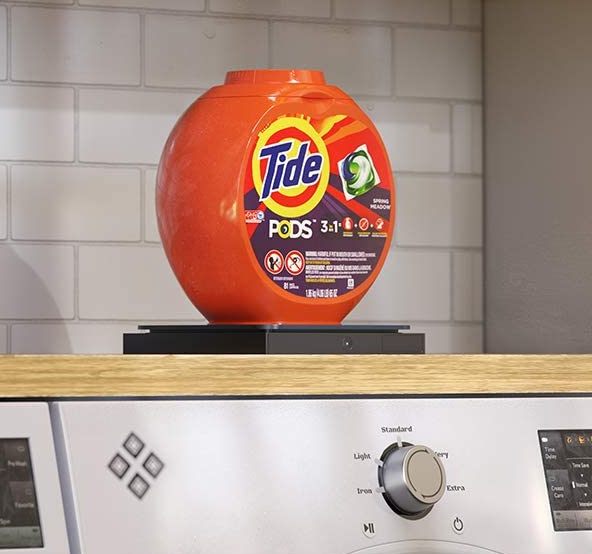 Since I don't have this device, I'm not exactly sure how it works, but the setup instructions state that you will need to connect it to your home WiFi. In the Amazon Shopping app, you will then need to select a product for it to keep track of from a list of supplies that work with the shelf. The app also allows you to set up whether it should automatically reorder your supplies or send you a notification (by default it is set to reorder the item). You can also change the product you want to track from the app.
The shelf does not show the weight of the item you place on it. If you are using batteries, the device will check the weight once per day to conserve power (four AAA batteries come with it and will work for about two years). However, if you are using an AC adapter (sold separately), it will check the weight once per hour. When it reaches a threshold (a certain percent), it will either reorder the item for you or notify you that it is running low.
Looking at some of Amazon's reviews, some people have had success with it while others have not. Of those who have had trouble with it, some users had issues setting it up while others said that it did not reorder their item or notify them when supplies were low.
The Dash Smart Shelf is available on Amazon and sells for $19.99 for the small (7″ x 7″), medium (12″ x 10″), or large (18″ x 13″) shelves (it is the same price for each shelf).
If you have the Dash Smart Shelf, leave a comment and let me know what you think about it!