We use affiliate links. If you buy something through the links on this page, we may earn a commission at no cost to you. Learn more.

ARTICLE – I recently asked everyone on the Gadgeteer team to send me a list of their favorite products for 2021. I told them that the products that they picked didn't need to be restricted to only the items that they had reviewed on the Gadgeteer this year, but that they could include any products that they have enjoyed using the most during 2021. Was there one type of gadget that was the most popular with the entire team or was it a mixture? Let's find out. Here we go with part one of the Gadgeteer's favorite gadgets of 2021. Also, please be sure to take a look at part two and part three in this series!
Julie Strietelmeier
I was really hoping that this year that there would be some amazing new tech that would blow my mind but unfortunately,  that didn't happen. Instead, my favorite products of 2021 aren't exactly exciting products, they are products that make my daily life easier and healthier.
Roborock S7 robot vacuum review – Uses sonic vibration to mop up gunk
You're probably thinking "Julie, a robot vac is one of your favorite products of 2021? Really?!" And to that, I will say yes, really. My home has 3 floors if you count the bonus room up upstairs (that's what we call it) and on each floor, I have a robot vacuum. Right now 2 of those floors have Roborock vacs that I've reviewed and the up upstairs has an old Neato vac which I hope to replace with a Roborock sometime in 2022. My favorite robot vac so far is the Roborock S7 because I have the auto empty dock. I have this one set up on my main floor which is all LVP (luxury vinyl plank) and it mops and vacuums 3 times a week so I don't have to and I don't have to manually open the dirt bin and dump it in the trash because it does that too. I can't recommend Roborock enough, their vacs just work and work well.
ChefWave Milkmade non-dairy milk maker review – My new favorite kitchen gadget!
The ChefWave Milkmade allows me to make fresh soy and almond milk within minutes. I love that I know EXACTLY what is going into the "milk" that I make. The Milkmade is one of those great appliances that is simple to use and requires 30 seconds of clean-up after it's done making milk and there's no leftover garage to deal with. I make almond or soy milk very frequently for chia pudding, which is my no sugar keto friendly dessert at least once a week. Being pre-diabetic, this device really helps me stay healthy.
I know that I reviewed the Logitech M720 Triathlon multi-device wireless mouse back in 2017, but I actually forgot that I had one and accidentally repurchased it just a few weeks ago even though I have been using the awesome Logitech MX Master 3 mouse for a couple of years. So why did I switch over to the slightly less awesome M720 mouse? Only one reason – the multi-device switch is on the TOP of the M720 mouse instead of the BOTTOM of the MX Master 3 mouse. I am still doing the WFH gig for my day job (at least for another month and then it's retirement for me!) and I am sharing the Logitech MX Keys keyboard between my MacBook and my Cummins day job Dell laptop. For the keyboard, it's just a matter of pressing one button to switch between computers, but I had been using two mice because the button to switch devices for the mouse was on the bottom of the MX Master 3 mouse and I didn't like lifting the mouse, turning it over, and pressing the button each time I needed to make a computer swap. Yes, I know… first-world problems. But I'm all about making my life easier and with less friction, so this mouse does that for me. 🙂
Guanshan Fix
Embr Labs Wave 2 review – a wearable heater or cooling device on your wrist
The Embr Labs Wave 2 is my absolute favorite gadget of the year. It has changed the way I sleep at night by keeping me cool. The Wave 2 is worn on the inside of your wrist and uses thermoelectricity to create a warming or cooling sensation throughout your body. While I utilize it to stay cool at night, many women find it useful for hot flashes or to stay warm at the office. It is definitely a gadget to look into if you find that you struggle to regulate your body temperature on a daily basis.
A gadget that I use weekly is my 360 Robot Vacuum Cleaner S10. This guy helps me keep my house clean without having to lift a finger. The app allows you to create a schedule to automatically run so when you come home from work, the house is nice and clean! The mopping feature prevents the dog drool from building up on the hard floors as well. But my absolute favorite feature is the removable brush. It makes removing hair or cat toys it has accidentally sucked up a breeze. Anyone who ever has struggled cleaning gunk off a vacuum brush will fall in love with this robot vacuum cleaner.
FURminator Undercoat Deshedding Tool

I have a Saint Dane, a Great Dane, and Saint Bernard mix. While she is the sweetest thing in the world, she sheds like a monster! Having tried tons of cheap brushes and combs and spending way more money than if I had just got the FURminator in the beginning, I broke down and bought the "expensive" brush. It was absolutely worth it! It is amazing at getting down deep underneath her top coat and really strip out the light fluffy undercoat. Using short, quick, light strokes worked best for my pup but for my parent's dog, slow longer strokes worked best. Both pups enjoyed being brushed by it. It didn't pull their fur and since only light pressure is needed they didn't feel like I was attacking them with the brush either. If you have a dog that sheds, the FURminator will be your saving grace come spring!
Garry Kolb
Atumtek 51″ selfie-stick tripod review – A selfie-stick for giants
I have never been a fan of selfie sticks.  That all changed when I reviewed the Atumtek selfie stick tripod.  It's a selfie stick.  It's a cell phone tripod.  It can help stabilize your cell videos by providing a more solid grip (there is no stabilization tech built-in). It has a remote shutter release button. It has tremendous reach. It collapses small enough to fit in my backpack or my wife's purse.
The bottom line is that this has become an essential part of my travel kit and gets used way more than I expected.
One of my favorite things is a toilet brush?  What????  Well, when you take an otherwise unpleasant task and make it much easier, then you become a favorite, and that's what this brush did.
The Goodpapa electric spinning toilet brush does an incredible job of getting all the nooks and crannies in our toilets clean.  After that, its built-in UV-C light sanitizes the brush.  Its battery life is terrific.  I have yet to charge it and we've been cleaning our toilets weekly (give or take) since May!  A friend wanted to see it.  After showing her, she thought this was such a winner, that she just bought five to give to relatives as Christmas gifts.
ORORO Men's Fleece Heated Vest with Battery Pack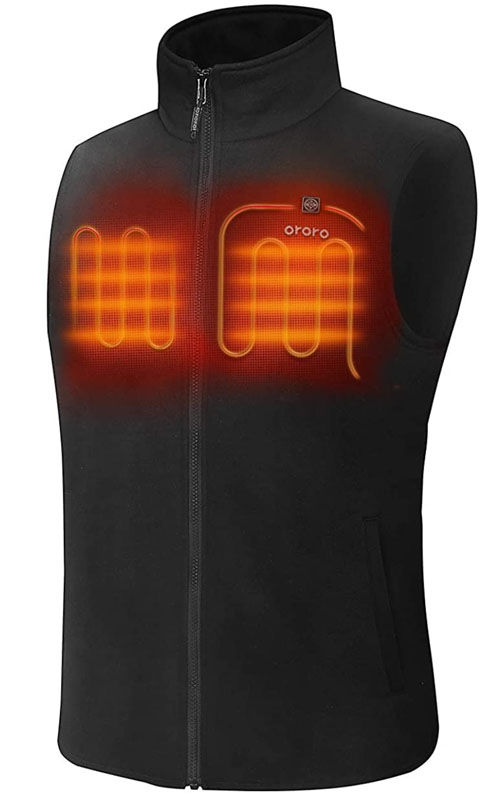 OK, I'll admit it, since moving to Florida, we've become weather wimps.  Having to golf on chilly 40-degree mornings just isn't fun.  My wife's old heated vest died so she bought a new one.  It worked so well, I ordered the ORORO Men's Fleece Heated Vest with Battery Pack for myself.  I love it.  It provides just enough heat to cut that chill.  It can toast you up or just provide chill-beating light warmth.  The vest itself is soft and comfortable.
If I lived in a cooler climate, I'd be looking at their other heated items like jackets.  I think this product that much.
Andy Chen
I didn't think I'd like such a mundane, thermal printer so much, but I do. Every time I have to print a shipping label, the iDPRT SP410 thermal printer never fails to spit out a quick, peel-off label out of its bread loaf-shaped self. I've been using it all year and I still haven't gone through my box of labels that feed this little beast.
Satechi Apple Mac Mini Type-C Stand & Hub with SSD Enclosure review
The 2020 Mac Mini M1 is notorious for its lack of USB ports, but the Satechi Mac Mini Type-C stand with hub has solved most of those gripes! The SSD in the base still serves as my silent Time Machine backup, and the front ports are always handy. I now have a wireless USB headset received plugged in the front. It has an LED that lights up when muted, which is VERY handy to see. It would be impossible to see if I plugged the receiver in the back.
Valentine One Gen 2 Radar Detector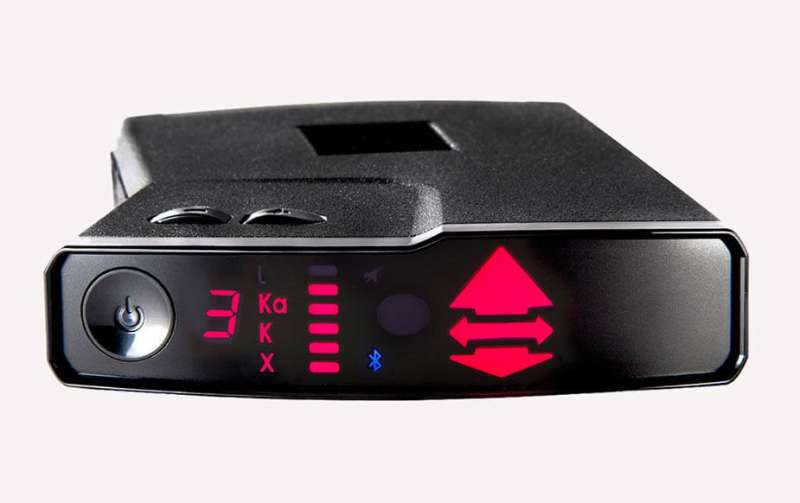 I've owned radar detectors for as long as I've been able to drive, and yes… I've owned most of the major brands over the decades. I always come back to the Valentine 1 radar detector. Recently, the Gen 2 was released (the first major version came out in the 1990s!) with a huge leap in range, and is up with there as my favorite purchase of 2021. The original Valentine 1 was the first to make good use of directional arrows with front and rear antennas. Other detectors now feature arrows, but the V1G2 (as it's known to us radar nerds) can integrate very nicely with third party smartphone apps, such as JBV1, Highway Radar and V1Driver for unbeatable situational awareness. The competition is also quite good (Uniden R7, Escort Redline 360c) each with its own strengths, so you've got choices!
Matt Gregersen
ANYCUBIC Vyper Auto-Leveling 3D Printer review – beginner friendly but not basic
This printer has been happily spewing out plastic since I reviewed it. I've printed and painted models for nieces and nephews, designed and printed all sorts of small household things like hangars and brackets, and even dabbled with 3D scanning and replicating keepsakes. I recently replaced many of the internal pieces (extruder and nozzle, fans, and pressure sensor) due to some damage from a failed print and Anycubic support went above and beyond in getting me exactly what I needed and providing handy guides on installation.
The Anycubic Vyper Auto-Leveling 3D Printer has led me into a rabbit hole of 3D-printing forums and video channels, and it seems like I've encountered far fewer than the usual headaches and problems that fill said forums. Not every print is a success, but this seems like a great starter printer that has room to grow into intermediate settings and models.
For quick trips a mile or so from my house, the Segway Ninebot S MAX continues to be an excellent form of transportation. I love that it had an easy learning curve, and how well it handles uneven road surfaces and debris in the road. I've gone over tree branches in the dark that seem like they should have sent me cartwheeling across the pavement, but instead, I just had a big bump and the scooter recovered itself. I find myself grinning all the time while riding it, and I think that's the best sign of a good product.
The battery seems to be holding up great, even after long rides I often have 80%+ battery left. Wear on the tires after many miles is minimal, and I've added the additional Go Kart body accessory to my cart several times but haven't quite pulled the trigger yet.
Samsung Galaxy Fold 3 smartphone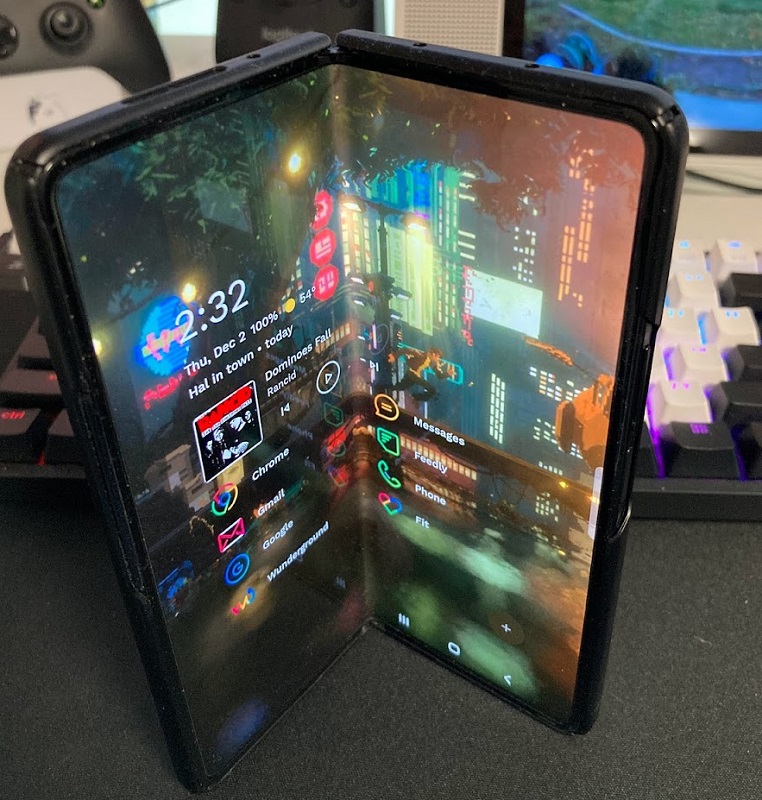 I haven't had a phone that really changed my day-to-day use of a mobile device since I bought the original Android phone (Tmobile G1) in 2008. I added one of the early tablets not long after as an occasional device for gaming and media consumption, and that basic combo of phone+tablet has carried me until now. I've upgraded many times over the years, and while newer phones felt faster and nicer year over year, the general formula remains pretty consistent. The Samsung Galaxy Z Fold 3 has genuinely been a game-changer for me this year. It's not for everyone as it's thicker and heavier than your average phone, but to be able to easily carry a 7″ tablet in my pocket and use the exterior screen for quick phone/camera functions is very handy. It doesn't hurt that it still feels like magic months later each time I open the big beautiful screen to play a game, watch a video, or read something. A few tech review sites knocked the cameras for not having the same specs as the Galaxy S flagship line, but they've been noticeably better for me than the previous Galaxy Note 20 Ultra that I had been using (in fact, many of the photos I've taken the last few months have been on the Galaxy Fold 3 cameras).
Brooke and Mason Hall
Canon Ivy Cliq+ 2 review – A camera and a photo printer in one device
My favorite product this year is the Canon Ivy Cliq+2, which is a camera and photo printer in one. My teenager and his friends love the novelty of taking 2×3 inch sticky-back photos. Many of them have added this gadget to their own personal wishlists. What it lacks in photo quality (314 x 600 dpi print resolution), it makes up for in instant gratification. If you prefer to preview your photos, you can make edits and select pictures from your phone to print with the Canon Mini Print app.
I've reviewed a lot of great gadgets this year, but in terms of how often I use the gadgets, the Roborock H7 cordless vacuum shoots to the very top of my list. I use it every day! And unlike some of the other vacuums I've reviewed, the battery life hasn't diminished over the six months I've been using it daily. It's fast, light, and effective for cleaning up the dust and dog hair that materializes on my floors and furniture overnight. The mopping attachment is helpful, too. And the flexible tube attachment is awesome for corners, stairs, baseboards, and other tricky nooks and crannies, like the gap between the washing machine and the wall.
Life360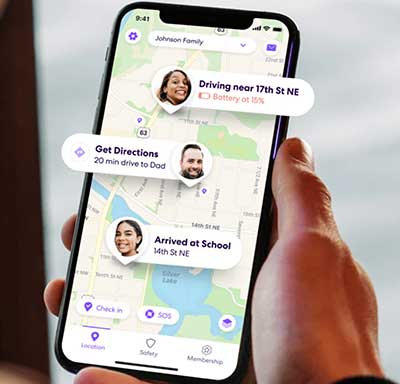 Although I haven't reviewed it, the Life360 app has been a huge benefit to me. My son is a brand new driver, and by downloading this on our phones and creating a family Circle, I can monitor my kid as he ventures into the wide world. He doesn't love it, but it does save him from tons of "annoying" mom texts asking for his location. And of course, I wouldn't want him texting me back while he's driving, anyway.
Sometimes the location is a little glitchy. But it more than makes up for that with crash detection, notifying your entire Circle if there's a crash located near any of you. It also shows historical route data and driving speeds. For me, this app equals peace of mind. The features I mentioned are included with the free version of the app. Life360 offers upgrades to Silver ($5/month), Gold ($10/month), and Platinum ($20) plans for additional services like crime reports, roadside assistance and travel support.
Thanks for reading part one of The Gadgeteer's favorite gadgets of 2021. Also, please be sure to check out part two and part three! And let us know what your favorite gadgets/products of 2021 have been. Please share in the comments below.