We use affiliate links. If you buy something through the links on this page, we may earn a commission at no cost to you. Learn more.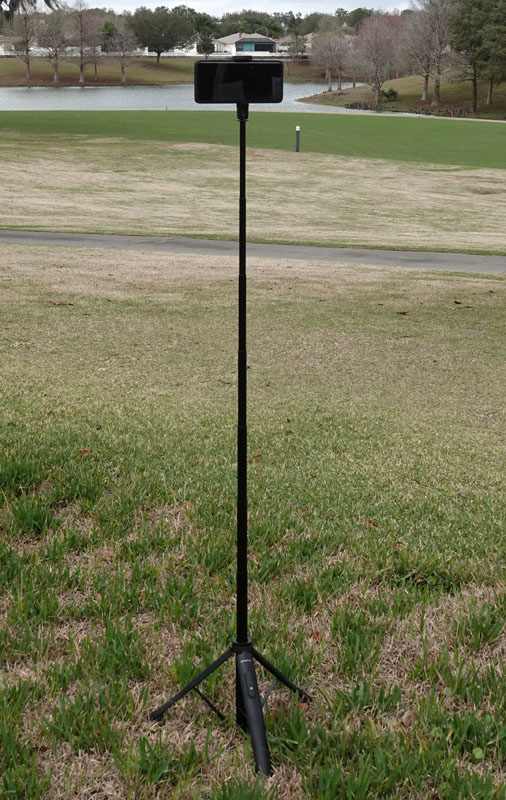 REVIEW – Cell phones have revolutionized photography.  You used to have to schlep heave photo gear to be able to capture great photos.  With the latest editions of iPhones, Galaxys, Pixels, and others, cell phone photography has reached the point that for a lot of people, that's the only camera they ever use.  Another big use of cell phones is selfies – those photos we all take featuring us, usually with some backdrop for context. Many times, we want those selfies to feature others as well.  When the crowd gets too big, our arms simply aren't long enough to fit everyone in the photo.  That's where selfie-sticks come in.  Atumtek has a new selfie-stick that really extends that reach to 51-inches and also doubles as a cell phone tripod with a Bluetooth remote.  Let's see it deserves a spot in your cell phone photography toolbox.
What is it?
The Atumtek selfie-stick tripod is just that – a selfie stick that can extend up to 51″.  It can also expand the handle into three legs, forming a tripod.  A removable Bluetooth button can be paired with your phone and serve as a remote trigger.
What's in the box?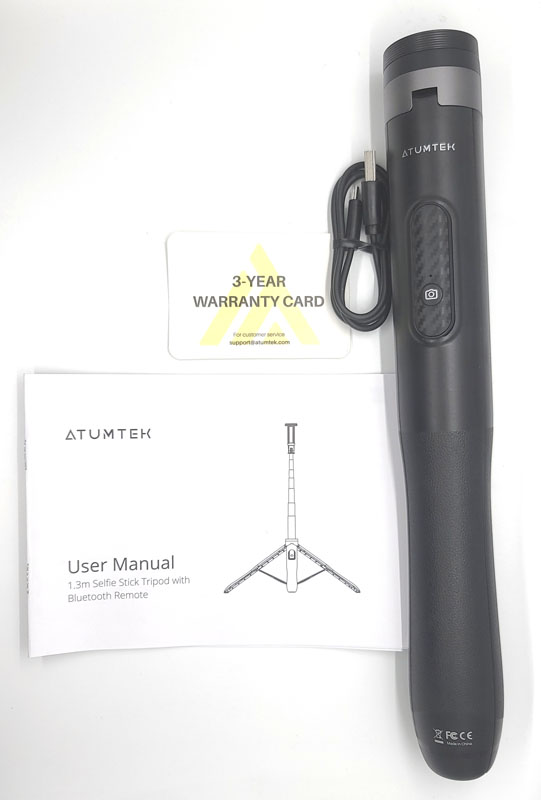 Selfie-stick with removable Bluetooth remote
USB-A to micro-USB charging cable
User manual
Warranty card
Hardware specs
Folded length: 12.01''
Unfolded length: 51''
Handle width: 1.57″
Weight: 11.8oz
Selfie stick length: 12.4″ – 54.15″
Tripod height: 12.21″ – 53.54″
Construction: Polycarbonate plastic and aluminum alloy
Charging method: Micro-USB
Battery capacity: 50mAh
Button life span: >15000 activations
Bluetooth remote range: 33ft
Bluetooth compatibility: iOS 7.0, Android 5.0, and above
Design and features
The stick itself is about a foot long.  Pulling up on the top reveals the cell phone holder.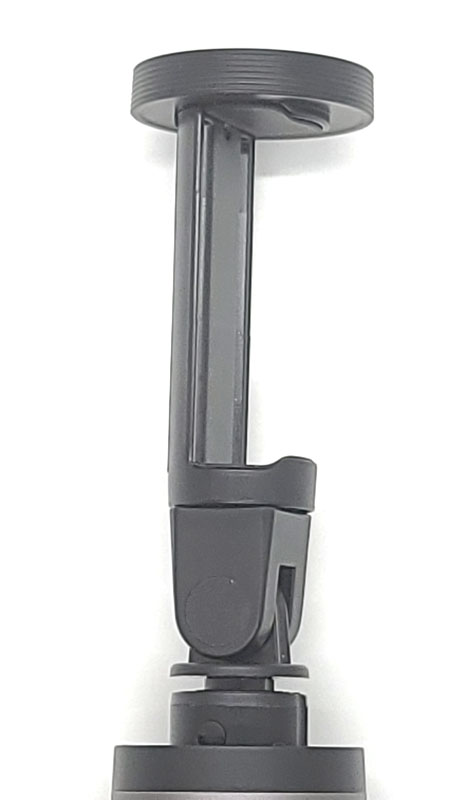 The hinge on the bottom allows it to fold 90-degrees forward or back.  The entire hinge can also be rotated 360-degrees in eight 45-degree detented steps.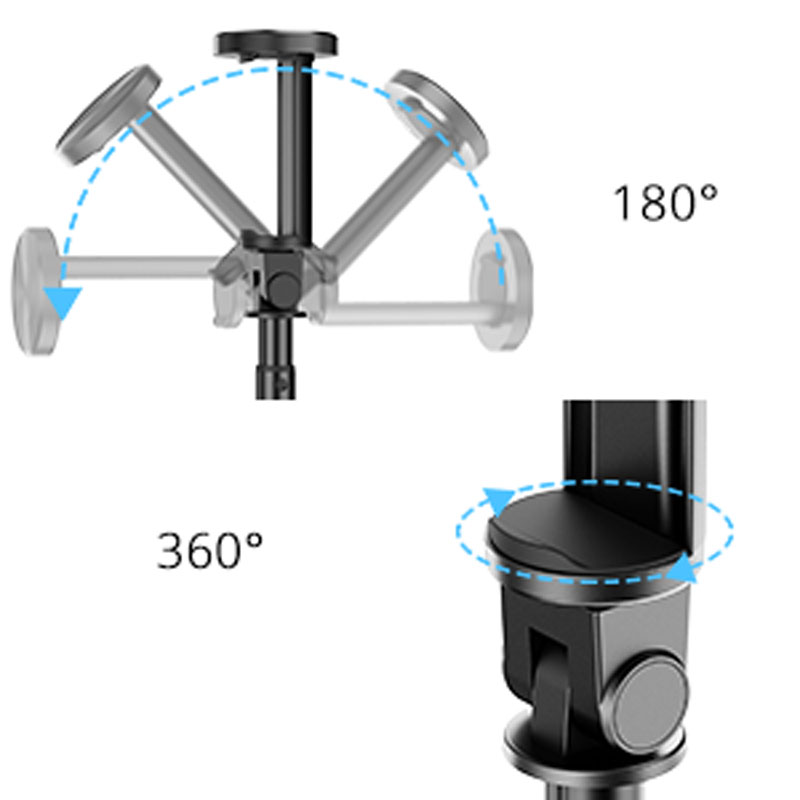 The top plate is held with a spring.  You push it up to attach your cell phone.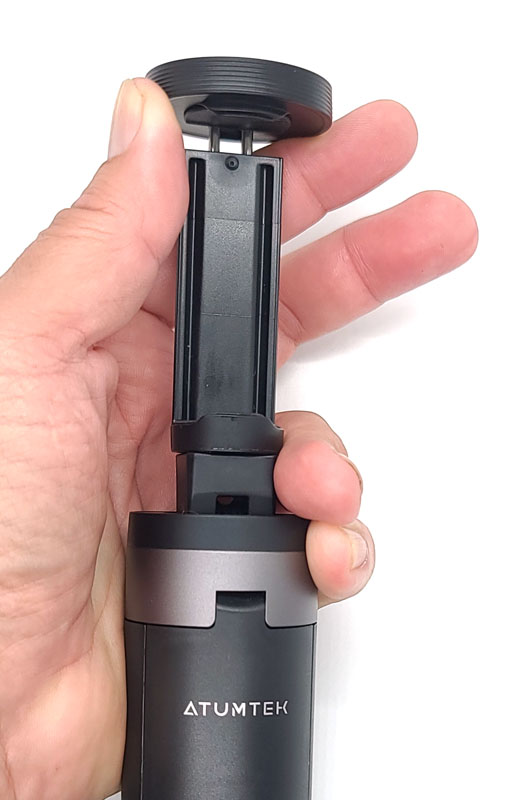 A lip on the top and bottom plate of the cell phone holder secures your cell phone in place.
Pulling the entire head up more reveals the seven extendable segments that make up the extended stick.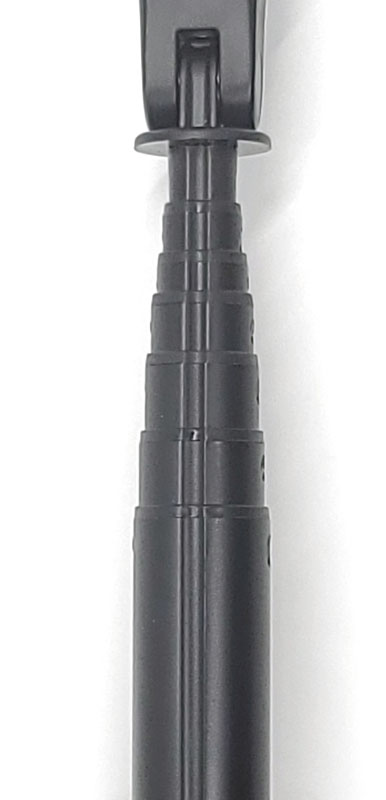 On the handle, we find the removable remote shutter release.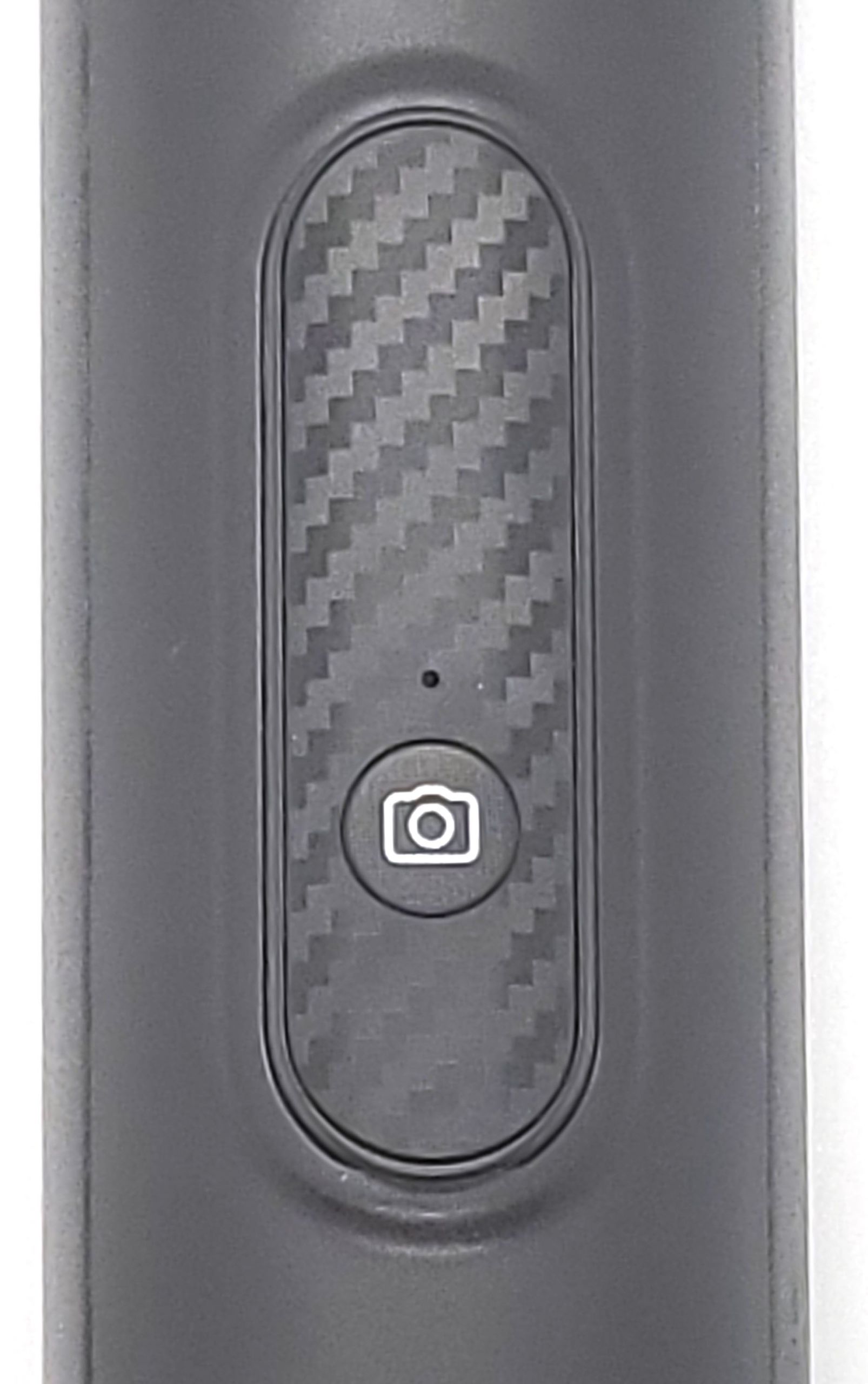 The little dot above the camera button is the indicator LED.  It glows green when charging or when connected to your phone. It glows red when the battery needs to be recharged.  Recharging takes about two hours.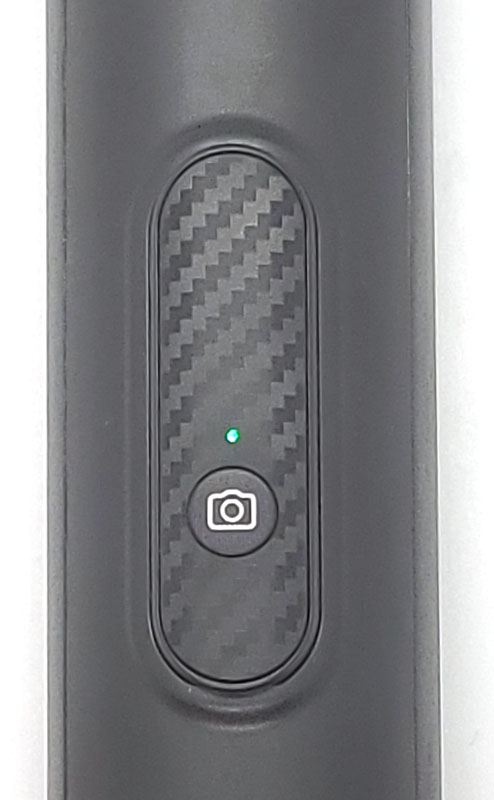 The entire button is removable and you can use it from up to 33 feet away as a remote shutter release.
On the bottom of the closed stick, there is a button cleverly labeled "PUSH".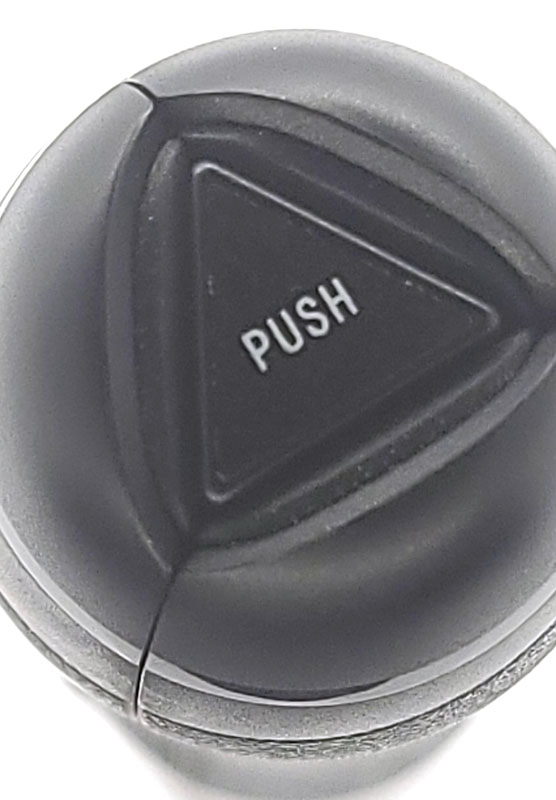 Pushing it allows the handle of the stick to expand into three legs.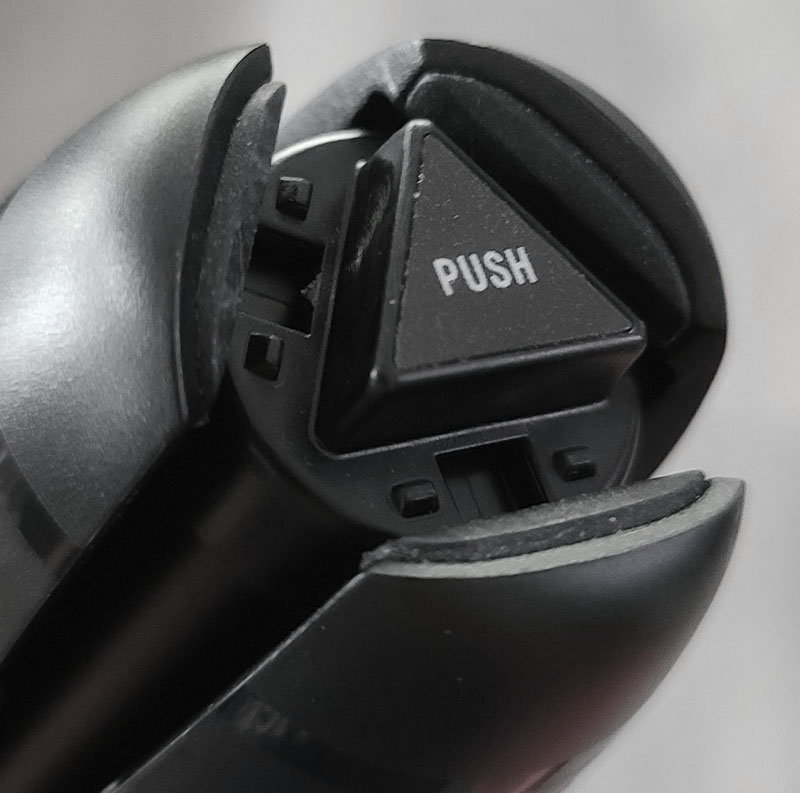 If you look closely, on the inside of each leg, there is a small rubber end that will rest on the surface once the legs are fully extended.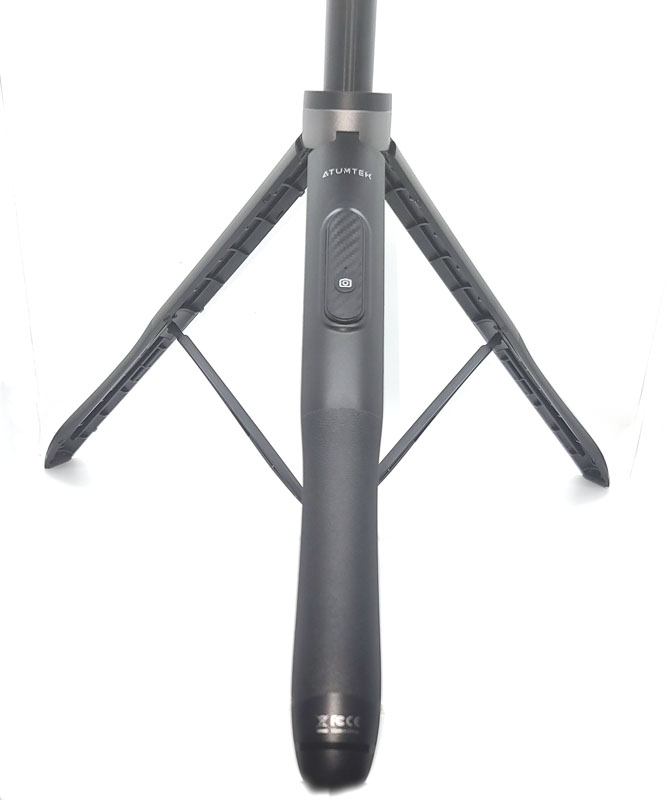 Each leg is connected to the main body with an angled connecting rod, forming a very solid base.  That's good because, at 51″ tall, it would be quite unwieldy without it.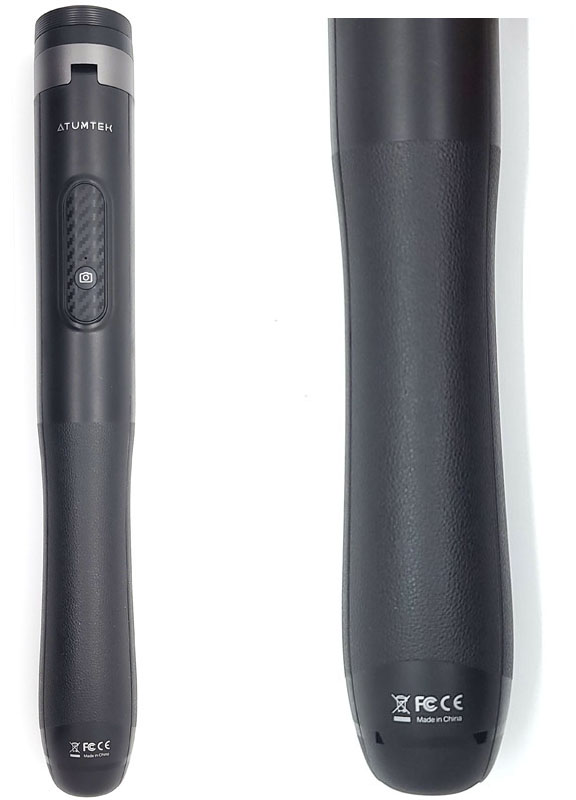 In selfie-stick more with the legs collapsed, the legs form a nice textured and tapered handle.

As you can see, the shutter release is a bit of a reach – they could have mounted it closer to the taper.
Setup
Setup involves two steps.  First, charge the Bluetooth shutter release.  Second, pair the button to your phone.  It is a reasonably standard pairing process.  The remote defaults into pairing mode when you power it on.  Scan for devices on your phone and pair with "ATUMTEK".  Once paired, you're ready to go.
Performance
One thing to note about the construction is that the legs are not to be used to open and close the tripod.  Once you push the button and the legs pop out, pull up on the extendable segments and the legs will spread out.  The manual cautions against pushing or pulling the legs as they or their support structure will snap.  It means that you need to take some care when opening or closing the tripod as the method you need to use does expose your fingers to a potentially painful pinch as the legs open or close.
Using the product couldn't simpler.  Choose whether you want a selfie stick or tripod and set it up.  Here, I have my Galaxy S20 Ultra on the table with the stick in tripod mode.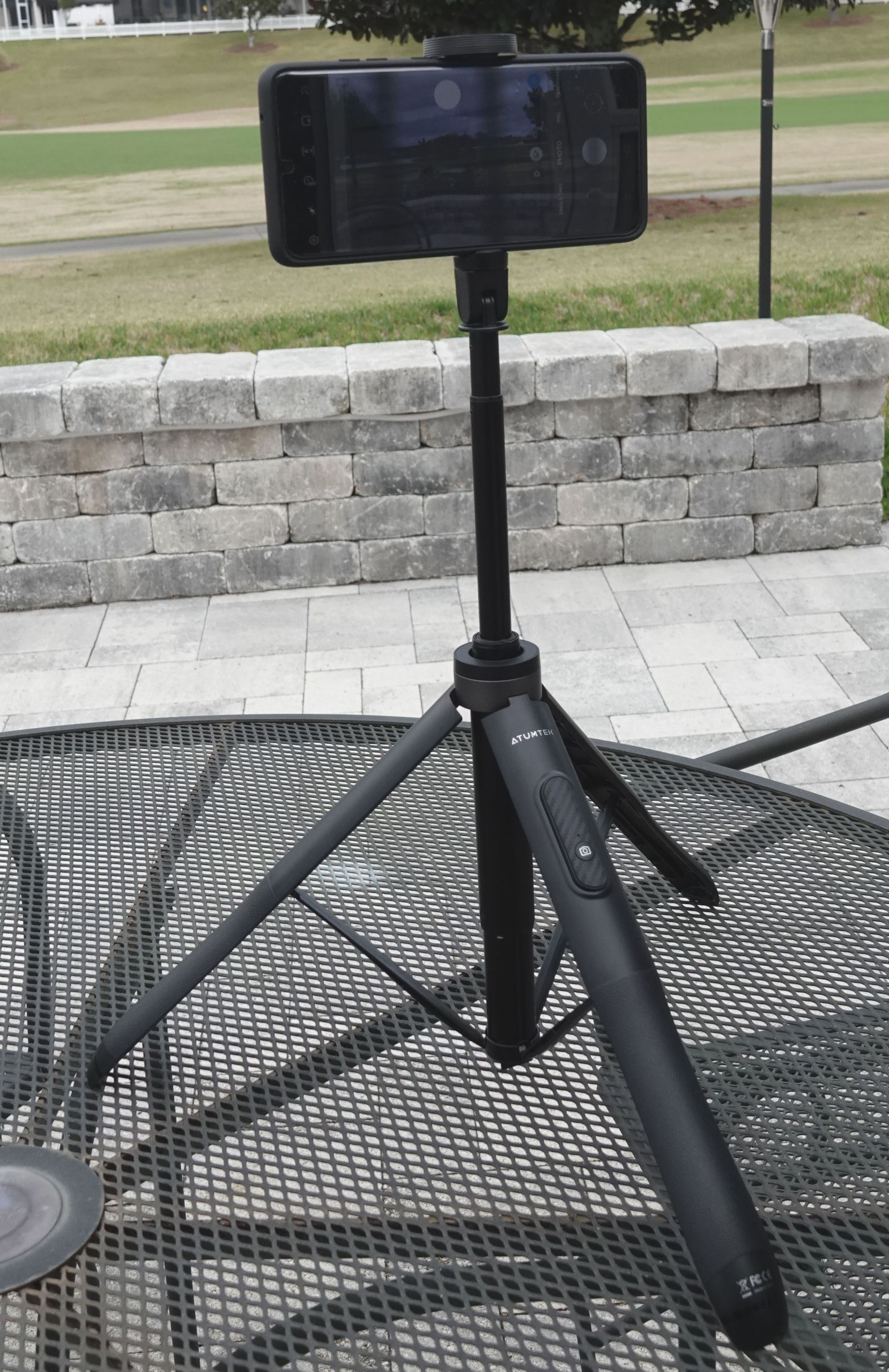 It is easy to adjust the height of the tripod by sliding out more extension segments.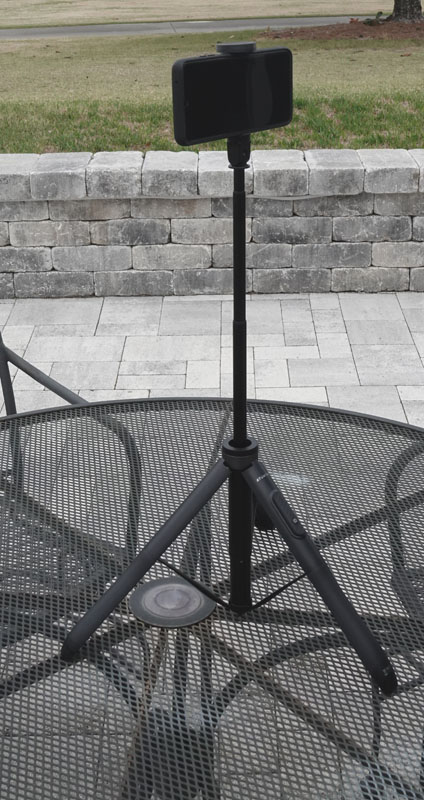 Here it is, fully extended to its 54″ height.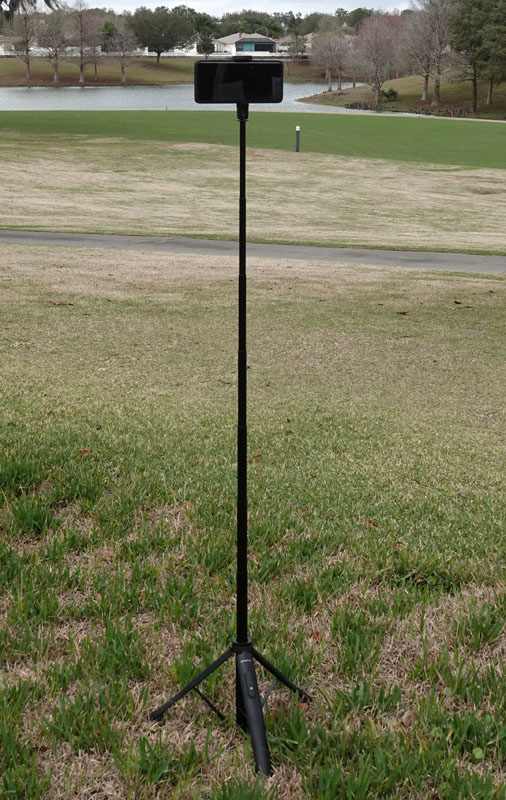 If you pry up at the bottom of the remote, it pops right up for removal. You can see the micro-USB charging port on the bottom of the button assembly.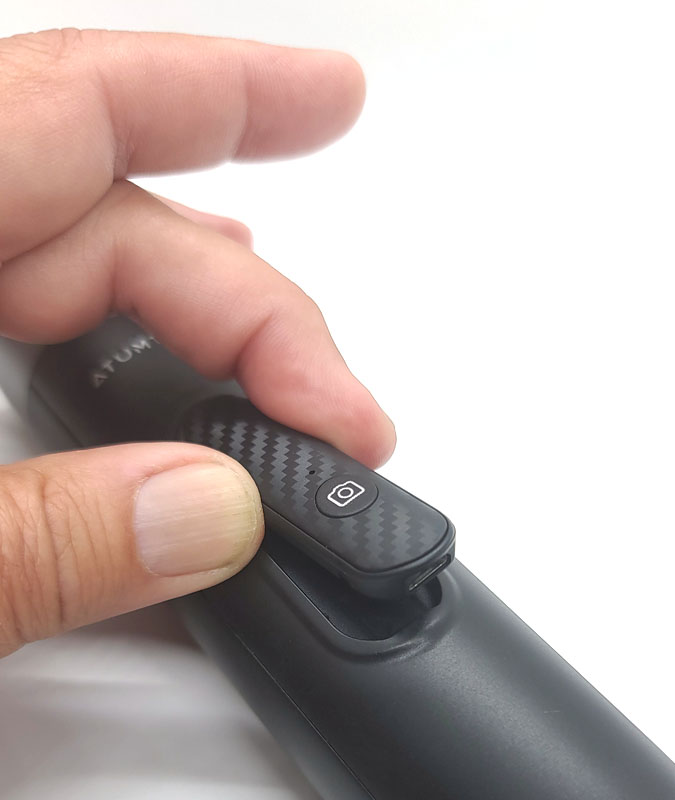 Once removed, you can use it as a remote shutter release from up to 33 feet away.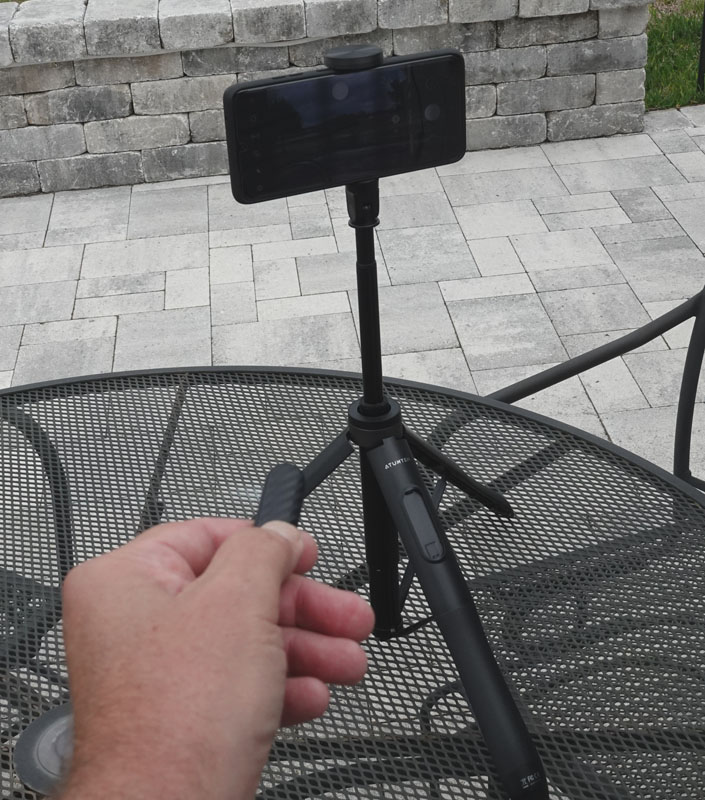 At about 53″ at full extension, the selfie stick is crazy long.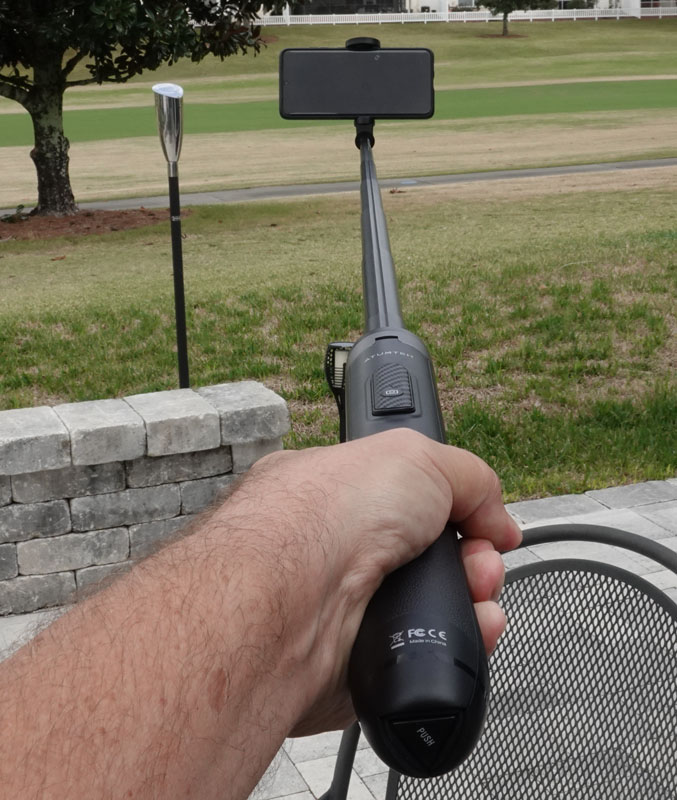 The handle is nicely thick and tapered, allowing for a solid grip.  You'll need that as cantilevering a phone out over four feet out from your hand gets a little heavy.  Of course, you don't have to stretch it out to its full length, unless you need a really wide selfie shot.
Here's an idea of what I'm talking about.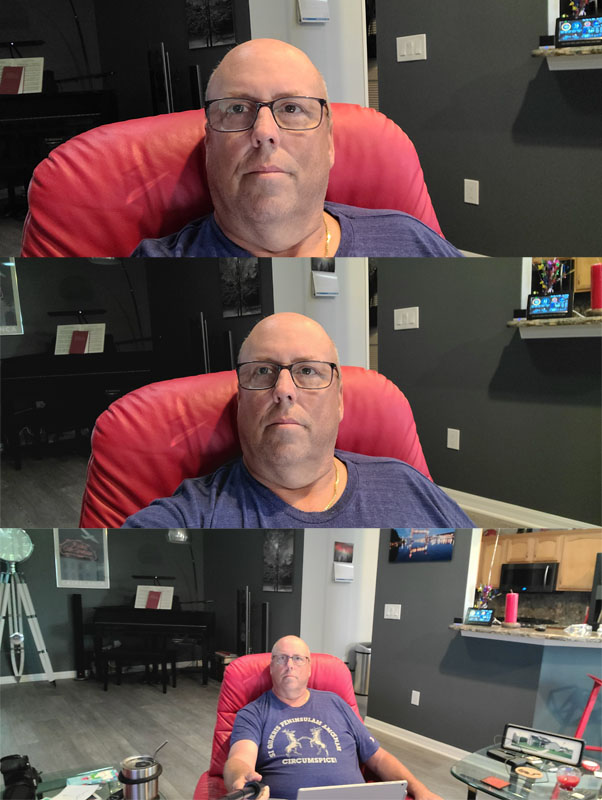 The top image is me taking a selfie as I am writing this review.  I took it with my arm extended.  The middle image is the same, except I put my Galaxy S20 Ultra in wide selfie mode.  The bottom is still in wide selfie mode, but I used the Atumtek selfie-stick fully extended.  As you can see, you can really get a nice wide view with the phone about six feet away from you – counting my arm plus the selfie-stick.
It would be great if it included an action camera mount as this would be terrific for action camera use.
What I like
Well-made
Responsive Bluetooth trigger
Outstanding reach
Excellent flexibility for both selfie-stick mode and tripod mode
What I'd change
At a foot long and 3/4 of a pound, it isn't super-portable
It is a little tricky to open and close at first, but you get used to it
The shutter button is quite a reach from where your hand naturally falls on the handle
It would be nice to have a wrist strap or perhaps a clip to hang it from a bag or pack
An action camera mount would be an awesome addition
Final thoughts
I've never been much for selfie-sticks, even though there have been plenty of times I could have used one.  With its tripod mode, the Atumtek tripod & selfie-stick brings versatility to the selfie-stick game. This is going to find a permanent home in my travel kit and will likely get additional use around town.
Be sure and check out more of our camera gear reviews.
Price: $32.99 – $33.99 depending on the color (black, blue, white – I was sent the black version)
Where to buy: Amazon
Also available direct from Atumtek for $38.58 – $40.58 based on color from Atumtek
Source: The sample of this product was provided by Atumtek.