We use affiliate links. If you buy something through the links on this page, we may earn a commission at no cost to you. Learn more.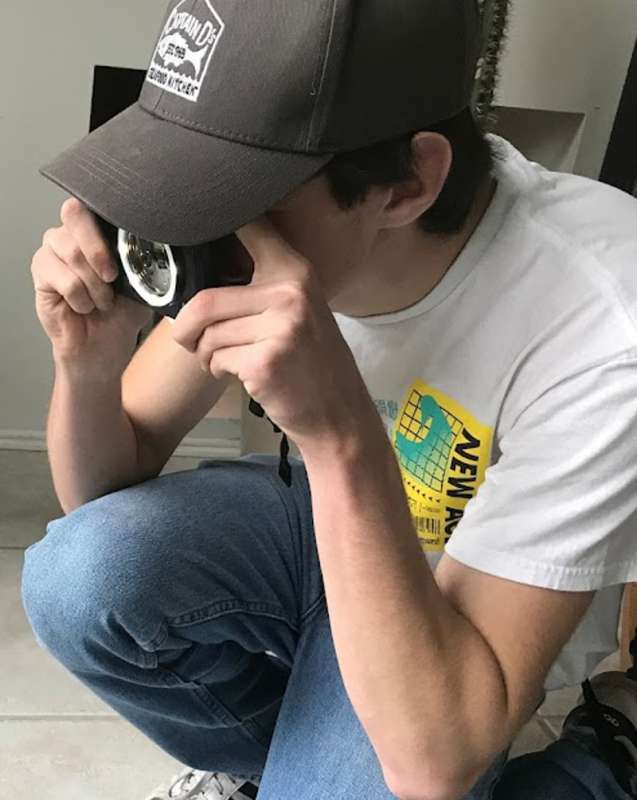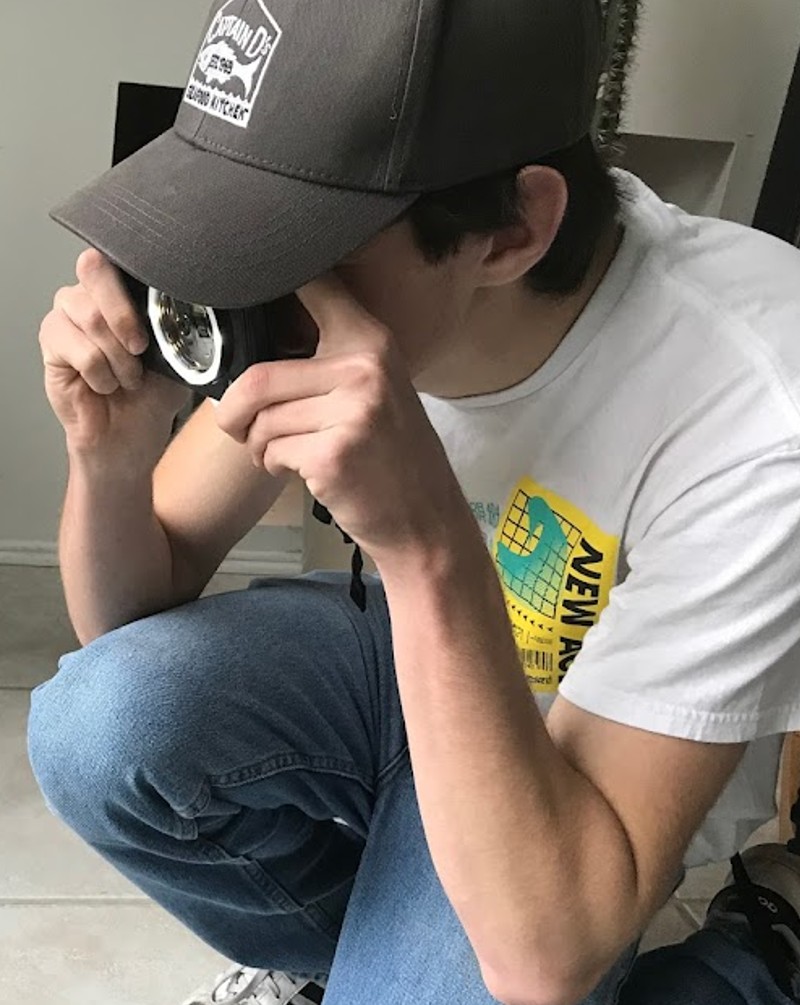 REVIEW – Now that everyone has a high-quality smartphone camera in their pocket all the time, we're faced with the question: What do we do with all these photos? Sure you can text or post them. But there's something special and unique about having a physical photo. That's where the Cannon Ivy Cliq+ 2 comes in. It's an all-in-one camera and photo printer, so you can preserve memories in the form of a photo you can hold, give to someone, stash in a special spot, or even stick to your desk.
What is it? 
The Canon Ivy Cliq+ 2 is a camera that can take and print 2×3 inch photos (with sticker backing) in less than a minute, or print photos from your phone using the Canon Mini Print app.
What's in the box?
Canon Ivy Cliq+ 2

10-pack of photo paper (with peel-off sticker backing)

Charging/data cable

Wrist strap

Instructions and warranty
Hardware specs
General
Operating temperature: 59 – 90°F (15 – 32°C)

Operating humidity: Up to 40-50% relative humidity

Warranty: 1 year limited

Dimensions: 4.8 x 3.2 x 0.9 inches

Weight: 0.4 lbs

Battery: Built-in rechargeable lithium-polymer (700 mAh)

Battery life: Approximately 25 photos

Battery charge time: 120 Minutes for full charge, 5V/1A charging speed
Camera
Camera resolution: 8MP

Photo format: JPEG

Video capable: No

Camera aspect/print size: 2 x 3

Flash: Yes

Shooting modes:landscape (no flash), portrait (auto flash), selfie (flash + ring light on)

Ring light: Yes (8 LED)

Tripod mount: No

Timer: Yes, 10/5/3 second via app

Connectivity: Bluetooth® 5

Built-in storage memory: None

Memory card compatible: Yes, microSD memory card (Up to 256 GB)

Mass storage mode: Yes, via included Micro USB 2.0 Cable
Printer
Print speed: 50 seconds or less

Print resolution: up to 314 x 600 dpi

Printer paper: ZINK® Photo Paper

Maximum Paper Size: 2.0 x 3.0 inches

Design and features
Setup
In order to use all of the features on the Canon Ivy Cliq+ 2, you need first need to download the Canon Mini Print app.

Then make sure the camera is fully charged. If the power indicator light is green, you're set to go. If it's flashing red/white, you need to charge it, which takes about 2 hours.
Then you need to load the paper. 
ZINK or "zero ink" paper incorporates the ink right into the paper/smart sheet, so you never need to refill the ink with this printer. Replacement paper is about 50 cents apiece and comes in 20 or 50 packs. The camera comes with 10 sheets of 2×3 photo paper, and they have peel-off sticker backing.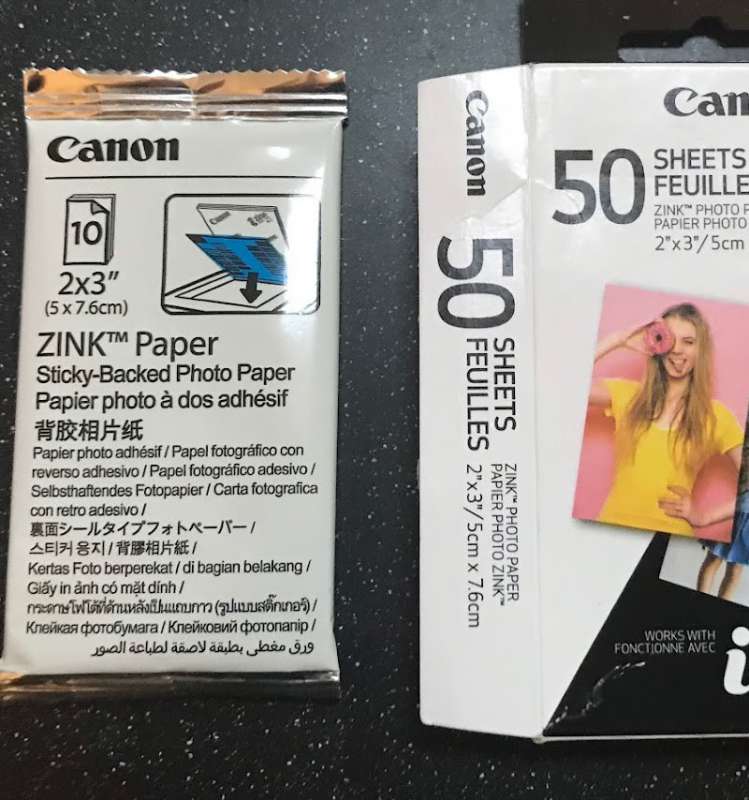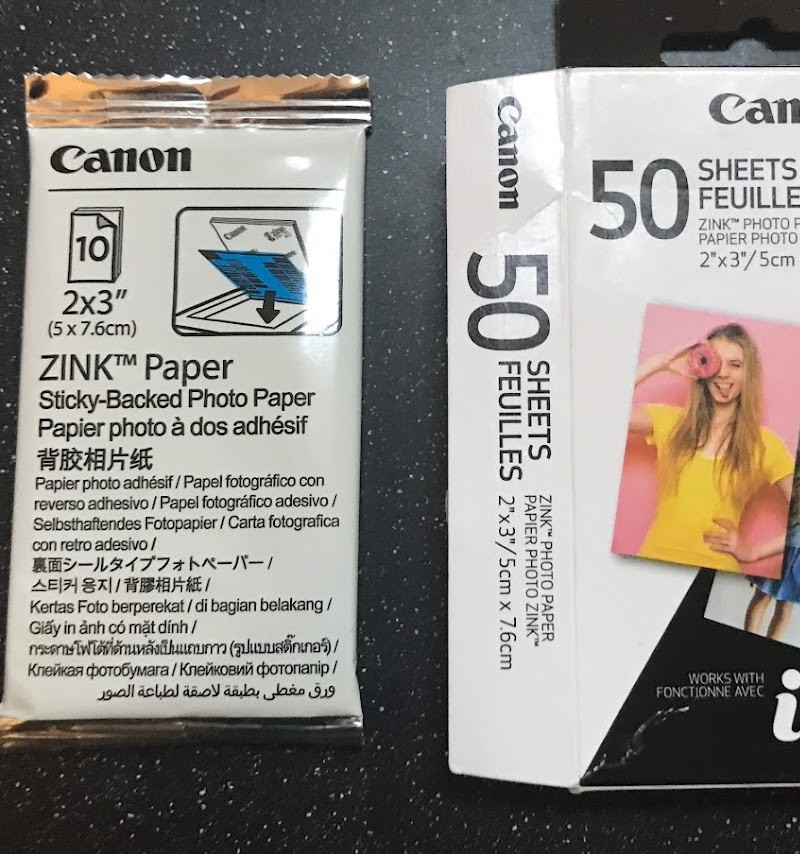 To load it, you just slide off the back panel and place up to 10 (they come in 10 packs) inside, sticker side down, with the blue sheet going in first. It's very well labeled.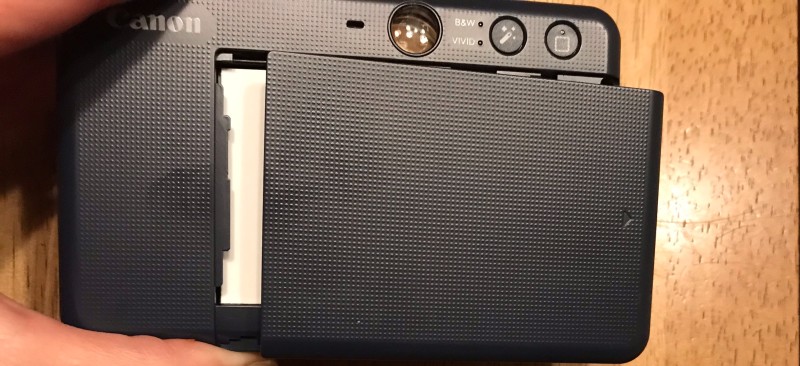 We found it intuitive to use. And the top LED light has several color-coded control indicators, in case you run into an issue or don't understand what's happening:
Color flashing loop: Printing photo

White: Power on/standby

White flashing: Preparing to print; device is booting

Red: Device temperature too high

Red flashing: Cover open/printing error/no paper/ paper jam

Red-white flashing: Low battery

Blue flashing: SmartSheet® error

Cyan: Device temperature too low

Cyan flashing: Printer head cooling

Magenta: Mass storage mode

Magenta flashing: MicroSD error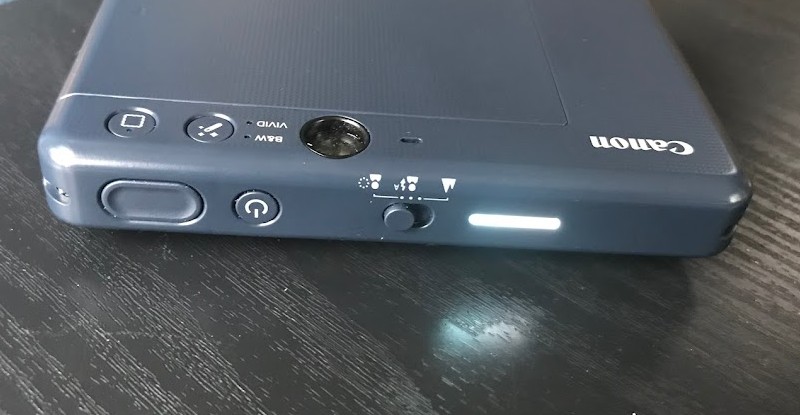 Performance
My primary adjective for this gadget is "fun." Like a modern polaroid. You can go old school and take a photo, actually point and click, and then print. When taking a picture, you can select from three modes: no flash, portrait/auto flash, and selfie (flash + ring light on). You can also click the editing button to add a white frame around the edge or opt for black-and-white or vivid mode.  However, you can't preview your pics, like you would with a digital camera. So if you want to see what you're printing in advance, use the app. With the app, you can print photos from your phone or microSD card, and you can edit them before printing.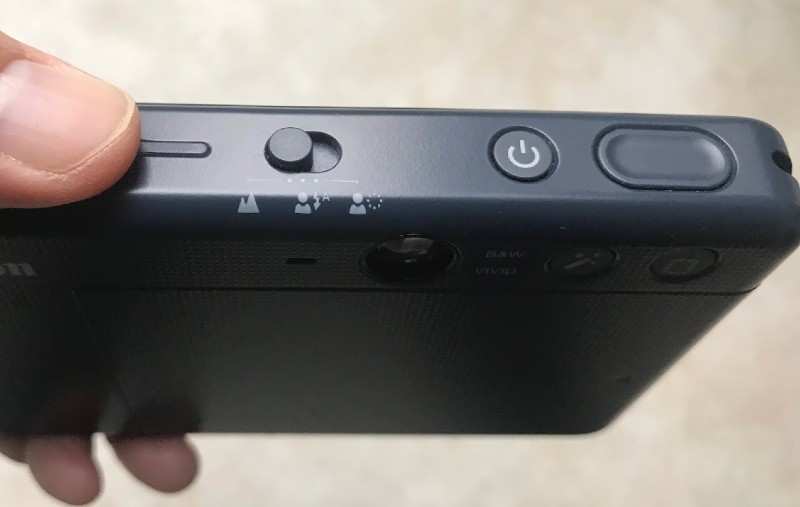 You'll notice it's remarkably light, only 0.4 pounds!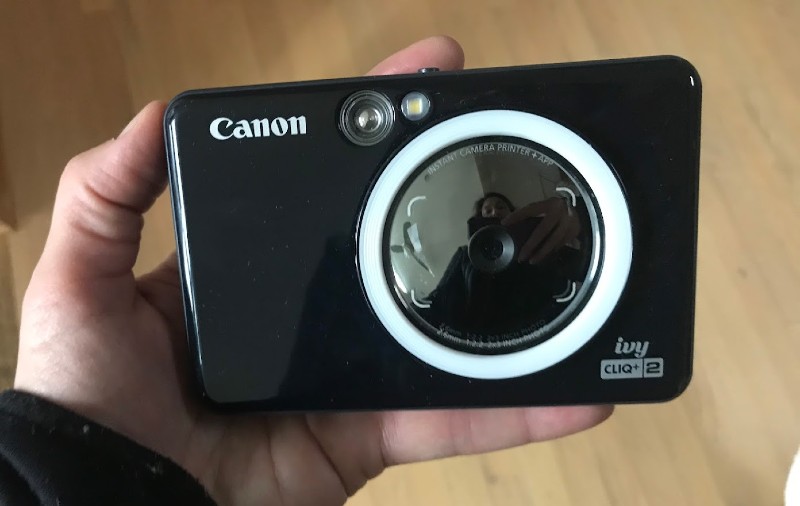 The photo resolution is only 314 x 600 dpi, maximum, on 2×3 inch paper. I thought this was fairly low quality and grainy, but surprisingly, the teenagers who tested it didn't mind at all. In fact, they loved it. When Mason brought it to school, he burned through several packs of photo paper and answered many requests to print photos from friends' phones. This is now on the Christmas wish list of several classmates!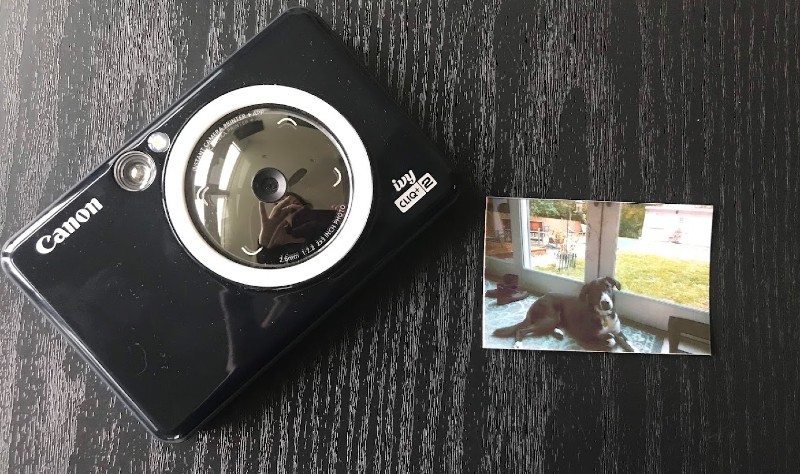 We didn't have any significant issues with the Canon Ivy Cliq+ 2. No glitches. Just one paper jam that was easy to fix.
A big part of the appeal is nearly instant gratification. Printing takes less than a minute, and the prints are ready to view and touch right away, unlike the polaroids of old.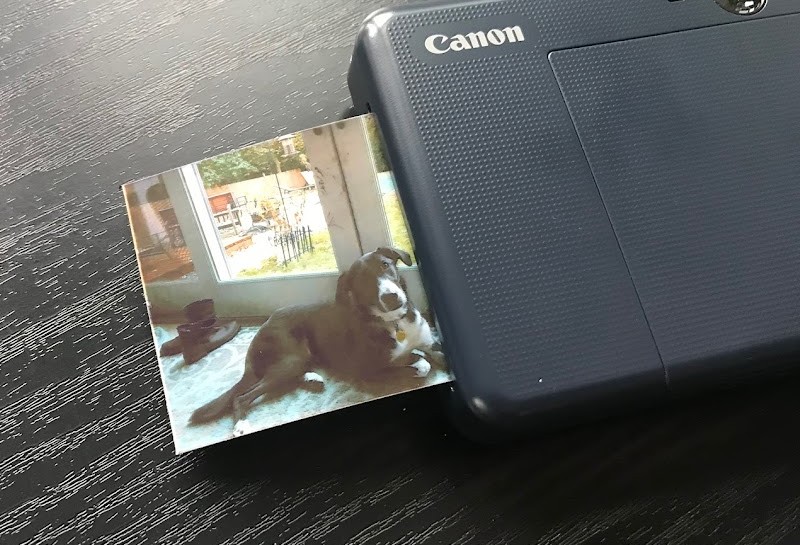 And the sticky backing is a nice gimmick that could come in handy for classrooms or workspaces or just to adorn your notebooks. Just be aware that at 50 cents a pop, it's easy to burn through a $10 20-pack of photo paper in less than a half-hour. But I guess on the flip side, you never need to buy printer ink.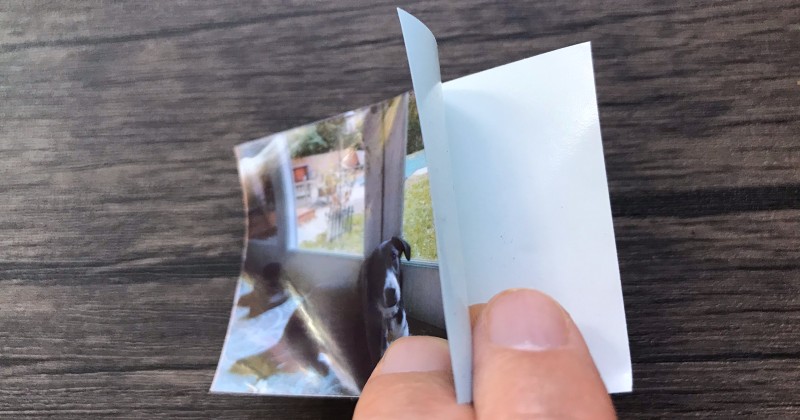 What I like
Portable, fun, and fast

No need for ink
What I'd change
Cheaper replacement paper

Higher quality photos
Final thoughts
The Canon Ivy Cliq+ 2 is very popular with my teenager and his friends. What the photos lack in size and quality, they make up for in fun and instant gratification. 
Price: $129.99 (may vary by retailer); replacement ZINK paper is $10 for 20 sheets and $25 for 50 sheets
Where to buy: Canon and Amazon
Source: The sample of this product was provided by Canon.