We use affiliate links. If you buy something through the links on this page, we may earn a commission at no cost to you. Learn more.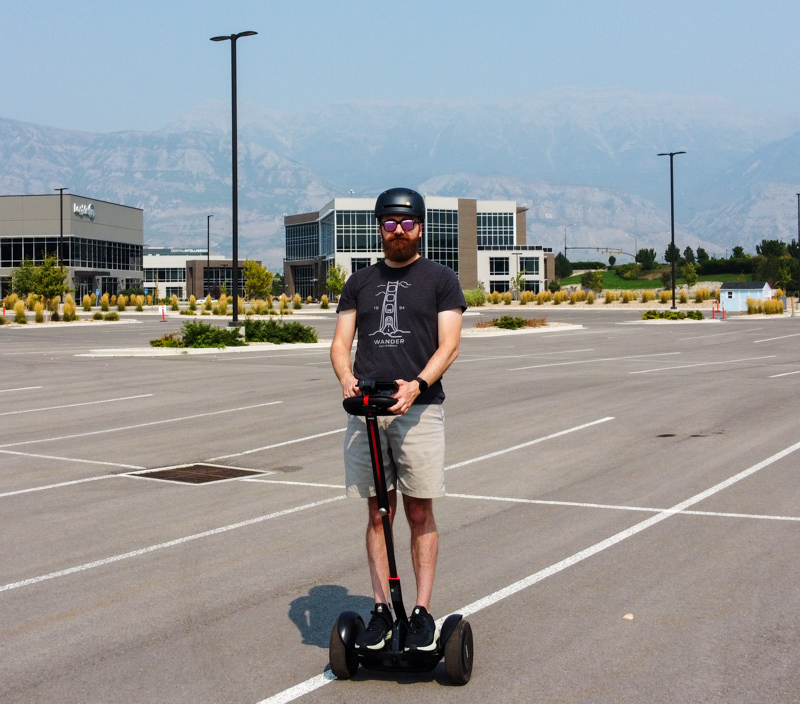 REVIEW – In a world where electric scooters are on nearly every street corner, it takes something special to stand out. Ninebot is a scooter brand that's been around for some time now, and they make many of the kick-scooter style electric scooters you see for rent in urban areas. Segway has been around longer, making big waves in 2002 with their first "Personal Transporter" that most of us remember. In the last few years, Segway and Ninebot merged and their offspring have included a series of Segway-styled scooters to augment Ninebot's more traditional scooter lineup. The Segway Ninebot S MAX is presented as an upgraded version of the Segway Ninebot S, and includes quite a few changes over the non-max version. I've taken it for a spin (groan, sorry) and I have thoughts – mostly good.
What is it?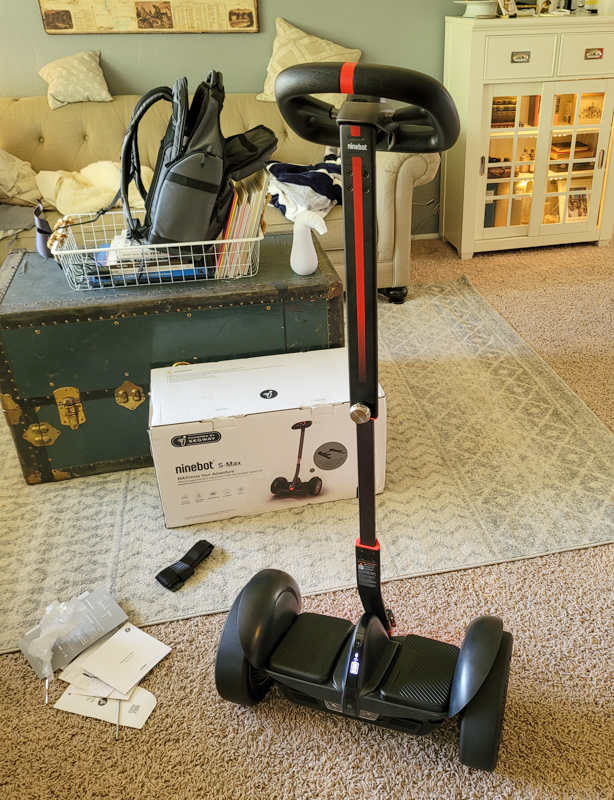 The Segway Ninebot S MAX is a self-balancing personal transport electric scooter. It boasts an impressive range and the addition of handle-based steering instead of the knee-steering they've done on their past few models. The scooter is controlled by a handlebar system where light touches horizontally turns the scooter, while pushing it forward/backward or leaning your body will accelerate and decelerate.
What's in the box?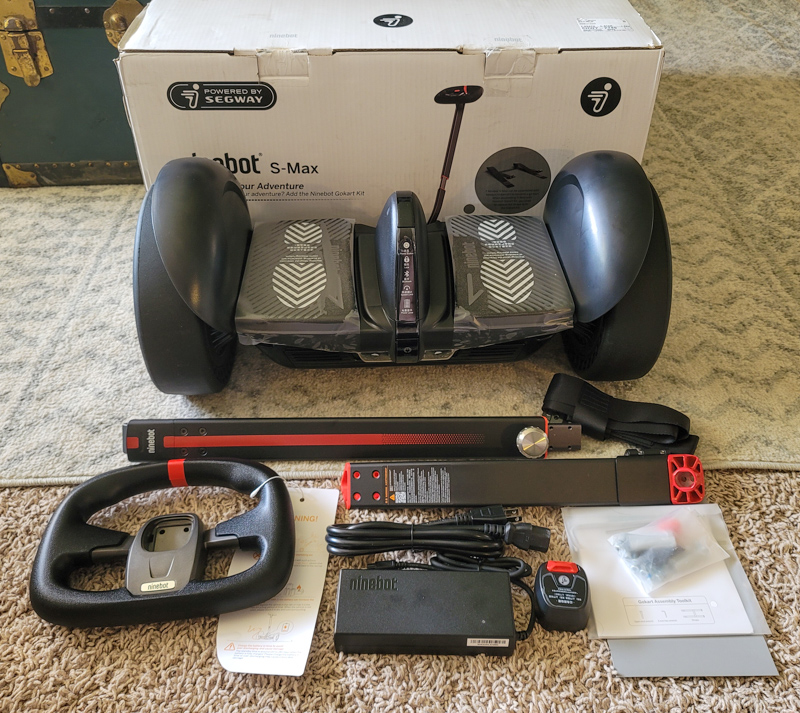 Segway Ninebot S Max
Charger and AC Wall plug
User Manual
Hardware specs
Dimensions with handle not extended (length x width x height): 16.6″ x  22.8″ x 37.5″ (42.1 cm x 57.8 cm x 95.2 cm)
Net Weight (without charger): 50.3 lbs (22.8 kg)
Suggested rider weight: 88-187 lbs (40-85 kg)
Max speed: 12.4 mpg (20 km/h)
Typical Range: ~23.6 miles (38 km)
Maximum slope: ~15°
Traversable Terrain: Pavement, packed dirt, slopes < 15 °, obstacles < 0.4 in (1 cm), gaps < 1.2 in (3 cm)
Operating Temperature: 14-104°F (-10-40°C)
Storage Temperature: -4-122° F (-20-50°C)
Weather rating: IP54
Charge time: ~4 hours
Battery: 432 Wh, 55.5 V, over/under voltage protection, heating protection, auto-sleep
Motors: 500 W x 2 (peak 2400 W x 2)
Charger: 100-240 VAC, 120 Watts, 2 amps
Tires: 2.7 in  width (68 mm); 10 in diameter, hollow solid tire
Design and features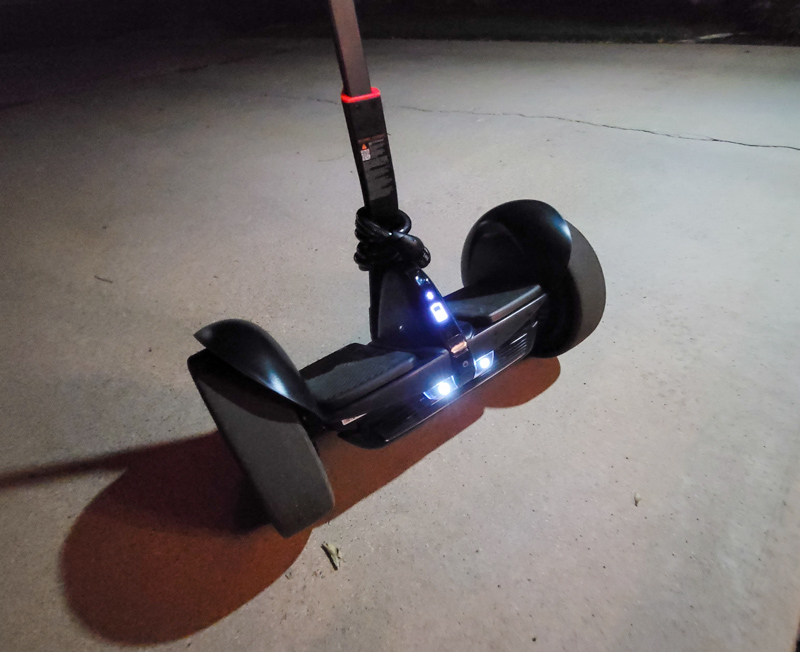 The Segway Ninebot S MAX resembles a hoverboard with a handle attached. Having ridden early hoverboards, the resemblance stops there (I couldn't balance myself on a cheap hoverboard to save my life, but I picked up this one with a very little learning curve). The 500W/2400W peak dual motors do a great job of auto balancing while a rider is standing on it, so the hardest thing to learn was to go over minor bumps like the driveway-to-road transition or on and off sidewalk ramps. Most of the learning curve here seems like it was a mental game too, your brain and body expect to fall forward when a minor obstacle is encountered, but the scooter itself easily stays in position during such transitions.
There are several lights and indicators on the scooter, including a digital speedometer, twin front LED "headlights", and a battery status indicator on the front. The handlebar is easily adjustable to accommodate nearly any rider size – I'm 6'4″ and it felt perfect at max height, but even if I was taller and therefore the handlebars a bit lower they'd still work great.
The external body is nearly all plastic, but the handlebar internals are metal and you can tell the scooter base itself is solidly built. The wheels are a solid rubber/plastic style that is common in the electric scooter market. With solid wheels like these, you lose a bit of shock absorption that you would get with air-filled tires, but the trade off gets you wheels that will never go flat, it would take tremendous damage to stop these from rolling.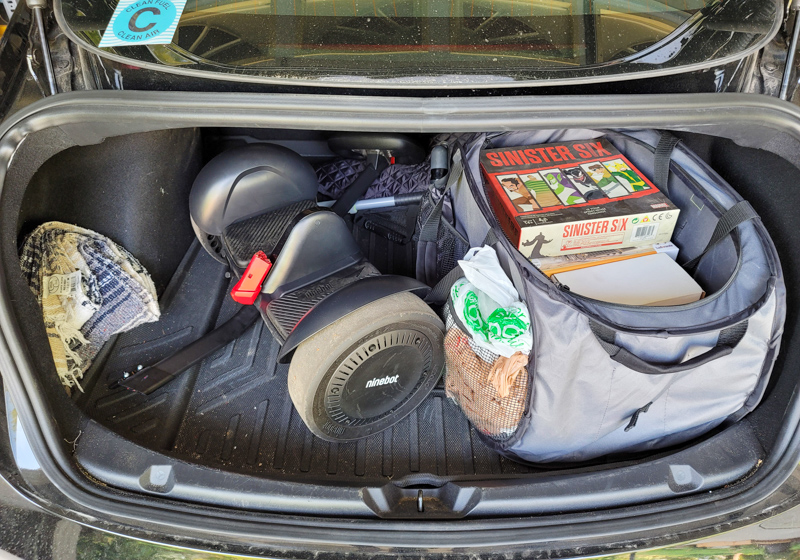 The handlebars also easily remove for transport, making this a great option for pleasure rides at different destinations or a "last-mile" transport option where you park outside a crowded area and scooter in for the remaining bit.
Installation and setup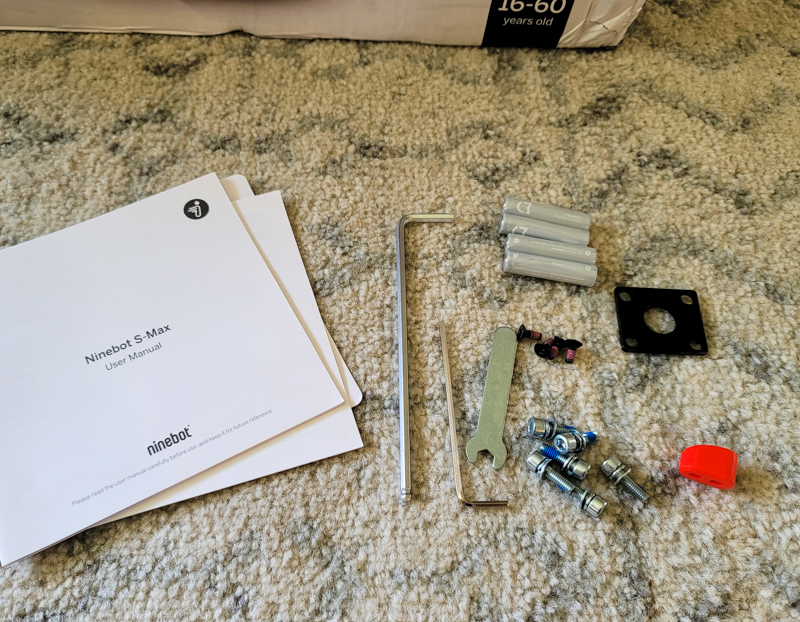 Installation involves a few screws and batteries. The manual was easy to understand and included tools did the job nicely.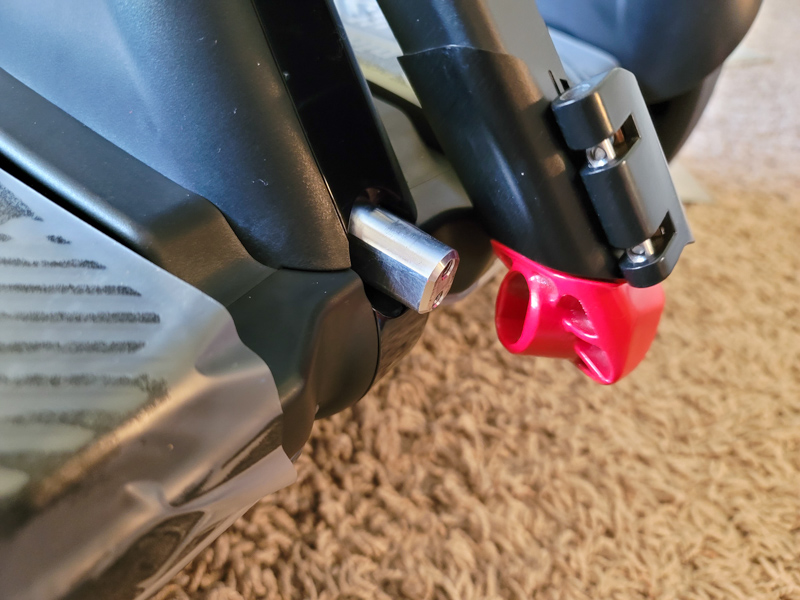 The handlebar stem attaches to the scooter base with 2 screws, but then there's a quick release for popping them back off later. This system worked well, and always felt very sturdy.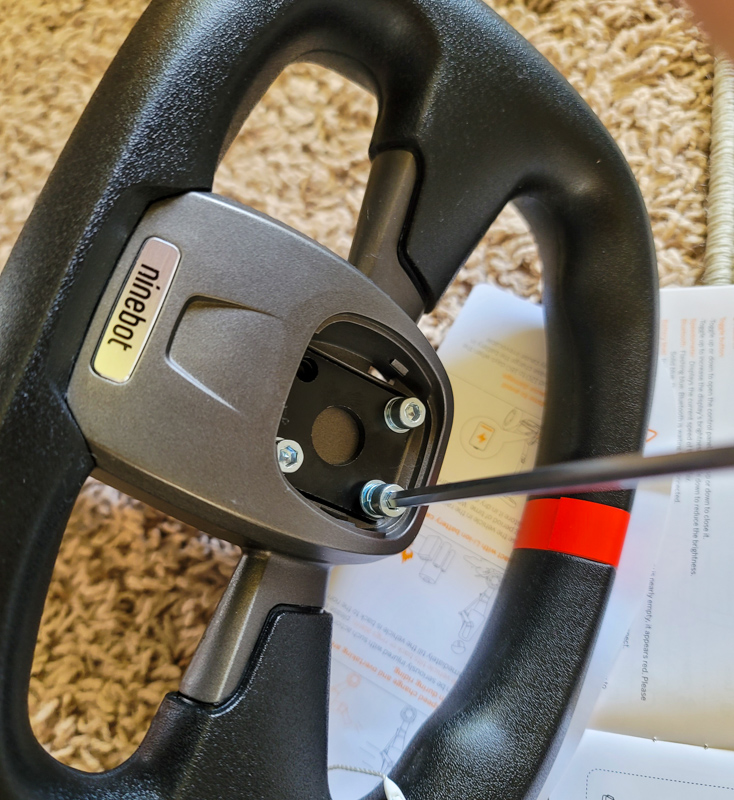 The handlebar grip is a padded plastic/rubber setup, and felt nice to hold on to. It attaches to the handlebar stem with a few screws as shown here.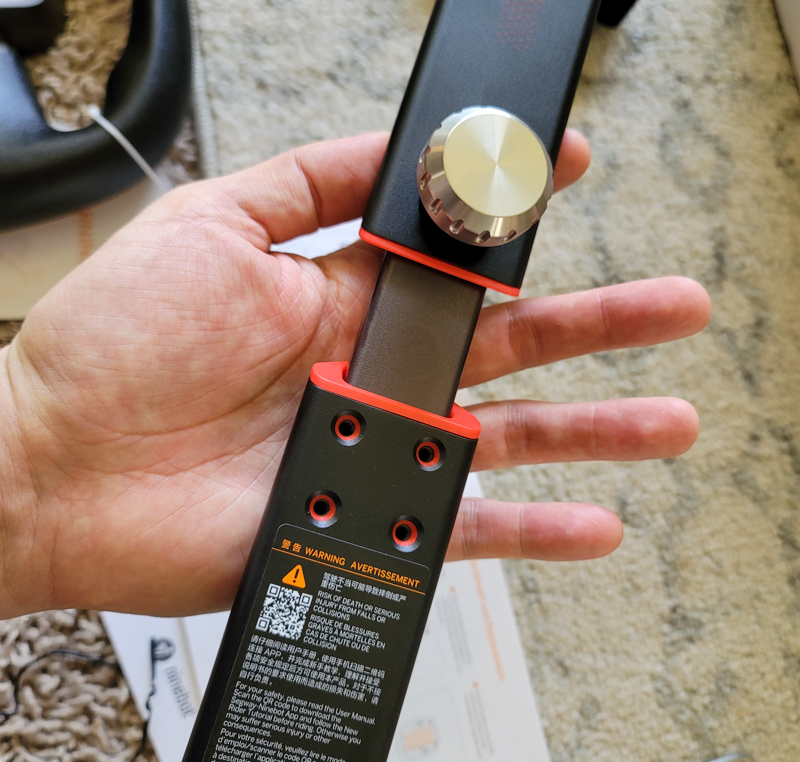 The handlebar itself arrives in two pieces, with a strong metal internal body that attaches via screws. A metal knob allows for quick adjustment of the handlebars later.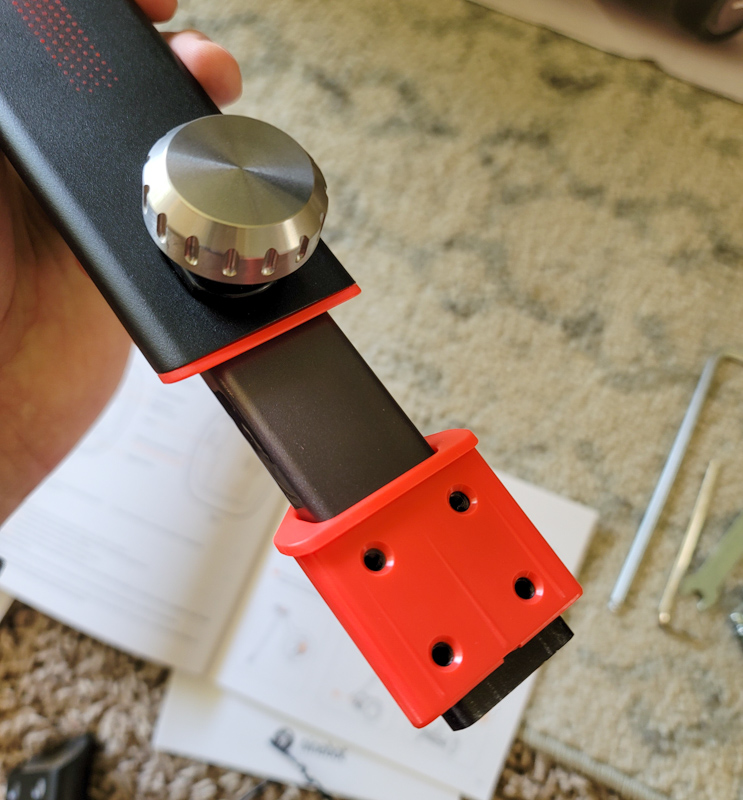 Here's the bottom of the handlebar stem, a couple more screws go in here.
The next steps are to configure the mobile app (required to unlock regular and sport modes and to customize lighting. Available for iOS and Android).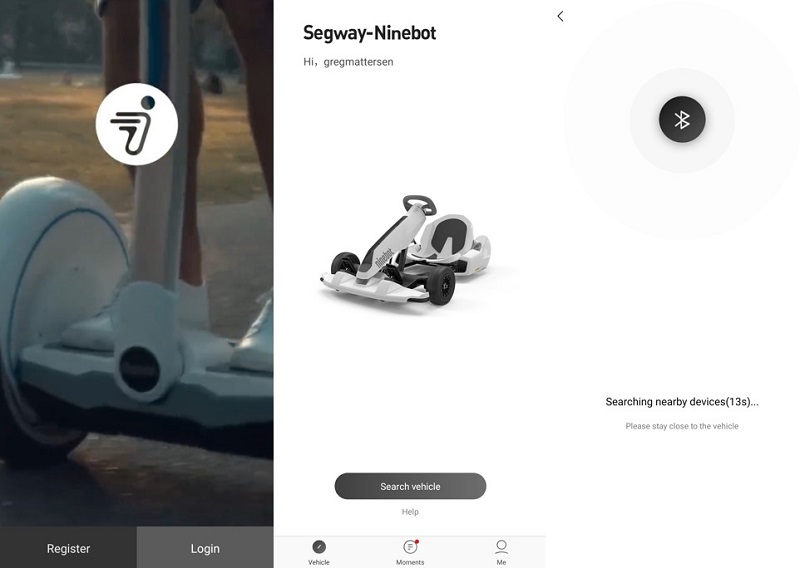 After registering and logging in, you search for the vehicle and the app pairs with the scooter.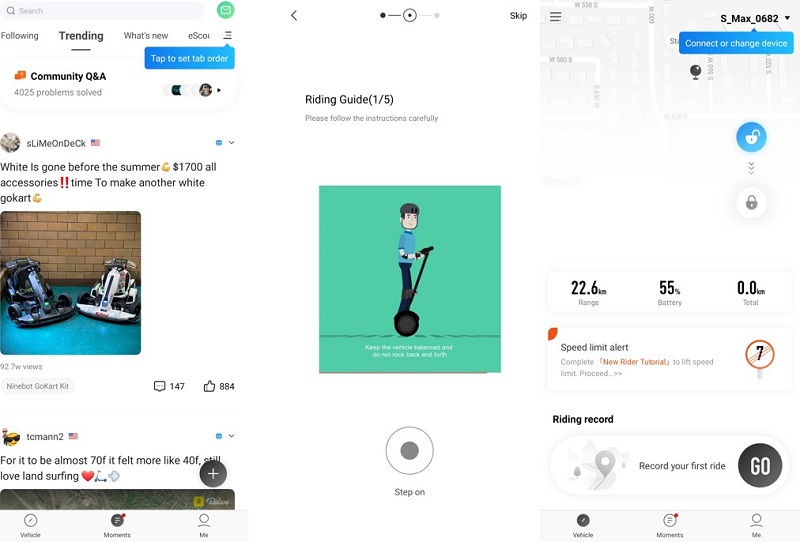 Next up you land on a strange social network page called "Moments", which is for Ninebot Segway owners to share pictures and messages. This caught me by surprise, but maybe some people are into this sort of thing. You're prompted to go through a new-rider tutorial, after which you can scoot around at limited speed for a while. Once you've hit 1 kilometer of riding you can lift all speed restrictions and go up to the max speed (12.4 mph).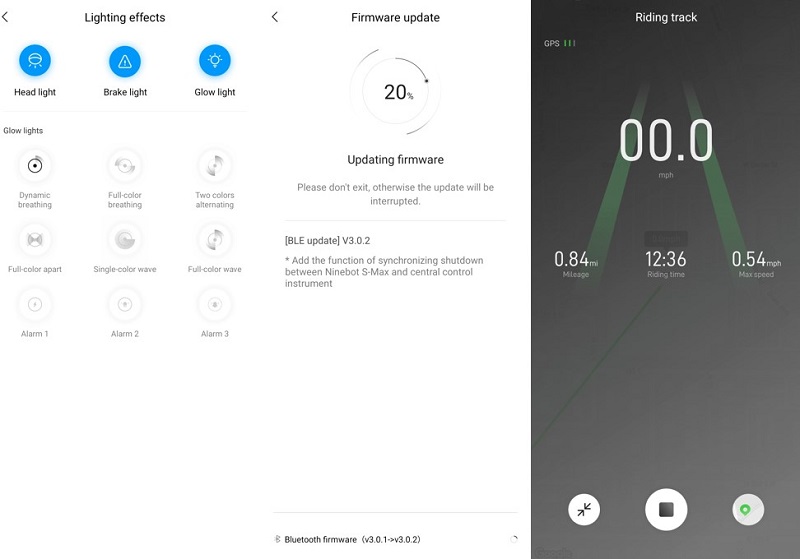 You can also customize lighting (headlights and RGB lights that glow from under the scooter deck). The under-deck lighting was a fun touch, but you can't really see it yourself, this is entirely for the benefit of others.
At some point you'll need to charge up the Segway Ninebot S MAX scooter as well, the charging port is found at the front of the scooter, well protected under a plastic flip cover and a rubber plug. The entire scooter is IP54 rated, so it's got some light water and dust resistance (you'll want to take cover if things get crazy though). Speaking of the front of the scooter, I found this to be an odd place to show the battery status and have the power button.  I suppose that where you can remove the handlebars they couldn't put these features in them, but you do have to lean forwards a bit to see the battery state while riding. Luckily the long range means you won't worry about it much unless you forget to charge it up or are traveling quite far.
Performance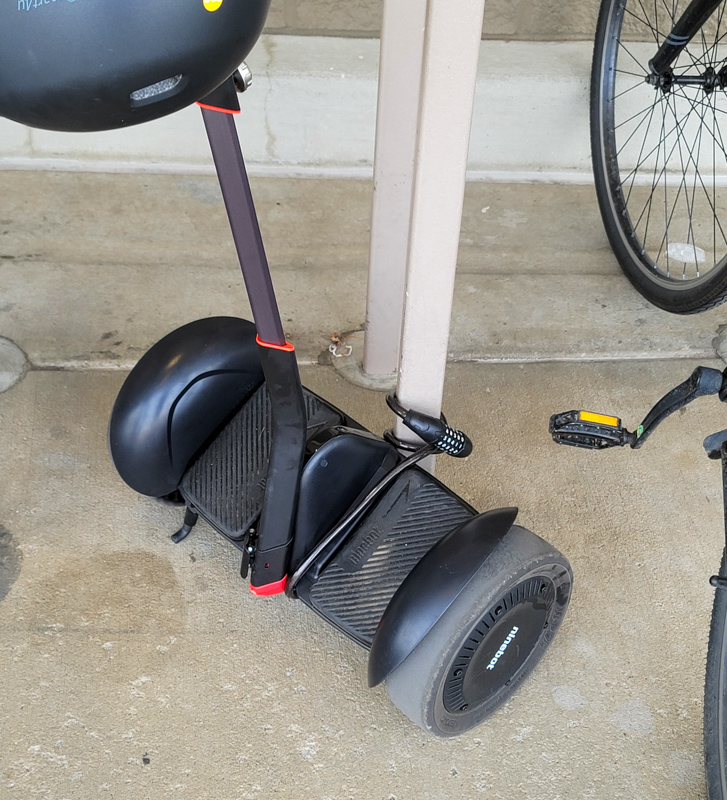 With a Target store about a mile and a half from my house, I had an obvious first destination. I've ridden to this particular Target before on the rental scooters found around my neighborhood, but those previous rides had been very bumpy and unpleasant. The Segway Ninebot S MAX was definitely a step up from the traditional kick-scooter experience: the larger wheels definitely absorbed the sidewalk cracks and uneven bumps much better than the smaller-wheeled kick-scooter.  It was also a lot easier to stand in a natural position the entire ride, instead of sideways with one foot in front of the other.
Once I arrived at Target, locking up the scooter was not as easy as a bike, there are no obvious spots to run a locking cable or bar through. I followed Segway's advice from the manual though and simply wrapped the lock around the scooter base then around the bike rack as many times as possible. This didn't feel nearly as secure as looping through a bike frame, but it would at least take a thief some cumbersome wrangling to try to get the scooter out. In the previous photo, notice the kickstand as well: this small kickstand lets the scooter stand upright at rest.
This standing position does make you a lot wider than a kick-scooter, and some cities/states have different laws on if scooters should be ridden on sidewalks or in bike lanes or on the side of the road, so be sure to check before riding in your area. If riding on a sidewalk, you will probably take up the entire sidewalk, making encounters with other scooters, bikes, or pedestrians a bit sketchy.
The speed, even on maximum settings, is a bit lower than I would have preferred. It's still much faster than walking, but 12 mph is lower than most of the rental kick-scooters are capable of, making longer trips take more time. In addition, the "speed limit" is enforced in a strange way by the scooter: it leans backward if it is traveling too fast. Since you push the handlebars forward to go faster, this has the effect of leaning your entire body backward once you exceed the speed limit and the first few times it happened I felt like the scooter was going to keep tipping backward until I fell off. After a few days of riding, I got used to the gentle backward leaning before I pushed it too far and slowed down on my own but this is one area that I'd like to see improved; better warnings before the strong lean-backward stage would be much appreciated.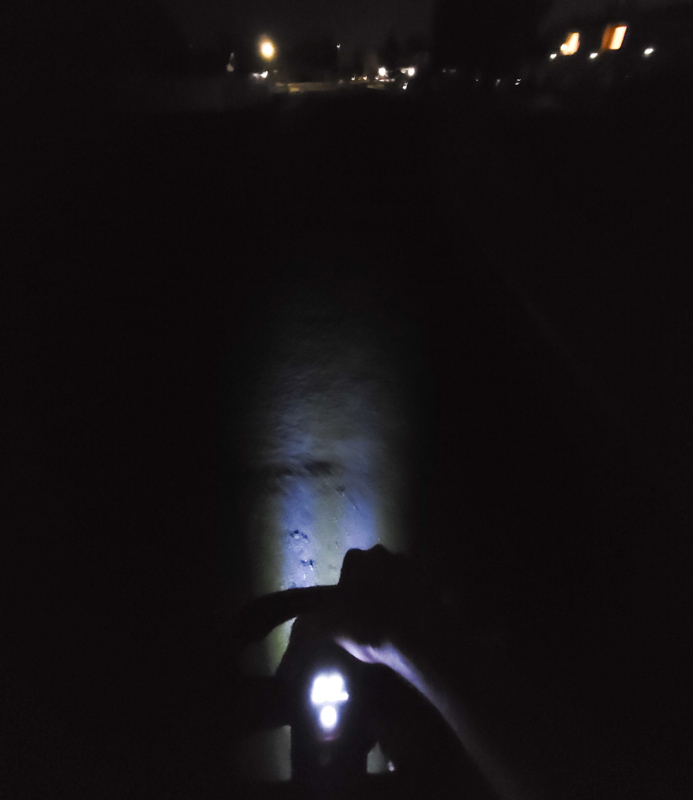 I like that the scooter has headlights, but their position is too low to be very useful besides broadcasting your existence. As you can see in the shot above, they really only show you a very narrow band of the road about 10 feet ahead of you. If you're traveling full speed, this isn't enough warning for obstacles. I hit a rather large tree branch that was in the road after a storm because of this, which was the only time I fell off the scooter (but due to the lower speed it was more of a running dismount than a fall). If Ninebot could have put the headlights on the handlebars (or even just higher up on the scooter body), it would aid with both illumination for the rider, as well as rider visibility to other cars and people.
I didn't push it to its range limit because longer rides weren't comfortable (advertised at 23.6 miles, but this was likely done on a smooth track with a super light rider).  I liked short rides a lot, but over time uneven pavement or sidewalk cracks combined with solid wheels and old knees add up. I was able to take it on at least five 1-2 mile outings without going below 50% battery, so real world range is probably at least 10-15 miles for a rider on the heavier side of their limit. The scooter does well with hills up to the 15 degree advised limit, but if you're in a hilly area you'll take a big range hit.
Despite some drawbacks, I found myself hopping on the Segway Ninebot S MAX nearly every night just to cruise around the neighborhood. It was pure fun for short trips, here's a bit of my antics that I was able to capture with my drone (controlling the scooter with one hand and the drone with the other):
What I like
Fairly easy to balance and learn
Long range
Portability
Go-Kart option
What I'd change
Better headlights
Shock absorption
Higher top speed
Final thoughts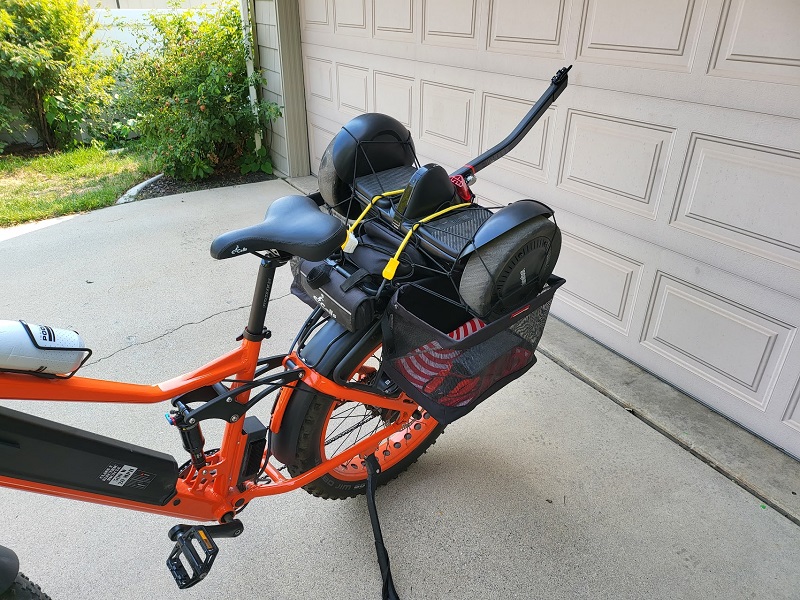 I could see the Segway Ninebot S MAX being a fun toy for some and a useful commute option for others. I just wouldn't want to be carrying it onto mass transit, there are foldable kick-scooter options that would be better for busses and trains. Right before I wrote up this review, I had to drop off my bike (my primary mode of transportation) to get tuned up. My wife was using our only car, but the 2 mile return trip without the bike was an easy 10 minute scooter journey instead of a 20-30 minute walk in the August sun. I haven't even mentioned the kart accessory yet! I've seen prices on this go from ~$800-$1000, you simply insert the scooter and into a go-kart style body kit, which then becomes a go-kart capable of blistering acceleration and 22.9 mph top speed. All in all, if you're looking for a longer range scooter that is easy to control and fun to ride, you might have just found your perfect option. I know this will continue to get used for a long time to come. One last thought before I leave you – if you're using it to go shopping, make sure to bring a backpack: traveling a few miles with full grocery bags in your hands can make for some hair-raising moments on the way back.
Price: $1099.99
Where to buy: Segway and Amazon
Source: The sample for this review was provided by Segway