We use affiliate links. If you buy something through the links on this page, we may earn a commission at no cost to you. Learn more.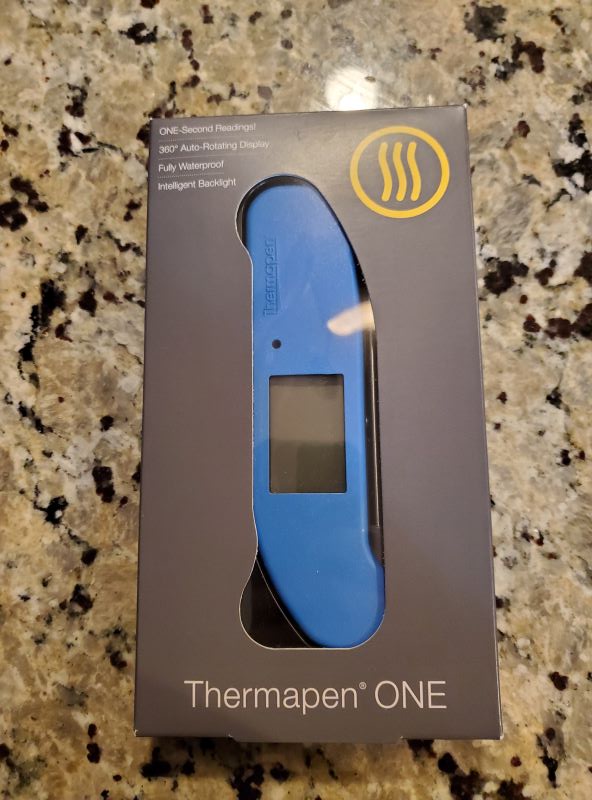 REVIEW – The ThermoWorks Thermapen ONE is a food thermometer and whether you're a multi-Michelin star chef or a weekend grillmaster, food safety is paramount. I've been married to "Public Health" for the better part of a decade and I'm pretty sure the safe temperature for chicken was in our wedding vows ( 165 degrees Fahrenheit if you were wondering). The best way to make sure your food is safe is to monitor the internal temperature. This is where the Thermapen comes in. It easily unfolds the probe which is inserted into the thickest part of whatever you are taking the temperature of. The temperature is displayed in a large digital format, either in Fahrenheit or Celsius, on a backlit screen. It is powered by a single AAA battery. Extremely simple to operate and interpret, but why do we need THIS thermometer in our food arsenal? Well, friends, that's exactly what this reviewer is going to find out.
What is it?
The last pen-style food thermometer you'll ever need. At least, according to my partner who has been in public health for the better part of a decade. I'm actually going to quote him on this one:
"I've worked in kitchens and delis, I've worked as a sanitation inspector in the military, and I currently manage a school cafeteria for young children. Food safety is my bread and butter, so to speak. At every point in my career, I've used a food thermometer in some capacity and a pen-style thermometer is the easiest kind. Specifically, I've always valued Thermapens for several reasons. They are extremely easy to use with or without gloves on, the display has always been large enough to make it easy to read, and I love how easy to clean and maintain they are. The first things you notice are how solid it feels in your hand; it is by no means light and flimsy. The rubber coating around the center improves your grip even with wet hands. By far, my favorite feature of this model is the backlit temperature display. Turning it on and off is as easy as moving the probe back and forth, reducing the risk of forgetting to actually turn off the thermometer when you're done with it. Hey, it happens to the best of us."
Now me? I actually used to hate taking the temperature of food. I was taught to cook by trial and SEVERAL errors. Then I started my baking hobby. Yeast, cheesecakes, tempered chocolate, you name it, I had to figure out if its temp would kill it, grow it, burn it, curdle it and the ThermoWorks Thermapen ONE thermometer has been such a workhorse in quelling that baking anxiety that I'm a temperature-taking convert.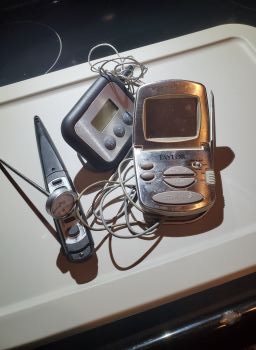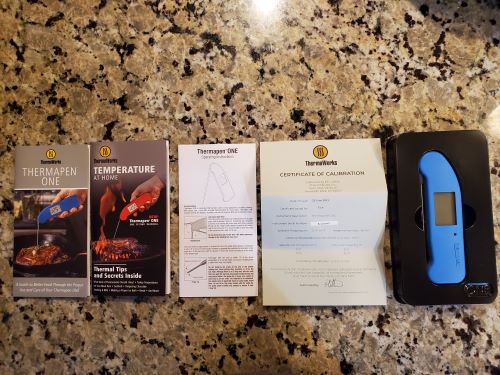 What's in the box?
Thermapen thermometer
Thermapen care guide
Thermal tips and secrets manual
Operating instructions
Certificate of calibration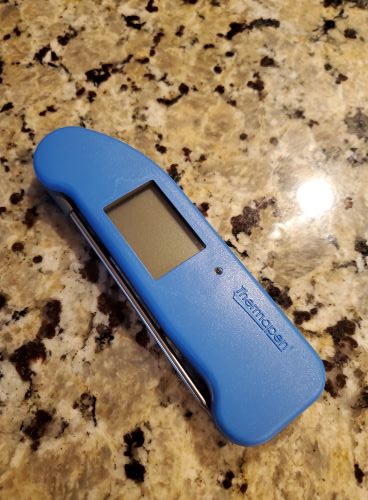 Installation and Setup
The designers of the ThermoWorks Thermapen ONE thermometer seem to have set out with the goal of simplicity. The thermometer works straight out of the box after inserting the battery. Extending the probe arm powers it on and you're ready to take temperatures like a pro. A pro WITH A BACKLIGHT!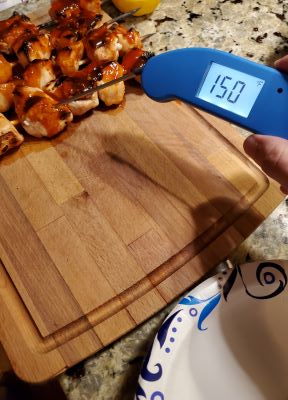 Design and features
Textured rubber/plastic anti-slip material
Sturdy probe arm
Large backlit display is easy to read and adjusts the orientation
Powered by one AAA battery
Fahrenheit or Celsius display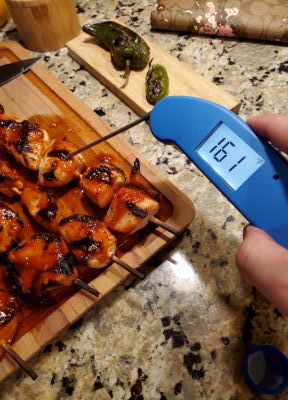 What I Like
Extremely easy to operate, very intuitive
Backlit display is a huge plus; fantastic for summer twilight grilling
Easy to clean and sanitize
Rubber grip works well bare handed and with oven or grill mitts
Rubber gasket around the battery compartment
Easily replaceable AAA battery (far easier to have on hand than button batteries or weird sized batteries)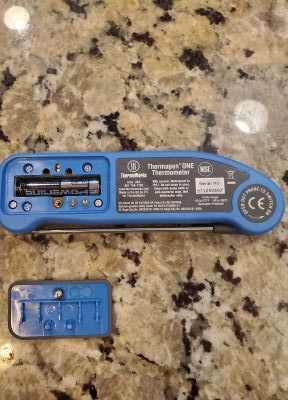 What I'd Change
Honestly, it's very difficult to find anything to change. The Thermapen has been so well designed and crafted that it will perform under even the most stressful conditions. ThermoWorks even included a rubber lining around the battery compartment to keep out the inevitable moisture present in a kitchen or outside on an unpredictable New England day. Perhaps the only modification I would suggest would be a magnet embedded on the back in order to affix it to magnetic surfaces for another storage option, but in the grand scheme of things, it's a very small improvement.
Final thoughts
Continuing the theme of this review, I will keep the floor open to my partner, who has tried to make off with this thermometer several times… :
"Proper temperatures are the main pillar of food safety and I think anyone would be hard-pressed to find a better, easier-to-use kitchen thermometer. It's compact and gives some of the fastest readings I've seen among the plethora of kitchen thermometers I've used."
It's quite the compliment to the brand. A few more of my favorite attributes of the ThermoWorks Thermapen ONE thermometer is the backlit display that reorients based on how you're holding it.*chefs kiss*.  It is the thermometer you'll find yourself reaching for every time because it's so easy to use; there's no on/off switch or timer to fumble around with and so user-friendly.
I tested this model against our Sous vide, our manual probe thermometer, and even one I purchased at Ikea for the giggles, and the ThermoWorks Thermapen ONE was consistent in all tests. In fact, it was so accurate I was finally able to clear out the thermometer drawer in my kitchen. I will say if you are looking for a thermometer that you can leave in a roast or turkey while it's in the oven, you will need to look elsewhere, but with the Thermapen you can easily take near-instant readings while you sit in front of the oven and watch the magic happen. If you are in the market for a kitchen thermometer, this is the one to get. If you aren't in the market for a kitchen thermometer, this is what peak one-stop-shopping looks like.
Price: $105.00
Where to buy:  ThermoWorks
Source: The sample for this review was provided by ThermoWorks