We use affiliate links. If you buy something through the links on this page, we may earn a commission at no cost to you. Learn more.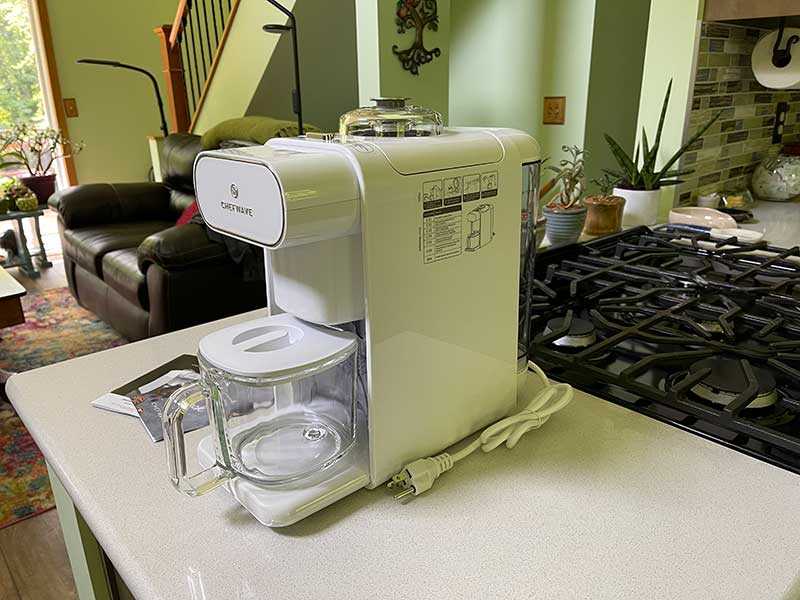 REVIEW – I've reviewed 1000's of products in the almost 24 years that the Gadgeteer has been online and of those products, there aren't many that I can say have changed my life. Ok, that sounds a little dramatic. But it's true, there are a few products that have actually changed my life for the better. One product is the robot vacuum and the latest is the ChefWave Milkmade non-dairy milk maker. What the heck, you ask? Let me show you.
What is it?
The ChefWave Milkmade non-dairy milk maker is just what the name implies. It's a kitchen appliance that sits on your countertop and allows you to quickly make non-dairy milk using nuts or grains.
What's in the box?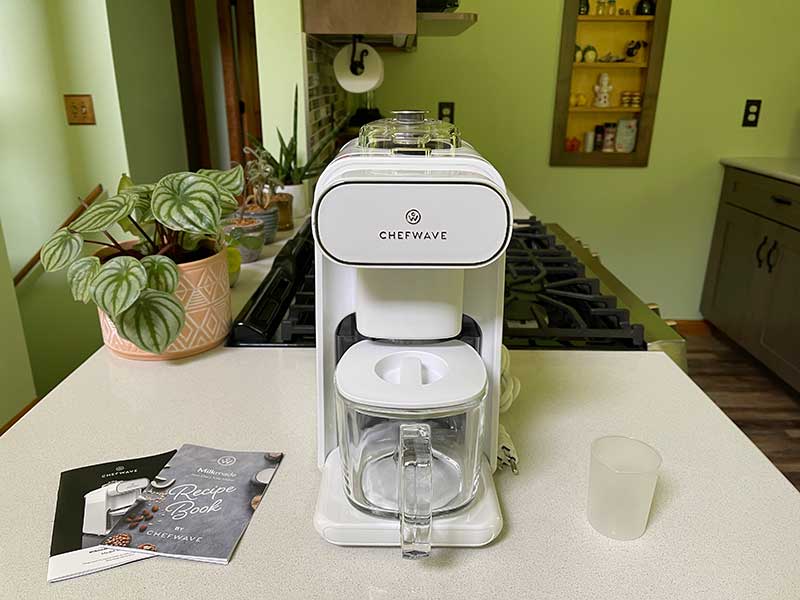 ChefWave Milkmade non-dairy milk maker
Manual
Recipes
Measuring cup
Design and features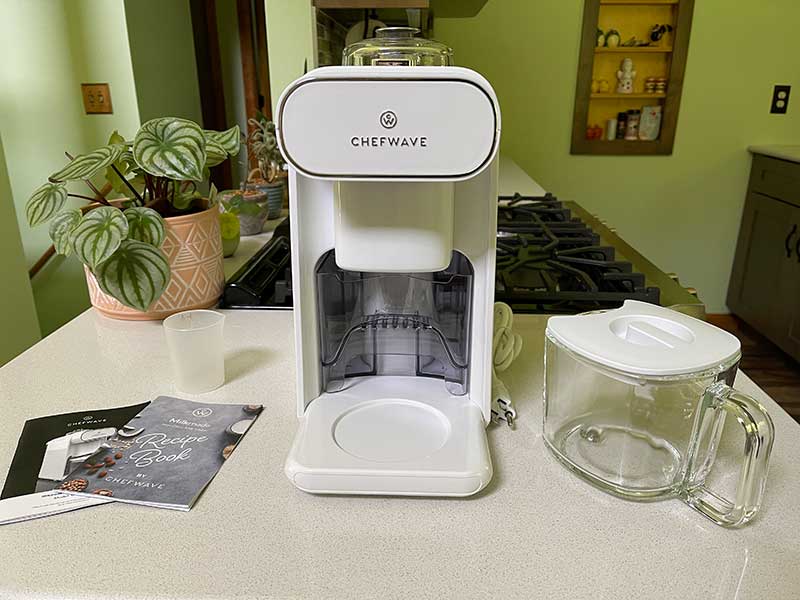 The ChefWave Milkmade is a countertop appliance, so that means you'll need some space on your counter for it to live. It's probably not something you'll want to store away in a cabinet because you'll be using it frequently. Think of it sort of like a coffee maker which is actually what a relative thought it was when they noticed it on my counter.
The ChefWave Milkmade has an attractive white plastic housing that should blend in with almost any kitchen decor.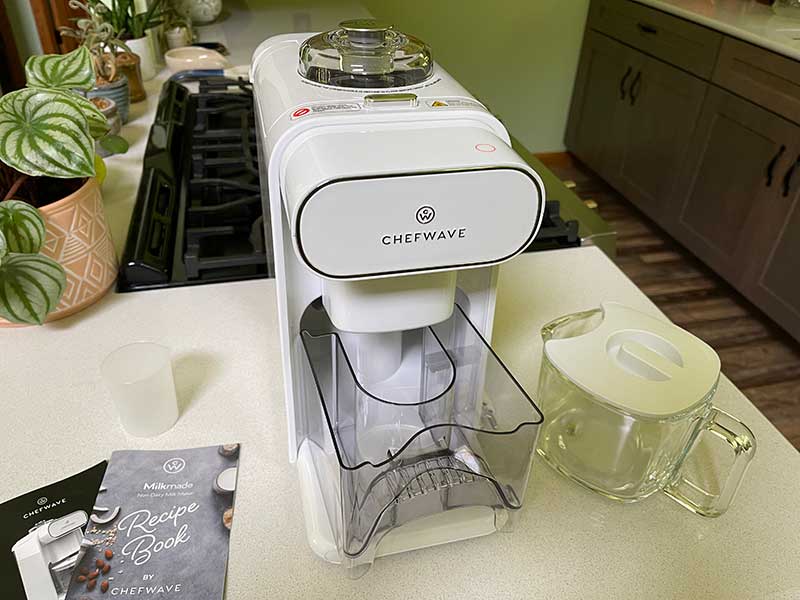 The device isn't huge, but it does need at least 13.6 x 6.5 x 12.8 in. of space on your countertop. It also needs some room above it too because it has a steam valve. But more about that later.
As far as the parts go, there is a glass pitcher, a plastic wastewater basin, and a water reservoir.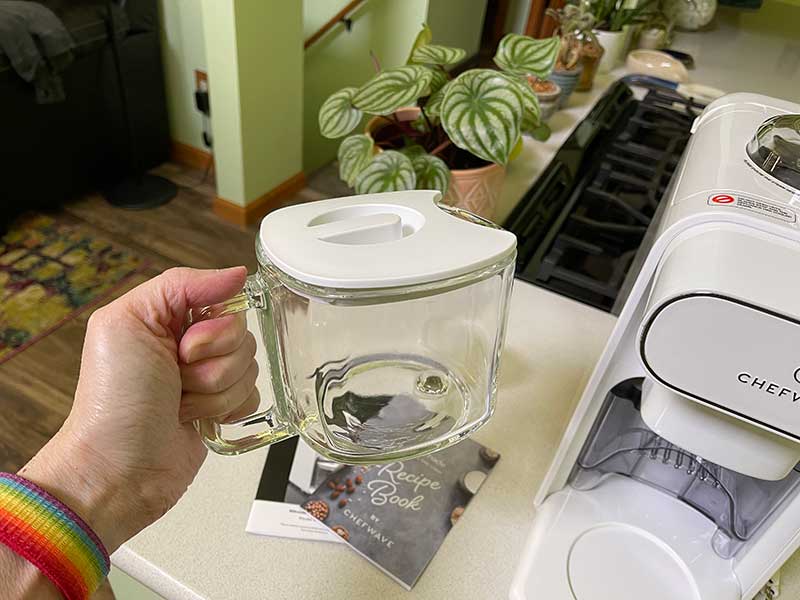 The glass pitcher is made of thick glass with a steel button embedded in the bottom of it that makes it easy to orient the pitcher exactly where it needs to go on the ChefWave Milkmade base. The top of the pitcher is made of plastic and is removable for easy cleaning.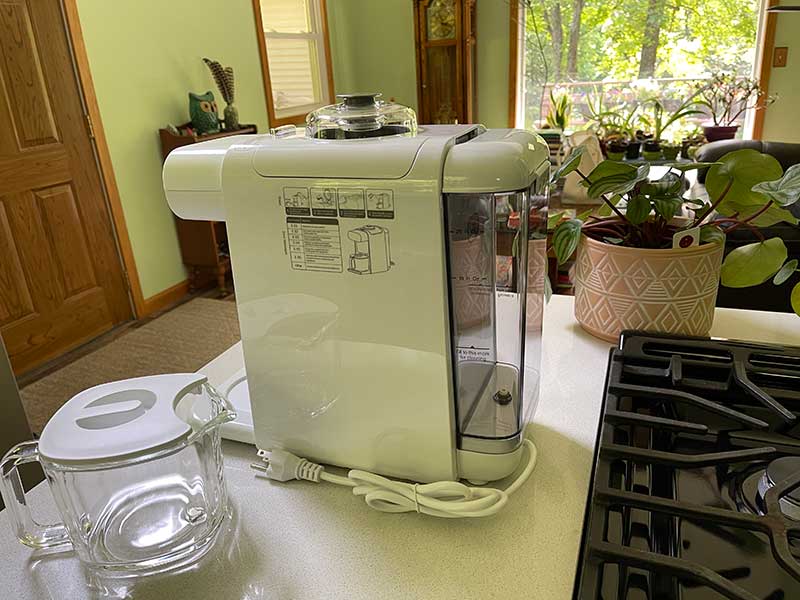 The water reservoir is on the back of the unit.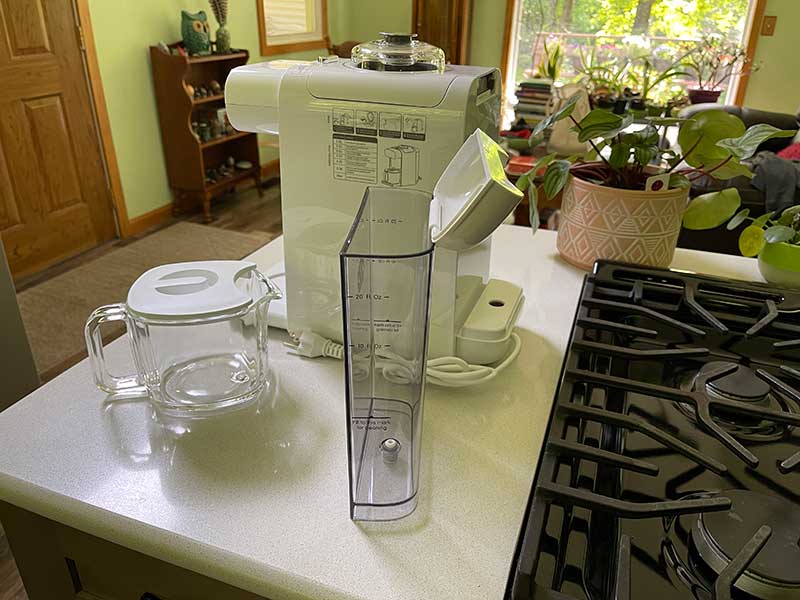 The reservoir is simple to remove and fill with water. It has a 20 ounce capacity which is the maximum amount of non-diary milk that the ChefWave Milkmade will make at a time. The minimum amount of milk that you can make is 10 ounces.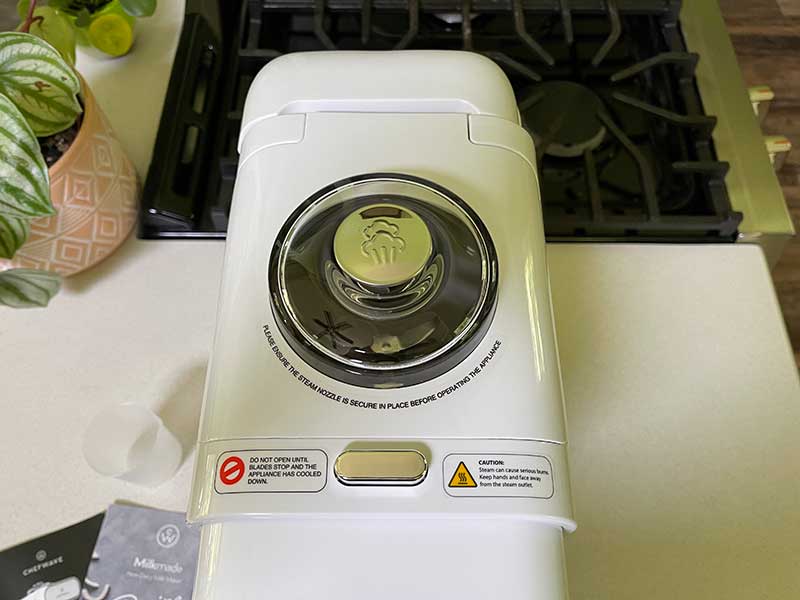 On the top of the ChefWave Milkmade you will find the grinding compartment and the display panel.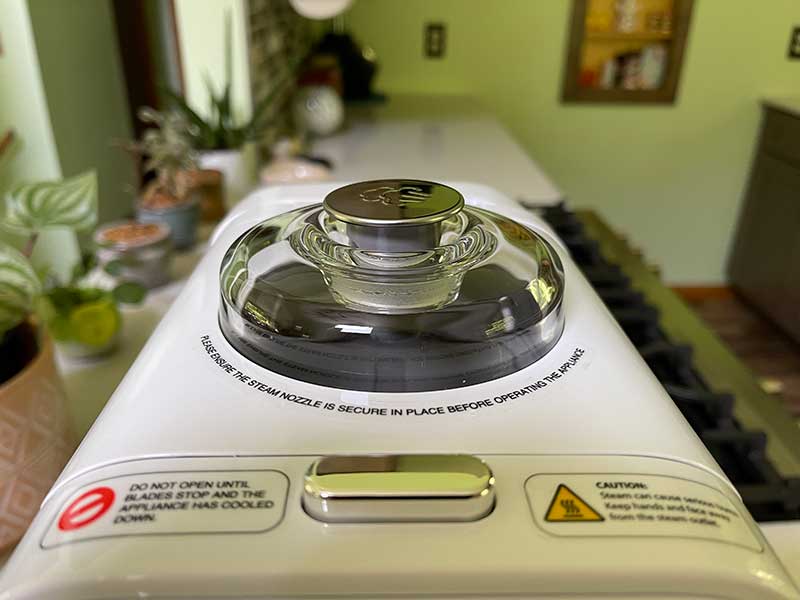 The grinding compartment has a see-through glass dome on top with a steam cover.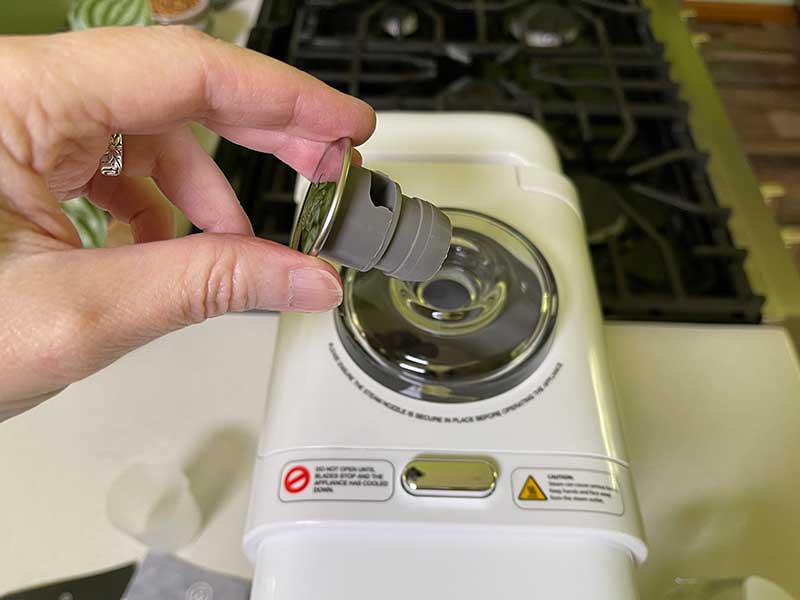 The steam cover has a silicone stopper and pulls out for easy cleaning.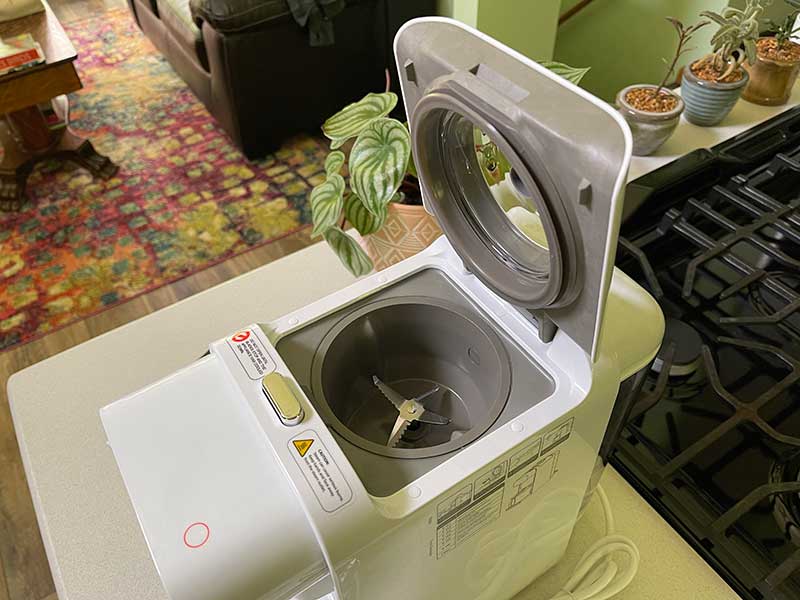 Inside the grinding compartment are 4 grinding blades and a water spigot.
Let's make some non-diary milk!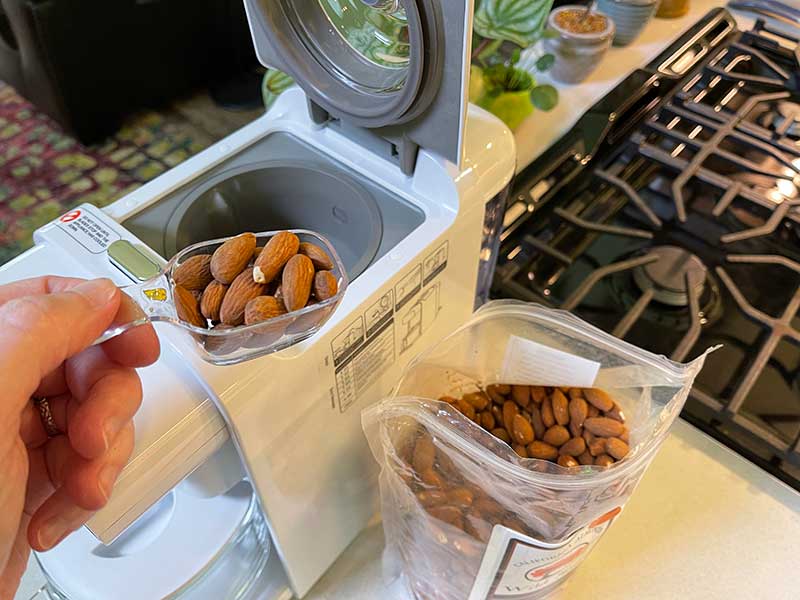 What kinds of non-dairy milk can you make with the ChefWave Milkmade? Almond milk, cashew milk, soy milk, walnut milk, oat milk, coconut milk, and probably others that haven't been thought of yet. But those are the nuts and grains that are listed in the small recipe book that comes with the unit.
I ordered some organic roasted almonds from Amazon for my first test of the Milkmade.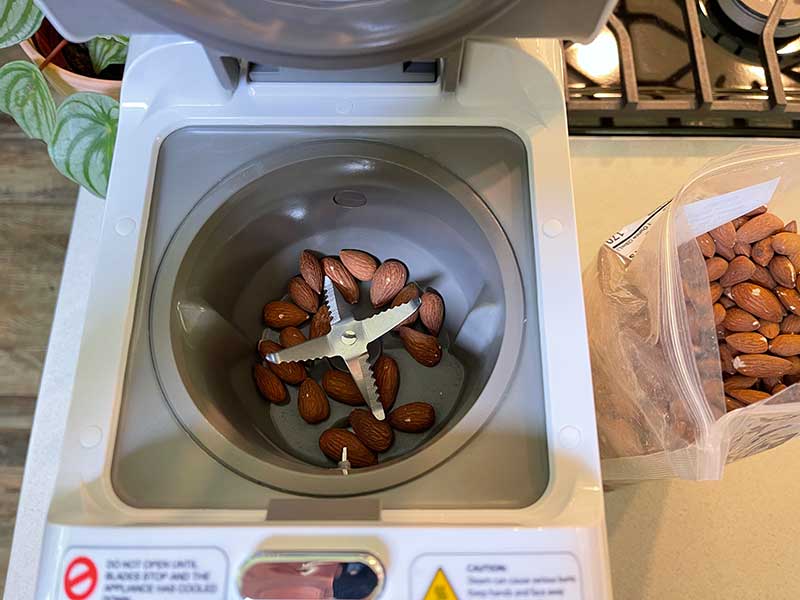 The great thing about the ChefWave Milkmade is that you do NOT have to soak the nuts or grains before you make the milk. This means that it's incredibly simple and quick to make some milk. All you have to do is fill the water reservoir on the back of the Milkmade with plain water, then you pour 1-2 tablespoons of nuts or oats into the grinding compartment depending on the quantity of milk that you want to make and shut the lid.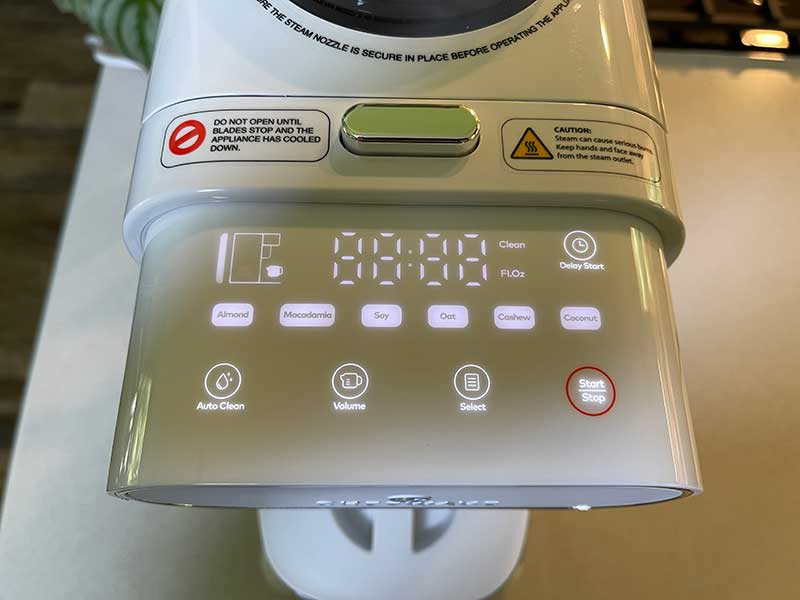 Then you plug in the unit and use the touch buttons to select the volume and type of milk you want to make. You can also set a timer if you want a delayed start. Then press the start button and less than 15 minutes later, you'll have fresh non-dairy milk!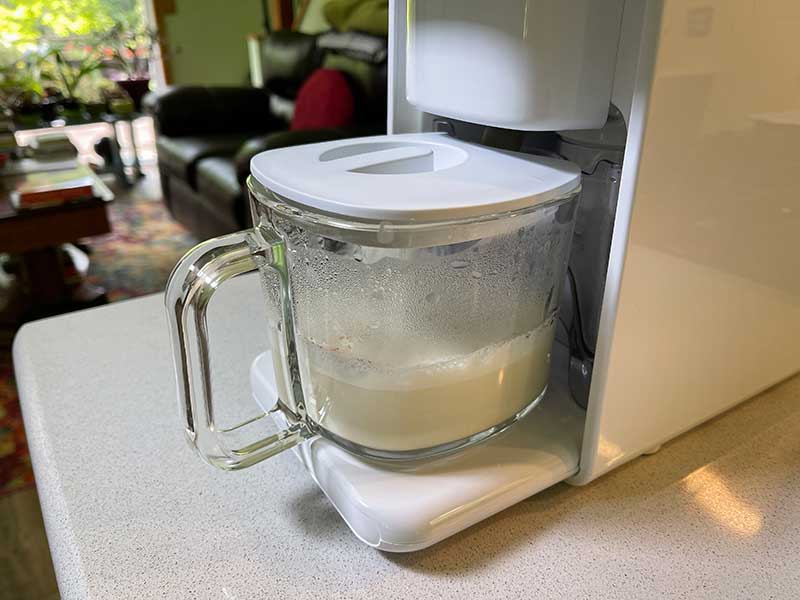 After the milk is finished, the Milkmade will clean itself using the remaining water in the water reservoir and deposit the dirty water in the wastewater basin.
Don't worry if you're busy and forget to remove the pitcher after the milk has been deposited. The automatic cleaning session will NOT put the dirty water in the pitcher if you fail to remove it. The ChefWave Milkmade is smarter than that. The spigot rotates to deposit the dirty water into the wastewater basin.
The wastewater is the only thing you'll need to empty once the cleaning has been completed. There's no pulp to remote, nothing else to clean other than checking the steam valve to see if any residue is in it. I've only had this happen once when I made milk from steel-cut oats. But just to be clean, I rinse it out at least once a week.
There's also a note in the manual that you'll want to descale by adding some vinegar to the water reservoir and manually chose the cleaning option. This is important if you happen to have hard water in your area.
See in action
The ChefWave Milkmade is easy to use, but how does the non-dairy milk taste?
My first test of the Milkmade was using roasted unsalted almonds that I bought from Amazon. Just to repeat, you don't have to soak the nuts or oats before you make the milk. Actually, the recipe book/instructions specifically tell you NOT to soak.
The almond milk turned out great and all that was in it was a tablespoon of whole roasted unsalted almonds and water but after the milk was made, I added a pinch of sea salt and a little stevia to sweeten it up just a smidge. The milk was smooth without any chunks of nuts that weren't ground up.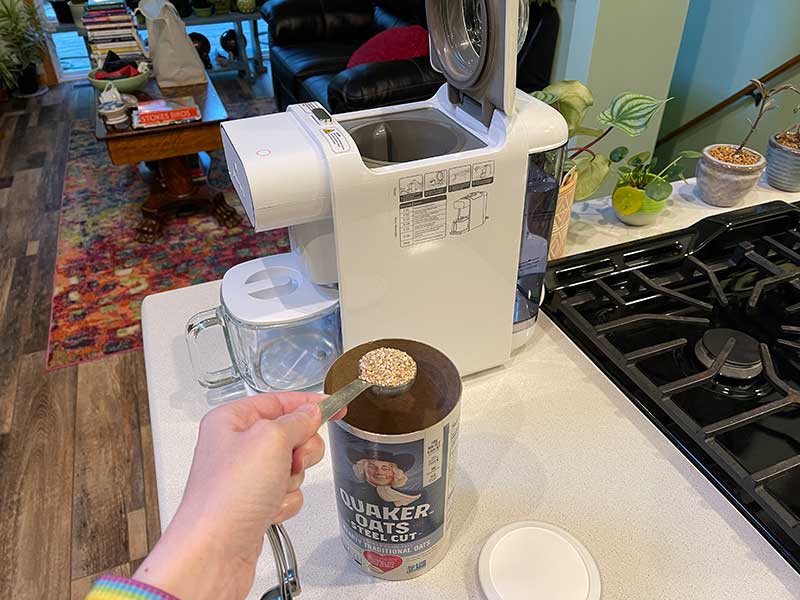 For my next test, I used steel-cut oats and it worked just as well. But it's important to note that the oat milk thickens up quite a bit after it's in the refrigerator.
I then tried half almonds, half pistachios, and then I tried half almonds and half cashews. All the combinations worked great.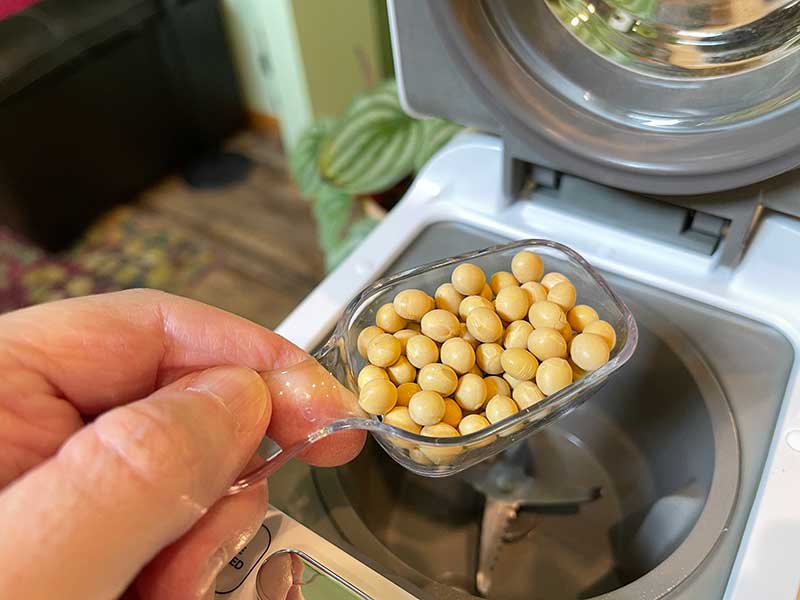 I even decided to try making soy milk. I ordered a bag of organic soy beans via Amazon and well, you can see the results below.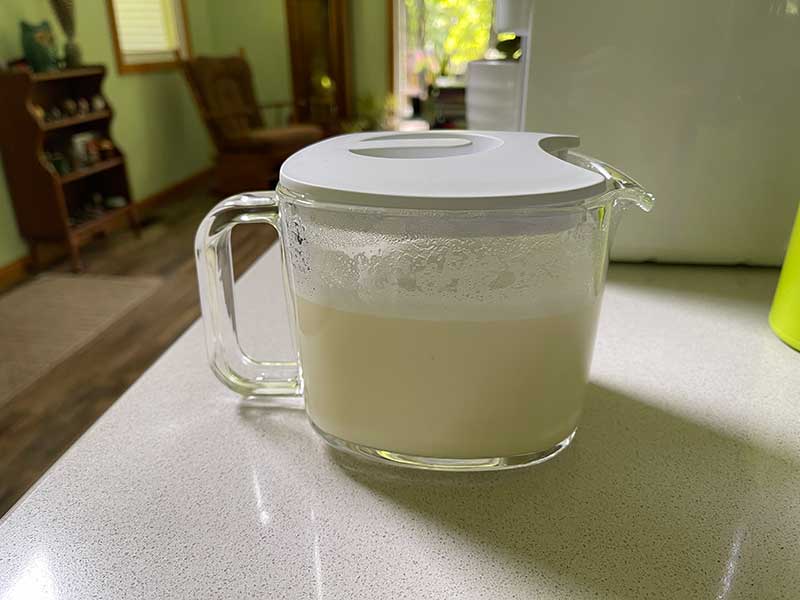 Another winner! It's so fun and quick to make non-dairy milk that I keep trying to come up with other ideas and combinations to try.
What I like
So easy to use!
You can choose the ingredients
No soaking
Very fast
Auto cleaning
What I'd change
Final thoughts
I like the ChefWave Milkmade so much that it's going to be added to my Julie's Favorite Gear page the next time I do an update. Right now it's my favorite "gadget". It is well made, easy to use, and allows me to make non-dairy milk that have only the ingredients that I want AND I can make a fresh batch in just minutes with no messy clean-ups. Thanks ChefWave for designing such a terrific kitchen appliance.
Update 9/8/21
I reviewed the Milkmade 2 months ago and it's earned a permanent spot on my kitchen counter. Counter real estate is a premium at my house, so that's saying a lot about this kitchen appliance. I've not purchased any "milk" of any type from the grocery store. I enjoy being able to have fresh milk within minutes. Granted that it's hot milk, but I just make it first thing in the morning or the night before and put it in the refrigerator. My latest concoction is soy, almond, cashew. I still need to try coconut and someone mentioned sweet potato which sounds odd but I'm willing to try anything!
Update 8/12/22
I've been using the Milkmade for about a year now and it's still working as well as it did the first day I tried it. I mainly use it to make almond, soy, and coconut milk which then I use to make shakes and one of my favorite low-carb desserts – chia pudding. If you're interested, here's how I make it:
2 T of chia seeds
1 t of cocoa powder
2 packets of sweetener (I use stevia)
a pinch of salt
1/2 C of almond milk, soymilk, or coconut milk
Put all the ingredients in a small container, stir, then put it in the fridge overnight. It sets up and makes a great pudding. I even put whip cream on it sometimes 🙂
Price: $199.95
Where to buy: ChefWave and Amazon (save 20% off using coupon code: GADGET20MM)
Source: The sample for this review was provided by ChefWave.