We use affiliate links. If you buy something through the links on this page, we may earn a commission at no cost to you. Learn more.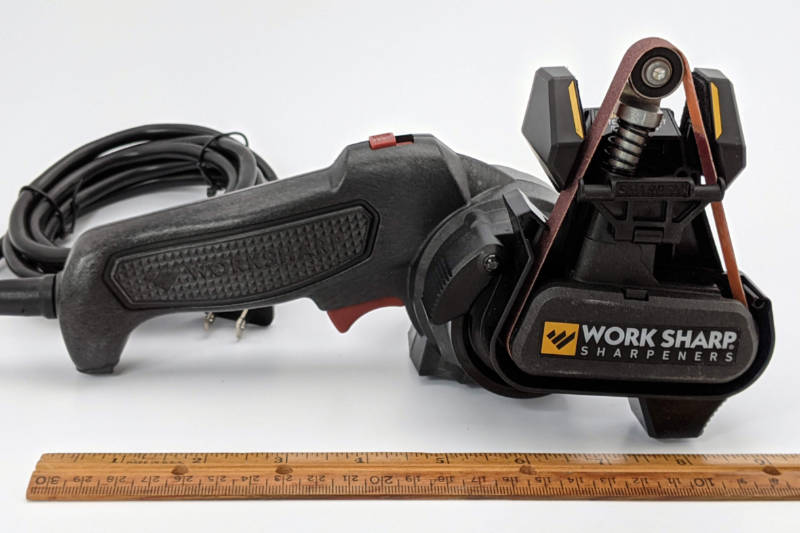 REVIEW – The Work Sharp Original Knife and Tool Electric Sharpener is one of the best tools I own. It has worked perfectly, for years. Work Sharp just came out with an updated version, the Mk. 2. If you'd like to sharpen a knife to paper-shaving sharp in under 5 minutes instead of slow, plodding, stone sharpening, take a look at the new Work Sharp Mk. 2 sharpener.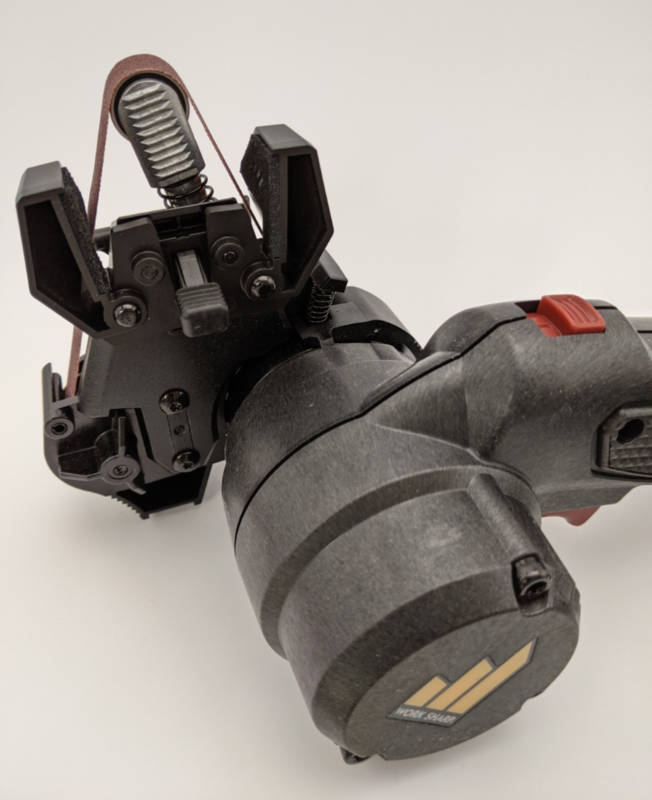 Confession up front – I nearly ruined the first knife I sharpened with my Original Work Sharp. Some might say I should remove the word 'nearly'. It was totally the fault of the human sharpener, not the electric sharpener. I'll show the crime scene evidence with an explanation below. You don't have to make the same mistake.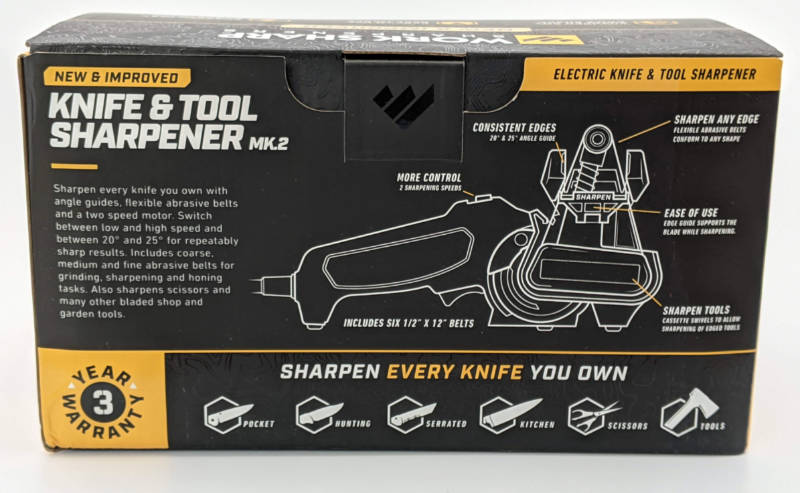 What is it
The Work Sharp Knife and Tool sharpener is an electric, ½" belt style sharpener. It is solidly constructed and easy to master even if you have never sharpened your own knives. 
Here is a link to the manual and excellent videos from Work Sharp Support, which helped me before and after I purchased.
https://www.worksharptools.com/user-resources/user-resources-wskts2/
Also check YouTube for 'Work Sharp'.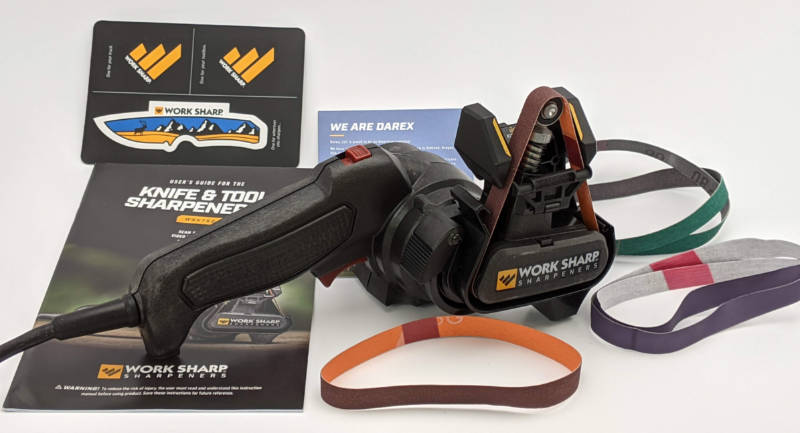 What's in the box
Work Sharp Mk.2 Knife & Tool Sharpener

20° & 25° Sharpening Guide

65° Scissor Guide

Two P80 Coarse Abrasive Belts (green)

Two P220 Medium Abrasive Belts (brick red)

Two 6000 Fine Abrasive Belts (purple – turns gray after 1-2 uses)

User's Guide and Quick Start Guide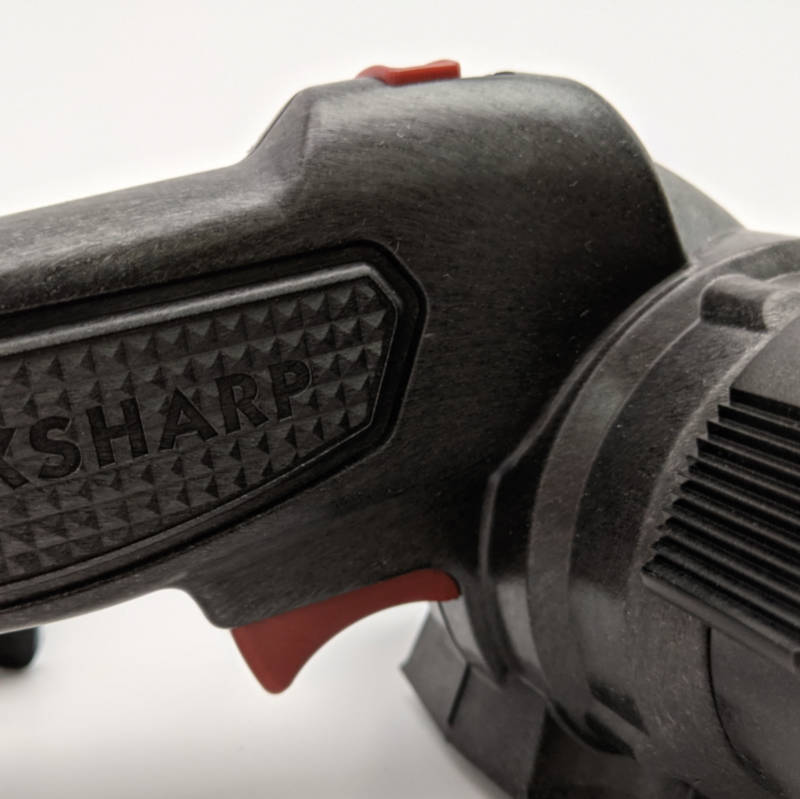 Hardware specs
Heavy duty plastic outer body and metal internal parts.

Trigger actuated dual speed electric motor.

½" x 12" sharpening belts

3 year warranty

6' cord

Weight: 1 lb, 10.2 oz

Length: ~9" in sharpening position

Width: 4.75" at motor & sharpening belt module
Design and features
The Worksharp Mk. 2 has some changes engineered into it which are improvements over the nearly perfect Original.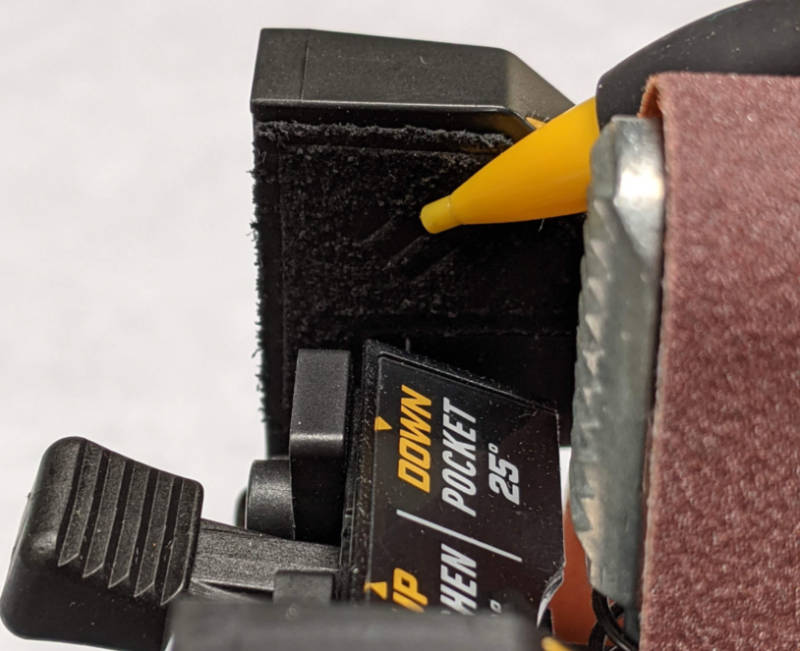 The sharpening guide has been redesigned and increases precision and consistency to ensure a proper edge angle. There is now a new scratch resistant leather lining on the sides. (I'm pointing to the leather with the pencil tip above)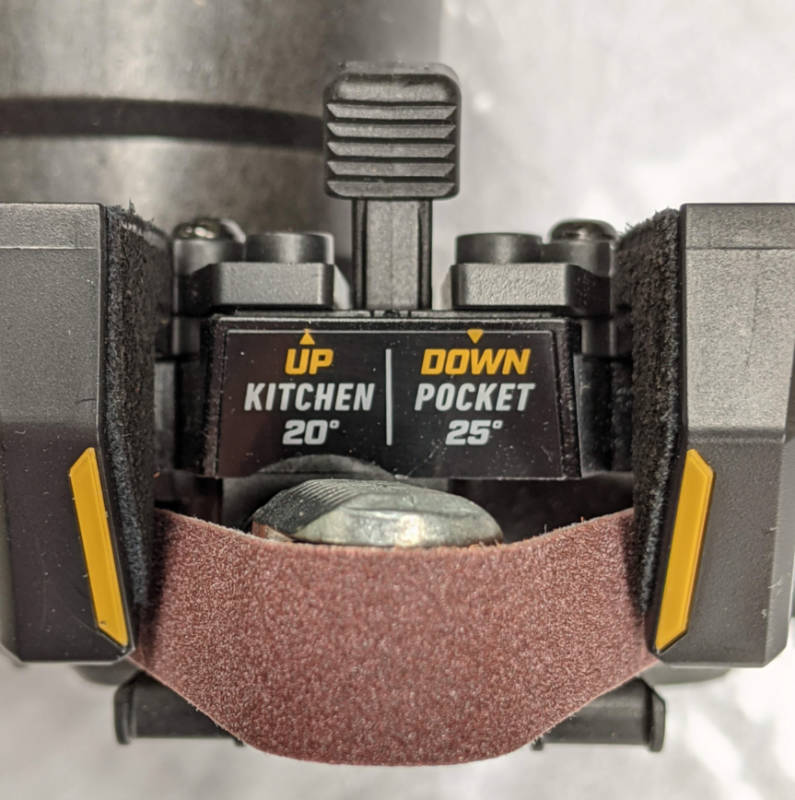 It's easy to quickly switch the guide for 25° outdoor knives or 20° Kitchen knives with the guide switch.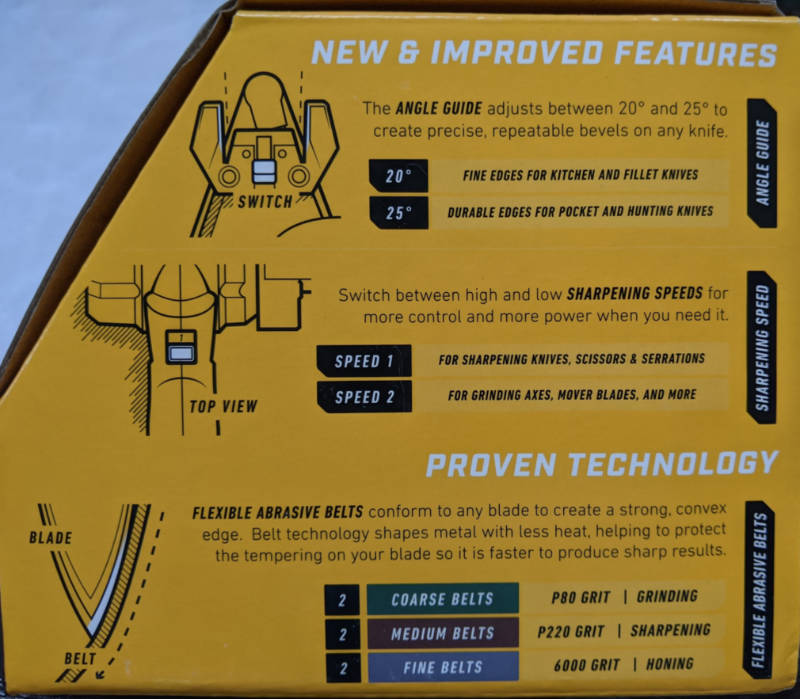 There's a new blade rest sitting in front of the abrasive band / closest to the user.  This gives improved stability and a resting point for the blade as you pull through the sharpening stroke.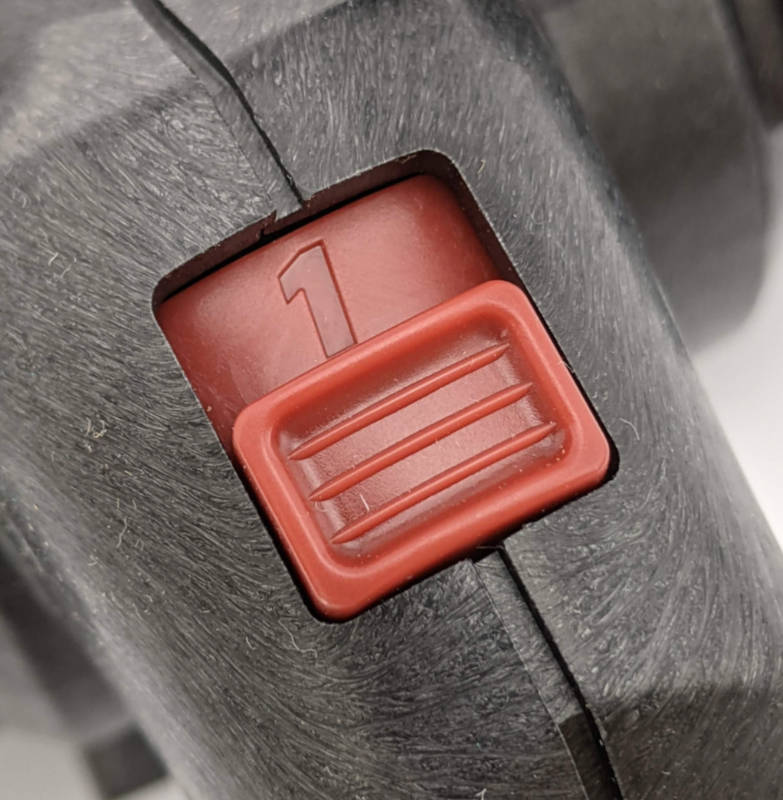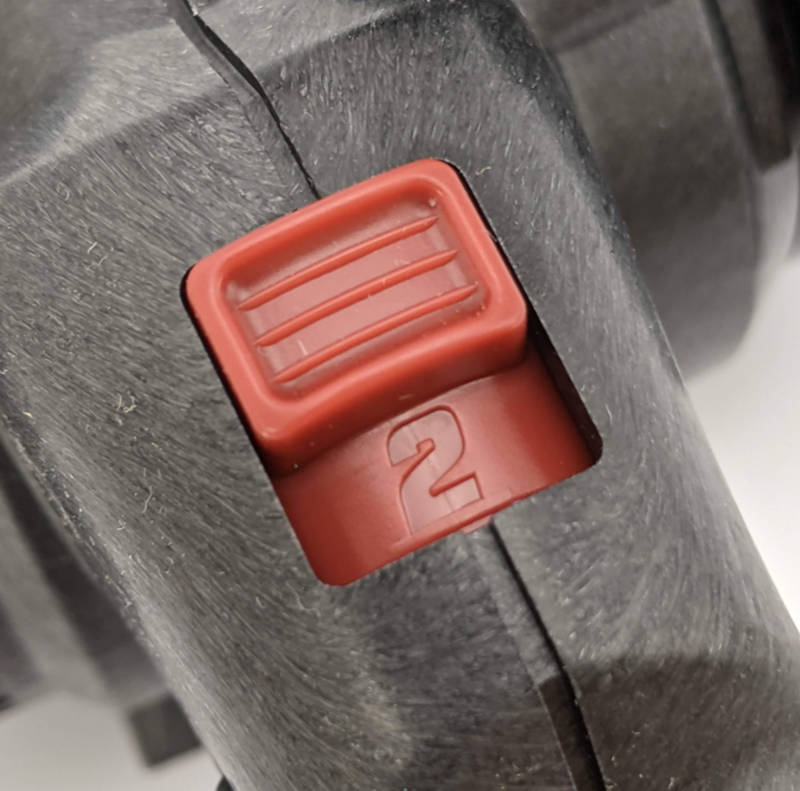 The motor now has two switchable speeds. Low speed (switch position 1) is for good control when sharpening a knife. On high speed (switch postion 2) there is extra power for heavier sharpening and grinding tasks on tools like lawnmower blades, axes and lawn & garden tools. The green belt is for those heavier duty tasks. The belt module head rotates for tool sharpening or storage.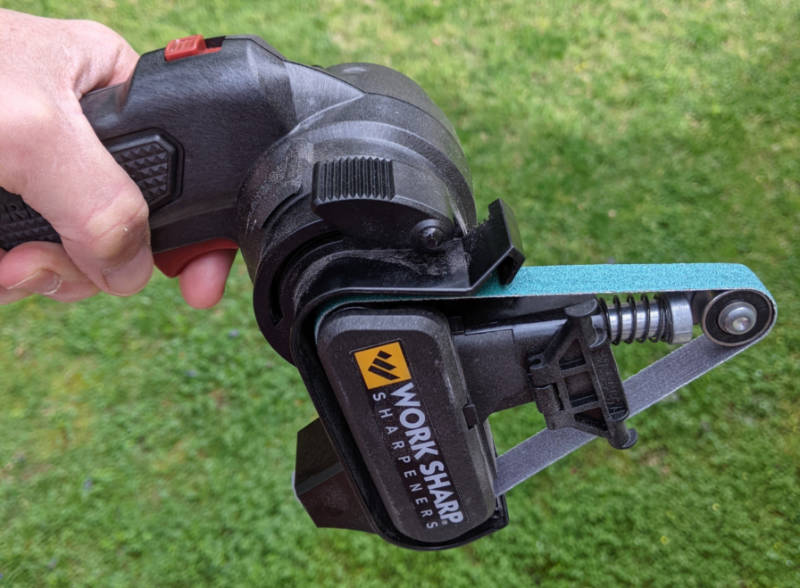 Installation and Setup
All you have to do is unbox the contents, do a bit of reading of the manual and/or a quick YouTube review, install the red belt, gather your knives, and you'll be off and sharpening. 
PRIMO ADVICE
Here's the best advice you could ever receive before using a Work Sharp sharpener, all for no additional charge from The Gadgeteer website:
Start with a knife you can afford to mess up, but you won't if you follow the directions and my next point.

When sharpening, pull the knife at a

steady speed

when it is in contact with the sharpening belt.

Pull the knife through each sharpening stroke until the

tip is on the belt,

then release the motor trigger. But don't let the tip sit against the running belt for long. Pulling the knife tip through and off the belt with the belt running, rounds the tip of the knife and it may end up not being properly pointed.

Don't overheat blades by pulling too slowly during sharpening. Have a cup of water close-by to dip cool a blade if it gets too hot. Overheating a knife can make it lose its hardness/tempering.

The finished knives are

sharp

. We should wash knives after sharpening. I've

'heard'

that even tapping a knife edge when it is under soapy water

'may'

cut a finger. And it hurt.
This will make a true bladesmith cringe but I'm here to protect you from yourselves, so here goes. Luckily, you can't see me blushing.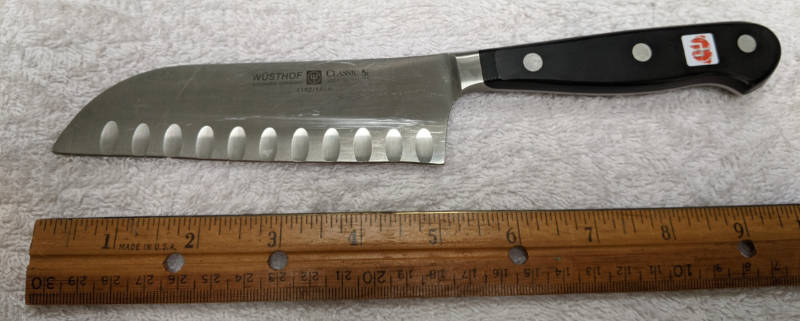 Here's a photo of the first knife I sharpened with my Original Work Sharp. ('Why did he start with an expensive knife?') Shhh. I'm trying to do a review here. 
I was a bit over-confident and slowed down my pull rate at mid-blade, and more than once. This blade edge should have a slight curve outward. I accidentally ground a slight curve in the opposite direction and then had to try to level the edge straighter as the only fall-back recovery move I could think of. If the blade didn't have those indentations from manufacturing, which aid in cutting, I could have been more creative in restoring the original edge shape, although the blade height would have been reduced. Credit to my patient wife – This is a Wusthof Santoku knife, i.e. not a cheapie. It's one of our Wusthof set. She graciously chose not to use this one on me after this pretty bad goof.  
Testing and observations
I have 3 types of stone sharpening devices ranging from a stone that lays flat on a surface, to a device that holds 3 small, thin stones of different grits (roughness to smoothness) at angles determined by rods that protrude from a holder. Does anybody want my sharpening stones? 
I will rarely use a stone, but only to quickly fine-tune a blade if I notice it has a dullness at the tip or slight flaw in the edge, because stone setup is fast. Just set the stone on a surface, add oil or a bit of water, and sharpen. 
But when it's time to bring our kitchen, pocket, and utility knives back to 'factory sharp' then the Work Sharp is the tool I use.  
I still recall what made me purchase my first Work Sharp sharpener. I worked on one kitchen knife on a standard sharpening stone for 40 minutes. I thought I was using proper technique. I hoped I was finished and started the mental drumroll and grabbed a sheet of printer paper to check if the blade was ready / sharp enough / can I stop now / will it shave a slice of paper off the edge of the sheet?  And… the cut started but dragged and the paper ripped instead of being sliced. I finished by circular honing for another 5 minutes and stopped for coffee and internet research.
I first saw YouTubes of guys using big belt sanders they bought from tool shops to sharpen knives. This could work great but the sander and belts may be costly and it seemed overkill for smaller knives.  
Then I came across the many YouTubes from Work Sharp showing this dedicated knife and tool sharpener. After only a few minutes the logic settled on me, 'Why not get a tool made for the purpose I need?' So I did. No, I was not hearing voices. But whoever it was steered me right.
My Original Work Sharp sharpener has worked trouble-free for the ~8 years I've owned it. I've sharpened knives for 5 households in our family, plus a few neighbors who have all been surprised by the edge quality this sharpener produces. 
This could start a comment flood, but, why not…  
I like to sharpen one stroke per side, alternating until finished. Work Sharp and other experts say to do an equal number of strokes on one side then the same number on the other side which creates a burr, or thin curve of metal which would be leaning to the opposite of the last side sharpened. The final strokes with the purple/gray belt removes that burr and yields a fully finished and sharp blade.  Choose your side and see what works best for you.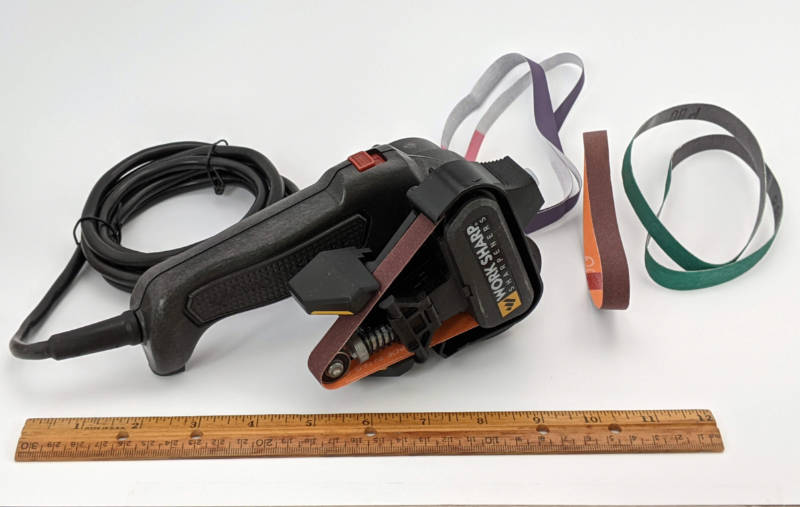 What I like
Professional build quality

Works flawlessly and reliably, as advertised

Sharpens quickly

Even a newbie can get a paper-shaving edge on their first try

Excellent, complete, understandable printed manual

Great support from Work Sharp (online resources and live chat or email.)
What I'd change
Just right, as is. (This is the first time I've written that in a review.)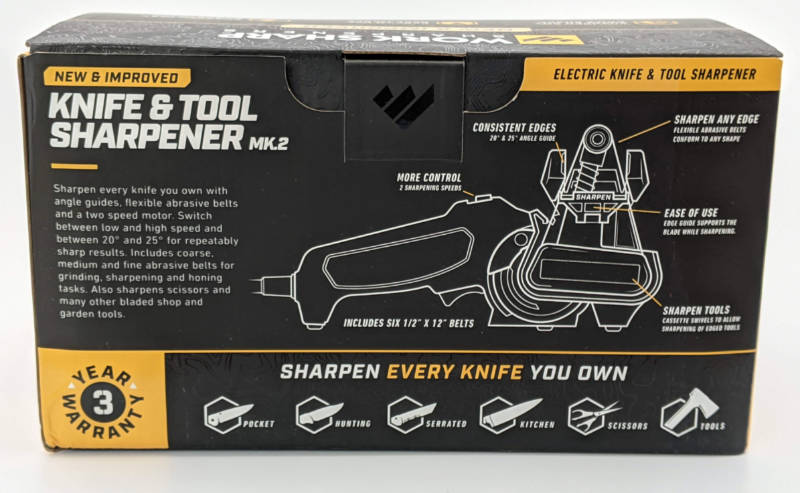 Final thoughts
If you would like a final solution to fast and easy knife sharpening you should consider the Work Sharp Knife and Tool Sharpener Mk. 2 (or Original).
Update 6/14/22
The Work Sharp Mk. 2 knife sharpener and its 1st generation brother, is the most reliable and effective knife sharpener line of tools I've owned. Support is first class. I split two honing bands recently and simply contacted support with a question about my technique, and they sent me a new set of bands.
Price: $99.99
Where to buy: Work Sharp and Amazon
Source: The sample for this review was provided by Work Sharp.