We use affiliate links. If you buy something through the links on this page, we may earn a commission at no cost to you. Learn more.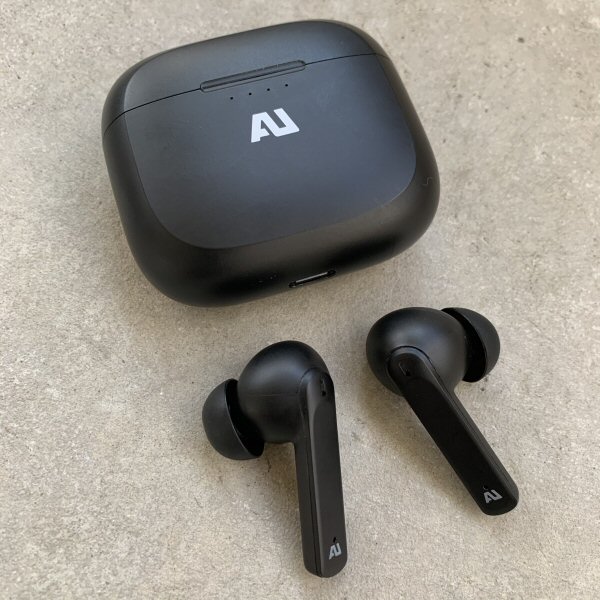 REVIEW – The true wireless earbud market has exploded in the past few years, with companies continuing to up the ante and offer high quality and feature-rich products.  Although I've reviewed quite a few wireless earbuds here at The Gadgeteer, I still enjoy trying out the latest set, if for no other reason than to gauge how far the bar continues to be raised on this category of products.  The Ausounds AU-Frequency ANC True Wireless Earbuds appeared to be one of those products.  Let's take a look, and a listen.
What is it?
The Ausounds AU-Frequency ANC True Wireless Earbuds are a set of true wireless earbuds with Active Noise Cancellation, touch controls, and their own USB-C charging case.
What's in the box?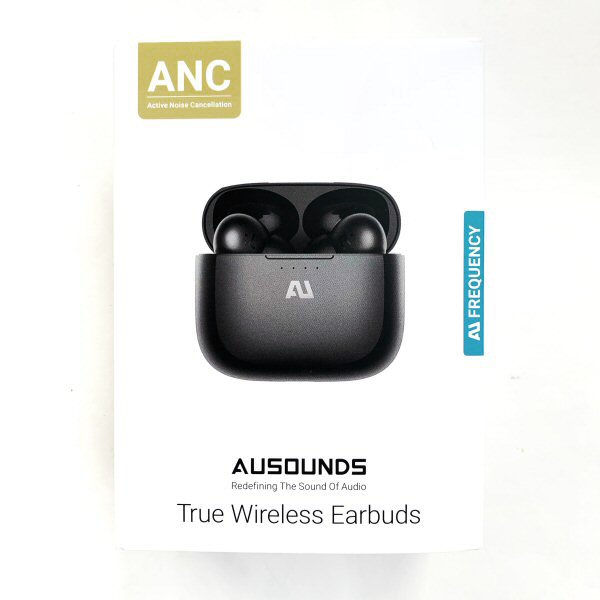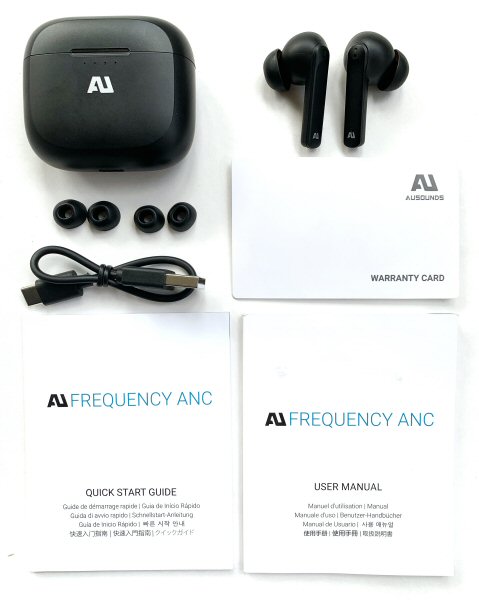 Ausounds AU-Frequency ANC True Wireless Earbuds
Three pairs of silicone ear times in sizes Small, Medium, and Large
USB-C charging cable
Quick Start Guide

User Manual

Warranty card
Hardware specs
Per the Ausounds AU-Frequency product page:
Driver Type: AU PEEK+PU Dynamic Driver

Driver Size: 10mm

Auto-Wear Detection: No
Built-in Mic: Yes
Frequency Response: 20Hz – 20kHz
SPL: 100dB
Impedance: 32 ohms
Weight per earbud: 5.5g
Total weight with case: 38g
Total battery life: 20 hours
Battery life music playback: 5 hours
Full charge time: 1.5-2.0 hours
NFC: No
Noise Reduction: N/A

Active Noise-Cancellation: Yes
ANC depth: 25db
Monitor Mode: No
Rapid Wireless Charge: No
USB Type-C: Yes
Waterproof rating: IPX4
Call Noise Reduction (ENC): Yes
Bluetooth Range: 32ft/10m
Bluetooth Type: 5.0
Bluetooth Protocol: SBC, AAC
Apt-X: No
Apt-X HD: No
LDAC: No
Touch-control: Yes
Voice Assistant: Yes
Warranty: 1 year
Location of manufacture: China
Options
The Ausounds AU-Frequency ANC is available in matte black only.
Design and features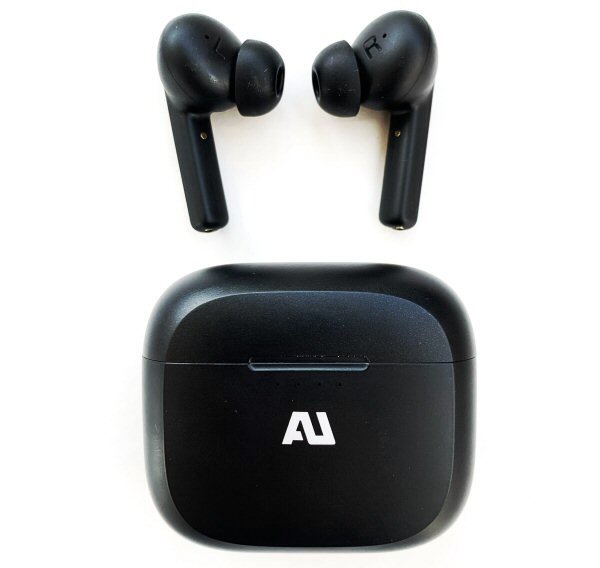 My first impression of the Ausounds AU-Frequency ANC earbuds was that the whole set of both the earbuds and their charging case were very compact and slim with their black color and matte finish, both present a stealthy, ninja-esque look and feel.  While there is a similarity in shape, size, and general features to the Apple Airpods Pro, the Ausounds AU-Frequency ANC earbuds do have their own unique look and feel, and I wanted to dig into their own perhaps not so obvious features, rather than by comparison to another product.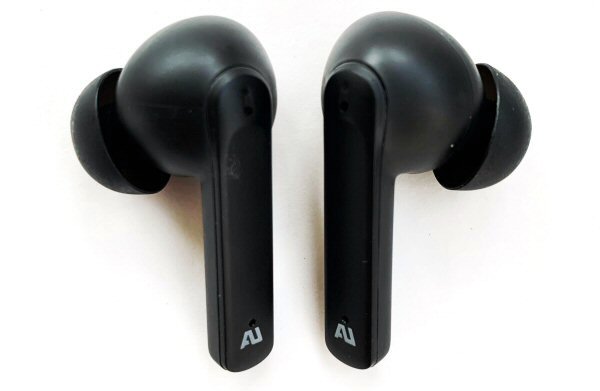 The AU-Frequency ANC earbuds are of "post"-style earbud design, with a lower portion of each earbud having a "post" that hang down from the upper portion.  The upper portion of the earbud has a shape that is contoured for either the right or left ear, and their shape helps them fit into the wearer's ear canals more effectively.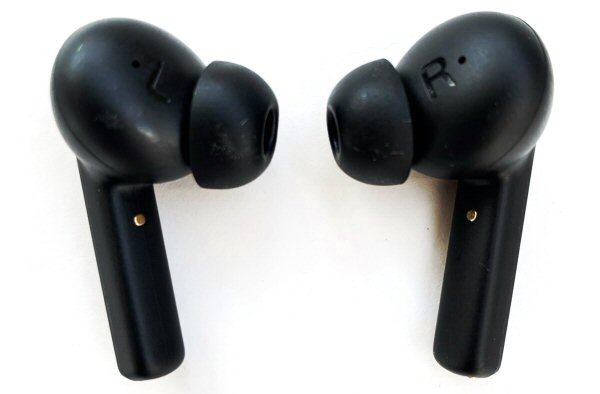 Also included are three sizes of silicone ear tips to help the wearer best fit the earbuds to their ear canals.  The earbuds came from the factory with the middle ear tip size, but because I have quite large ear canals, I immediately replaced the middle size with the largest size ear tips.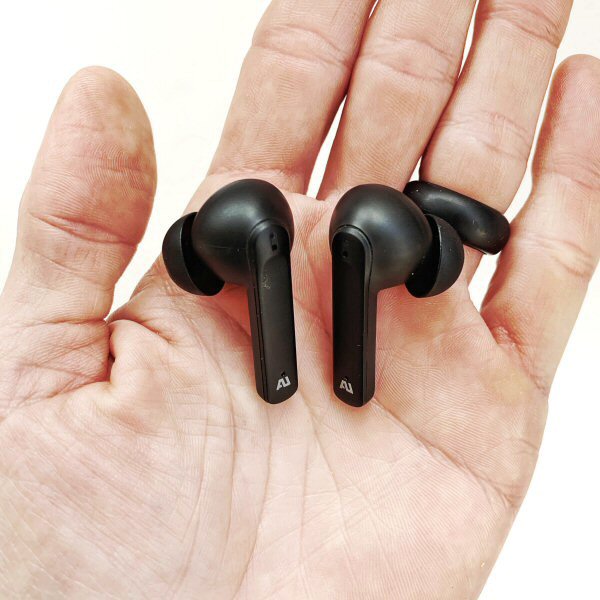 The AU-Frequency ANC earbuds are comparable in size to other post-style earbuds, which I like.   They are also very lightweight, which is another factor that I think contributes to these earbuds being very stable in my ears.
Setup and pairing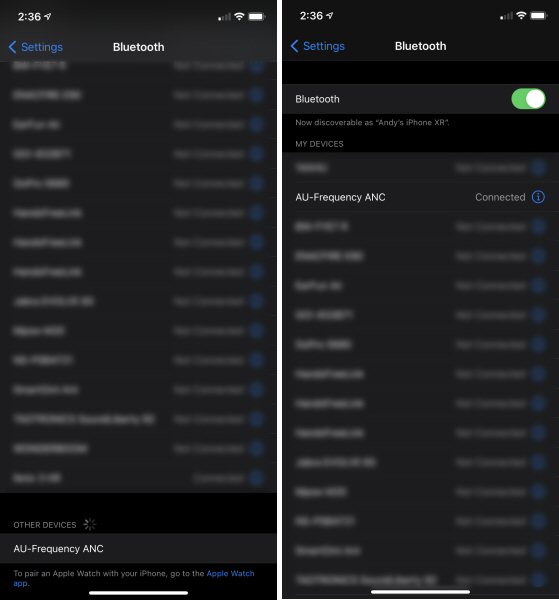 Pairing the AU-Frequency ANC earbuds with my iPhone XR was very quick and simple.  The very first time I remove the earbuds from their case, I checked the Bluetooth list in my iPhone's settings, and "Ausounds AU-Frequency ANC" had already appeared in the "Other Devices" heading at the bottom of the list.  I tapped this, and the earbuds were connected a few seconds later.  [Note that the earbuds can also be paired independently; the right earbud is the "master," and removing it from the case first pairs only the right earbud.]  Removing the right earbud from the case, the right earbud reports, "Power on," in that vaguely British-sounding voice that is common with wireless earbuds, then the left earbud repeats this.  After this a beep from both earbuds, then, "Connected." Also, the earbuds are intended to automatically turn off once they've been placed in their charging case, but there were a few times that they did not turn off automatically and I had to sever their connection manually from my iPhone's Bluetooth settings.  However, they did re-connect automatically once I removed them from the charging case.  Overall, the Ausounds AU-Frequency ANC earbuds had the most consistently stable pairing connection to my iPhone XR of any true wireless earbuds I've reviewed.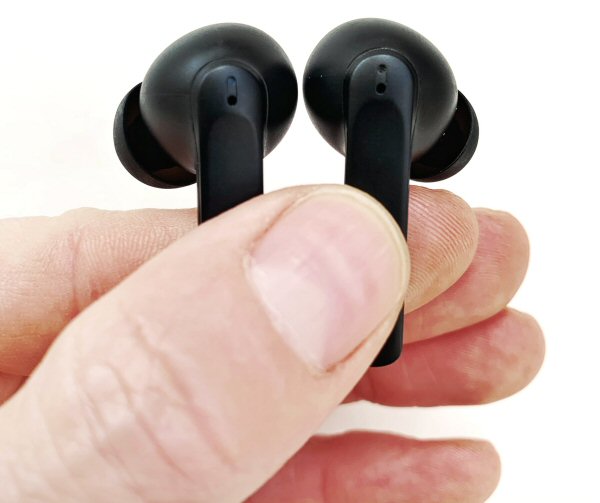 Each earbud has a tiny LED on the outside that sits at the bottom of a small groove.  Just below these grooves are locations of the "Multifunction Button" touch points that are used to control various functions of the earbuds, which are listed below.  The touch controls took me a bit to learn how hard to press, how long to press, and so forth, but after some practice, it became easier.  I was a bit disappointed to discover that, at the AU-Frequency ANC's price point, it did not include there was no touch control for volume and that I'd need to use my iPhone's volume up/down buttons to control the volume.
Active Noise Cancellation (ANC) on/off = Long press either earbud for 3 seconds
Music play/pause = Single tap either earbud

Next track = Double-tap right earbud

Previous track = Double-tap left earbud
Answer/hang up phone call = Single tap either earbud
Decline/end phone call = Long press either earbud for 2 seconds

Activate voice assistant = Triple-tap either earbud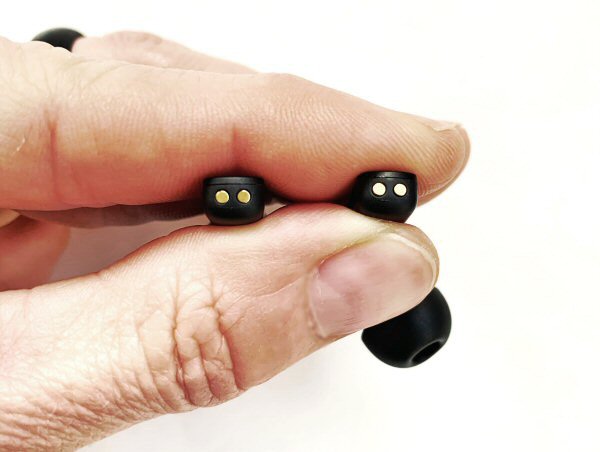 The bottom of each earbud post has a pair of magnetic charging contacts that automatically charge the earbuds when they are placed in their charging case.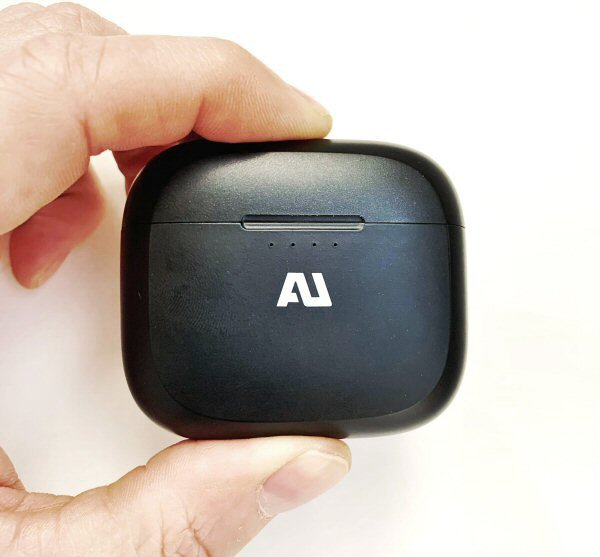 The AU-Frequency ANC earbud's charging case is compact.  There are four tiny LEDs on the front of the case that are used to indicate various charging modes.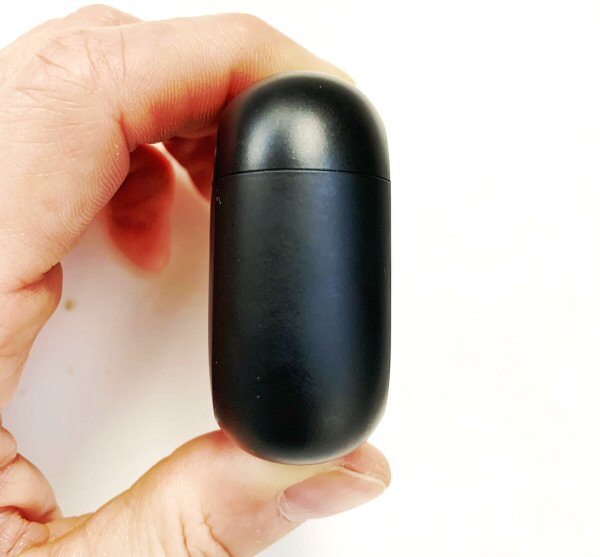 I like that the case has a wide, thin aspect ratio, which makes it relatively flat and this helped it fit in my pants pocket more comfortably than some of the wider, bulkier charging cases that I've previously tried.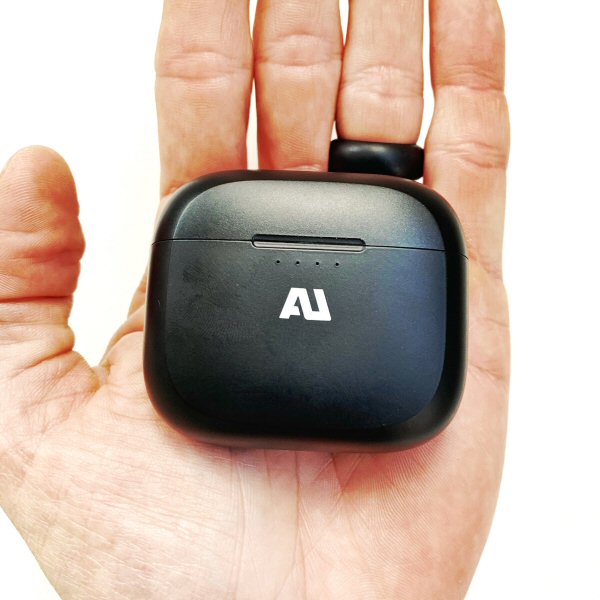 While I initially expected the charging case's matte finish to hide fingerprints, this did not turn out to be the case.  While the surface finish is certainly not glossy, it is more of what I would call a "satin" finish, and this texture was just glossy enough to retain fingerprints more than I'd anticipated.  If you click on the images and look closely, you'll see some of the fingerprints that I'm describing.  While this is not a deal-breaker for me, if the finish had been just a bit more matte, this fingerprint-retention probably could have been avoided.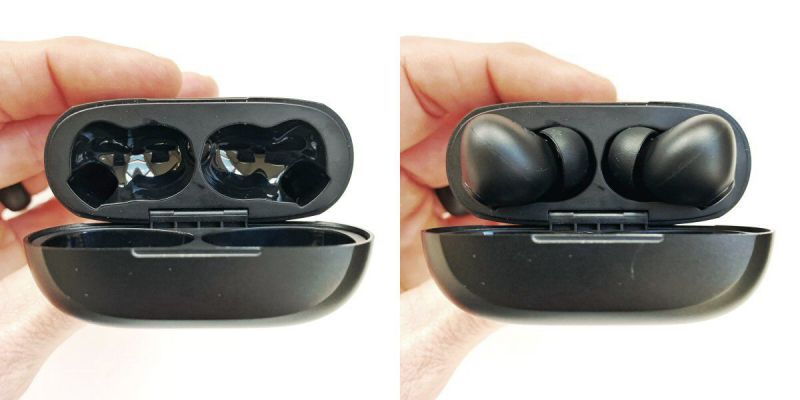 Each earbud sits down into its own perfectly-contoured cavity in the case, which has a set of magnets that aid in aligning and holding the earbuds in the case.  This makes it quick and easy to drop the earbuds into the case and ensure they are properly charging because it aligns the charging contacts on the earbuds with their respective contacts in the case.  Thus far, I've not had an issue with the earbuds not charging in the case due to improper alignment of the buds in the case.  However, sometimes it took a bit of extra effort to get the earbud posts to fit down into the case; if I wasn't paying close attention and tried to put the right earbud into the left cavity in the case, or vice-versa, I'd have to re-orient it and start over.  Again, not a deal-breaker by any means, just something of which to be aware.
Charging the case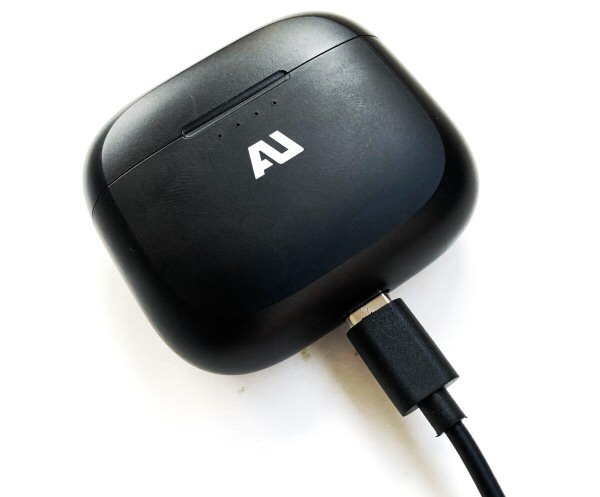 The AU-Frequency ANC's charging case is itself charged with the includes USB-C charging cable, with the port located at the bottom of the case.  I was a bit surprised that at the price point of the AU-Frequency ANC, its case did not include wireless charging capability.  The curved bottom of the case makes it impossible to stand the case upright, so it must be placed with its wider, flat side down, as shown above.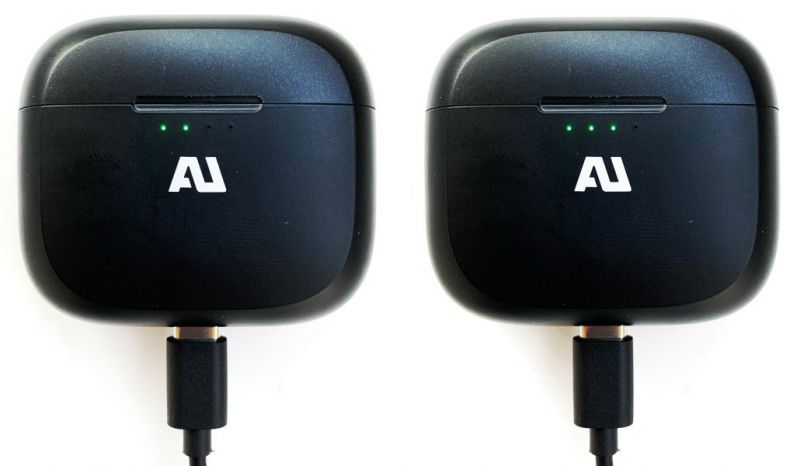 The four tiny green LEDs on the front of the charging chase illuminate left to right to indicate the charge level of the case.  In the image above, the charging case has gone from about 1/2 full to about 3/4 full, or about 1/4 from a full charge.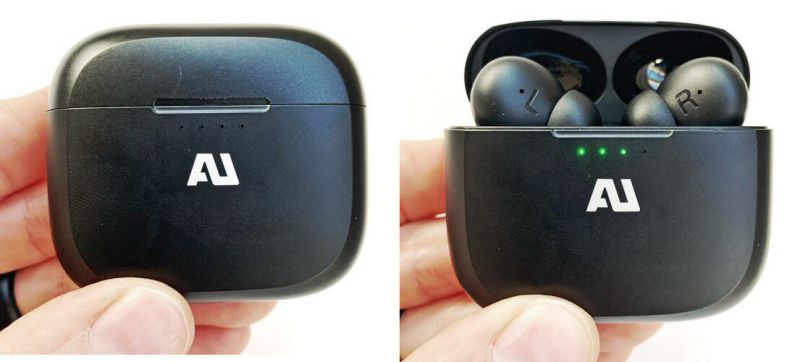 Additionally, when the AU-Frequency ANC case's charging cable is not attached, the green LEDs illuminate when the case's lid is opened to indicate the charge level of the earbuds.
Performance: fit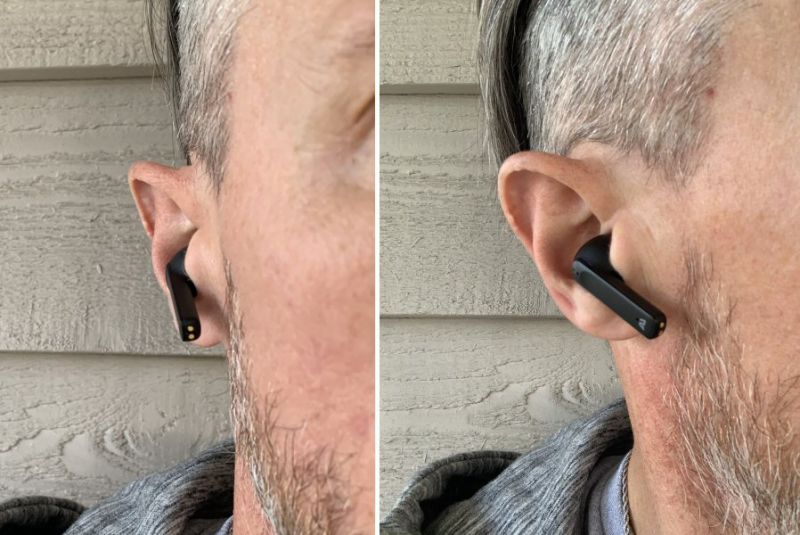 The AU-Frequency ANC earbuds fit me well.  The contoured shape of the buds fit into my wide ear canals, plus the posts "hook" into the little notch near the bottom of my ear, providing a quite stable fit.  I did all of my routine types of exercise, which includes some fairly dynamic movements, and the AU-Frequency ANC earbuds remained stable.  Only when extreme levels of sweat began to form while performing some more kinetic movement movements did the earbuds tend to slide out of place, but even then, I just popped them out, gave the ear tips a quick wipe, popped them back in, and got after it again.
Performance: sound
As I caution with all small, true wireless earbuds, one should not expect the same level of sound quality as would be found with a pair of over-the-ear earphones, but for the tiny size of the AU-Frequency ANC earbuds, I was quite pleased with the sound.  The sound is very good overall, with the highs being sharp and tight, the bass having some depth and the midrange exactly where I'd want it.  My thought here is that a few of the AU-Frequency ANC earbuds' features contribute to this solid sound.  First is the 10MM AU PEEK+PU composite film driver in each earbud that produces a wide frequency range.  Second is the -25db Active Noise Cancellation  (ANC) that does well with blocking ambient sound, thereby concentrating more desired sound directly into your ear canals.  Third, the silicone ear tips are a good fit and further aid in blocking ambient sound.  In fact, the ANC and silicone tips combination is so effective that I was unable to hear my wife talking to me from about 3 feet away while I was listening to a podcast.  (Go ahead and insert "husbands don't listen to their wives" joke here.)  During the time I reviewed the AU-Frequency ANC earbuds, I listened to a lot of hard rock while working out, some Gregorian Chant for relaxation, an audiobook, some podcasts, and played Call of Duty Mobile.  The earbuds' sound during each of these activities was exactly the way I'd want them, and the ANC made it even better.  In fact, I was careful not to do any activities such as running along a road or similar activity while wearing them because the ANC/ear tips combo is so effective that I didn't want to miss any ambient sounds that might cause me bodily harm.
Performance: Bluetooth range
The AU-Frequency ANC earbuds' effective Bluetooth range from my iPhone XR was approximately 30 or 40 feet with directly line-of-sight before the signal began to break up, which I tested outside.  I was quite pleased with the signal inside my house and I only lost signal there when several walls were between the earbuds and my iPhone XR.
Performance: battery life
I was pleased with the battery life of the AU-Frequency ANC earbuds.  The battery life of the earbuds themselves is specified to be 5 hours, while the total battery life as a combination of the earbuds and their charging case is specified to be 20 hours.  In practice,  I found this to be true.  Over about two weeks of using the earbuds for at least a few hours each day, I'm fairly certain that I only had to charge the case one during that time period.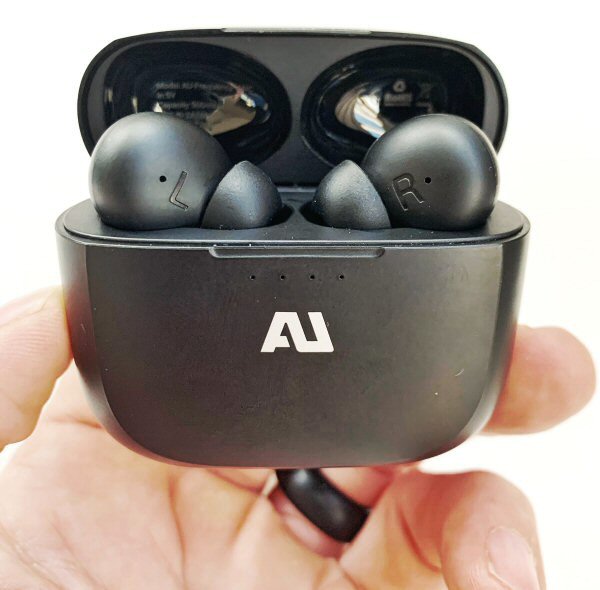 What I like
Earbuds are small and lightweight
Earbuds stayed stable in my ears, even during exercise
Charging case is slim and compact
The earbuds didn't lose their Bluetooth pairing connection to my iPhone
What I'd change
Touch controls are very sensitive and somewhat difficult to learn
Charging case did not include wireless charging capability
Charging case is a fingerprint magnet
Final thoughts
The Ausounds AU-Frequency ANC True Wireless Earbuds have a very good sound, excellent battery life, and very effective active noise cancellation.   They are small and lightweight, yet remained stable in my ears even during vigorous exercise, and the water-resistance protected them from heavy sweat.  The Bluetooth pairing remained very stable as well, and their range was very good.  They fit well in their magnetic charging case and the case is very slim with a small profile and form-factor, which makes it easy to carry in a pocket.   I found the Ausounds AU-Frequency ANC True Wireless Earbuds to be of very solid features, quality, and performance but missing a few features that I would have expected to find in true wireless earbuds at their relatively high price point.
Price: Ausounds AU-Frequency earbuds can be purchased from ausounds.com for the current price of $129.99, or from Amazon.com for $149.95.
Where to buy: See above along with Pricing.
Source: The sample of this product was provided by ausounds.com.