We use affiliate links. If you buy something through the links on this page, we may earn a commission at no cost to you. Learn more.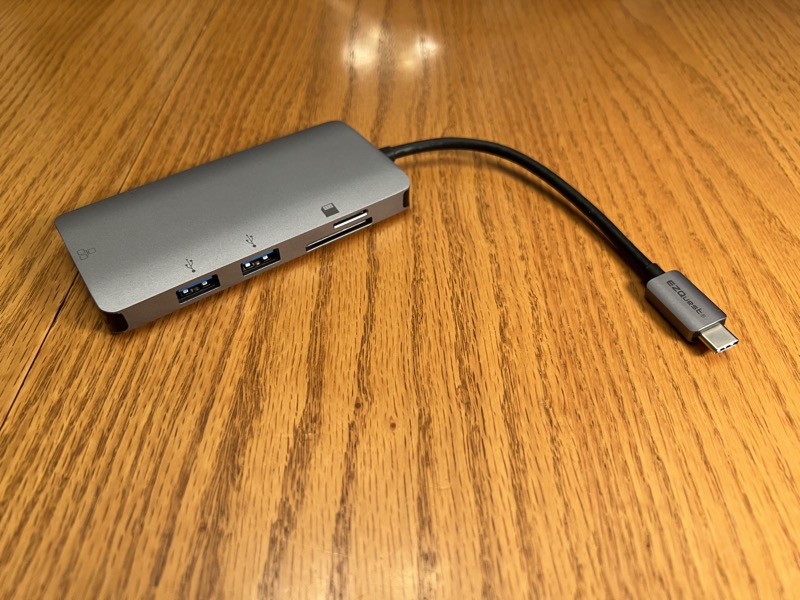 REVIEW – If you use a MacBook or USB-C equipped Windows laptop and need extra ports, if you use an iPad or Android device and want to use them to replace your desktop computer, what's the best way to get all the connections you need? EZQuest has a great option with their USB-C Multimedia Hub.
What is it?
The EZQuest USB-C Multimedia Hub is an 8-port hub designed to add the most-used connectors to a MacBook, Windows or Chrome OS computer, Android phone or tablet, and even recent iPads with USB-C connectors. The ports it includes are: 3x USB-A 3.0, PD 3.0 capable USB-C input for charging and data transfer, HDMI, SDHC and Micro SDHC card readers, and gigabit ethernet. The attached USB-C cable connects to the host computer and transfers data as well as up to 100W of power for charging the device.
What's in the box?
USB-C Multimedia Hub
User Manual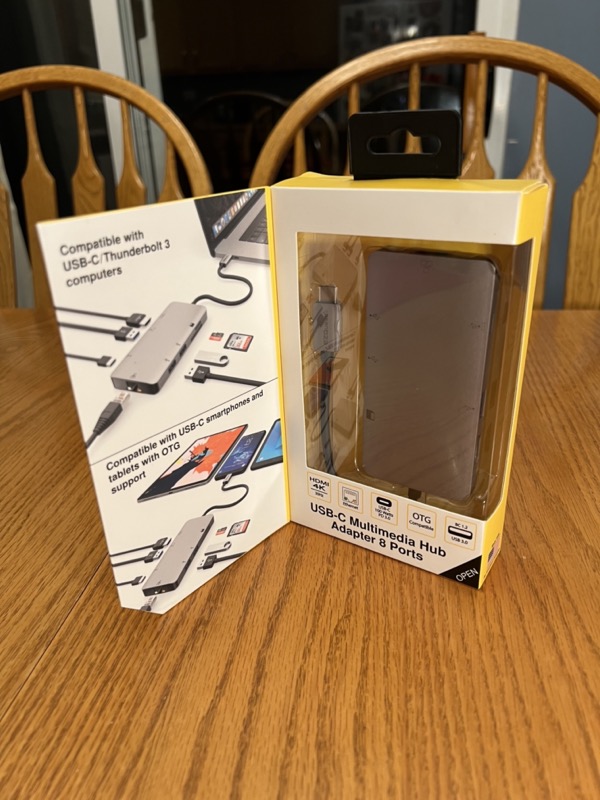 Hardware specs
Input: Up to 100 Watt USB-C with Power Delivery 3.0 + 5Gbps data
Output: 1x HDMI 4K 30Hz
RJ45 Gigabit Ethernet with LED indicator
SDHC and Micro SDHC Card Reader
3x 5Gbps USB 3.0 ports with one BC 1.2 capable
Thunderbolt 3 Compatible
Unit Length: 10.5 inches (26.5 cm) with attached cable
Dimensions: 2.05 in. x 4.13 in. x .51 in. (52 mm x 105 mm x 13 mm)
Weight: 3 oz
One year limited warranty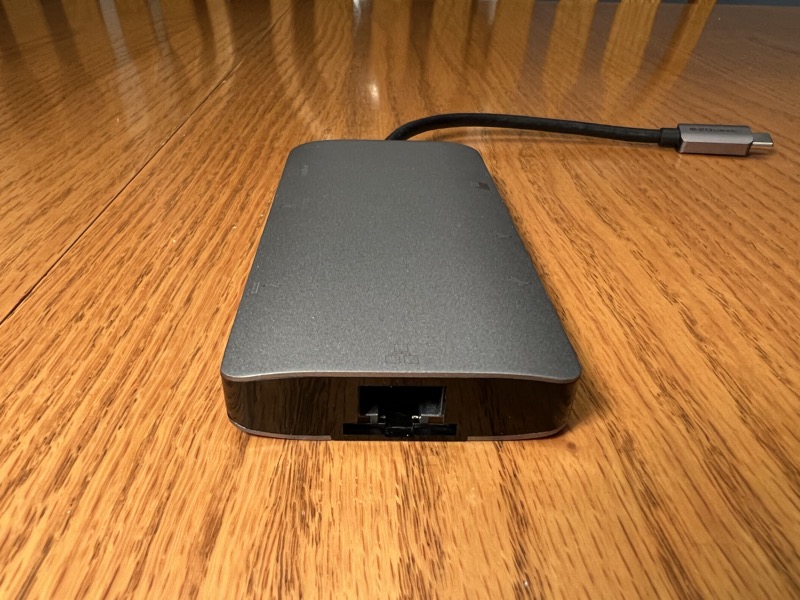 Design and features
The EZQuest USB-C Multimedia Hub is an 8-port rounded rectangular device with a short USB-C cable at one end to connect to the host computer, tablet, or phone. At the other end is the RJ45 ethernet connector with LEDs to indicate connection status. On one of the long sides is the USB-C power input connector, the USB-A BC 1.2 connector, and the HDMI output. On the other long side are the other two USB-A connectors and the two SD card readers.
The hub is mostly made of aluminum except there are two shiny black plastic parts, one at each of the short ends. I don't know if this design decision was more practical or aesthetic but I think it looks nice and the aluminum finish is a pretty close match to my Space Gray MacBook Pro. It feels like it's going to last for a long time, unlike some other similar devices I've used that are mostly plastic.
The one port wish this hub included is a 3.5 mm headphone jack. It would be nice to keep that permanently connected to a sound bar I have on my desk so I only have to plug the dock in to my laptop when I sit down and work. My laptop does have a headphone jack, though, so it's not a big problem to plug in two cables instead of one.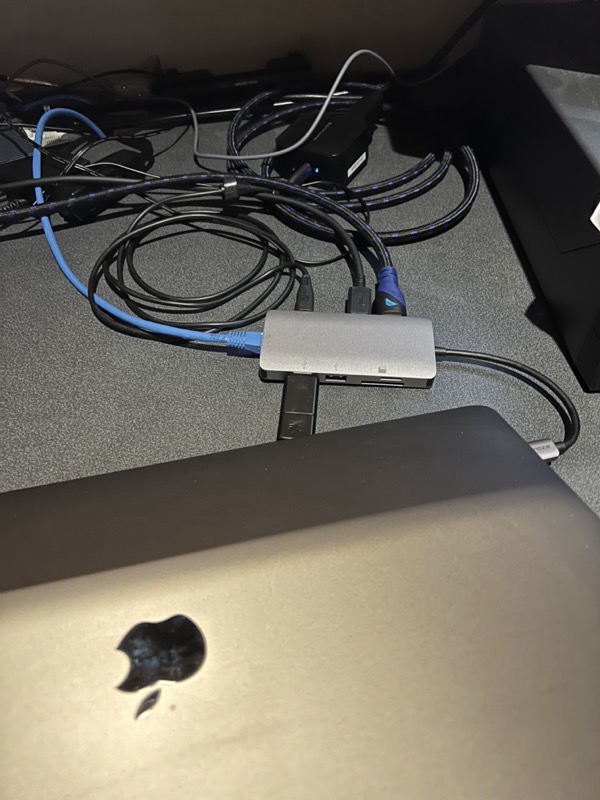 Installation and setup
There really isn't anything to do other than plugging in all the cables. There are no drivers to install, nothing needs to be charged, just plug it in and it works (assuming all the devices you're plugging in are compatible). 
I tested this hub with my MacBook Pro running both macOS and Windows 10 through Boot Camp as well as my M1 iPad Pro and my Samsung Galaxy S20. On both macOS and Windows everything worked as expected. Ethernet connected to my network and worked correctly; speed tests showed what I would expect for both upload and download speeds. Transferring a 1.12 GB file from a USB 3.0 thumb drive to the internal SSD took about 10 – 15 seconds; transferring files back to the drive took a couple minutes, due to the write speed of the USB drive being slower than the read speed. HDMI out to both a 1080p computer monitor and 4K TV looked clear and worked nice and smoothly. The SD card readers worked as well as any dedicated card reader I've tried.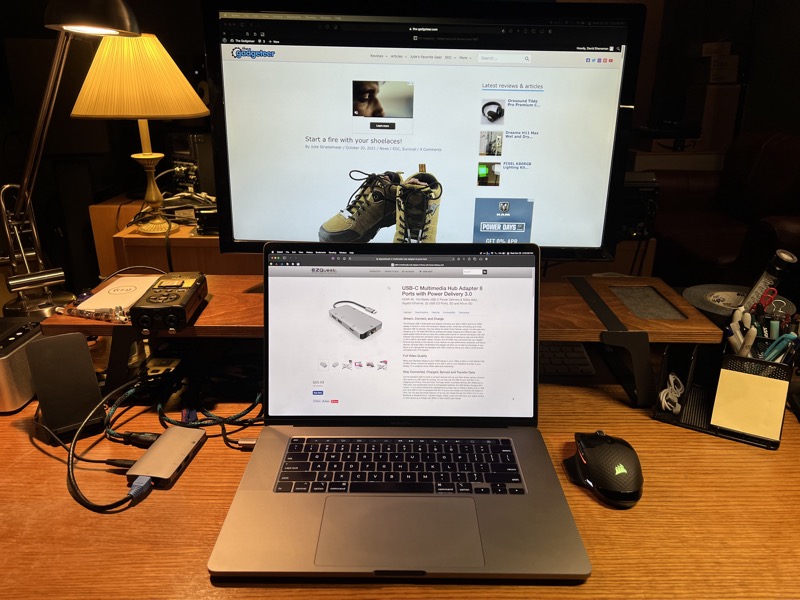 I tested this hub with three different PD 3.0 capable USB-C chargers, all capable of outputting up to around 100W. Using each one I measured 15W less power coming into the computer than the charger was capable of, which means that is how much power this hub uses. This is not a negative as any hub like this is going to require power to do its job, it's just something to be aware of when making a purchasing decision.
One nice feature of this hub compared to the one I've been using at my desk for a few months is that it can be powered by the host computer for portable use. You don't have to have a charger plugged into the incoming USB-C port for this hub to function. The length of time you can run things this way will vary depending on the computer or tablet you're using of course, but this is very handy for presentations or temporary use where you still need to be wired to ethernet, a display, or just need to transfer some files off a USB thumb drive or SD card.
When connected to my iPad Pro I was able to use all the EZQuest USB-C Multimedia Hub's features as expected. Transferring files from a USB drive, photos from an SD card, connecting to an external display, and even ethernet worked perfectly. I was even able to use my Corsair Dark Core RGB Pro SE mouse with its included receiver as an input device for the iPad. This worked as well as using the same mouse over Bluetooth or the trackpad built into my Logitech keyboard case. The HDMI output worked great for mirroring the iPad's display on an external monitor just like any other USB-C to HDMI dongle would work. I was also able to use the HDMI output as a separate display for the video editing app LumaFusion, showing the preview window on the external monitor while keeping the timeline and the rest of the user interface on the iPad's screen.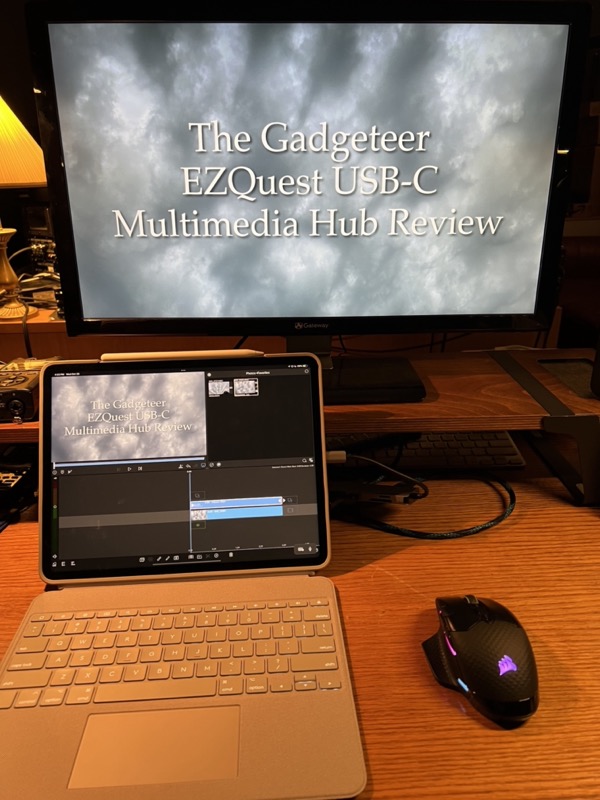 Testing Netflix full-screen on an external monitor worked, although this did bring up a quirk with iPadOS. In this mode I couldn't use the internal speakers; it was forcing the audio to go to the HDMI output, but that monitor had no speakers hooked up to it so I couldn't hear anything. I could have probably used my Bluetooth headphones if I was actually going to watch something this way. I also had some AirPlay devices on the network as an option, so I could just as likely have sent the audio to one of those. This isn't a fault with the dock, just an interesting thing I noticed as I was testing it.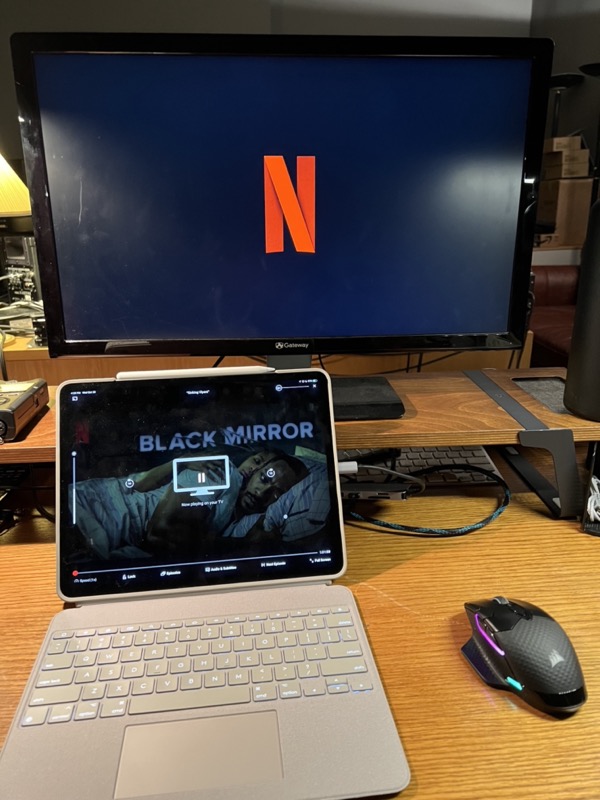 The Galaxy S20 phone worked similarly. I was able to duplicate the screen of the phone on an external display, as well as using Samsung's DEX app, which presents a sort of desktop environment for using the phone as a computer; it even turns the screen of the phone into a trackpad surface, although I was also able to use my Corsair mouse with its USB receiver as a pointing device. Power pass-through also worked with the S20.
I couldn't get ethernet to work while in DEX mode – although it showed up as an option in Android's connection settings menu, it was grayed out. When I tested it in the normal phone interface the ethernet settings were available and I could configure it with DHCP or static IP settings as I would with any other ethernet device. I also couldn't see my USB drive in DEX mode but in Samsung's My Files app I was able to access it as well as a MicroSD card plugged into the reader. The phone does have a MicroSD slot built-in, but it's in the same slot as the SIM card and only accessible if I take the case off so this is a much more convenient way to access files on an SD card.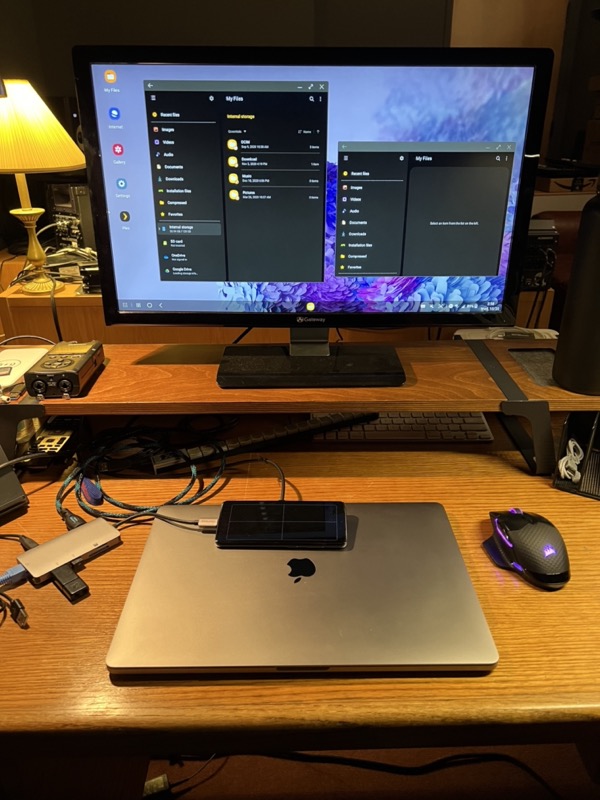 In Use
As a technology worker, and a gadget reviewer I'm constantly connecting new things to my MacBook Pro, my iPad Pro, and my Samsung Galaxy S20 Android phone. At work, I need an ethernet connection and HDMI outputs. For reviewing gadgets I need an SD card reader, USB-A connections, ethernet, etc., to set up, test, and charge various things. Recent MacBooks don't have built-in ethernet, HDMI, USB-A, or SD card readers (although some of these ports were just added back to the most recent MacBook Pro models). Even still, there's a lot of need for a USB-C hub like the EZQuest USB-C Multimedia Hub.
This is a very convenient device to have around for many different scenarios. One of the things I do every week is assist our elementary and junior high schools with streaming a meeting on Wednesday mornings. I run this stream from my MacBook Pro through OBS streaming to YouTube. To do this I need wired ethernet and a USB 3.0 connection for input from an ATEM Mini video switcher. This hub worked perfectly out of the box, replacing the USB hub/ethernet adapter I usually use without any issues. No configuration, no messing around trying to get things to connect, it just worked. With the power pass-through, I even had one less cable to connect to my computer than usual.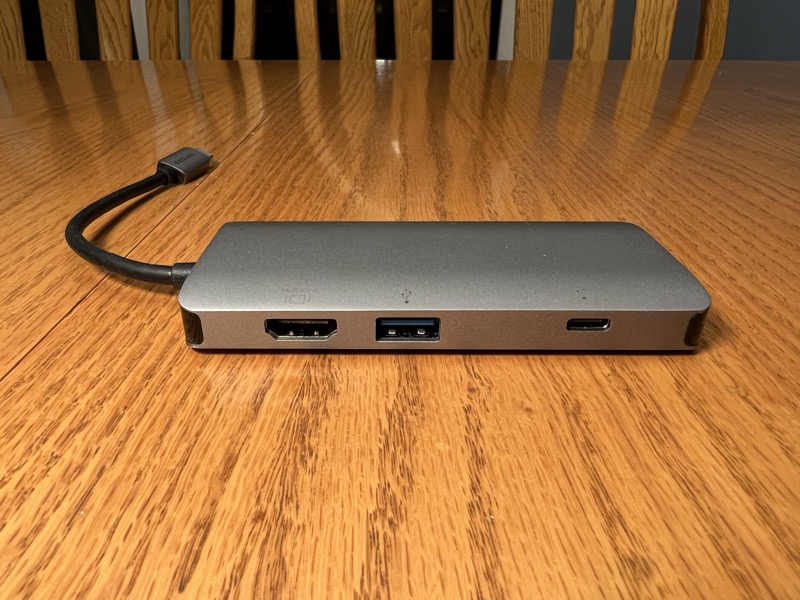 One slight limitation with this device is that the 4K output over HDMI is limited to 30 frames per second. This is fine for general office use, or even most online video viewing, but for watching high frame rate video content or playing games, 30 fps just isn't going to be enough.
Be aware that the EZQuest USB-C Multimedia Hub does get pretty warm while in use. I wouldn't say it's hot, and I don't think you could burn yourself with it, but it does get noticeably warm. With this in mind, make sure it's in an open space with plenty of airflow while using it.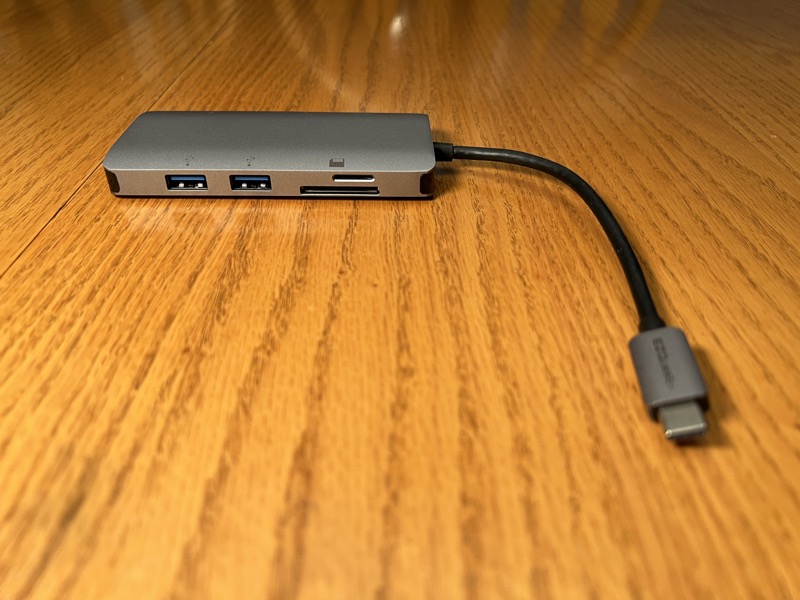 What I like
Lots of ports available in a compact, stylish package
No drivers to install on Windows, Mac, or Chrome OS
Works with iPads and Android phones
I like the simplicity of plugging in one cable to my laptop for power, video, ethernet, and multiple USB ports
What I'd change
I wish there was a 3.5mm headphone jack to output audio to desktop speakers
60 fps on a 4K monitor would be nice
Final thoughts
If you're looking for a way to expand the capabilities of your laptop, tablet, or phone, and you need even just a few of these connectors, the EZQuest USB-C Multimedia Hub is a great device to have at your desk or in your bag.
Price: $69.99
Where to buy: ezq.com and Amazon
Source: The sample for this review was provided by EZQuest. For more information visit their site.