We use affiliate links. If you buy something through the links on this page, we may earn a commission at no cost to you. Learn more.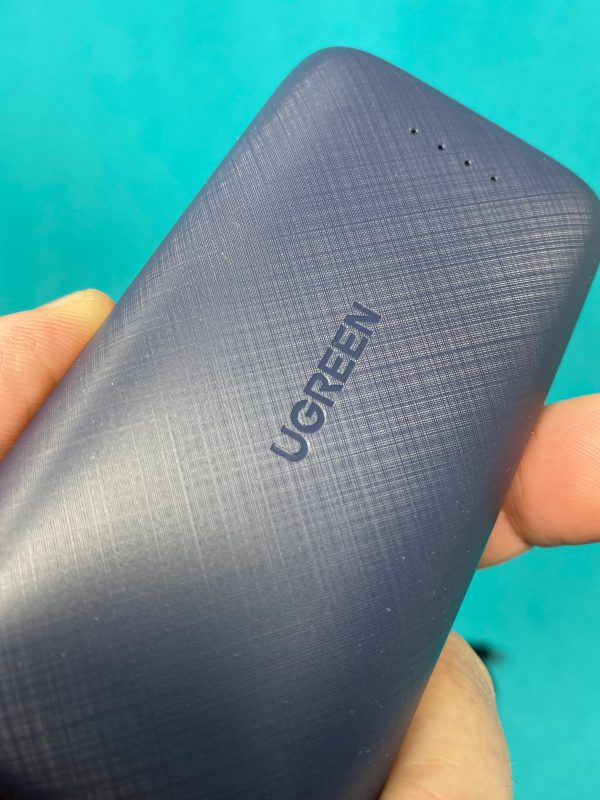 REVIEW – As with everything in the technology space, change is afoot regarding battery banks. Last summer, I reviewed a 10,000 mAh unit that weighed 13.6 ounces. (To be fair, it also had 2 Qi chargers and an Apple Watch charger built in.) Before that, I reviewed a 10,000 mAh unit that weighed 9.7 ounces. It's been in my bag since we've been let out of the house. Today, I'm reviewing the Ugreen PowerDot that is also 10,000 mAh, yet only weighs 6.55 ounces. And it has a captive lightning cable! Let's check it out.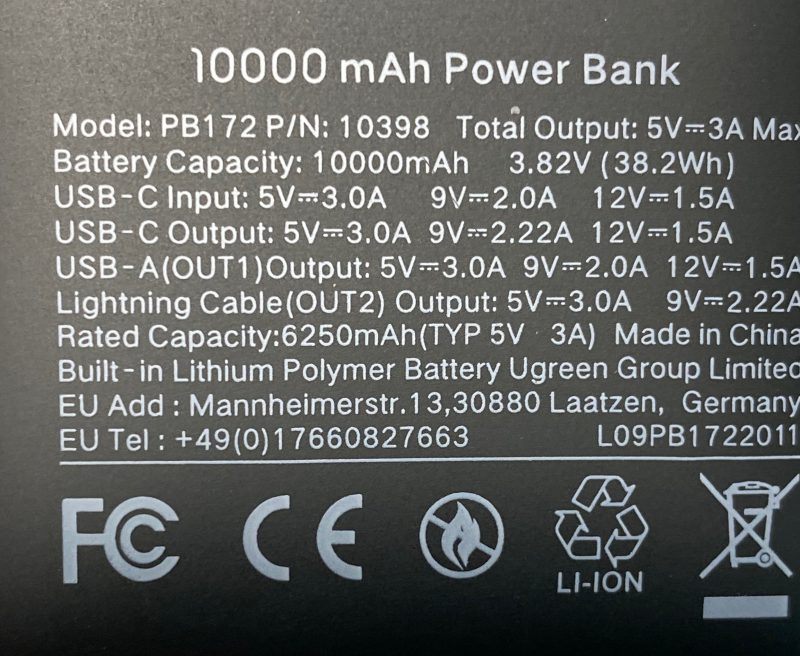 What is it?
The UGreen PowerDot is a power bank with a 10000 mAh battery and a captive Lightning cable.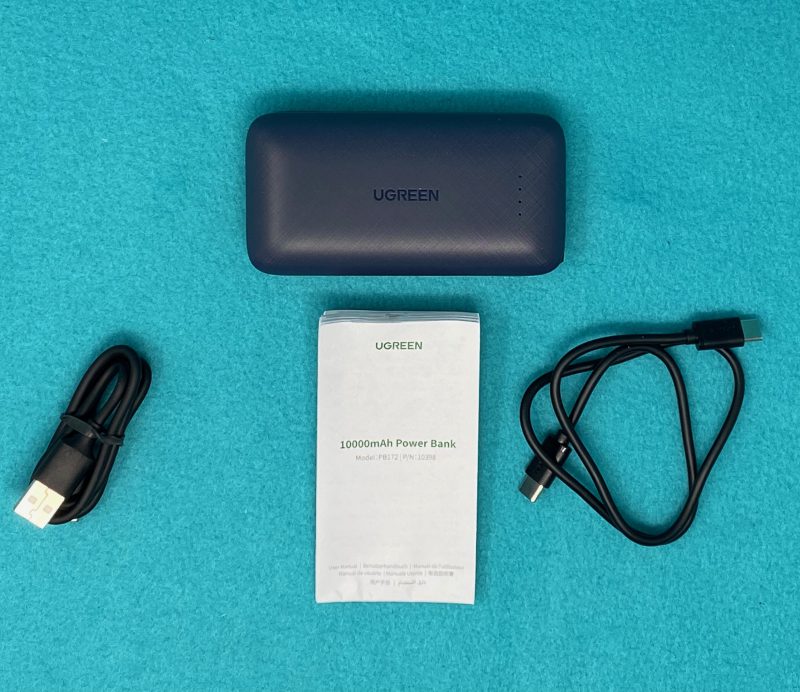 What's in the box?
The battery pack itself
USB-A<=>USB-C cable
USB-C<=>USB-C cable
User Guide
Hardware specs
from company website
Battery Type – Lithium polymer battery
USB C Input – 5V/3A, 9V/2A
USB C Output – 5V/3A, 9V/2.22A, 12V/1.5A
USB A Output – 5V/3A, 9V/2A, 12V/1.5A
USB C Cable Output – 5V/3A, 9V/2A, 12V/1.5A
Battery Capacity – 10000mAh 3.82V(38.2Wh)
Rated Capacity – 6250mAh (TYP 5V 3A)
Total Output – 5V/3A Max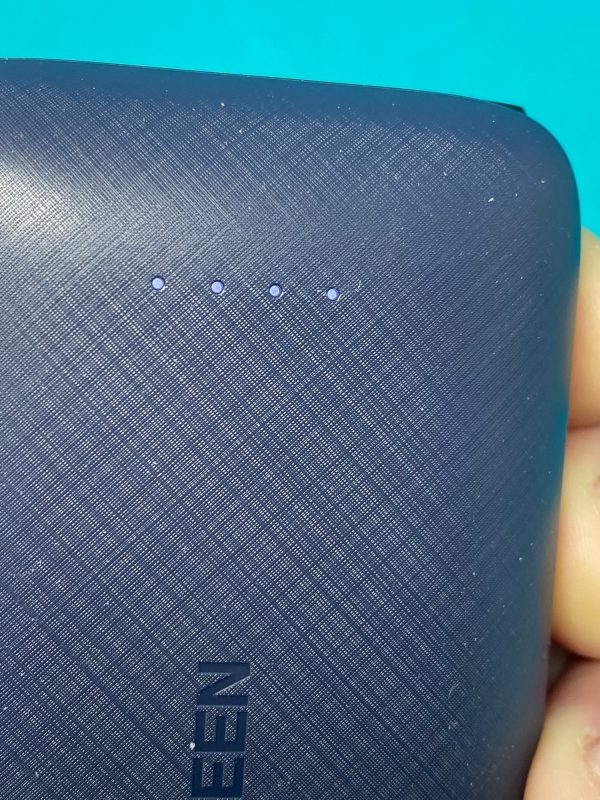 Design and features
The palm-sized green-ish blue Ugreen Powerdot is a very small and easily packable charging source. It measures a scant 4.25" x 2.25" x 1" and is only 6.55 oz. It is charged through a USB-C port, and offers a Lightning cable that is tethered to one of the long sides as an iDevice charger. There is also a single USB-A port for charging another device. Not immediately obvious is that the USB-C port (labeled "INPUT") can also be used to charge devices. I wrote a bunch of my review, then, re-reading the specs on the website, found that this was true. Charging three devices at once is not something most folks need, except maybe when traveling, but it's nice when it is needed. (I long for the days of sitting in an airport waiting area with all my electronics plugged in!)
Like most battery banks these days, UGreen is using the four LEDs as a gas gauge to tell you when you have a full, three-quarter, half, or one-quarter tank left. Thankfully, the LEDs are very soft, so if you're charging in a motel or bedroom, it's not going to light up the night.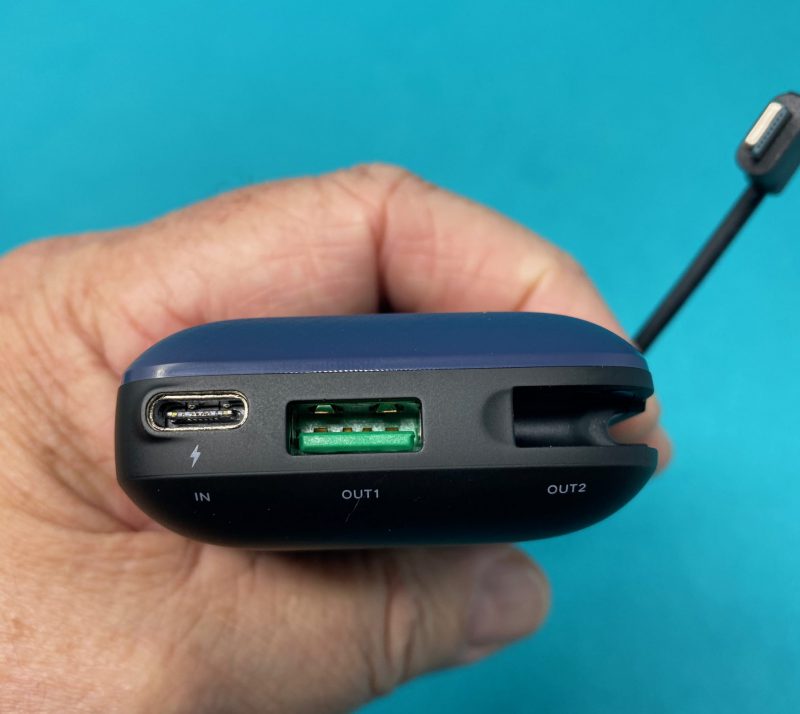 The unit is MFi certified, which means a production-ready unit was sent through Apple's program to ensure compliance for use with Apple products. It's not a guarantee that the device won't fail, but it's good to know that UGreen cared enough to go through this process.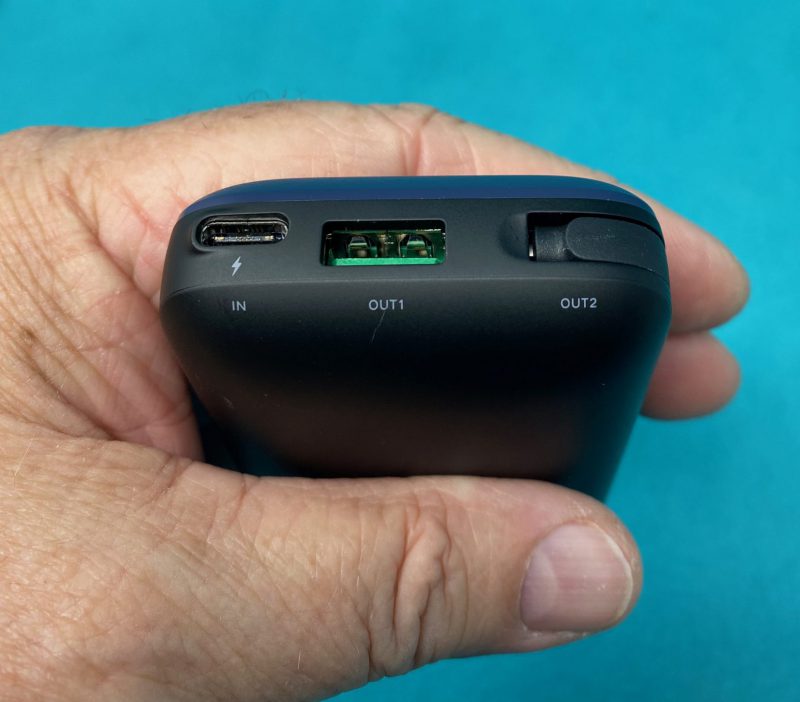 Performance
In my testing, I found the UGreen PowerDot unit to be extremely fast both in charging my various devices, as well as recharging. All of these ports are capable of PD charging, but not all at once. They can all be used simultaneously, but this will slow down a bit from just charging a single device. My USB voltage meter showed 9V/1.95A when charging the unit itself from an Apple 20W charger. I also checked out the voltages while charging an iPad Pro 10.5" via Lightning, an iPad Pro 12.9" via USB-C, and an earbud recharger/case via USB-A. See pix below for all the readings.
What I like
Captive Lightning cable
Small size/weight
Power Delivery charging and recharging
What I'd change
Final thoughts
I've seen power banks as giveaways at non-tech events, by the cash register in the gas station, and in that strange section in grocery stores where they sell gift cards, earbuds, reading glasses, and 12 volt plugs for your car. The ones we review here are a different level, and the UGreen PowerDot shows that fully. It is small, light, and can easily charge most modern phones once and probably most of a second charge. It charged my iPad Pro 12.9″ from 25% to 50% while I was watching a movie, and still had some juice left when my break was over! With the ever-present Lightning cable, it lets you breathe easier about the up-time of your phone. I know it's earned a place in my EDC bag.
Price: $46.99
Where to buy: Company Website
Source: The sample of this product was provided by UGreen.