We use affiliate links. If you buy something through the links on this page, we may earn a commission at no cost to you. Learn more.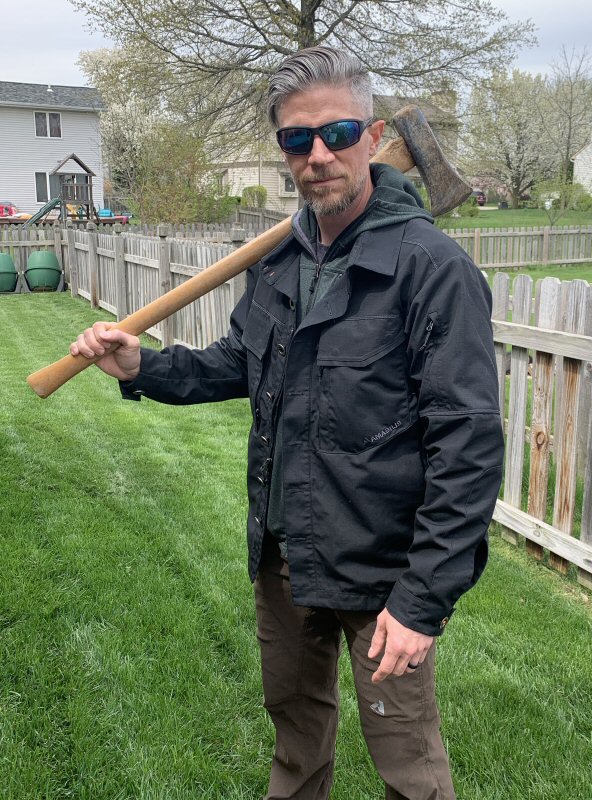 CROWDFUNDING REVIEW – Not long ago I posted a news item about the AMABILIS Responder Lite Tactical Chore Jacket, the "First-ever tactical chore jacket" that is as of this writing being offered in a current Kickstarter campaign.  Shortly thereafter I was given the opportunity to evaluate one.  Let's check it out.
What is it?
"Built for work, play and every day," the AMABILIS Responder Lite Tactical Chore Jacket is the "First-ever tactical chore jacket."  It is made from durable fabric, has a total of 8 pockets, and is available in 4 colors.  It is currently being offered through a crowdfunded Kickstarter campaign.
Hardware specs
Materials: CORDURA NYCO 50/50 Nylon and Cotton ripstop fabric
Colors: Tactical Black (as reviewed here), Wolf Grey, Coyote Brown, and Multicam Black
Warranty: Warranted to the original owner against manufacturing defects in materials and workmanship for a period of 1 year
Location of Manufature: China
Background
Seattle, Washington, USA-based AMABILIS is a company that has been providing products that straddle the line between the civilian and service worlds for years.  Their products blend work, tactical, and urban styles into tough, functional looks, each in their own ways, and can function in anything from around the city, to outdoors, camping, farming, and construction, to law enforcement, first responders, and military use.
AMABILIS has successfully completed four previous crowdfunded KICKSTARTER campaigns, including its very successful Responder Tactical Outerwear campaign, which included the Responder Jacket, the more full-featured and even heavier-duty predecessor to the Responder Lite Tactical Chore Jacket reviewed here.
Design and features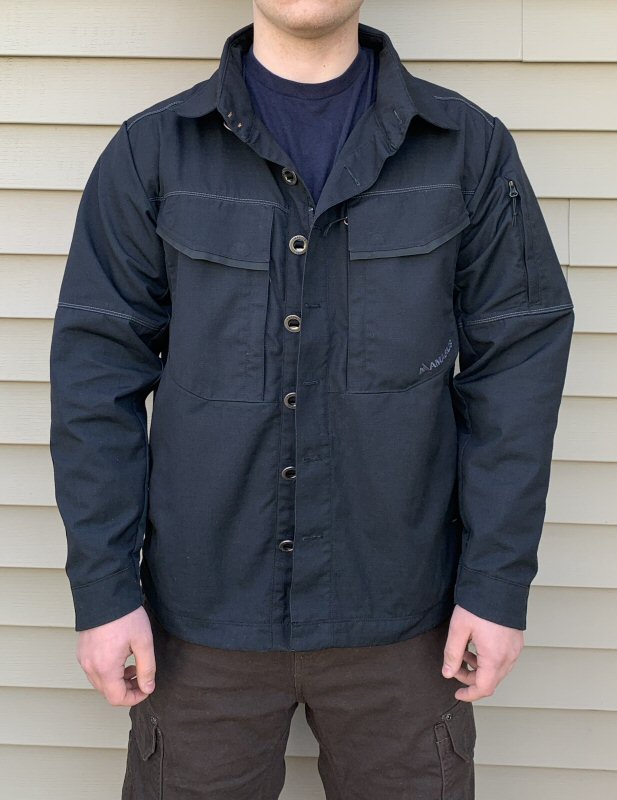 Right out of the package, the AMABILIS Responder Lite Tactical Chore Jacket (which I'll refer to as the Responder Lite from here on out for expediency), impressed the heck out of me with its tough-feeling fabric, solid build, and understated but tough style.  In fact, at first glance, I thought the Responder Lite resembled a bit of a cross between a tough Carhartt-style work jacket, and a classic Army-issue M-65 Field Jacket with some elements of city-style sprinkled on top. (NOTE: While I myself am depicted wearing the Responder Lite in the first image up top, my son graciously modeled the jacket for the remaining photos.)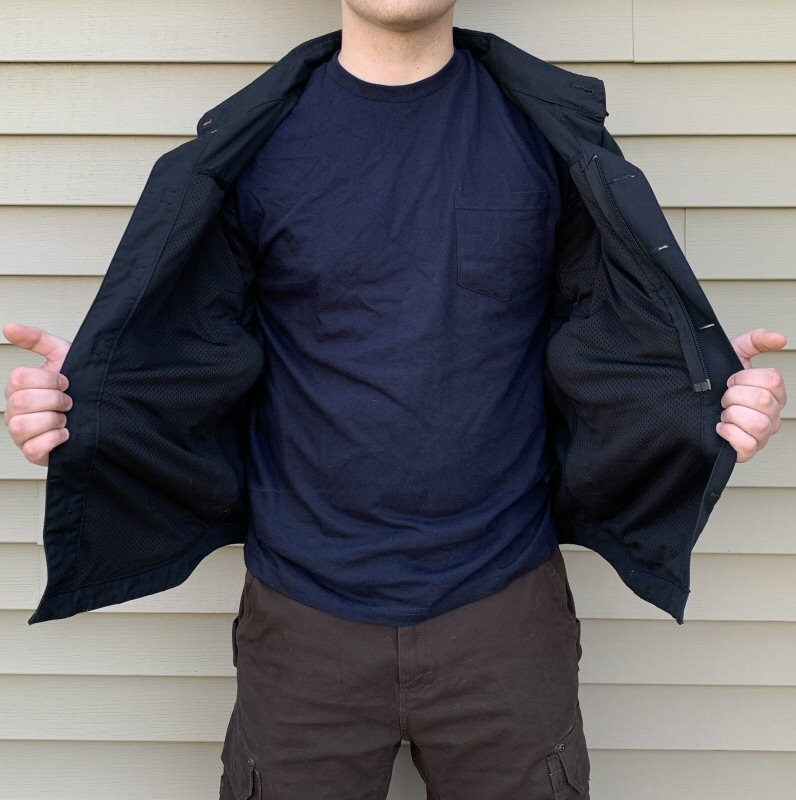 One thing I noticed immediately about the Responder Lite was that it was not lined as I'd initially assumed when seeing the photos of the Responder Lite on the Kickstarter campaign page.  I think this is because in many of the photos the Responder Lite is layered with a hoodie or other midweight layer beneath it, thus giving the Responder Lite the impression of having a thicker material and hence a lining.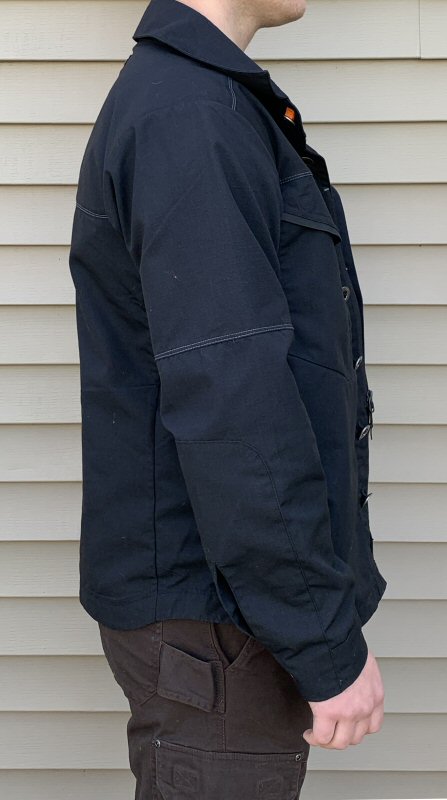 AMABILIS has included many subtle but useful features into the Responder Lite that I'd describe throughout this review, such as the double layer of fabric on the underside of the sleeves to help with wear resistance in the forearm area.  There are also a few subtle but sharp style features, such as the gray double stitching employed along a few seams.  Added to that, the construction is top-shelf: not a single stray thread, not an improperly sewn seam, and everything looks and feels very solid.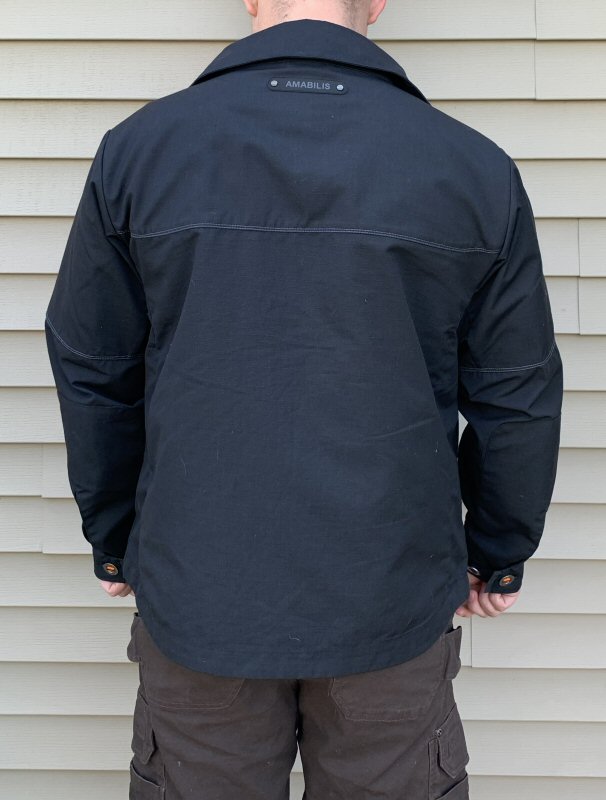 AMABILIS takes the fit of the Responder Lite for each wearer very seriously and as a result, a unique feature of the Responder Lite product line, a feature that AMABILIS claims is an "industry first" (and I think it might be), is what they call "The .5 Fit." Here's how the .5 Fit works: AMABILIS offers half sizes in Small, Medium, Large, and Extra Large (S.5, M.5, L.5, and XL.5).  These are in addition to XXL and XXXL for a very wide range of sizes.  I requested and received a Medium and it fit well, straddling the line between being a slightly oversized, heavy-duty shirt and an appropriately room light jacket, so I'm glad I didn't order an M.5 as I'd considered.  Because the Responder Lite has a generous cut, I considered that an S.5 might have been a better fit for me, but that would have made it next to impossible for me to wear any layers under it, other than perhaps a thin or midweight layer.  With the Medium, I was comfortably able to layer the Responder Lite with thicker layers, like the green hoodie I'm seen wearing in the photo at the top of the review page.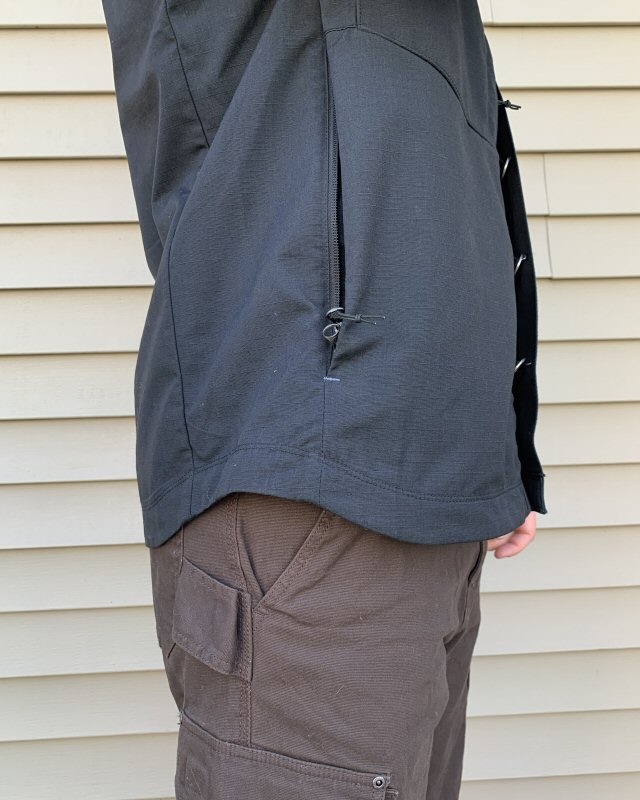 Another subtle but useful feature of the Responder Lite is that the font of the jacket drops down a bit and the rear drops down further.  This has the effect of both providing additional coverage when bending forward, and also giving a bit of additional ability to access front pants pockets.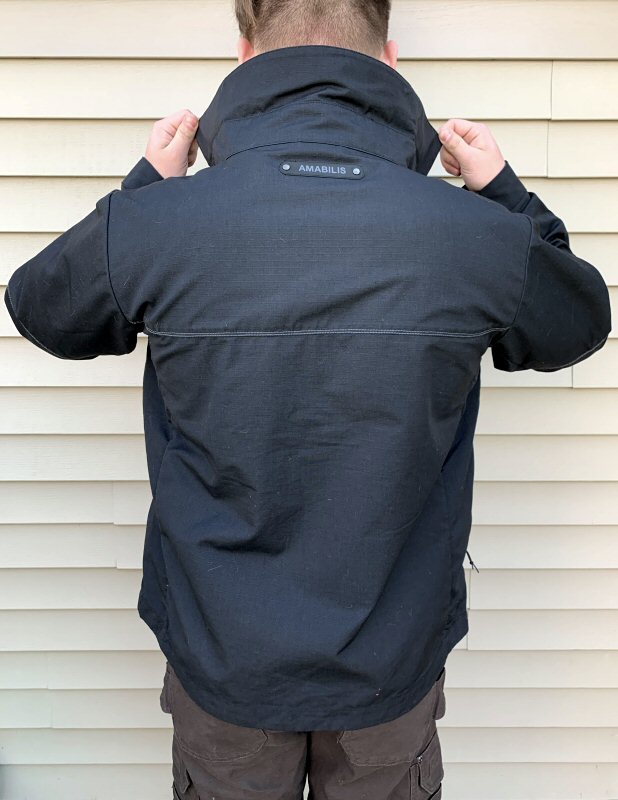 The Responder Lite has a fairly wide collar, which if worn flipped up can give a bit of extra protection from the elements.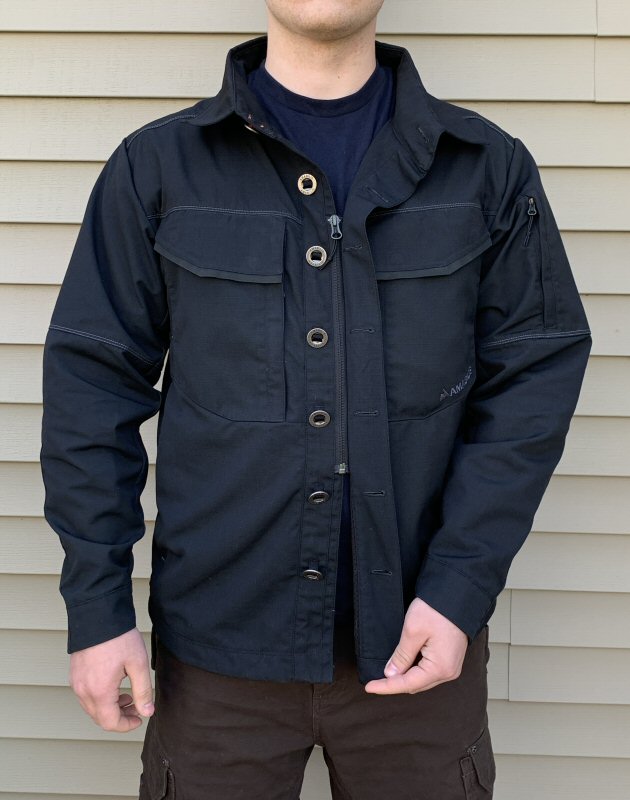 Another unique feature of the Responder Lite is its zipper.  While many jackets do have both a zipper and buttons like the Responder Lite, the Responder Lite's zipper extends only about a third of the entire length of the front of the jacket.  This feature was another surprise to me, and at first, I questioned this design decision, but I quickly discovered that it has usefulness on a few levels.  First, this short zipper length provides a way to partially close the jacket quickly if speed is of the essence.  Further, while the short zipper can partially close the jacket, its more open top and bottom can help give a bit of ventilation into the jacket.  Additionally, if you carry a firearm, this more open jacket bottom can aid in quicker access to your weapon.  Finally, if nature calls, being more open in this area can help with efficiency in this activity also.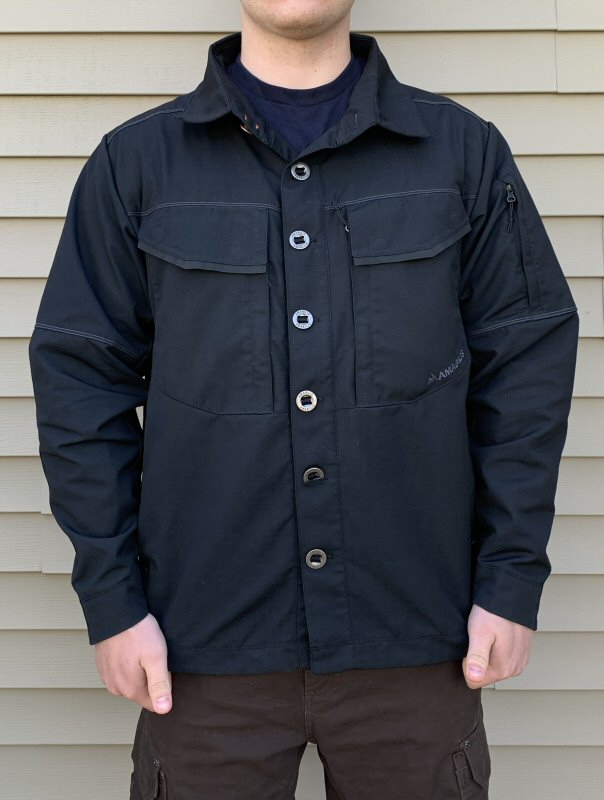 With both the zipper zipped and fully buttoned, the Responder Lite provides good protection from the elements.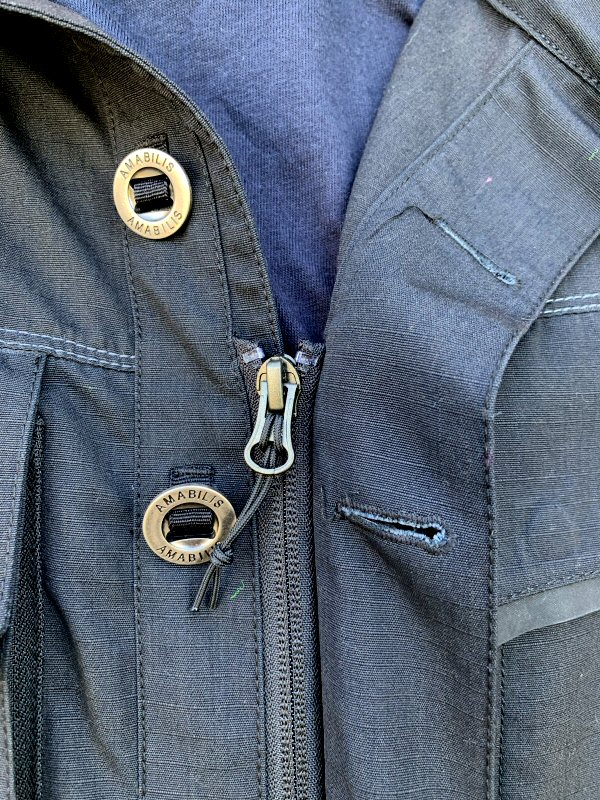 A few words on the fabric, zippers, and buttons.  Originally designed for the military, the Responder Lite's CORDURA NYCO 50/50 Nylon and Cotton ripstop fabric both looks and feels tough.  Like it can take a serious beating over and over and barely, if at all, show signs of wear.  In fact, I wore the Responder Lite while doing some decently strenuous yard work and it performed like a champ.  Dirt can be easily brushed off it, and minor scuffs were barely visible.  Additionally, this material is very wrinkle-resistant and provides excellent wind blocking.
The Responder Lite's gunmetal grey color metal buttons are large, about the diameter of a quarter, and their size makes it easier to button and unbutton them, even with gloves on.  All buttons are attached to the jacket via small strips of webbing that provide not only a higher level of durability but also a small style touch.
All zippers are thick and durable YKK brand, with a length of nylon cord attached to each zipper to aid in gripping them.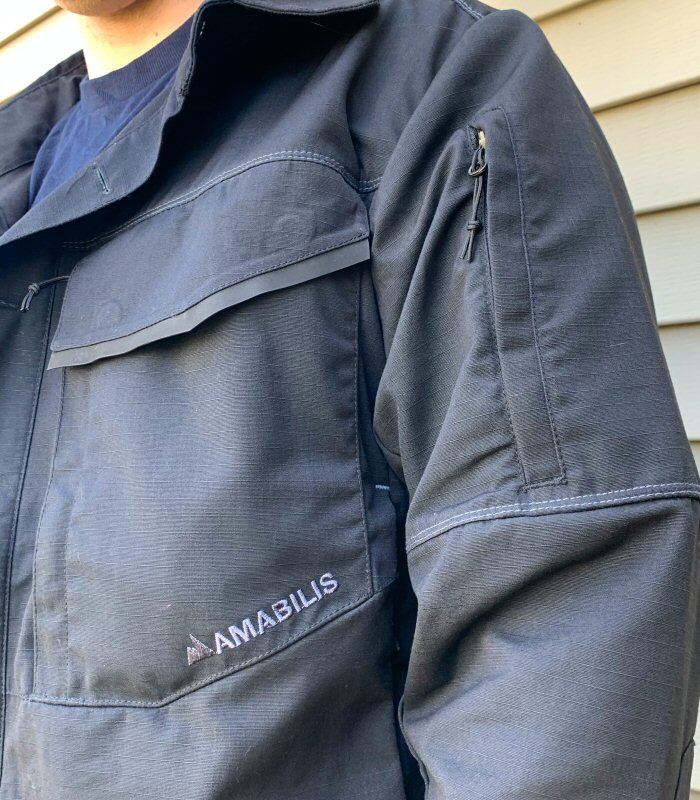 While the AMABILIS logo is present in a few locations on the Responder Lite, it has wisely not been made so large or prominently so as to be obnoxious, as seen above and in the next two photos.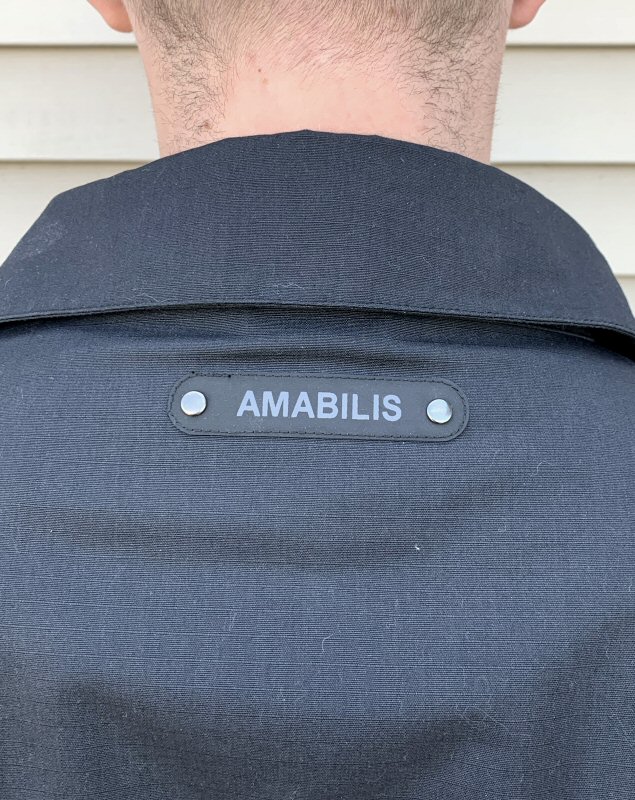 The AMABILIS logo on the upper back area is made of an oval-shaped strip of what appears to be a synthetic rubber-type fabric that is both stitched and riveted to the jacket, which results in a clean, tough look.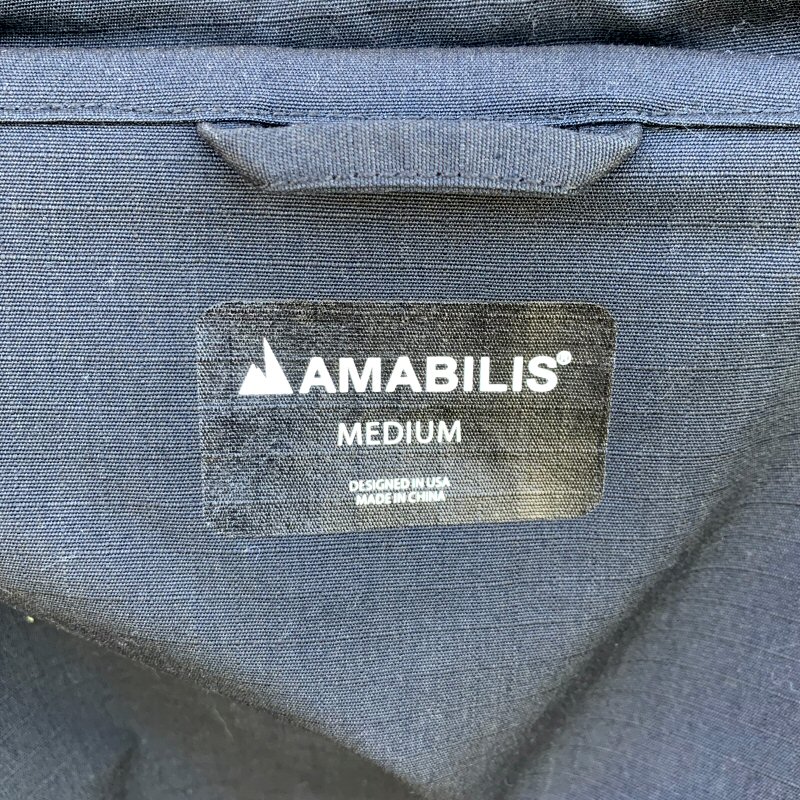 In addition to this simple heat-pressed tag located on the inside back, the Responder Light also includes a loop for hanging the jacket. While a hanging loop like this seems like an obvious feature, I'm always surprised when a jacket doesn't include this as AMABILIS wisely did.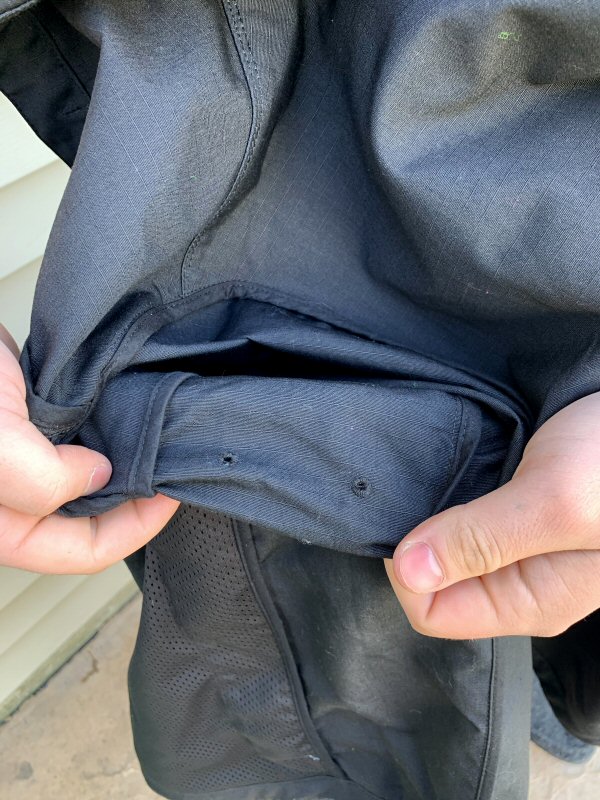 The armpit areas of the Responder Lite have two nearly hidden vent holes to aid in ventilation in what is typically a high body heat area.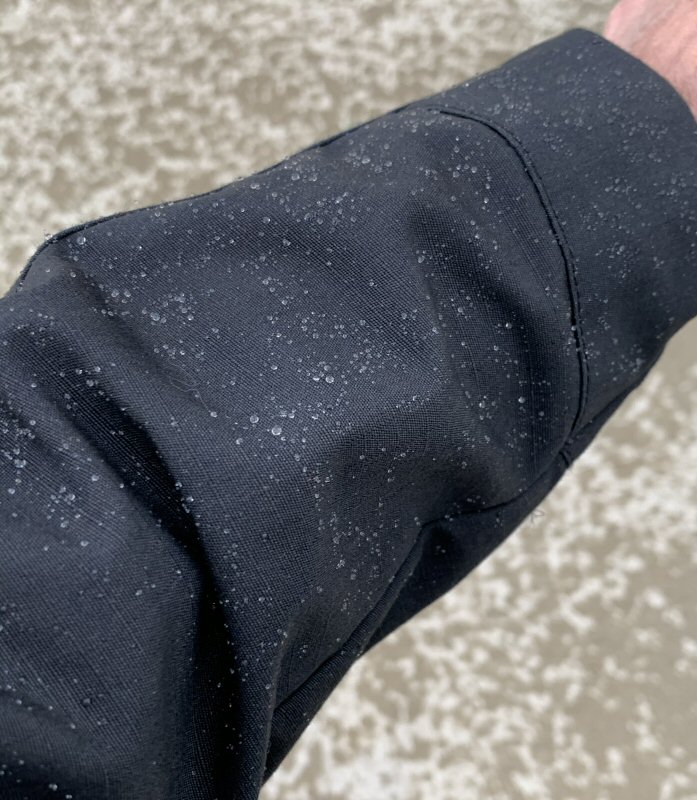 The Responder Lite's CORDURA NYCO 50/50 Nylon and Cotton ripstop fabric is water repellent as well.  At one point, I got caught in light rain, and the water droplet beaded up quite well and essentially rolled off the exterior of the jacket.  I didn't have the chance to test the Responder Lite in a heavy downpour or for an extended length of time.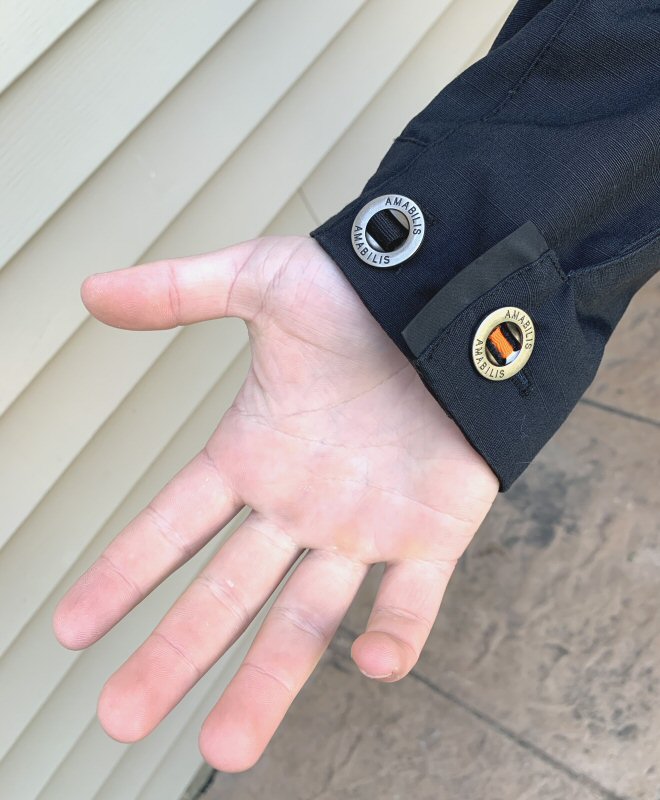 The Responder Lite has adjustable cuffs, which help to customize its fit for the wearer.  I used the buttons for the larger cuff opening because I don't care to have my wrists feel trapped by the cuffs.  Also, the larger cuff opening allows me to wear my Garmin fenix 3 HR GPS watch, which is quite large, without it getting hung up.  And here's one of those little details: the button for the widest cuff opening has a small orange accent.
Next, let's get into the Responder Lite's pockets (pun fully intended), of which the Responder Lite is supposed to have a total of eight, but while investigating the Responder Lite's features, my son and I were only able to find seven pockets; more on this later.
Pockets 1 and 2 – Magnetic flap check pockets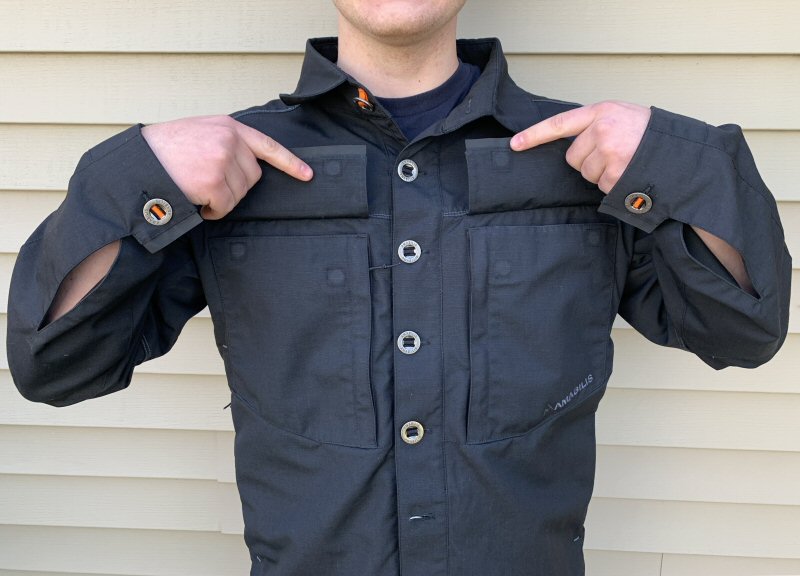 The Responder Lite has both left and chest pockets on its front which are mirror images of each other.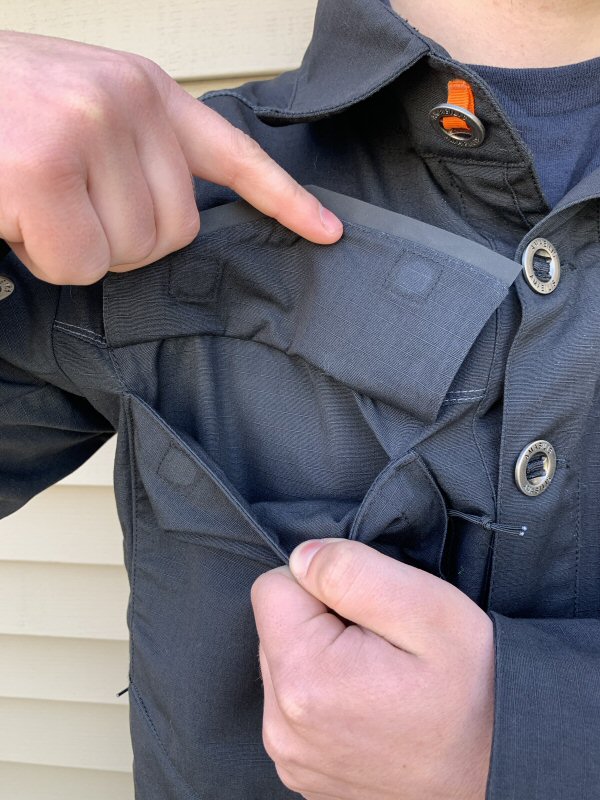 These two chest pockets have another unique feature, which is two pairs of magnets sewn into each pocket and flap.  I really like this feature.  No buttons or snaps to fumble with, no loud Velcro that eventually breaks down.  Just grab and lift the flap, then let it drop and it secures itself automatically.  Additionally, the leading edge of each pocket is a strip of material that appears to be made from the same synthetic rubber-type fabric as the logo patch on the jacket's upper back.  This strip of fabric's placement on the leading edge of each pocket provides a bit of gripping assistance when grabbing the flaps to open them.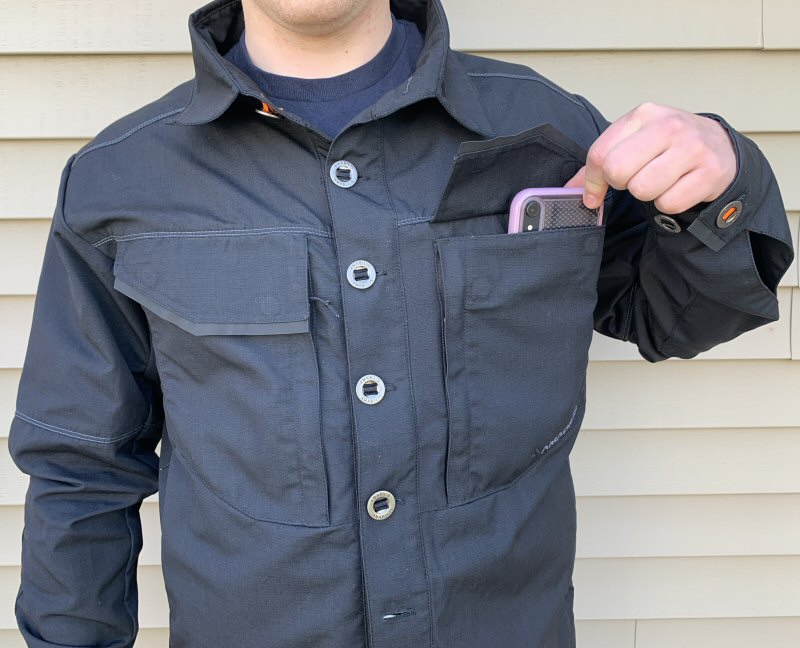 These left and right chest pockets are quite deep; they'll easily accommodate large wallets, the largest-sized smartphones (we used my wife's iPhone XR as a prop in the photo above), and many other items.
Pockets 3 and 4 – Hidden zippered chest pockets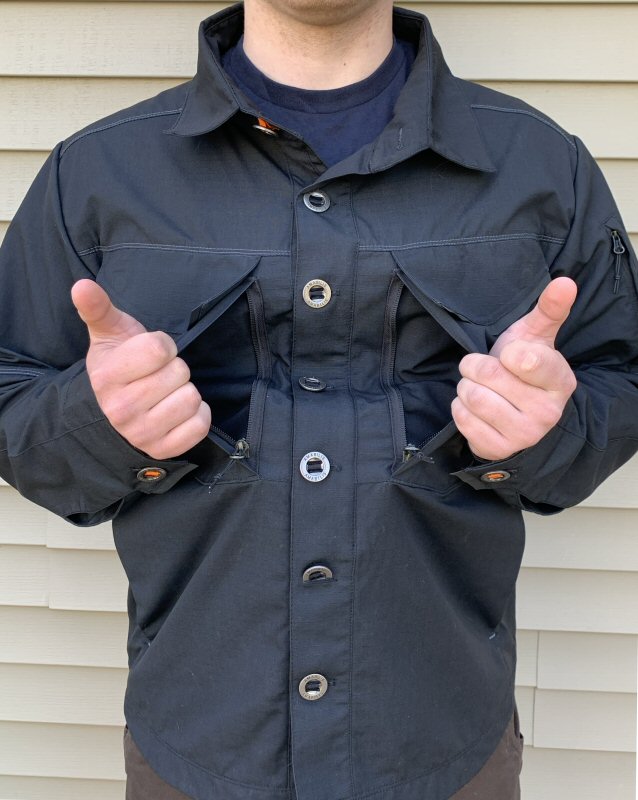 Next are a pair of zippered chest pockets hidden discreetly behind the front chest pockets.  Like the two front chest pockets, these also mirror each other and have zippered closures with YKK zippers and nylon cord zipper pull extenders.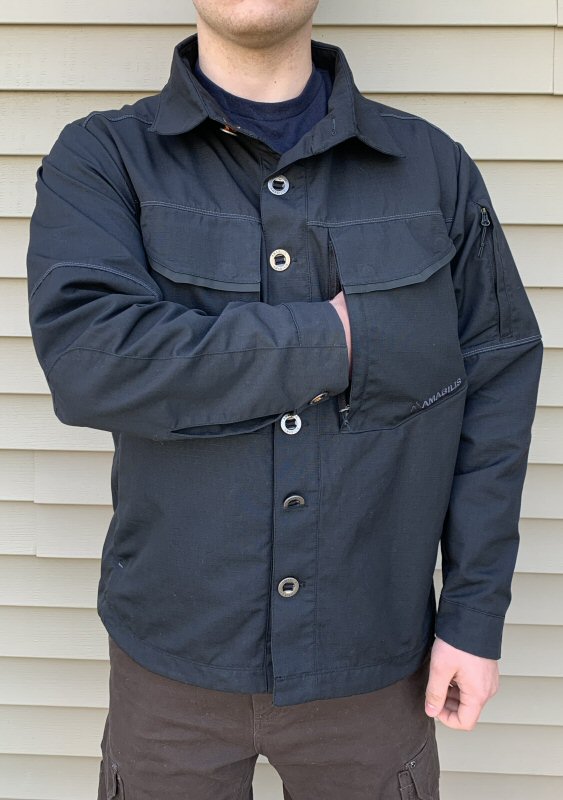 These zippered hidden chest pockets are quite large also and have a capacity nearly as large as the front chest pockets.
Pockets 5 and 6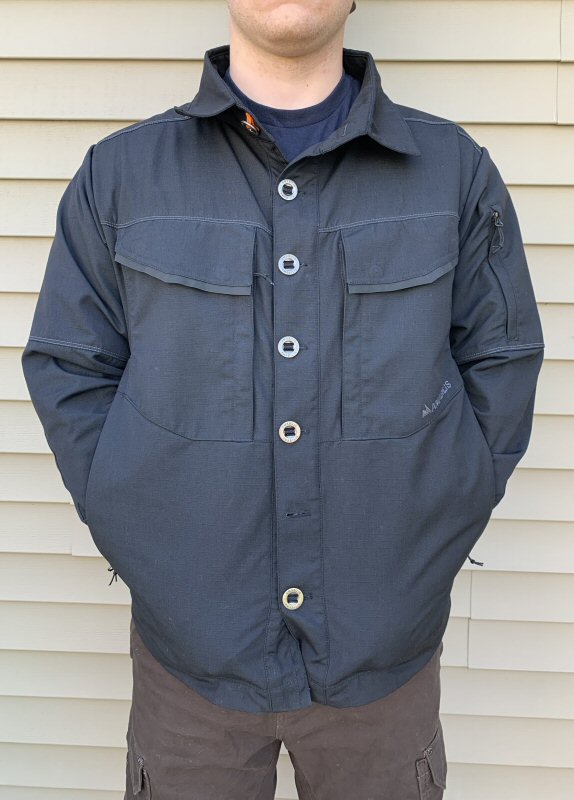 The next two pockets are the oversized zippered lower handwarmer pockets, which function perfectly as their name indicates, with plenty of hand room inside.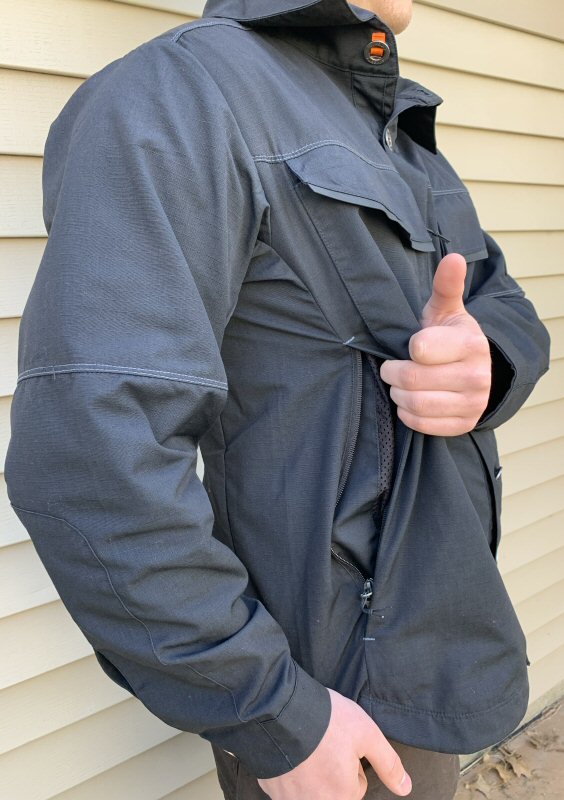 These two pockets, like the other pairs of pockets described above, are mirror images of each other.  They include wide openings that go up the lower chest area, and there is a bit of grey reinforcement stitching to help reinforce the ends of their zippers.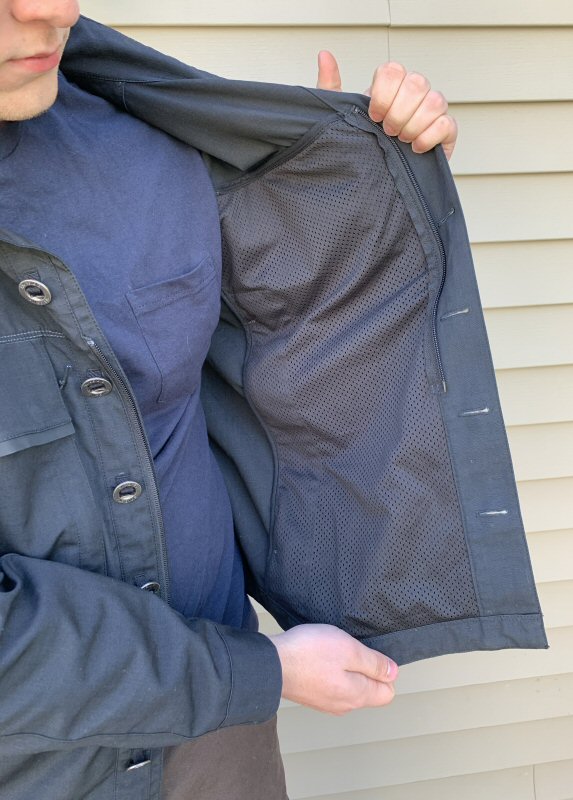 These two oversized zippered lower handwarmer pockets are mesh on the inside.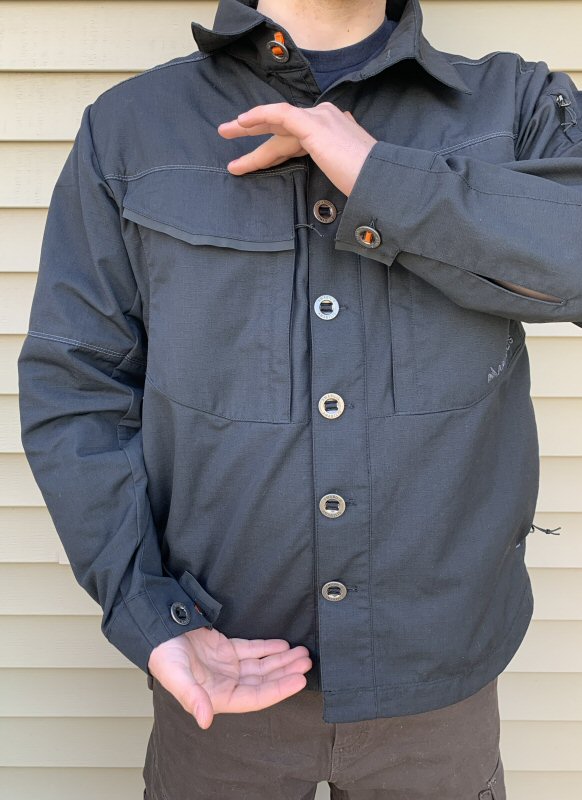 And these pockets are indeed oversized.  As seen in the photo above, my son is indicating with his hands the length of these pockets, which extend almost two feet along the front of the jacket.  I'm not even sure why AMABILIS made these pockets this big, but it's good to know that if you had to carry a large item or two, you could probably do it.  This like gloves, hats, a lightweight inner layer, a tablet—all sorts of items could fit into these crazy big pockets.
Pocket 7 – Zippered bicep pocket
The final pocket that my son and I could find while examining and using the Responder Lite was the zippered pocket on its left bicep.  As with all other zippers on this jacket, it has a YKK zipper and nylon zipper pull extender.  This pocket is large enough to hold a wallet, keys, or mid-sized smartphones.  I found it curious that AMABILIS did not include a pocket on both the left and right bicep.  I suspect they went with the idea that most folks are right-handed, so most folks would find it easy to reach across with their right hand to access the pocket on the left bicep.  This is a logical thought process and works fine for me as a right-hander, but left-handers might find it a bit less ergonomic to access this pocket.
Pocket 8 – Internal zippered pocket
The AMABILIS Responder Lite Tactical Chore Jacket's Kickstarter campaign site indicates that the Responder Lite jacket has 8 pockets.  The page states that there is an "internal zippered pocket," but it only shows an image of the jacket from the outside and does not actually depict this internal zipper pocket.  Also, despite both my son and I carefully examining the jacket, we could not find this mysterious eighth pocket.  Our supposition was that we may have received an early prototype of the AMABILIS Responder Lite Tactical Chore Jacket that didn't include this internal zipper pocket.  That, or we just plain couldn't find it.  EDIT: Shortly after this review was posted, the folks at AMABILIS contacted us to confirm that the Responder Lite jacket that they'd sent us for this review was, in fact, an early version of the jacket that did not include the internal zippered pocket, but assured us that the production version of the Responder Lite jacket would indeed have this eighth pocket. (My son and I feel somewhat vindicated. 🙂 )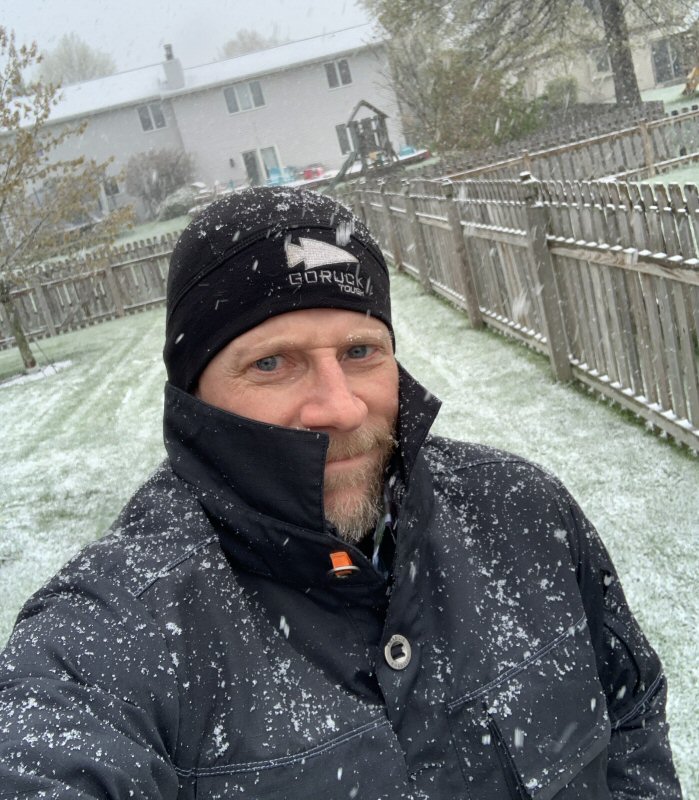 UPDATE April 20, 2021: Shortly after this review was posted, northeast Indiana experienced a day of unseasonably cold late-April day that included below freezing temperatures and and several inches of snow.  As I needed to do some work outside our home in these conditions, I put on a thick cotton hoodie as a base layer and the Responder Lite jacket as an outer layer/shell.  I can confirm that the Responder Light performed very well in this capacity.  It repelled the relatively heavy, wet snow on the outside, while the hoodie base layer kept me warm.  The AMABILIS Responder Lite jacket, paired with a base layer, is a solid combo in cold and wet weather.
What I like
Tough, durable, high-end materials
High quality construction
Style allows it to be worn in a variety of situations
Loaded with discreetly placed pockets and other useful features
What I'd change
Couldn't find the alleged zippered interior pocket! Nothing!  Great jacket!
Final thoughts
The AMABILIS Responder Lite Tactical Chore Jacket impressed me when I removed it from its packaging and continued to impress me as I wore it and used its features.  I like its style that blurs the line between urban, work, and military, and its materials and construction are top-notch.  Its fit allows freedom of movement whether alone or paired with a hoodie or other base layer.  But most impressive to me was its multiple large pockets (two of which have magnetic closures!) and other small but useful features.  The AMABILIS Responder Lite Tactical Chore Jacket is worth a look if you have ever wished there was a jacket that blurred the lines between urban, work, and tactical styles, was every bit as durable as it looked, AND was loaded with pockets to carry your gear.
Price: $184 Kickstarter campaign pledge as of this writing (see link below)
Where to buy: AMABILIS Responder Lite Tactical Chore Jacket Kickstarter Campaign
Source: The sample of this product was provided by AMABILIS.