I love leather.  Whenever I am strolling and shopping as a tourist, I always stop in leather shops.  So when I had the chance to spend some time with a Burkley Leather case for my brand new iPad Pro 9.7, I quickly volunteered.  A week later, I "woke up" and discovered I really wanted only a one night stand with the iPad Pro and returned it. The next day the case from Burkley arrived.  Oops.
Opening the package, I found a light brown bag made of a material unfamiliar to me – kind of a fabric-like, slightly stretchy Tyvek.  The drawstring that tied the bag closed seemed too large and the ends were unattractively fraying. (I didn't think I would be so easily distracted by the externals.) Finally, I opened the the bag and pulled out a beautiful case of rich smelling leather and obvious quality.
One of the first things I checked was whether the leather closure flap visible in the photo was an "old fashioned" snap that needed to be properly aligned and then firmly pressed, or was it magnetic.  Especially for a nice case like this, I much prefer a magnetic closure and I was pleased to discover that it was magnetic and opened and closed with ease.
The edge stitching is small, even and there are no visible imperfections.  They chose the thread so that it not call attention to itself.
The leather itself is smooth with beautiful natural variations in color and markings. As is evident in the photo, the leather has been nicely dyed with a vignette effect so the edges are darker than the center.  There is an embossed logo in the lower right corner which is visible but not distracting.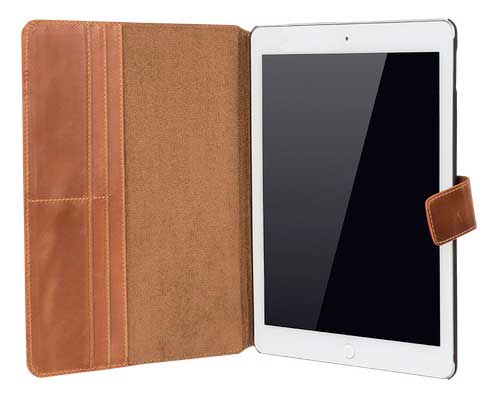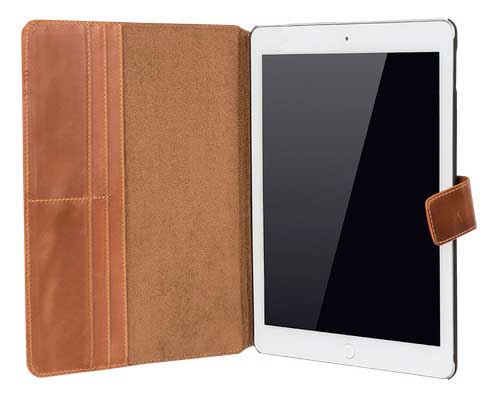 Opening the case, there is a thin, black, semi-flexible plastic holder into which the iPad is snapped to keep it firmly attached to the case.  This is the one part of this review which I am unable to do properly without the device 🙁  But given the quality and attention to detail throughout the rest of the case, I would personally be happy to risk that the folks at Burkley did this part well, too. The holder and the leather case together would likely provide protection from normal everyday use of the device, but would likely provide only limited drop protection.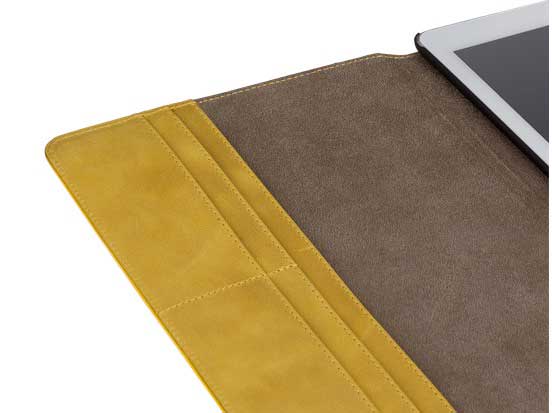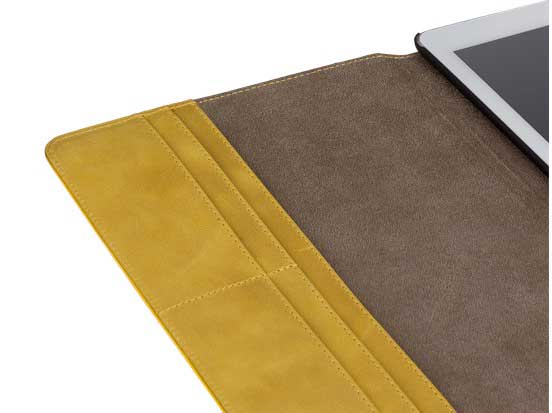 On the left side are four slots nicely oversized for business cards or credit cards and a full length slot behind that would hold paper money or a few sheets of 8.5×11″ paper handouts folded in half.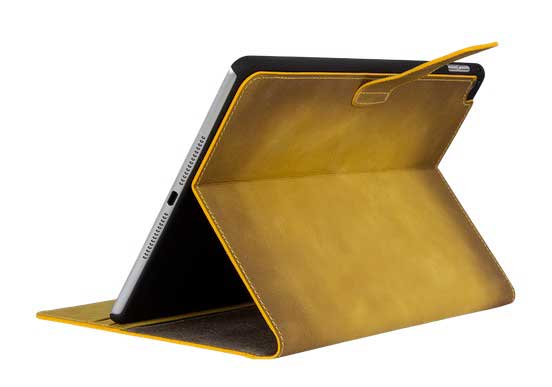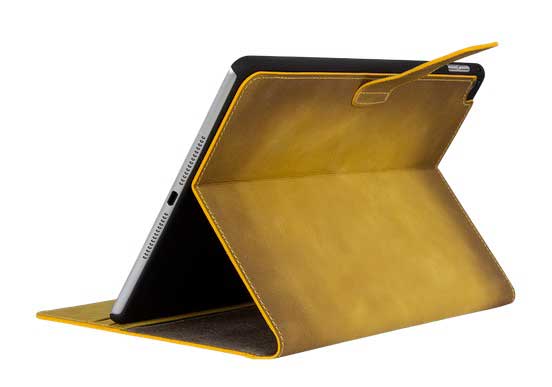 And the backside of the case is only attached to half of the plastic holder, forming a hinge for holding the iPad for viewing.
Overall, I am very pleased with this case and recommend it.
The sample for this review was provided by Burkley Strong Leather.  Items can be ordered directly from Burkley or from Amazon.
More of our stories that you'll enjoy: