The Gadgeteer is supported by readers like you! If you buy something through links on our site, we may earn an affiliate commission. Thank you! Learn more.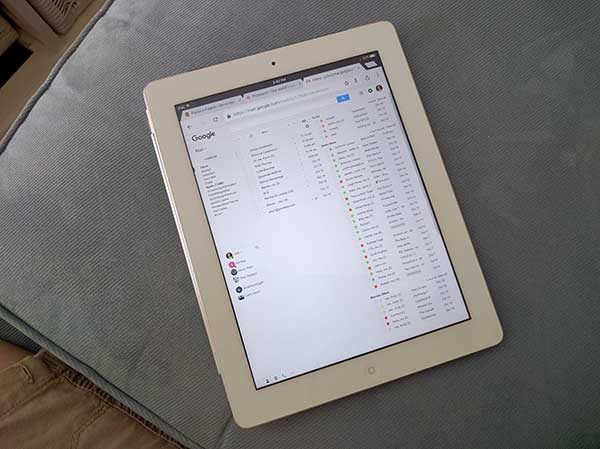 I'm not a frequent traveler, but we do go on at least two vacations a year which usually involve air travel. Preparing for these trips involves decisions about the gear to take with me and I always have the same dilemma each time: weight and bulk vs. usability. I know vacations are for relaxing, but I'd be stressed to the max if I wasn't able to keep on top of emails and do a little light Gadgeteer work while away from home. This usually means that I end up taking a laptop with me and the whole time I'm walking around the airport with a heavy bag on my shoulder I'm saying to myself that for the next trip I'll take less gear. And each year I wish I could just get by with just my phone or my tablet. But I've always run into one problem that has prevented me from being able to do that – Gmail.
I'm a power user when it comes to Gmail. I rely on multiple inboxes, stars and folders, otherwise known as tags to organize the 100 or so emails I get every day or two. If my inbox has enough emails that I have to scroll the page, I start getting a little antsy because that makes me feel like I'm getting behind. I rarely get to a zero inbox, but I try to get as close to that as possible.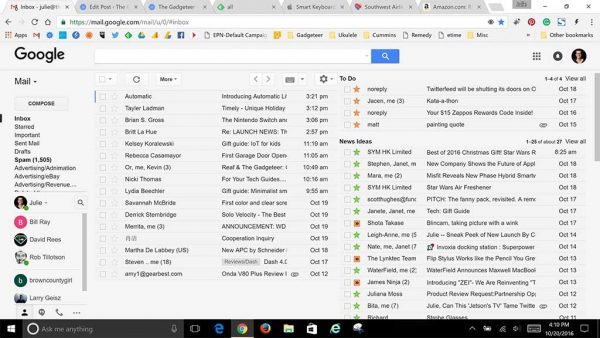 To give you an idea of how I organize things, the image above is what my Gmail looks like on a laptop or desktop computer. I've been using this method for many years now and it works great for me.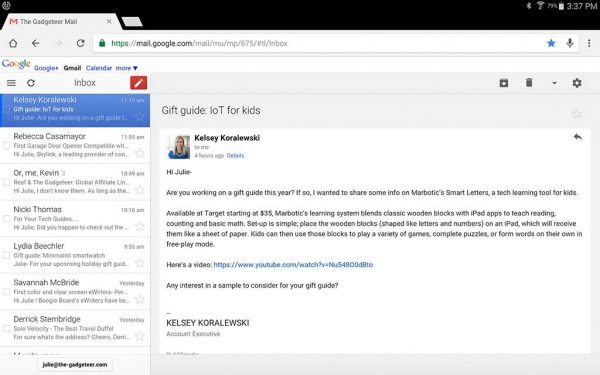 But this is what I see when I use Gmail on my Samsung Tab tablet running Marshmellow with the Chrome browser even when I specify it to use the desktop version of the site. As you can see, the view does not show multiple inboxes. I could deal with that, but the deal breaker for me is that I can only use yellow stars and more importantly, filing emails using tags / folders is a HUGE hassle.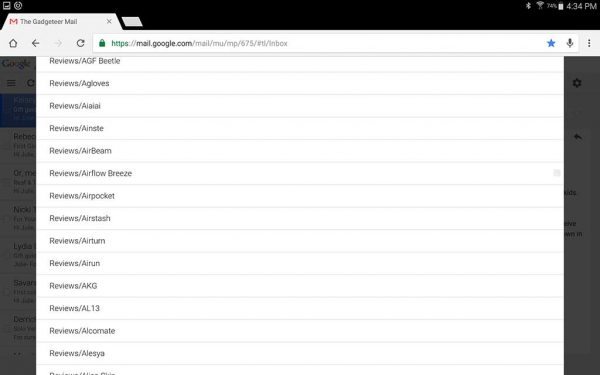 It's a hassle because you I have to scroll through 100's of labels to find the one I want instead of being able to type part of the name to filter the list, which is what I can do on my laptop.
So to appease my Gmail OCD, I take a laptop with me when I travel. This year we're vacationing on Sanibel Island Florida again (one of our favorite places on earth) and I brought my 13″ Dell XPS laptop and I also brought my Samsung Tab because I planned to read Harry Potter and the Cursed Child screenplay by JK Rowling. I also brought chargers, cables, my journal, pens, Roku Stick, Polaroid Zip printer and other gear that made my bag uncomfortably heavy on my shoulder while walking through the airports.
Once we got to our destination, the heavy bag problem went away and for the most part, I was happy to have the laptop with me. It came in really handy for watching Netflix movies when I realized that I would not be able to use the Roku stick with the TV in the condo because I'd failed to bring the Roku remote. I figured that I could just use the Roku app on my phone to set it up. I was wrong.
When the Roku idea fizzled, I thought I could use my Nexus 6P to cast a movie to the Samsung TV, but I found out that Screen Mirroring and Casting are two different things and it would not work. I was able to mirror the Samsung Tab's screen to the Samsung TV, but the connection was iffy and would sometimes stutter or drop out altogether. I finally gave up and we watched Netflix movies on the Dell XPS.
Having a laptop with me on vacation has been great for taking care of my email, but it also made it really easy to work too much… like I'm doing right now. Oops…
But back to the whole point of this article, which is how to handle Gmail for power users while traveling without a laptop.
One very early morning while Jeanne was down at the beach looking for shells, I stayed in the condo to sleep in and work on some emails. I happened to see her iPad on the couch, which is my old iPad 2. It's so old that the latest version of iOS that it can run is 9.3.5.
For kicks, I launched the Chrome browser and loaded Gmail. Then I set it to request the desktop site. My eyes almost fell out of my skull with what I saw: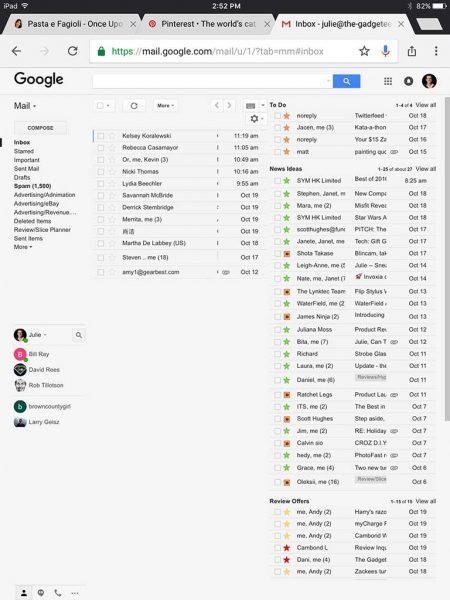 It looks identical to what I see on a laptop / desktop! Multiple inboxes and everything. To say that this got my little gadgeteer heart going pitter patter would be an understatement. I know I've tried this in the past and didn't see this view, so I'm not sure when it changed.
I immediately started testing features that are important to me.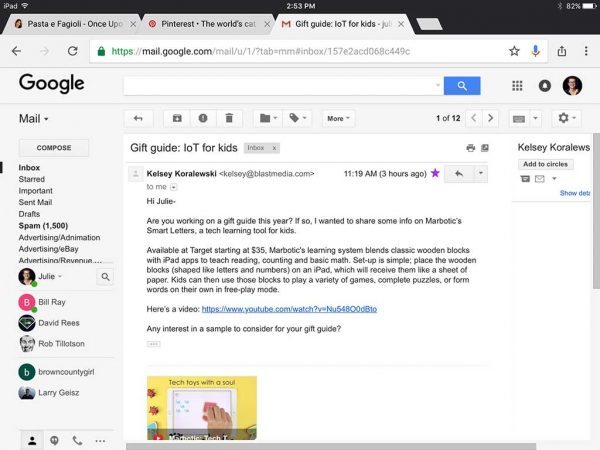 First of all, stars. With the mobile Gmail app on both iOS and Android, you can only have one color star, yellow. With the desktop version of Gmail through a browser on the iPad, I had access to all the stars. Yay!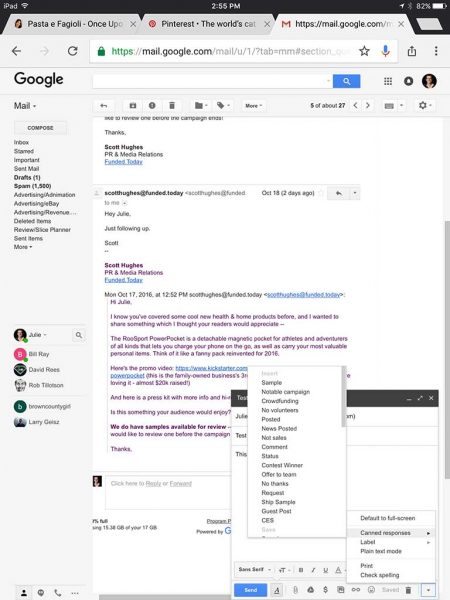 Next test, canned responses. I use these ALL the time and was giddy to see that this feature was also available.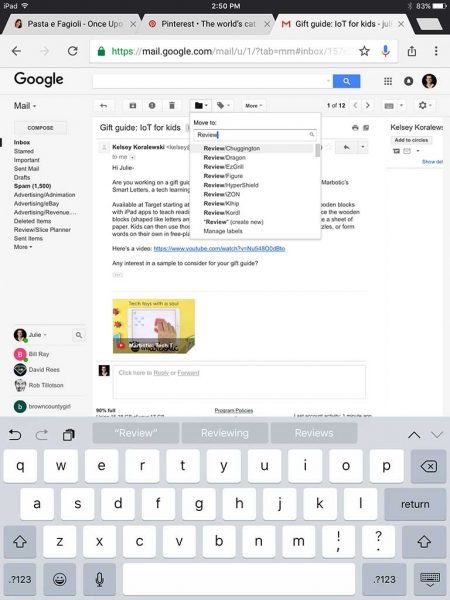 But the biggest test of all was to see if I could easily file emails in existing folders / labels and create new labels. I'm so happy to report that yes, it works exactly like it does on the desktop. Typing part of the label name filters the list so I can quickly file messages where I want them to go without endless scrolling. Double Yay!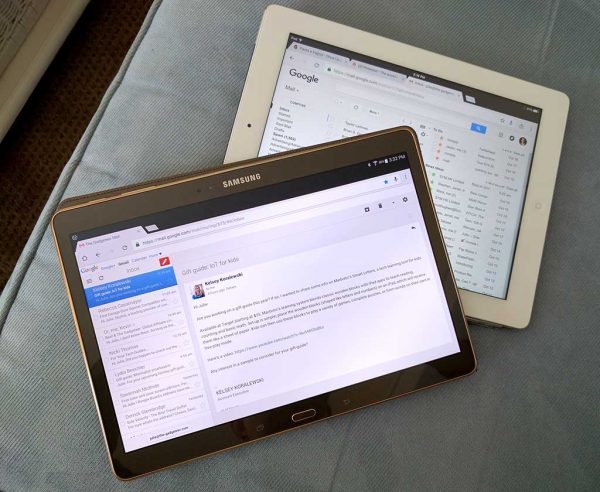 When comparing the power user Gmail experience between the Samsung Tab and the iPad 2 there is no contest. The iPad 2 easily wins. I can't help but be puzzled by the fact that an iOS device and operating system works better with Gmail than the Samsung Tab which is an Android device that runs an operating system made by Google and Gmail is also a Google product. Go figure.
Now I'm thinking that I might like to buy an iPad Pro, and if I do this, I will probably go for the super sized iPad Pro. The 12.9 inch model.
When Jeanne got back to the room from her shell hunting adventure, I asked if she minded if we drive off the island to go to the closest Apple store in Estero, Florida so I could check out the iPad Pros. She said sure and off we went.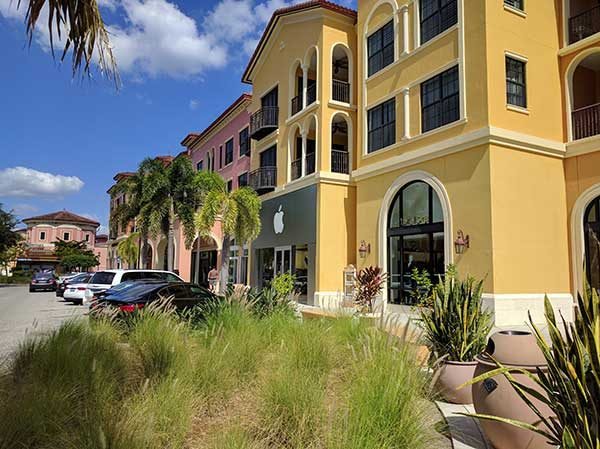 I had no plans to buy anything, but I just wanted to look at a 12.9 inch iPad Pro in person to see if it felt  too big for travel, or if the 9.7 inch version would suffice. I've never seen the 12.9 inch iPad Pro in person because there's no Apple store close to where I live.
After playing with the 12.9 inch Pro for several minutes, I felt like it would make a nice travel companion for emails, surfing, watching movies and more. The large iPad Pro weighs in at 1.57 lbs which is a great weight for traveling. The only downside to the iPad Pro is the price.
I didn't cave in and buy anything at the Apple store since we're heading home tomorrow and don't have any other trips planned this year. This gives me time to decide if I want to buy an iPad Pro or if I want to  consider other solutions. My main criteria is that I have full Gmail with all the bells and whistles that I use now in a device with a minimum screen size of 12 inches and weighing in at less than 2lbs including the AC adapter and cable.
I think I'll be buying an iPad Pro 12.9, but if there are better solutions out there, I want to hear about them. Let me know your thoughts.
Support The Gadgeteer
:
The Gadgeteer is supported by readers like you! If you buy something through the links on our site, we may earn a small affiliate commission. Thank you! Learn more.