We use affiliate links. If you buy something through the links on this page, we may earn a commission at no cost to you. Learn more.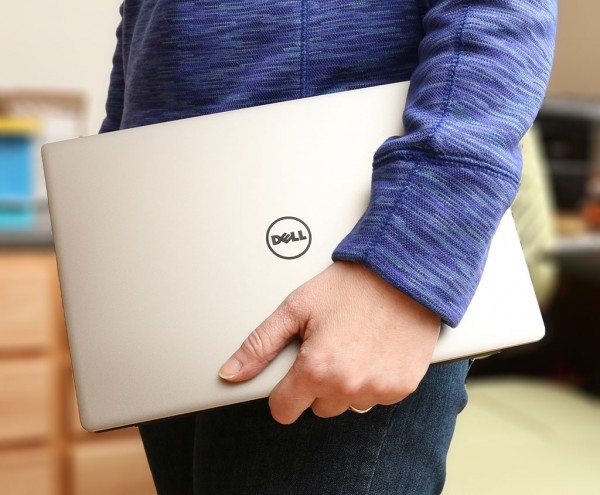 Several weeks ago I posted the first part of this article where I talked about how I would be using a Dell XPS 13 laptop instead of my 13″ MacBook Pro with retina display and 13″ MacBook Air for a week. To remind folks, I only use Macs at home. There are no Windows PCs to be found in my house although I do use a Dell Ultrabook laptop at my day job. I use my MacBooks to dance the net and do all of my Gadgeteer writing and image processing using Photoshop.
As I had mentioned in the first part of this article, operating systems don't really matter that much to me anymore because 99% of the work I do on my computer takes place in a browser window or Photoshop. With my switch from a MacBook to the Dell XPS 13, I focused on these features: the display, touchscreen, keyboard / touchpad, and battery life. So let's get started.
Note: Images can be clicked to view a larger size.
Display
The Dell XPS 13 has a gorgeous 3200 x 1800 resolution 13 inch display which I think rivals my MacBook's 13 inch retina display.

Here you can see the laptops side by side (the Dell is on the left, the 13″ MacBook Pro with retina display is on the right). Both laptops have the brightness set to the maximum setting. I find the colors on both laptops to be rich and vibrant. But to me, the MacBook is either slightly brighter, or just has whiter whites. It's a subtle difference. You can also see that the MacBook is able to show a a little more information on the display compared to the XPS. But when you consider how much smaller and lighter the XPS is compared to the 13″ MacBook Pro, that extra sentence or two really doesn't matter.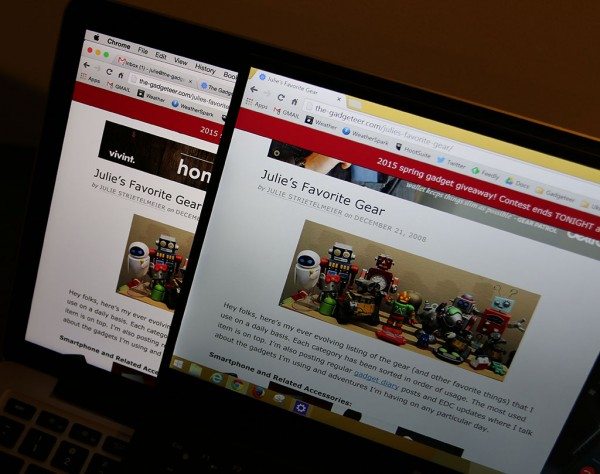 I really can't see much difference between the two displays as far as the crispness and clarity of the text and graphics. The biggest difference is that the XPS has a super narrow bezel which makes the display look like it goes completely to the edge. Like I said before, the Dell XPS 13 has a gorgeous display.
Touchscreen
Using a touchscreen has become second nature when using my smartphone and tablets, but it doesn't feel natural at all to use a touchscreen to control a laptop. At least not to me. However, I know this is mainly due to the fact that the Dell XPS 13 is the first laptop that I've had the opportunity to use that has a touchscreen.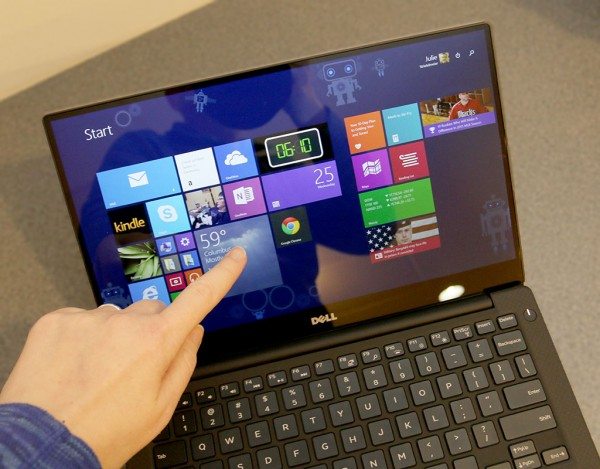 During the week that I was using the XPS exclusively, I had to make a conscience effort to make myself use my finger to swipe, scroll, pinch and zoom. Windows 8 is not completely finger friendly, but it's getting closer. I was able to use my finger to tap any where that my mouse cursor is normally used, from the back button on the browser, to selecting multiple files in a directory listing. I was disappointed that I wasn't able to easily use the touchscreen with Photoshop, but it's not the fault of the laptop, it's some weird problem with Photoshop CS6 and high res displays on Windows computers. The interface is so tiny that the application is barely useable. So I gave up trying to use Photoshop and switched to a freebie web based photo editor called Pixl. If I were to make the Dell XPS 13 my primary computer, this would be a deal breaker for me as I prefer to use Photoshop for all my image editing tasks.
After a few days using the touchscreen I became so accustomed to using my finger to scroll that now I have to catch myself from trying to touch screens that aren't meant to be touched! The great thing about the XPS is that the screen is glass, so it's easily cleaned. That said, I haven't noticed a big problem with fingerprints and smudges.
I do wish that the display was either detachable (my preference) or could fold back to convert the XPS into a pseudo tablet.
Keyboard and touchpad
I'm a touch typist, so a good keyboard and an equally good touchpad are very important to me when I'm choosing a laptop.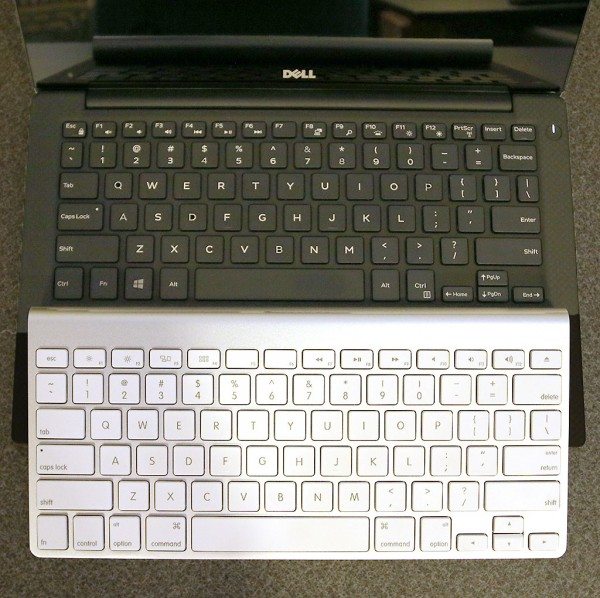 When it comes to keyboards and touchpads, I tend to compare everything to my MacBooks and an Apple wireless keyboard. With that comparison in mind, I found the keyboard on the Dell XPS 13 to be easy to type on. I had no issues with the keyboard size (it's slightly narrower than the Apple wireless keyboard) or the keyboard layout. The keys don't have as much travel as the keys on my MacBooks, but that doesn't effect my typing speed or accuracy. Another bonus is that the keyboard is backlit. I don't use this feature very often because I am usually in a well lighted area and touch type, so I don't need to see the keys. But I know this is a feature many people like.
All things considered, the keyboard on the Dell XPS 13 gets a thumbs up from me.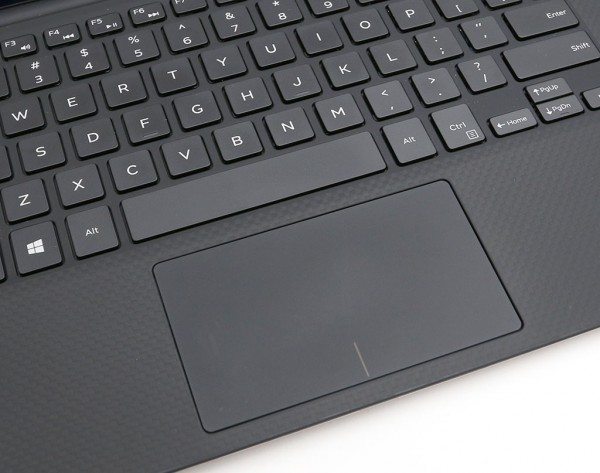 However, I have to give the touchpad two thumbs down… The size is fine, but I don't like the soft touch rubber coating that introduces some drag when you're trying to scroll. As a Mac user, I also had some struggles with the split mouse design that mimics the left and right mouse buttons. I found that I would often need to press more than once to get a right mouse click action. When I first started using the XPS laptop, it was setup so that taps in addition to clicks would launch / select items. I found this setting to be really annoying because I would accidentally open apps or webpages with just the slightest tap or finger brush on the touchpad. I ended up turning the tap feature off which made things a lot easier.
I noticed another issue with the touchpad primarily with scrolling in browsers. Chrome seems to be the worst, but I actually have the problem using Firefox and even Internet Explorer. Scrolling vertically using two fingers  often feels very sluggish and erratic. At first I thought it was just the sites I was visiting, but scrolling using the touchscreen works fine.  This one problem caused me the most frustration while using the XPS and I hope it will be at the top of the list of features to improve with the next update of this laptop.
Battery life
When I was first offered the XPS, I looked up the specs and was wide eyed when I came to the part about the 15 hour battery life for the non-touchscreen version and 11 hour battery life for the version with touchscreen, I was very excited. My MacBook Pro has very good battery life, but 11 hours sounds amazing or too good to be true…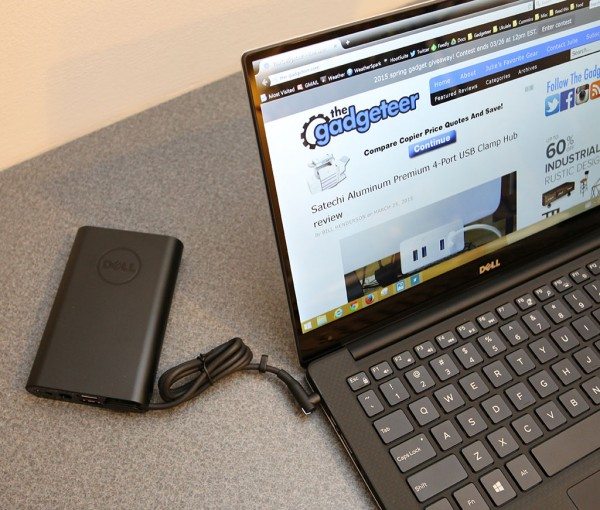 After using the XPS for over a month now, I can tell you that the battery life is stellar. But I have never gotten 11 straight hours of work out of one charge. So is Dell inflating their battery life data to sell more laptops? No, you can actually achieve 11 hours of battery life with the touchscreen XPS, but you have to do everything exactly the way they did for their test. That means using certain apps, certain screen brightness, etc., etc. This didn't surprise me as I've never taken performance tests or battery test results very seriously. There are just too many variables involved.
So what is the Dell XPS 13's battery life really like in the real world? It's different every day depending on what I'm doing. But it's noticeably better than my 1yr old MacBook Pro and way better than my 4yr old MacBook Air. I've been able to work with the XPS on and off for over a week on just one charge. Granted that's just an hour here, a few minutes there kind of usage. It holds a charge very well while idle. Using the laptop in a straight through setting, I've gotten 5-6 hours of browser, photo editing work. I think that length of time is perfectly acceptable.
Travelers will love the Power Companion with a 12000mAh built in rechargeable battery pack that connects directly to the XPS and also offers two USB ports that can recharge your phone and other gadgets at the same time.
Answers to questions from readers
In part 1 of this article I opened up the comments for questions that I could answer in part 2. Here are the questions with my answers.
Cyrano: I'm really looking forward to Part 2. I can't find one of these anywhere to check it out for myself. Please check out the webcam 'cause it's location looks very problematic. Thanks.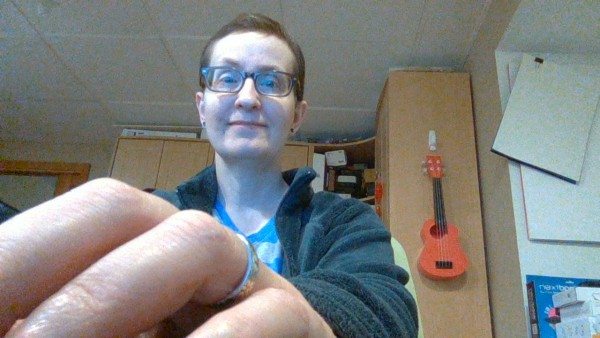 Yes, the webcam is located in an odd location for a laptop. It's in the bottom left corner. That makes for some unflattering angles. It took me several tries to get a halfway decent picture that didn't show a double chin. 🙂 As you can see, I have a giant hand though. The webcam image is a little grainy too. I'm not a huge fan of video calls or skype, so the webcam location and image quality don't bother me.
Jackie Cheng: Do you have a Macbook Air 11″ to do a photo comparison of it? And can the SD card fit fully inside or does it stick out like the ones on the Macbook? Thanks! =)
I don't have a MacBook Air 11″ so I can't show you what the two look like side by side. I've seen pictures on other sites though and it looks like they are very close.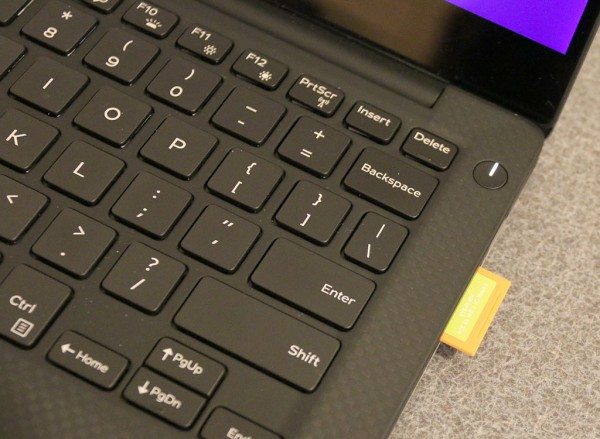 There's the answer to your SD question. It sticks out quite a bit.
JoeCNM: Hello Julie – As you test the unit would you mind looking into whether it's possible to do linear scrolling, or edge scrolling, on the touchpad with a single finger? I'm trying to find a replacement for a HP TabletPC for a family member that can't use the Mac-like two finger scrolling or using a touch screen to scroll.
I looked around in the settings for the mouse, touchpad, and keyboard and could not find a way to do linear scrolling with one finger except on the touch screen. Maybe there's an app that will allow it…
tkuhe: Really enjoying this article and looking forward to Part 2. Of note I have heard a lot of people having issues running Chrome on this computer, hogging the battery, trackpad issues, scaling, etc… Seems to only be with Chrome though and IE, Firefox, and Maxthon all seem to work well. Just figured I would throw it out there as it has caused some confusing reviews so far.
I've had problems with the touchpad while using Chrome, but my touchpad problems weren't exclusive to Chrome. I have the same issues with Firefox and IE. I haven't noticed any scaling issues or battery life problems associated with Chrome.
Final thoughts
I really like the Dell XPS 13 laptop and think it's a great choice for anyone wanting a light weight laptop that packs a 13″ display into the same footprint as an 11″ laptop. The screen is fantastic, battery life is very good and performance is snappy.
If I had to pick just one thing that needs the most improvement with the Dell XPS 13, it would definitely be the touchpad. That's really the only thing about this laptop (other than wishing it ran OS X) that bugs me. I was able to get around the frustration by either using the touchscreen or pairing the laptop with a Bluetooth mouse. Even with the touchpad issues though, I am impressed by this laptop and highly recommend it.
Updates 10/12/2015
I haven't used the Dell XPS much since my initial articles about it. But every so often when I need to install Windows based software instead of Mac software, I pull it out for the task. I recently upgraded the OS to Windows 10 and installed the latest version of Photoshop to see if the issue I had with the very tiny user interface had been fixed. I'm happy to say that it has been fixed.
I even decided to bring the XPS with me on vacation this year instead of my 13″ MacBook Pro or MacBook Air. After using the XPS with Win10, I'm really very happy with it. So much so that I don't know if I will end up buying another Mac laptop when my current ones need to be replaced.
The only issue that remains with the Dell XPS 13″ is that the touchpad is no where near as responsive as the touchpad on my MacBooks. Scrolling is very not easy and I usually end up just clicking on the arrows on the scroll bars. Whenever I do end up replacing my current laptops, the replacement will have to have a good touchpad.
Update 10/18/16
As I mentioned in my update from last year at this time, I still use this small laptop when Windows software is required for a review that I'm working on or  as a light weight laptop for vacation. This week I'm down in Florida on Sanibel Island and brought the XPS with me instead of my 13″ MacBook Pro which is a little larger and weighs more than the XPS. This laptop makes a great travel companion because the battery life is great.
My main complaint about the XPS has been the touchpad, but I'm not noticing any issues with it on this trip. This might be due to a BIOS update that I had to apply before leaving for my trip. What ever it is, it seems to work just fine now which makes this little Windows 10 laptop a great alternative to my MBP.
Source: The sample for this article was provided by Dell. Please visit their site for more info or to buy the XPS 13.