We use affiliate links. If you buy something through the links on this page, we may earn a commission at no cost to you. Learn more.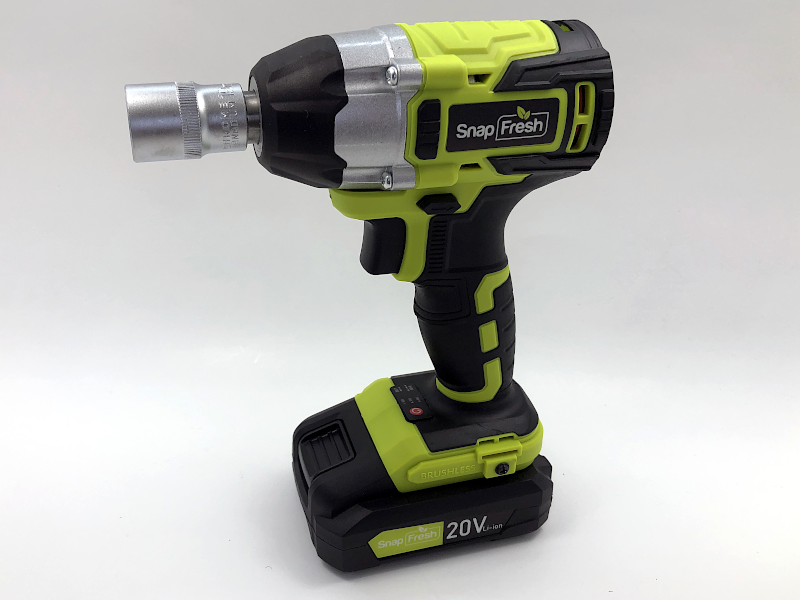 REVIEW – SnapFresh has been growing its product line of battery-powered tools.  I recently reviewed their cordless drill, and in this review, I'm taking a look at their cordless impact wrench.
What is it?
This is a consumer-grade, battery-powered, cordless, brushless impact wrench that uses the same 20V/2Ah battery found in other SnapFresh tools, such as their leaf blower.  This wrench is made by SnapFresh, a brand owned by Ningbo Babytec, a Chinese company.
What's in the box?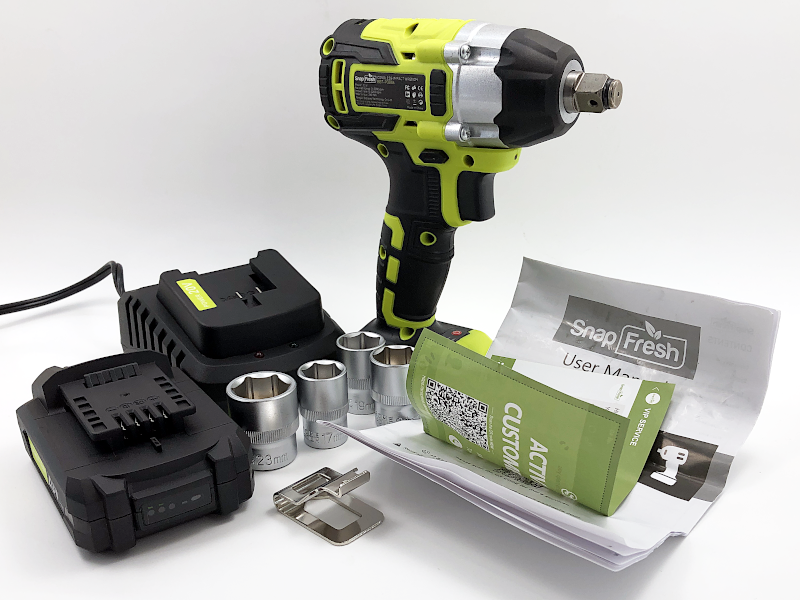 Impact wrench
20V 2.0Ah battery with charger
Sockets: 17, 19, 21, 23 mm
Belt clip
Carrying case
User manual
Hardware specs
Power: 20 V
Battery: 2.0 Ah
Drive Size: ½ inch
Motor: brushless
RPM: 2300 max
IPM: 3200 max
Torque: 203 ft-lb
Weight: 3 lbs (+ 0.7 lbs for the battery)
Dimensions: 9 x 7 x 3 inches
Design and features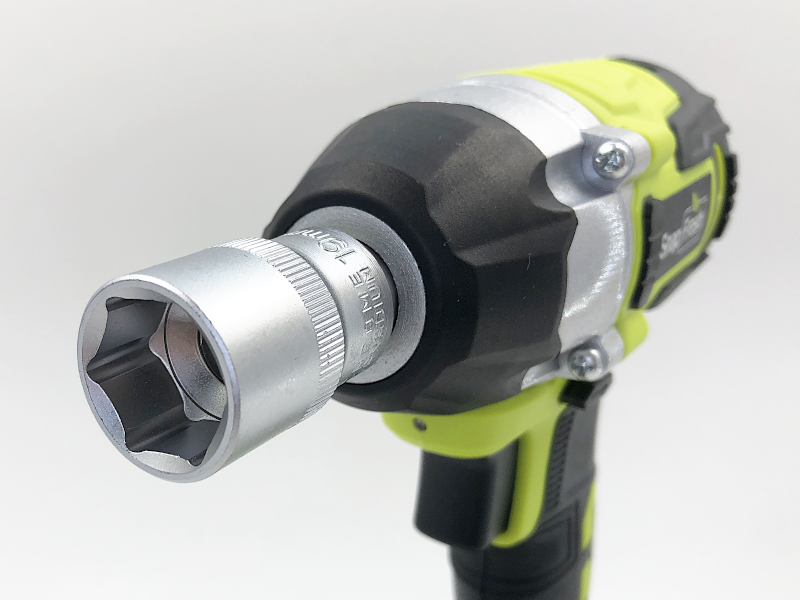 SnapFresh's wrench is very similar in design to its cordless drill, both small and hefty.  It feels both solid and well-built despite being only nine inches in height and less than four pounds in weight.  It has SnapFresh's trademark yellow-green plastic, yet it manages to avoid feeling cheap.  The wrench is easy to hold in one hand, though two are needed for operation.  For an entry-level impact wrench, it seems to be a sturdy and robust gadget.
Installation and setup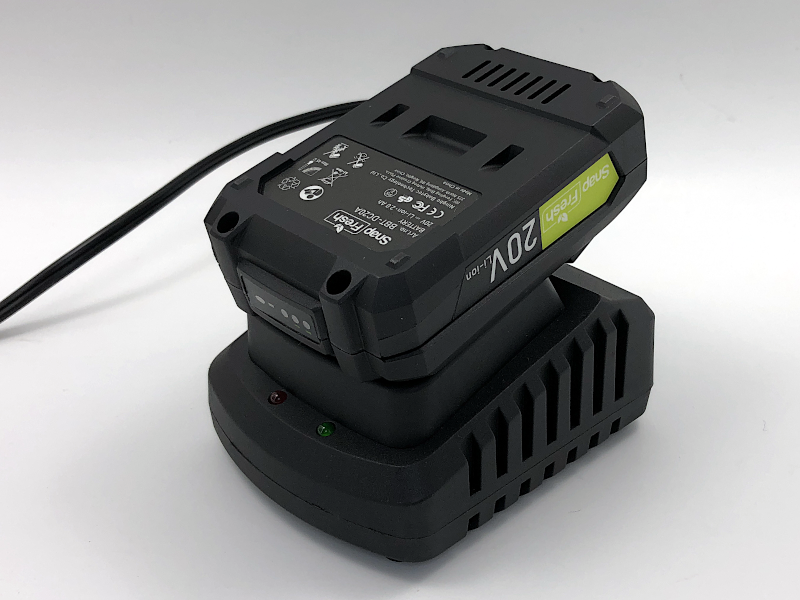 The wrench arrived in a small, bright green box and contained a black, rectangular carrying case.  Like all of SnapFresh's cordless tools, the only setup is to charge the battery with the included charger, which takes about an hour.  When done, the red LED turns off and the green one turns on.  SnapFresh recommends fully discharging the battery for the first five or six charges.
When I first picked up the wrench, I immediately noticed that there were black hairs in many places on its surface.  There was also a lot of brown dirt in the back and scuff marks in several places on the body.  I had seen these same problems on SnapFresh's cordless drill, but it was much worse on the impact wrench.  In all honesty, it was really gross.  Either SnapFresh is selling very used products while claiming they are new, or their manufacturing process is absolutely failing to protect and clean their final products before shipping.  Either way, this is a complete fiasco on their part.  I had to take some time to carefully clean the wrench before I could review it.  Additionally, the manual was battered and crumpled, looking like it had been heavily used.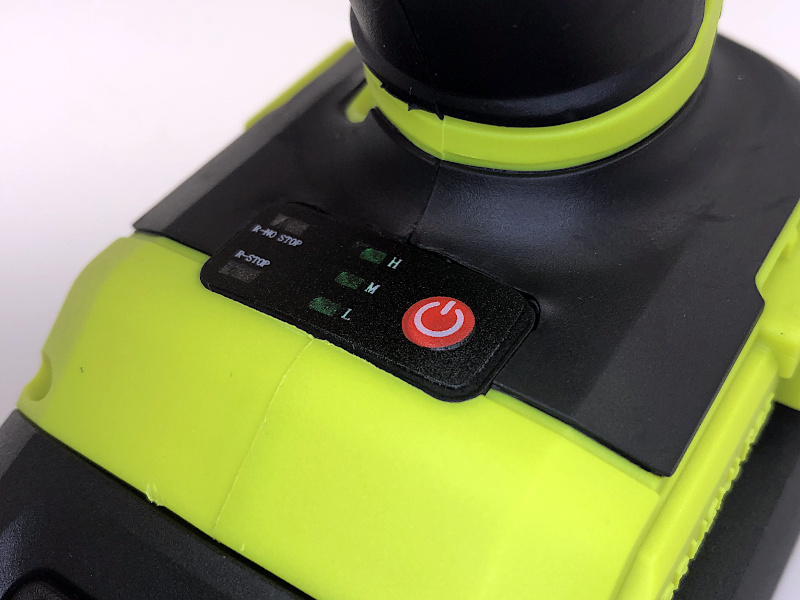 As I read through the manual, which has eight pages of English instructions, I found two omissions.  The first is that there's no explanation of how to install the belt clip.  As this is easy to figure out, this isn't a big deal.  The second omission is that there's no explanation of the control panel.  The picture on page 8 notes that there's a control panel at the base of the handle, but nowhere does it explain what the settings are or when you use them.  By experimentation, I found that when in forward mode, pressing the red button will change from L, M, and H, which presumably means low, medium, and high.  With some testing, the wrench does indeed rotate at three different speeds, and presumably, the impact rates are increased as well.  When in reverse mode, pressing the red button will change from R-STOP to R-NO STOP.  My best guess is that this is a removal mode that will reduce the speed and the torque once a bolt or nut breaks free; if that's correct, it would prevent the bolt or nut from being quickly unfastened and then go flying.  I searched online, but I couldn't find any other impact wrenches that used this R-STOP notation, so I'm not sure if my guess is right.  This lack of explanation in the manual is inexcusable, especially for a consumer product whose intended audience is unlikely to be professionals who already know all the features of an impact wrench.  SnapFresh has more work to do on its manual.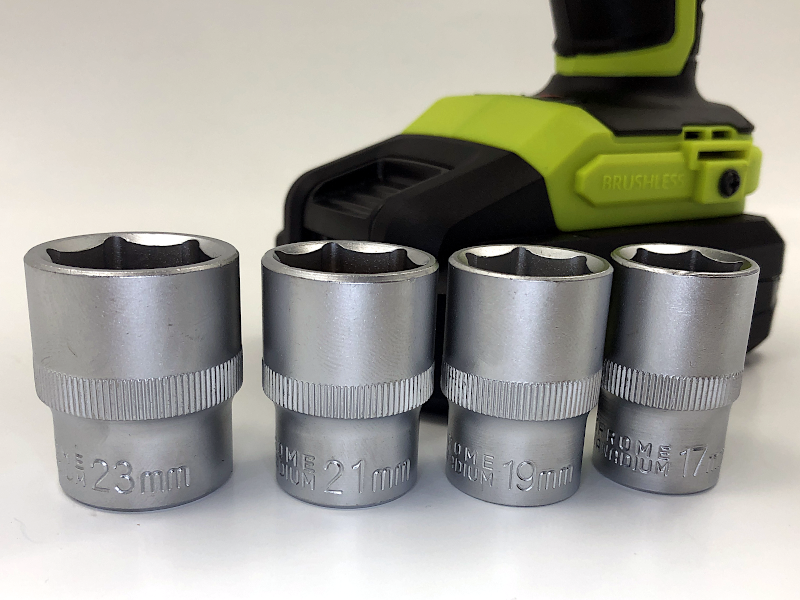 SnapFresh included sockets with the wrench, but it only included four metric sockets.  I find this to be bizarre, as it's clearly not enough sockets to be sufficient for the variety of tasks for which an American homeowner is going to use this tool.  Either SnapFresh needs to include a complete set (or two), which would probably increase the price by at least $40, or they need to include nothing and trim the price by a few dollars.  As it is, you'll want to go ahead and buy a couple sets for yourself, if you don't already have them.  Don't forget to get one set for SAE and one for metric.  Just make sure they're for ½ inch drives!
Performance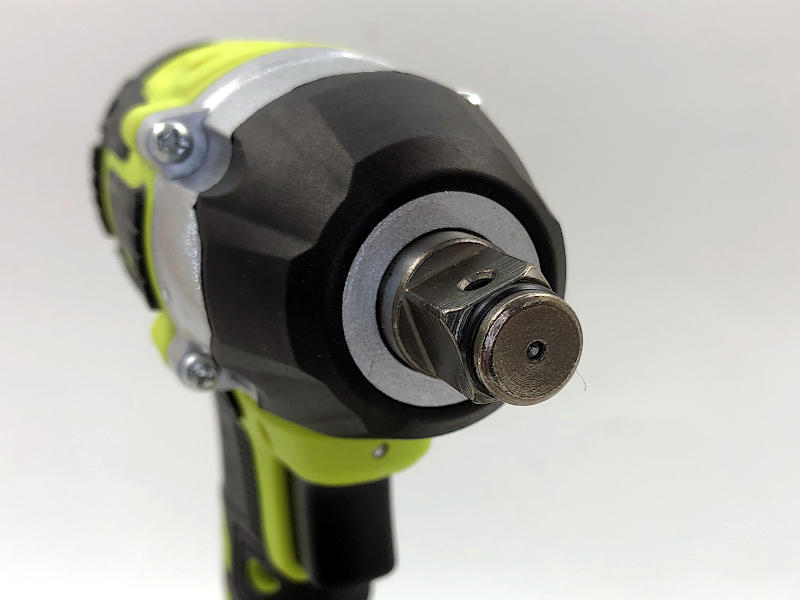 Historically, impact wrenches were pneumatic, which means they are normally used by professionals, like the mechanics at your nearby garage.  These days, battery-powered impact wrenches are available, making them both portable and more affordable (usually $100 to $500).  The purpose of an impact wrench is to both tighten and loosen bolts and nuts, and it uses two mechanisms for doing so:  torque and impacts.  "Torque is the measure of the force that can cause an object to rotate about an axis."  Impacts are short bursts of concussive blows that make the torque even more effective.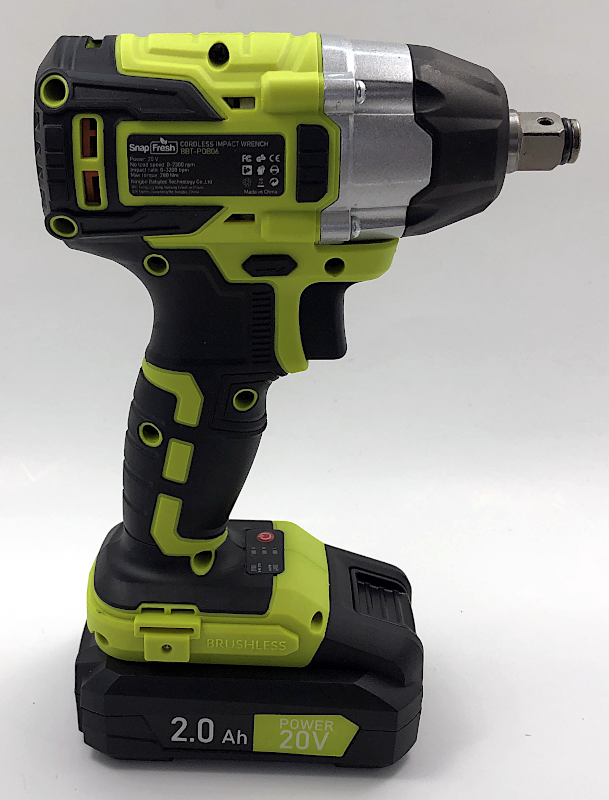 As a consumer-grade tool, the SnapFresh impact wrench is designed for small jobs around the house, things like changing tires, repairing small engines, and assembling/dissembling things.  I made a short video where I tested the wrench on five different projects around my house:
The results of my testing were not very surprising.  For small tasks that did not require much power, it worked well.  It was able to loosen the bolts on my mini loft, my wheelbarrow, and my lawnmower.  When the tasks got harder, however, SnapFresh's impact wrench began to struggle.  It was barely able to remove a lug nut from my Mustang, even though the tires had been rotated recently, and it was simply unable to remove lug nuts from my RAV4.  It lacks the power for harder tasks, which is what I would expect for a tool in this price range.
Extra Features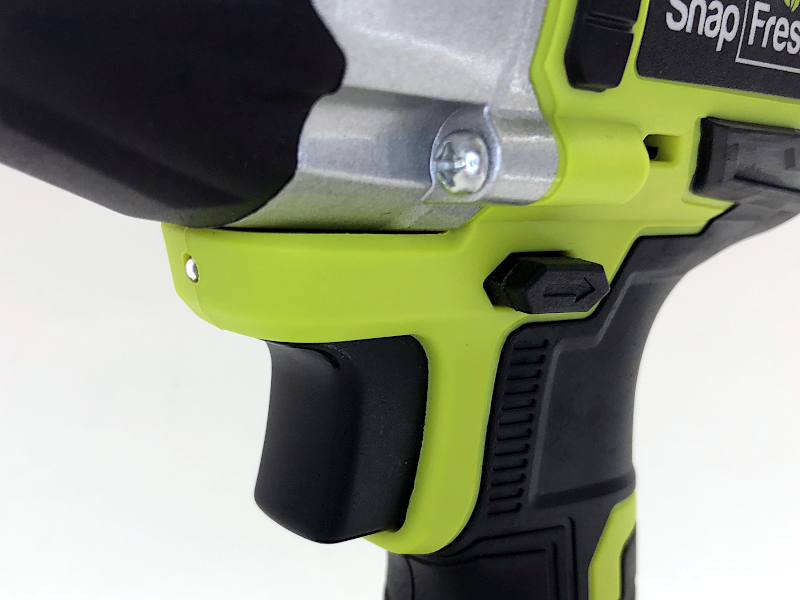 The impact wrench has a small led light right above the trigger, which makes it easier to see what I'm working on.  It's not super-bright, but it's good enough for most jobs.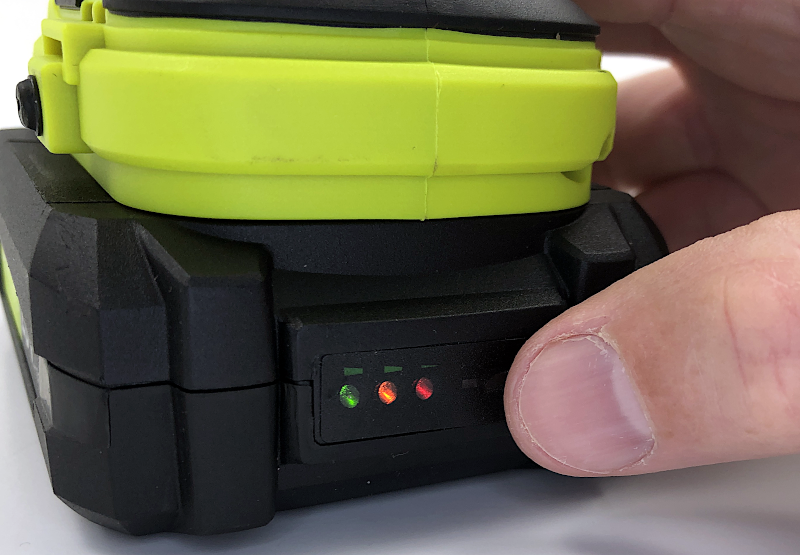 If I need to know how much charge is left in the battery, I can press a small button on the battery.  Three LEDs indicate full, half, or nearly empty.
SnapFresh included a small, metal clip for hold the impact wrench on my belt.  I can't really see myself needing this around the house, so I didn't install this.
What I like
Hefty but light design
Enough power to get jobs done around the house
What I'd change
Only sell new and clean products
Improve the manual by explaining the control panel
Include a complete socket set or none at all
Final thoughts
This gadget is a decent entry-level, cordless impact wrench.  It's small, light, and sturdy.  It has a ½-inch driver, a battery and matching charger, four metric sockets, and a nice case.  It has all the torque you'll need for light jobs around the house, but for tough jobs, like lug nuts that haven't been replaced recently, you'll want a more powerful tool.  Unfortunately, my review unit arrived in a filthy (or used) condition, and its manual is missing key information.  Although I have been happy to recommend other SnapFresh tools, I can't really recommend that you purchase this one.  I think you'd be better off paying extra for a more capable impact wrench.
Update 6/16/21
In the review above, I noted that the impact wrench arrived in a less than pristine condition. When SnapFresh was made aware of this issue, they believed that Amazon had sent me a used wrench instead of a new one. It is a known problem that Amazon sometimes takes returns and resells them as if they were new. To resolve the issue, SnapFresh was kind enough to send me another impact wrench. Unfortunately, the second wrench arrived in a condition that was worse than the first. There were numerous, small black hairs on many parts of the body, there was a dab of goop (looks like grease or Vaseline) near the top, and there was dirt around one of the screws. Additionally, there was a hole in the case, and the slider for the case's zipper was attached to one side but not the other. I don't really know what's going on, but this appears to me to be a problem with SnapFresh's manufacturing/processing plant. They need to do a better job with final cleaning before they package their products for sale. To be clear, these issues that I've noted with the drill and the impact wrench do not impact the functionality of their tools. When I clean them up, they work fine; however, buyers who purchase a new power tool should not have to clean it up before using it. Based on this second sample, I'm sorry to say that I still can't recommend SnapFresh's impact wrench.
Update 6/30/21
It seems that SnapFresh is convinced that Amazon is the problem, as they decided to send me a third impact wrench. I opened the package and took a look. There were not many hairs, very little dirt, and no sign of goop, which is collectively a big improvement over the previous two. The wrench was all scuffed up however, and I think I can guess why: SnapFresh put the four sockets into a bag with the manual, but didn't secure it in any manner. I suspect that these sockets bang around all over the place while the wrench is in transit, which is marking up their tool. SnapFresh should probably find a why to enclose these sockets better and protect their gadget. Despite this product's improved state, it doesn't really change anything. (And, please, SnapFresh, don't send me any more wrenches.)
Price: $99.99
Where to buy:  Amazon
Source: The sample for this review was provided by SnapFresh.