We use affiliate links. If you buy something through the links on this page, we may earn a commission at no cost to you. Learn more.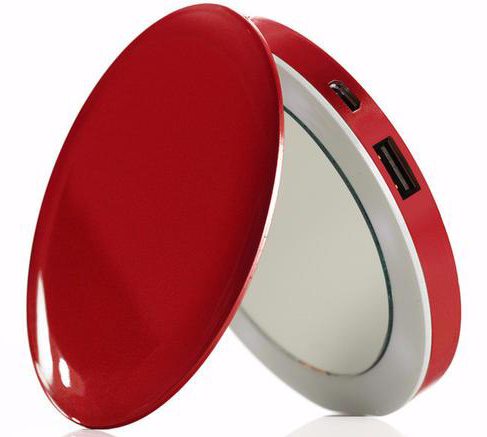 About two years ago, we told you about a Kickstarter project for the Pearl Compact Mirror and USB Battery Pack. After just a couple of days, Kickstarter removed the project because someone had filed a copyright infringement complaint against it.  HYPER by Sanho Corporation quickly moved the Pearl project to indiegogo and funding continued.  I had almost forgotten about the Pearl until I stumbled upon it at HYPER recently.  It's now available for purchase in a variety of colors.  Amazon also offers the Pearl for the same price as HYPER, so I ordered two for my daughter and me from Amazon and benefitted from the free Prime shipping.  Read on to learn how well Pearl works.  
I got the red for myself and I got a pink for Rachel, because that color closely matches the rose gold color Apple uses for the iPhones and iPads now.  The HYPER website seems to be out of the pink and purple colors, but Amazon has all five colors available: pink, purple, gold, red, and silver.  It's $29.95 at both HYPER and Amazon.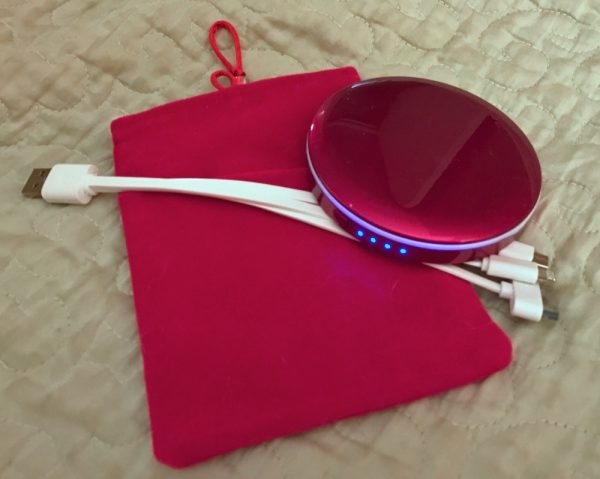 Pearl comes with a color-coordinated drawstring velvet pouch to hold and protect the charger when you aren't using it; a pocket on the outside holds your charging cables.  It also comes with a three-connector cable with a standard male USB plug on one end and microUSB, Lightning, and old-style 30-pin Apple connectors on the other end.  You should be set to charge most any mobile device with this cable.
Let's talk about the battery pack first.  There's a 3000mAh battery inside the 3.5″ x 3.5″ x 0.5″ (4.2 ounce) clamshell compact.  The Pearl's battery charges with the included microUSB cable (5V/1A power source).
I charged up the Pearl before the first use.  I didn't sit and time how long it took to charge, but it was fully charged in four or so hours.  Because it can supply 2.1A charging power, I first tried it with my partially charged iPad.  With only 3000mAh of reserve power, the Pearl couldn't fully charge the 9.7″ iPad Pro, but it was able to boost the iPad's battery by about 50%.  That's certainly enough to get me to a power source before the iPad dies.  I recharged the Pearl and tried it with with my iPhone 7 Plus.  Again, the Pearl didn't quite fully charge the 7 Plus' battery, but it gave it a big power boost.  Both the iPad Pro and the iPhone 7 Plus seemed to charge with the Pearl at the same speed they charge from my AC adapter.
Four LEDs on the side show you the amount of power reserves in the Pearl's battery.  There's a button beside the LEDs that will illuminate the meter so you can check the charge.  Pearl seems to hold a charge well, too.  I last charged the Pearl about three weeks ago, and all four LEDs still light up.  (I haven't charged either of my devices since I last charged the Pearl, but I have used the lighted mirror several times.)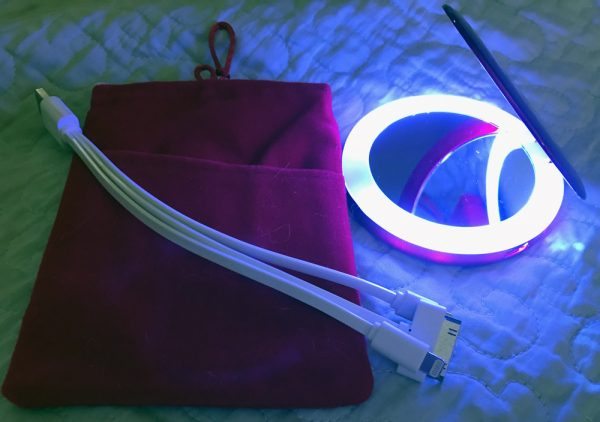 As for the mirrors, one side of the clamshell case has a regular mirror; the other has a 3X magnifying mirror.  I'm blind as a bat without my glasses, but the 3X mirror allows me to see well enough to remove the random dog hair from my eyes as needed.  One mirror has a opaque white ring with LEDs behind to illuminate the mirrors.  That extra light really illuminates my face.  You can even use the lights as a flashlight to help you find things in the bottom of your bag.  You double-tap the power-meter button to toggle the mirror lights on or off.
The Pearl Compact Mirror and USB Battery Pack is a great addition to my bag.  It's small and light and serves double duty.  It works great as a reserve battery for my mobile devices, and the lighted mirrors are very useful.  Both the compact and its velvet storage pouch are attractive and very well made.  You get a lot of function for $30.  It will make a great holiday gift for the women on your list – and for the men who want a mirror, too.  In fact, my daughter is planning to get a couple of these as Christmas gifts for friends.  Pearl comes in a very attractive, color-coordinating box, too, for a very pleasing gift presentation.
Source:  I purchased my Pearl Compact Mirror and USB Battery packs from Amazon.  You can learn more about Pearl and purchase from either HYPER or Amazon.
Product Information
Price:
$29.95
Manufacturer:
HYPER
Retailer:
Amazon
Requirements:

A mobile device that needs a backup battery

Pros:

Compact
Attractive and well made
Comes with a 3-ended cable that will work with most any USB-chargeable device
Lighted mirrors in regular and 3X power
Backup battery to keep your devices going

Cons: