We use affiliate links. If you buy something through the links on this page, we may earn a commission at no cost to you. Learn more.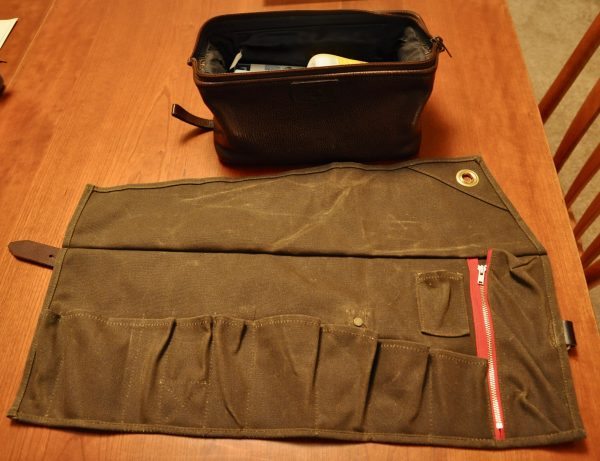 Packing for travel is a pain sometimes. You need clothes, various charging cables, and, of course, your toiletries. I generally pack fewer items in this category than my Lovely Bride, since I'm willing to wash my hair with whatever soap is available and use one lotion for skin, hair, and face. (Coconut oil is wonderful!) But I still pack a Dopp kit like my dad and my grandfather did – it's what guys take in their suitcase. A new Kickstarter campaign has just started that hopes to change this. I was sent a Tashtego Rollup to test. Let's see if it's something you would choose to back.
Note: Photos may be tapped or clicked for a larger image.
The Tashtego (I have no idea what this word means. It's pronounced [tash • TEE • go]), at its simplest, is a piece of waxed canvas with pockets and a leather strap for securing the unit at whatever size it becomes due to the contents.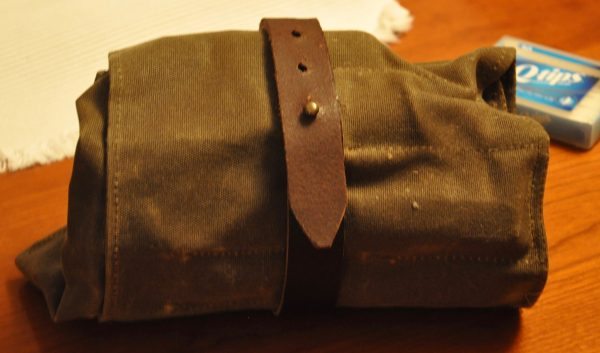 The canvas is a durable, nicely treated fabric – similar, yet different from the tents I used camping in Boy Scouts. There is no odor or waxy feel to it at all. I was sent the olive/brownish color, but others are available. The main part is just under 22″ long by 8″ deep. There is a trapezoidal flap sewn onto the top that starts at 4″ and rises to about 6″, with a brass grommet punched into the top corner. The stitching is even and tight, with no loose threads visible. Stress points are all highly reinforced.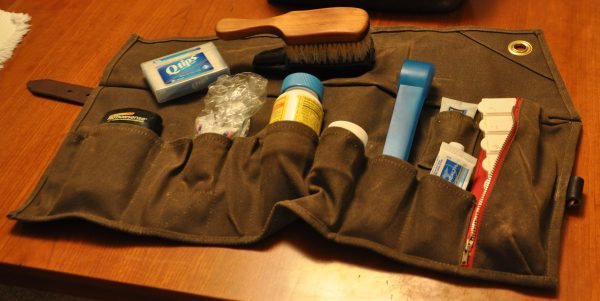 Across the main piece are sewn 11 pockets of varying width. One has a metal-toothed zippered closure, and one is stand-alone and positioned above the others. The material of the zipper is a heavy cotton twill, and in a contrasting color. The grommet, placed at the apex of the flap, is designed to allow the kit to hang from it and have nothing spill out. Pretty nice touch. The various pockets and the flap prevent items placed in the rollup from ever coming into contact with each other. If your toothpaste leaks, it's not going to get into your hairbrush.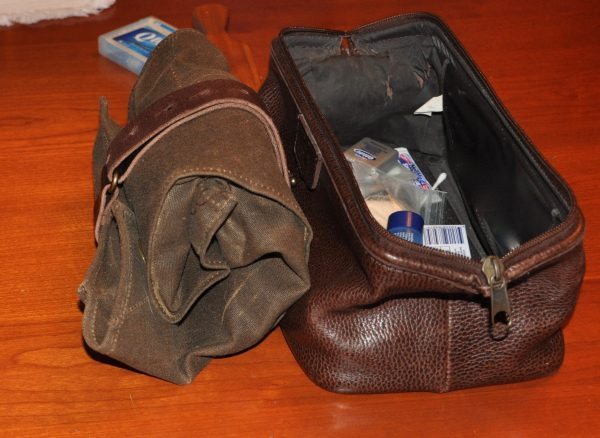 I was pretty stoked to get this and try it out. I change bags for almost every trip I make – sometimes alone, sometimes packing with my wife; sometimes by air, sometimes by car. Usually, however, my Dopp® kit stays the same. The contents haven't changed much since I graduated college – during the Carter administration. So, when the Tashtego arrived, I unrolled it, opened my Dopp® kit, and – was immediately frustrated that almost none of the pockets were of a size I could use. The toothbrush case I've used for years barely fit into one, but almost blocked the flap from folding over. The widest one fit my deodorant, but there was no place for my hairbrush (either of them!) or the travel pack of Q-Tips® I carry. I don't shave, so there was no worry about the placement of those items, but my face wash, dental floss, bandaids, and even the small bottle of headache medicine I carry could not be fit in. The zippered pocket holds my weekly pill sorter, but isn't large enough to also accommodate my nail files and clippers.
Sure, I could probably go out and buy travel sizes of all these things, or even standard travel bottles that I refill from my home-sized ones between trips. But having those pockets of a certain size can be a bit limiting.
The other thing that put me off a bit is the fabric. It's not too heavy or smelly, but it does have a fairly stiff feel, which doesn't make me want to put personal items into it. Sure, you can hose it off in the backyard and not worry if it falls into the river on a canoe trip, but it still reminds me a bit of camping trips as a kid in Korean War surplus tents.
If you're willing to change your containers to match the pockets, and you have no really large items in your toiletries, this may be the thing for you. But you'd better hurry – the $25 and $35 early bird rewards have already gone, and there is only a small number of $45 ones left. The campaign's only been going for three days. They have already more than doubled their goal!
Source: The sample for this review was provided by Tashtego. Please visit the Kickstarter campaign page for more info.
Product Information
Price:
varies with campaign progress - retail will be $75
Manufacturer:
Tashtego
Retailer:
Kickstarter
Requirements:
Pros:

Heavy duty materials and construction
Individual pockets for various toiletry items.

Cons:

Many standard-sized items cannot fit.
Fabric is a bit - um - industrial.