We use affiliate links. If you buy something through the links on this page, we may earn a commission at no cost to you. Learn more.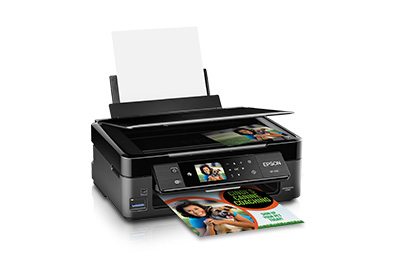 Our smartphones are slowly evolving into the ultimate "Swiss Army Knife". They have become an all-in-one device, replacing several of our most useful tools, gadgets, and devices.
Along with becoming our go-to music player, GPS unit, and gaming device – for many – our smartphones have become our primary camera and writing instruments.
I doubt there is a person reading this who hasn't taken hundreds, if not thousands of photos with their phone.
While perhaps not as common, I'm willing to bet many of you have written or edited documents, taken notes, or even written articles on their phone.
With so many important documents and photos on our phones, wouldn't it be great to have an easy way to print them directly from our phone?
Enter the Epson Expression Home XP-430 Small-in-One, a compact, wireless printer, that allows you to print directly from your Android or iOS device.
In the Box
Epson Expression Home XP-430 Small-in-One
Quick start guides
CD-ROM with drivers
Power cord
Four DURABrite® Ultra Ink cartridges (Black, Cyan, Magenta, Yellow)
Specifications
Printing Technology: 4-color (CMYK) drop-on demand MicroPiezo®inkjet technology
Minimum Ink Droplet Size: 3 picoliters
Maximum Print Resolution: 5760 x 1440 optimized dpi
ISO Print Speed: Black – 9.0 ISO ppm; Color – 4.5 ISO ppm
Copy Quantity: 1 – 99
Maximum Copy Size: 8.5″ x 11
Scanner Type: Color flatbed
Photoelectric Device: Color CIS line sensor
Optical Resolution: 1200 dpi
Hardware Resolution: 2400 dpi
Maximum Resolution: 10,200 x 14,040 dpi interpolated
Scanner Bit Depth: 48-bit color / 24-bit output
PC-Free Paper Support: Plain (letter, A4), Photo (letter, 4″ x 6″, 5″ x 7″, letter, A4)
Paper Sizes: 4″ x 6″, 8.5″ x 11″, 8.5″ x 14″, A4, half letter, A6, user definable, 8″ x 10″, 5″ x 7″, 16:9 wide
Maximum Paper Size: 8.5″ x 44″
Borderless Sizes: 4″ x 6″, 5″ x 7″, 8″ x 10″, Letter, A4, 16:9 wide
Paper Types: Plain paper, Epson® Bright White Paper, Presentation Paper Matte, Premium Presentation Paper Matte, Premium Presentation Paper Matte Double-sided, Ultra Premium Presentation Paper Matte, Brochure & Flyer Paper Matte Double-sided, Photo Paper Glossy, Premium Photo Paper Glossy, Premium Photo Paper Semi-gloss, Ultra Premium Photo Paper Glossy, Iron-on Cool Peel Transfer Paper, Photo Quality Self-adhesive Sheets
Envelope Types: No. 10
Input Paper Capacity: 100 sheets plain paper
Ink Type: DURABrite Ultra pigment ink (smudge, fade, and water resistant)
Ink Palette: Cyan, Magenta, Yellow and Black
Ink Configuration: 4 individual ink cartridges
Fade Resistance / Print Longevity: Up to 118 years
Replacement Ink: 288 Standard-capacity Black, Cyan, Magenta, Yellow (Yield, ISO pages – Black: 175, Color: 165); 288XL High-capacity Black, Cyan, Magenta, Yellow (Yield, ISO pages – Black: 500 Color: 450)
Standard Connectivity: Hi-Speed USB 2.0, Wi-Fi CERTIFIED™ (b/g/n), Wi-Fi Direct
Printing from a Mobile Device: Epson Email Print, Epson iPrint™ Mobile App, Epson Remote Print, AirPrint®, Google Cloud Print™
Operating Systems: Windows® 10, Windows 8/8.1 (32-bit, 64-bit), Windows 7 (32-bit, 64-bit), Windows Vista® (32-bit, 64-bit), Windows XP SP3 or higher (32-bit), Windows XP Professional x64 Edition, Mac OS® X 10.6.8 – 10.10.x5
Display: 2.7″ LCD with touch panel
Dimensions: Printing: 15.4″ x 20.8″ x 11.0″ (W x D x H); Storage: 15.4″ x 11.8″ x 5.7″ (W x D x H)
Weight: 9.0 lb
Design
The printer measures 15.4″ x 20.8″ x 11.0″.
The front of the printer has a pop-out control panel with an LCD display, an SD card reader, and the output tray.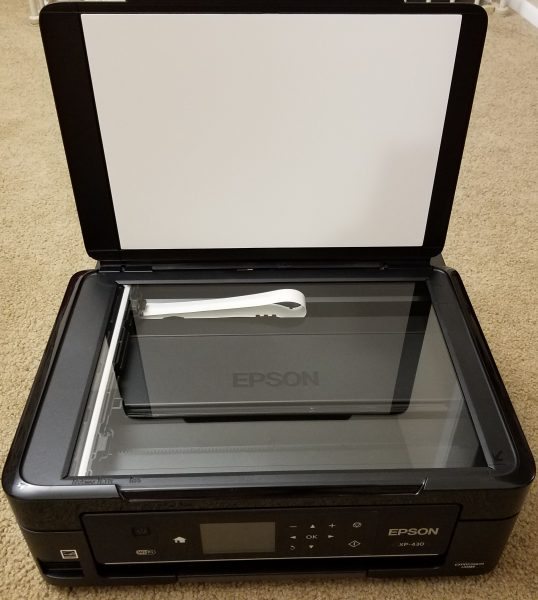 Under the "lid" is a flatbed scanner.
Lifting the flatbed scanner reveals the inner mechanics of the printer, where the ink tray is stored.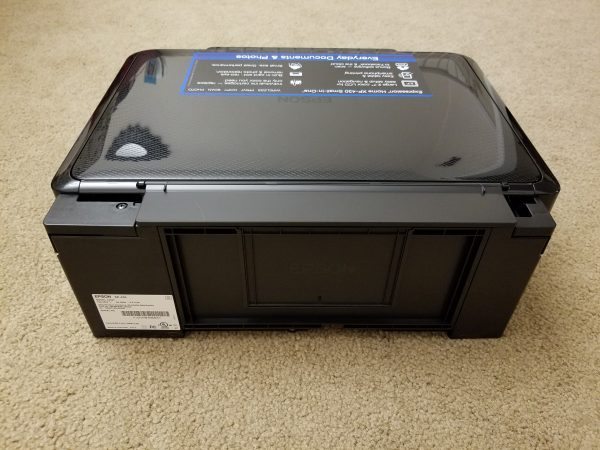 Finally, the rear of the printer contains the paper input feed which can hold 100 sheets of paper at once.
As far as printers go, it's a fairly standard design. I prefer printers with auto document feeders (ADF), but this is meant to be a compact printer so it's understandable it doesn't have one. Other than that, it is a very well-designed printer.
Setup
When you first power up the printer it's going to take a minute or two to initialize. Once that's complete you are going to choose a language using the control panel.
Next, you're going lift the flatbed and place the ink cartridges in their respective trays.
Finally, you're going to connect the printer to your Wi-Fi network using the Wi-Fi Setup Wizard on the control panel.
That's really all there is to it.
There are additional options and settings available through the control panel, but for your average person, that's the extent of setup.
Epson Apps
The first thing you are going to do after setup is to download the Epson apps.
I'm using an Android device so I had two apps available to me from the Play Store.
The main app is the Epson iPrint app.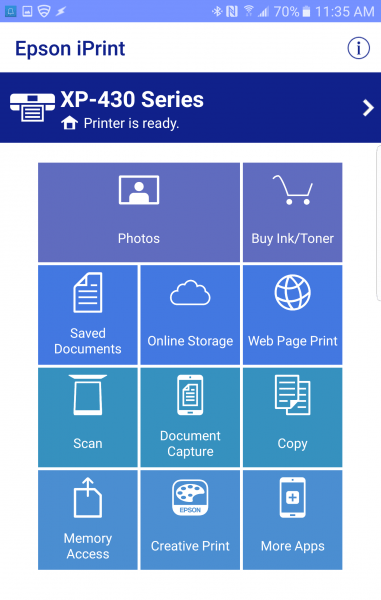 With this app you can access several useful functions.
The photo function allows you to select photos stored on your device and print them directly from there.
The online storage option allows you to access the listed cloud storage sites and print directly from them.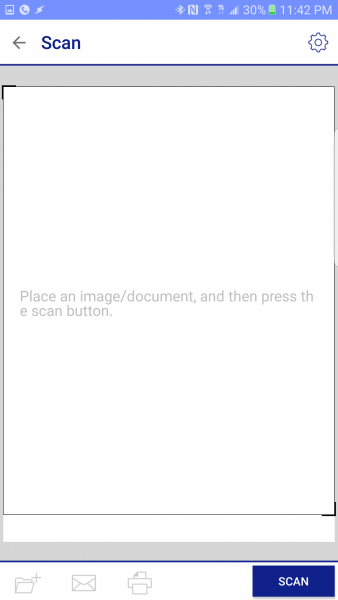 The scan feature allows you to place a document on the flatbed and scan it directly to your device. From there, you can save the image to your device, share the image, or print the image.
The document capture function allows you to use your device as a scanner. Once "scanned" you can crop the image and enhance the text before printing it.
I should note, while the capture may appear blurry in the screenshots, this wasn't the result of the app. It was just difficult to hold my phone steady while taking the screenshot.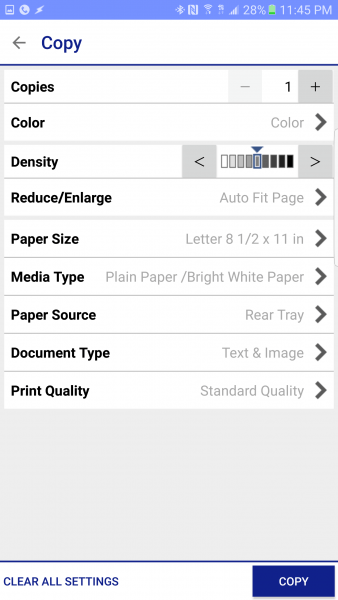 You can also adjust the copy settings using the app; although, I'm not sure why you would want to do that since you have to be next to the printer to place a document on the scanner.
The buy ink, web page print, and memory access tabs are pretty self-explanatory.
The Creative Print button actually launches the other app I downloaded, the Epson Creative Print app.
As the name implies, this app is geared towards one's creative side.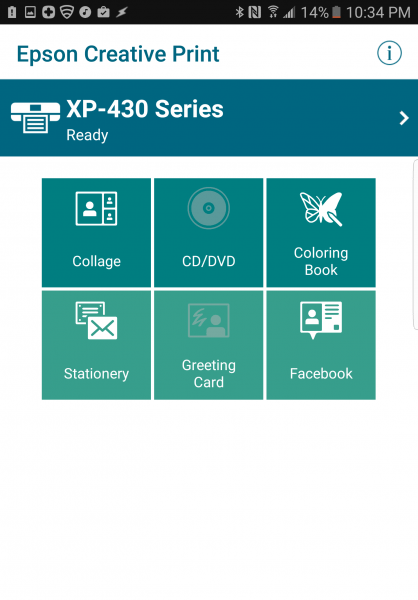 Like the iPrint app, this app has several useful functions.
The first thing you can do is create a collage using photos on your device. You can choose from various paper sizes and layouts for the collage.
(By the way, if I go missing it's because my wife discovered I made the collage using photos of her)
You can also choose pictures and transform them into coloring book pages. I found this works best with pictures that don't have a tremendous amount of detail.
This is a really cool feature for those of us with kids.
The stationary option allows you to create various types of lined paper, weekly or monthly calendars, and writing paper using any photo on your device as the background.
One of the more interesting features of the Creative Print app is the ability to print directly from Facebook.
Any photo you've ever uploaded to Facebook is available to print. You can print the photos with different frames or no frame at all, you can print any status that accompanied the photo, and you can print a QR code that links directly to the photo.
The app also shows a CD/DVD label maker and a stationary maker, but those features aren't compatible with this printer.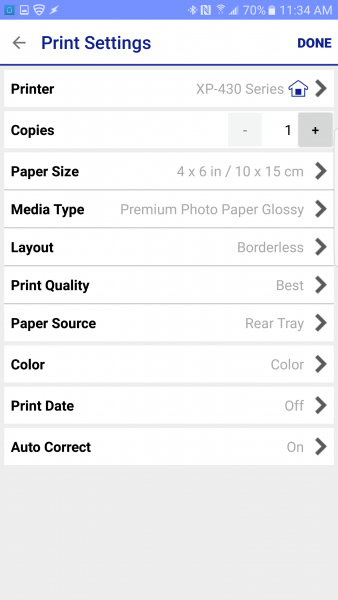 Lastly, you'll notice in many of the screenshots there was a tiny gear in the upper right corner. Pressing that gear takes you to the above screen where you can choose from several printing options.
Both apps are easy to use and very useful. They make printing from your phone or tablet a breeze.
Google Cloud Print
For my money, the most useful feature of this printer is that it is Google Cloud Print ready.
According to Google:
Google Cloud Print is a new technology that connects your printers to the web. Using Google Cloud Print, you can make your home and work printers available to you and anyone you choose, from the applications you use every day. Google Cloud Print works on your phone, tablet, Chromebook, PC, and any other web-connected device you want to print from.
Basically, you register your printer to your Google account and your printer follows you everywhere.
I've used Cloud Print to print documents from my phone and my tablets. I've used it to print something for my wife while I was at work and she was at home. I've even used it to print documents to my parent's computer while I was on mine. It really is an incredibly useful feature.
While the XP-430 is Cloud Print ready, there are a few steps you have to take to set it up.
The first step is to print a Network Status sheet and find your printer's IP address.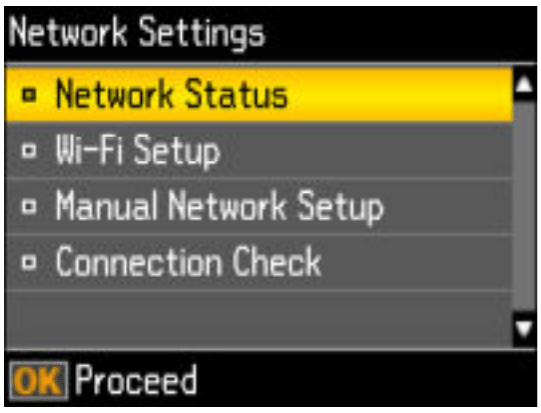 This is done by going to the setup menu in the control panel and selecting "Network Status".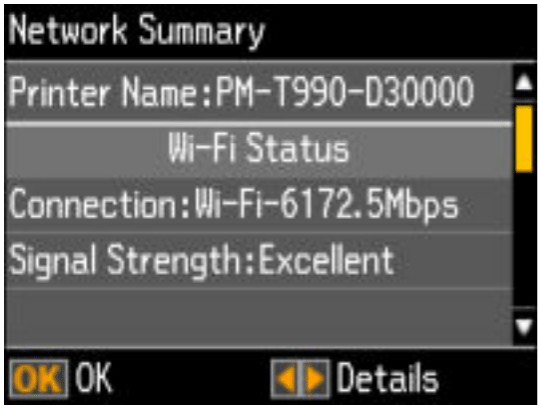 Press "OK" and you will see the above screen.
From here, you are going to press the left or right arrow to bring up the Network Status screen. You then select "Print Status Sheet".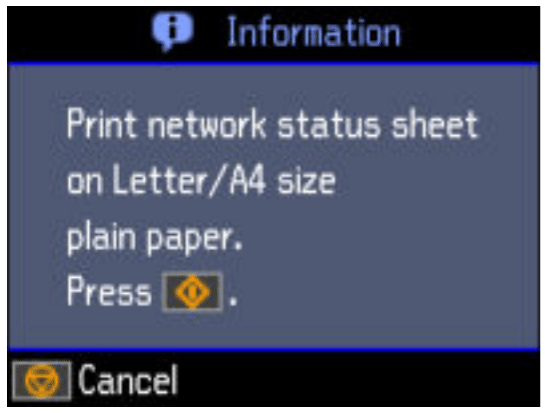 You can then press the print button and you'll be given a status sheet with the XP-430's IP address.
Once you have the IP address, you enter it into your web browser's search bar.
You will then see a basic settings screen. Select "Google Cloud Print Services" and follow the prompts to register your printer with Google's Cloud Print service.
Once that is done, you can print from anywhere you have access to your Google account.
Print and Scan Quality
While reviewing the XP-430, I printed several different photos and documents on various types of paper.
Every document I printed came out clear and easy to read, no matter what type of paper I used.
The document print quality will be more than suitable for those using the printer at home or at school.
I was also very pleased with the photos I printed using the XP-430.
Again, no matter what type of paper I used, the photos came out clear and crisp. They weren't the same quality you would get from a professional printer, but they are perfect for at-home use.
Neither documents nor photos printed out particularly fast, but it wasn't terribly slow either.
Scan quality was similar to print quality. It's not the same quality you're going to get with a far more expensive printer, but for the average user, it's going to be sufficient.
Conclusion
The XP-430 is a really good printer for just about anyone, but when you factor in its $59.99 price tag, the printer becomes an excellent buy.
The printer itself is simple to set up, while the Epson apps are full of great features and extremely easy to use. This is a printer that could be used by anyone from a tech enthusiast to those that struggle to turn their laptop on.
While I'm sure that you could find quicker print speeds and finer quality in a more expensive printer, I'm not certain you could beat the cost to quality ratio the XP-430 provides.
If you need a printer for at home use or for school work, this would be an excellent purchase.
If you're a small business owner or need a printer for a home office, this could be a good printer. The print quality isn't going to be good enough to make presentations to a Fortune 500 CEO, but assuming you're generally printing out invoices, contracts, emails, etc., the XP-430 will be just fine.
Source: The sample for this review was provided by Epson. For more information visit their site and Amazon to order one.

Product Information
Price:
$59.99
Manufacturer:
Epson
Retailer:
Amazon
Requirements:

Windows® 10
Windows 8/8.1 (32-bit, 64-bit)
Windows 7 (32-bit, 64-bit)
Windows Vista® (32-bit, 64-bit)
Windows XP SP3 or higher (32-bit)
Windows XP Professional x64 Edition
Mac OS® X 10.6.8 - 10.10.x5
Android or iOS device for mobile printing

Pros:

Easy Setup
Full Featured Apps
Good print Quality
Inexpensive

Cons:

Print speeds aren't very fast