We use affiliate links. If you buy something through the links on this page, we may earn a commission at no cost to you. Learn more.

ARTICLE – Here we go with part 2 of the Gadgeteer team's favorite products of 2018. Also be sure to check out part 1 and part 3.
Ryan Chapman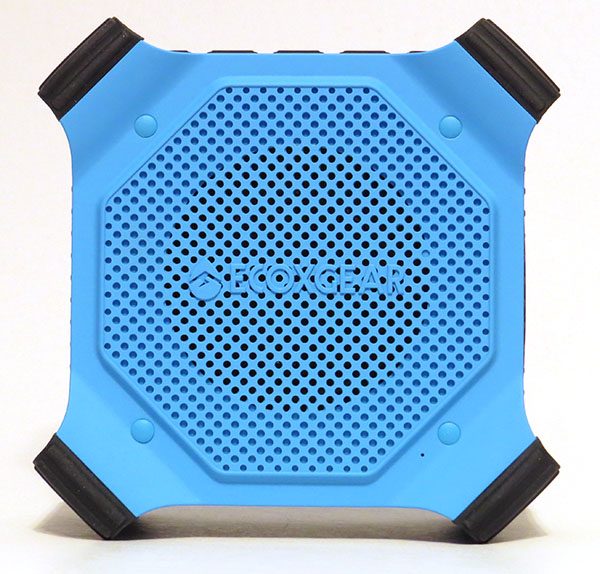 I'm one of those folks who listens to music on a regular basis; whether outdoors, around the house, or in the shower. The EcoXGear EcoDrift Bluetooth speaker is versatile enough to go wherever I want it to. The added bonus of it being waterproof means I've taken it out with me on the kayak as well. I definitely knew after using it this summer that the EcoDrift would most likely be on this list! You can buy one for $79.99 on Amazon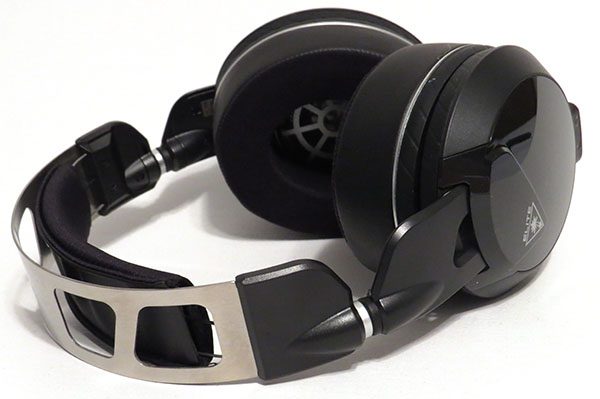 I may not have had the Turtle Beach Elite Pro 2 gaming headphones & SuperAmp for long, but they get enough use to be considered a worthy favorite in 2018. The sound quality when playing games and when listening to music is great and I absolutely love the versatility and ease of use when going between PC and PS4. These headphones are comfortable enough to wear for hours at a time and they don't make my ears too warm either. They are going for less than $200 on Amazon.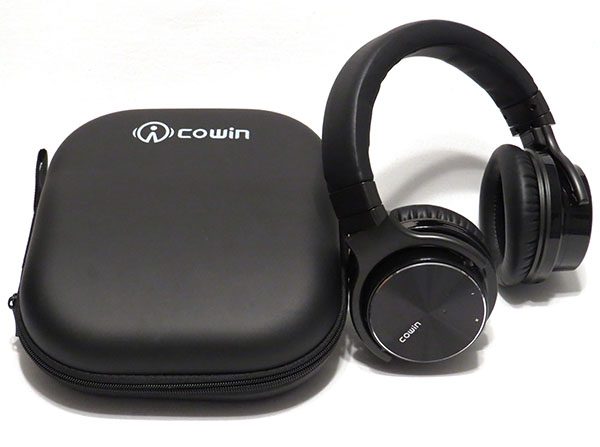 The Cowin E7 Pro Bluetooth ANC headphones are lightweight, come with a nice case, and do an excellent job of canceling out noise. The sound quality is great and I use them for traveling and meandering around the house while doing chores. They also have the added bonus of being affordable (which means I've recommended them to friends and family) and also look nice when I wear them around. You can find them for $54.99 at Walmart.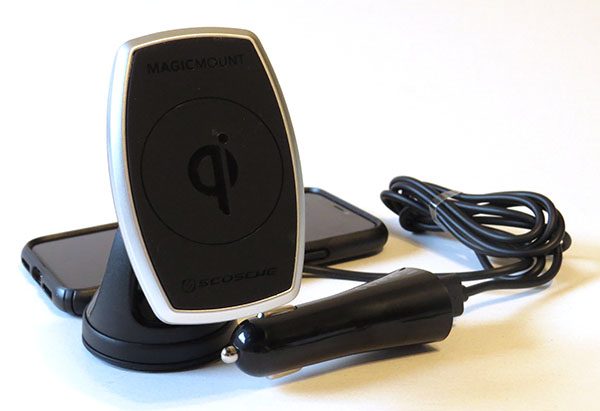 By far my most used and favorite item in 2018 has to be the Speck Presidio case coupled with the Scosche MagicMount Pro Charge dock. While I have not jumped fully into wireless charging, this magnetic dock and protective phone case has allowed me to keep my phone charged and mounted for easy viewing. Every time I get in the car, my phone is propped up on the dock and it gets some much needed charge. The case has also protected my phone from countless drops and while it has a few scuffs and divets in it, it still is going strong. You can find the Scosche MagicMount for $52 on Amazon.
Bob Patterson
Happy Holidays, Friends!
It's been an honor to bring you another year of reviews in 2018. I sincerely hope that you've found my work informative, and maybe a little entertaining! For my Best Of 2018 list, I'm looking for those items that not only exhibit excellent design and usability, but also offer the long-term utility that earns them a spot in my regular gear rotation.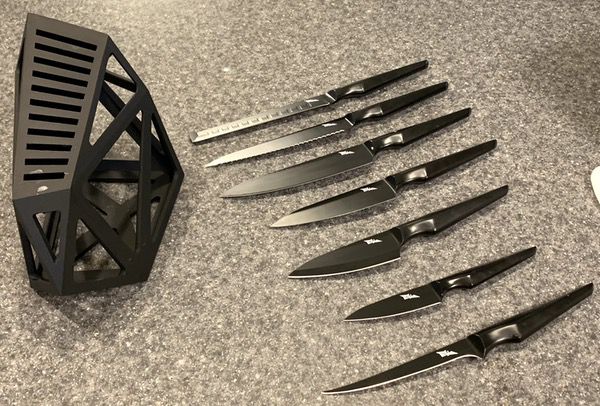 My favorite kitchen gadget is the Edge of Belgravia Gallatine Knife Set & Diamond Knife Block. These knives landed on my kitchen counter in October, and they never left. I love the nimble, agile feel of the blades as I go about my normal cutting and slicing tasks. The one-piece construction makes for easy cleaning, and they are still just as sharp as the day I got them despite daily use. Great tools inspire better cooking, and these are some great tools. It also helps that they look amazing on my counter! You can buy them for $234 on Amazon.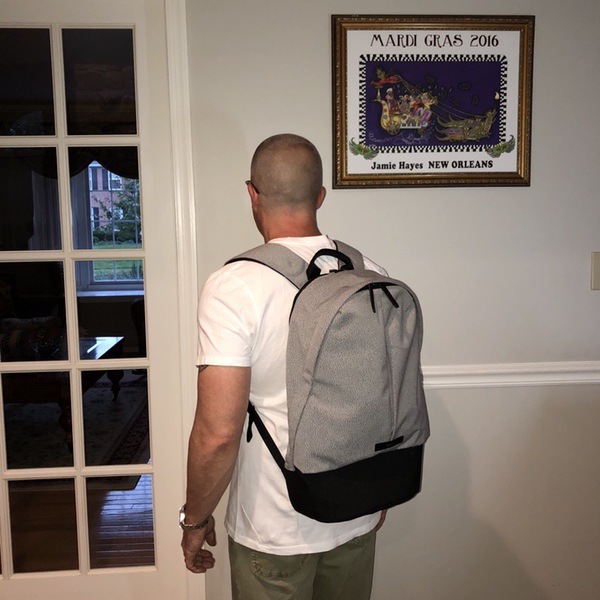 My favorite backpack is the Bellroy Classic Plus Backpack. I have about 30 bags in my closet that I have bought personally or reviewed for The Gadgeteer (I kind of lost count). Out of all those great bags, the Bellroy Classic Plus is the backpack that I turn to most often. At 22 liters, it's just about the perfect size for an all-around daypack. The materials are sophisticated without being overly formal, the construction is superb, and the design is dialed in for usability as an office hauler, day tripper, and carry-on travel pack. There's a reason that a Bellroy bag has made my favorites list 2 years in a row: they are just killing it with innovative, functional, upscale bag designs. Get one of your own for $179 on Amazon.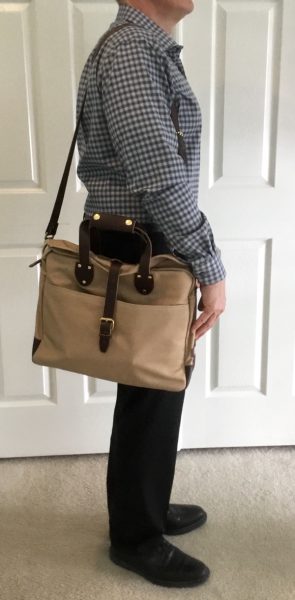 My favorite shoulder bag is the United By Blue Lakeland Laptop Bag. The Lakeland Laptop Bag kind of sneaks up on you. It's a great looking canvas/leather messenger, but there are a lot of those style bags around. What really makes it stand out is the supremely useful design. It carries like a messenger, with room to spare for more than just your laptop. The pocket design is perfect for flexible organization to meet the needs of the day. And accessibility is outstanding, with a combination of internal and external pockets that are all easy to get to at a moment's notice. It also works just as well as a general gear hauler if you ditch the laptop for a day of wandering. This has become my go-to messenger bag when I leave the backpack at home. You can find them for $148 on United by Blue's website.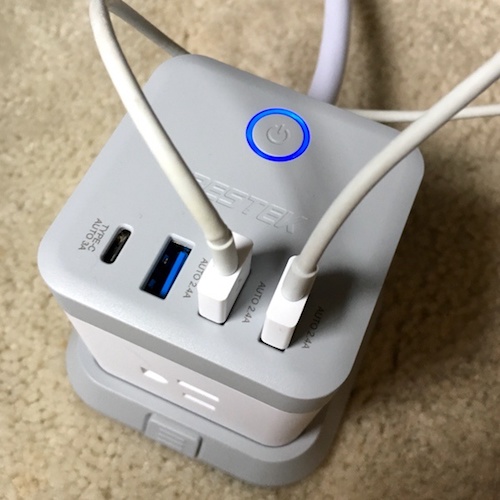 My favorite office accessory is the Bestek 3-Outlet Vertical Cube Mountable Power Strip which has been amazing for taming all of the assorted electronic gadgetry in my home office. With three USB ports and a USB-C port, I can charge all of my Apple gear at once (MacBook Pro, iPhone, iPad, and Apple Pencil) while still having 3 regular outlets available for other stuff. The little design details like the long power chord and mounting options and take it to the next level. The cube design also enables me to plug in just about any odd-shaped power block while leaving open access to the rest of the ports. Can you really love a power strip? When it is this useful, you can. And I do. Get one for $28 on Bestek's website.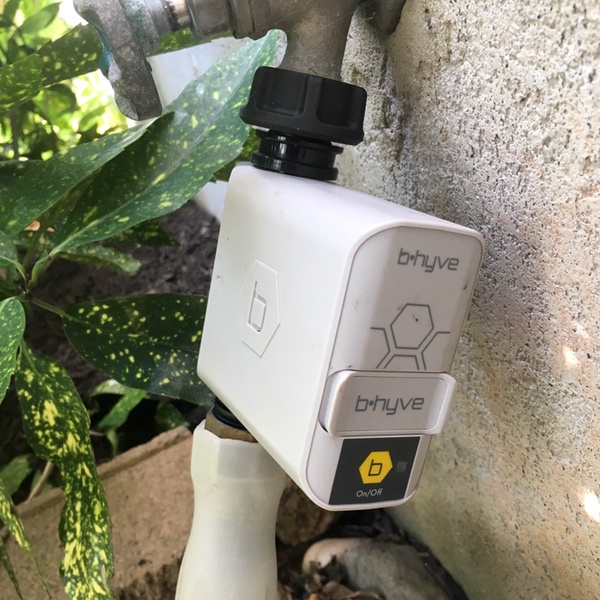 My favorite Home & Garden Gear is the B-Hyve Hose Faucet Timer. We had a weird weather year here in Pennsylvania that would have played havoc with my garden if it weren't for the B-Hyve. The programmable Bluetooth control of my external hose was lovely for scheduled watering and remote control, but the real magic comes in the form of the smart watering app. This little guy would monitor the local weather, and skip waterings on days when it rained. Just brilliant. And that just scratches the surface of what the B-Hyve can do, with advanced features for programming watering based on soil and plant types. I'm planning on expending my watering system in 2019, and the B-Hyve will be a key component of that solution. You can buy one for $55 on Amazon.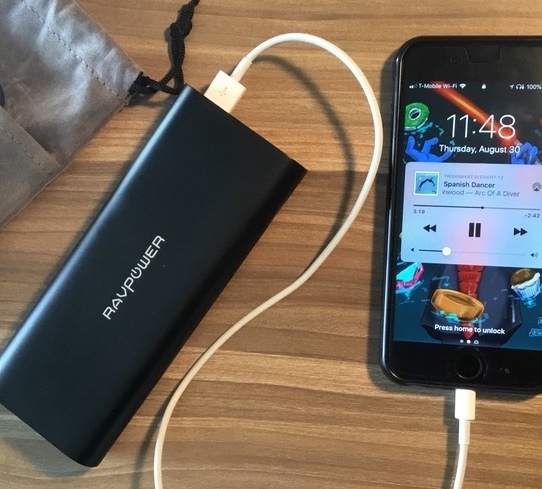 My favorite travel accessory is the RAVPower 16750 Phone Charger. Last but not least, here's the charger that I live by when I am on the road. The capacity is amazing, and it will hold juice for weeks even if you don't use it. The streamlined design is perfect for slipping into a corner of your bag and includes two USB ports so that you can charge two accessories at the same time if you need it. And it's just about as powerful as you can get and still be TSA-friendly. This charger goes everywhere with me and never fails. Grab one for $36 on Amazon.
Thanks again, everyone! I hope you all have a great holiday, and an even better 2019!
Julian Perry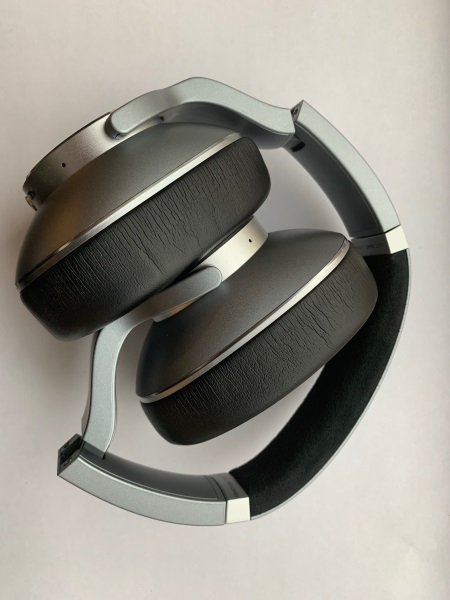 I love music and on my ride back an forth to work every day from Monday thru Friday, I find great "me" time in relaxing on the railroad and listening to music. The AKG N700NC Over-Ear Foldable Wireless, Active Noise Cancelling Headphones provide a great listening experience, and with the Automatic Noise Canceling and the Smart Ambient noise feature, they are the perfect companion for my trip and I am sure for when I fly. You can purchase the AKG N700NC headphones on Amazon for $349.99.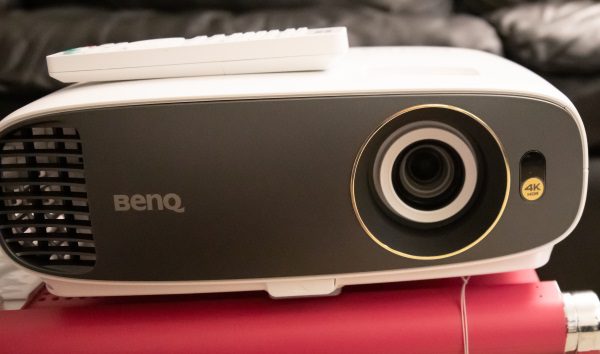 After watching a move shown via a projector at my favorite Home Theater Dealer, for many years I have promised myself that one day I would buy a nice one for myself. Whenever I revisited that thought, the cost of what I thought I wanted with the features I wanted would always deter me. Not too long ago, I was able to review this BenQ HT2550 4K UHD HDR Home Theater Projector with all of the bells and whistles, and it comes in at quite a reasonable price. Since I received it, I have used it for every movie night which normally occurs weekly in my home. Its picture continues to amaze me especially so in 4K, and it continues to provide a great viewing experience for me and my family. You can purchase this BenQ HT2550 4K UHD HT Projector on Amazon for $1249.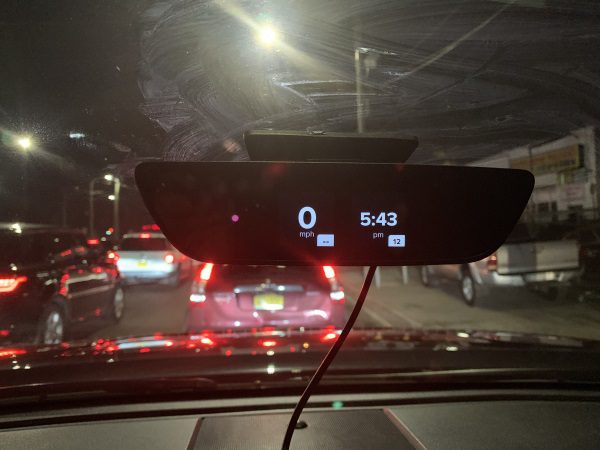 After reviewing several dashcams I got the chance to review the Raven dashcam and connected car system which is definitely way more than a dashcam. Its additional functions include vehicle system monitoring, real-time vehicle security monitoring, vehicle diagnostics, live view, GPS, etc. In addition, Raven continues to add features and improvements that in my opinion make sense. If you would like to purchase the Raven dashcam and connected car system you can on Amazon for $299 plus the monthly monitoring cost, or you can finance it with other available options.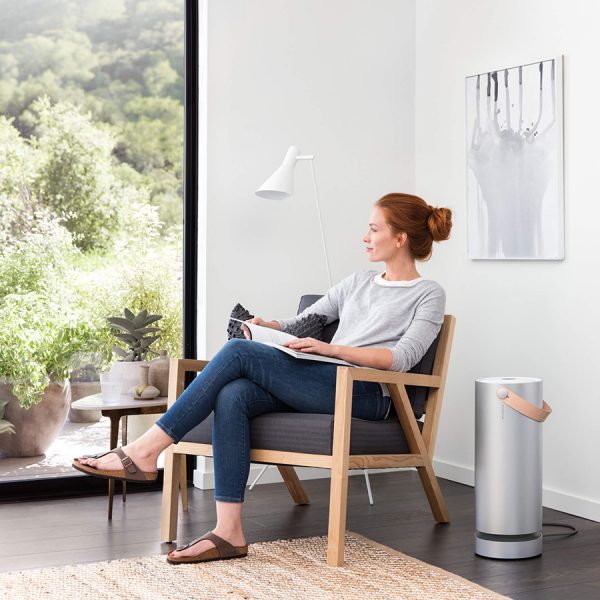 The Molekule Air Purifier has been an amazing tool in fighting the effects of allergies that almost everyone in my family deals with every day. Since I installed the Molekule in my kids' bedroom, their suffering from allergies has decreased exponentially, and it is very evident when they come in from outside sneezing and coughing and exhibiting asthmatic systems and after a relatively short time on their room, they are so much better. I have experienced the same, and after trying so many purifiers with mediocre results, the Molekule definitely earns a place in my list of best gadgets for 2018. You can purchase the Molekule on their website for $799,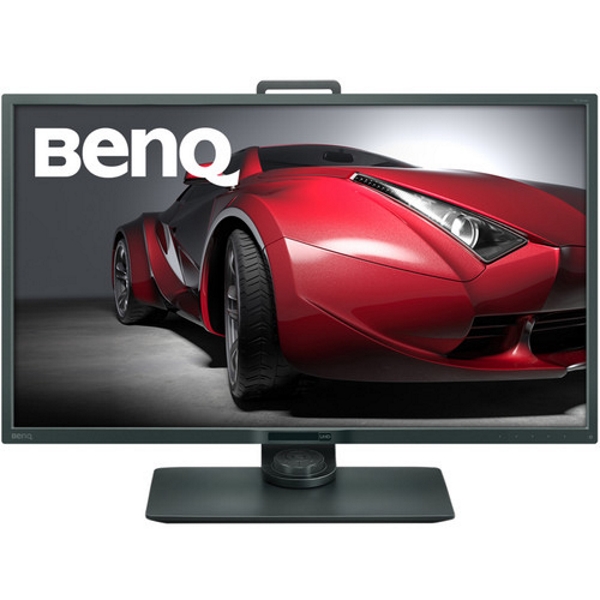 As a videographer and photographer, I spend countless hours in front of my monitor editing photos and videos. It is tremendously helpful when I am able to do so on a monitor that is color accurate right out of the box and also easy on the eyes. The BenQ PD3200U 4K Monitor is an amazingly good monitor and has been the main studio monitor on my desk since I received it. Its features and build quality, coupled with its relatively competitive price make it one of my best gadgets for 2018. You can purchase the BenQ PD 3200U on Amazon for $899.
Dave Rees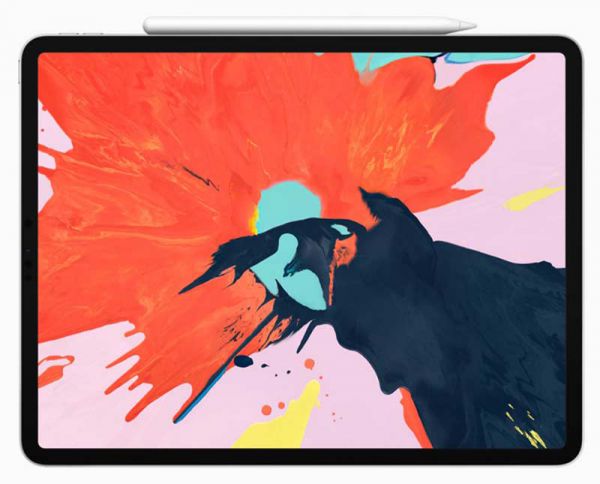 This year's 11in iPad Pro from Apple is definitely my favorite device of 2018. I upgraded from the 2017 10.5" iPad Pro and haven't looked back or had any buyers regret splurging on Cupertino's latest & greatest. The 11" iPad Pro is nearly perfect for my hectic always-on-the-go lifestyle with its gorgeous screen, new form factor, added horsepower, much improved keyboard, etc. I use it throughout my day whether watching movies on a plane or the Seahawks on our elliptical machine, writing reviews, dancing the Net, reviewing documents, or reading the current news. Though I do admit, it's not the perfect laptop replacement as long as Apple continues to hold back iOS. But I do love it nonetheless. Prices start at $799 on Apple.com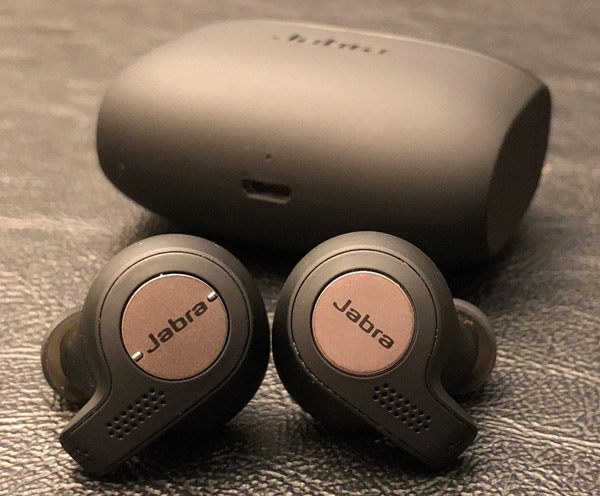 The Jabra Elite Active 65t true wireless earbuds are my goto/favorite headphones these days. They live in my ears a majority of the time. Their comfortable, secure fit is second to none. For a pair of wireless, sweat-proof, sports earbuds they sound very good with solid bass and crisp clarity. I use them for pounding pavement, lifting weights, splitting firewood, putting up Xmas lights, coast to coast plane rides, on the bus, calls in the office…they're always with me, whether in my EDC bag or pocket of my Carhartt jacket. They are $189.99 on Amazon.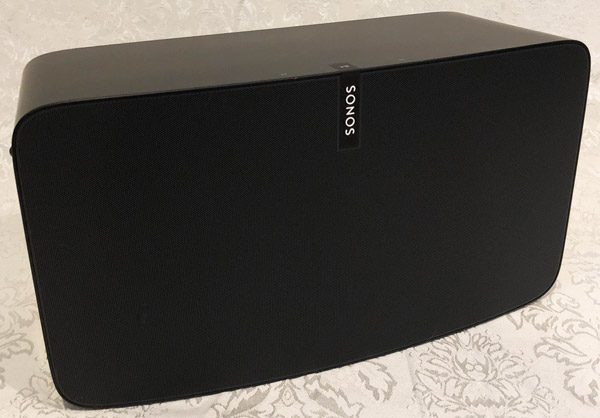 The Sonos PLAY:5 speaker is without a doubt the best speaker I have used to date. I know there are many Sonos trolls out in the world and my response to them is whatever… The PLAY:5 sound experience is impressive and the Sonos ecosystem enables you to easily and efficiently play/control your music from anywhere within your world. Whether you're playing Christmas music in the background or cranking the volume loud enough to rattle your Glassy Babies, the PLAY:5 does not disappoint. You can buy one for $499.99 on Adorama.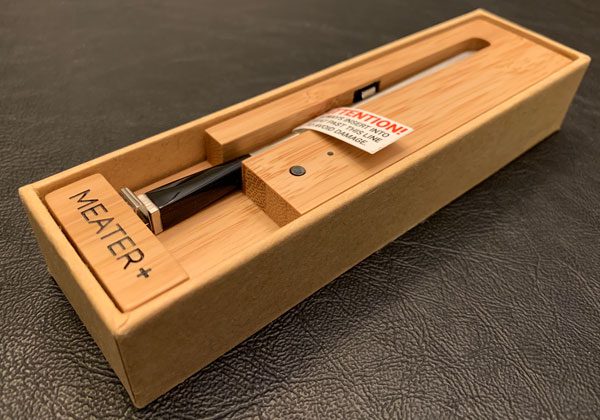 The MEATER+ wireless meat thermometer is the perfect gadget for the cook in your family. It has yet to let us down from our summer barbecuing to Thanksgiving turkey. The MEATER+ extended range fixed the one limitation of the original MEATER: connectivity issues. It's well-made hardware and excellent ecosystem (aka smartphone app) combine for an easy and seamless cooking experience. They are $99 on Meater's site.
Lynn Lopez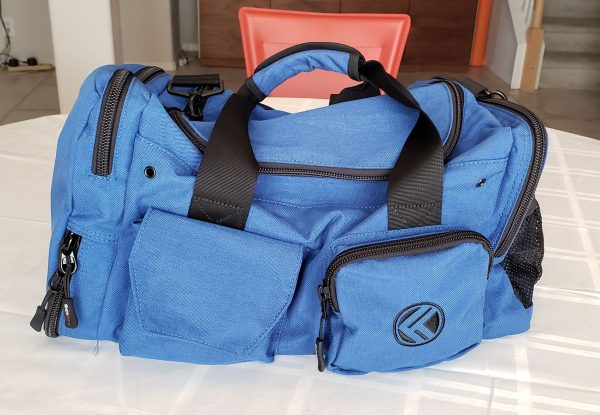 I reviewed the Kong Jr. Gym Bag back in October and I have been using it almost every day to bring my gym stuff to work with me. I work out after work, so I need things like clothes, sneakers and other gym paraphernalia with me. The bag really lets me organize my items in a meaningful way. I keep my sneakers in the shoe pocket. I put my clothes in the main compartment and I keep things like my heart rate monitor, gloves and headphones in the small pouches along the front of the bag. I use the side pouches to store things like deodorant and showering stuff. The bag has really held up nicely and not shown any kind of wear and tear at all. I love the magnetic handle clips that hold the two handles together. No more loud and eventually fading Velcro to mess with anymore. You can buy one from Amazon.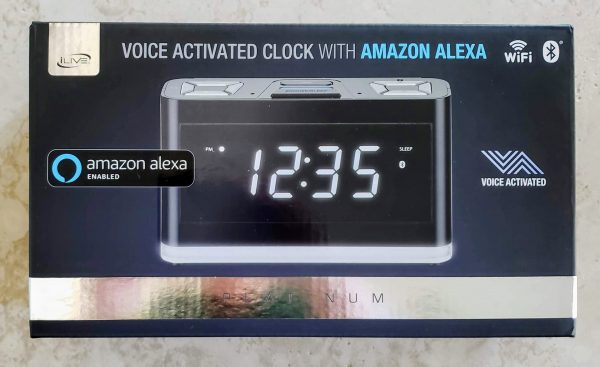 I reviewed the ILive Voice Activated Clock with Alexa back in August and it continues to hold a spot on the bedside table next to my side of the bed. We have lost power a couple of times and the clock reconnects itself to WiFi and remembers any alarms I had set up. It has Alexa which both myself and my husband use to control two bedside lights in the bedroom and lights throughout the entire house. I use the Alexa in the bedroom to add to my shopping list for things I need in the master bathroom. We have an Alexa in almost every room of our house and the fact that this device doubles as an alarm clock is a really nice feature. My only complaint though it has not happened to me yet is if we were to lose power during the time the alarm would actually need to go off I would miss my alarm as it has no battery backup. It depends on having a WiFi available to use Alexa so that would never work. You can buy one for $71 from Amazon.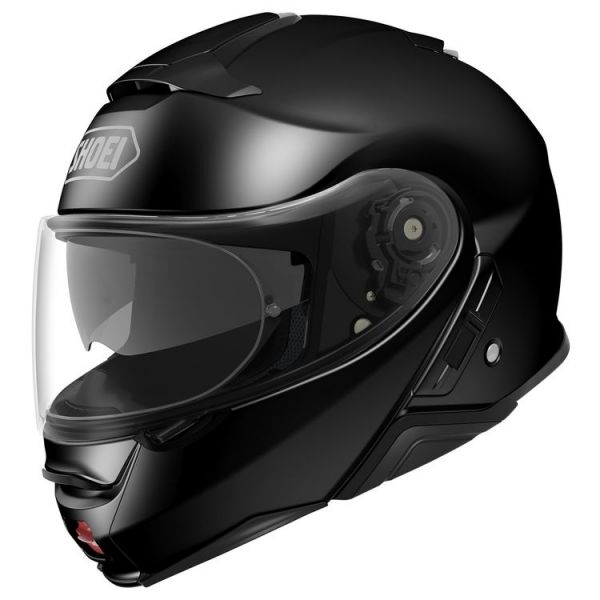 I have been a motorcycle rider since 2001. Over the years I have had several helmets. This past year I replaced my trusty Shoei Neotec that was 7 years old (max time you should really keep a helmet) with the Shoei Neotec II Modular Helmet that just came out this year. This helmet is a modular helmet just like the old helmet. That means the chin bar has a button I can press that will lift the entire chin area up over my head. This is perfect for talking to folks when I am stopped at a light or when I am getting gas. It also allows me to easily take a drink of water from a bottle. The new features on the version 2 that were not on the original version are: ratcheting chin strap which allows for easy clipping on and off the chin strap and adjust-ability, new Noise Isolator cheek pads which make this helmet quite a bit quieter than the old version, built-in compartment for the Sena SLR communicator system. This means no more communicator device hanging off the side of my helmet causing more wind noise. It has the communicator buttons built into the side of the helmet once you install the communicator. I love this and Bluetooth the communicator to my phone and my bike for XM radio and navigation directions. You can buy one for $699 on Revzilla.
Kathleen Chapman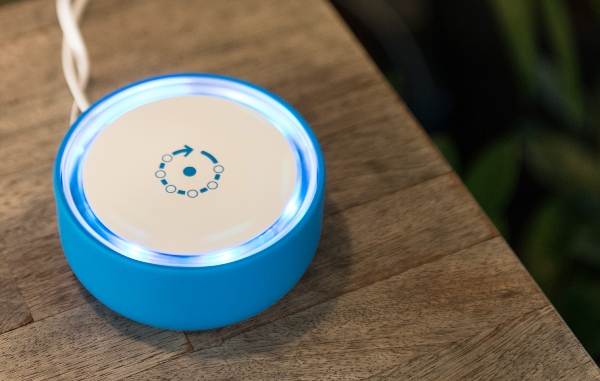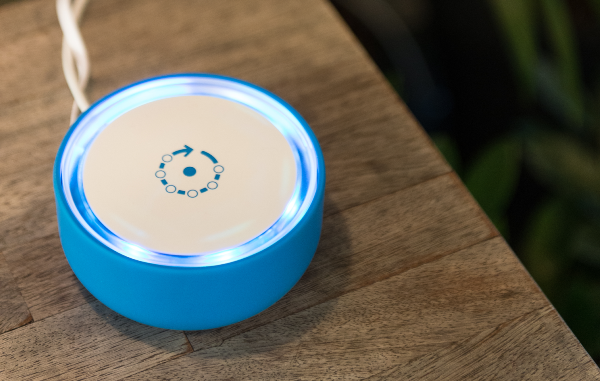 The Fingbox is a piece of hardware that you connect to your router. It detects the devices currently on your network and allows you to identify them and keep track of them in the Fing app (you can set it up to tell you when someone's phone leaves the network and then reconnects to it when they're home). It also detects new devices on your network and alerts you about them in real time. You can decide whether or not to block the device manually in the app or you can set it up to block all new devices automatically. It also allows you to do a bandwidth analysis to detect bandwidth hogs, determine WiFi hotspots in your home, run internet speed tests, instantly pause internet access to devices or schedule internet pauses for specified devices, etc. You can purchase the Fingbox at Fing or Amazon for $99.00.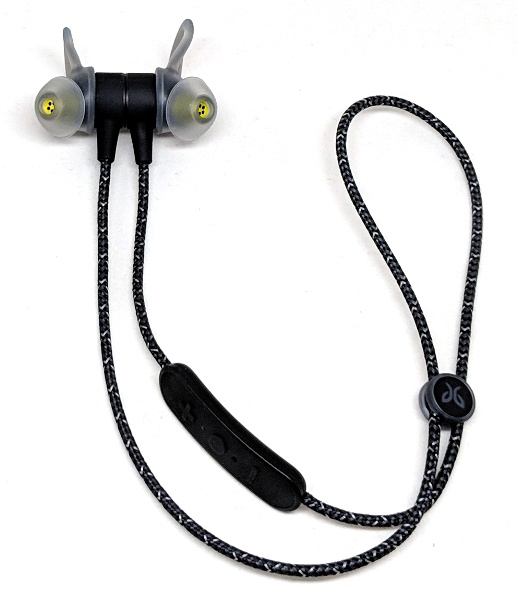 The Jaybird Tarah Pro Sport Headphones are in-ear sports headphones that can play for just over 14 hours on one charge when using them at a mid-volume level. Absolutely amazing! They also magnetically clasp together when not in use (thus pausing the music automatically) and allow me to save my favorite equalizer preset to the earbuds which makes just about all of my music sound awesome. However, I do have to spend a few seconds adjusting the right earbud because the ear gel doesn't want to seal properly; but once it does, they stay in well even while exercising. You can purchase the Jaybird Tarah Pro Sport Headphones on Best Buy for $159.99.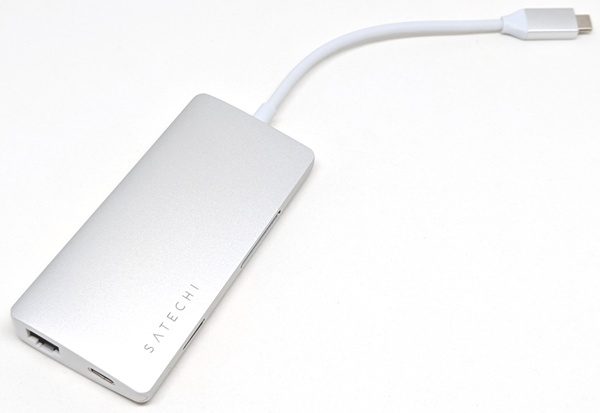 I love using the Satechi Type-C Multi-port adapter 4K with Ethernet V2 with my Lenovo Yoga 730 13″ laptop. It provides me with three USB 3.0 Type-A ports, a 4K HDMI port, Ethernet port, USB Type-C port (provides up to 45W charging of your devices), micro SD card slot, and an SD card slot. Every port works for me. However, the USB Type-A ports might not accommodate three oddly shaped USB flash drives simultaneously because the USB ports are so close together on the adapter. In addition, please be aware that Satechi states that this multi-port adapter is not compatible with all Windows computers. Apparently, it works for my laptop, so I'm very happy – I now have lots of ports available to me! You can purchase the Satechi Type-C Multi-port Adapter 4K with Ethernet V2 at Amazon for $79.99.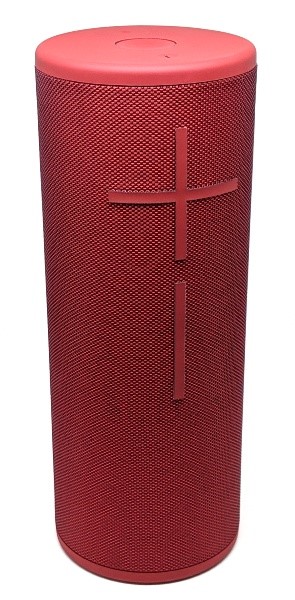 I love the new design and sound of the UE Megaboom 3 speaker. However, the app has problems. The app is supposed to provide you with additional features like the PartyUp feature which connects the Megaboom 3 to other Boom or Megaboom speakers and the Block Party feature which allows up to three people to connect to the speaker simultaneously to share music. These features don't always work. The app also allows you to adjust the equalizer settings of the speaker which really doesn't provide a substantial difference in sound. I find that I don't use the app that often, thus I love the speaker because it sounds awesome for a speaker this size and is easily portable. You may purchase the UE Megaboom 3 at Amazon for $179.99.
Michael Strange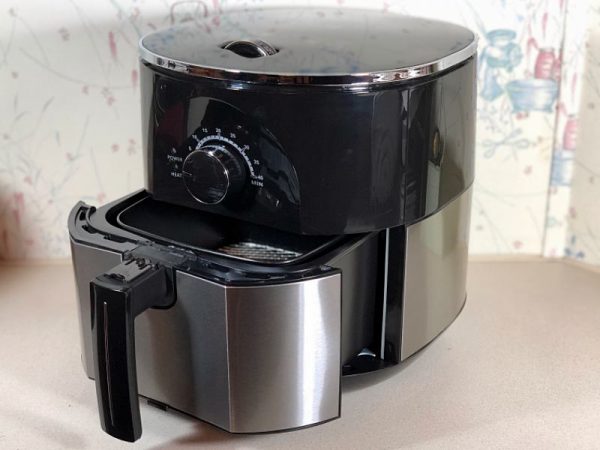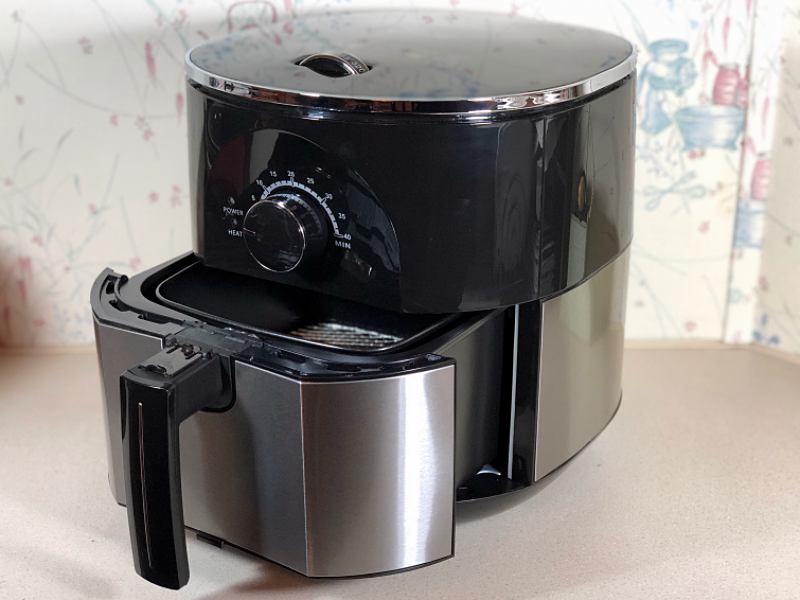 The Jese air fryer is a fryer that uses 360-degree rapid and dynamic airflow instead of oil to fry foods. This is my favorite product I reviewed this year. I use it multiple times a week to make everything from chicken breasts to pizza rolls. It's easy to use, quick, and less messy than cooking in an oven or deep frying. And it doesn't hurt that it makes things a little healthier without sacrificing taste. You can buy the Jese Air Fryer for $74.99 from Amazon.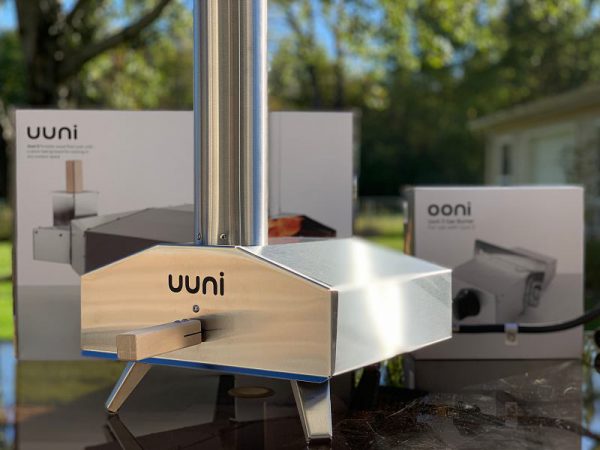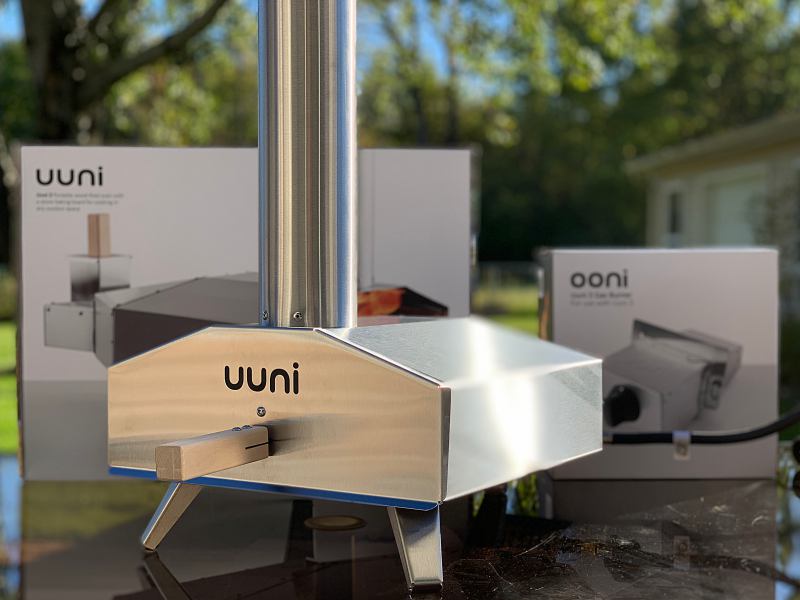 The Ooni 3 is a portable outdoor wood-fired pizza oven capable of cooking a pizza in 60 seconds. The Ooni pizza oven is fantastic! The only reason it wasn't #1 on my list is that I received it in late October, and just didn't have enough time to really put it through its paces. I like the oven because it's portable, easy to use, and it makes a great tasting restaurant-style Neapolitan pizza. If you like pizza, then this oven is a must have for your backyard. I can't wait until spring so I can really put this oven to work. The Gas Burner for Ooni 3 attaches right onto the back of Ooni 3, providing a convenient and easy option to power the oven with gas. I like the Gas Burner attachment because it makes lighting the Ooni 3 simple. And it gives you better control of the oven's temperature. You can purchase the Ooni Pizza oven for $299 and the Gas Burner attachment for $85. Both are available from Amazon.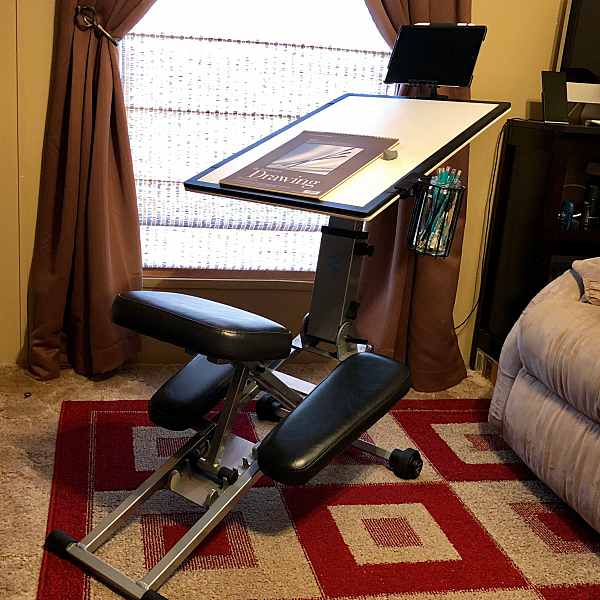 The Edge Desk is a portable, adjustable, ergonomic all-in-one kneeling desk system. The Edge Desk is great because of its size and portability. If you don't have room for a full-size desk, it's perfect. Setting up the desk is quick and easy. It folds flat, so you can easily store it under a bed or in a closet. I like that it's fully adjustable and multiple adjustments for tilt, angle, and height make it extremely versatile. The desk is very comfortable especially if you have neck or back issues. I've been using the Edge Desk to write my articles and reviews for The Gadgeteer ever since I received it and I love it. I even like to think it makes me a little bit more productive. You can purchase the Edge Desk for $449.99 from Amazon or for $399.99 from theedgedesk.com. They've even added two new colors, Matte Black and Platinum White.
Don't forget to check out part 1 and part 3.