We use affiliate links. If you buy something through the links on this page, we may earn a commission at no cost to you. Learn more.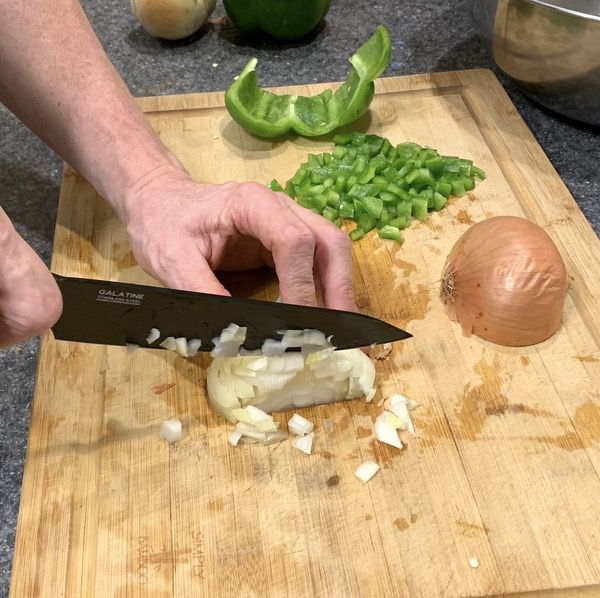 REVIEW – Today, Bob is slaying vegetables with the Gallatine Knife Set from Edge of Belgravia. It's a set of award-winning cutlery that features a stunning avant-garde design. But there's more to the story… these blades are made for cooking, and do that job extremely well. Trust me on this: when you see these babies you'll want to go hunt down some dragons. For safety's sake, however, we're going to stay in the kitchen. To the review!
What is it?
It's a 7-piece knife set and cutting block that adds some style to your kitchen while you're dispatching produce, breads, and proteins.
Hardware specs
The Knives:
All steel construction
3cr14 Stainless Steel
HRC 53 hardness rating
17.5 degree bevel for single-edges knives, 35 degrees total for double-edged knives
The Knife Block:
Accommodates up to 11 knives.
11.2" by 9.2" x 6.3"
2.55 pounds
What's in the box?
I'm testing the 7 piece knife set and Black Diamond Knife Block bundle. In addition to the knife block, the following knives are included in the package:
7.5″ Slicing Knife
7.5″ Chef Knife
7.5″ Bread Knife
6″ Chef Knife
5″ Deba Knife
4″ Paring Knife
6″ Fish Filleting Knife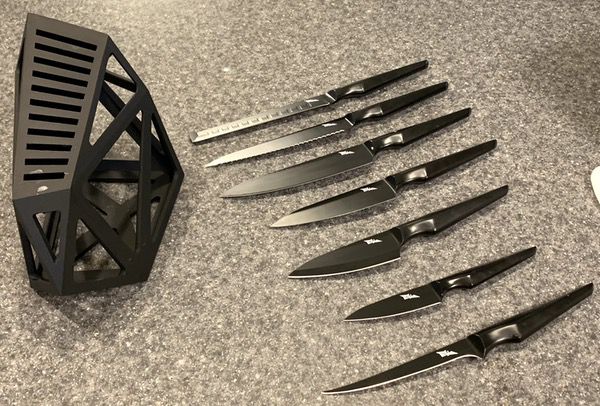 Design and features
Oh, my… just look at these beauties. The single-piece construction, black finishing, and elegantly contoured profiles make a for a knife set that wins all of the style points. But looks aren't the only thing going for these blades, as we'll see shortly.
Let's start with the build. The Edge of Belgravia Gallatine Knife Set utilizes single-piece stainless steel construction, with a black coating on the Gallatine set. The handle is consistent across all the knives, with a diamond shape that tapers towards the base: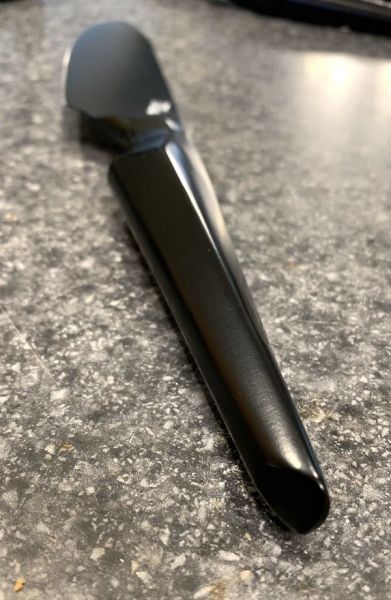 The grip is notched towards the bolster, which is beveled and transitions smoothly into the blade. The nice thing about this design is that it easily accommodates a "pistol grip" (where you wrap your hand around the handle), or a "pinch grip" where you pinch the bolster with your thumb and pointer finger: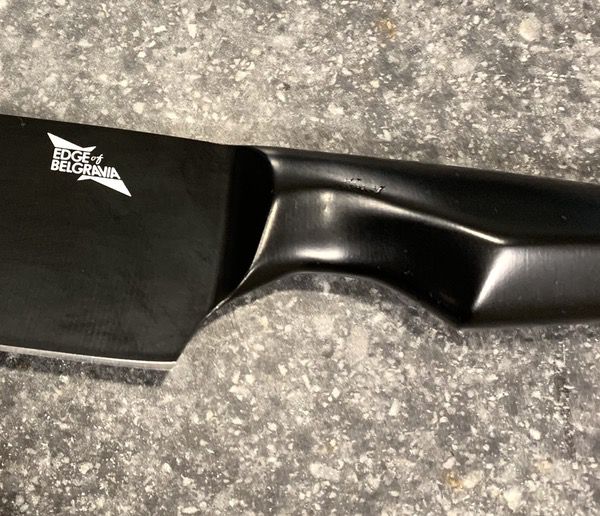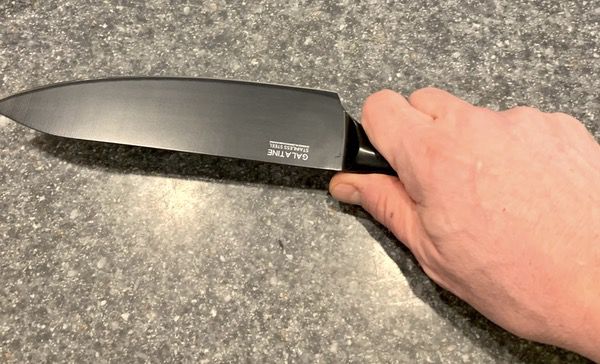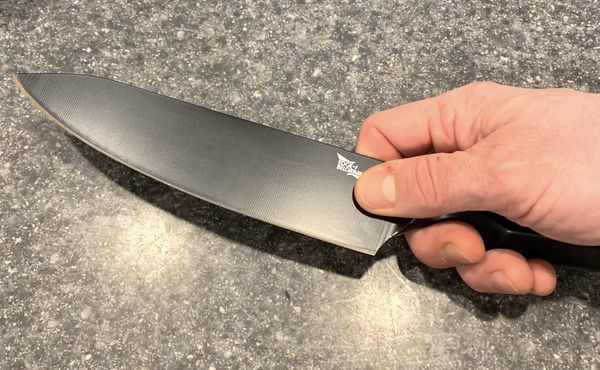 The blade shape and style vary based on the knife. The 7.5″ chef's knife, the 6″ chef's knife, and the 4″ paring knife use an identical shape, with a 17.5 degree blade angle on each side for a total of a 35 degree blade angle. Like a Japanese-style knife, the blade is thin for optimal maneuvering & slicing: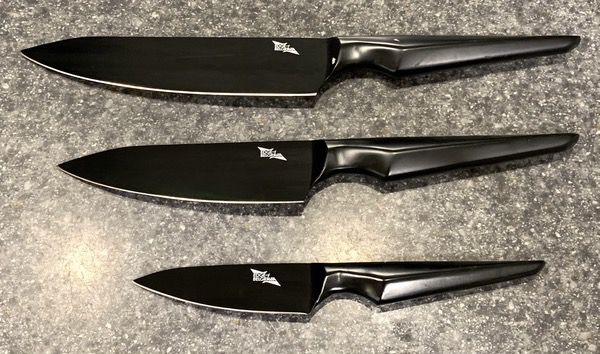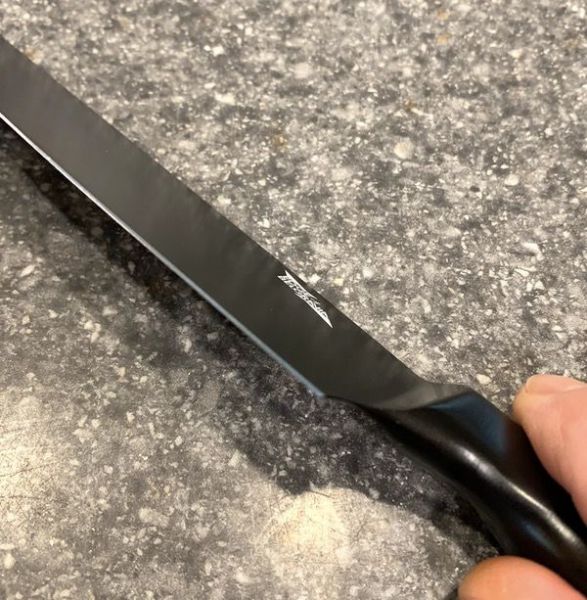 A 7.5″ slicer and a 7.5″ bread knife are also included in the 7 piece set. The slicer uses a thicker wedge-shaped blade, with grantons along the length of the blade to reduce friction when cutting proteins. The bread knife is sharpened on one side, thin like the chef's knives, and is serrated with large teeth. Closeups below: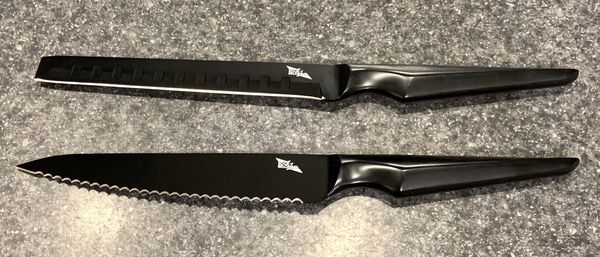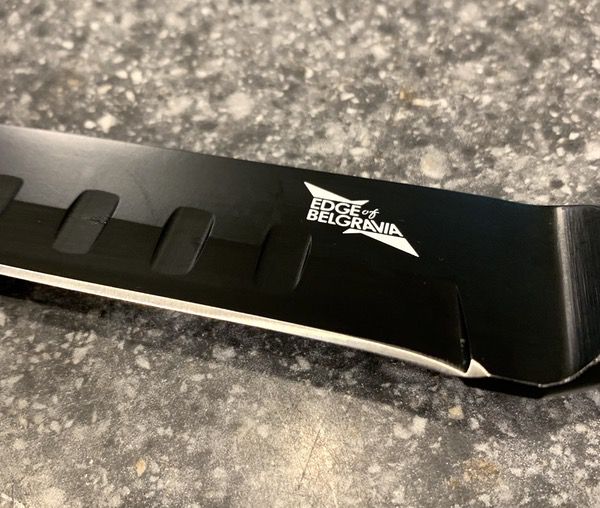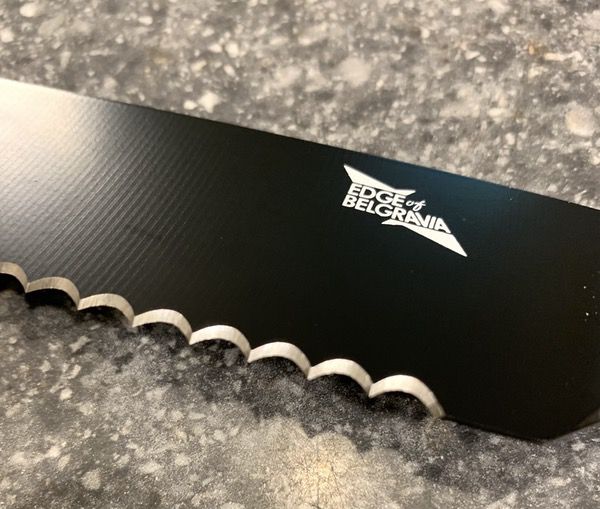 Next up are the wild cards in the set. The 6″ fish filleting knife is a double-edged design, with a thin shape appropriate for working with our oceanic friends. It's similar to the chef's knives in terms of thickness. The deba is a very different beast. It's a short wide blade, sharpened on one side, that forms a thick wedge for the cutting angle.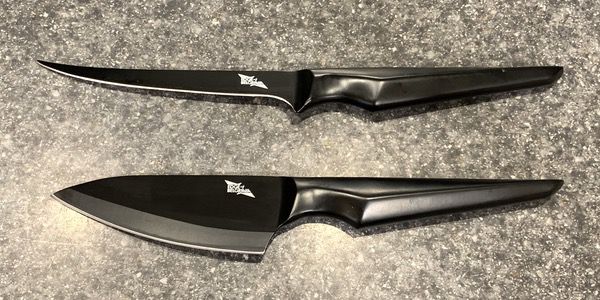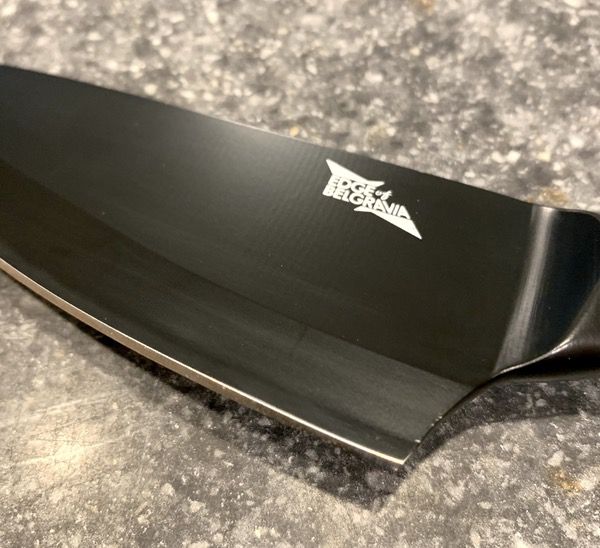 Finally, we have the Black Diamond knife block that's included in the bundle. This cool-looking piece of geometry is designed to hold to 11 knives. It's is made from a beefy coated plastic (I think) that's looks to be stable & durable as well as rocking looks that complement the knife set.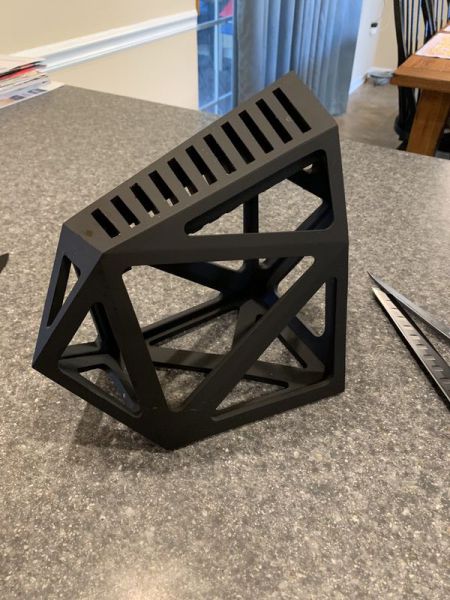 Performance
The Edge of Belgravia Gallatine knife set is a dream to use. The blades are all well-sharpened out of the box. The balance is really interesting, incorporating a nice heft in the handle (like a German knife), with a lean & lightweight blade (like a Japanese knife). The balance is weighted towards the ergonomic handle, making the knives feel very agile in your hand but retaining the confidence you feel with heavier blades. You won't get tired of lengthy prep sessions with these knives. They just feel great to use.
I really like the handle design and construction. Despite the fact that there's no grip material, the grip design feels is solid and composed. I've been working with these knives for a month, and never had a concern that they were going to slip (even with wet/slick hands). I can switch between grip styles easily depending on what I'm up to. The one-piece construction also leaves no places on the knife for bacteria or water to collect.
After a month of daily use, I will say that there are some designs in the set I liked better than others. Let's walk through the collection.
The paring knife is nimble and makes quick work of smaller jobs (like coring a pepper). The handle works great here, allowing for dextrous work around tight corners: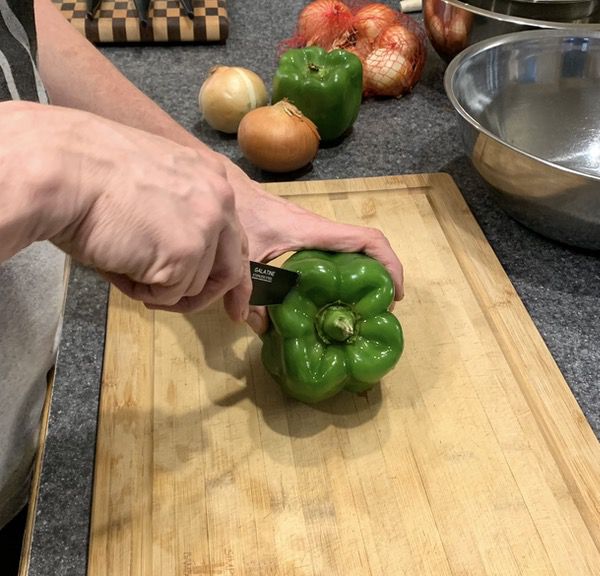 Same for the chef's knives. I really like the balance and grip on these when you're doing the big work like slicing, chopping & dicing. The thin blades slide easily through all kinds of produce and proteins. Here are some shots of me carving up a collection of peppers, onions and celery for Gumbo. They make quick work of your standard kitchen tasks: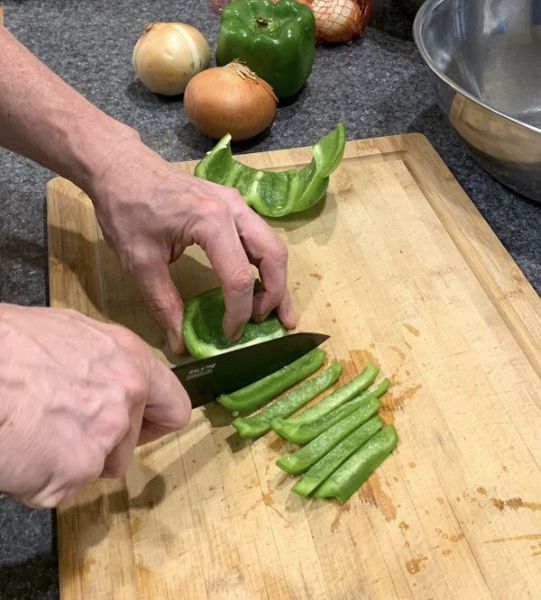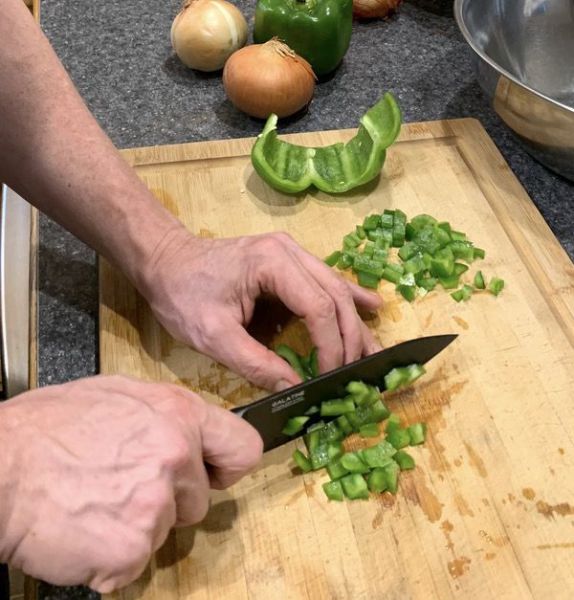 Both sizes performed equally well. I lean towards the 7.5″ chef's knife, because I like a larger blade. The handling and balance is similar in both sizes, though: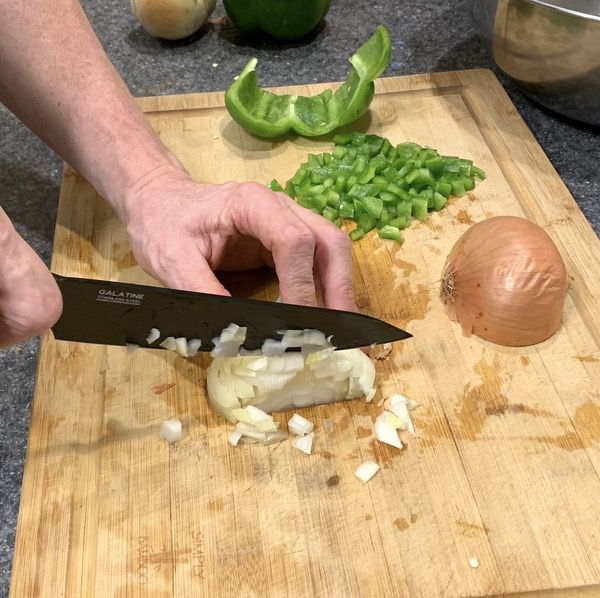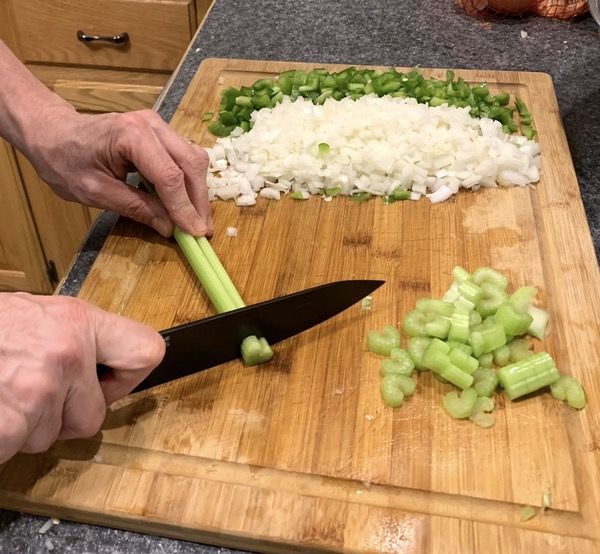 The bread knife is also nice and sharp, but your satisfaction with this blade will depend on your personal preference. The long teeth do more damage to crusts, resulting in a slightly more ragged edge & extra crumbs on your cuts. I tend to prefer a bread knife that has a less aggressive edge, which also benefits delicate work like cutting tomatoes: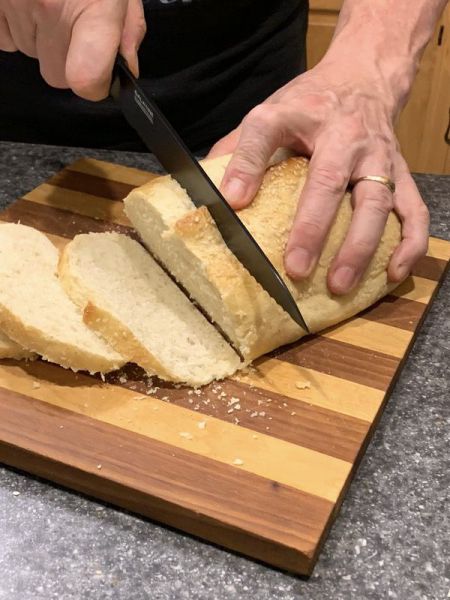 The slicer is a mixed bag for me. It's got a significantly wider angle on that wedge-shaped blade than the chef's knives, so it wants to push away from your cut. If you're cutting soft proteins you won't notice it, but I found myself having a tough time getting clean, even slices from tougher proteins like a cooked steak or pork loin. I used it to portion out raw chicken for my Gumbo, however, and it cut like a dream: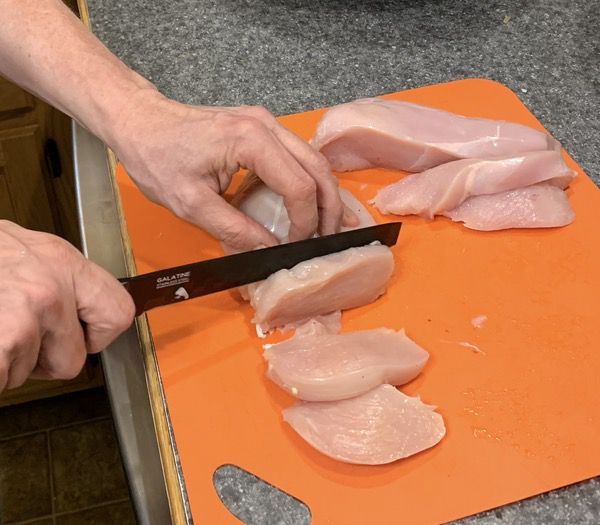 I'm not familiar with using a Deba knife, so this was a new experience for me. Because it is a one-sided wedge-shaped blade, it really wants to push the cut away from that angle. That means that getting clean slicing or even mincing with this blade is a no-go. I do recognize that a Deba is a bit of a specialty weapon designed primarily for descaling fish… you'll want to be aware of how to use it properly if you choose this set. The thick blade and short, wide shape make it ideal for breaking down a turkey, however! Here I am trimming extra bits off a bird, but I also used it to get in and separate the legs from the body on this meal.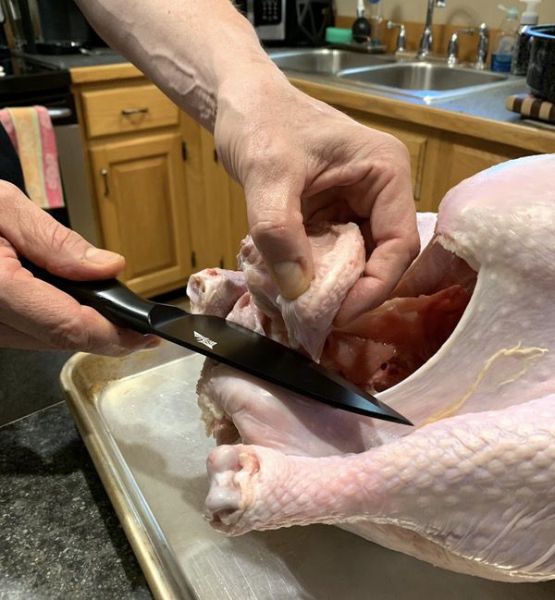 I'll note that I did not do any fish during my time with these blades, but I found the fish filleting knife to be useful for lots of delicate slicing operations.
Finally, let's discuss the Diamond Knife Block. I really like the weight and material of the block for stability and durability, and it doesn't seem to be picking up any nicks or scratches as I am tossing my knives into it. All good there. The design does not accommodate 11 thick handled knives cleanly, however. I had to alternate them in the block to get them all to go: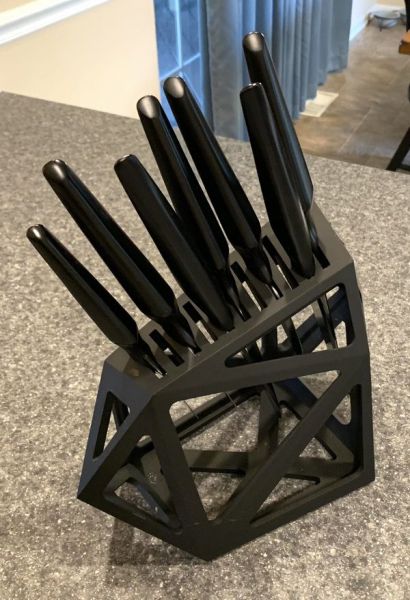 You also have to watch the way you place your knives in the block with a full set. The slots get slightly smaller as you go down the line, and shorter knives need to go towards the front of the block as they tend to angle backward. This means that some knives may be touching if everything is loaded up, as you see below: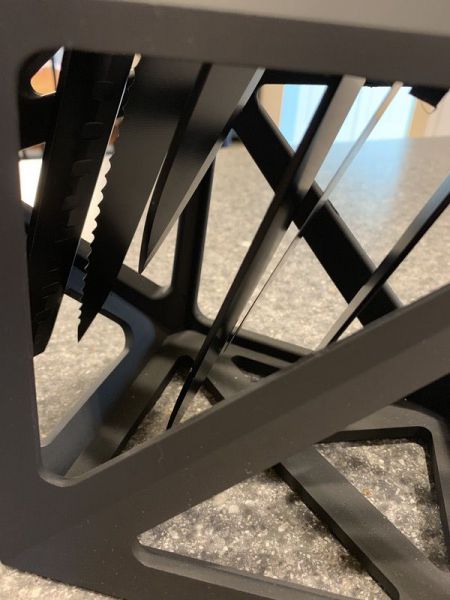 Blade length can also be an issue. Check out how the slicer pokes out of the back end of the stand. It actually works fine here, but a longer blade would be scratching your countertop: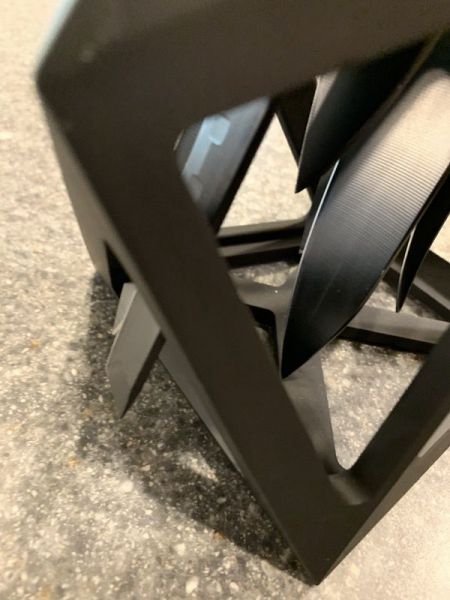 The solution to this problem with the set is simple: remove one blade. I keep the bread slicer in a sheath in my drawer, and everything lines up nice and pretty. And looks amazing on the counter!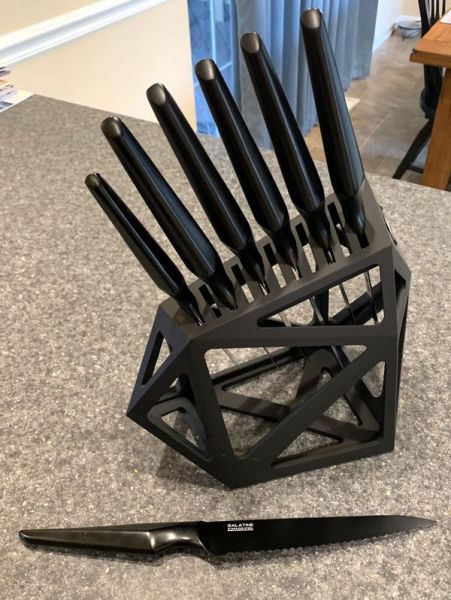 One last note: I'm not sure how that black coating is going to work when I go to sharpen these blades. I'm going to have to do some research on that one. They've held their edge well so far, but I'll keep you updated when the time comes.
Before we go, let's talk a little bit about the value here. I'm normally a fan of buying individual knives and building a set to meet your needs. I think there's good value here either way you go based on the quality of the knives. Individual knives price out between $15 and $37. The knife block itself retails for about $100. You can pick up the whole 7-piece kit (including the block) on their web site right now for $234, and partial sets are available at a range of prices. For an avant-garde (and award winning) design that works as good as it looks in practice, I think this is a good price.
What I like
Quality construction in both the knives and knife block
Excellent grip and control, even with wet hands
Great balance and nimble handling that inspires confidence in the kitchen
Solid, stable, durable knife block
Killer modern design
What needs to be improved
Knife block won't fit all styles of blades, so check your measurements
Thick, wedge-shaped slicer is not ideal for denser proteins
Deba knife is fun to play with, but doesn't have that much practical use
Final thoughts
The Edge of Belgravia Gallatine Knife Set and Diamond Knife Block have earned a permanent place in my kitchen with functional usability that goes beyond their good looks. They handle extremely well, are easy to clean, and perform just about every required task with grace and style. Some of the specialty knives could use some refinement, but not so much that they detract from the overall excellence of the set. The gorgeous & functional knife block puts a cap on the collection.
Price: $234 for the full kit, with varying pricing for smaller sets
Where to buy: Check out the Edge of Belgravia web site, or their page on Amazon.
Source: The sample of this product was provided by Edge of Belgravia