We use affiliate links. If you buy something through the links on this page, we may earn a commission at no cost to you. Learn more.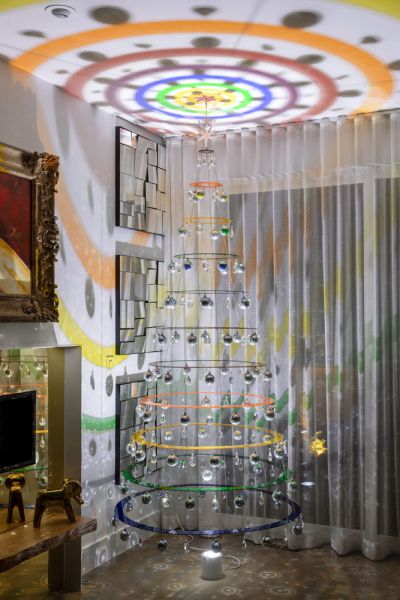 NEWS – I'm a child of the Mid-Century, and I've found that nothing feels like home to me now as much as the furnishings and design elements of my childhood.  Apparently Matt Bliss feels nostalgic about his childhood, too, and was inspired to reproduce a part of his family's Christmas celebrations for all of us to enjoy.  His grandfather, an engineer and architect named Lawrence "Bud" Stoecker, designed and created the first Modern Christmas Tree for his family in the 1960s from cardboard.  Over the years, he refined his designs and finally determined that Plexiglas was the best material for his minimal, modern Christmas tree.  Just like Matt's modern version, Bud's original acrylic trees merely suggested the shape of a tree, so the ornaments became the star of the show.
When Matt's grandfather was was diagnosed with Alzheimer's, he decided it was time to show the world Bud's wonderful design.  The Modern Christmas Tree debuted at the Denver Modernism Show in 2011, and was a big hit.  Since then, Matt has had the tree photographed in many fabulous Mid-Century homes, where the tree is enhanced by and, in turn, enhances the gorgeous period architecture.  And more importantly for us, Matt has made the Modern Christmas Tree available for purchase.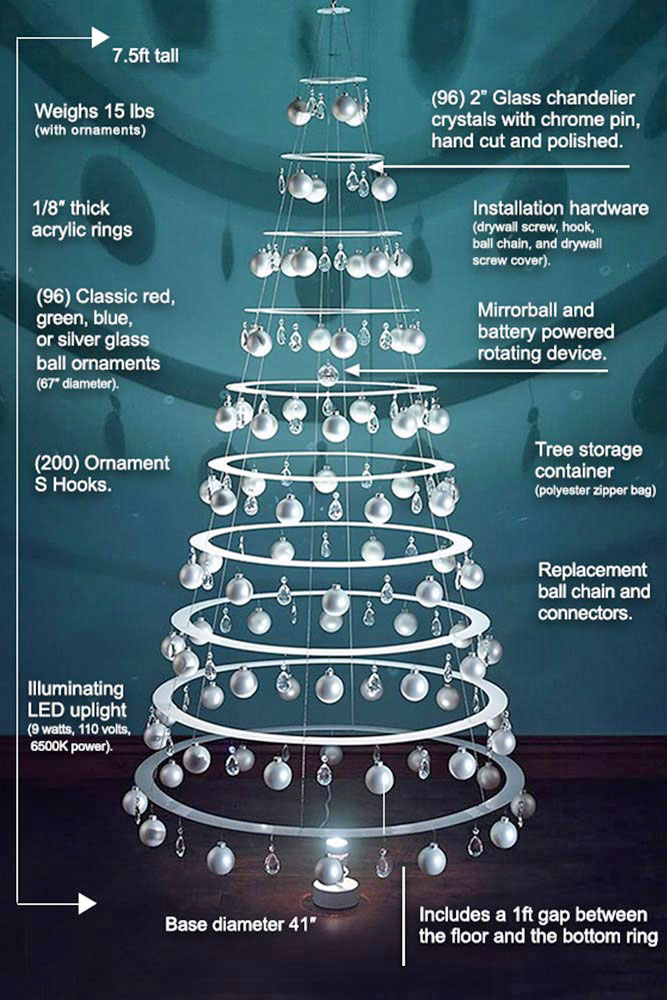 The Modern Christmas Tree is available in three versions.  First up is the 7.5-foot tall tree; it consists of ten concentric acrylic rings that hang from the ceiling or from an optional tulip-based stand.  The widest ring is 41″.  The rings are available in crystal clear, pearl white, ruby red, emerald green, sapphire blue, or rainbow.  Each tree is available with or without a set of 192 glass crystals and glass bulbs.   An LED light source stands at the base of the tree, shining light up through the acrylic rings, lighting the tree and ornaments and casting shadows and colors up onto the ceiling and walls.  The Large Tree is $799.99 with the decorations, hanging hardware, and light source; the undecorated tree (for using your own ornaments) is $449.00.  The optional tree stand is $149.00; a sputnik tree topper is available for the 7.5-ft tree for $39.00.  If you need a more compact tree, a 6-foot tall, semi-circular, wall-hanging tree is available for $329.00 decorated or $219.00 undecorated.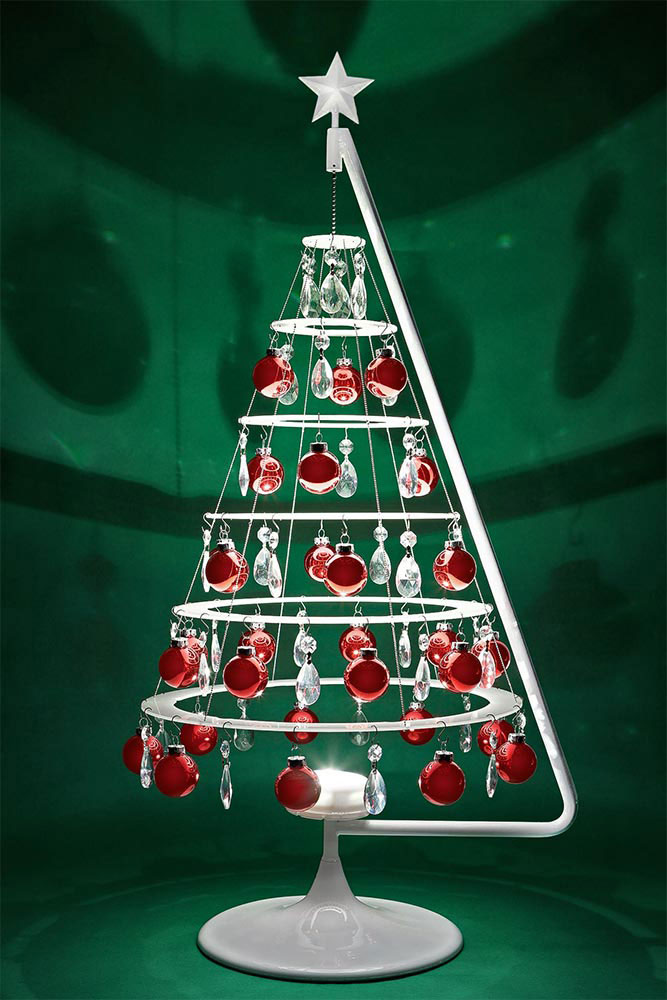 To celebrate the 50th anniversary of Bud's original design, Matt has introduced the Jubilee tabletop tree.  The Jubilee stands 33″ tall, and it comes with a stand and color-changing, battery- or AC-operated LED light source with remote control, forty hand-cut, polished glass chandelier crystals, and four complete sets of shatterproof ball ornaments in silver, red, green, and blue.  It also comes with three toppers – heart, shamrock, and star.  The Jubilee tree and ornaments set is $249.00.
Learn more at the Modern Christmas Tree website, and order now for your modern Christmas celebration!  (My 7.5-ft tree and Jubilee tree should both arrive this Friday!)