We use affiliate links. If you buy something through the links on this page, we may earn a commission at no cost to you. Learn more.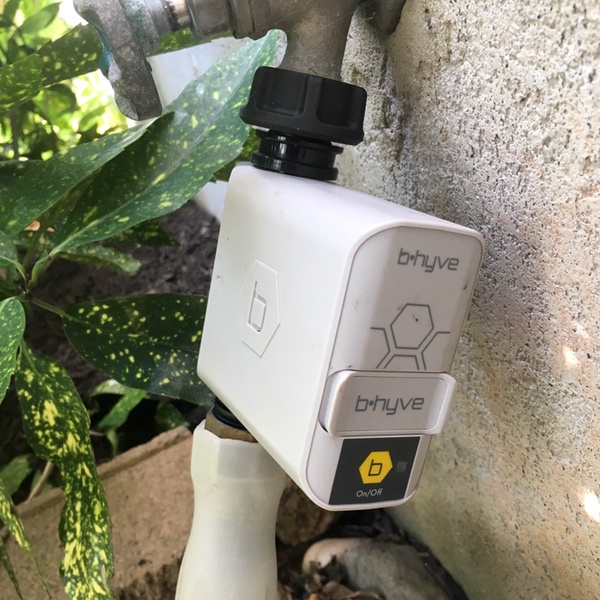 REVIEW – Smart watering? Yup, it's a thing. The B-Hyve system allows you to manage the watering chores around your property from anywhere you have Internet access. I challenged it to keep my garden alive while I spent most of the month of June traveling. How did it work out? Let's see!
What is it?
It's a smart watering system that enables you to schedule and manage your watering with an app on your smartphone.
Hardware specs
Faucet Timer:
IOS, Android and Alexa compatible

Powered by 2 AA batteries (not included)

IP34 waterproof rating

10-100 PSI valve flow rating
WIFI Hub
Standard 2.4 Ghz WIFI

200 foot range

Compatible with standard 100V outlet

Capacity for 64 connected units
What's in the box?
The box contains the faucet timer, WIFI hub, and a quick start instruction guide.
Design and features
The B-Hyve Hose Faucet Timer consists of two parts. First, you have a WIFI hub that plugs into a standard outlet in your house, preferably near the exterior faucet you wish to manage. It's a tiny little one-piece unit about the size of a plug-in night light.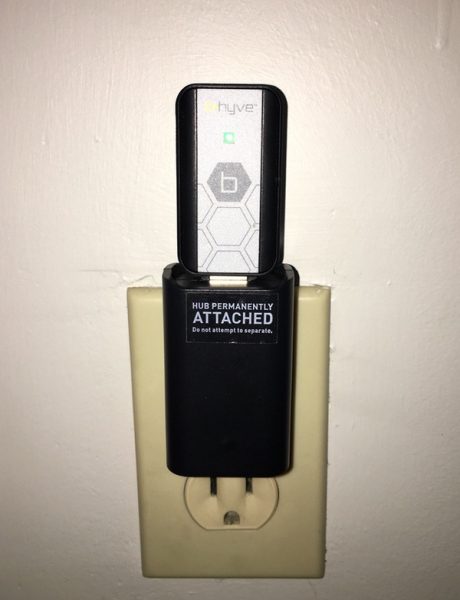 I have mine plugged into the corner of my family room. The exterior faucet is below the window on the left, about 5 feet from the hub. It has a range of 200 feet, but is also extended by your home network: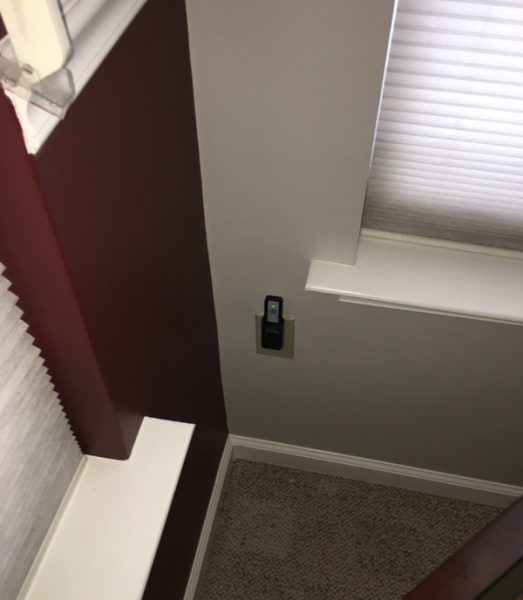 The second component is the timer unit. Powered by 2 AA batteries, the timer is completely self-contained and waterproof. That yellow button on the right in the photo below is a multifunction manual operation and pairing button. You'll attach the unit to the faucet and turn on your hose; an internal valve in the timer now controls the water flow.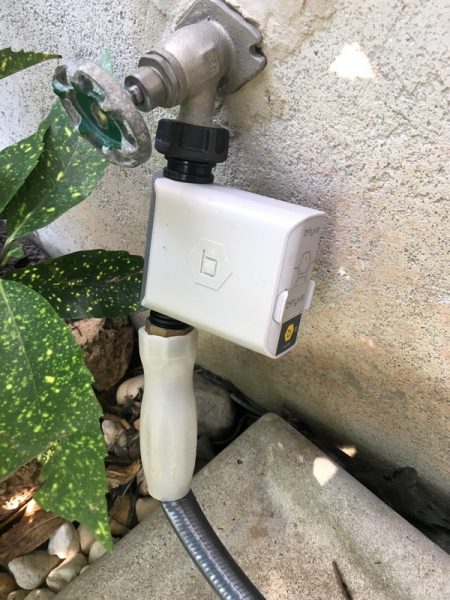 You'll set the whole system up with the B-Hyve app that you download to your smartphone. The app wizard walks you through the process of pairing the components, installation, and setting up your programs. It's so simple that I won't walk through it here… know that you'll be up and running in about 5 minutes. 
You now have the ability to control all of your watering functions from anywhere in the world with the B-Hyve app. It's a beautifully executed app from a usability perspective, with features and capabilities I haven't even fully explored yet after a month of use. Let's start with the basics, and I'll show you some of that extensibility.
You'll begin by setting up your automated watering program. Name your program, set the days of the week to water, start times, and duration. The setup below is for my garden (twice daily, 5 minutes per watering):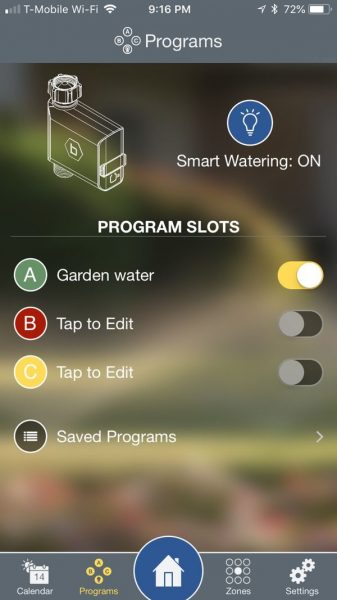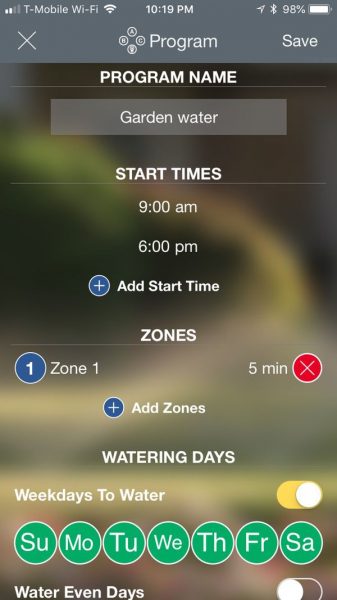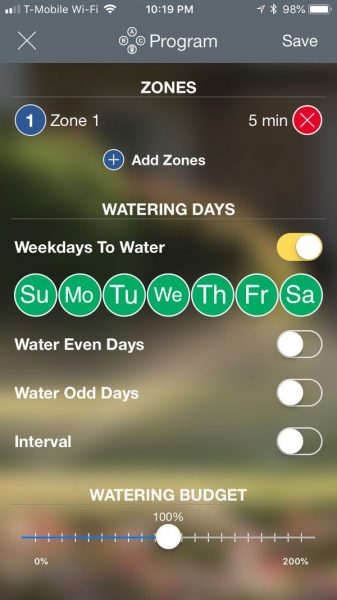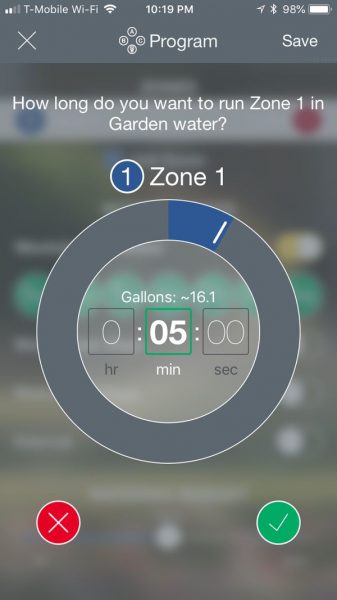 Once you're set up, the app will notify you as it goes about it's scheduled activities. You can also manually run watering cycles if your plants seem a bit thirsty. In either case, the app logs every event and sends notifications to your phone when each watering session is completed: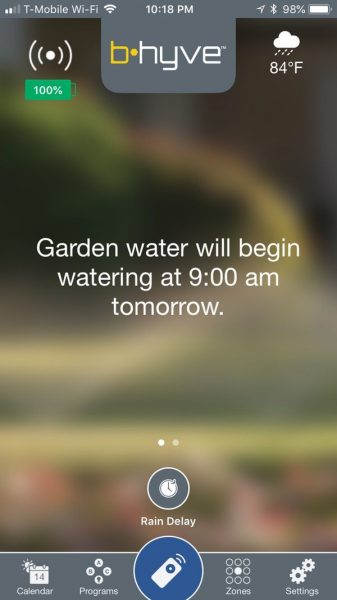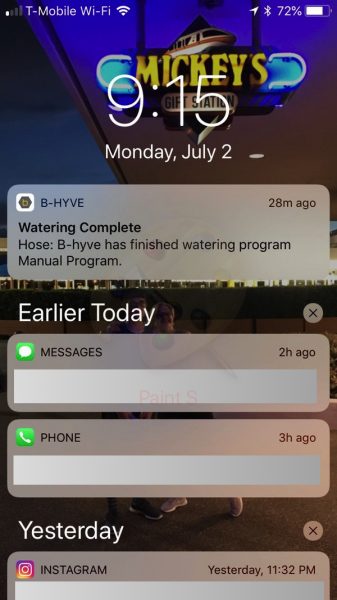 Here's where things get really cool. The B-Hyve app integrates active monitoring of your local weather into the system if you wish, and will cancel or delay scheduled watering events if Mother Nature is going to do the work for you!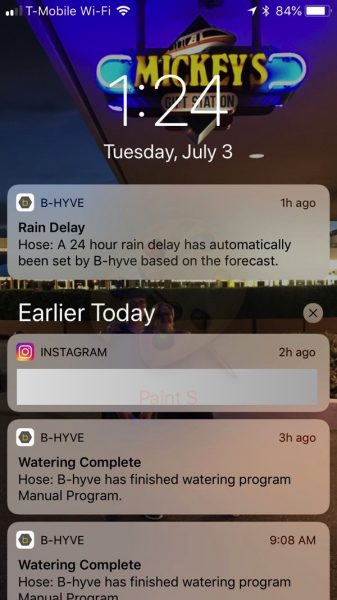 Pretty cool, right? It's important to note that the app is based on forecasts, so it might miscalculate if that storm bypasses your immediate area. We found it to be pretty accurate in our actual tests, however, and we could manually trigger a watering if the storm passed us by.
If you want to get really deep into watering management, you can fully customize your options. You'll identify "Zones" for your watering. In each zone you can provide all of the details about the environment and conditions (plant types, ground slope, sprinkler type(s), sun coverage, soil type, etc.) and the app will automatically calibrate a watering program based on the zone's requirements. Check out the screenshots below to get a taste of the available customizations: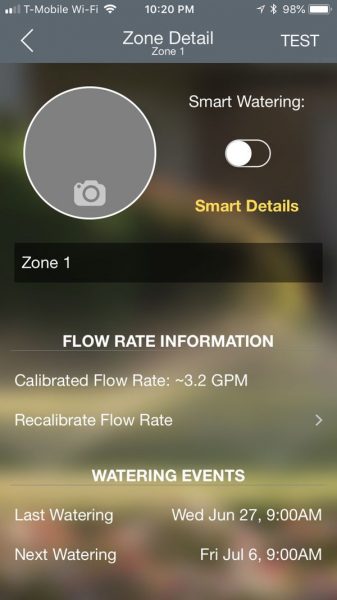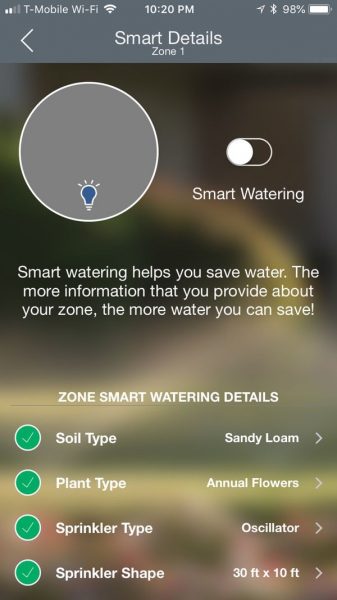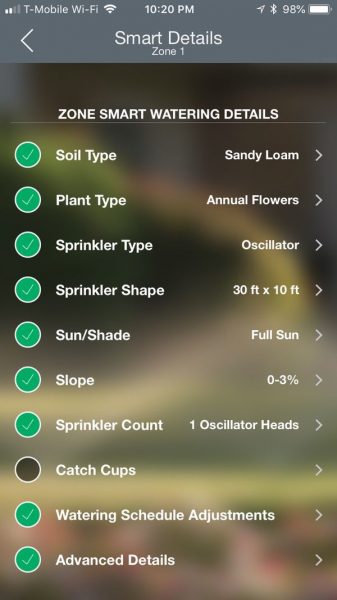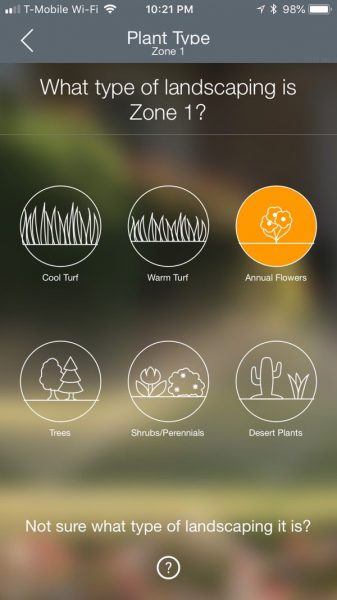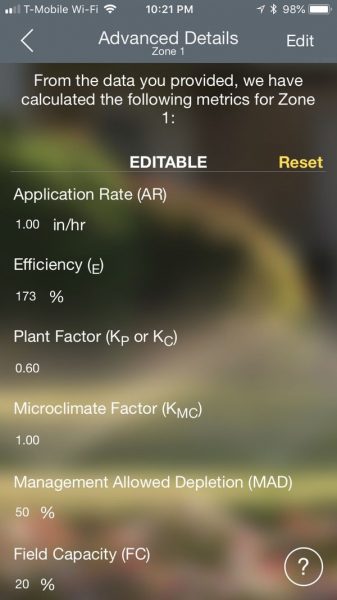 What does this all mean? Well, you could add multiple timers to all of the watering/irrigation systems around your house (garden, lawn, flowerbeds, etc.), set up the zones, and get professional-level water management and optimization from a single app for every aspect of your landscaping and climate conditions. That's really impressive.
I haven't had a chance to test all of these features yet, but we did set up a month-long test of the system on my vegetable gardens. I spent most of the month of June traveling between vacation and business trips. While I was roaming the Earth, I trusted the watering of my garden to then B-Hyve and a standard oscillating fan sprinkler. The system took care of all the watering needs, using the Smart Watering features to adjust for weather. I haven't lost a single planting. These were all starter plants five weeks ago: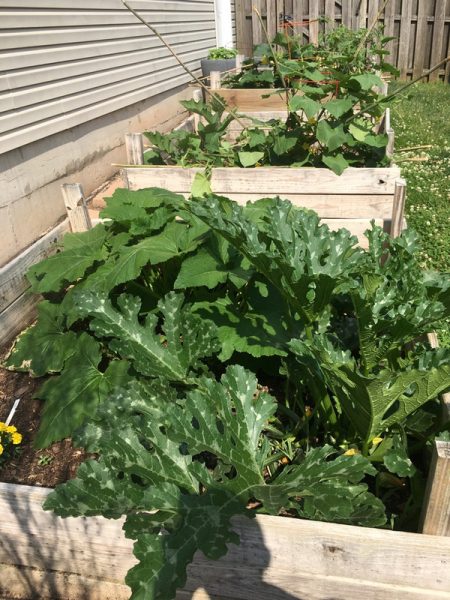 If I need to use the faucet for something else (like power washing), I can also turn the faucet on or off by pressing that button on the timer to do some other work without removing the unit. Other than that, I can control everything from my living room, or my hotel room, or WIFI at the airport. Impressive. So impressive, in fact, that I think I am going to look into multiple units and hydration systems to make the whole operation more efficient next summer.
What I like
Simple installation and setup

Well-executed app usability
Robust functionality that you can manage to your desired level of complexity
Ability to handle expanded/upgraded watering solutions
Well-built hardware looks like it will stand up to multiple years of use
What needs to be improved
Final thoughts
I really like the B-Hyve Hose Faucet Timer so far. The hardware looks to be very solid after 6 weeks of operation, and setup is a snap. The management app is excellent and has the ability to accommodate both simple task-oriented users and power users who want to set up a whole watering management system (with easy expansion to multiple units for a whole-home solution). It's a great tool to help conserve water as well. I'd strongly recommend it.
Price: $69.00
Where to buy: Visit the B-Hyve web site or buy it on Amazon. Also available at many home retail stores like Home Depot, Wal-Mart, and Lowes.
Source: The sample of this product was provided by Orbit B-Hyve.