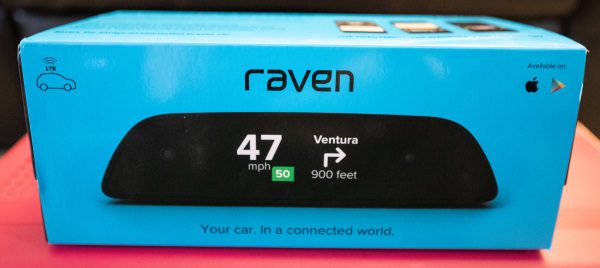 REVIEW – I have tested many different brands of dash cams that offer HD and 4K resolution and a few additional features and they all seem to be close to the same with a few minor exceptions. When I first heard about the Raven Connected Car Device, my thought was, "here we go again". Was I right? Let's see!!
What is it?
The Raven Connected Car Device is a smart device that connects to your car's OBD connector and offers access to smart cameras,  sensors, navigation, diagnostics, and data. It works via the built-in LTE cell connection, so it is always connected.
What's in the box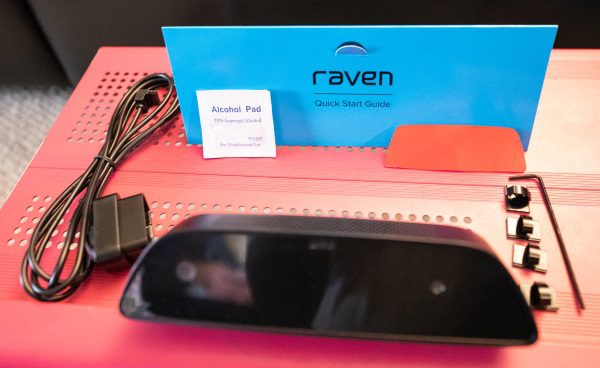 1 x Raven Connected Car Device
1 x Quick Start Guide
1 x Extra Double Sided Adhesive Tape
1 x OBD Connector Power Cable
4 x Cable Clips with Adhesive
1 x Allen Key
Design and features
The device itself is a black sleek device, with a single cable connection to your car's OBD connector. On the front, there is a display screen and an in-cabin camera hidden/embedded behind the clear surface.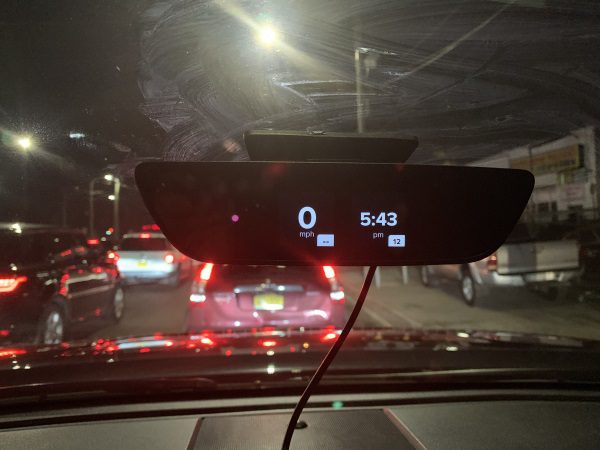 On the back, there is the outward facing camera, and on the bottom of the mount, there is the double-sided tape that does a great job of ticking and staying put on the windshield.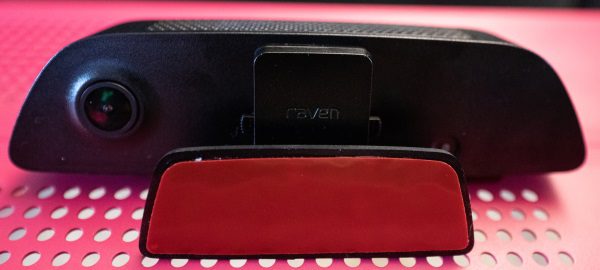 On the bottom, there is the adjustable mount, a micro SD card slot for on-board recording, a micro USB port for direct connection and the ability to download videos from the SD card without removing it from the device, and a "Sim" slot that is not currently used.

Performance
Features:
Wi-Fi Hotspot
Live preview and streaming from dash outwards and in-cabin
Speed alert and threshold settings
Next-turn Navigation
Video recording triggered by hand gesture
Real-time GPS location
Easily download and share video
Security Alerts and Notifications
Access onboard diagnostics and get information about what might be going on with your vehicle
Driving alerts and notifications
In-App Navigation
Once I connected the Raven and started driving, one of the first things that I noticed was that when viewing the speed of the vehicle on the Raven versus the digital speedometer on my dash, at times there was a +/- 1 MPH difference. This occurred mostly when accelerating or slowing down. Since the Raven is connected to the vehicle's OBD connector, it would be interesting to find out which one is actually truly correct.
The Raven continuously records video while you are driving so that nothing is missed. The continuously recorded video files are not accessible through Media Manager on the app like the gesture or event generated videos. The continuous video is recorded on the micro SD card (optional), and you can access either by removing the card and viewing via a PC or by connecting the Raven to your PC using a micro USB cable. The raw video files are in the Videos folder. Another great feature of this device is that since it connects via the OBD connector, it always has power and can always provide live views of the cabin and the outside as well as security alerts as long as the cell signal exists.
App
The app provides access to all of the functions and settings of the Raven. Here are some screenshots of the in-App choices and preferences:
Screenshots of outward and in-cabin app views (Views can be fullscreen as well):
Here is actual footage downloaded from the camera. (The footage was not edited and is exactly as it was when downloaded including the speed of the video):
Here are screenshots of types of warnings and notifications that you receive on your mobile device: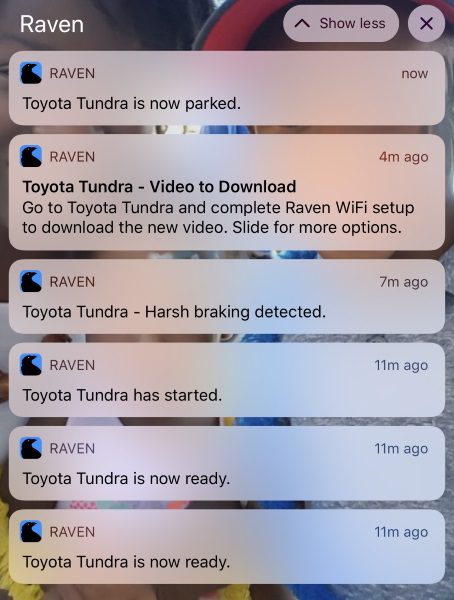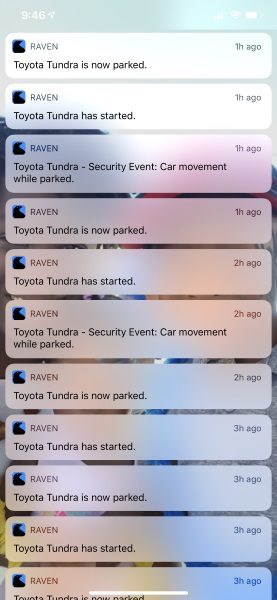 Screenshots of fullscreen in-app navigation. Navigation directions are voice enabled:
If you choose to continuously use all of the features and functionality of the Raven, there are 3 data plans to choose from: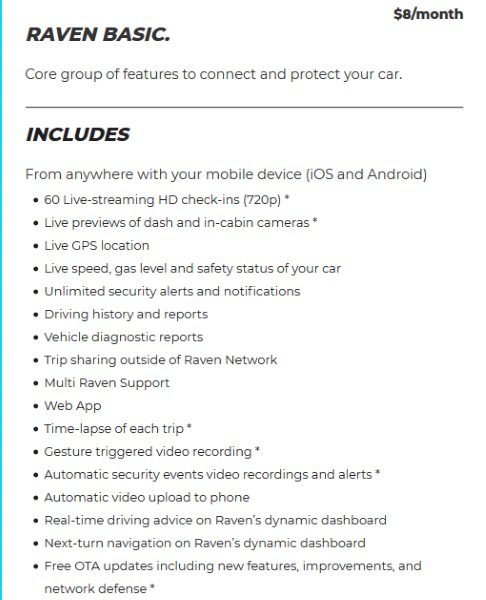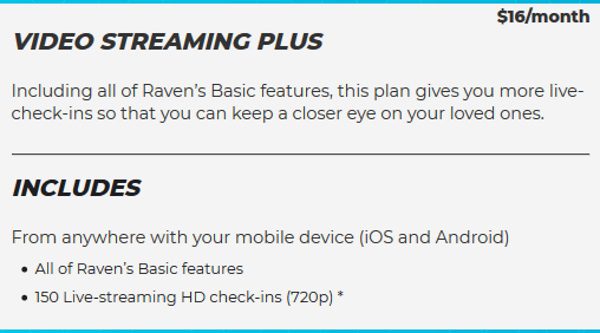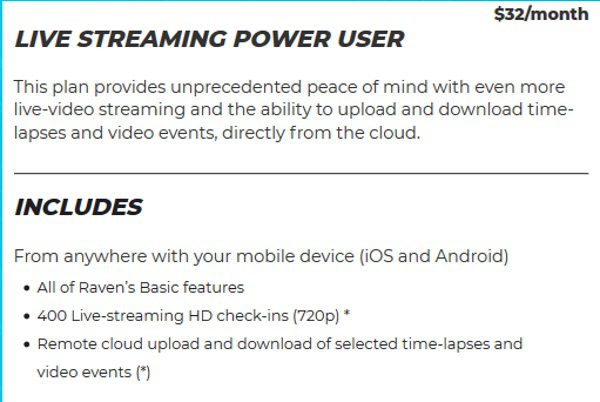 What I like
The look
The build quality
The features and functionality
What can be improved
The length of the OBD connector cable so that larger vehicles are accommodated
Additional built-in cameras to provide a 360-degree view
Options for cell service. T-Mobile does not have the best coverage in NYC.
Addition of remote start feature since the OBD connection is being used (More like my personal wishlist item)
Final thoughts
After not expecting too much more than a dash cam from this device, the Raven has won me over in many ways. I love having this device and I love using its features and functionality. Having the ability to view my car when it is parked at the railroad station and in the garage or on the street is great, and the alerts are also great. Having that kind of heads-up display that gives me the option to view various parameters is a plus, and while my truck does have the navigation, having a second option is just a bonus. For my personal use, I can't say enough about how much I like this device. I have actually replaced what was my favorite dash cam with the Raven. Each person has their personal preference, so keeping that in mind, I give the Raven a big two thumbs up!! If they add 360-degree camera views and remote start capability to the next version, I may have to get more thumbs.
Price: Two options – $299 plus a choice of a monthly data plan – $8, $16 or $32; With Affirm Credit starting @ $30 monthly for 12 months with 1 year of data included. The first 3 months of use are free for 24/7 connection to your car.
According to Raven, you can choose the additional following option:
"RAVEN WITHOUT A PLAN – Though you won't have access to Raven's LTE features, you'll still be able to use Raven as a dashcam for full-length videos, gesture triggered videos along with time lapses. You'll also be able to use Raven's displays to show driving data such as speed, compass, fuel, altitude etc. In the app, you'll have access to the media manager, settings, historical trips, and historical driver reports."
Where to buy: Raven website and Indiegogo Marketplace
Source: The sample for this review was provided by Raven
Support The Gadgeteer
:
We may earn a small affiliate commission from purchases made from buying through links on our site. As an Amazon Associate I earn from qualifying purchases. Learn more.