We use affiliate links. If you buy something through the links on this page, we may earn a commission at no cost to you. Learn more.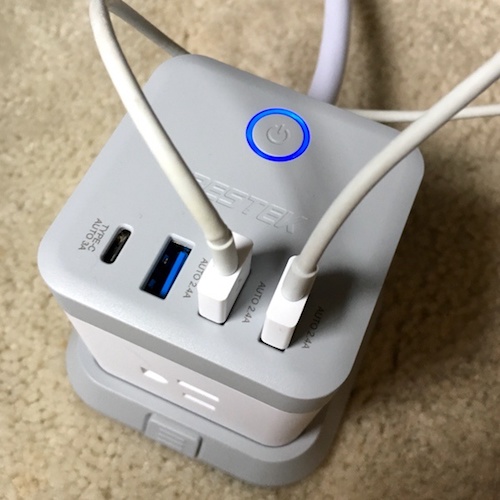 REVIEW – Let's have a real talk for a minute. Your house or office is full of electronics, and you know that the old clunky power strip you bought 10 years ago is getting a little… dated. It's time for an upgrade! Today we're reviewing a charger from Bestek that combines modern features with excellent usability. It looks good, too. Let's plug in!
What is it?
It's a cube-shaped power strip that includes 3 standard outlets, 3 USB ports, and a USB-C port. It's also mountable on your wall.
Hardware specs
Input Voltage : 100-240V
AC Rated power: 1875W(125V 15A)
USB Output: 20W 4A(Total), 5V/2.4A Max(each port)
Size(Base included)/Weight: 3.4*3.4*3.2 in / 1.05 lb
Cord length: 5 Feet (14AWG)
Includes protection from overloading, overheating, short circuits, and power surges
What's in the box?
The package comes with a power strip, detachable base, double-sided adhesive trips and screws for wall mounting, a self-adhesive cable clamp, and the instruction book.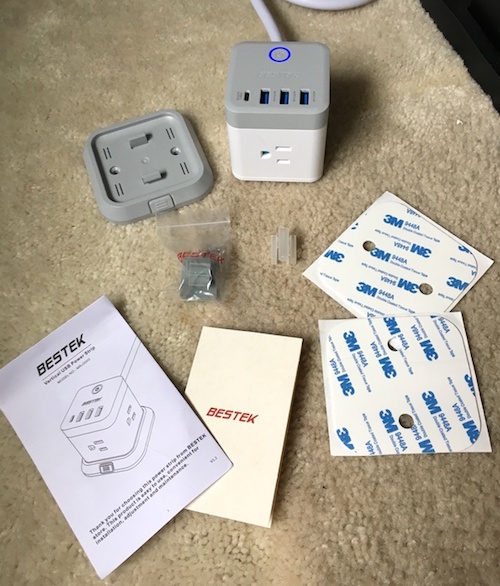 Design and features
The Bestek 3-Outlet Vertical Cube is a cube-shaped design that packs some nice usability extras for managing all of your power sources. It's compact exterior dimensions measure in at 3.4″ by 3.4″ by 3.2″. It also looks nice, which is a bonus if you're mounting it on your desktop. Here's a pic with my MacBook Pro power brick for a size reference: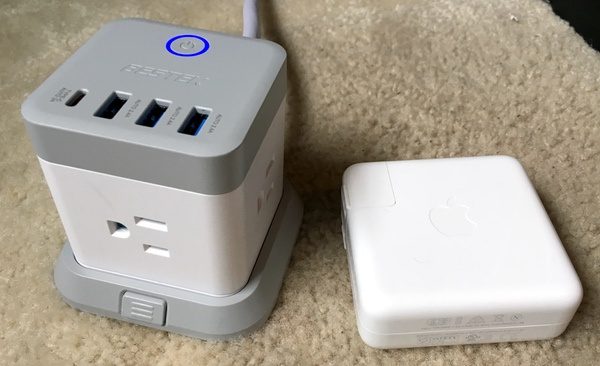 If you've ever had to play Tetris with all of your odd-shaped power bricks, you'll appreciate the form factor here. Three of the vertical faces each have one three-pronged plug, oriented sideways to accommodate those oddball bigger bricks (I'm looking at you, Apple!). Have a look: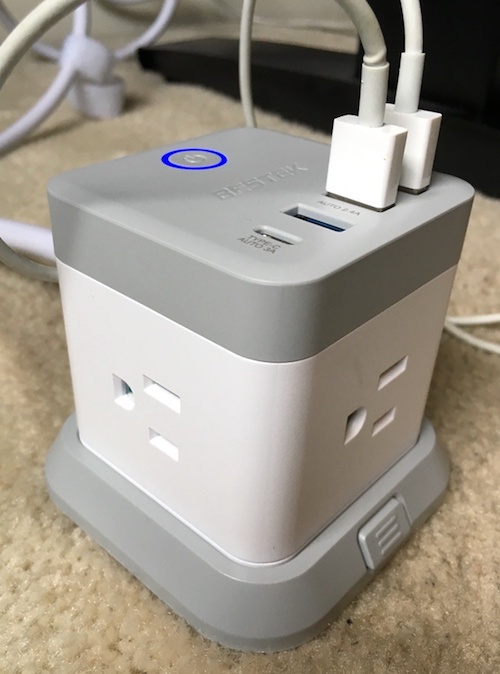 On the top face of the block, you'll find three USB ports, a USB-C port, and the power button for the unit. The button glows blue to let you know when it's on. Placing these ports and the control on the top face is lovely, as none of the functionality fights for space with your traditional 3-prong blocks: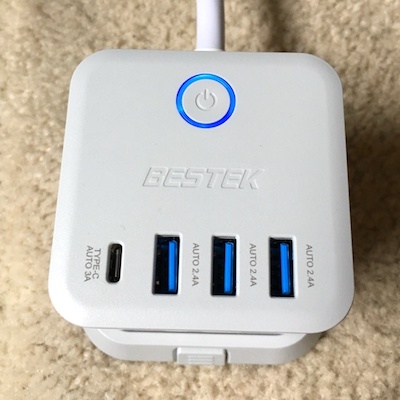 Here's what the unit looks like in its natural habitat. Check out that 5′ long cable that allows you to position the block pretty much anywhere you want it, including on the desk if desired. I love that.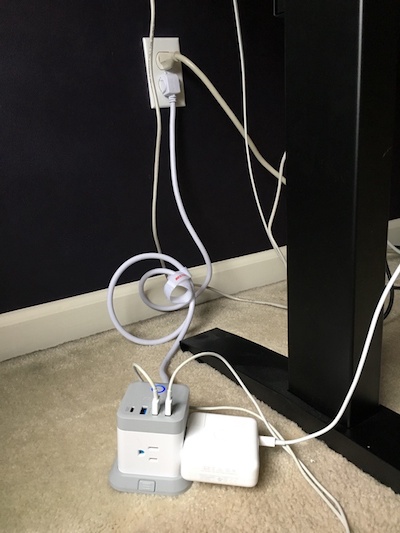 The block is also removable from the stand. Squeeze those little tabs and it pops off. Why is this useful? Well, you can mount the stand to any surface with the two screws included or the double-sided adhesive mounting strip if you want it connected to your desk or hung on your wall. You can then remove the block if you need to use it in another location in the house or office.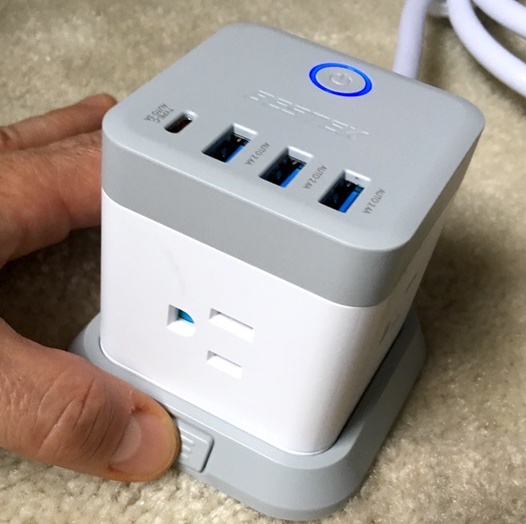 The block can be positioned in 90-degree increments, so you can drop the cable below your plugs if it's vertically mounted.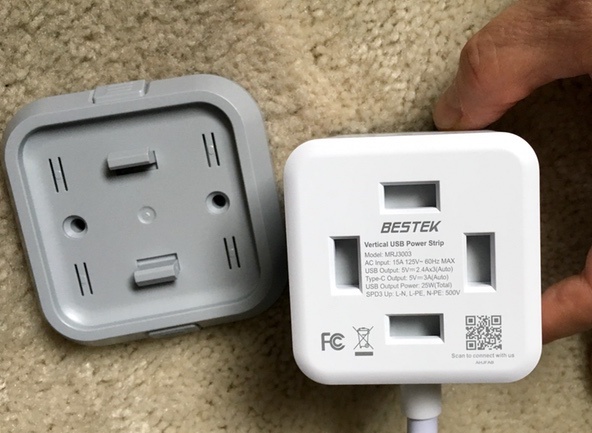 Bestek has clearly thought about their customers in the little usability enhancements at work here. The chord includes its own velcro cable wrangler, and the package includes a second mountable clamp that uses self-adhesive backing to manage running chords (not shown):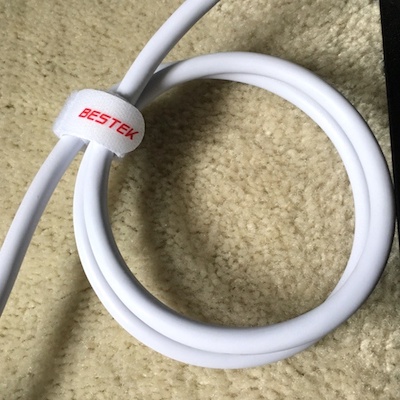 The power plug itself is also nice. It's designed to drop below your outlet, making room for other plugs. It's also got some nice ergonomic grips on either side to facilitate removal. Little stuff like this make users (and product reviewers) happy.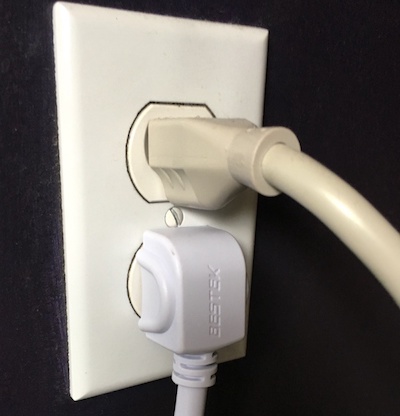 You'll have a total of 7 power ports when installed: three traditional three-prong outlets, three USB ports, and one USB-C port. I just got a new MacBook Pro, and I love the inclusion of the USB-C port here. It allows me to free up one of the three-prong outlets for other stuff. Again, this makes me happy.
As far as protection goes, you have a bunch of safety features to protect your precious electronics. There's protection from over-heating, short circuits, power surges, and overloading. It's also FCC certified for reliability and quality.
What I like
Designed to accommodate a wide variety of power blocks
3 USB and one USB-C port that won't fight for space with your 3-prong plugs
Good looking, compact design
5′ long cord makes for easy positioning on your desk if desired
Wall-mountable
Nice usability features
What needs to be improved
Final thoughts
The Bestek 3-Outlet Vertical Cube Mountable Power Strip is a great upgrade for your charging needs. It looks great, handles USB and USB-C duties in addition to traditional three-prong plugs, and you can mount it just about anywhere you need it. The little usability and safety details are all on point. What's not to like?
Price: $27.99
Where to buy: Get it at the Bestek Web Site.
Source: The sample of this product was provided by Bestek.