We use affiliate links. If you buy something through the links on this page, we may earn a commission at no cost to you. Learn more.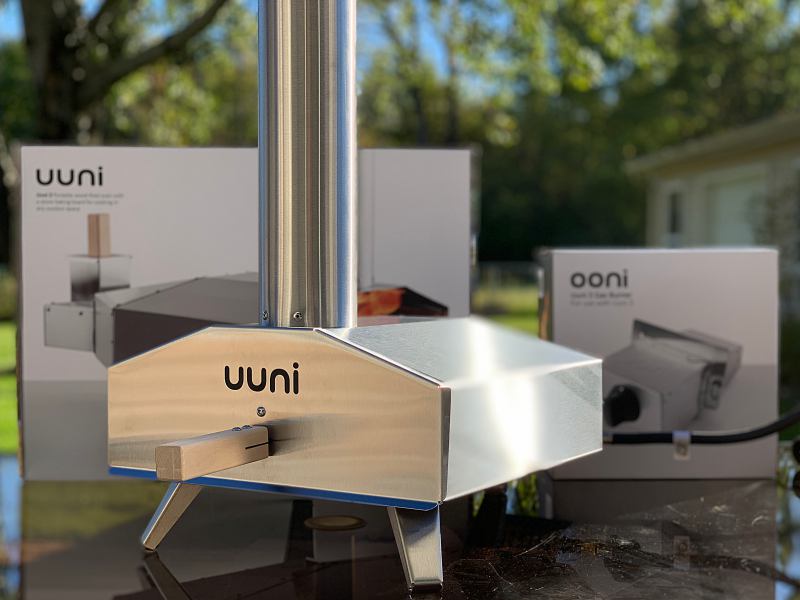 REVIEW – Back in April, I wrote about the Uuni 3 portable wood-fired pizza oven. Since then the company changed the spelling of their name, they're now known by Ooni, and they've added a gas burner attachment to their lineup. I was extremely excited when Ooni sent me both units to try out for myself.
What is it?
The Ooni 3 is a portable outdoor wood-fired pizza oven that's capable of reaching a temperature of 932-degrees in 10 minutes and cooking a pizza in 60 seconds. The Gas Burner for Ooni 3 attaches right onto the back of Ooni 3, providing a convenient and easy option to power the oven with gas.
What's in the box?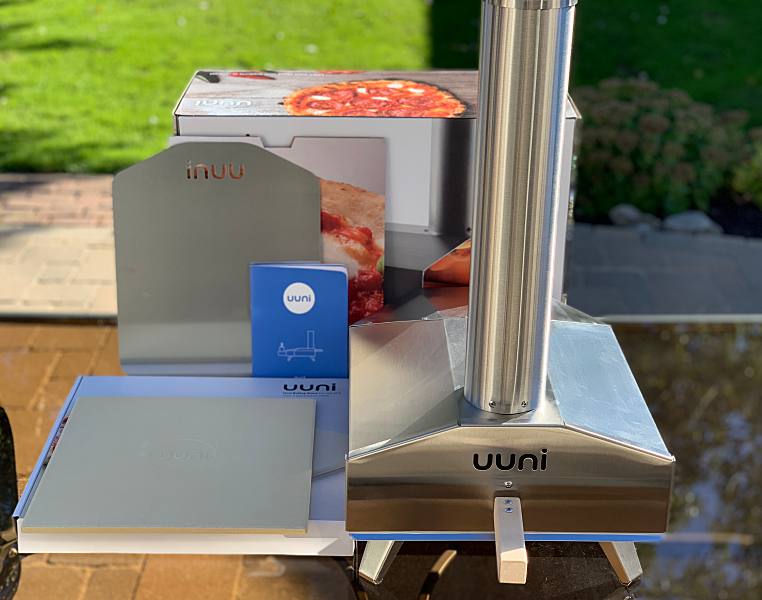 Ooni 3:
Ooni 3 pizza oven

Wood pellet burner

Cordierite stone baking board

Pizza Peel

Manual and safety instructions

Gas burner for Ooni 3:
11 WC regulator with gas hose

2 x 10mm screws and Allen key

Extendable match holder

Instruction manual
Design and features
Both the Ooni 3 pizza oven and gas burner are made of 430 brushed stainless steel for heat and weather resistance. The oven body is insulated with ceramic fiber for improved heat retention. The units lightweight and clever design including hinged legs and a removable chimney make it incredibly portable. Perfect for tailgating, picnics, or camping. Ooni even sells a cover/bag so  you can easily transport your Uuni 3 wherever you like.
Setup
The oven is really easy to set up. Put the legs down, slide the cordierite pizza stone into the oven, and attach the gas burner onto the back of the oven. The video below shows how to attach the gas burner and hook it up to your propane tank.
Once set up its time to turn on the burner and preheat the oven. 
Since the oven gets really hot, it's recommended to set it up on a wooden table. I used a small foldable table and just placed a piece of plywood on top. That worked nicely.
Let's make a pizza
The Ooni 3 needs to preheat for 10-minutes which gives you time to prepare your pizza. Ooni recommends using their dough recipe for the best results. Unfortunately, I was unable to find the 00 flour needed to make the dough at any of my local grocery stores or specialty markets. Luckily I was able to find a small Italian bakery near me that made their own pizza dough fresh daily, so that's what I used.
The toughest part of making a Neapolitan-style pizza is stretching the dough. It takes practice and a little patience. There's a helpful video on Ooni's website that shows how to stretch your dough. The website is a great resource, it has a lot of videos with tips, recipes, and FAQ's, which I found very helpful. They even have their own YouTube channel which I recommend subscribing to.
It's important to prep the Ooni pizza peel before stretching the dough. This is done by sprinkling flour onto the peel ( I recommend using semolina flour, it has a higher burn point then regular flour and creates a flavorful, crunchy bottom crust ). The biggest thing is to make sure that the pizza easily slides around on the peel.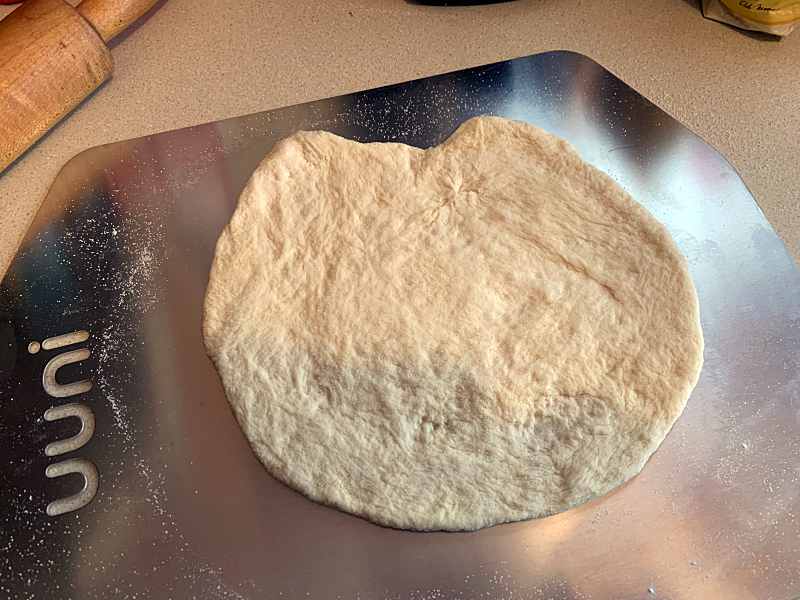 I stretched the dough into a 10-inch pie and then put on my toppings. For my first pizza, I went simple with just cheese and pepperoni.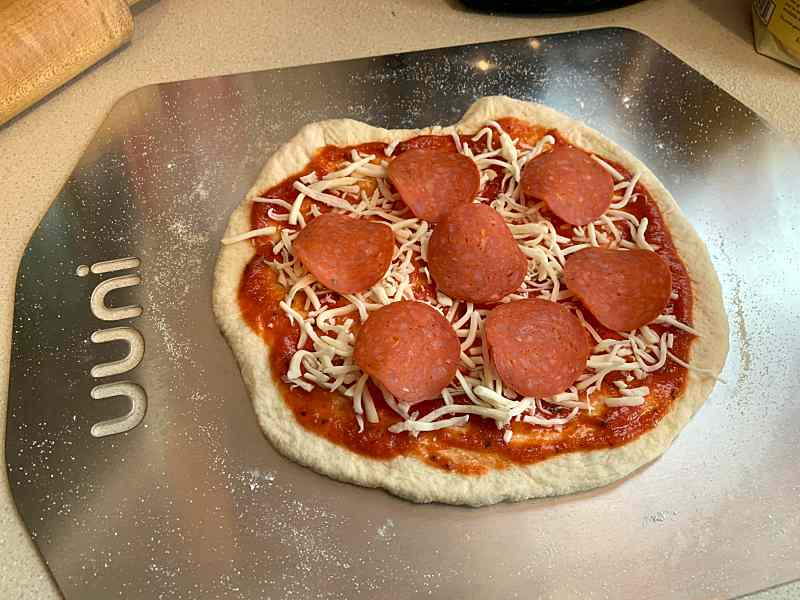 Launching the pizza into the oven is another thing that takes a little preparation and practice. I posted a short video below showing how to launch and cook your pizza.
The whole cooking process took just over a minute. I think the cooking time is dependent on toppings and thickness of the dough. It's very important to keep an eye on your pizza and the time because this thing really cooks quick. Truth be told I burnt my first attempt, it was still edible but burnt more then I wanted.
Much like cooking with a grill, it takes practice and repetition to get the best results.
I found that taking the pizza out and rotating it on the peel every 20-25 seconds worked pretty well.
Time to mangiare!
Now that the hard part was over it was time to taste my pizza. In a word it was Delizioso! The crust had a nice outer crunch, but, was soft inside and the flavor was outstanding. Without question, the pizza I made in the Ooni 3 rivaled that of any I've had from a restaurant. 

I can't wait to try cooking other things in the Ooni 3. That's right the Ooni 3 can cook more than just pizza. With their cast iron Sizzler Pan you can cook vegetables, seafood, meat, and poultry. Guess what's going to be on my Christmas list this year? Look for my further cooking adventures in a future review update.
Go gas or go home
The Gas Burner attachment for the Ooni 3 IMO is the perfect accessory for this oven. It's easy to use and makes reaching the perfect temperature almost foolproof. And if you plan on using Ooni to cook other foods, it gives you better control over the ovens cooking temperature.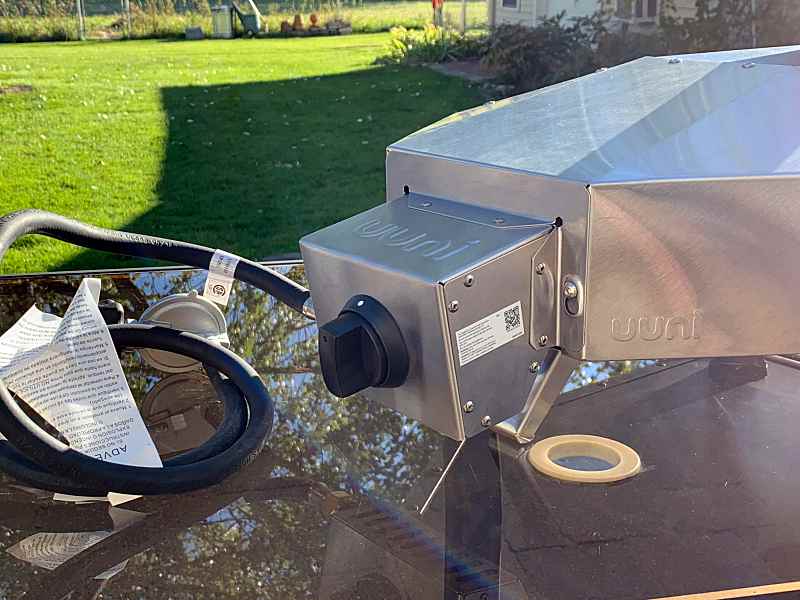 What I like
Portability

Easy to use

Makes a great tasting pizza in 60-90 seconds

Ability to cook other foods with purchased accessories
What needs to be improved
Would be nice if they included a cover/carry bag with purchase
Final thoughts
The Ooni 3 portable pizza oven and Gas Burner attachment are FANTASTIC! The ability to cook a great tasting pizza outdoors in 60-seconds is amazing. I had read good things about the Ooni 3 prior to receiving it but, I was amazed that it lived up to the hype. Great job Ooni! If you love pizza or just cooking outdoors in general then the Ooni 3 is a must have for your backyard. The Ooni 3 portable outdoor pizza oven – That's Amore!
Price: Ooni 3 – $299  Gas burner – $85
Where to buy: Amazon
Source: The sample for this review was provided by Ooni.