We use affiliate links. If you buy something through the links on this page, we may earn a commission at no cost to you. Learn more.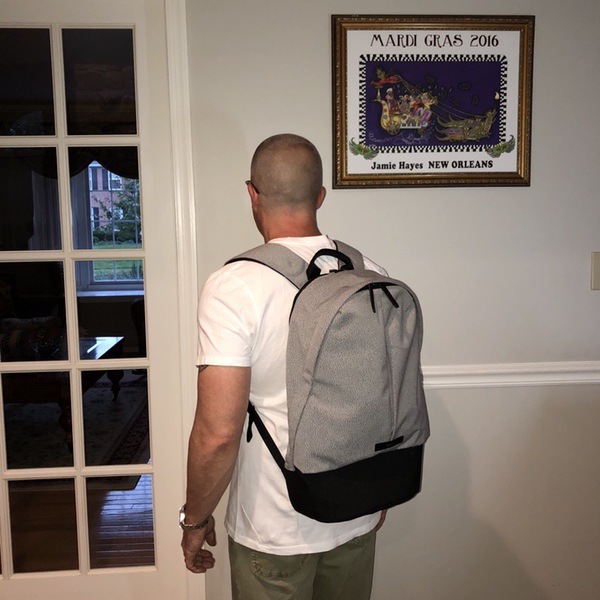 REVIEW – That's how I would describe the new Bellroy Classic Plus Backpack. After a month of testing, it just might be my favorite bag design of the year. To the review!
What is it?
It's a 22-liter all-around backpack with a separate compartment for a 15" laptop designed for work, school, travel and play.
Hardware specs
21" tall by 15" wide by 9" deep
2.2 pounds
22 liter capacity
YKK and YKK Aquaguard zips
Water-resistant Venture-weave polyester with leather accents
Design and features
The Bellroy Classic Plus is a smart looking bag. It's a contemporary design that uses subtle geometry to put a grownup spin on the traditional bullet-shaped backpack form, without losing any of the function. Check out the sleek profile: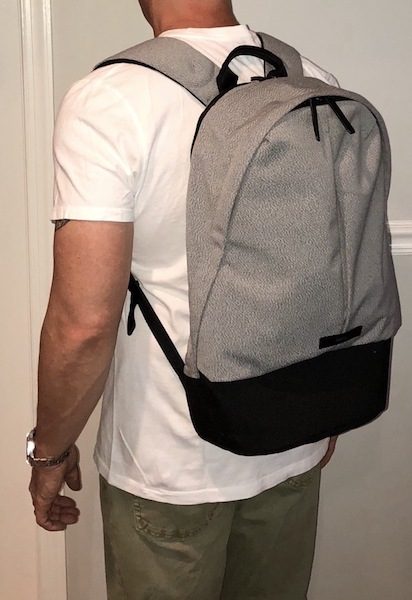 The combination of upscale materials and leather accents make this a bag that does high-end casual style right. You'll also be able to pair it with a sports coat or business wear instead of a briefcase. It's that good looking.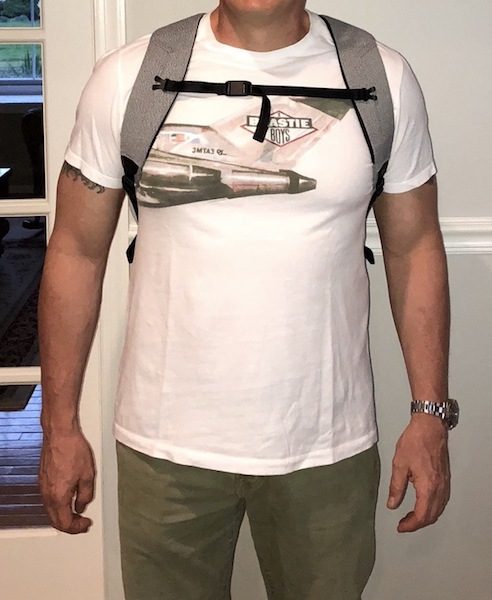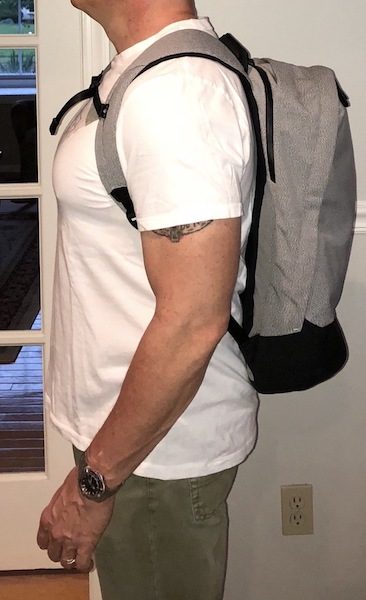 I was a huge fan of the Bellroy Tote Pack last year, and the Classic Plus continues that tradition of amazing construction. The primary material (called Venture weave) is supple with a nice texture. It imparts the same durability and water resistance as Cordura, without that rugged industrial feel. It's a great choice to pair with the style of this bag.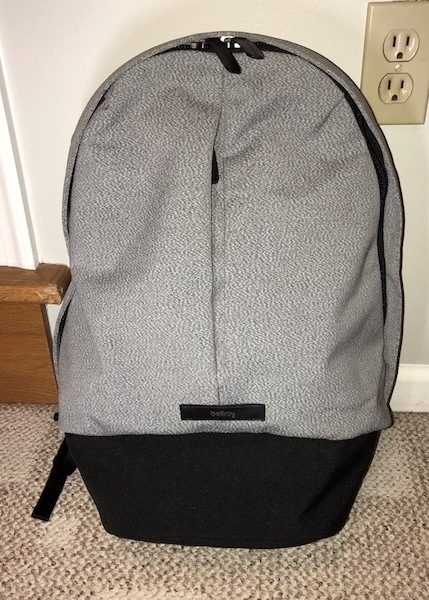 The detail work is excellent, right up there with carry icons like Tom Bihn. YKK zips are used throughout, with Aquaguard zips on the external entry points for extra water resistance. You'll find leather accents in all the right places. The supporting materials in the liners and pockets are just as good, and the finishing work throughout the bag is among the best I've seen. There isn't a single detail that isn't overbuilt, reinforced and trimmed to perfection. Check out some of the fine details: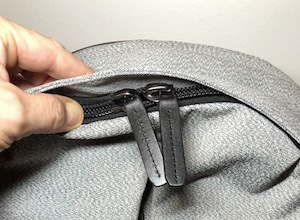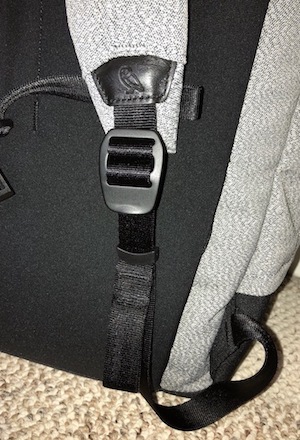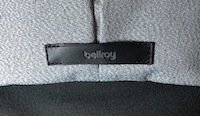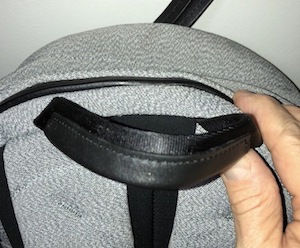 The form factor is that of a top-loading pack, with two main compartments. Your laptop rides in the padded rear compartment, closest to your back. I've got a a 13" MacBook and my iPad Air in there for reference, but I've carried a 15" Thinkpad with no space issues: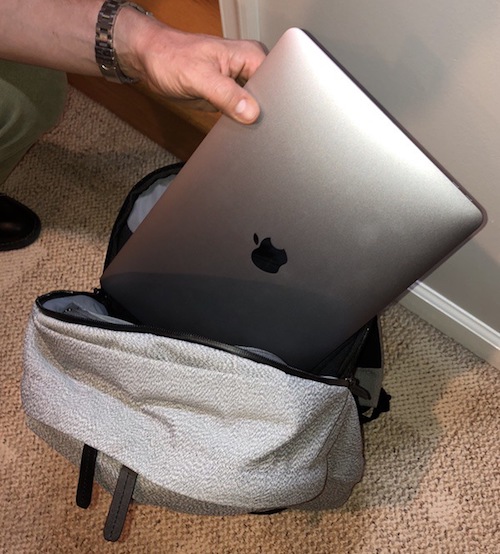 You'll also find a 5" by 9" flexible fabric pocket for your chargers and cables here, positioned at the top of the space for easy access. This pocket is designed so that it bellows into the main compartment, and doesn't cramp your laptop space.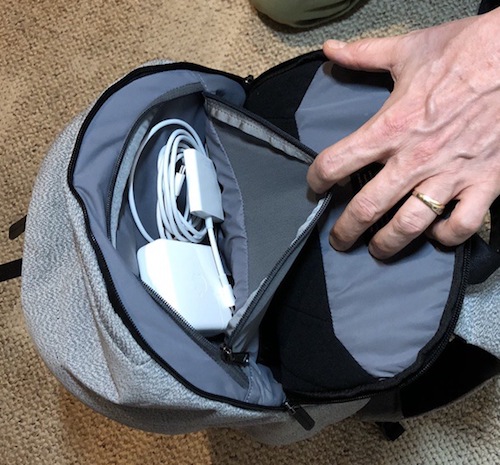 The 6″ deep main compartment is accessed by dual zips that, rather than set parallel to the vertical profile, are set at a reverse angle. This not only creates an interesting style element, but it also makes it easier to get into the depths of the space. There's an  elastic pocket at the base that will take an oversized water bottle (I have a Contigo bottle in there in the pic):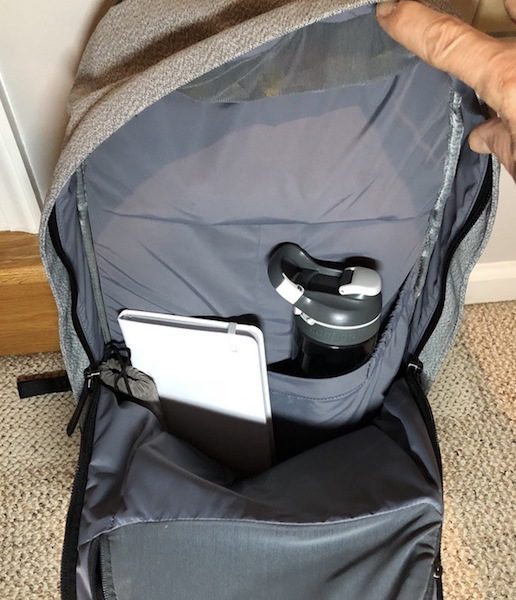 On the inside front panel of the main compartment is a multipurpose storage pocket that also uses a bit of design magic to optimize the space. Here's a look at the pocket from the inside of the bag: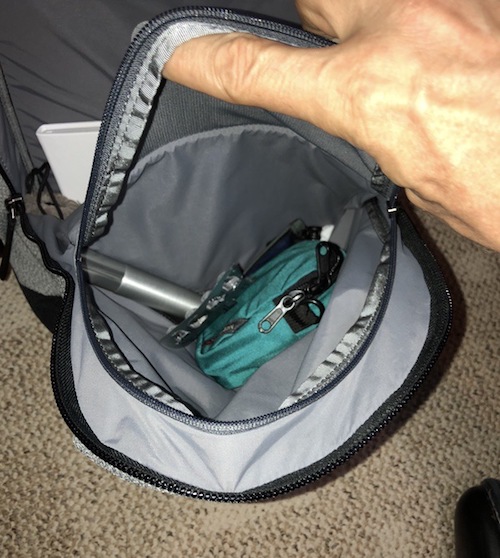 Now check this out. See that shelf from the external view? That internal pocket bellows outward so that you can load it up without encroaching on the main compartment. Very clever. It also adds a bit of flair to the contemporary look: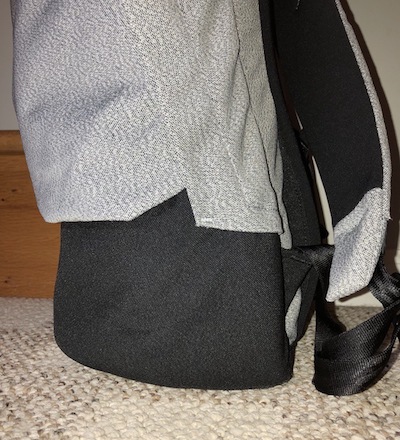 You've also got two concealed external pockets for your quick-grab items, hidden behind concealed zips built into the seams of the bag. A horizontal zip at the top of the bag (behind the laptop zip) reveals a 10" by 2" flexible mesh pocket, suitable for a phone or other small stuff. Note that it's anchored to the rear panel of the main compartment under the hood, so that doesn't get in your way when rummaging in the bag: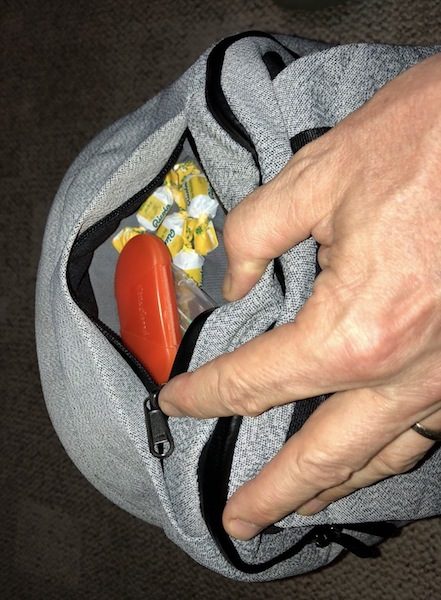 The second external compartment is on the front face of the bag, accessed by a vertical zip. This 4" by 12" pocket includes a ring that could be used for your keys or an attachment point for organizer pouches. This pocket is also on the left side of the front panel, so it doesn't compete with the internal water bottle pocket if you're packed out.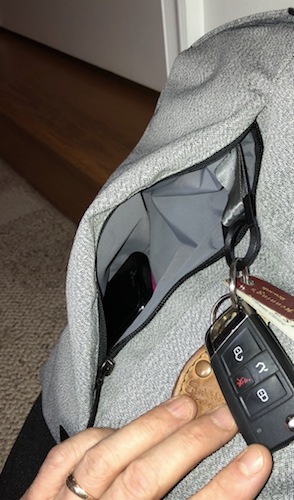 The carry rig is really comfortable. A slender back pad runs the length of the back of the bag, and includes an extra bit of lower padding for lumbar support.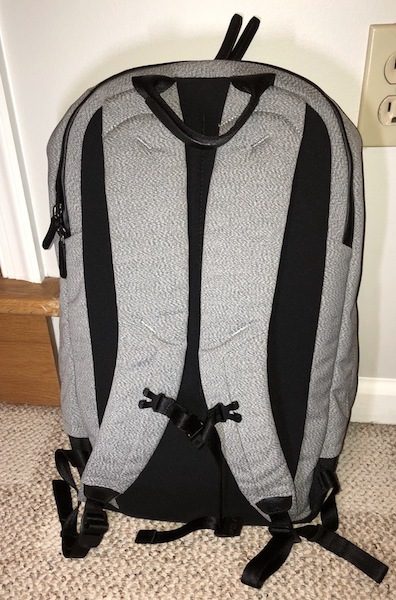 Wide, thinly padded shoulder straps are contoured to hug your body. You'll also find locking collars to manage those extra strappy bits on the adjustment straps. The addition of a sternum strap helps stabilize your load and employ a unique magnetic clip design for easy connection and removal. Once it is clipped, it stays until you unlock it.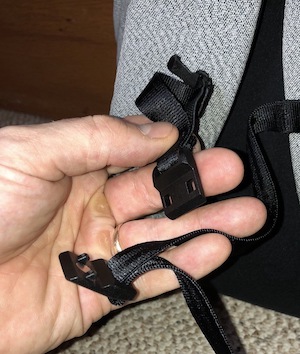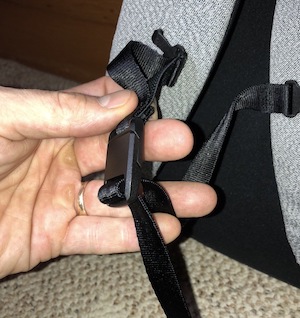 The Bellroy Classic Plus is rated at a 22 liter capacity, which seems about right based on my normal loadout. We'll talk more about that in the next section.
Performance
The Bellroy Classic Plus Backpack is a finely-tuned bag that's dialed in for the daily commuter. If you regularly carry a laptop and the assortment of office essentials, you're going to love the simplicity and usability of this bag. Everything is easy to get to if you're running into meetings or the coffee shop, and the slim profile is great for running lean. As I mentioned before, the grownup style of the bag makes it ideal as a briefcase replacement.
As far as capacity goes… it's just about right for a daypack with a bit of room for extras. The Classic Plus makes optimal use of every square inch of the bag with some really innovative design. The whole build, however, is tight and compact. This is not the kind of bag that can accommodate your gym sneakers or a six-pack you snagged on the way home along with rest of your work stuff. The pocket for a hydration bottle (or even a bottle of wine!) is nicely tucked inside the bag for that streamlined look, but it will eat up a lot of usable space. The layout is so well executed, however, that I am OK with foregoing the extra capacity for the streamlined style and excellent usability. If you're carrying your world on your back every day, this probably isn't the best choice for you.
I should note that, while the bag is extremely comfortable to carry, there's no back channel to promote air circulation. Heat can build up back there on a warm day. The padding on the back and the straps are also smooth; while this does mean that you're not dealing with that scratchy mesh weave found on many packs, the shoulder straps can slip if you don't use the sternum strap. These were both minor issues in my testing, but important to note as you are considering this bag.
I also see this bag as an excellent traveling companion or day-tripper. It is sized perfectly for under-seat stowage and looks good enough that you can use it for business meetings in addition to sightseeing trips at your destination.
There's another aspect of this bag that merits serious consideration: the value. Style-oriented bags can get expensive pretty quickly. The Bellroy Classic Plus gets you high-end style, innovative design, and superb construction for under $200. That's really impressive.
What I like
Top-tier construction and materials
Contemporary styling
Excellent layout and usability
Extremely comfortable for all-day carry
Sized just about perfect for a daypack and carry on
What needs to be improved
The layout favors organized packing, which may not work for some users
Back panel can get sweaty on warm days
Shoulder straps can slip a bit without using the sternum strap
Final thoughts
Bellroy has become one of my favorite carry brands, and the Classic Plus Backpack is another winner. There's a lot to love here as a work bag, a day-tripper, or a travel companion. In my opinion, it's also a relative bargain at a $179 price point. Given the quality of the bag, you're getting huge value for the dollar. If you're looking for an upgrade to that bargain backpack you've been hauling around, this is one that should be on your short list.
Price: $179.00
Where to buy:Bellroy web site and Amazon
Source: The sample of this product was provided by Bellroy.