We use affiliate links. If you buy something through the links on this page, we may earn a commission at no cost to you. Learn more.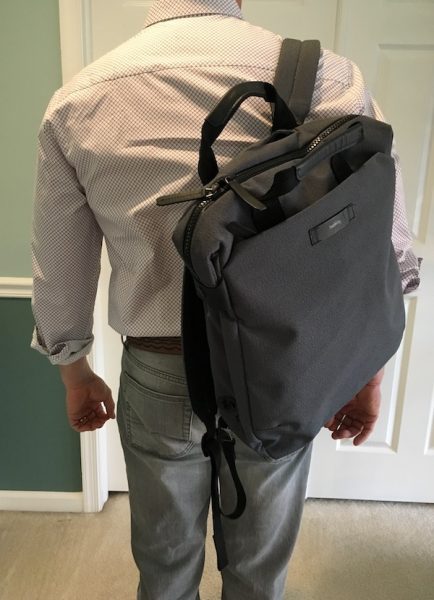 Hailing from Australia, the folks at Bellroy have built a reputation for their sophisticated, minimalist wallet & accessory designs. This fall, they're introducing their first work bags and backpacks. We've got our hands on the Duo Totepack, and it's a beauty. Let's check it out!
Walkaround
The Bellroy Duo Totepack is a bit of a chameleon. It's a tote, but it carries with the style of a briefcase. It's also got the organization of a vertical messenger bag and converts to a backpack. The shape of the bag is contemporary, clean, and focused. As we'll see in the walkaround, however, there are all sorts of organization & functionality hidden in this stealthy package. 
The Duo Toteppack measures 15" by 13" by 3" and is gently contoured so that it widens as you reach the bottom of the bag. It's a simple, elegant shape is also expandable. The tote-style main opening is wider than the bag, but those extra flaps tuck & button down under leather loops on the side of the bag when you don't need them. There are also a pair of slide/lock buttons on the side panels that, when released, open up the body of the bag to its full 15 liter capacity.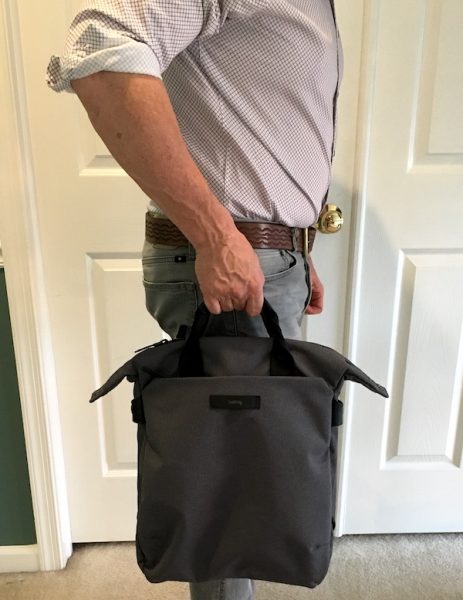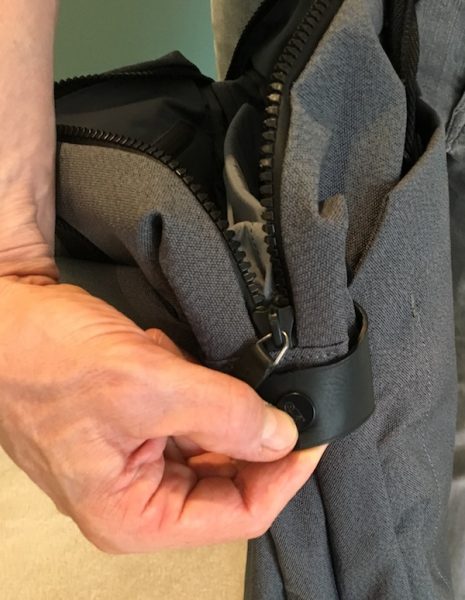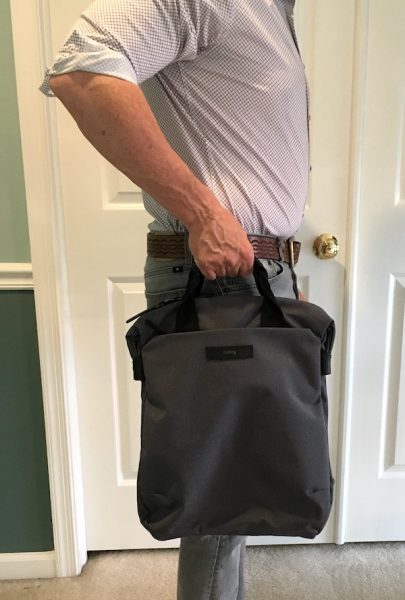 You have two carry options with the Duo Totepack. A pair of wide leather-wrapped handles at the top of the bag enable briefcase-style carry. You'll also find backpack straps that disappear into the rear pocket when not in use. These straps are built for daily use with metal hardware, light padding, and finishing that matches the style & substance of the rest of the bag.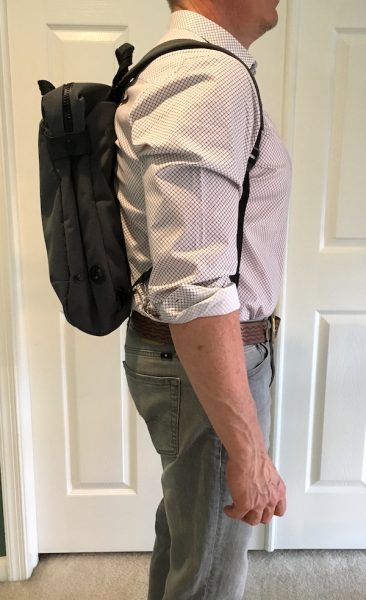 Overall the bag makes a very modern design statement that's at home in both business and casual environments. As a stylish accessory, you'll be hard-pressed to find a better looking bag for urban adventures.
Organization & Layout
The Bellroy Duo Totepack features excellent organization, with an impressive amount of attention to functionality and practical usability. There are a total of 12 (yes, twelve!) compartments & pockets in this bag designed to satisfy all of your organization needs. Here's how it all breaks down.
First up, there's a 12" by 13" compartment on the front face of the bag, which includes two 5" by 5" drop-pockets (one is padded & elastic) and a pen slot for quick grab items.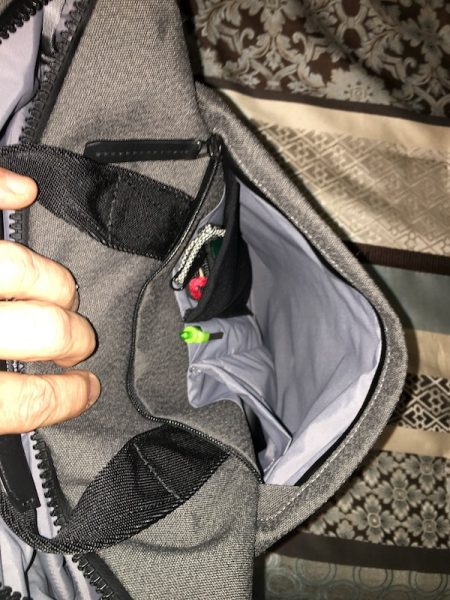 Next is the main compartment. A 3" deep main area includes a padded laptop slot for up to a 15" MacBook Pro, a rear pocket that will fit an iPad Pro in a case, and a semi-rigid document divider with a magnet seal that snaps to the laptop pocket. There are also two 6-1/2" by 6" zipped pockets for accessories and 7" by 6" elastic pocket at the base of the bag for a water bottle or power brick.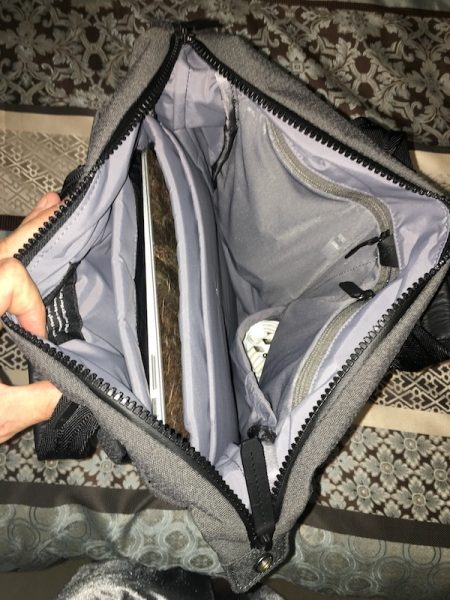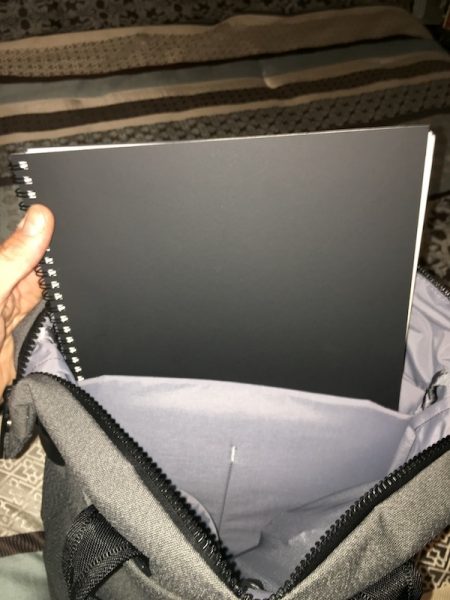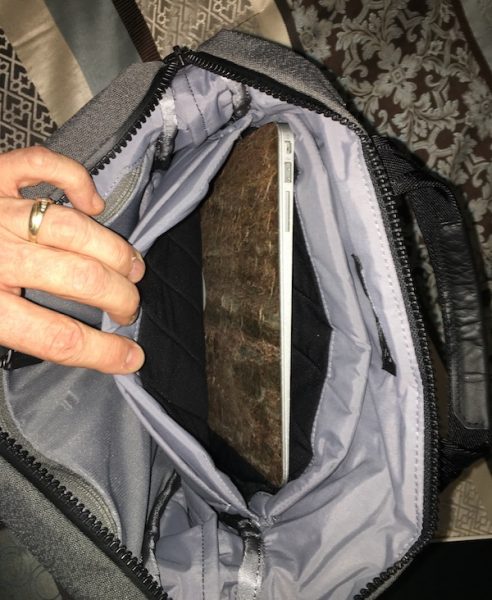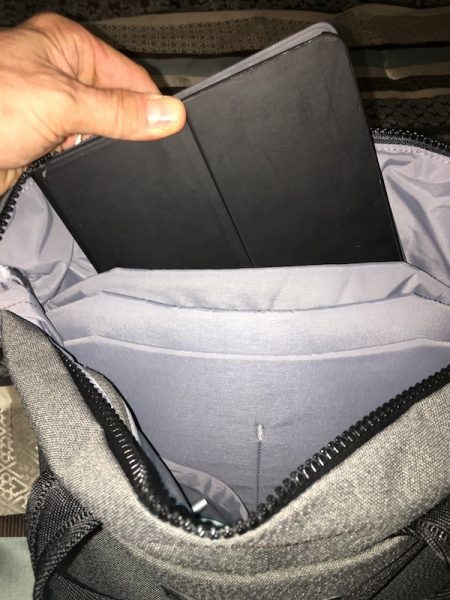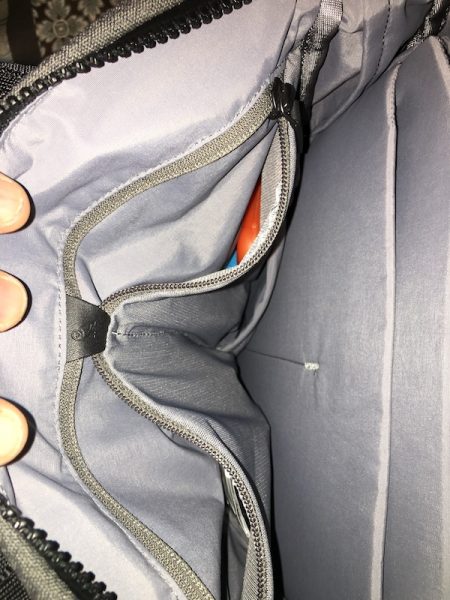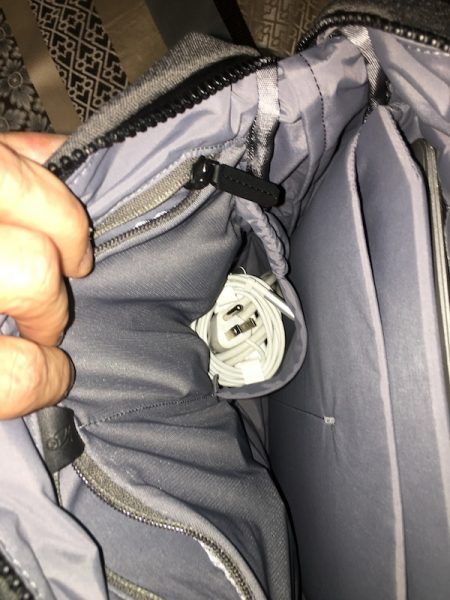 Behind the main compartment, you'll find an 8" by 6-1/2" quick access pocket accessed from the top of the bag for your phone, keys, headphone, etc.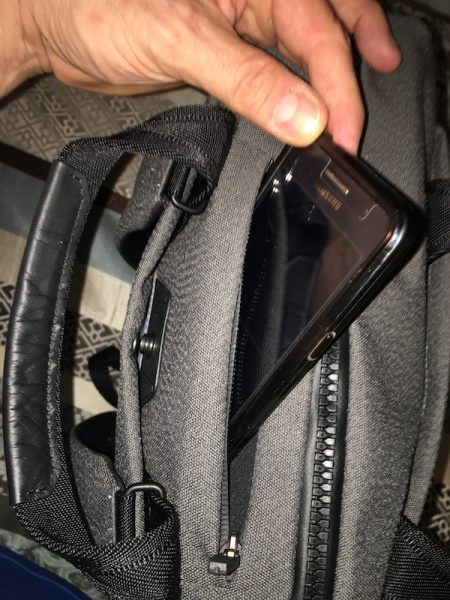 Finally, the rear pocket not only stores the backpack straps but is also padded and can hold an tablet or a notebook. It also has a button snap for additional security.
This sounds like a lot of pockets, but Bellroy has done an excellent job of sorting out the layout of the Duo Totepack. Every pocket is wide and deep to accommodate a variety of items; even the pen slot will hold two pens. Positioning on all the pockets is also excellent, with easy access from the top of the bag even if you're fully loaded with gear. The whole layout is flexible and very easy to use.
Construction and Materials
In addition to innovative design, Bellroy is also known for the quality of their products. The Duo Totepack scores big here with top-shelf materials, construction, and finishing.
The primary material is fantastic. It's got the toughness and weather-resistance of a Cordura, but the tight weave pattern is more sophisticated and has a nice hand feel. It's described as moss green, but there's a subtle dark heather to the pattern that reads more to me like a dark grey in close-up shots (there's also a black variant available). Whatever you call it, it's beautiful. Leather accents are all soft & supple. The interior fabrics are just as good with a rich texture and durability that's a step-up from typical vinyl interiors.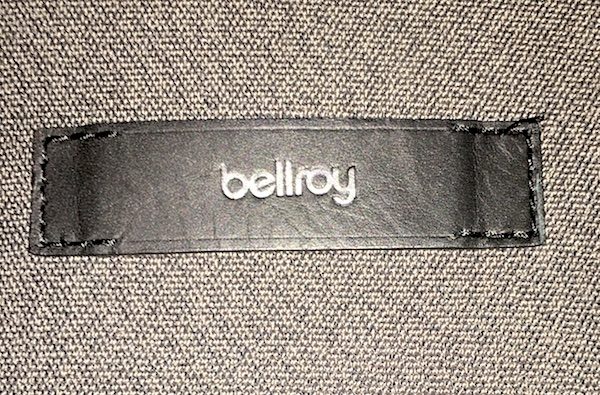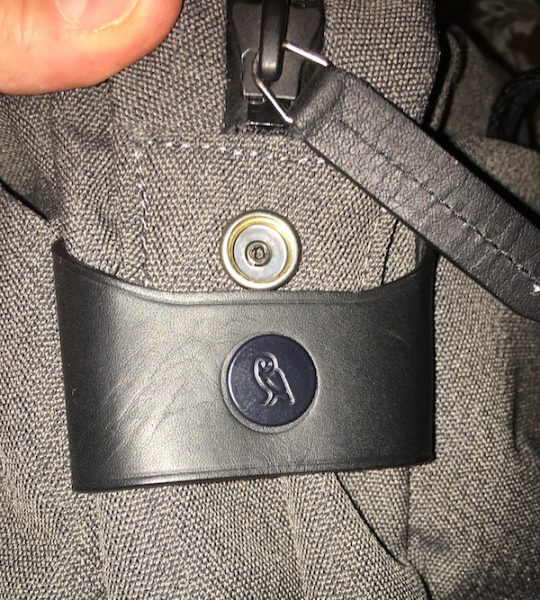 There's also no skimping on hardware, which is all metal. Every clip, ring or button feel durable without being bulky. Even those slide/lock buttons on the side include Fidlock-style clips to secure the snaps in place. YKK zippers are standard inside and out with Aquaguard zips on the externals. It's all high-quality stuff, and in alignment with the character of the bag.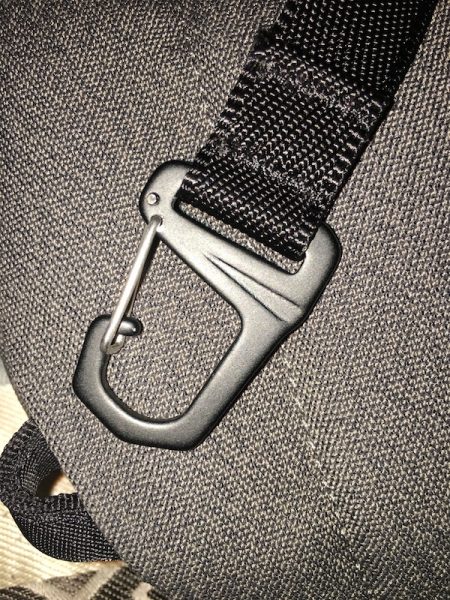 The assembly details are really impressive. I've seen a lot of bags that do nice finishing work on seams and corners, but Bellroy takes this a step further with reinforced edges on wear points, beveled corners on open pockets, and little "zipper garages" to finish the zips. As you go about using the bag, you find all kinds of thoughtful finishing points that speak to the quality in detail.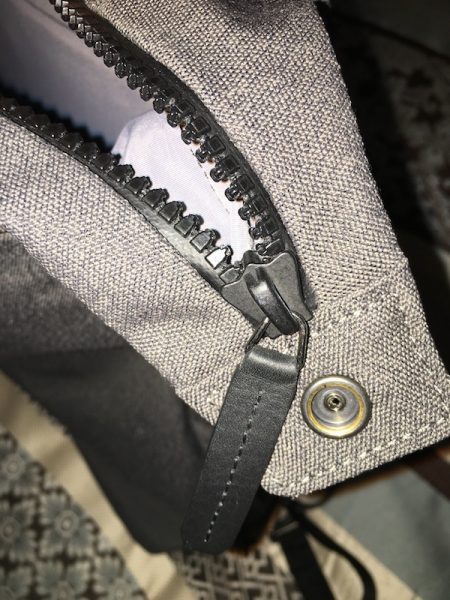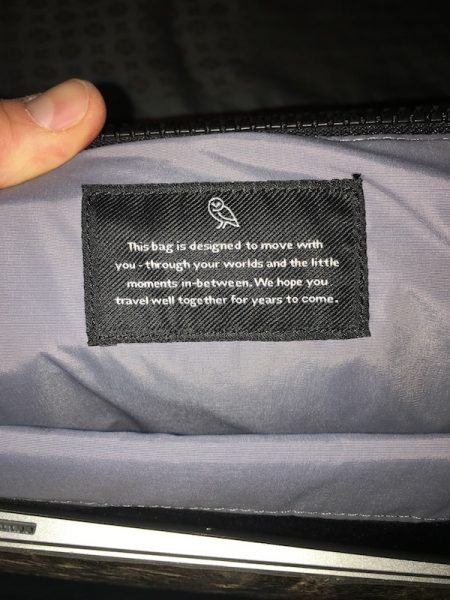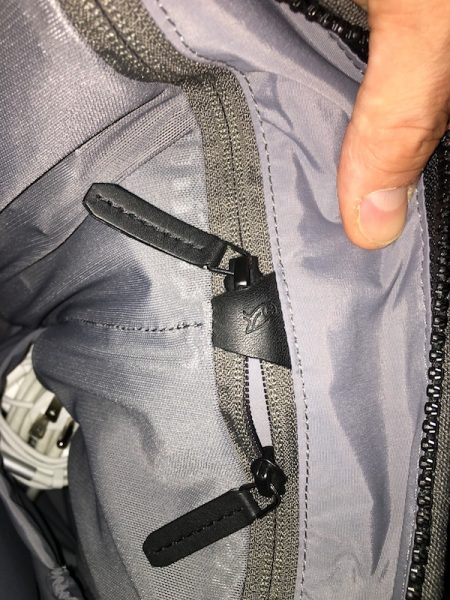 In Use
The Bellroy Duo Totepack is a great bag for the professional or creative type that looking for something that stands apart from the sea of briefcases and messengers you find on the daily commute. Not only does it make a unique design statement, but it has excellent functional usability that switches easily from business to casual situations.
The Duo Totepack has become my go-to work bag. I'll load it up with my 13" MacBook Pro, my iPad, a notebook, device chargers, a power brick, headphones, and all the trimmings. There's just enough room for all of that plus space for a light lunch. The organization is dialed in so well that I find myself using this bag throughout the day as a sling bag to manage my stuff as I run from meeting to meeting. The minimalist profile also works well for this, as I don't look like a Sherpa lugging a massive pack around the office. I really like the easy grip and handling of generous briefcase-style handles. And if you need to go hands-free, you can swap to backpack mode in a few seconds. The bag also slims down just as well when I am traveling light with an iPad and a notebook. It's also really light,  so you don't feel like your hauling a lot of extra weight along with your gear.
I should also point out that the backpacks straps are well designed for extended use. Some  convertible bags skimp on the backpack straps to save space and weight. These straps, while thin, are substantial and more than comfortable enough for a bag this size. I use the backpack straps all day long, and they're very good.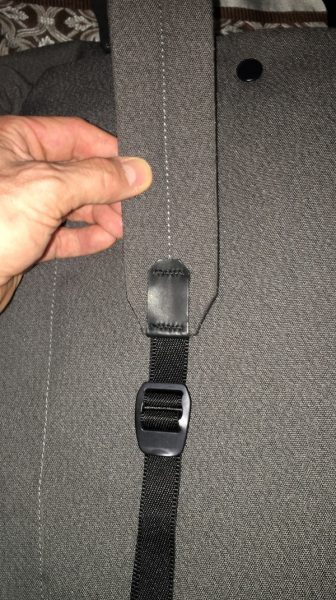 When you turn on your out-of-office notifications, the Bellroy Duo Totepack makes for a great urban adventurer. Because the design leverages all soft materials and no framing, it will adapt to non-rectilinear items if you're packing for a day trips around town (snacks, sweaters, a camera, etc.). I'd also expect it to work very well as an under-the-seat carry on item. Its slim profile makes moving through crowds a breeze. It also looks great dressed down with a pair of jeans for running about.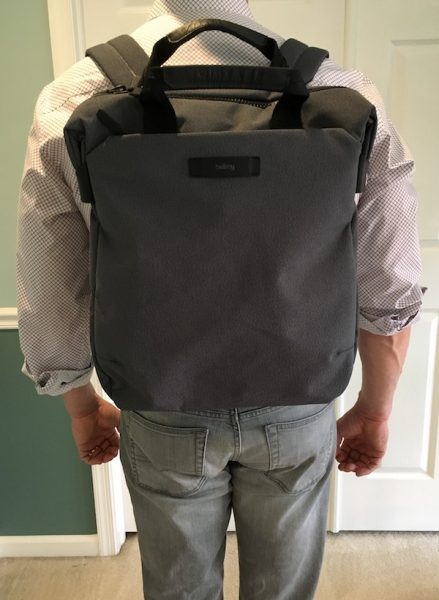 Speaking of style… be prepared for comments & compliments. I've received more compliments on this bag than perhaps anyone else I have tested. The Bellroy Duo Totepack makes a unique design statement that gets noticed.
Caveats and Considerations
There's a whole lot to like the Duo Totepack, and Bellroy has clearly attempted to perfect every detail in this bag. But there are some things that you should consider before picking one up.
First off, this bag is really designed for urban landscapes. Its tough, but it lacks the framing or beefy backpack straps that stabilize a bag on extended outdoor hikes. It's slim form is really designed for tech and accessories, with no big open compartments to accommodate outdoor gear. I wouldn't hesitate to take it for travel, but one-baggers or outdoor enthusiasts would do better with more mission-specific bags
Speaking of capacity: at 15 liters with a slim profile, this is not the choice for hauling your life on your back. Your laptop and accessories will take up the majority of the space in the bag, leaving some room for extras… but not a lot. I was actually surprised at how much it can hold if you ditch the tech gear, as the form has a lot of give & flexibility. If you need room for work gear, gym gear, and your groceries on the ride home, however, you'll need something a bit bigger.
The length of the padding on the backpack straps could be a bit longer relative to the strap length. I am a bigger guy, so those pads ride a lot higher than I am used to in my packs. They are still comfortable in my opinion but may take some getting used to if you have a larger frame.
Finally, there's the $295 retail price. Competitors like Tumi, Killspencer and Cote & Ciel play in this designer bag space; I found the Bellroy Duo Totepack's pricing to be well in line with these sorts of bag makers. Based on the quality of construction and innovative design, I believe that it's priced fairly for what you're getting… but it's still a $300 bag. If that's too steep for you, Bellroy does offer other products in their new bag lineup that are not as feature-rich but share the design language and materials found here for under $200. 
Conclusions and Pricing
The Duo Totepack is a unique bag that makes a strong creative statement. Elegant forms, innovative design, and a very usable layout make this a bag an excellent and flexible day-to-day companion for work and play. The superb construction and meticulous finishing show extraordinary attention to detail. Well done, Bellroy. I'm looking forward to seeing what you come up with next!
The Bellroy Duo Totepack retails for $289. Check out the Bellroy Duo Totepack and the rest of the new bag lineup at Bellroy's web site.
Updates 05/18/18
This is still one of my favorite bags. When I want to style things up but prefer the comfort of a backpack, this is my go-to choice. It's about the size of a compact briefcase with a similar narrow form factor, but my shoulders and back were thanking me after three solid days of running all over that technology conference. It also made for a great personal item for my flights. I checked a bag on that trip, so I didn't need a bigger personal item for all of my stuff. This guy fits perfectly under the airline seat with room to spare for a light jacket and my feet so I could stretch out a bit.
Source: The sample for this review was provided by Bellroy. For more info visit their site.
Product Information
Price:
$289.00
Manufacturer:
Bellroy
Pros:

Innovative & modern design
Excellent layout with lots of good usability
Beautiful, high-quality materials
Excellent craftsmanship & finishing
Works equally well in both carry modes

Cons:

15L capacity & slim profile may not work for everyone's carry needs
Expensive, but worth it if you're ready for a splurge