We use affiliate links. If you buy something through the links on this page, we may earn a commission at no cost to you. Learn more.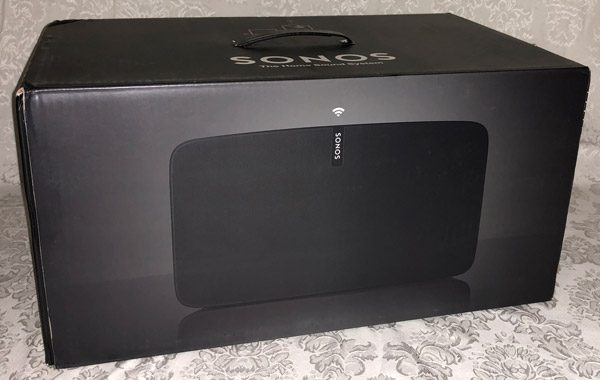 REVIEW – I have been a Sonos fan for years and continue to slowly expand my collection in my attempt bring music to all corners of my world. The Sonos ecosystem and hardware bring excellent sound, connectivity, and control to where ever you desire. My Sonos world consists of a pair of Ones in my bedroom and Connect:AMP wired to outdoor speakers on our patio. So, when Julie asked if I'd like to try the PLAY:5 I jumped at the chance. I have been wanting to try Sonos' biggest, baddest speaker for a while now.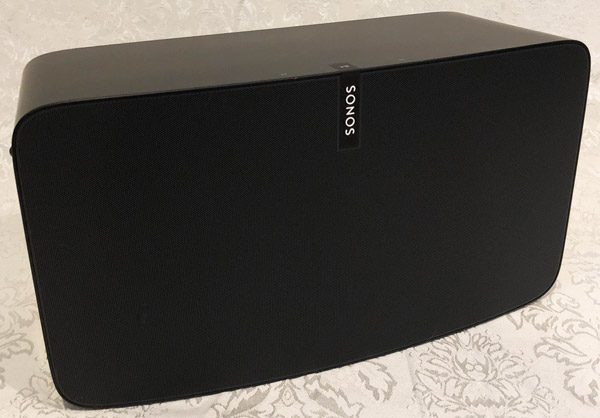 What is it?
The PLAY:5 is Sonos' largest wireless streaming music speaker to date, both physically and from a sound experience as well. The PLAY:5 is jam-packed with a complex set of speakers producing incredibly rich detailed sound, all within a surprisingly compact space. This stylish, minimalistic design works very well in pretty much any room.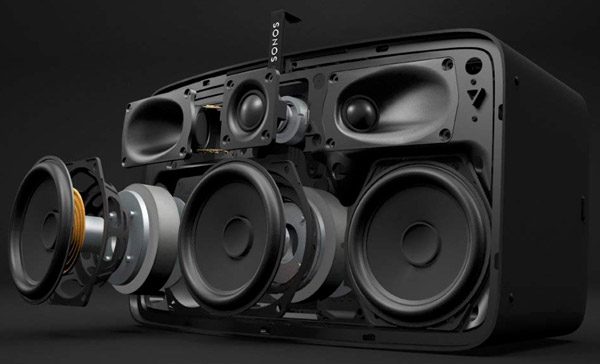 Design and features
As I stated, the second generation Sonos PLAY:5 is packed full of speakers including: three tweeters, three mid-woofers with six Class-D digital amplifiers perfectly tuned to match the six dedicated speaker drivers and the acoustic architecture.

The second generation PLAY:5 has a cleaner, softer physical design than its predecessor with round edges and small rubber feet on the bottom and sides allowing for either horizontal or vertical orientation.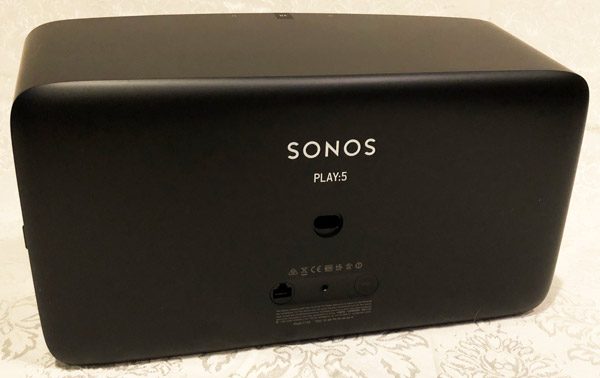 Placement and Setup:
The PLAY:5 can fill nearly any space you have in your home…sure, if you have a 10+k sqft house you might need a few.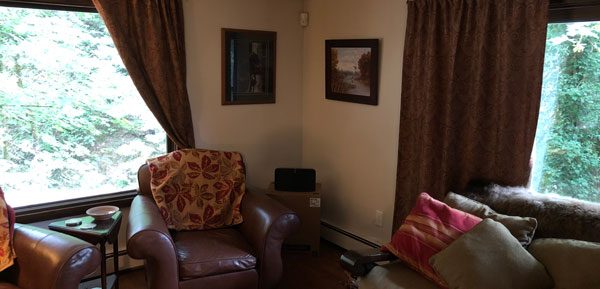 But overall the sound the PLAY:5 produces could rattle a majority of the pictures and windows in the average home. In my case, I am installing it in our living room/dining room area for holiday music/parties if nothing else ?. As you can see here, even though it is Sonos' largest music speaker, the PLAY:5 is pretty unobtrusive and fits nicely into nearly any setting.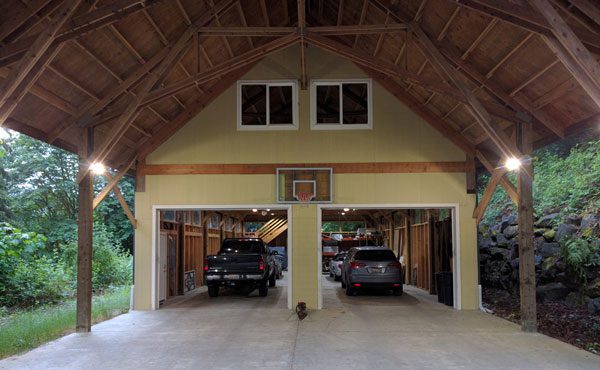 I also tried the PLAY:5 in our relatively massive garage (aka the Garagemahal), an 1800 sqft space with 12 foot ceilings that the single speaker filled nicely. But if I was going to permanently go that direction, I'd probably splurge on a pair of the PLAY:5's (and who knows perhaps the Sonos Sub as well) in that void. While not weather or waterproof, the PLAY:5 is humidity/moisture resistant and would survive in this sort of space just fine. Which is key here in the great Pacific Northwest.
Setting up the PLAY:5 is simple with the Sonos app, taking 5 minutes tops and included: connecting to my wireless network, updating the PLAY:5's firmware, and using TruePlay tuning to tailor the sound to the space. TruePlay tuning made a surprising difference in the sound experience. The PLAY:5 sounds good right out of the box but once you customize any Sonos speaker to the space it is in makes all the difference.
I placed the PLAY:5 at the far corner of our house from our wireless router, the signal has to go thru multiple walls including a huge brick and mortar fireplace. I was a bit worried the speaker would have connectivity issues but it connected to our network without issue and has not glitched yet. Though if the wireless range is a problem, the Play:5 has an ethernet port on the back you can hardwire the speaker to your router.
In addition to power and ethernet, the last port on the back of the PLAY:5 is a line-in, auto-detecting 3.5 mm connection for attaching other audio devices to the speaker.
Sound Quality:
Point blank…the PLAY:5's sound quality is stellar. At all volume levels the music experience is impressive; the PLAY:5 produces clear, rich, full sound. The Play:5 fills the middle floor of our home with music easily at a relatively moderate volume setting. I tested its range on a variety of music types from classic rock to the 1812 Overture, all sounding excellent. There was no distortion, no matter how high I cranked up the volume, the PLAY:5 delivers big, precise response on all levels. The bass is deep, bold, and not muddled. I could go on & on, but Sonos has yet to disappoint me on sound quality.
Sonos Ecosystem:
One of the best features of the Sonos universe is its overarching functionality, meaning how you manage, control, and what you can play on your speakers. You have always been able to play a multitude of streaming services (Spotify, Pandora, Apple Music, etc) on your Sonos systems but the addition of AirPlay 2 and (optional) Alexa integration have made living in the Sonos world even easier and more seamless, all with greater functionality.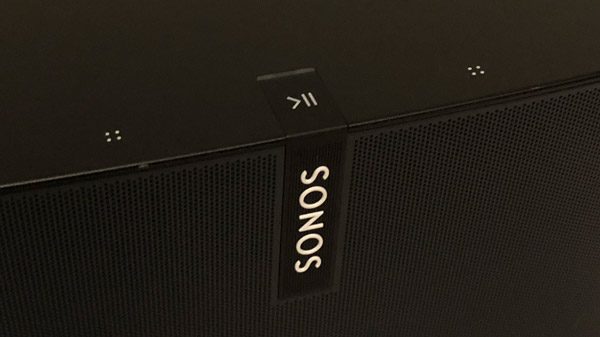 Manual Controls:
While I manage my Sonos speaker via my iPhone 99% of the time, the PLAY:5 has top-panel touch controls when need be.
Specifications:
Audio:
Six Class-D digital amplifiers perfectly tuned to match the six dedicated speaker drivers and the acoustic architecture.
Three tweeters create the crispest and clearest high-frequency response.
Three mid-woofers ensure you'll hear the faithful playback of mid-range vocal frequencies plus deep, rich bass—without distortion, even at high volumes.
Phased speaker array (three drivers on top and three on the bottom) creates a wide stereo soundstage that directs the sound left, right, and center.
Audio line-in. An auto-detecting 3.5 mm connection.
Adjustable bass and treble controls let you customize your sound by individual room or groups of rooms
Power & Networking:
Auto-switching 100-240 V, 50-60 Hz AC universal input.
Connects to your home WiFi network with any 802.11b/g, 2.4 GHz broadcast-capable router for uninterrupted wireless streaming.
One 10/100 Mbps Ethernet port. Wire directly to your router to operate your Sonos if WiFi is unstable, or use the Ethernet port to provide Internet access to non-wireless devices if you're using Boost setup.
Physical:
Dimensions – H x W x D 8.03 x 14.33 x 6.06 in. (203 x 364 x 154 mm).
Weight – 14 lbs. (6.36 kg).
Finish – White or black matte enclosure with graphite grille.
Touch-interface controls & lights
Capacitive touch controls for volume up/down, previous/next track, and play/pause. LED indicates Sonos component status and mute status.
What I like
Vibrant, full rich room-filling sound
Clean minimalistic look/style
Easy setup
Tailored room configuration via TruePlay
Excellent wireless range
Humidity/moisture resistant
What needs to be improved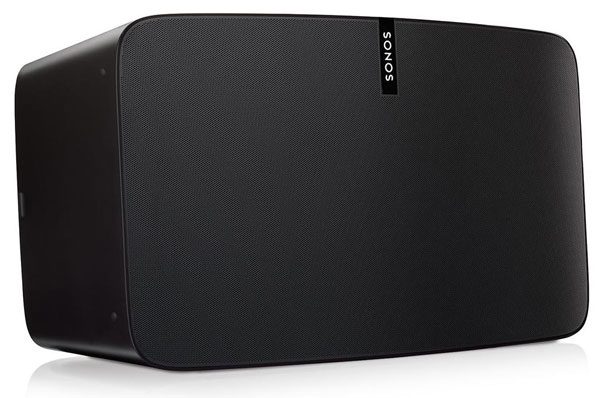 Final thoughts
The Sonos PLAY:5 is the best wireless speaker I have ever used or heard to date…hands down walking away. The sound quality is excellent, producing a rich, full listening experience. I can only imagine what a pair of them would sound like. Add the Sonos ecosystem/app, optional Alexa integration, and AirPlay 2 support makes bringing music to your world easy and seamless. We all know Apple and others are doing their best to gain smart-speaker market share but all fall far short of the universe Sonos only continues to improve upon.
Price: $499.99
Where to buy: Available from Sonos or Adorama.
Source: The sample of this product was provided by Adorama.