We use affiliate links. If you buy something through the links on this page, we may earn a commission at no cost to you. Learn more.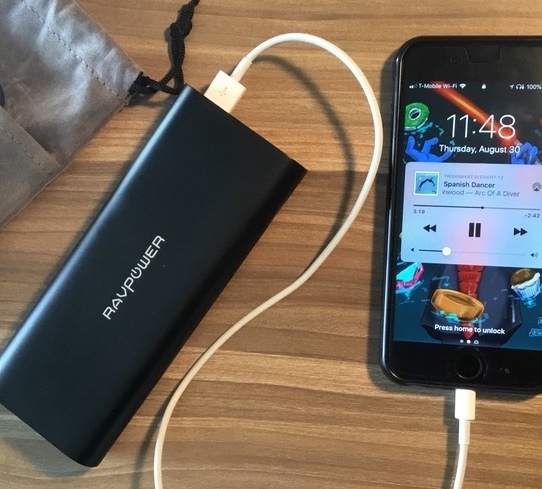 REVIEW – I know what you're thinking. Another portable charger review. They're all pretty much the same, right? No so, Dear Reader! Sometimes little details matter. I've got a updated design from RAVPower to show you what I mean. Let's check it out!
What is it?
It's a portable charger with 2 USB ports and a 16750 mAh capacity.
Hardware specs
16750 mAh capacity
4.5A Max Output
DC 5V/2A
10.7 Ounces
6.1″ by 2.4″ by 0.9″
What's in the box?
You'll get the charger, a travel bag, and two USB to micro-USB cables (one 24″, one 8″).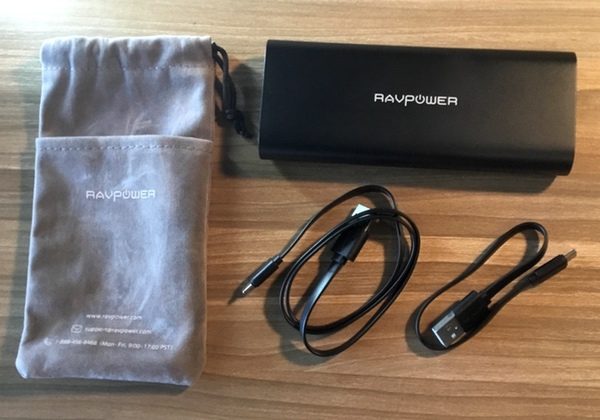 Design and features
Yeah, portable chargers are a pretty common commodity these days. But there's some nice usability happening with this RAVPower model that I think makes it a standout.
Let's start with some thoughtful convenience details. This charger ships with both an 8″ and 24″ USB to micro-USB cable, each of which has a little black band to keep it orderly. It also includes a carrying pouch with an external pocket for wrangling those cables, which has the support info printed right on the bag. Little details like this show me that someone is paying attention to user needs.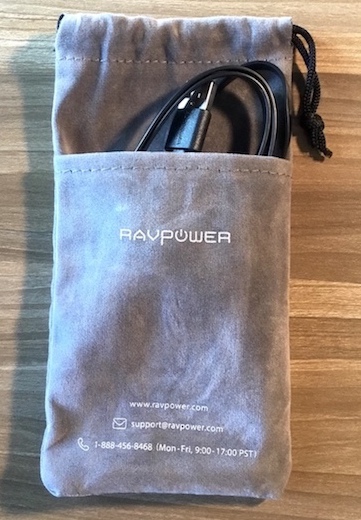 Portable chargers aren't exactly sexy devices, but this unit has a nice ergonomic shape for easy handling. That's a plus, especially when sliding it in and out of your bag.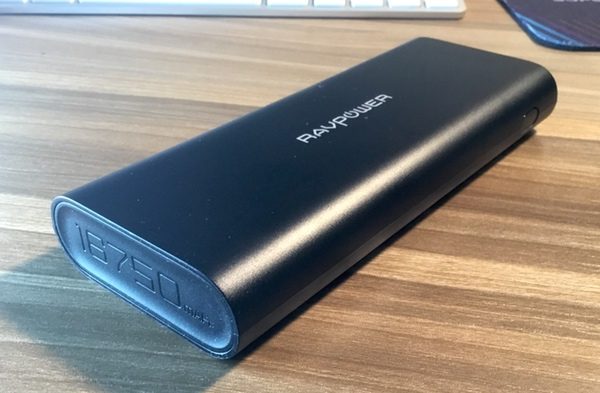 Your power button, status indicators, and input/output ports are all located on one end of the device. Hold the power button down to see how much juice you have in the unit, or to start charging if it doesn't kick in automatically when a device is plugged in: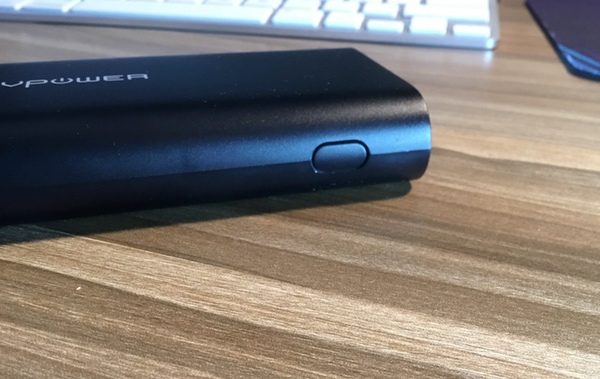 Your power indicator lights, micro-USB charging port, and USB ports are all on the end cap. The USB ports uses something RAVPower called "iSmart technology" to adjust the output to your devices for smooth, stable charging. Each port sports a 4.5A max output with protection against overcharging or short circuits: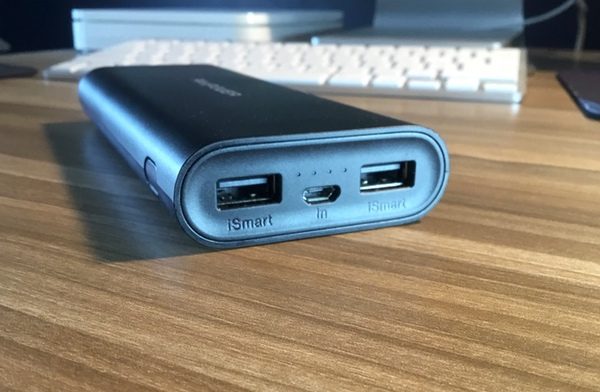 The whole charger is slightly bigger than my iPhone 6s, which means you can stash it just about anywhere in your bag. Here are some reference photos for sizing: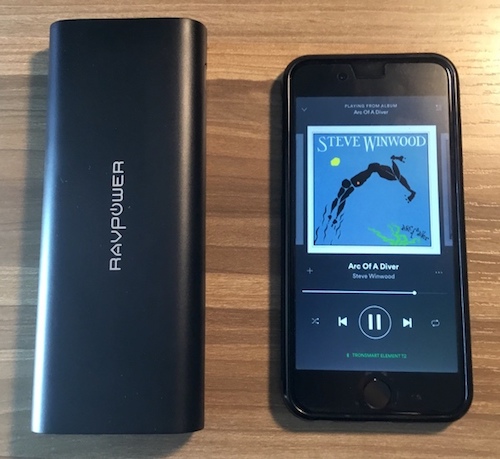 (In case you're wondering, I happened to be grooving to some classic Steve Winwood albums while taking these pics today. Great stuff. The man is a rare talent.)

With a total of 16750 mAh. RAVPower measures that output as 5.3 charges for an iPhone 8, 1.3 charges for an iPad Air 2, and 3.2 charges for a Galaxy S8. Real-world measurements can be different, but these numbers align with what I see on comparable units. It will take 9-10 hours to fully recharge using a 2A or 2.4A power source.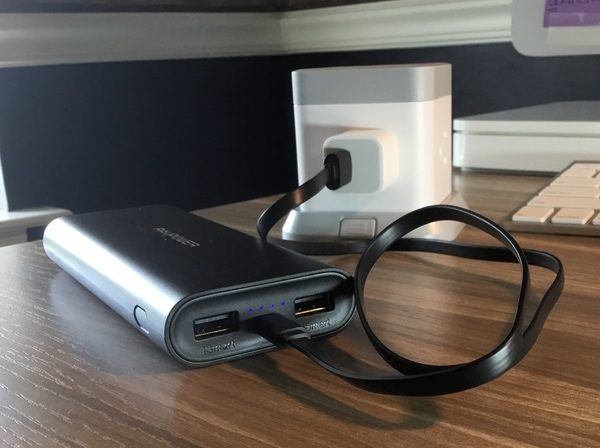 I've been carrying the RAVPower 16750 Phone Charger around with me for about a month now. The power capacity is great. I'm charging the unit once every two weeks or so, and using it charge my iPhone a couple of times a week. It's all good there.
I really like the 2 USB ports for charging multiple devices at once. I've been stuck in a couple of situations where my iPhone and Apple Pencil have both fizzled at the same time. Charging is fast, smooth and efficient.
And putting all of those ports on one end has a nice usability benefit. Check out the picture below: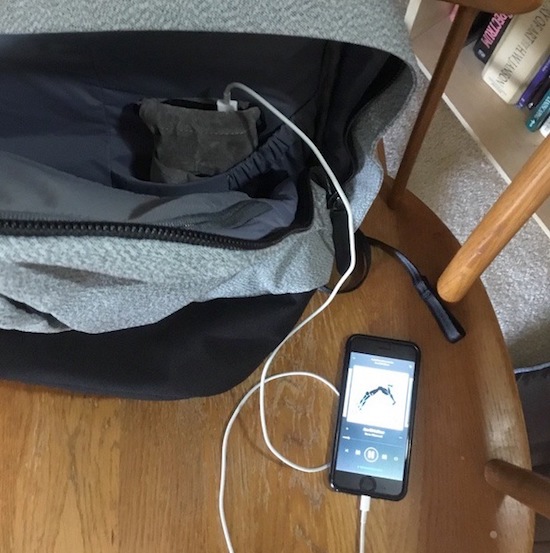 I've got the charger inserted in a pocket in the main compartment of my backpack. With a long charging cable, I can charge stuff outside of my bag while I am on the train. It's easy to get to those ports due to the simple design and adds a wee bit of convenience with the orientation of the ports on the end of the charger.
We'll see how the durability holds up over extended use. My son has an older model RAVPower charger that has been going strong for over a year now, and he was a big fan. I expect similar performance here. I'll keep you updated in the long term reviews!
What I like
Ergonomic, functional design
Ample power capacity with 2 USB ports
Long and short USB to micro-USB charging cables included
Nice carry bag
What needs to be improved
Final thoughts
This little charger has made its way into my daily carry. Great power capacity, slim ergonomic design, and some nice usability features. What's not to like?
Price: $35.99
Where to buy: Amazon
Source: The sample of this product was provided by RAVPower