We use affiliate links. If you buy something through the links on this page, we may earn a commission at no cost to you. Learn more.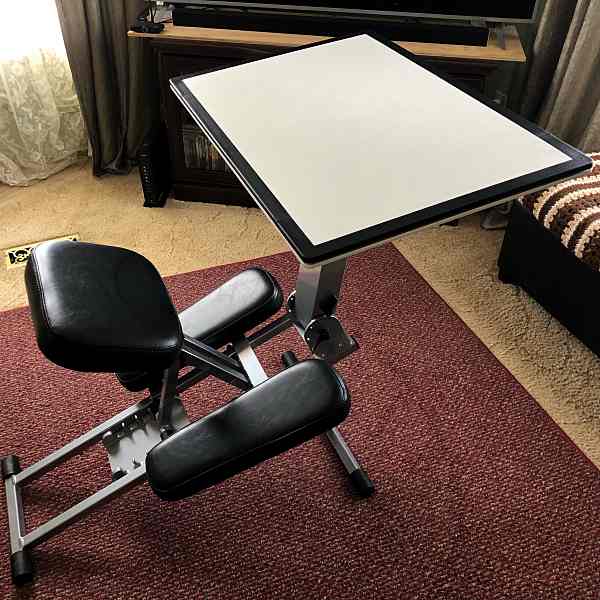 I don't have room in my home for a full-size desk so when I'm writing for the Gadgeteer I usually end up working at my kitchen table, or in my recliner. Neither one is optimal. After about an hour or so my back, neck, and legs need a break. Then I was offered the chance to review The Edge Desk system. Becuase of its portability, it sounded like it would be a perfect solution to my problem. With my back issues, I was a little skeptical about using a kneeling desk, but I decided to give it a try. Man, I'm glad I did!
What is it?
The Edge Desk is a portable, adjustable, ergonomic all-in-one kneeling desk system. It adjusts in five different ways and can go from desktop to easel. And when you're done it quickly folds down and can be put away until you need it again.
Specs
Dimensions: 40″ x 30″ x 26-31″
Weight: 28-lbs
Maximum desktop load: 15-lbs
Maximum seat load: 300-lbs
In the box
1- Fully assembled edge desk
Setup instructions
Design and features
The Edge Desk's all-in-one design is insanely cool. It's as unique as any desk system I've ever seen. The aluminum-bodied frame is very sturdy and strong, yet lightweight. And the plastic desktop provides a spacious work area.
Quick setup
Setting up the desk is quick and easy. It comes fully assembled with nicely illustrated setup instructions. I will admit first time set up was a little slow. However, after a couple of uses, I was able to set it up and break it down in around 30 seconds.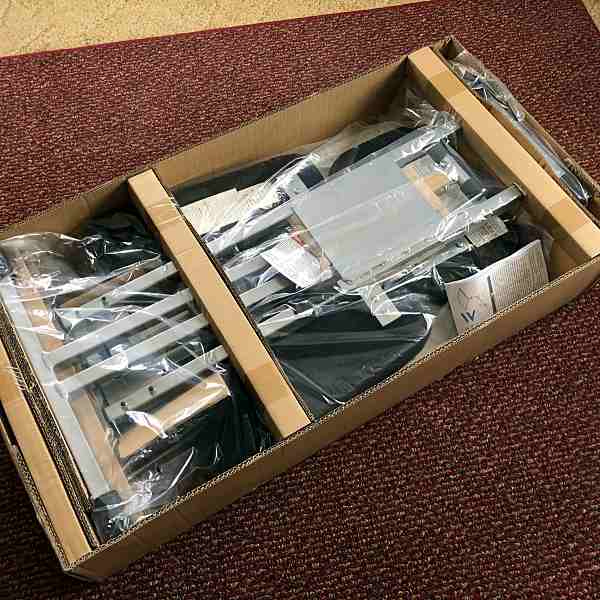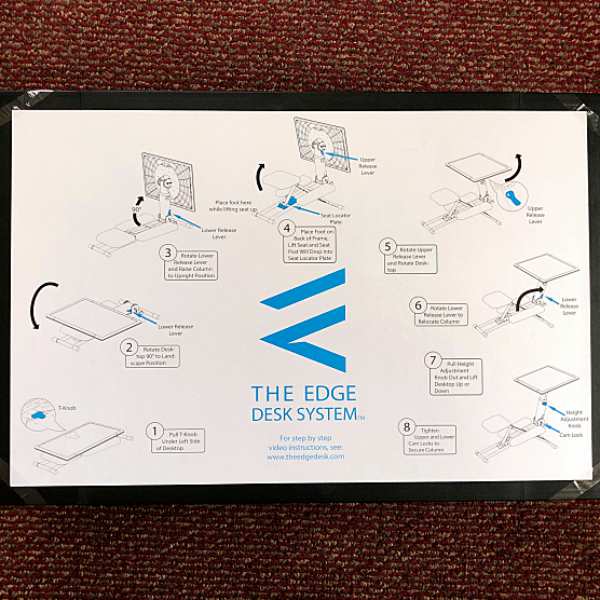 Fully adjustable
One of the great features of the Edge Desk is how fully adjustable it is. Multiple adjustments for tilt, angle, and height make it extremely versatile. There are four separate height adjustments for the seat alone. I used a permanent red marker to mark the holes once I found the settings I liked. Which made setup quicker and easier.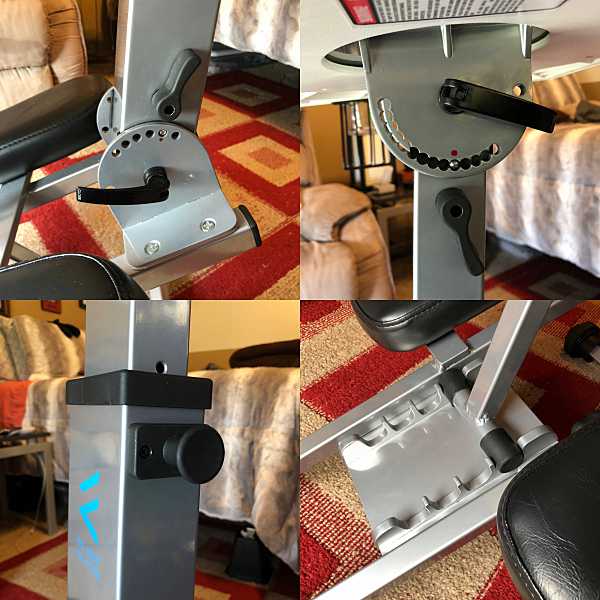 A pull-out handle located on the underside of the desk allows it to go from desktop to easel in seconds.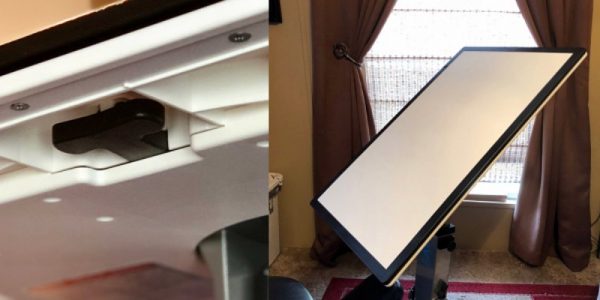 Portability
The Edge Desk is the ultimate in portability. When folded down the desk is just 61/2" high, which allows me to easily slide it under my bed when I'm not using it. It's so compact that you can stand it up against a wall or in a closet.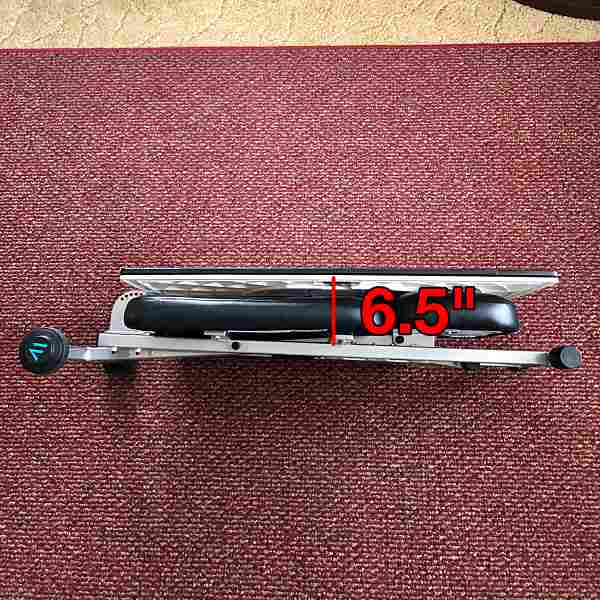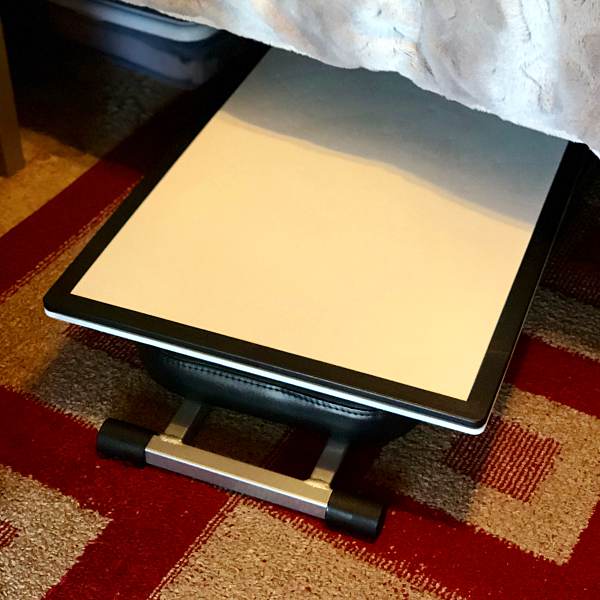 Its portable size and built-in carrying handle make it easy to take virtually anywhere, inside or out.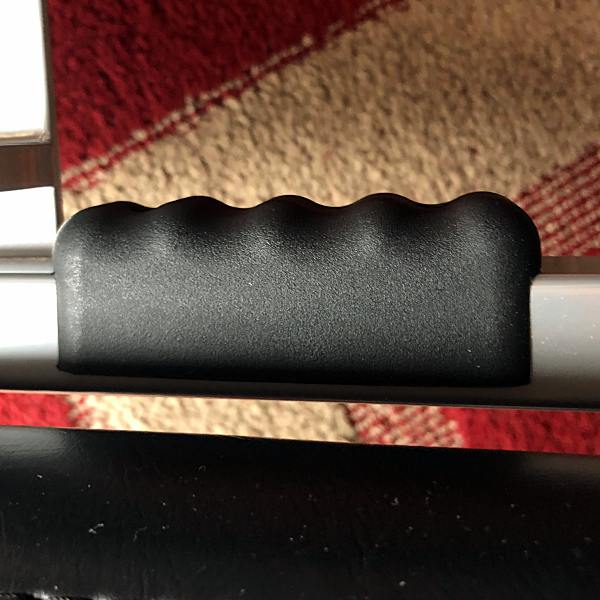 Let's see you do that with a typical desk.
Use and comfort
Like I stated earlier I was skeptical about how comfortable a kneeling desk could be. Needless to say, I was amazed at how comfortable the Edge Desk is. I've been using it for a few weeks now for writing and drawing. I love it! I'm able to use the desk for long periods of time without back or neck pain. I also found that the desk forces me to use better posture. It all adds up to me being more productive and that's a definite plus.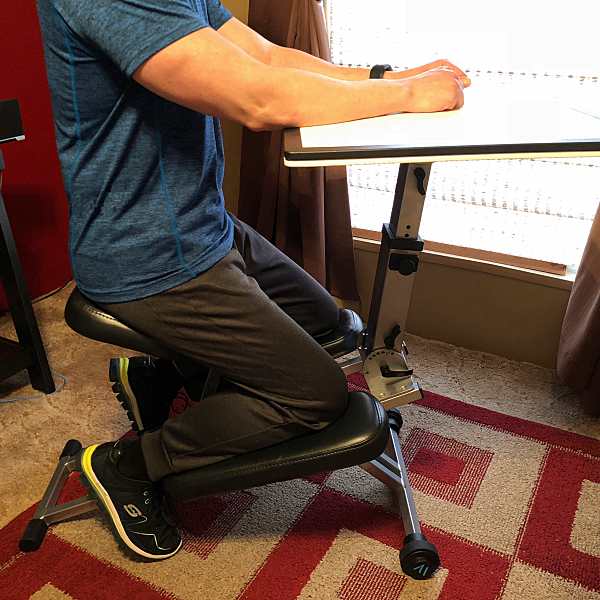 Accessories
Along with the Edge Desk, I also received three different accessories (sold separately). A water bottle holder, phone/tablet holder and a set of transport wheels. I found them all to be extremely useful. Both the water bottle holder and phone holder allow you to keep the desktop clutter-free. They both use the proprietary "Edge" universal clip to hold them securely to the edge of the desk.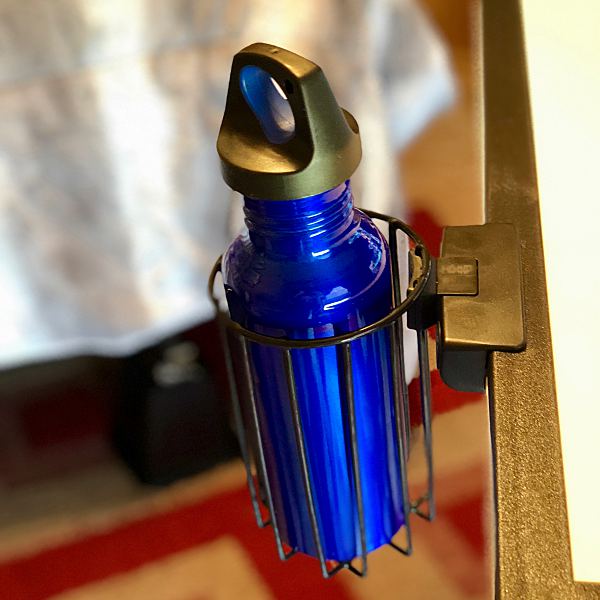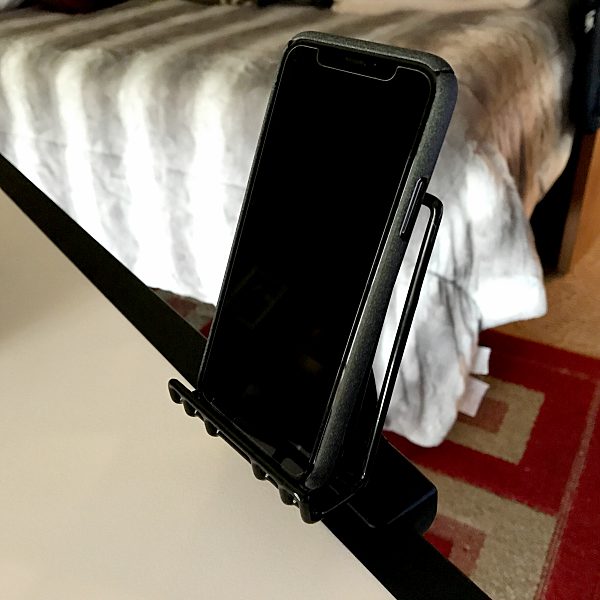 And the water bottle holder doubles as a pencil holder when I'm sketching, allowing me to organize my pencils and keep them off the desktop.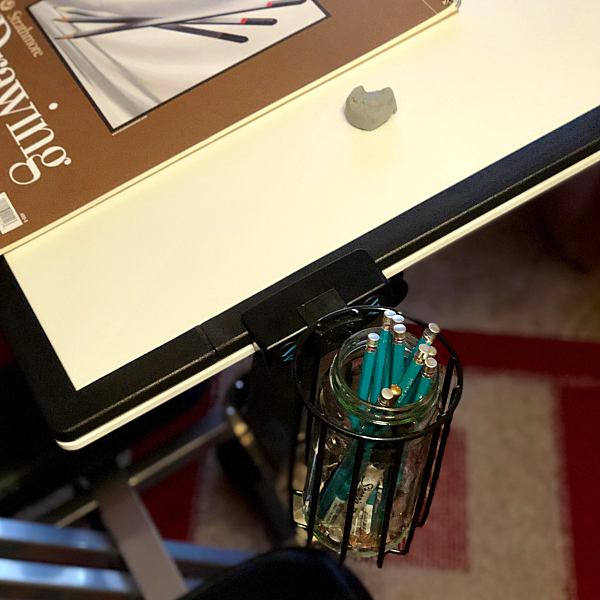 The transport wheels slide onto the front feet of the desk and secure with a snap of a locking collar. The wheels definitely make it easier to slide the desk under my bed and to maneuver it when it's setup. And because the desk weighs 28lbs they could come in handy if you're moving it any distance.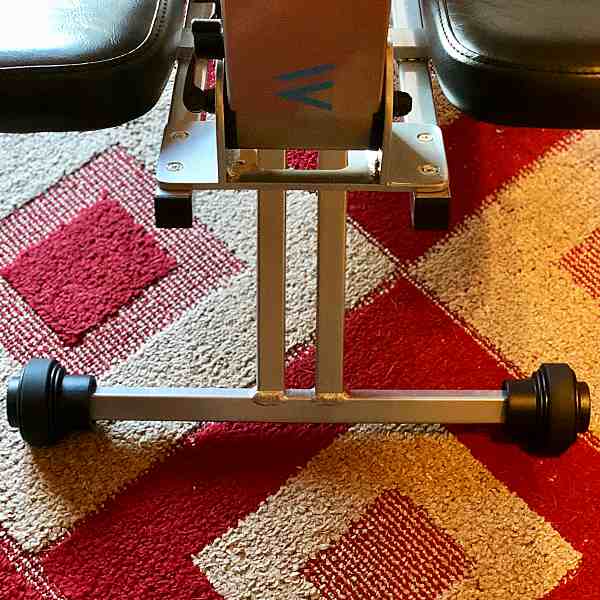 Just wheel it along like you would a piece of luggage.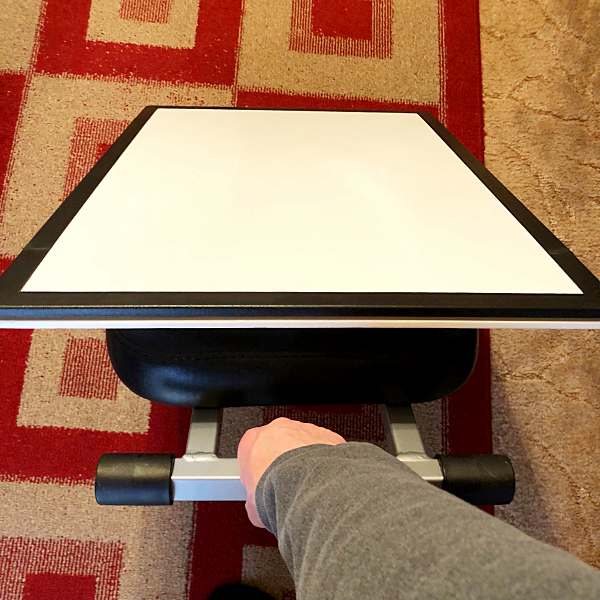 What I like
Easy to setup and breakdown
Portability – you can use it virtually anywhere
Easily stores away when not in use
Fully adjustable
Can be used as both desktop and easel
Comfortable for long periods of time
What needs to be improved
Would be nice if there was a raised lip on the desktop to keep things from rolling off when using it as an easel.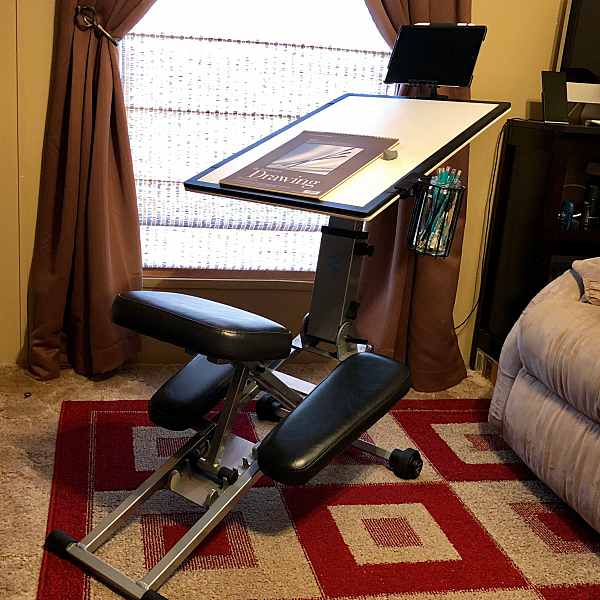 Final thoughts
I'm in love with the Edge Desk. It's the desk solution I've been waiting for. Its portability and storability solved my problem of not having enough room for a full-size desk. I'm more productive and it really helps reduce the stress on my neck and back. And now I have a space that I can dedicate to my artwork.
The Edge Desk might just bring standing desks to their knees.
Thank you Edge Desk and Bravo!
Price: Edge Desk – $ 399.99,  water bottle holder – $24.99, phone holder – $24.99, transport wheels – $29.99
Where to buy: Amazon
Source: The sample for this review was provided by Edge Desk System.