We use affiliate links. If you buy something through the links on this page, we may earn a commission at no cost to you. Learn more.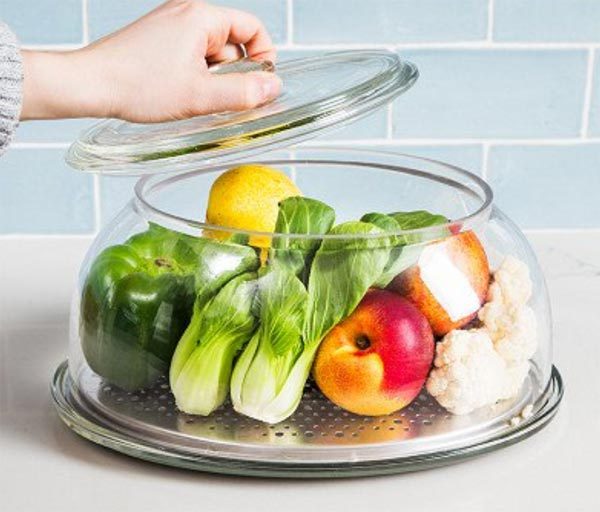 I don't know how often I get some fresh scallions or broccoli, stick them in the fridge under all the other produce I have in there, and find them again after they are limp and inedible.  With the VeggiDome, I could store them on display in the kitchen, so I don't forget them, in a container that will keep them fresher longer.
The VeggiDome glass tabletop produce saver is made of hand-blown borosilicate glass and has a stainless-steel colander base.  Your produce will stay as fresh and crisp as they would in the fridge.  The dome shape keeps moisture in, and the lid allows the natural ethylene gas responsible for produce ripening too quickly to escape.
Produce should be washed before putting them in the VeggiDome, and the colander base will keep them from sitting in water as they dry.  You can keep produce fresh and visible in the dome for up to six days.  However, there are instructions about what types of produce should go in the dome (see more at The Grommet).  The VeggiDome should be hand washed.  It measures 12″ x 9″ x 7.5″, so it's big enough to hold a few days worth of produce.
The VeggiDome is $59.95 at The Grommet.