We use affiliate links. If you buy something through the links on this page, we may earn a commission at no cost to you. Learn more.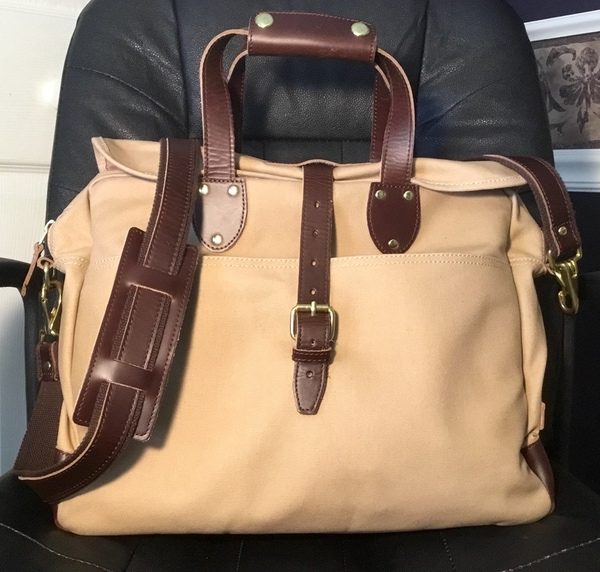 Looking for a simple, good looking bag for the office or school? United By Blue's Lakeland Laptop Bag may be worth your consideration. It's a charmer that's got classic styling and great usability. It also comes from a company that's dedicated to a noble environmental mission. Let's learn more!
What is it?
It's a 12 liter canvas laptop bag with leather accents & brass hardware that's part messenger and part briefcase.
Hardware specs
100% organic waxed 18 oz. cotton canvas

Vegetable tanned leather handles

Solid brass hardware

YKK zipper

12 liter volume

Dimensions: 15" wide by 13.75" tall by 4.5" deep
Design and features
The United By Blue Lakeland is an elegant, classically-styled bag that combines the structured form of a briefcase with the convenience of a messenger bag. Not only is it good looking, but the thoughtful layout makes the Lakeland a very easy bag to live with.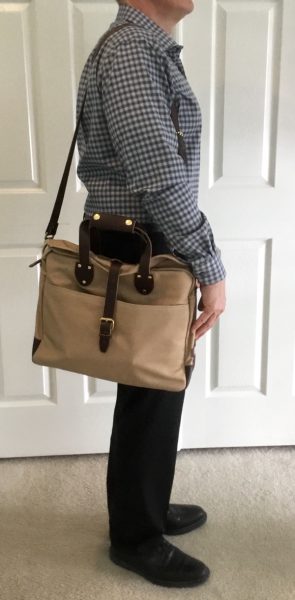 Let's start with the build. 100% organic waxed 18 oz. cotton canvas is the primary material, backed by a cotton fabric lining throughout the bag. The handles, straps, and trim are done in vegetable tanned leather accented with gorgeous brass hardware throughout. The style elements are understated, allowing the materials to speak for themselves. Stitching and assembly are rock solid throughout, with clean finishing on all the seams and stress points. Check out the close-up shots below: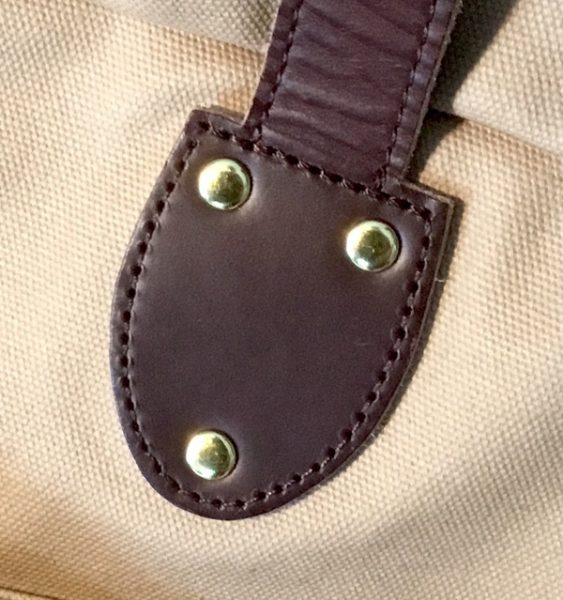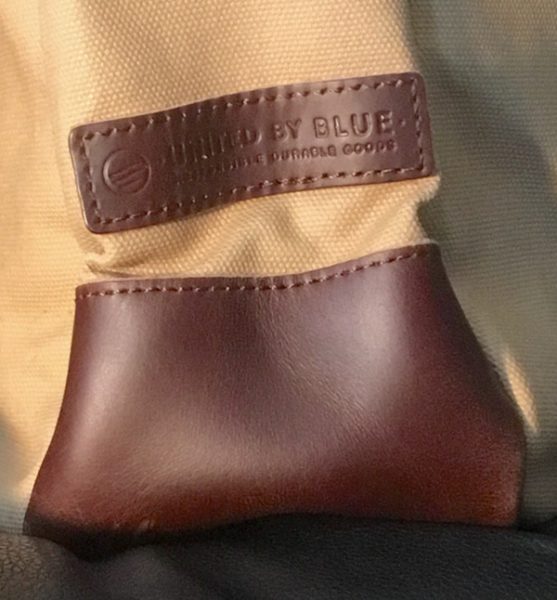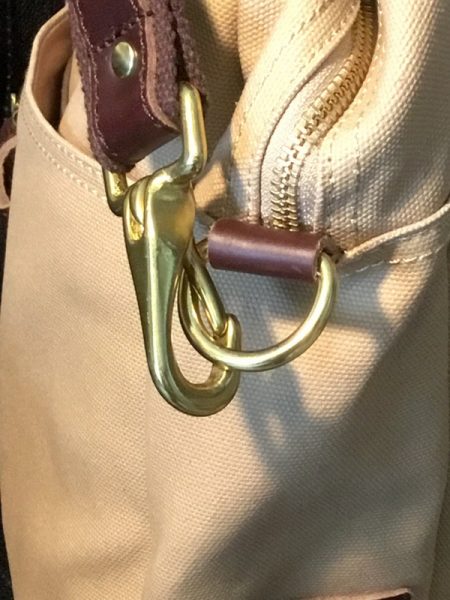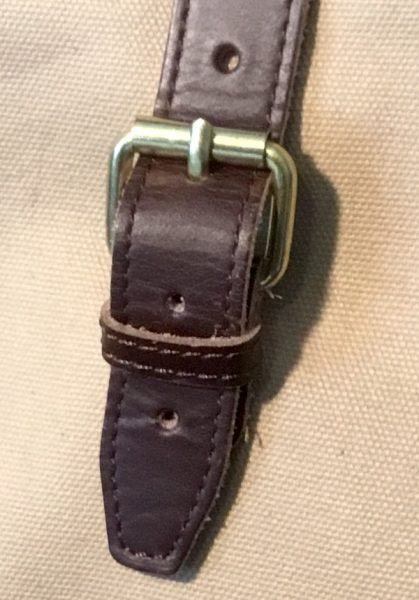 The layout of the Lakeland is all about easy access to your gear. The front and rear face each have an 8" by 15" open pocket for stashing quick-grab items like keys, earbuds, your smartphone, a notebook, or a standard-sized tablet (my 9.7″ iPad fits perfectly in either pocket).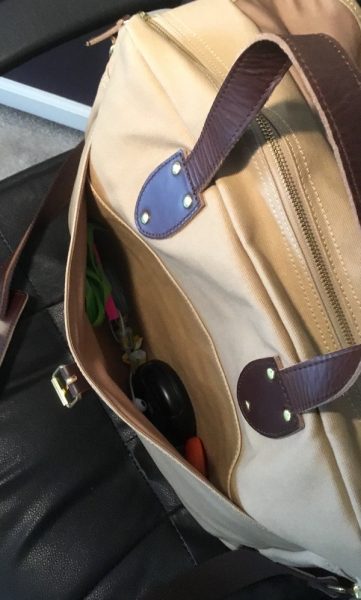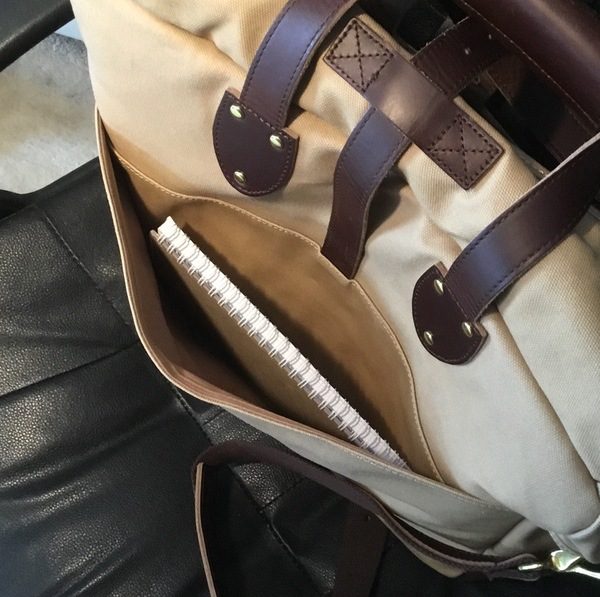 The main compartment is protected by a 3″ storm flap that buckles down to the front face of the bag for extra protection. A full-length brass YKK zipper opens to the main compartment; it's the only zipper in the whole layout.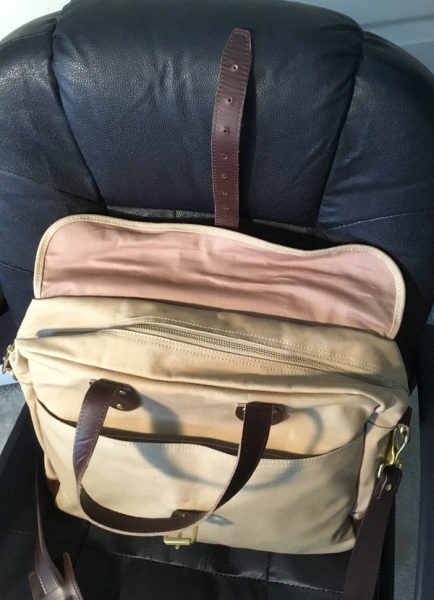 The interior padded laptop sleeve is expandable to accommodate different sized or multiple devices. That's a Lenovo 15″ Thinkpad in my pictures for reference. I can also fit a 12.9″ iPad Pro in its smart case in that pocket behind the Thinkpad. The bellows-style design allows for books or notebooks to ride in there as well.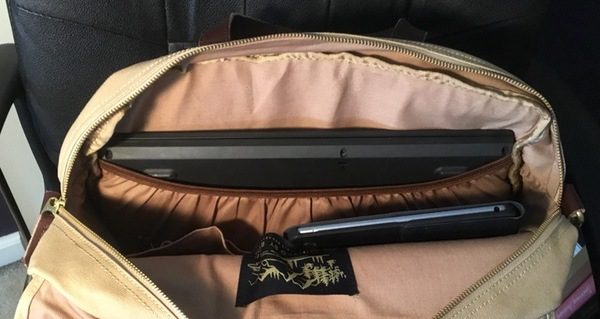 On the opposite interior face is a series of pockets: two 7" by 8 1/2" pockets, which will fit up to a 9.7″ iPad; two 4" by 7" pockets, which will fit up to an iPhone 7 plus; and a trio of pen loops. You'll notice from the picture that you still have room for a couple of items riding in the main compartment, depending on how you load up the laptop sleeve.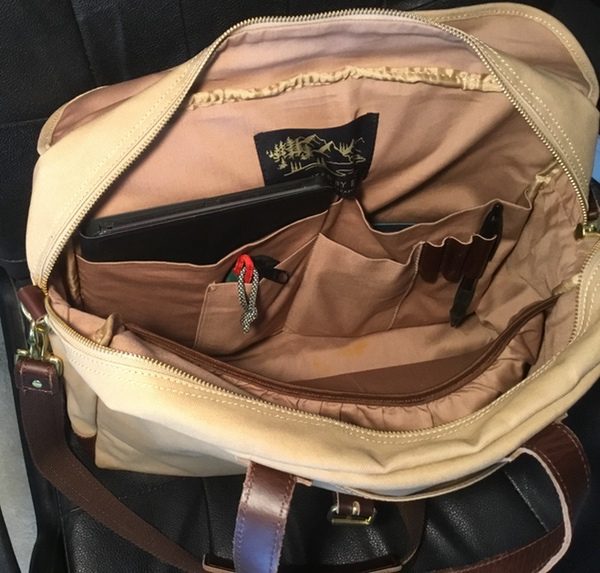 The interior sports 1/4" foam padding on the front, back, and sides for additional electronics protection. While the base is not padded, the padded laptop sleeve does protect the bottom of your moneymaker against drops. There are also leather bumpers on the bottom corners to add some additional protection. 
You have multiple carry options with the Lakeland. There's a leather handle on either side of the zip that snaps together with a 4" by 5" strip of leather for a wide, comfortable grip. The removable shoulder strap is made from cotton webbing and leather with brass hardware and can be adjusted from 34" to 44" for one-shoulder or cross-body messenger carry. A 2-1/4" by 6" leather shoulder pad is also included.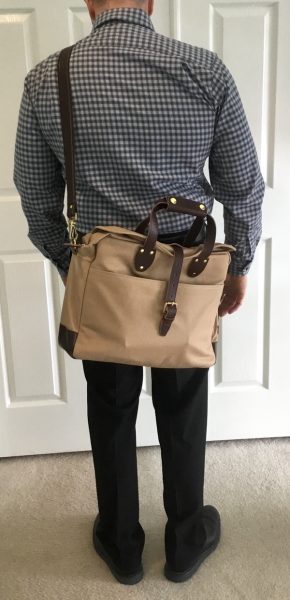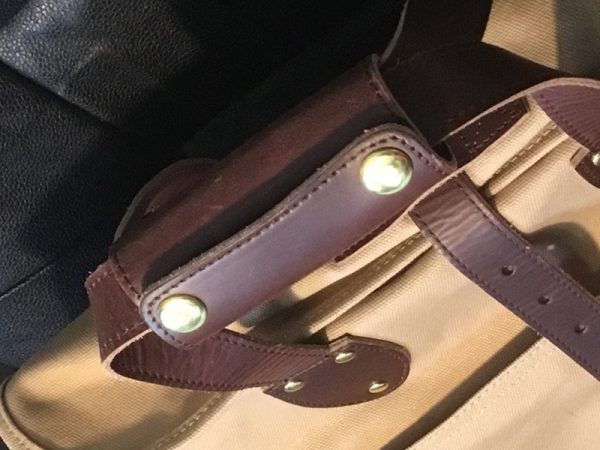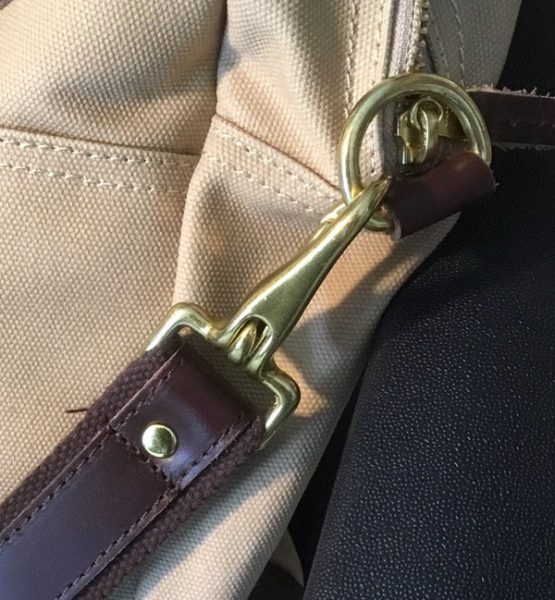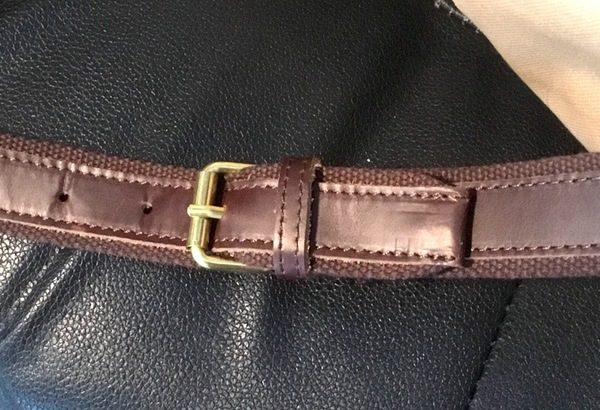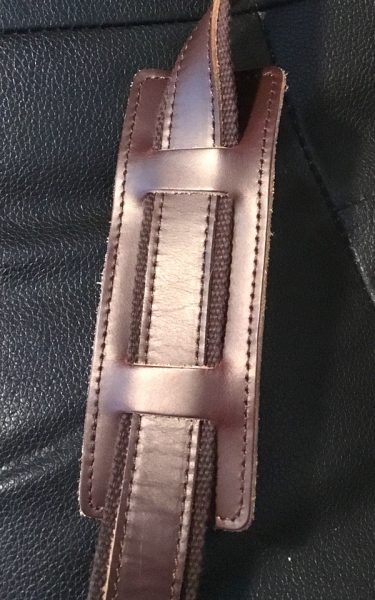 Performance
I love the soft, floppy feel of the materials in this bag. It's got a great texture and hand feel inside and out. That floppiness also adds to the flexibility of this bag: since there is no hard structure, it will flex to adapt to odd shaped items or extra packing. It's also a tall bag at 13.75″, which allows you to stack items (like a lunch) in the main compartment if necessary. Coupled with the two external pockets, this enables you to take full advantage of every square inch of the bag. It feels like it carries more than it's 12 liter measured capacity
I also really like the simple, open pocket layout. When the storm/security flap is released, the zipper underneath opens nice and wide for easy access to the interior. The laptop pocket is a deceptively large and flexible space. The dual large/small pockets on the opposite face give me all kinds of options for organizing notebooks, chargers, business cards, and assorted office gear. And I still have the open exterior pockets for my quick-grab stuff. If you're always running between meetings or classes, you'll appreciate the ability to get to anything in your bag quickly and painlessly.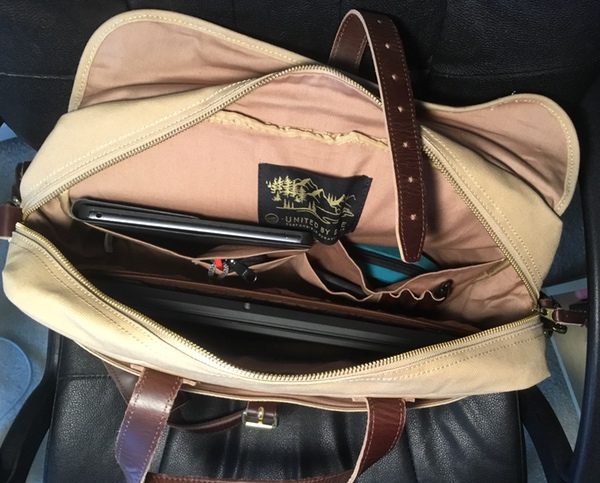 The classic style of the bag also transitions easily from business to casual environments. You won't feel awkward wearing this bag with a suit or sports jacket, but you can easily dress it down for business casual meetings or the classroom and not feel like you're overdressed.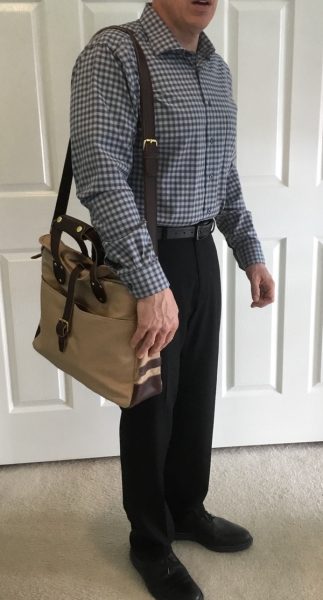 It's also super light, which makes for an easy day-to-day carry. I do wish it had a larger shoulder pad (8″ would be perfect!), but it's so light to begin with that this isn't a huge comfort issue unless you're really loaded up. The cotton-webbed shoulder strap backing also helps with this.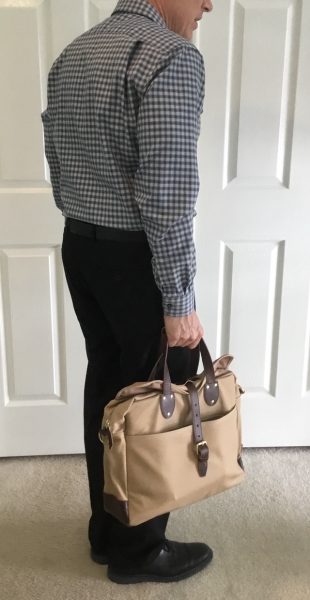 I only have a couple of nitpicks with the Lakeland Laptop Bag. While I love the softness of the materials, the cotton lining looks like it will pick up stains or marks from pens, spills, and such. The waxed canvas side is treated for weather protection, but I will probably add some additional treatment to be safe. I did find that the snap handle and storm flap can lead to some fumbling if you're in a pinch to get into the main compartment, but the extra security is nice if you're on a crowded train. Also note that, while the storm flap protects the main compartment, the front, and rear exterior pockets could trap some water.  Be careful in the rain!
I'll be interested to see how the durability holds up during long-term testing. I have no concerns based on my first few weeks. United By Blue also provides a lifetime warranty against failure through normal use, so you have some nice security standing behind your purchase.
About United By Blue
There's more to United by Blue than just outdoor gear and apparel. The company is a certified B-corp that is committed to social and environmental responsibility. Clean waterways and oceans are at the heart of their mission. They organize regular waterway cleanups on the East Coast with special events across the country and are committed to removing one pound of trash from our oceans and waterways for every product they sell. You can learn more about their volunteer cleanup operations here. It's a noble missio, and one that I can get behind.
What I like
Classic materials

Simple, functional, flexible layout
Looks great in formal business and casual business/school situations
Great company with an environmentally-focused mission
Has surprising capacity for a 12 liter bag
What needs to be improved
Would like a slightly longer shoulder pad

Interior cotton lining could pick up stains and marks
Final thoughts
The United By Blue Lakeland Laptop Bag combines some of the best elements of a briefcase and a messenger, and makes for a great crossover bag between business and casual situations. It's a very easy bag to live with on a day-to-day basis if you're constantly running between classes or meetings. You can also feel good knowing that your purchase goes towards supporting an environmentally-focused mission. What's not to like?
Updates 05/18/18
This one is in the regular rotation now for the office. The leather and waxed canvas looks great dressed up or dressed down. It's super-easy to live with, especially when I spend a day running from meeting to meeting and am constantly digging in my bag for stuff. I really like the extra height on the bag as well, as I can pack a little extra in it if I need to. The Topo Designs Commuter Briefcase has been my #1 office partner for over a year now, but the Lakeland is winning me over with its simple charms.
Price: $148
Where to buy: Purchase the Lakeland at the United By Blue web site.
Source: The sample of this product was provided by United By Blue.