We use affiliate links. If you buy something through the links on this page, we may earn a commission at no cost to you. Learn more.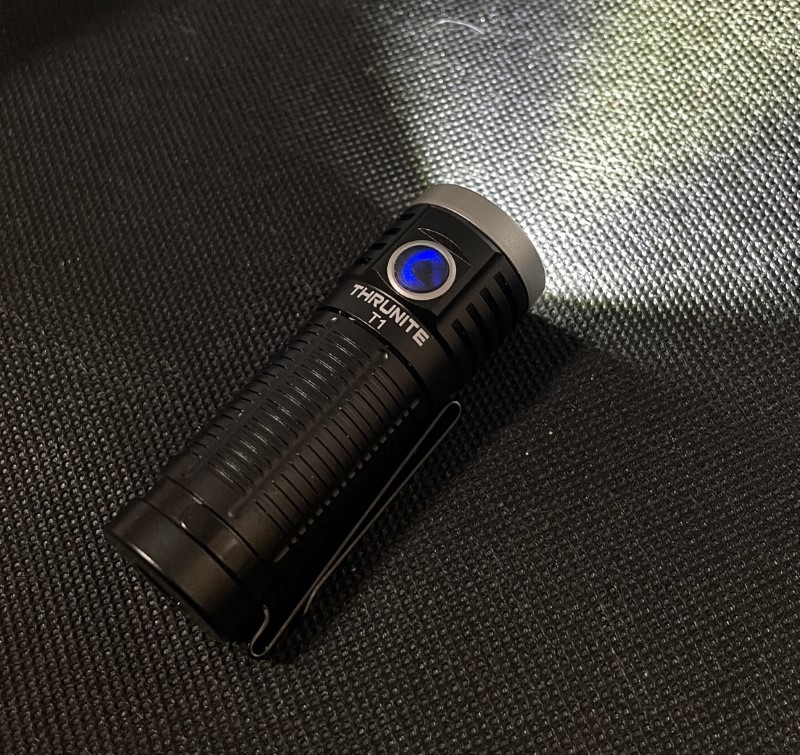 REVIEW –  I know, I know… There's a flashlight in your phone and that's great, but admit it, there are plenty of times it just can't cut the mustard and you need a real flashlight. If you are looking for bright, compact, and rechargeable, the Thrunite T1 just might find a happy place in your pocket!
What is it?
The Thrunite T1 is a small, wide beam, variable brightness flashlight with a Micro-USB port for charging an internal 18350 battery.
Hardware specs
Dimensions: 2.7″D x 0.79″W x 0.66″H
6oz
Cool-white CreeXHP50 LED
1500 lumens maximum (2600 CD intensity)
SMO reflector
Maximum throw distance: 224.64ft/102m
Side-mounted pushbutton switch with backlighting
Variable brightness, Turbo, High, Low, Firefly, and Strobe modes
IPX8 IP rating (6.26ft/2m depth, 4.92ft/1.5m drop resistance)
3.7-volt 18350 lithium-ion rechargeable battery
Micro-USB charging
Lock-out function
Aluminum construction
Two-year warranty
What's in the box?
Thrunite T1 flashlight
ThruNite 18650 battery
Pocket clip
Spare O-rings (x2)
Lanyard
USB Charging Cable
Spare USB Rubber Cover x2
User manual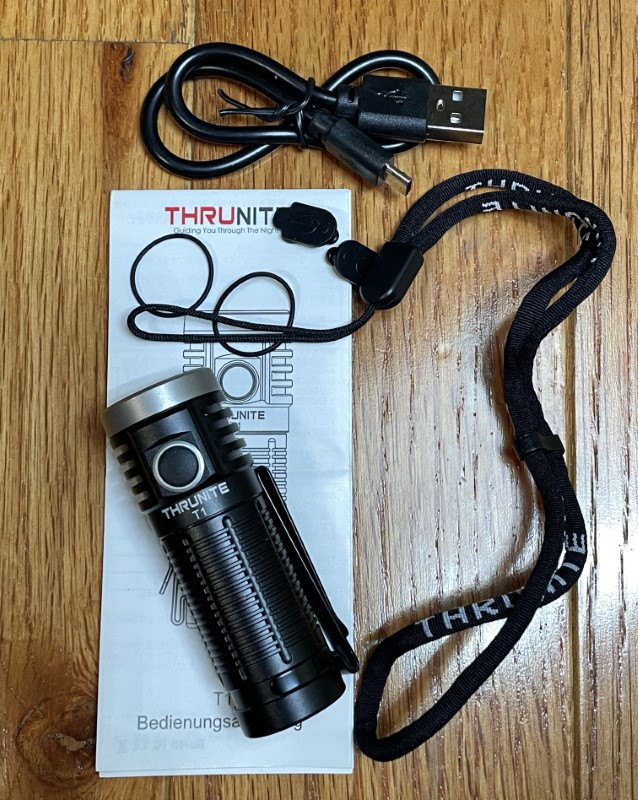 Design and features
I previously reviewed Thrunite's Catapult Pro flashlight here and liked it very much. The Gadgeteer team has reviewed the TN12 here, T3 here, TC20 here, T2 here, TC15 here, VH30 Headlamp here, TS2 Lantern here, BSS V4 here, Catapult Mini here, TW10 Weapon Light here, Catapult V6 here, TH20 Headlamp here, and Archer 2A here. Thrunite makes a fathom of flashlights going back to 2009. I bought my first Thrunite flashlight, A Neutron 1AA XM-L back in 2011 using it as my preferred EDC for many years. While technology and light output have steadily improved, Thrunite's innovation has stayed current and they continue to make quality flashlights to fit any size, output, battery, or application preferences. The Gadgeteer's reviews represent only the tip of the iceberg of Thrunite's extensive line of illumination offerings.
I love my Thrunite Catapult Pro and use it frequently, but it's too bulky to fit in my pockets so I was looking for something for pocket carry. The T1 is very well suited for this task!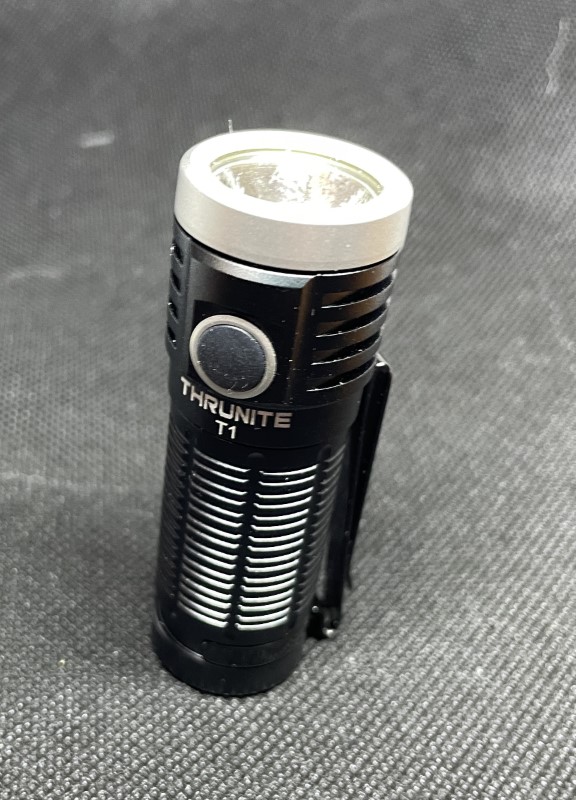 It arrived in a small cardboard box protected by comfy foam. Oooh! Stocking stuffer sized!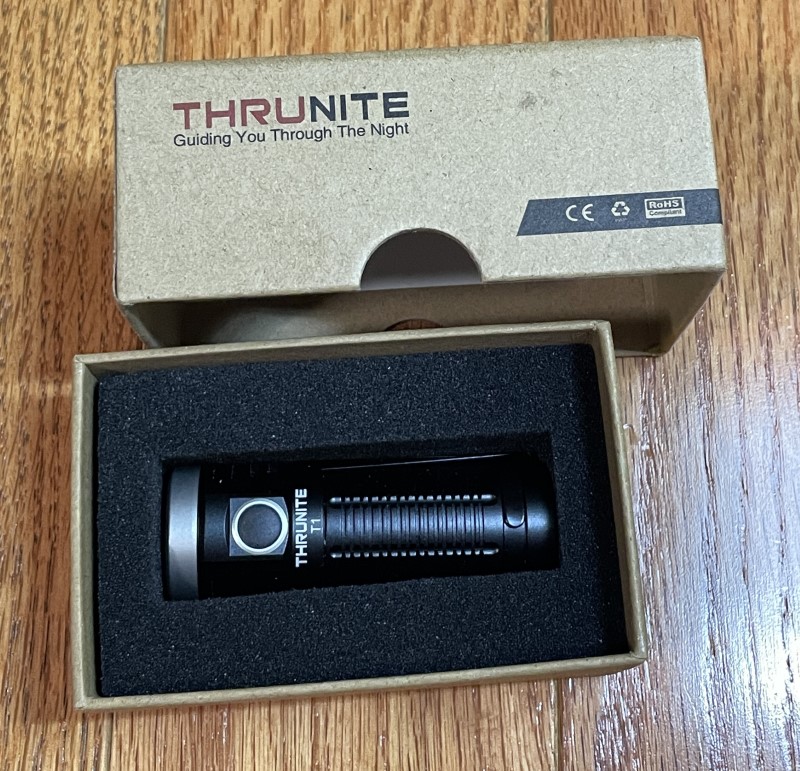 The flashlight is very small and fits nicely in my hands.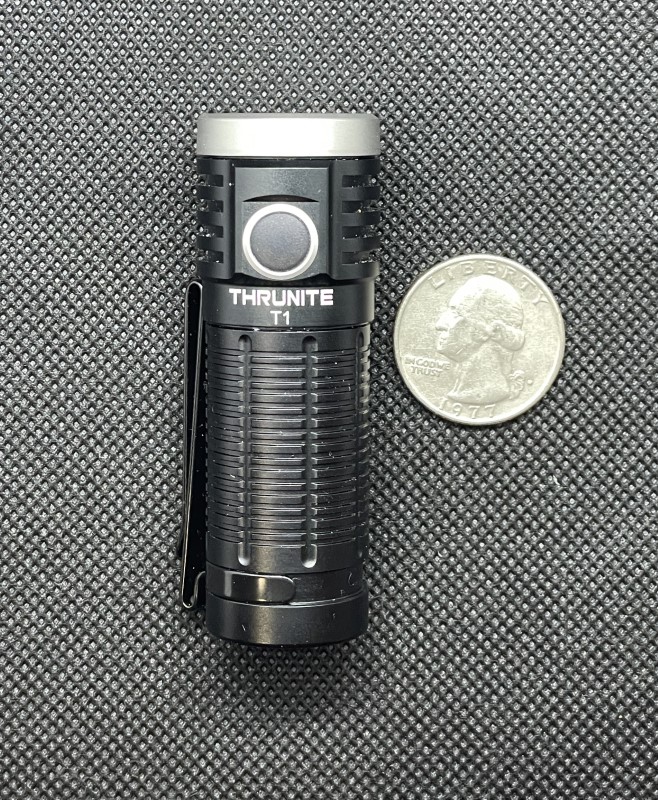 The flat base and head allow for a head or tail stand. When laying on its side with the clip removed, the button and charger cover slightly protrudes to prevent the light from rolling off the table and into the abyss.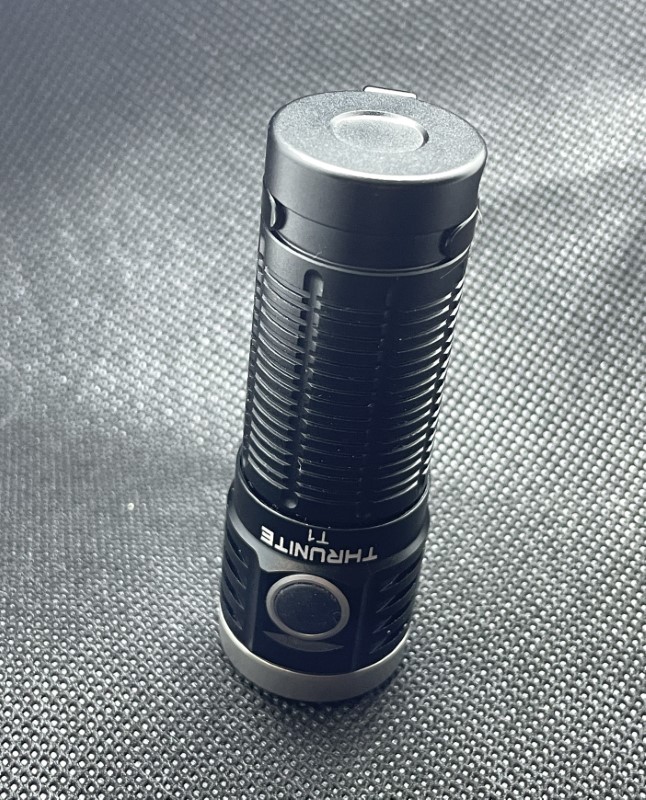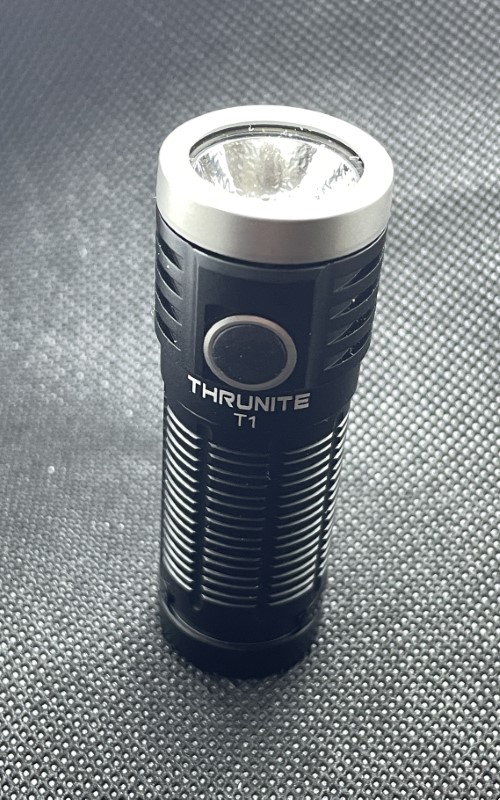 There's a powerful magnet in the base to hold the Thrunite T1 flashlight securely against a ferrous surface. Ooh! Such a snazzy fridge magnet! I sure could have used this the last time I changed a tire in the dark.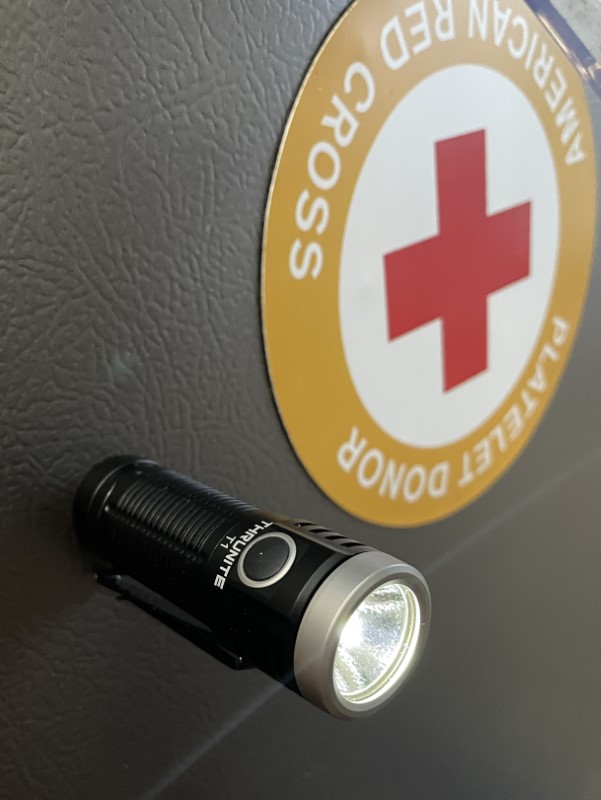 The clip rotates around the tail's perimeter (albeit with some friction) and can be detached with a firm pull. Its design permits the Thrunite T1 flashlight to be carried head up, tail up, or clipped to the brim of a cap. I like this design and find it ideal for pocket carry. At under two ounces, it's no burden to bring everywhere no matter where I decided to put it.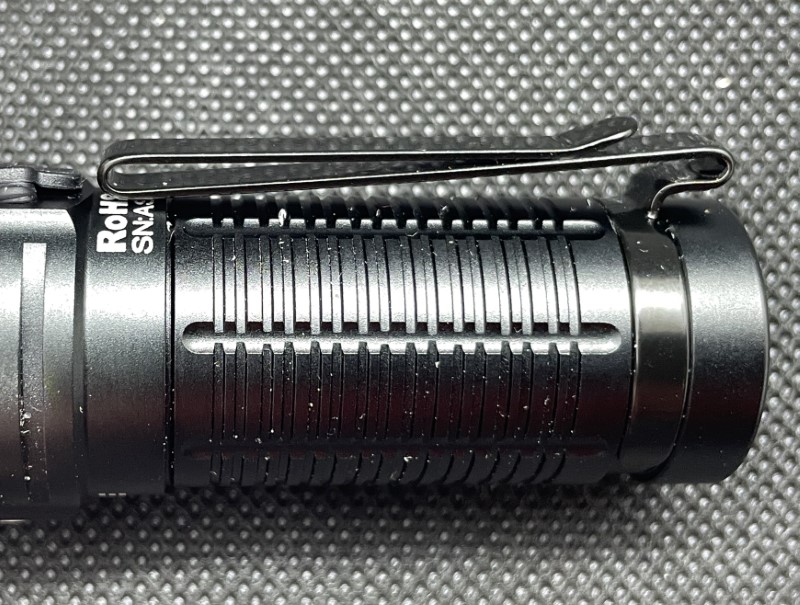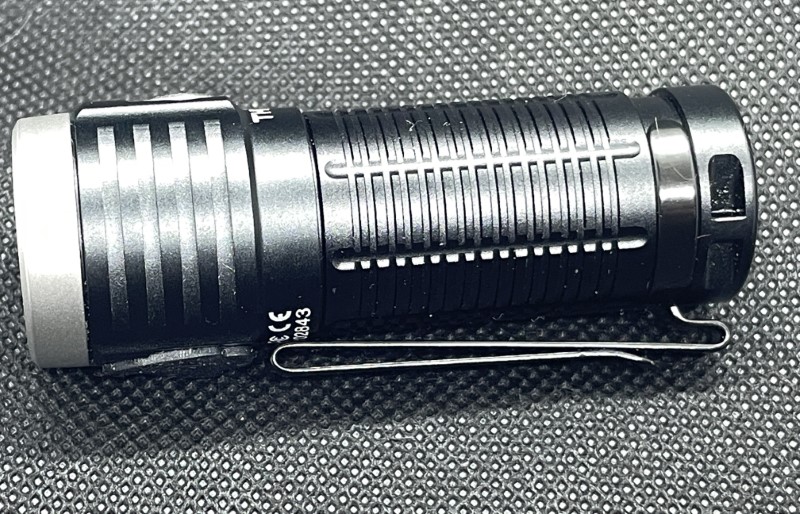 Threads in the Thrunite T1 flashlight's midsection unscrew to allow the battery to be extracted. They have a smooth feel and there is an o-ring to prevent water and dust ingress to IPX8 standards. Loosening a smidge separates the electrical contacts internally and prevents activating the flashlight while it's riding in a pocket, purse, or backpack.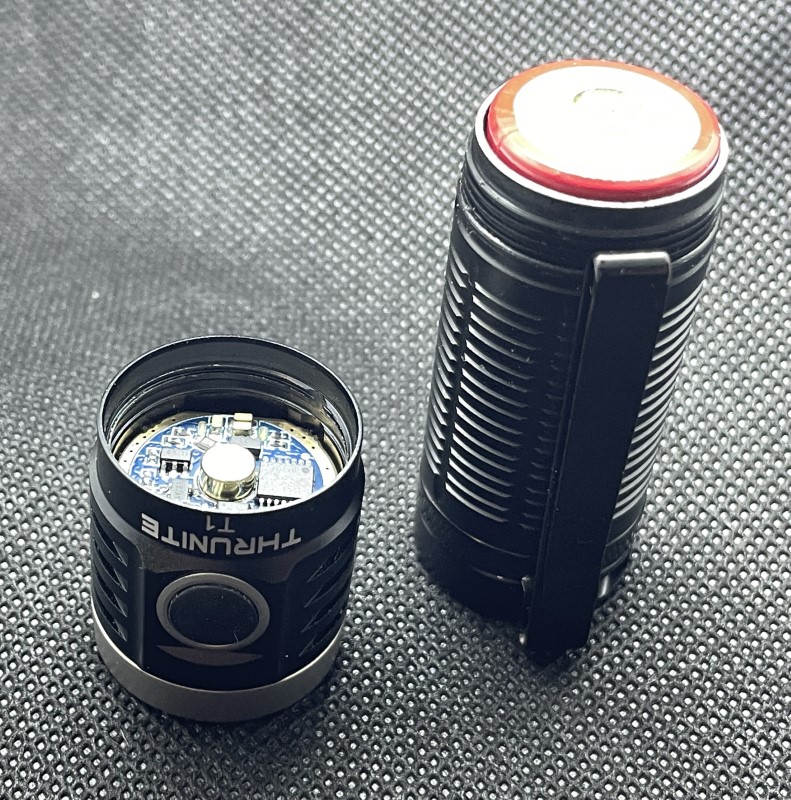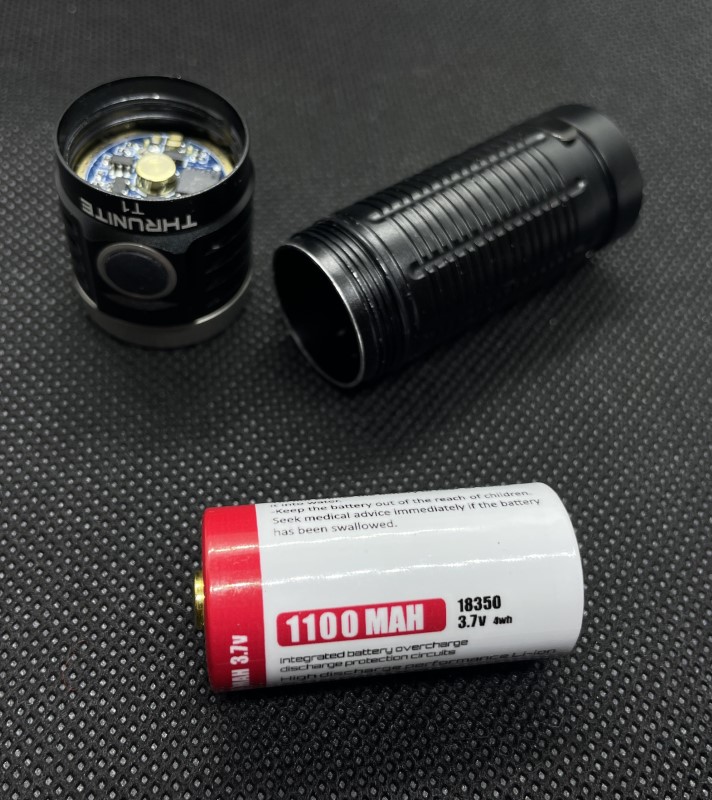 The spring at the battery tube's base holds the cell very securely when the flashlight is assembled, preventing any rattling. There's a substantial amount of tension produced when joining the head and body.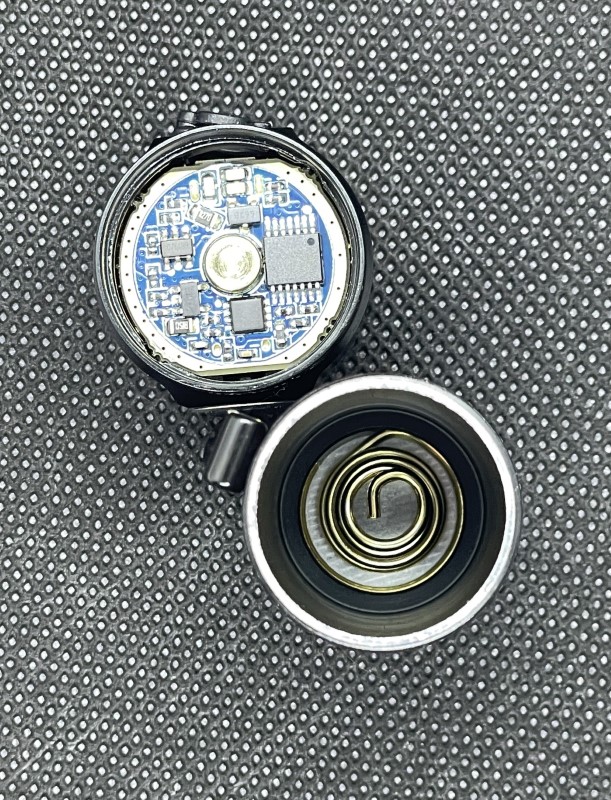 Under a rubber cover opposite the pushbutton switch is the Micro-USB power socket. The T1 is supplied with a short charging cable and uses any USB-A charger you have handy. From zero to full takes about two hours.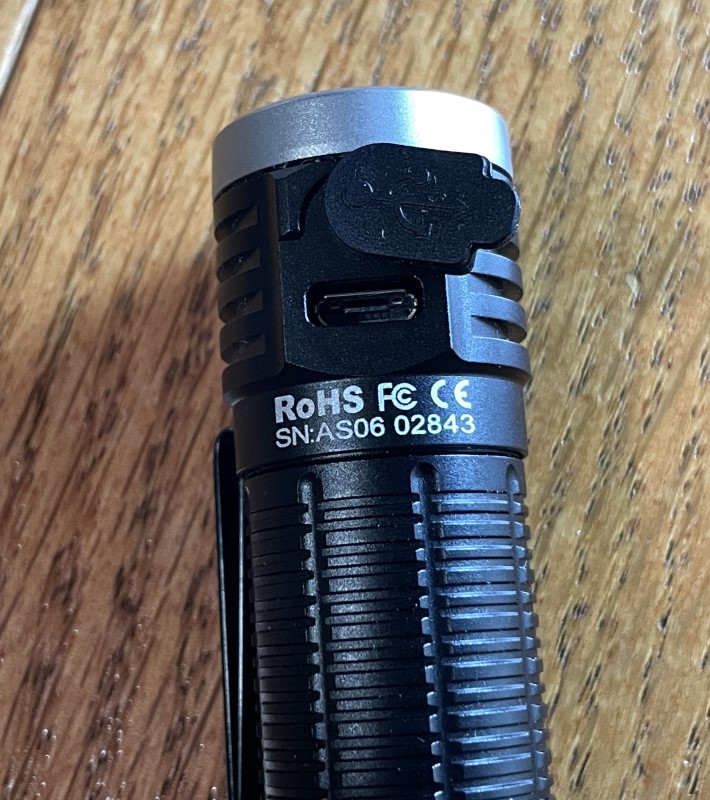 A red light under the button indicates charging is in process and changes color when it's topped off.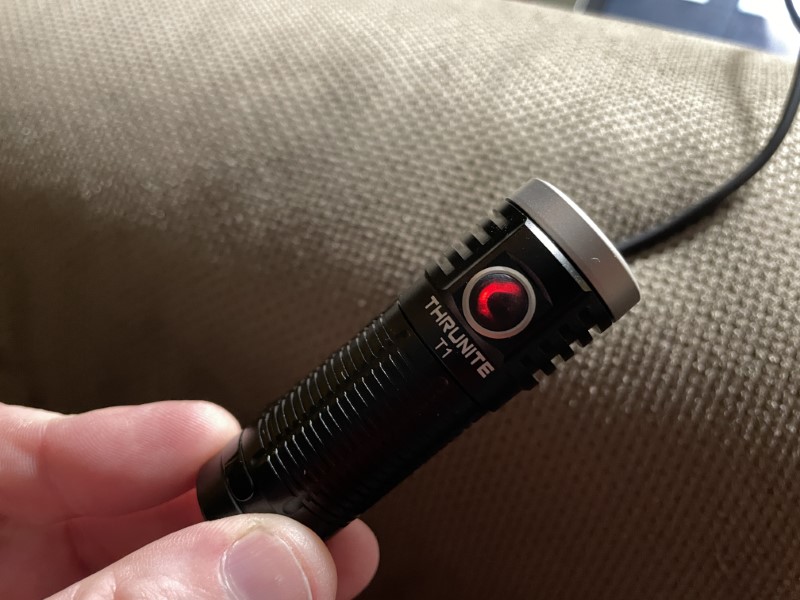 The button has a pleasant tactile click and a blue LED backlight tells me when the T1 is running and prevents me from being a knucklehead and looking down the barrel while the light is on. The backlight turns red when the T1 is charging or has a low battery.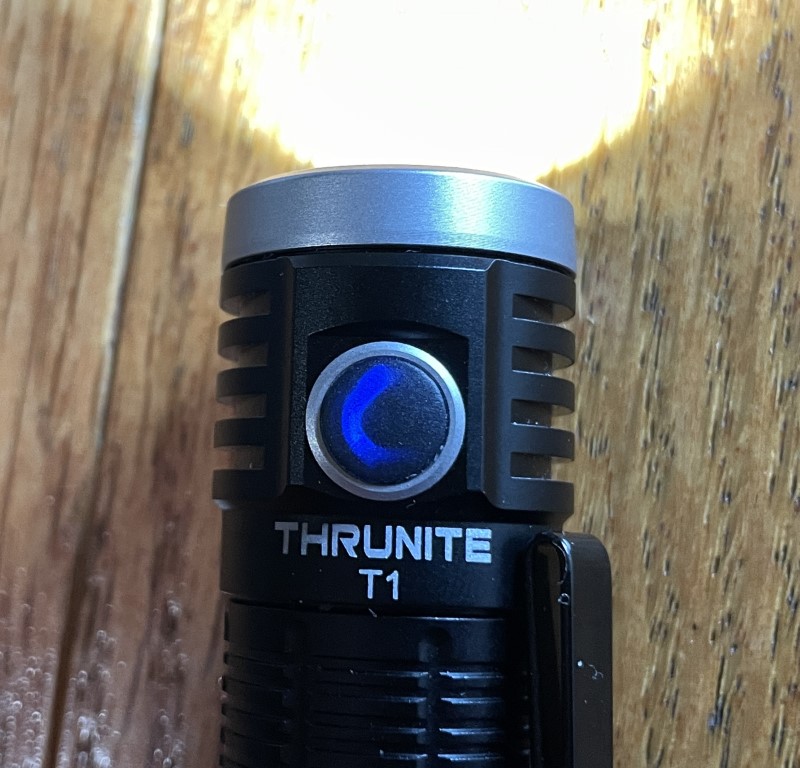 A quick button tap turns the Thrunite T1 flashlight back on at the level that it was last used  – very handy! A long press of more than 1 second turns the light on in firefly mode, expelling only ½ a lumen, and is ideal for night-adapted eyes.  Double-clicking fires this baby up in turbo mode where it pumps out about 1500 lumens for about the first three minutes of battery life, then drops back to about 400 – still a  respectable wall of light. Triple clicking engages a strobe mode that is dazzling and disorienting at close distances even with eyes closed and can be used as personal protection or in emergencies. When the flashlight is turned on in any mode, a quick press turns it off.
The lens engineering makes for a wide, smooth beam.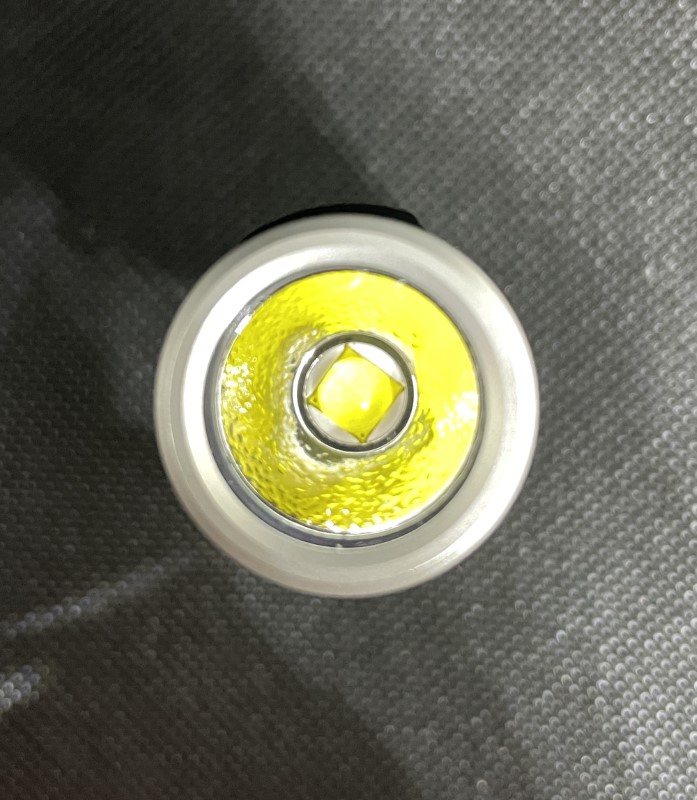 Firefly mode…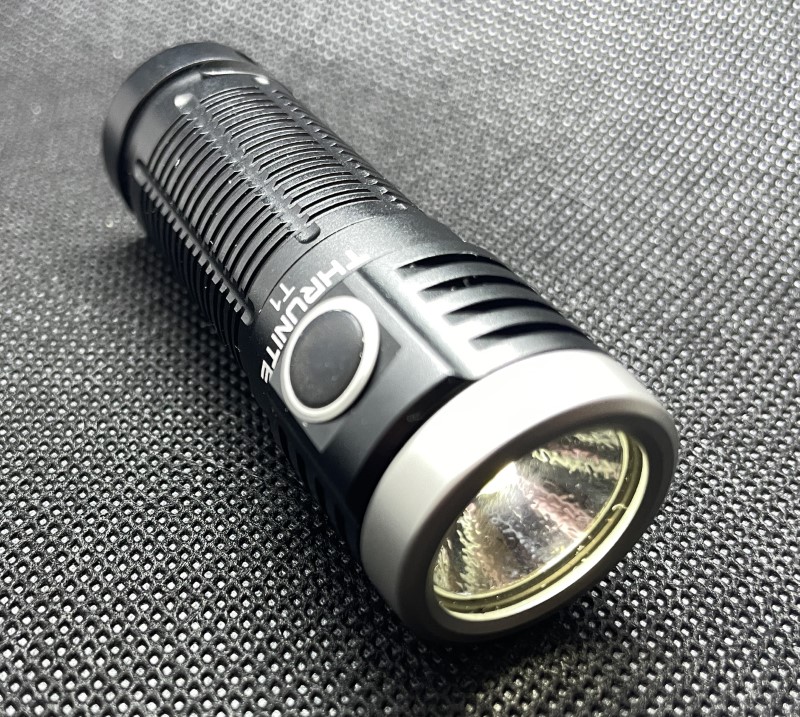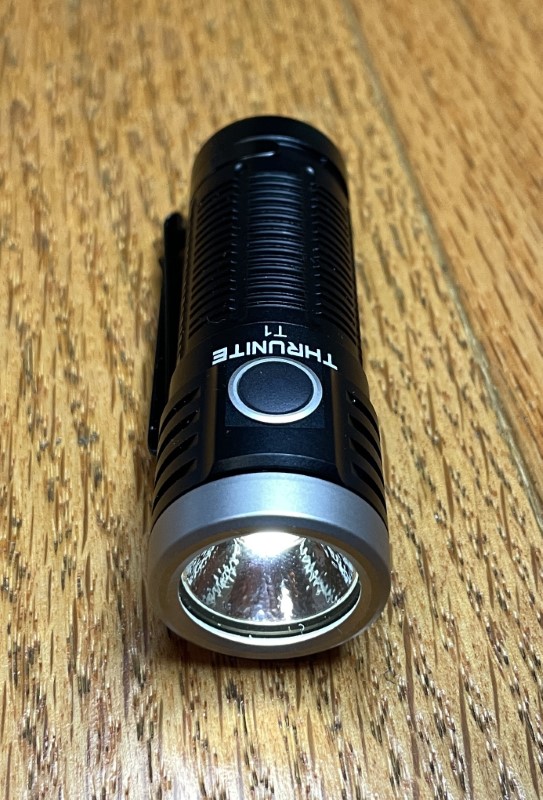 A cool function is lockout mode that prevents the Thrunite T1 flashlight from turning on unless the button is held for three seconds. To enter lockout mode, turn the light on in Firefly mode and hold the button for three seconds. The red LED confirms Lockout is active if the button is tapped.
After turning the T1 on with a single quick button press, pressing and holding the button enters a brightness ramping mode. Releasing and holding the button again reverses the brightness ramp (dim to bright then reverse). When the brightest or dimmest setting is reached, there is a triple flash. If the button is continuously held, the ramping and flashing repeat until the button is released (I thought this was fun!).  Releasing the button at any point retains the current brightness that will be recalled again after the light is turned off and back on again.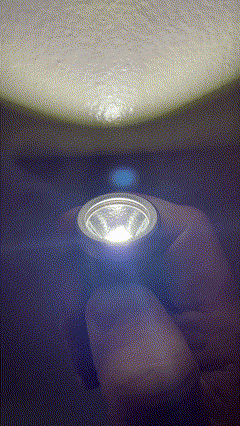 For reference, Thrunite's literature provides the following chart for run times and brightness.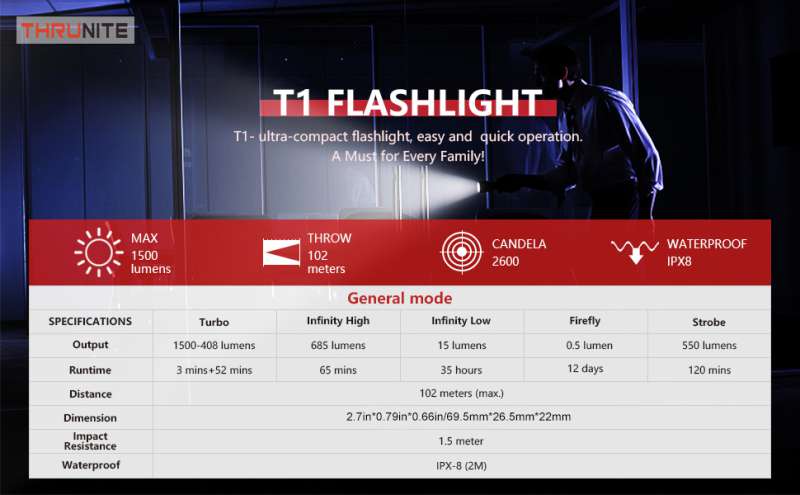 The beam pattern from the Thrunite T1 flashlight is wide and smooth with a usable corona.  Here are the obligatory beam shots from about 15 feet. All are using the same camera settings.
Firefly… Lowest Brightness…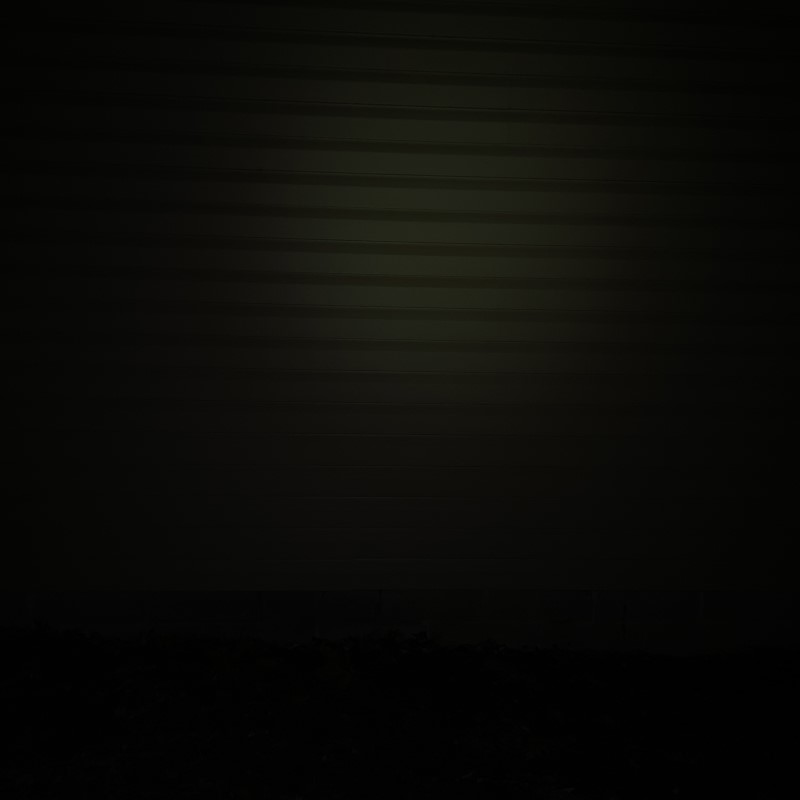 Highest Brightness…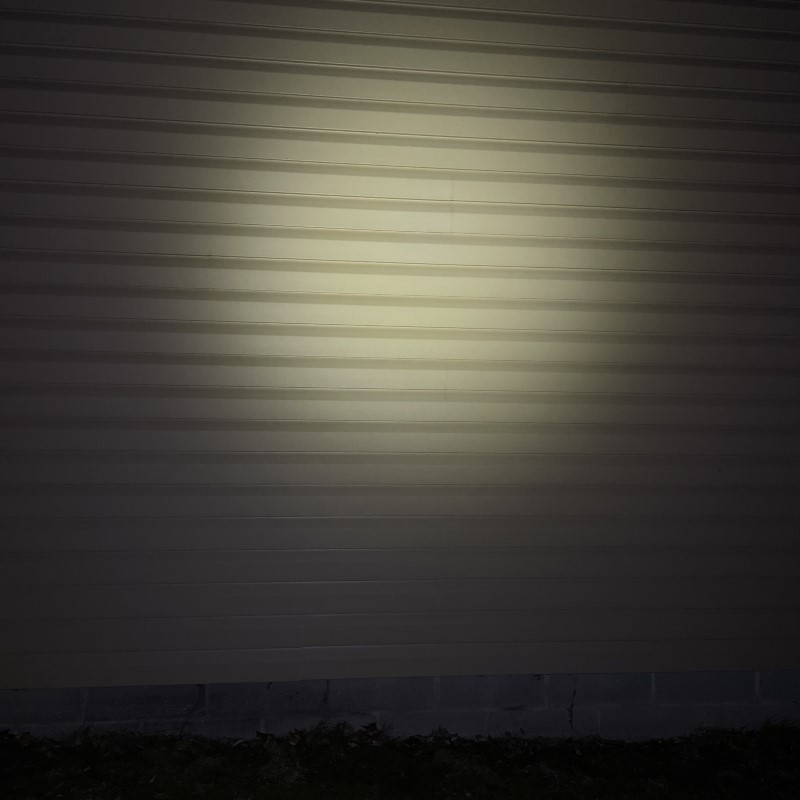 Turbo…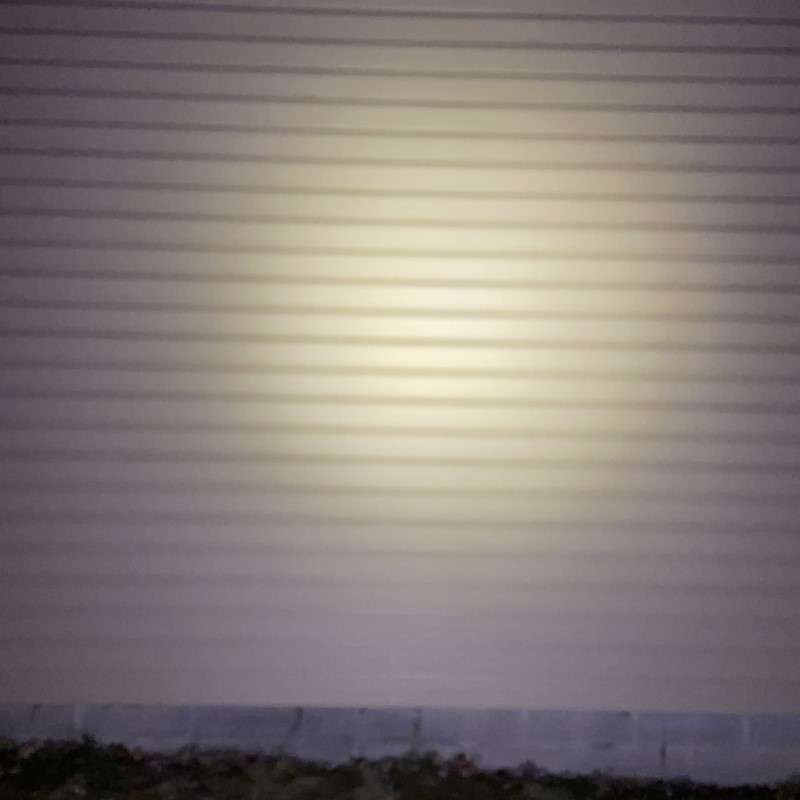 And, here is a tree in my backyard about 50 feet away. Firefly and low were too dim for my camera to pick up.
Highest Brightness…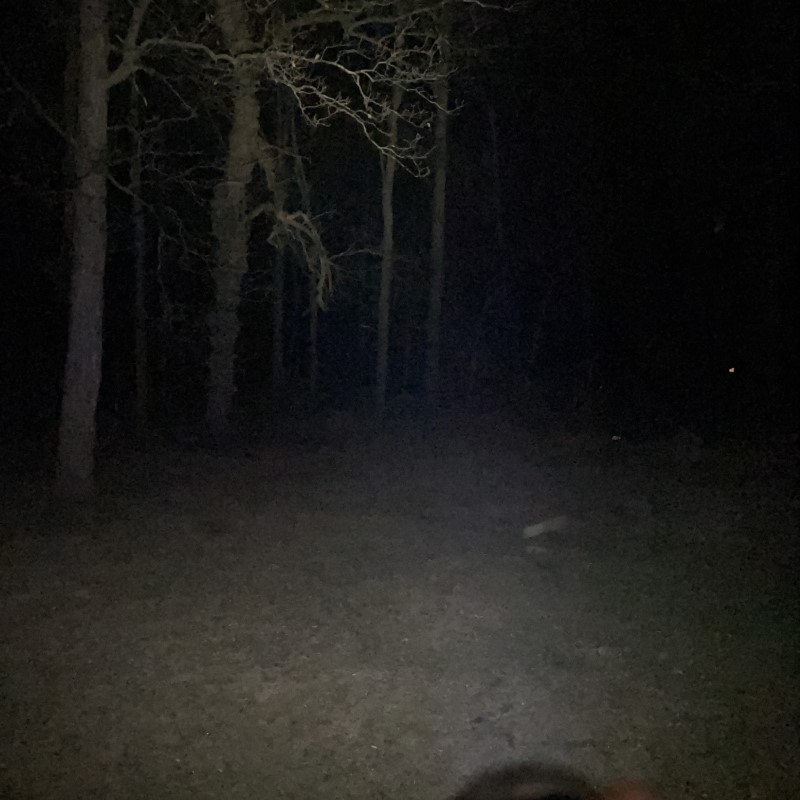 Turbo…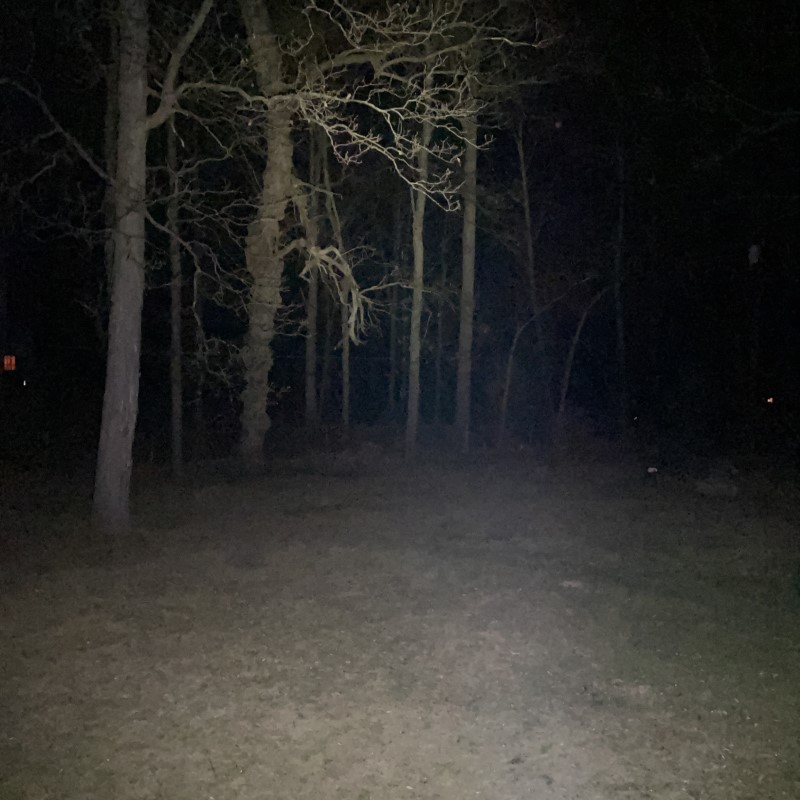 What I like
Very compact
Bright
Firefly mode is great for just a wee bit of light for night-adjusted eyes
Solidly made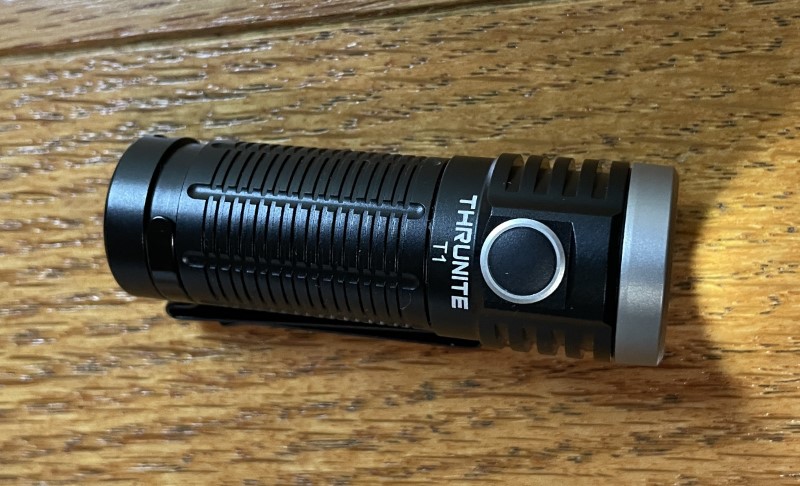 What I would change
Final thoughts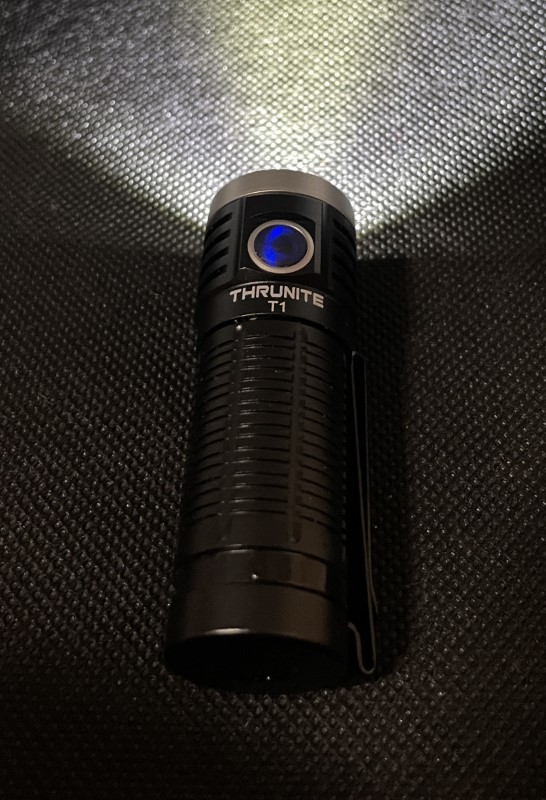 I'm of the philosophy that Murphy's Law can be applied at any moment. Yep, your phone flashlight is dandy, but if you truly need to see something without being encumbered by a clumsy phone, a dedicated flashlight is the only way to go. Thrunite's T1 flashlight is small enough to disappear in a pocket but produces a wall of light. For under $40, it's an outstanding EDC choice!
Price:  $39.95
Where to buy: Thunite, Amazon
Source: The sample for this review was supplied by Thrunite.