We use affiliate links. If you buy something through the links on this page, we may earn a commission at no cost to you. Learn more.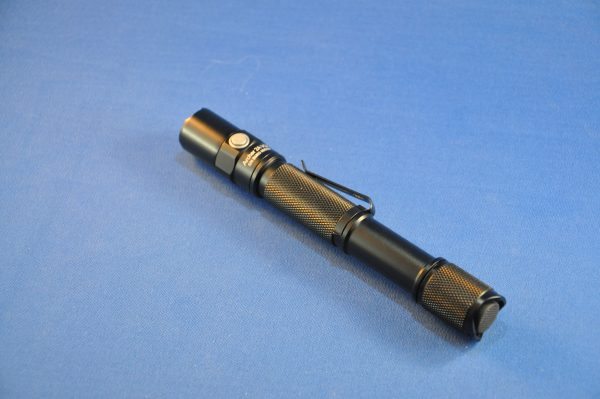 LED Flashlights continue to multiply like Tribbles. The bright, clean light of an LED is so much better for working, wayfinding, or just searching under the bed between the dust bunnies for something dropped. Recently, we were offered a light from a new company for us, ThruNite. They have many different models to choose from and sent one of their low-end ones to us – the Archer 2A V3 LED flashlight.
Note: Photos may be tapped or clicked for a larger image.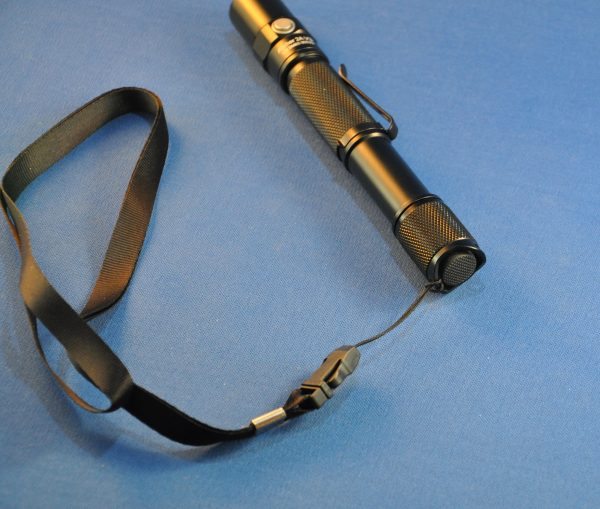 The overall design is similar to many on the market: hard anodized black aluminum tube, orange-peal reflector, tail pushbutton switch, IP-x8 weatherproof seals. But the Archer adds one thing that the other similar ones don't, and I found myself drawn to this feature: There is a button on the front part of the light, where it falls easily under your thumb, that cycles through all four intensities available. It's a completely different from the power switch. There are 5 modes for the light – firefly, low, medium, high, and strobe. Long-pressing the mode button while in any mode activates strobe mode (at highest intensity), which can then only be disengaged by turning the light off. It will run for 3.5 hours in strobe mode, so a late night bike ride should be visible.
There is a pocket clip fitted into a groove about halfway along the shaft. It can be removed and fitted into a similar groove just under the mode switch, but either placement leaves 1.6″ to 2.75″ of the unit sticking out. And it you're clipping it to, say, the outside pocket of your bag for easy access, the lens is exposed in mode-switch alternate configuration. What I finally did instead was to clip it onto the long smooth section of the light. This is not as tight, so it can both spin and slide, but it gives many more options for placement with the lens protected and not having almost 2 inches of the thing sticking up in the air.
Speaking of measurements: the diameter of this light is about .75″, and it's 6.126″ long and takes two AAs. batteries must be inserted with buttons (+ poles) toward the LED. The unit does not protect against battery reversal like most higher end lights do.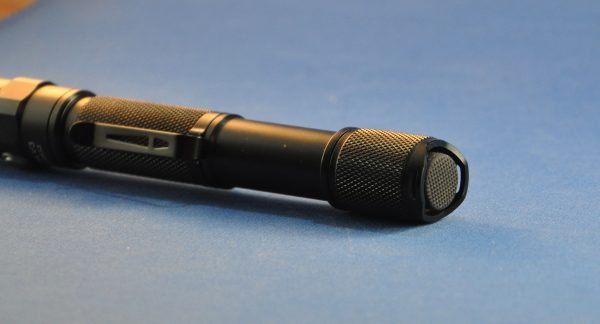 Pressing the tail switch allows for quick flashes, and a full push locks it on or off easily. There is a small ridge around the tail switch that prevents accidental activation. There are also two small holes in this ridge through which can be threaded the connector for a neckband or the included wristband.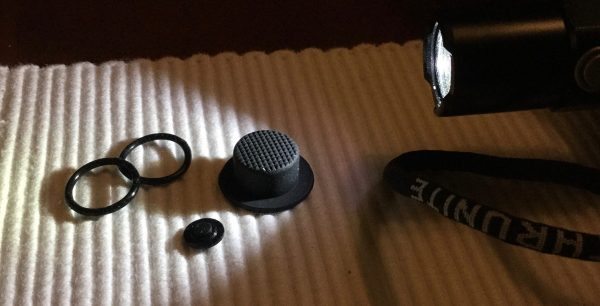 There is a repair parts package which includes a tail switch cover, a gasket for the mode switch, and two O-rings. (pic above.) There's also a woven round wrist strap with a plastic cincher and a thin lead.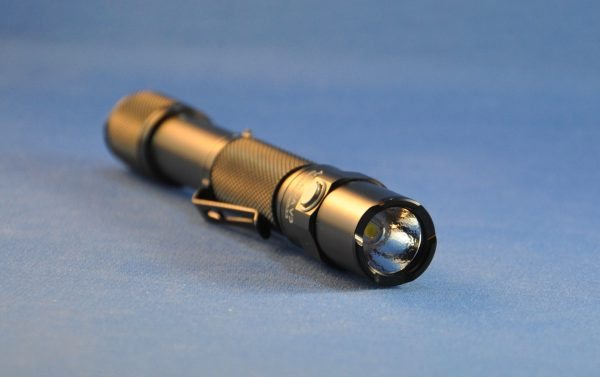 The orange peel reflector ensures a hot-spot-free beam with fairly narrow focus. It's not going to light up the whole wiring closet, but it's also not going to blind you if you use it for close work in a dark area for a long time. (Unless, of course, you put it in ultimate or strobe. Then, all bets are off!) The light will come on in whatever mode was last used. Pressing the mode change button cycles through the four stages in order. Pressing the mode button while the light is not powered on does nothing, so you don't have to worry that it may suddenly be in lightsaber mode when you left it in firefly mode.
I tried to show the differences in the beams with several series of photos. The first in indoors, with a single overhead light over the viewer's left shoulder. Nothing changes from shot to shot other than the flashlight intensity.
The second series I just shot out in the front yard, because it's foggy and kinda thinking about raining. For this series, the firefly mode was useless, but the other three are really distinctive.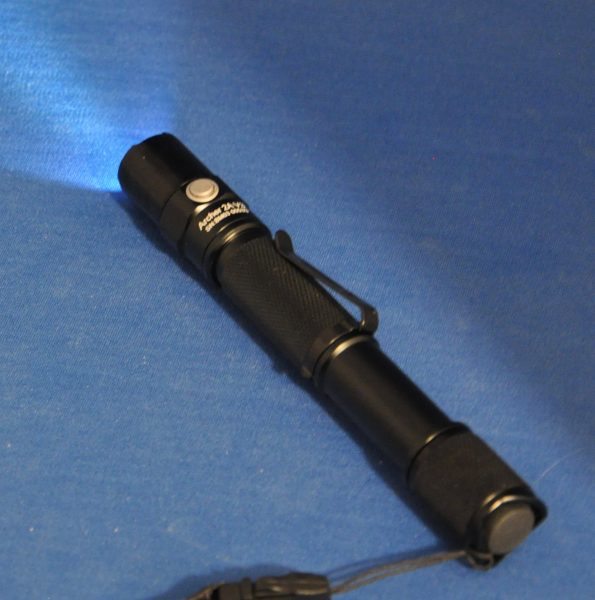 I have fallen in love with the firefly setting. When I use a flashlight to navigate through the house while others are sleeping, I usually cup my hand around the lens area and let out just a sliver of light. This setting gives you the same effect, with no danger that you'll accidentally let a brighter beam out. It's also great if you're out stargazing and want to check your telescope settings or look at your notes or a map. You won't lose much of your night vision with this low setting. (pic above of firefly mode taken under my photo studio with all lights off, except an overhead light in the room. Imagine having a flashlight from the '50s under a blanket in the room near you – that's not a lot of light, but you can make out shapes and still have your night vision.) ~0.2 lumens. In this setting, a pair of AAs will last for about 28 days of continual light. Good to know for your next spelunking adventure!
The next level – dim – is akin to the lowest setting on most LED flashlights. You can see things, but details are still fuzzy. ~17 lumens, will last 4 days with fresh batteries. For short caves.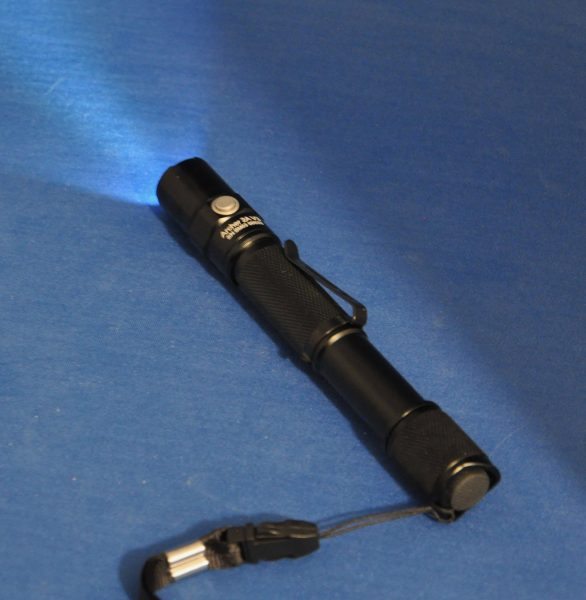 Notice the background is getting more reflected light. Below, the eave of our front porch on a drizzly, foggy night. Notice the trees in the center background. You may have to lower your display's brightness.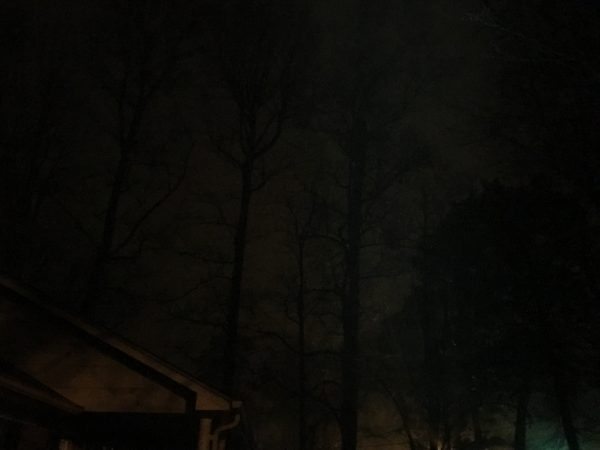 The bright #3 setting is great for about any type of work light, searchlight, signal light, "be seen while using" scenario. This is what you'll need while fixing a car on the side of the road, searching under furniture for earring backs or errant screws for the chair you're assembling. You'll get a lot of highly focused light, but it's not blinding in small or enclosed areas. 11 hours of light at ~75 lumens.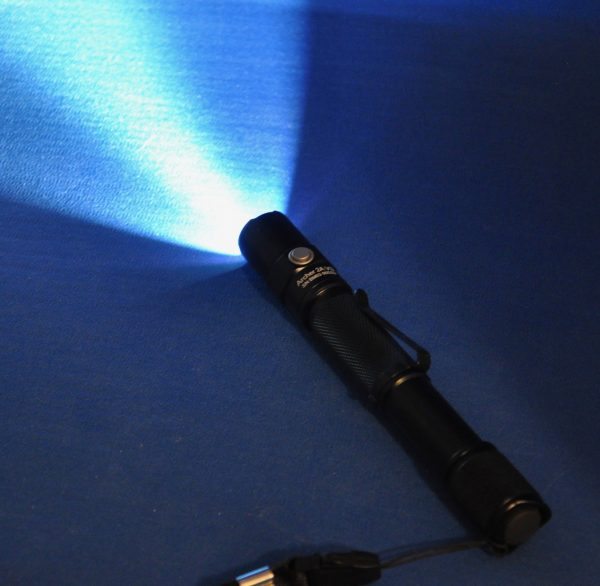 Notice the non-lit spaces are starting to get a lot darker.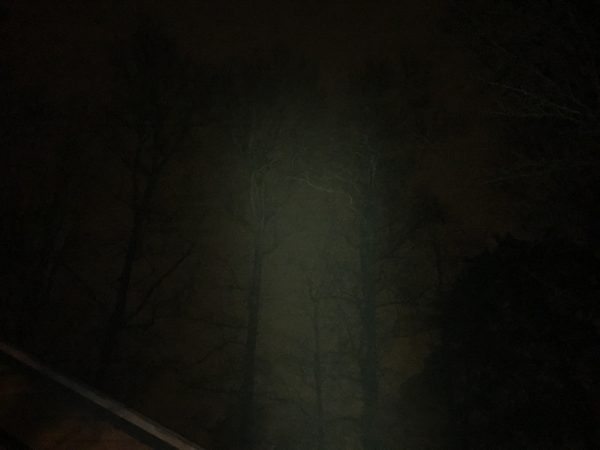 More trees, and a lot more of the fog.
The highest intensity is great for trying to find that pesky lost cat the neighbors keep losing up your tree, or checking house numbers while trying to find your friends house, or using to help young star gazers see constellations in the night sky. You can follow this beam through the night with ease.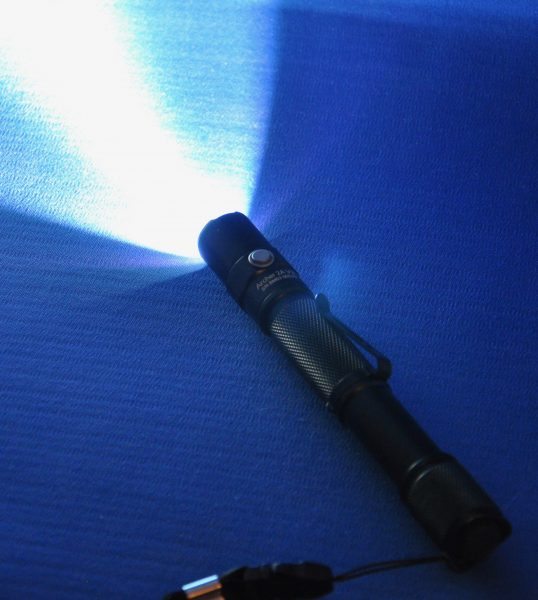 With 500 lumens of intensity, you'll burn thru a fresh set of batteries in about 90 minutes. Notice you can actually see the texture of my background material outside the beam's glare. There's a lot of light here.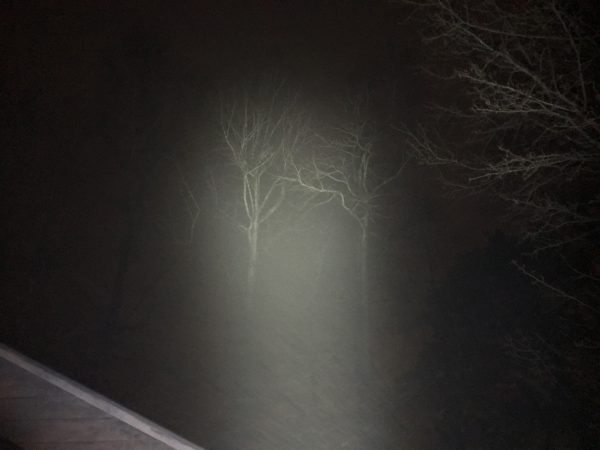 Those trees are maybe 50′ high and in my neighbor's yard. I'm on the other property line in the driveway. Blow that pic up, and you'll notice the moisture flying around through the air, and the tree in the upper right, which is beside me, but out of the light's beam.
Source: The sample for this review was provided by ThruNite. Please visit their site for more info and their Amazon page to order.

Product Information
Price:
$29.99
Manufacturer:
Thrunite
Retailer:
Amazon
Requirements:
Pros:

Weatherproof on/off thumb switch is easy to use, yet hard for accidental engagement
Separate button for mode change
Uses "available everywhere" AA batteries

Cons:

Have to open unit to replace batteries - no in-unit recharge
Pocket/boot clip leaves half the unit sticking out, which gets in the way