We use affiliate links. If you buy something through the links on this page, we may earn a commission at no cost to you. Learn more.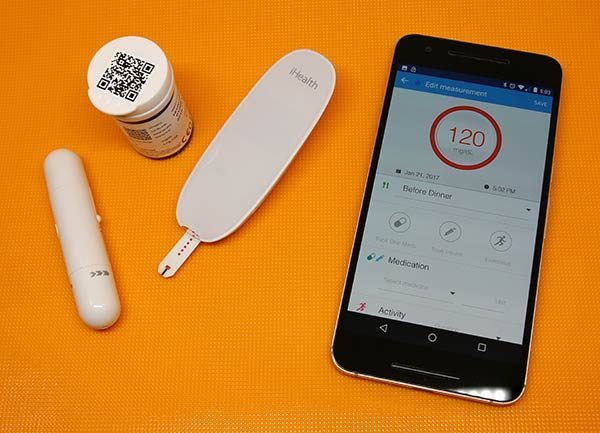 In 2004 I was diagnosed with diabetes. Yay me! I immediately cut out as much sugar as possible from my diet and have been lucky enough not to have to go on insulin or other medications to manage the condition. Just using diet and exercise doesn't mean I ignore the fact that I'm a diabetic though. I still need to keep track of my blood glucose readings by using a blood glucose monitor and recording the results in a notebook. When I was offered the iHealth Smart Gluco-Monitoring System to review, I was excited because it pairs with an app to automatically record results. Let's check it out.
What is the iHealth Smart Gluco-Monitoring System?
The iHealth Smart Gluco-Monitoring System is a Bluetooth blood glucose meter that uses sensors to measure the amount of sugar in a drop of blood to provide the user with a mg/dL blood sugar level.
What's in the box?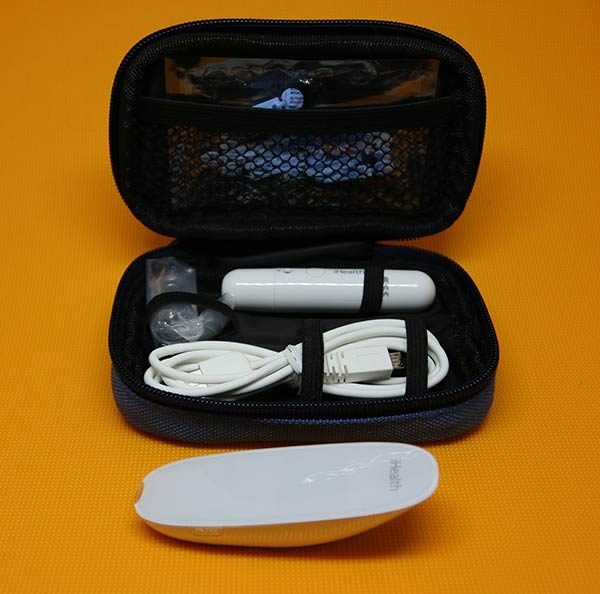 iHealth Smart Gluco-Monitoring System
iHealth Lancing Device
Lancet x10
Clear Cap for Alternate Site Testing
USB Charging Cable
Travel Case
Owner's Manual
Quick Start Guide
Design and features

The iHealth Smart is a small oval shaped device with a power button / memory recall button on the right side. Holding the power button for 3 seconds will turn the unit on. Subsequent presses of the button display previous blood sugar level readings. The iHealth Smart can store up to 500 readings.

The opposite side of the meter has a micro USB port that is used to recharge the device's batteries.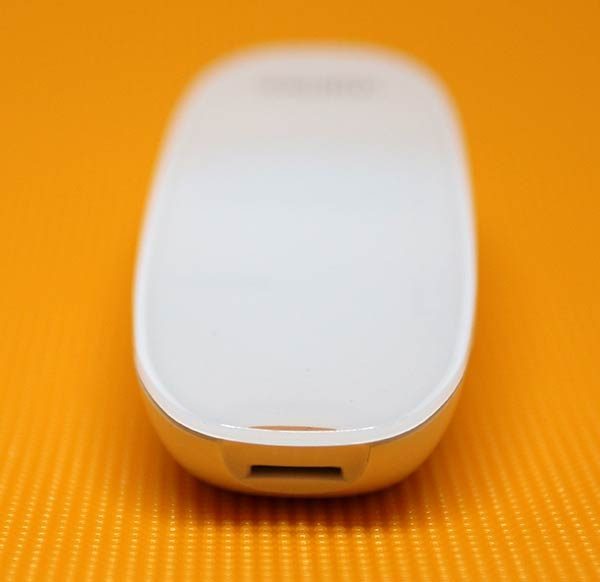 On the front end of the iHealth Smart is a slot for the test strip.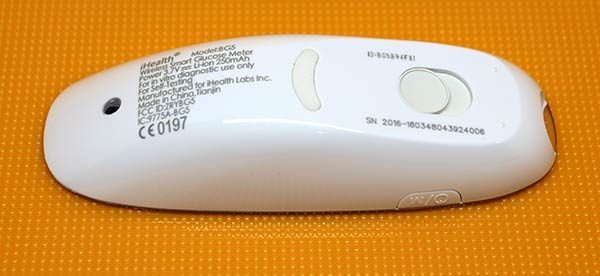 On the bottom is a test strip eject button.
How do you use the iHealth Smart Gluco-Monitoring System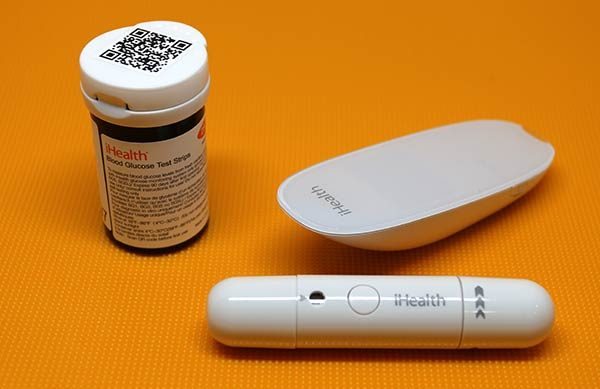 You need three items to test your blood sugar level with the iHealth Smart. You need the iHealth Smart device, the lancing device and test strips.
The test strips for the iHealth Smart are sold separately in 50 strip vials for around $12. Each test uses one strip, so vials of strips is a reoccurring purchase.

The lancing device is a chapstick-sized tube that has a spring loaded mechanism that pokes your finger tip to draw a drop a blood for the test.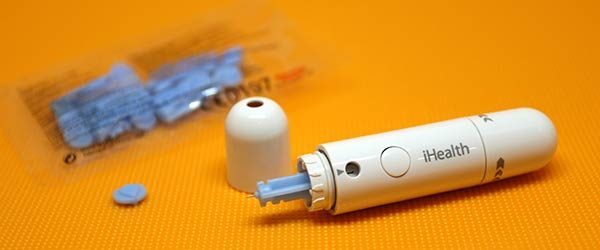 One end of the lancing device comes off to load a lancet. The cap snaps back in place and can be twisted to modify the poking depth (ouch). I kept it at the first level. The opposite end of the lancing device twists to prime the lancer.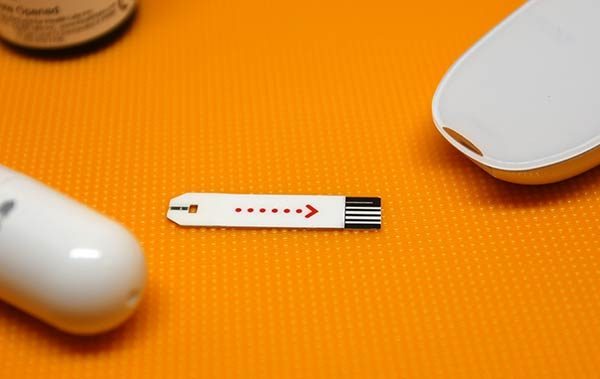 The test strip has a striped in which is what is inserted into the iHealth Smart. The other end is where the drop of blood goes. To test, you just insert the strip in the meter, use the lance to draw a drop of blood, touch your finger / blood droplet to the end of the test strip and wait a few seconds to see the test result.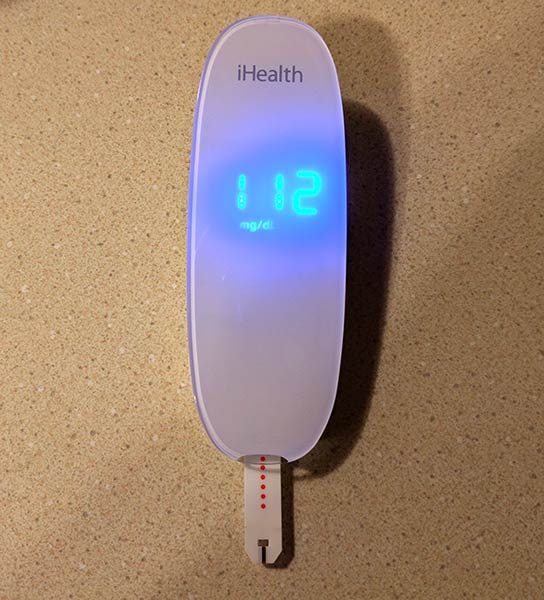 I did some side by side test with my non-connected glucose meter and the results were very close.
You can use the iHealth Smart meter by itself since it stores up to 500 test results, but when paired with an iOS or Android device, it can provide an easier way to view results and trends. The app will also allow you to export readings to a CSV or Microsoft Excel file. The app will also remind you when it's time to perform a test and reorder strips.

Each time you take a test, it will guess if it's before a meal or after a meal. You can edit the info about each test if it doesn't guess correctly.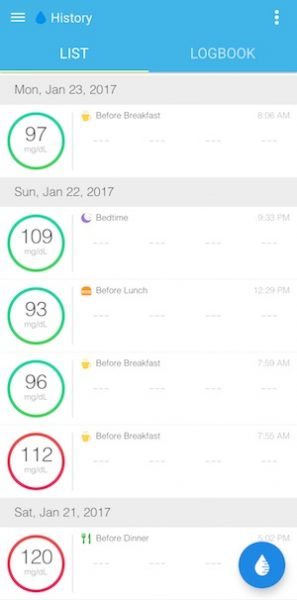 Each test will show as red, green or yellow. Red means a high mg/dL blood sugar level, green is a normal mg/dL blood sugar level and yellow is a low mg/dL blood sugar level. These levels have default values as per the American Diabetes Association. If desired, you can modify the target range levels in the app's settings.

You can view trends graphs that can help you see when your blood sugar levels are out of range most often so that you can adjust your diet or talk to your doctor.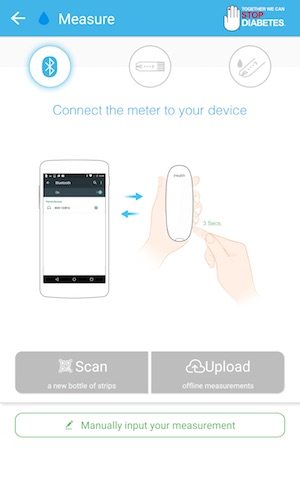 If you don't have the mobile device with the app when you need to test your blood sugar level, you can sync readings later through the app.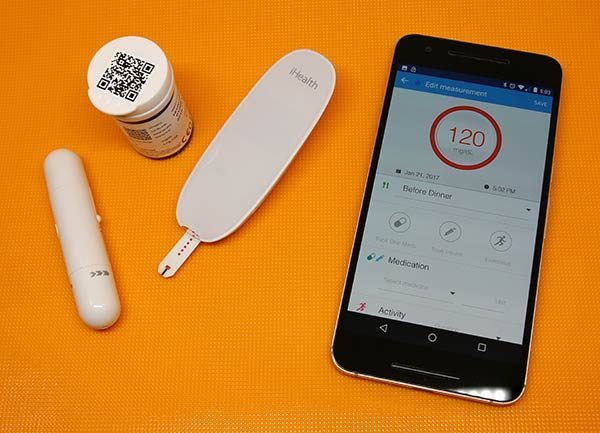 Other information such as medications, activities, carbs in grams that you ate before the test, notes and even a place to record a message with your voice.
Concerns and issues
I like that the meter is not overly expensive, but it is concerning that the device will become obsolete if iHealth goes out of business and no longer offers the test strips since this blood glucose meter can not use other brands of strips. That said, iHealth Labs has been in business for 6 years.
I also noticed that there's no way to add another user to the app, so if you have a family with more than one diabetic, you'll have to buy two iHealth Smart devices.
What I like
The iHealth Smart Gluco-Monitoring System is simple to use and the fact that it uses a rechargeable battery means that you won't need to buy a new of batteries when it gets low.
I also like the easy to read history and trends data which I can show or email my doctor by exporting to a spreadsheet.
Final thoughts
The iHealth Smart Gluco-Monitoring System is my first experience using a connected blood glucose meter and so far I see no downsides to using a device like this. The price is low enough to make the purchase of this device attractive if you've been needing to replace an old-school glucose meter.
Source: The sample for this review was provided by iHealth. Please visit their site for more info and Amazon to order.