We use affiliate links. If you buy something through the links on this page, we may earn a commission at no cost to you. Learn more.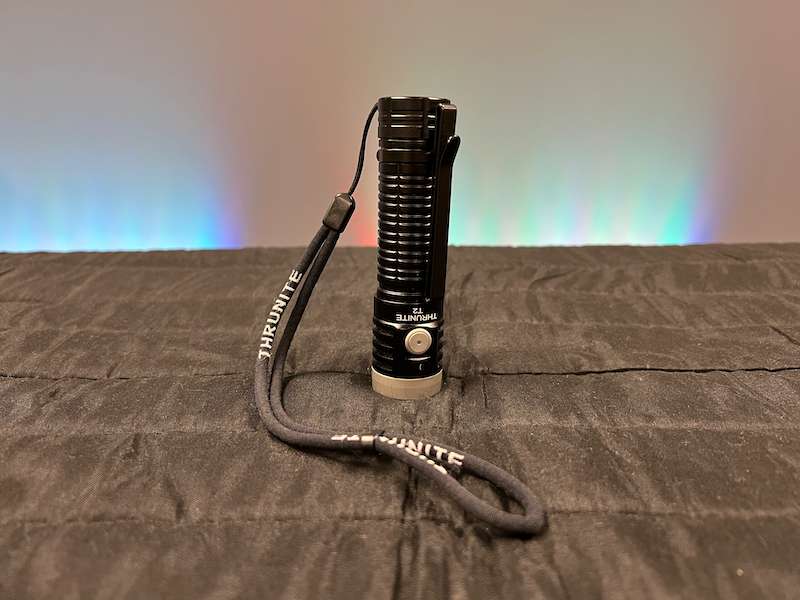 REVIEW – Flashlights have come a long way in the last ten years. From the old AA Maglite to today's high-brightness LED lights, there are so many options in many different form factors. When looking for an everyday carry flashlight, what do you need to take into account, and which ones will meet your needs? ThruNite is a manufacturer with a lot of options, including their new T2 flashlight. 
What is it?
ThruNite T2 is a bright, compact, everyday carry flashlight, featuring high brightness, long battery life, and solid aluminum alloy construction.
What's in the box?
ThruNite T2 Flashlight
Holster
2x Spare O-rings
2x Spare Rubber USB Covers
21700 Battery
Lanyard
USB-A to USB-C Charging Cable
Dual Direction Clip
User Manual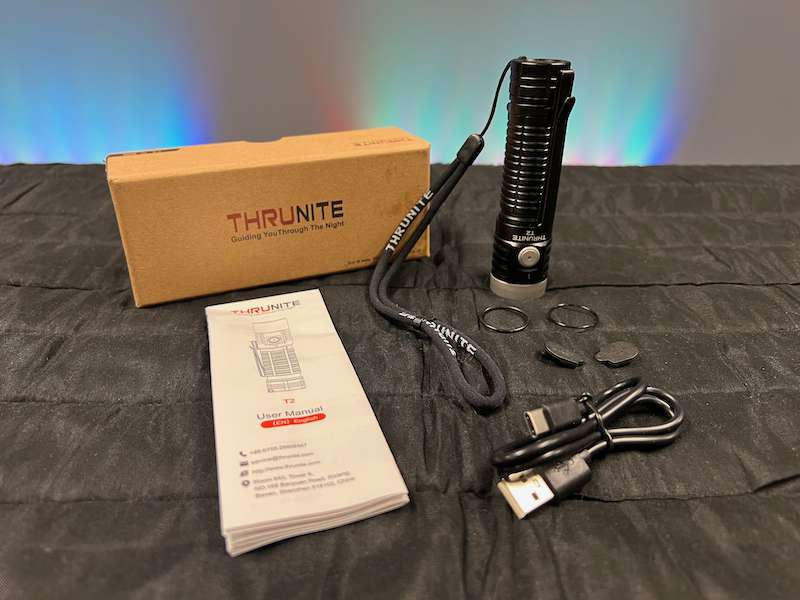 Hardware specs
Light Source: CREE XHP70 LED
Output

Turbo: 3,757 lumens for 2 minutes, then 725 lumens up to 216 minutes
High: 1,712 lumens for 3 minutes, then 732 lumens up to 223 minutes
Medium: 366 lumens up to 7.5 hours
Low: 30 lumens up to 77 hours
Firefly: 0.3 lumens up to 69 days
Strobe: 1,450 lumens up to 5 hours

Distance: 518 ft. (158 m)
Intensity: 6,300 cd max
Impact Resistance: 4 ft. 11 in (1.5 m)
Water Resistance: IPX8 (6 ft., 6 in.; 2 m)
Battery: ThruNite 5,000 mAh 21700
Construction: T6061-T6 aluminum alloy
Dimensions: 4.41 in. x 1.2 in. x 1.02 in. (112 mm x 30.5 mm x 26 mm)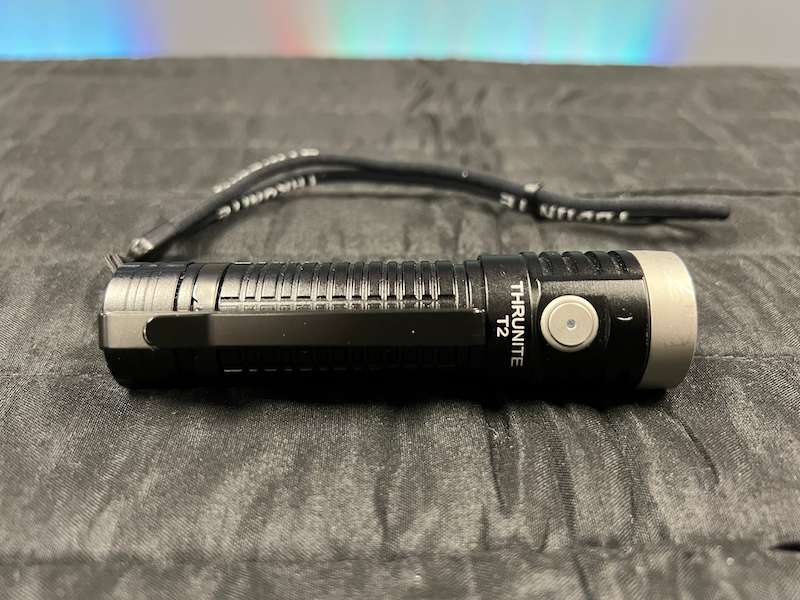 Design and features
ThruNite T2 is a compact EDC flashlight made from T6061-T6 aluminum alloy with a raised textured finish. The light is all black except for the silver ring around the head and the side switch, which are silver aluminum. There is a single side switch that is used for all functions and there is an attached, dual-direction clip for clipping the light in a pants pocket, on clothing, or on a hat for headlamp use. On the opposite side of the head from the side switch is an inset, rubber-covered USB-C charging port. 
Installation and setup
In the box, ThruNite includes a slip of paper that says to make sure to twist the head and tail caps before use. This is done presumably to prevent the light from coming on and either draining the battery or burning through the package (more on that later) during shipping. The other thing that should be done before use is to charge the battery. With a 5,000 mAh battery, it could take a little while to fully charge but with up to 2A charging speed it shouldn't take very long to top it off before first use.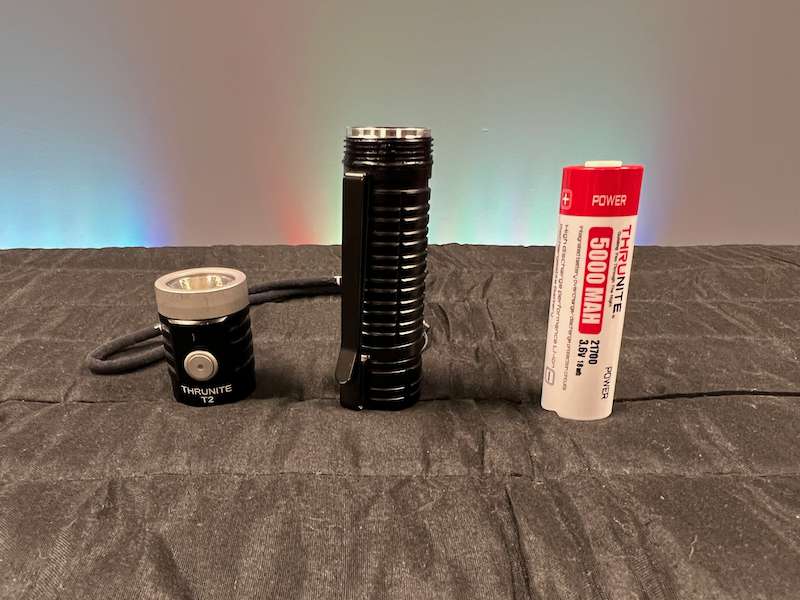 Turning the light on is as simple as pressing the side switch. There is a lock/unlock mode, which for a flashlight that can get as bright as this one, should probably be the default mode you use. The flashlight has five brightness levels; Low, Medium, and High modes are accessed while the light is on by long-pressing the side switch. While the light is turned off, long-pressing the side switch turns on Firefly mode. From any mode, even while turned off, double-pressing the side switch enables Turbo mode. Triple-clicking the side switch from any mode including off enables Strobe mode.
The side switch also has an LED charge level indicator built in. When the flashlight is on the LED glows blue. While charging the LED is red and turns blue when charging is complete. The LED glows purple when there is an abnormal charging condition. If you press the side switch while lock mode is enabled it turns red for a second then turns off again.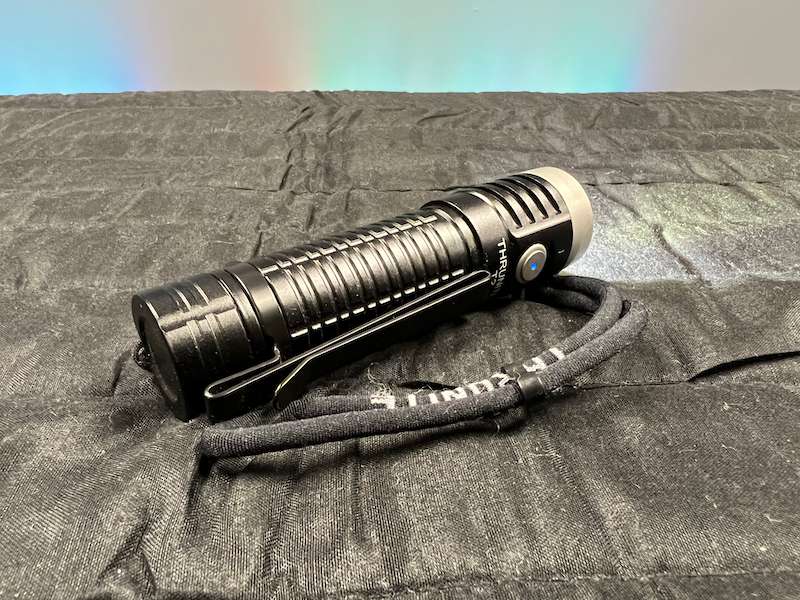 In Use
When testing flashlights I like to use them as my everyday carry for a couple of weeks to get a real feel for how it works, its capabilities, strong points, and any negative things that might come up. The first thing I noticed is that I'm very accustomed to a flashlight with tail cap switch. Almost every time I reached for the flashlight I instinctively reached for the end of the flashlight with my thumb and then remembered there wasn't a switch there. I don't consider this a negative, it's just what I'm used to. In the years since I stopped using a Maglite, I've always had flashlights with a tail cap switch so that's a lot of years of muscle memory I have to overcome.
Once I've turned the flashlight on, however, it has been a joy to use. The brightness levels available always provide an amount of illumination I can use and Turbo mode is just crazy bright for a light of this size. Changing modes is easy with the side switch, although I think I prefer a light where a short press of the side switch changes brightness levels, maybe with a long press to turn it off, but that's nit-picking.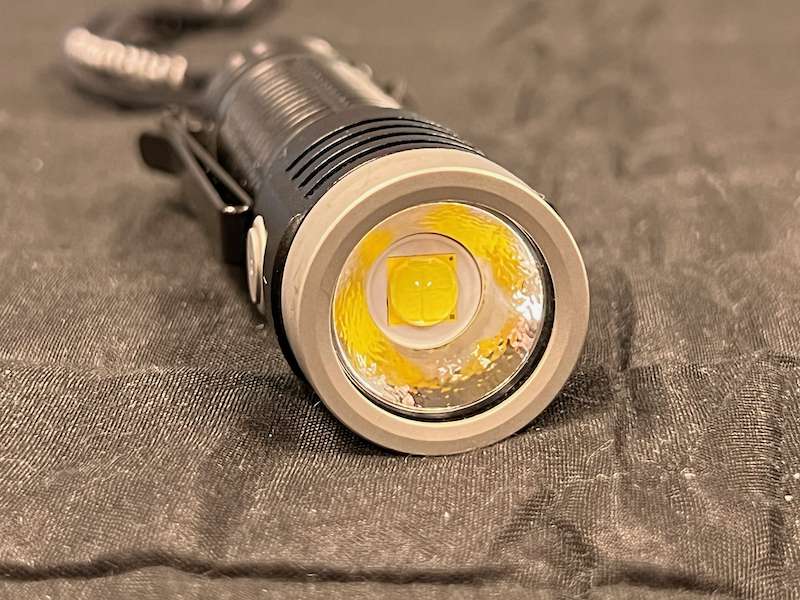 There is a memory feature that turns the light back on to the last used brightness level, as long as it was either Low, Medium, or High. It won't return to Firefly, Turbo, or Strobe modes, which is an acceptable compromise.
In their marketing materials, ThruNite shows the light being clipped to the brim of a baseball cap for use as a headlamp. While this is possible and would be convenient, it felt a little too heavy for comfortable use in my testing. I'm glad to know the light can be used this way but I feel like either my hat would droop from the weight or I'd start to feel pain in the back of my neck after using it this way for a little while. 
One negative for me is that the lockout mode is a little tricky to enable. With the flashlight off you have to long-press the side switch to turn on Firefly mode, then long-press the side switch again to lock the flashlight, which turns it off as well. Unlocking it just takes another long press, then you have to press the side switch again to turn it on. When I want to use a flashlight I don't want to have to go through all that to lock or unlock it. I know it's a safety feature, and with a bright flashlight like this it can literally prevent a fire, but I wish there was an easier way to enable it.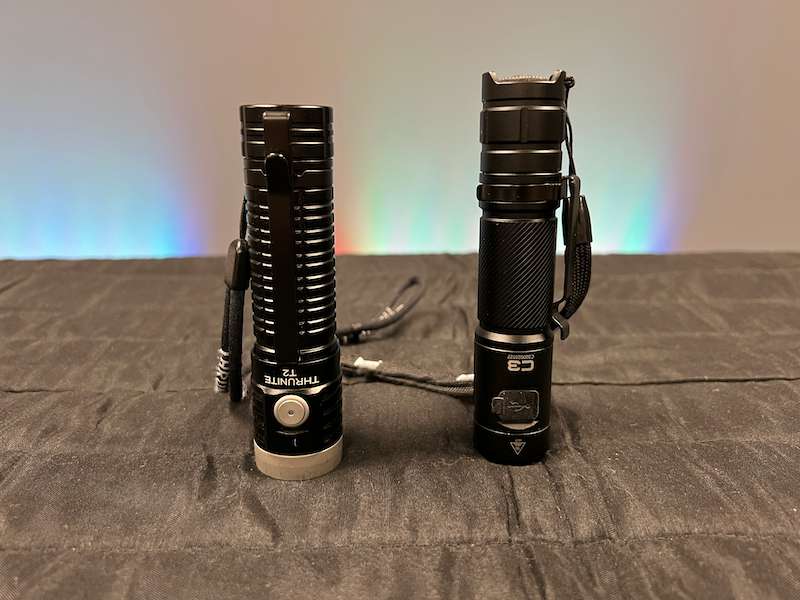 Speaking of safety and fire, take the heat warnings you see on this flashlight and others very seriously. I know two people who have burned holes in the flaps of their holsters (not with a ThruNite T2, but with other, dimmer flashlights) when they've accidentally been turned on while on their belt. I've discovered my T2 accidentally turned on several times, only to find it pretty hot when I reach for it. Thankfully I haven't burned through anything but it's definitely possible given enough time. While I was taking photos for this review I had the light on in Turbo mode, laying down on a sound-dampening blanket and I started seeing smoke after only a few seconds.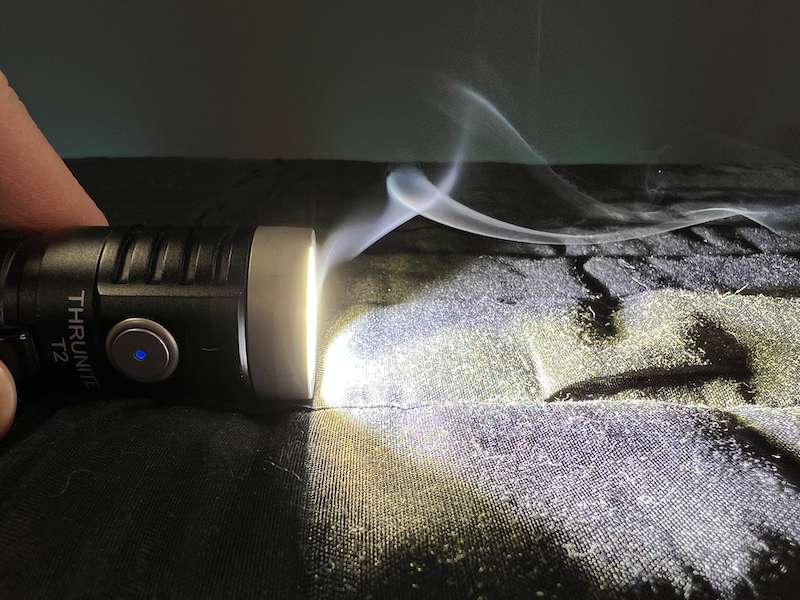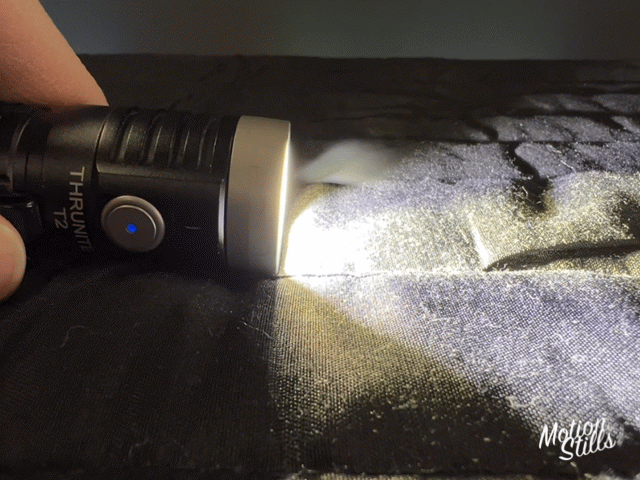 Another negative is that charging is a little tricky. If you use the included USB-A to USB-C cable or similar with a standard charger that supports up to 2A output it should work, and did in my testing. What didn't work for me is USB-C PD chargers along with USB-C to USB-C cables that I know work with my iPad and MacBook Pro. I didn't see any notice about this but it was a little disappointing to discover that I can't use several chargers I already have and use for much higher power devices. There were also a few USB-C cables that just wouldn't fit in the charging connector so either use the included cable or make sure you find one that has a USB-C connector that isn't much bigger or it just won't fit.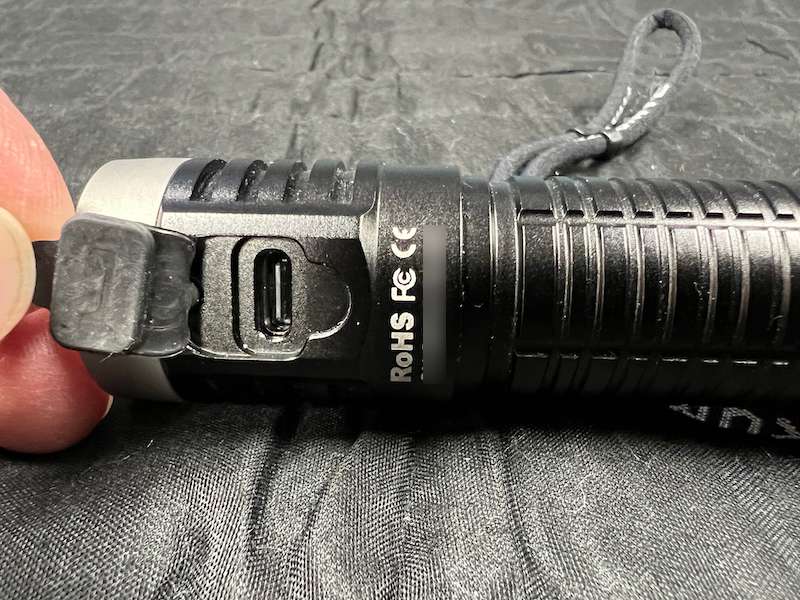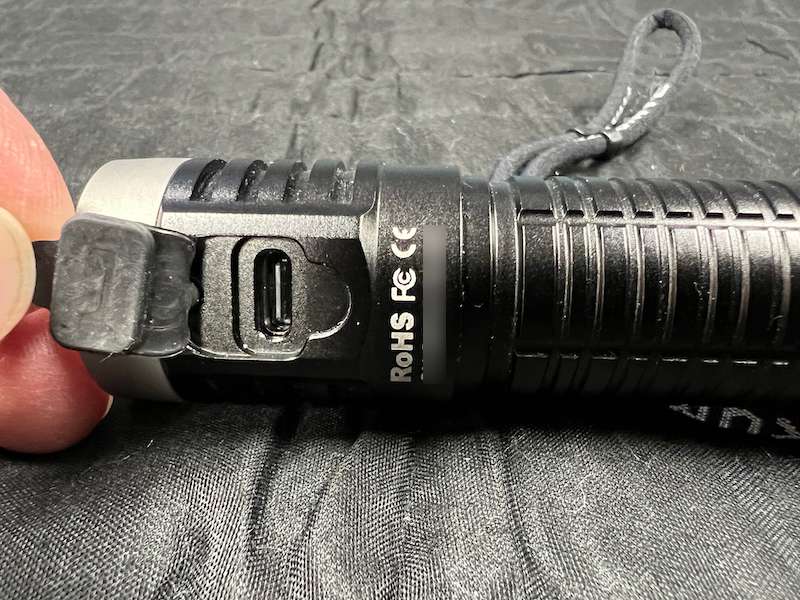 One last positive note is that you can still use the flashlight while it's charging, although only the Firefly or Low modes are accessible, presumably due to heat buildup from both charging and using the flashlight simultaneously. This would make it a great nightlight or camping light, if you plug it into a portable battery to recharge it.
Finally, I want to point out that this light is more of a floodlight than a spotlight. The beam is pretty wide coming out of the front of the light. The Wuben C3 flashlight I reviewed a few months ago actually has a longer beam distance, despite being about 1/3 the total lumens. Neither is right or wrong. For some circumstances, you might want a light that can shoot further, for some you might want to illuminate more of the immediate area around you. It makes sense to have both for any situation that might come up. Of course, you can probably only carry one on you all the time so you have to choose which is more helpful for your unique situation.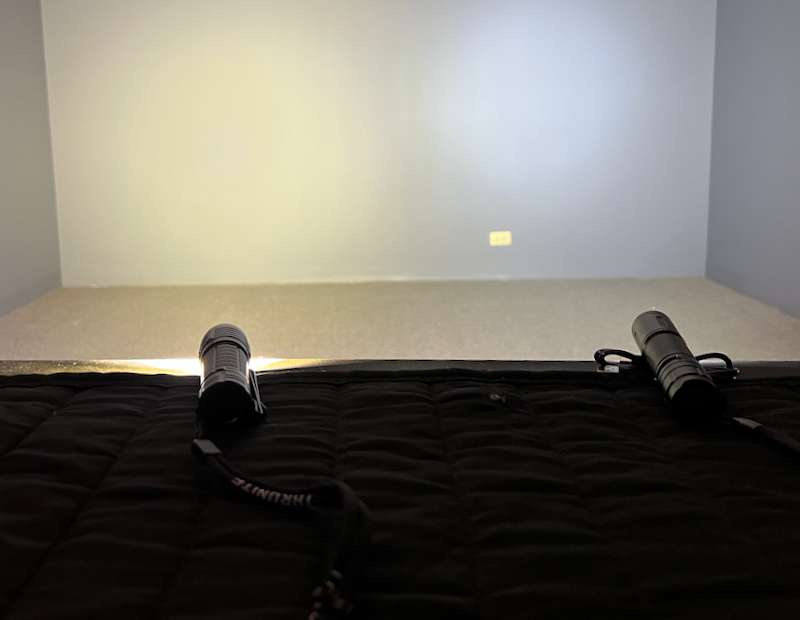 What I like
Very bright
Solid construction
5,000 mAh rechargeable battery
Up to 2A charging current
Ability to use the flashlight while charging
What I'd change
I'd like a magnetic tail cap since there's no switch there
More USB-C charging options
Make the lockout function easier to use
Final thoughts
An everyday carry flashlight is the one you want to have with you all the time, the one that meets your everyday needs without too much hassle. I truly haven't decided whether the ThruNite T2 is the one I'll keep with me every day or not but if I don't I'll always have it in my backpack ready to use when I need the extra high brightness and long battery life it provides.
Price: $69.95 from ThruNite; $65.95 from Amazon
Where to buy: thrunite.com or Amazon
Source: The sample for this review was provided by ThruNite. For more information visit their site.