We use affiliate links. If you buy something through the links on this page, we may earn a commission at no cost to you. Learn more.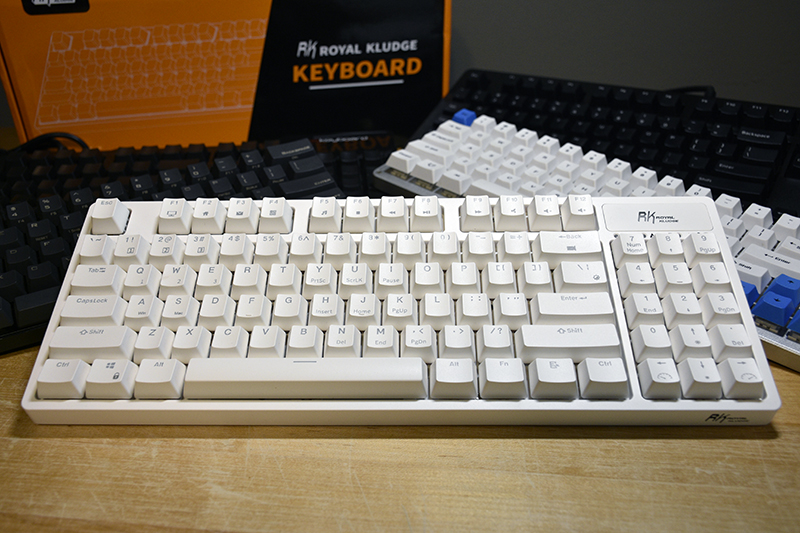 REVIEW – The RK Royal Kludge RK89 keyboard is an entry-level mechanical keyboard with interesting features at a budget price. I love mechanical keyboards and this one ticks a lot of boxes I like to see in one.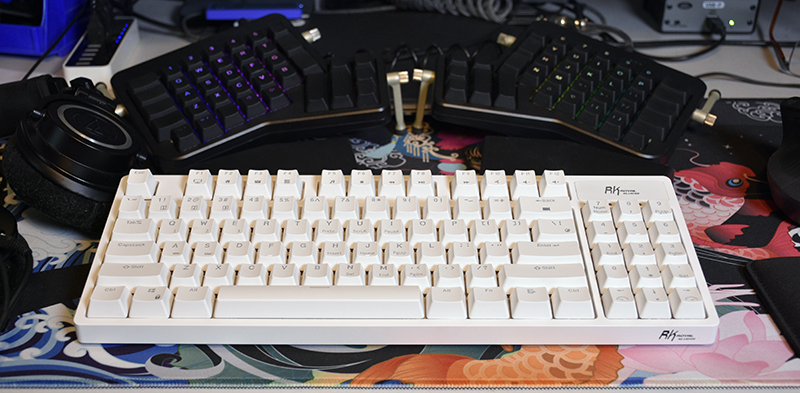 What is it?
The RK Royal Kludge RK89 is an 85% mechanical keyboard that can be used with almost any device.
What's in the box?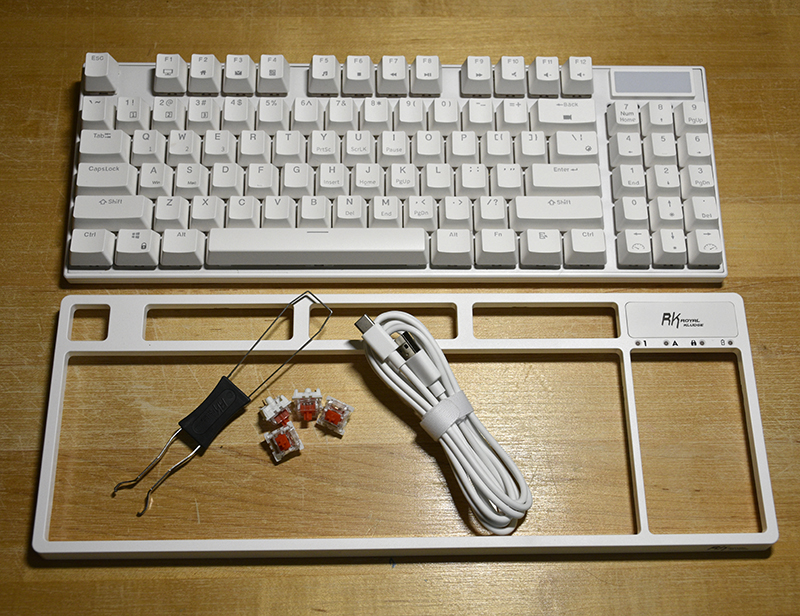 RK Royal Kludge RK89 keyboard
4 GHz USB receiver
Keycap/switch puller
Four extra Outemu linear red switches
USB C to USB C cable
USB A to USB C dongle
Hardware specifications
Hot-swappable switches
2x USB passthrough
Multi-mode Ice Blue LED lighting
1850 mAh internal rechargeable battery
ABS double shot keycaps
Windows/Mac/IOS/Android compatible
Design and features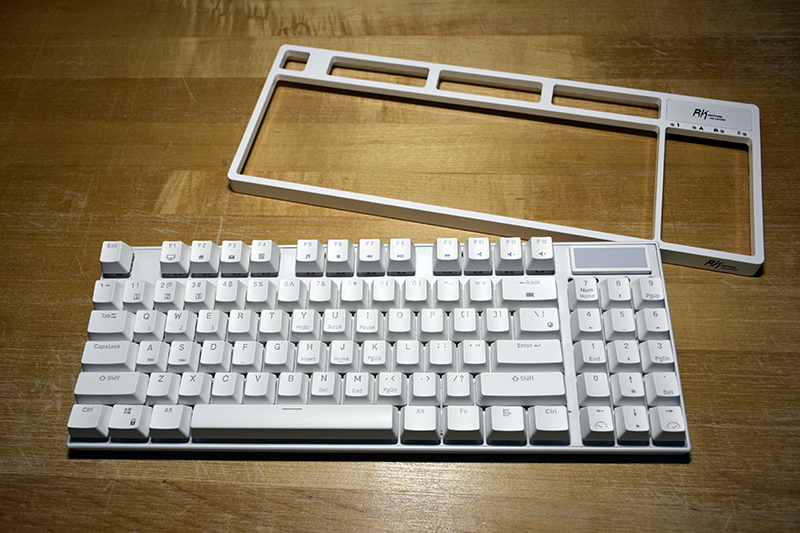 The RK Royal Kludge RK89 is an 85% mechanical keyboard. For those who don't know, this means it's 85% percent the size of a full-sized keyboard that has 104, 105, or 108 keys. As you can guess from the name, this one has 89 keys. Because of that, the keys serve multiple functions with the use of the Switch key and a separate Function key. As an example, to use the F keys as media keys, you have to press and hold the Function key then press, say the F8 key to pause any media currently playing.
The keyboard features a removable frame in case you're a nerd like me and like to see the switches. No tools are needed. You just have to gently pry the frame up and off. It also has ABS double shot keycaps that allow the LEDs to shine through the characters. ABS is the plastic used to manufacture the caps and is cheap to produce when compared to other materials. Double shot means they use two layers of plastic to make the caps and ensures the characters never wear off. Now the problem for keyboard enthusiasts is ABS caps tend to develop a shine to them after repeated use.
A really cool feature of the keyboard is what the manufacturer refers to as triple mode. The RK Royal Kludge RK89 mechanical keyboard can be used as a Bluetooth 5.0 or 2.4 GHz wireless, or a USB wired keyboard. It's Windows, Mac, IOS, and Android compatible so you shouldn't have any trouble finding SOMETHING to connect it to. So far, I've used it on my laptop, my Google Pixel 4a, one of my kids' PCs, an old Surface tablet, and my PS4.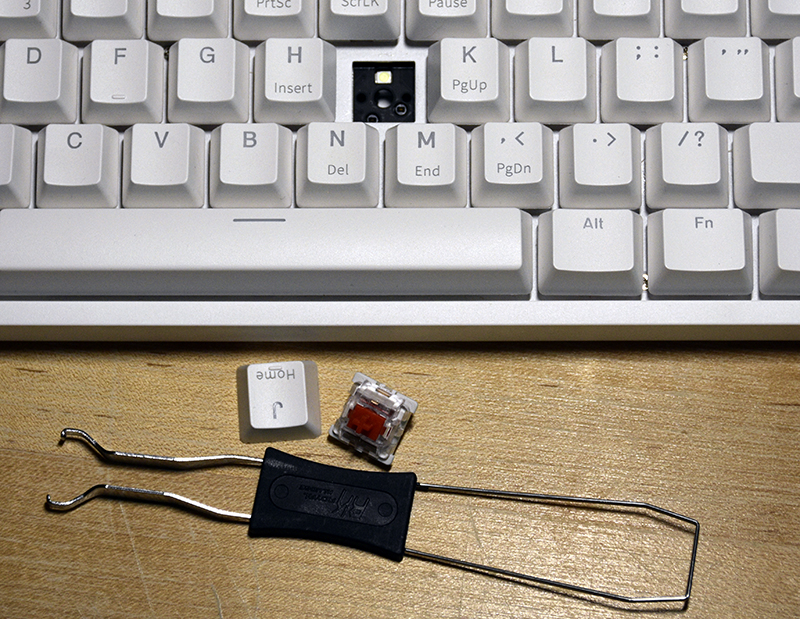 Now let's talk about the switches without going too far down the rabbit hole. They are Outemu red "hot-swappable" linear switches. Outemu is a manufacturer that I'm unfamiliar with but have discovered they make pretty good budget Cherry MX clone switches that perform well at the price point. AND THEY'RE HOT-SWAPPABLE! If one stops working, you just pop out the bad one using the included tool and pop in a new one. If you get tired of the red switches, you can buy other Cherry MX compatible switches and replace them all or just some. Go crazy! Mix and match them. Use several different types and manufacturers to find the best ones for you. This feature is becoming more widely available, but I haven't seen one at this price point.
The red switch is supposed to be for speed, so good for gamers and those who touch type. They require little pressure to register the keystroke, which is bad for me because I fat-finger a lot. I like a key with a higher actuation force to help guard against my heavy-handedness. Needless to say, my Backspace key gets a workout. The switches are exceptionally smooth on this keyboard with just enough clackety-clack to satisfy the ASMR I need from a keyboard without being annoying to those around me.
Linear switches have no tactile bump felt at activation of the actual keystroke. Linears are also much quieter with a soft thock instead of a loud click. I swear, I'm climbing back out of the hole now. It has multiple layers of high-density layer foam in between the top plate, PCB, and bottom plate. That aids in producing that sound I love. It also helps to alleviate the rattle and vibration that other bargain keyboards suffer from.
The 89% layout is a pretty good middle ground between my 60%, 75%, and 100% keyboards. For those of you who can't do without a numeric keypad, the RK89 has you covered. Though I must say, I don't care for its layout. The arrow keys are at the bottom of it, which shifts the numbers up, so it feels unnatural to me. The zero key is also a single-sized keycap like the rest of the numbers instead of a double-sized one, making it hard for me to hit it with my thumb and not press another key.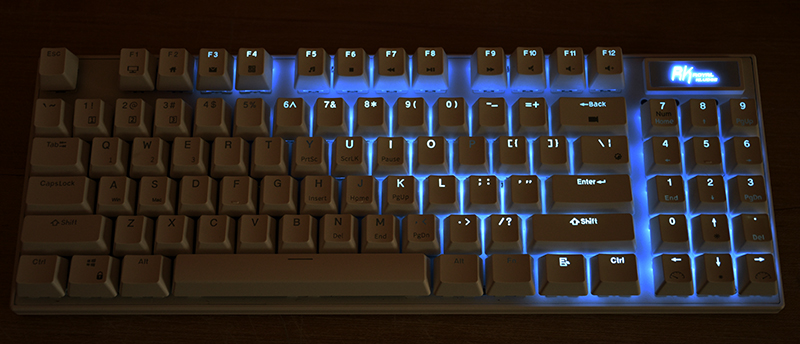 LEDs. We've got them here and there are a ton of different modes you can cycle through. There's a constantly circling around the keyboard in different patterns, a nice little breathing effect, and just lighting up the key you press and then slowly fading away. Right now, my favorite is one that radiates out from each key as you press it. There're settings for brightness and speed of the effect as well. Now if you're looking for the full RGB LEDs that are on so many keyboards nowadays, you'll be disappointed. The RK89 only has what they call Ice Blue. It's a pleasing color to me but may not be for everyone. I will confess though I'm not one for the Razer-esque lighting of my peripherals.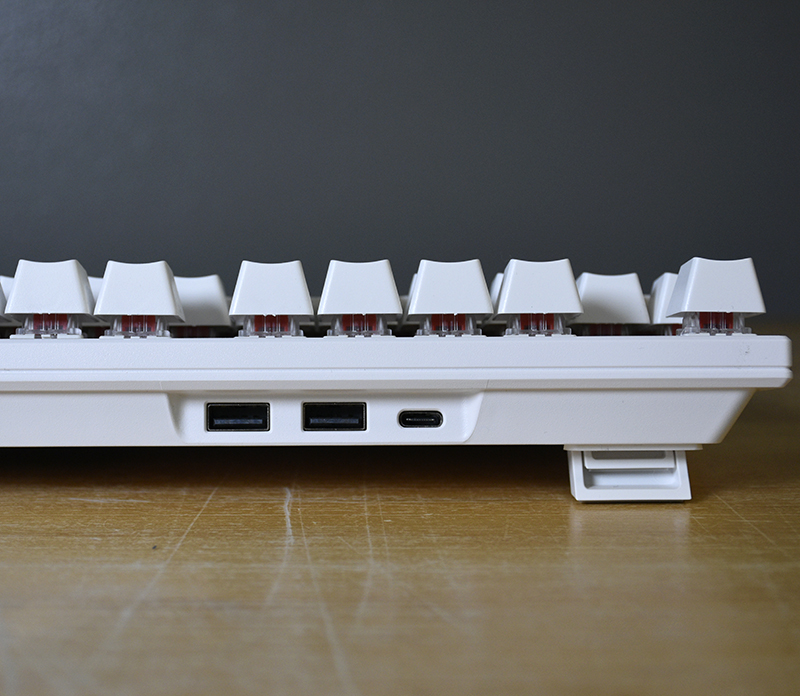 The RK Royal Kludge RK89 mechanical keyboard has a 2 port 2.0 USB hub which is ok, I guess. I mean it's okay for a mouse and the like, but I can't understand why it isn't 3.0 since 2.0 has all but been replaced. Not a deal-breaker for me. I've never really used them on any of the other keyboards I've had. I guess it can be a benefit if you're short on ports.
Another feature that's touted on the rkgamingstore.com website is some "Professional Software" that allows you to customize macros and key bindings. So far, I've been unable to locate it even after contacting support. I wish I could test it. There are a few keys I'd like to move around to optimize the layout for me.
The next thing I don't like is the keyboard I received had no manual in the box. I had to track it down on the website and it has limited information. It's in PDF format so a PDF reader of some sort would be needed if you don't already have one.
Also, the packaging of the extra switches should be more than the zip bag they came in. A couple of the switches I received had bent pins. Not so much they couldn't be straightened and used, but still, you expect them to be new and undamaged when you get them.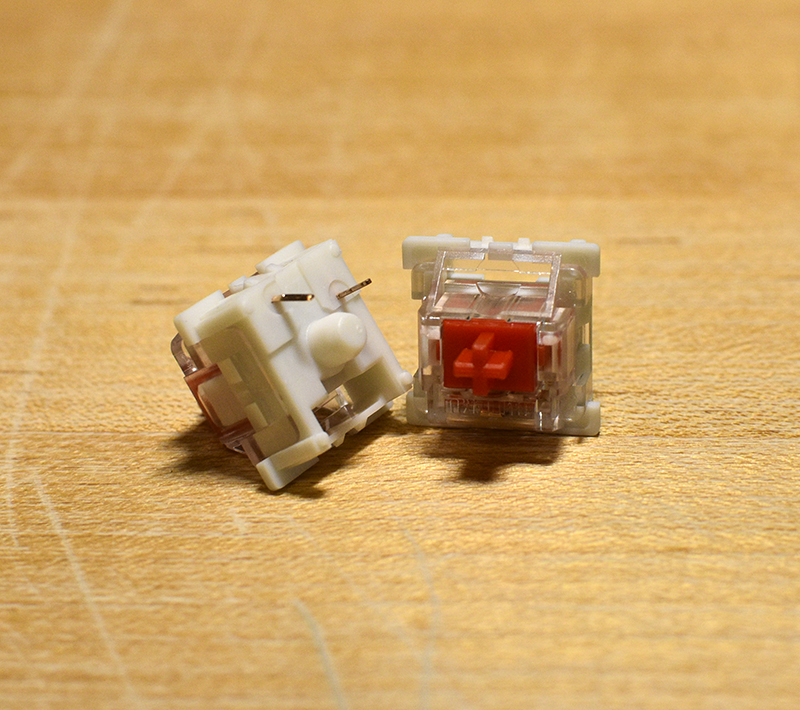 I wish this thing would've been built with an aluminum base. Granted that would increase the cost, but man, would it ever make this thing the perfect beginner's mechanical keyboard. This is a personal preference of mine and shouldn't dissuade you from getting this keyboard.  Remember, I'm a keyboard nerd.
Alright, how much is this all going to cost me? Currently, on the rkgamingstore.com website, the RK89 can be had for $74.99. I've got to say, to get all the features this keyboard flaunts, that's a really good price regardless of what my wife thinks. Here's the catch: they're sold out at the moment.  Now, that could be because this is a new product, and they don't actually have the stock yet.  If you want one, you can sign up to be notified when it's available.
What I like
The size is comfortable even for my large hands
The sound of the keys, again, nerd
Hot-swappable switches
Multiple modes that allow it to work on multiple devices
Internal battery allowing it to be wireless
Three height settings to get just the right angle for you
Multiple foam layers give it a more premium feel and sound
What I'd change
Build materials like aluminum chassis and PBT keycaps
USB 2.0 ports
Access to the software. It must be available somewhere, right?
Better documentation, the manual is a bit sparse
Final Thoughts
This is an excellent budget mechanical keyboard for anyone looking to see what all the hype is about. I mean, you really can't beat the price with all the RK Royal Kludge RK89 mechanical keyboard has to offer.
Price: $74.99 US
Where to buy: rkgamingstore.com and Amazon
Source: The sample for this review was provided by rkgamingstore.com.