We use affiliate links. If you buy something through the links on this page, we may earn a commission at no cost to you. Learn more.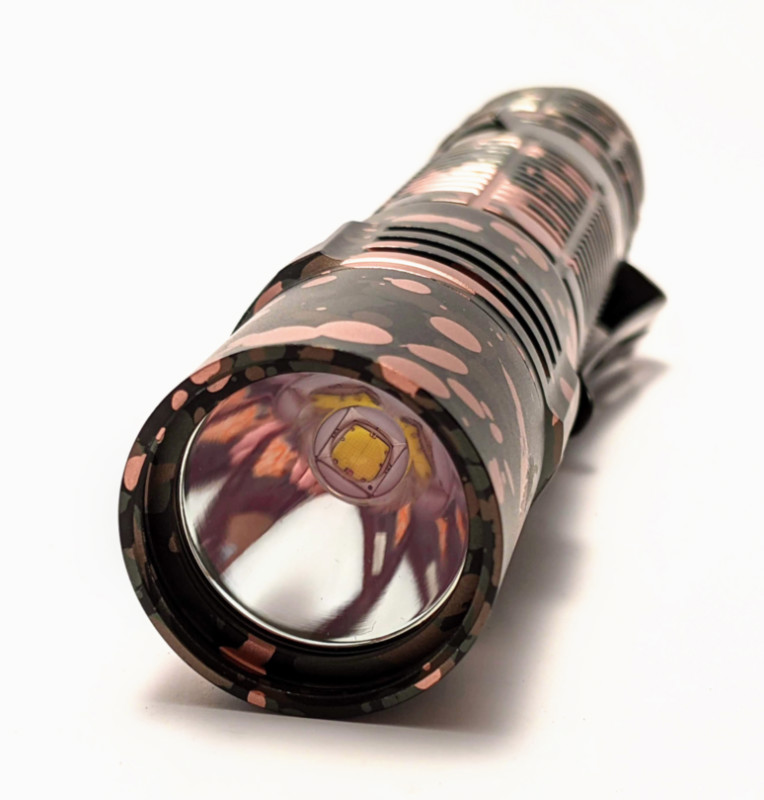 REVIEW: The THRUNITE BSS V4 flashlight has a turbo mode that might be called 'cigarette lighter mode', so be careful. But there are plenty of modes and functions so, once the hand learns its way around this medium size light you have a lot of lumen power at your disposal. Or, very little light, if that's all you need. The BSS V4 covers a very wide variety of lighting requirements.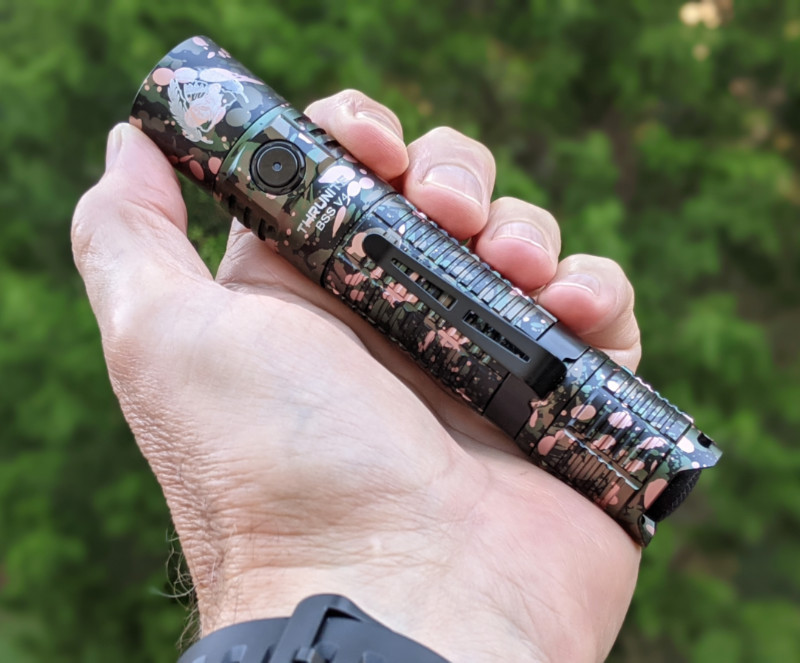 What is it
The THRUNITE BSS V4 flashlight is a multi-mode, rechargeable, LED flashlight.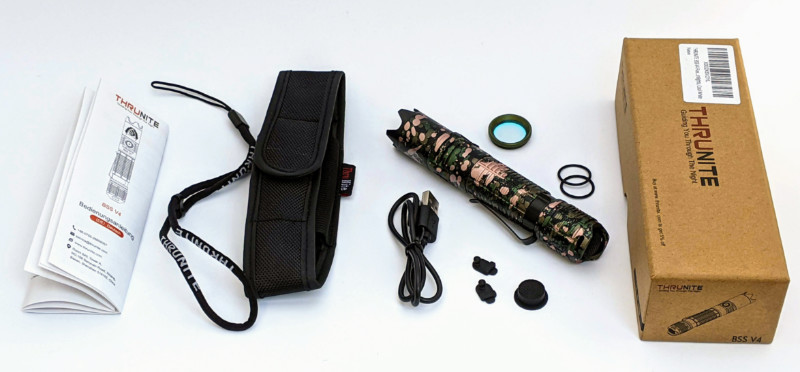 What's in the box
ThruNite BSS V4 flashlight

18650 3100mAh battery

Two spare O-rings

Two micro USB Rubber Covers

Micro USB Charging Cable

Pocket Clip

Red lens cover

Strike bezel

Lanyard

Holster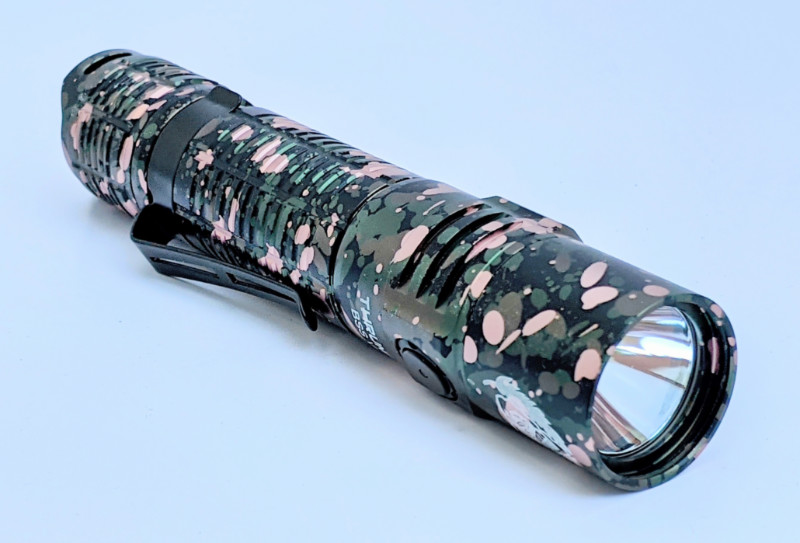 Hardware specs
LED: SST70

Reflector: Smooth finish

Working voltage: 2.7V-8.4V

Material: Aluminum alloy

Finish: Anodized anti-abrasive finish

Measurements: 5.25" Length, 15/16" Diameter at lens

Light output lumens: Firefly .54, Low 33, Medium 350, High 1426 – 634, Turbo 2523 -614.

Runtime: Firefly 56 days, Low 55 hours + 42 mins, Medium 4.5 hours, High 130 seconds + 150 minutes, Turbo 125 seconds + 147 minutes

Impact resistance: 1.5 meters

Water resistance: IPX-8 (2 meters)

Weight: (pocket clip attached, defense bezel removed) 5.0 ounces.
Battery size/type: 18650
Battery voltage: 3.6 V
Battery capacity: 3100 mAh
Battery chemistry: Lithium ion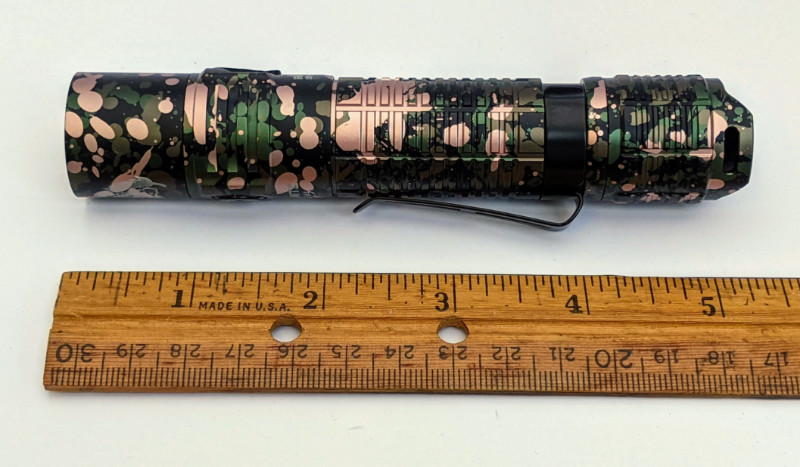 Design and features
I was sent what I'll call the 'Splash-paint Camo' version of the BSS V4. I don't see the camo version at Amazon but it's at Thrunite.com for $79.99 ($64.99 for black or desert tan).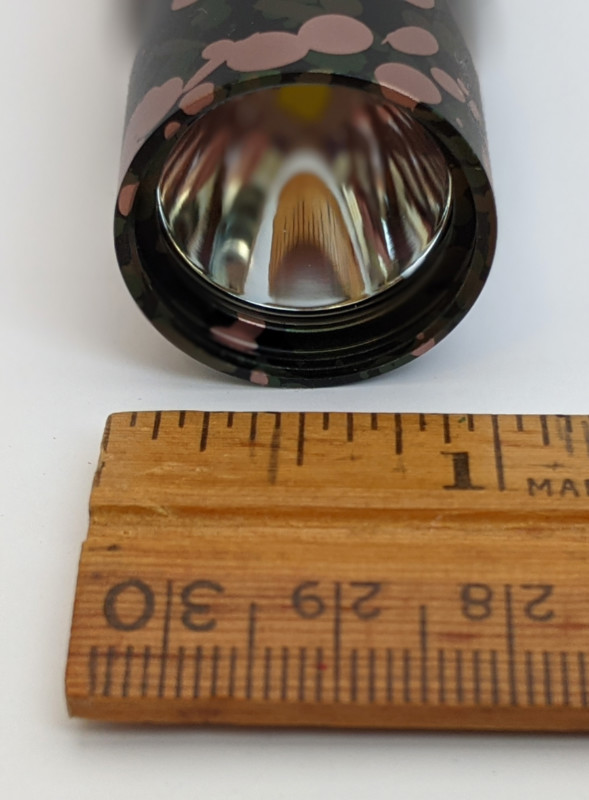 The light has 6 lighting modes including strobe (3 side button presses for strobe, which is not in the directions).  There are 3 low, medium and high brightnesses, with Firefly, strobe and turbo being the other 3 modes.
The Firefly mode is interesting. It is the lowest lumen setting of all the flashlights I've known and loved. It produces such low power it's about equivalent to the amount of light coming from one of my single AAA flashlights when it's way past time to replace the battery.  But it has actually been a very useful feature.  
Installation and Setup
The lens assembly and tail cap are intentionally loose during shipping to avoid battery drain. Screw those down to normal tightness, charge the battery to full capacity then start using it. Remove the defense bezel or keep it in place, and/or add the red lens filter if desired.  
Testing and observations
How to activate the strobe mode is not mentioned in the instruction sheet or Thrunite website. Again, 3 presses of the side switch gets you to strobe mode.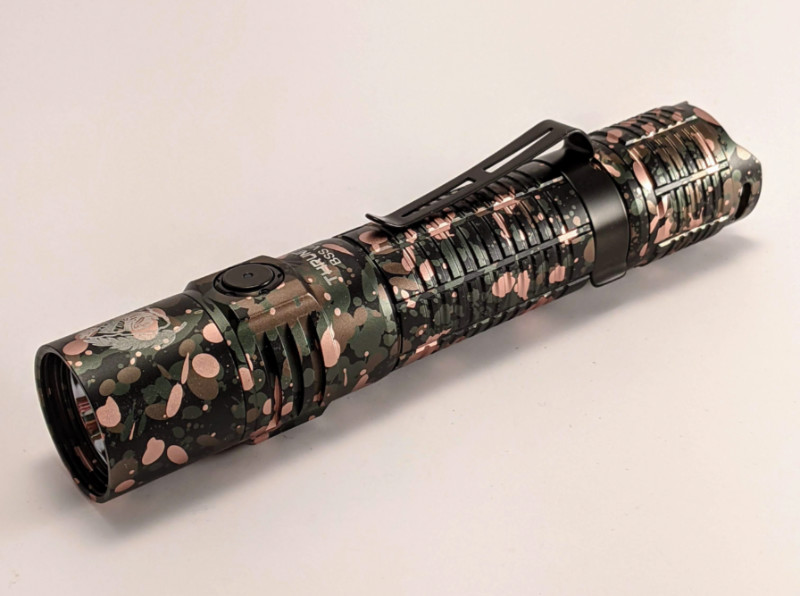 Without the pocket clip attached I was unable to discern the on-off side switch from the charging port unless I was looking at the flashlight. Better tactile differentiation of the switch would be mighty useful.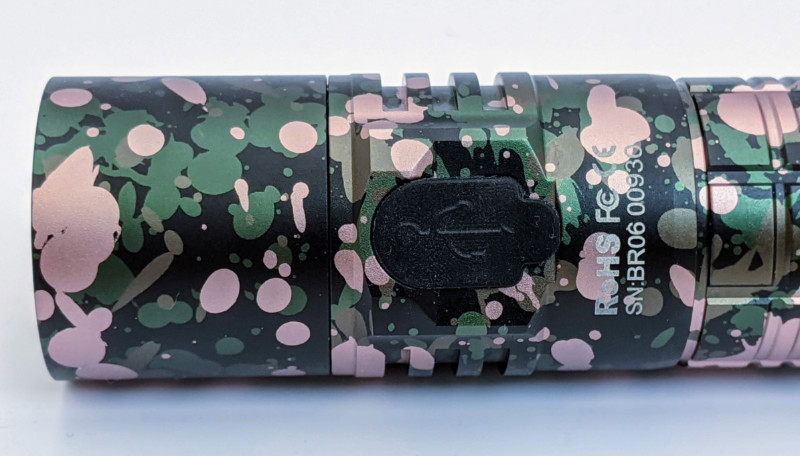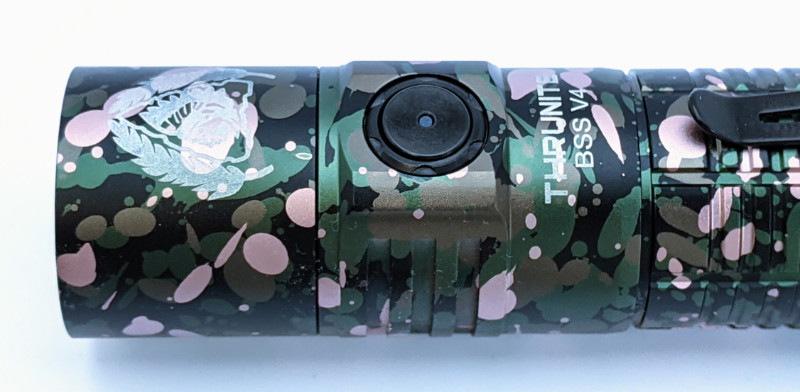 With the pocket clip in place I can check with my thumb for the clip, then slip my thumb forward to the on-off switch.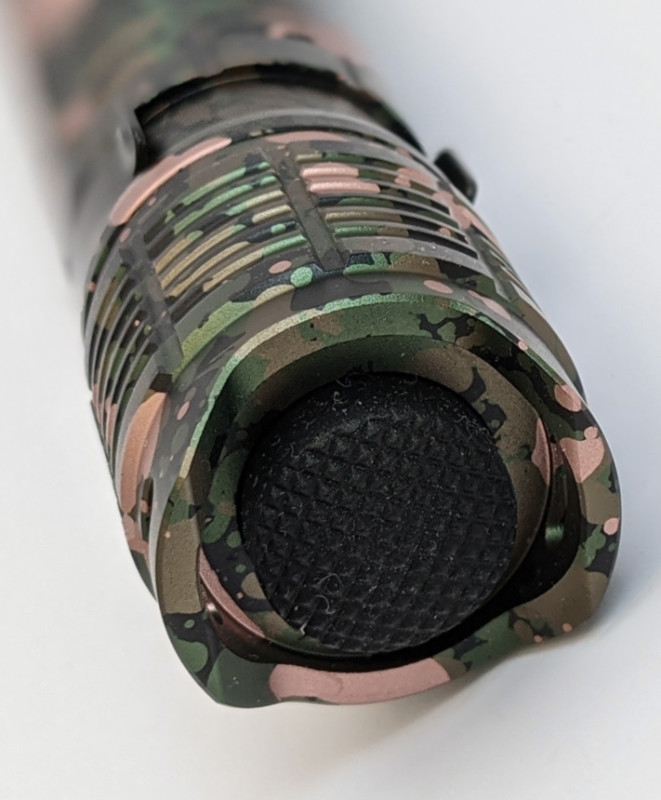 For quick bright light, half pressing the tail cap switch activates momentary turbo mode. Pressing that switch fully to 'click' keeps turbo mode brightness on until another full press of the tail cap switch turns the light off. That mode generates instant heat and it gets hotter the longer that mode is on. Double-pressing the side switch also activates turbo mode.
From light off, a long hold on the side switch activates Firefly mode. It's a very dim light, the dimmest of any of my flashlights, but could be useful in total dark situations or for maneuvering around light sleepers in your vicinity. Firefly mode is too dim to photograph.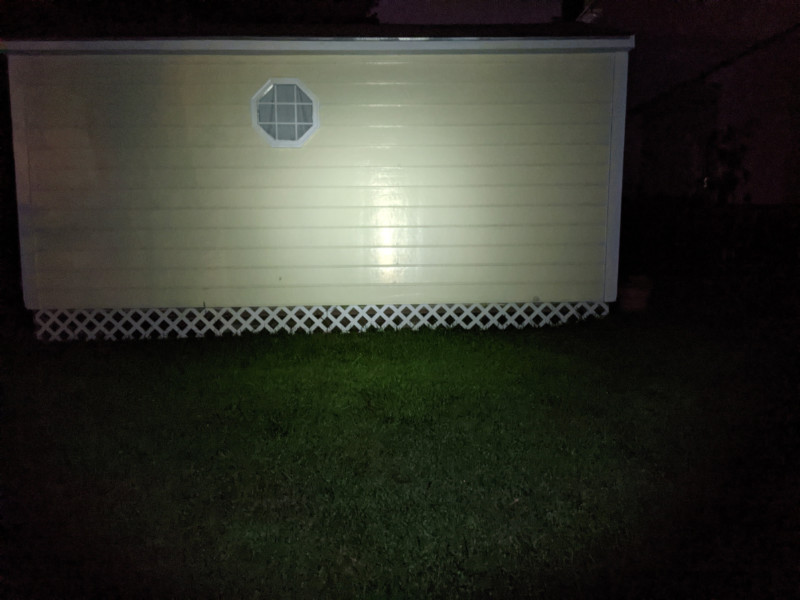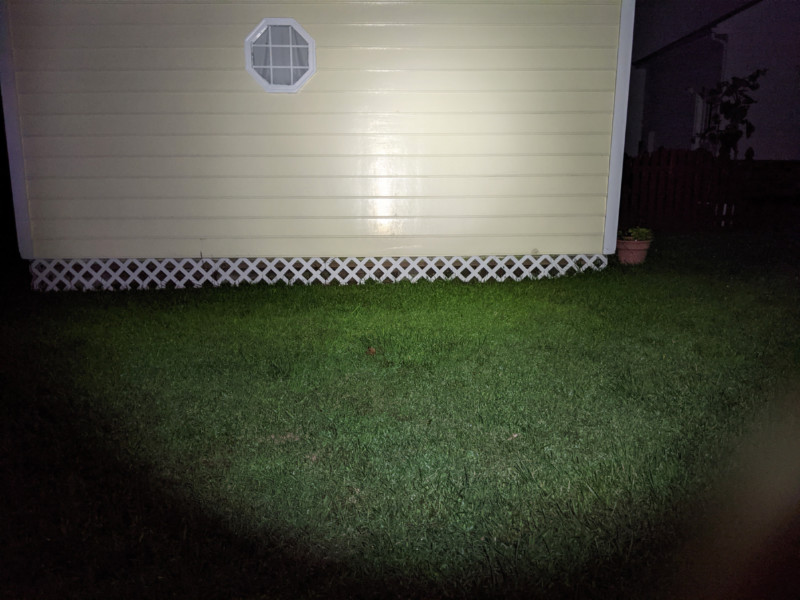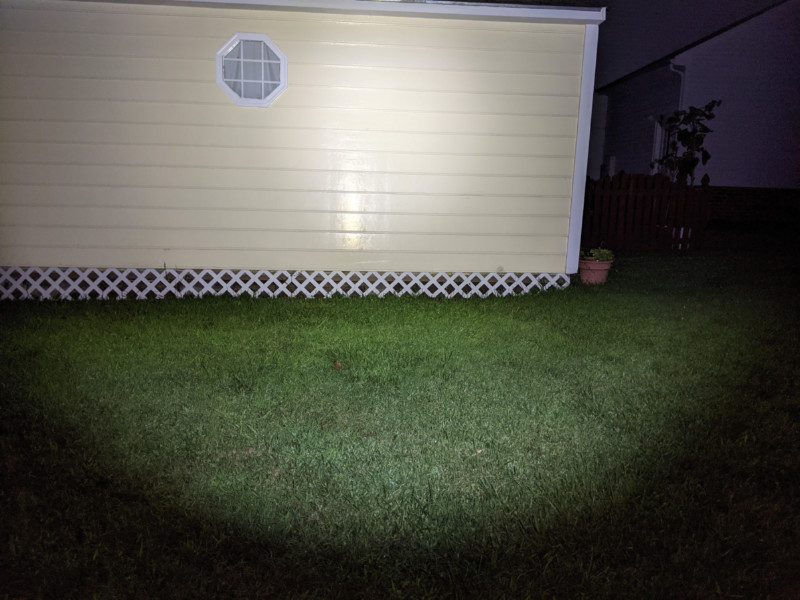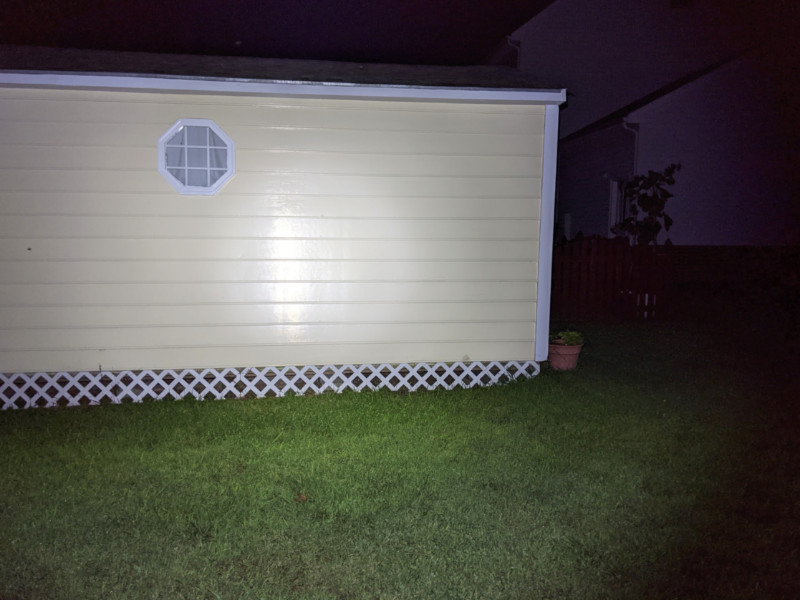 The light on the lawn may help differentiate the lighting modes.  These are, in order, low, medium, high and turbo.
Once the light is powered on by the side switch, a one second hold at a time moves through the various brightness modes.
The light returns to whatever brightness mode you last used if you single press the side switch.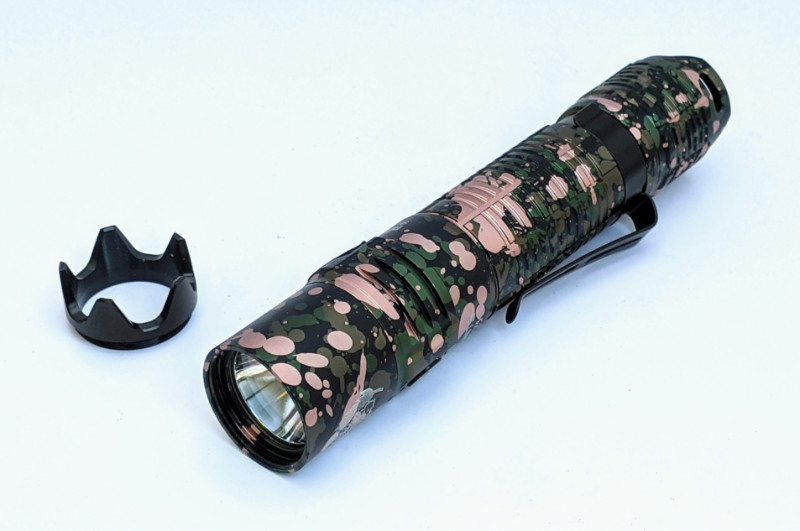 I think it's commendable that the sharp self-defense bezel is removable. (Honest officer, those are cooling fins.)
I have mixed feelings about these things, more from how they give a false sense of security. Though I admit it's better than your keys between your fingers. My defense bezel will probably stay boxed for the making of a slightly shorter flashlight and less chance of poking a hole in my pocket or fingers.
I'm a fan of side switches. The hand's natural grip with the arm relaxed at one's side can easily move the thumb to a flashlight side switch, whereas you need the arm flexed to use a tailcap switch. With the BSS V4 you can either grab the light in arm flexed fight position for the turbo mode if necessary, or use the side switch with your arm by your side. 
I fight darkness mostly (not in the Vader sense), so there are those occasions where maximum light is needed fast. One night last winter I heard a commotion outside beyond our back deck. It sounded like a person coming through leaves in our yard. I grabbed whatever flashlight I had on me at that time which also had a tailcap switch, got it up to full bright mode with my upraised arm, and two beady, reflective little eyes peered back at me from a tree branch 20 feet away. A possum, it was. My pulse returned to normal a bit later. I would have used and appreciated 2523 lumens from a VSS V4 at the time.  
An interesting lens filter is included that looks mirrored, and, as if it might be a green filter if you view it from its edge with the light off or on. But it's for producing red light. It screws on the end of the lens cap. It's a nice add-on but I'm not sure how much I'll use it. As cool as it is to have the benefits of red light (easier on the eyes in full darkness) I'd have to either leave the lens filter screwed on, or carry it around in a pocket for times I would use it. I'm sure campers would easily find a place to store the filter to use when needed.  
Thrunite includes two O rings for replacement of the tailcap seal, two extra charge port covers and a spare tailcap button cover. That's a nice supply of the high wear items and probably sets users up for years of trouble free operation without having to make additional purchases.  
If you look at the Amazon listing for the BSS V4 you'll see a video of a guy repeatedly tossing the flashlight onto asphalt, submerging it, freezing it, cracking it out of the ice, etc. (His must have been complimentary too.) 
I'm not going to try those stunts but assuming all BSS V4s are made like his was, it should be a durable device
After some emailing with the company I am still a bit unclear on how the lumens and runtimes are expressed in the spec sheet.
I asked: "On the specifications chart, what is meant by the values shown in the 'High' and Turbo' columns where minus values are shown after the first value?  E.g. for High mode "1426-634 lumens" is indicated.  Why the minus value?" 
THRUNITE answered: "For example High mode "1426-634 lumens from the first 10 seconds when you turn on the light to 130 SECONS  , the lumens 1426 will step down to 634 lumens, then it will stay on 634 to 150 minutes until it turned off, or battery drainded "  
To my request for clarification of the '+' figures shown in run times they replied:
"When on one certain mode, the run time is the time it takes in dropping from 100% lumens to 10% lumens. It does not mean the time that the flashlight stays on 100% lumens.
You can also check the standards of ANSI/NEMA FL1-2009."
I'd say the spec sheet needs revamping with clear explanatory notes.
What I like
Yea! for a side switch. 

The generous supply of the rubber parts.

The charging port cover does not flip open in the pocket or with normal use, but is not hard to open when necessary.

Excellent range of brightness modes.

Great build quality.

Professional fit of all parts

Nice finish quality.

High capacity battery.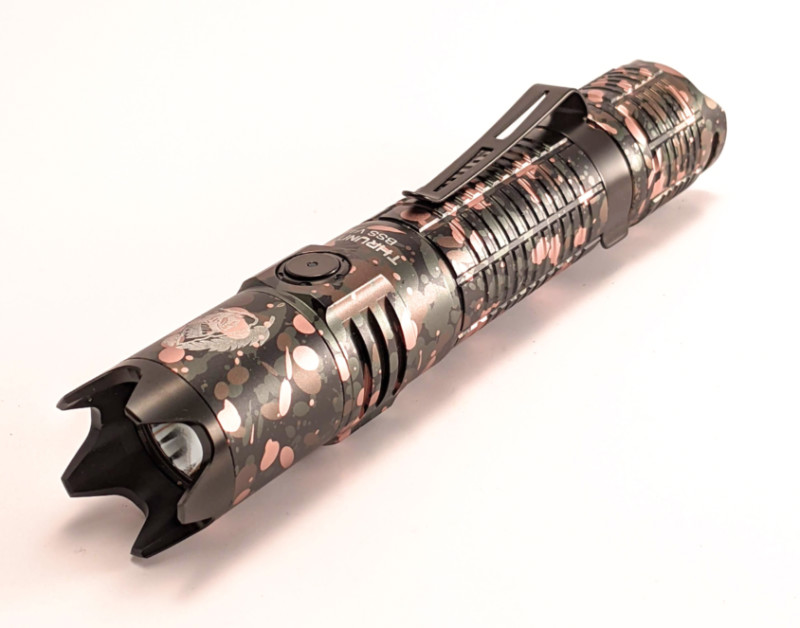 What I'd change
The side button needs to feel more obvious and have a tactile difference from the charging port cover.

The 3 pocket clip edges are upturned and could be uncomfortable if gripped directly.

Make the spec sheet clear and understandable.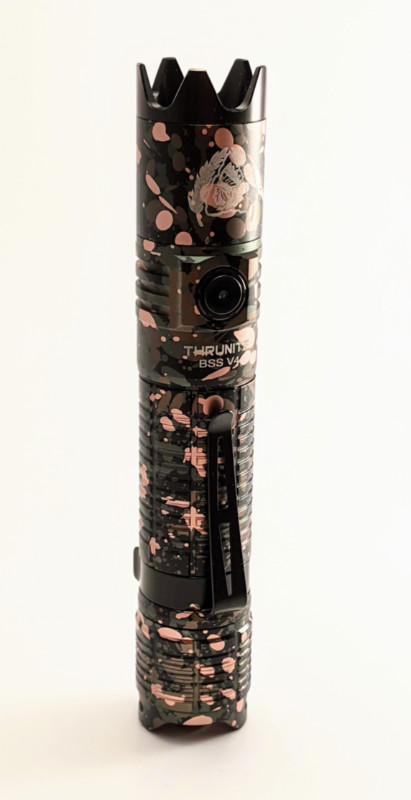 Final thoughts
The THRUNITE BSS V4 tactical flashlight is a very solid, well made and useful flashlight that should provide years of service. 
Price: $65.99
Where to buy: Amazon
Source: The sample for this review was provided by Thrunite