We use affiliate links. If you buy something through the links on this page, we may earn a commission at no cost to you. Learn more.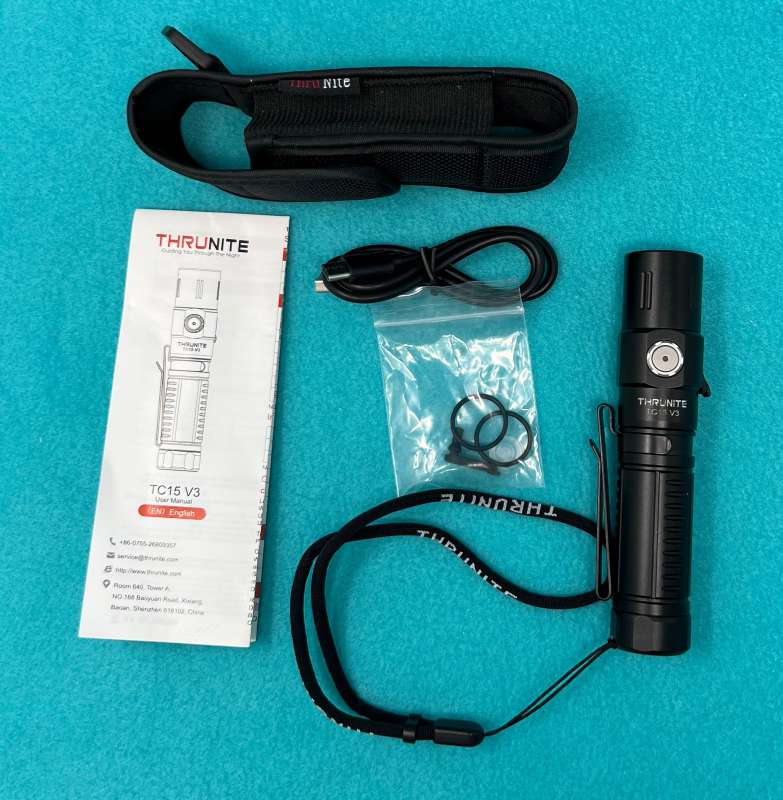 REVIEW – The world of flashlights is finely-grained. There are models for everything from tiny "find-the-key-hole" pinch lights to huge handheld spotlights that are weatherproof and can be dropped into caves, tossed into a truck bed with other equipment, or used to signal in rivers without harm. The ThruNite TC15 v3 is the unit I'm reviewing today, and, while not something that can be used to spot drowning victims 2000 yards away at sea, it's still pretty impressive for a light that will rival your multitool for weight and size, but cost less than a nice dinner out.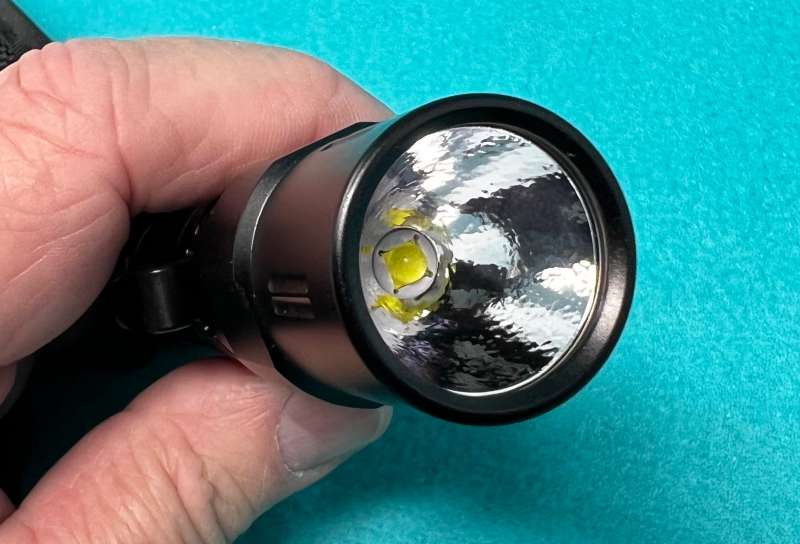 What is it?
The ThruNite TC15 V3 flashlight is a small, single-switch flashlight with a rechargeable battery.
What's in the box?
ThruNite TC15 V3 flashlight
Battery
Spring steel clip
Wrist lanyard
Nylon belt case
USB-A<=>USB-C cable
Replacement seals
Paperwork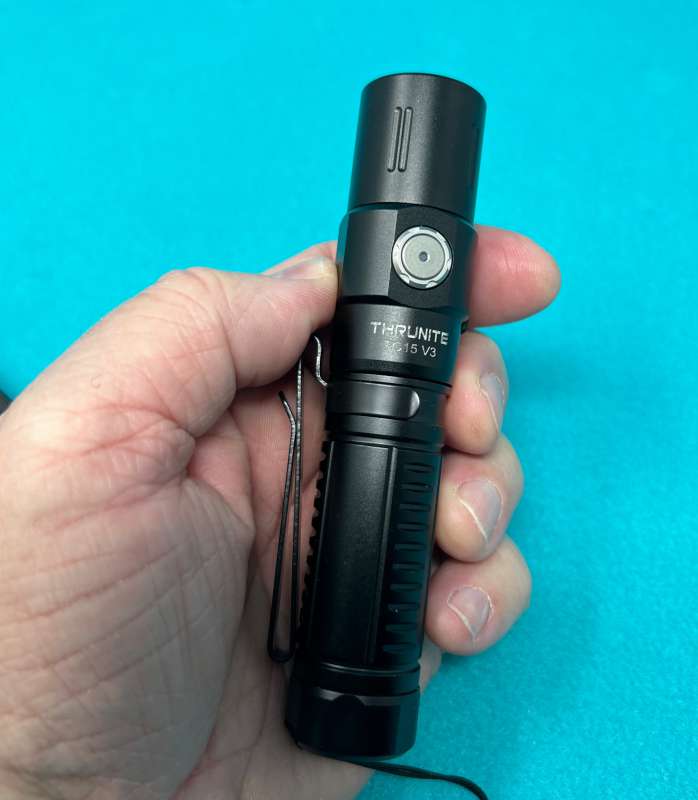 Design and features
The ThruNite TC15 V3 is a small, one-switch flashlight that charges externally via a standard USB-A adapter. It is black, 4.75″ long, and .875″ wide. The total weight, with the installed battery and lanyard, is 4.85 ounces (137 grams), or about half what your iPhone 13 Pro Max weighs. The single button easily finds its way under your thumb in your hand. Holding it down cycles through the power levels of firefly, low, medium, high, and turbo.
The LED in the button will let you know if the power has dropped below 30% by glowing red. A single press turns off the light, and another press turns the light back on at the same level. You have to work to get into either firefly or turbo mode. (Details in the instruction leaflet.) Mostly, it's just a great little light that gives you the right amount of light when and where you need it.
The spring steel clip can be removed, but not easily. It's two-way, meaning you can stow the light with the lens facing up or down without having to remove it. The nylon belt case has a 3-inch sleeve for even the largest military-style belt, plus a plastic D-ring to allow attachment via belt clip or carabiner.
Performance
The TC15 V3 is a small, light, very portable flashlight that fits in a multitude of use cases. With the spring steel clip or the included nylon wrist lanyard, it's easy to have right where you need it in your darkest times. While it will give you light at a great distance, due to the size, it's not going to give a wide field of view. But for general searching, wayfinding, or all-around use, it's quite a versatile and strong addition to your kit. Small enough for your vehicle console, overnight bag, or daily carry bag, you won't notice it's there until you need it, and then you'll be quite happy it is.
What I like
Small
Light
Easily rechargeable
What I'd change
Final thoughts
The ThruNite TC15 V3 is a small, light, water-resistant torch that can be easily carried anywhere, and will give a huge amount of light in just about any situation. It doesn't have a "gas gauge" to let you know how much power it has left (unless it's below 30% charge), but it charges easily from the same charger you use for your phone. Whether you have an old iPhone or a new state-of-the-art device, you can use the cable that comes with it to charge from the USB-A charger or connect your phone's USB-C cable to the light. (If you're using an iPhone 11 or higher, you'll need a USB-C to USB-C charging cable. It's the one that comes standard with newer iPads and many newer Android phones.) Either way, you're powered for another day of lighting up the dark places of your life.
Price: $59.99
Where to buy: ThruNite.com or Amazon
Source: The sample of this product was provided by ThruNite.