We use affiliate links. If you buy something through the links on this page, we may earn a commission at no cost to you. Learn more.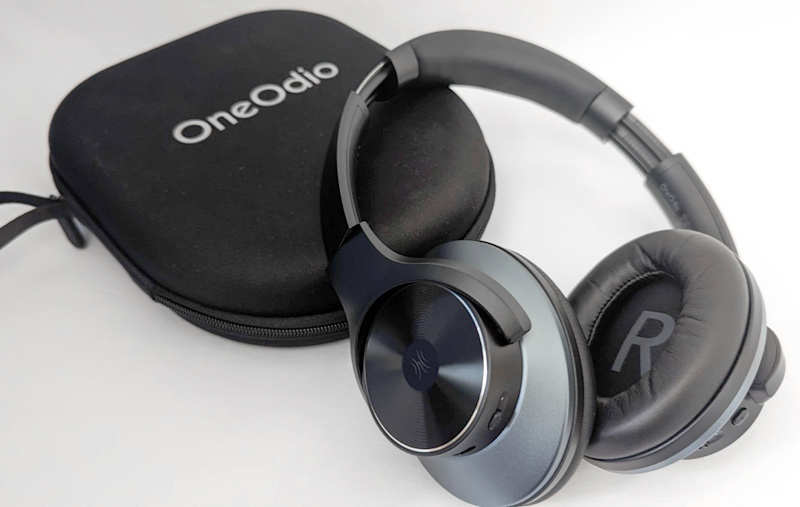 REVIEW – Most of the headphones that I own are earbud-type headphones.  I have reviewed a bunch here on The Gadgeteer, and I still use almost all of them.  The only over-the-ear headphones that I still use on a regular basis are the $139 SHIVR 3D Noise Cancelling Headphones that I reviewed almost 3 years ago. Those have been my go-to headphones when I need to block out the world and get great sound, and their comfort and features are top notch. But sometimes you wonder what you are missing.  At the time, I considered the SHIVR to sit between budget headphones and the top-of-the-line headphones and I said they were going to be my go-to headphones for a long time.  Until now.  OneOdio managed to do what I didn't think could happen, at a $79.99 price point.  Let's check out the OneOdio A10 Hybrid Active Noise Cancelling Headphones.
What is it?
The OneOdio A10 Hybrid Active Noise Cancelling Headphones are over-the-ear Bluetooth headphones with active noise cancellation.
What's in the box?
OneOdio A10 headphones
USB-A to USB-C charging cable
3.5mm audio cable
Soft-shell zippered case
User manual
Product specifications:
Battery: 800 mAh
Charge Time: 2 hours
Using Time: 35 hours (ANC + BT) / 45 hours (BT only) / 50 hours (ANC only)
Wired and wireless mode
Bluetooth:  5.0
Bluetooth Range: 10 m / 33 ft
Noise Reduction Depth: -35 dB
Driver Diameter: 40 mm (~1.57 inches)
Frequency Range: 20 Hz – 40 kHz
Weight: 11 oz.
Features and performance
The OneOdio A10 headphones (hereinafter referred to as 'the A10s') come with a nice softshell zippered case that is lined with felt to keep your headphones nice and safe when not in use.  The ear cups can be turned and folded inward so they fit nicely in the case, and the build quality feels nice.  The ear cups and cushioned over-the-head band don't feel 'plastic-y', if that's a word.  By themselves the A10s weigh just under 11 ounces, so just shy of 1 pound.  A welcome surprise is that inside each ear cup you'll see a big 'L' and 'R' stenciled there so it's quick and easy to figure out which one goes on which ear. Usually, you have to search for a little black letter on black plastic somewhere on the unit.  Sometimes it's the little things, right?
When you fold the ear cups out from their folded position you feel and hear a solid 'click' as they snap into place. And if needed you can pull the ear cups downward and expand the head band.  The padding on the ear cups and on the head band is really soft leather covering memory foam, and it feels nice.  I wouldn't mind if there was a bit more padding on both, but for me, it feels fine.  My wife has a smaller head than me (insert husband joke here) and she found that they were also comfortable, but when she was wearing them and leaned over, for example, to pick something up off the floor, she felt like they might slip off. A little more padding would probably help. Overall I never got fatigued wearing them.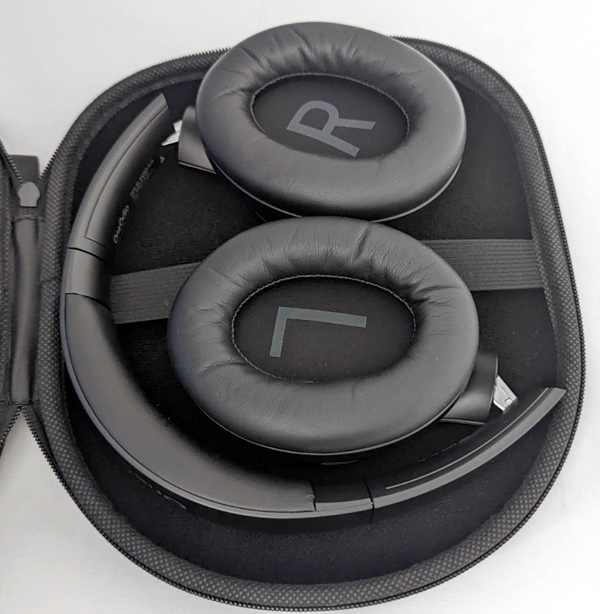 When it comes to the listening experience, I was very pleased with the OneOdio A10 Hybrid Active Noise Cancelling Headphones, and no matter what I was listening to it sounded great.  The sound was pretty even throughout.  I never experienced a deep rich bass, but I also didn't get piercing highs either. There's no companion app for the A10s, so you don't have the ability to mix the sound.  But for the price of $79.99, I think the listening experience is excellent!
On the bottom of the right ear cup, you'll find the multi-purpose/power button, which lets you play/pause, answer/reject calls, pair to Bluetooth, activate your voice assistant, etc. You'll also find the volume up and volume down buttons, and the 3.5mm aux jack. On the left ear cup, you'll find the USB-C charging port and the Active Noise Cancellation (ANC) button.  Pushing that button will cycle you through ANC On, ANC Off, and Transparency Mode. So let's talk about the ANC feature now.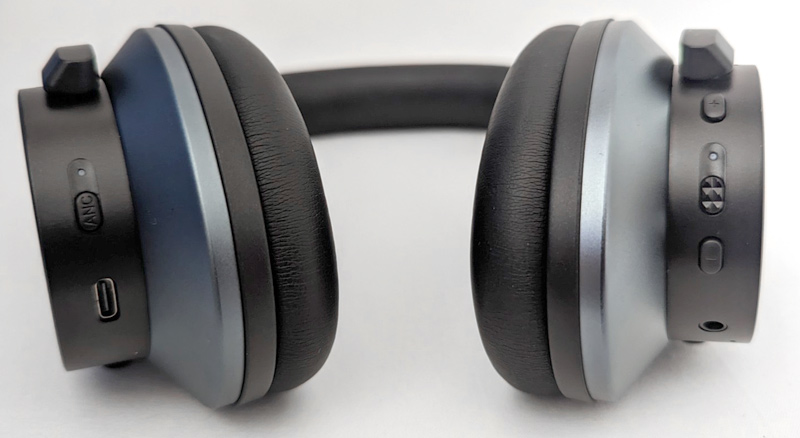 When I was using the OneOdio A10 Hybrid Active Noise Cancelling Headphones with phone calls, the ANC feature worked great. In one of my tests, I was walking outside down a very business street with loud traffic.  My wife was able to hear everything I said and the traffic sounds didn't bother her.  That was pretty high praise from her because some of my earbuds that I use don't perform nearly as well. But when it comes to listening to music, the ANC didn't really make a difference at all to me when the music was playing. I could turn the ANC off and on and I couldn't really detect a difference. Now if you leave the power off and simply plug in the 3.5mm cable to your computer, for example, the passive noise cancellation that you get simply from having the ear cups on your ears also provides a great listening experience. The ear cups provide a great seal to keep sound out. So if the battery dies or you simply don't mind putting up with the cable, you won't get any of the neat features like ANC or Transparent mode, but the A10s still work great.
Let's talk now about Transparency Mode.  That mode allows outside ambient noise to creep in so you are more aware of what's going on around you.  Now, if you have the music turned up really loud you won't hear much ambient noise even with Transparency Mode turned on. But I will say that Transparency Mode is excellent when you want to hear someone talking or airport announcements without having to remove the ear cups. In fact, it works better than any other headset or earbuds that I own that have a similar feature. It really is a great feature.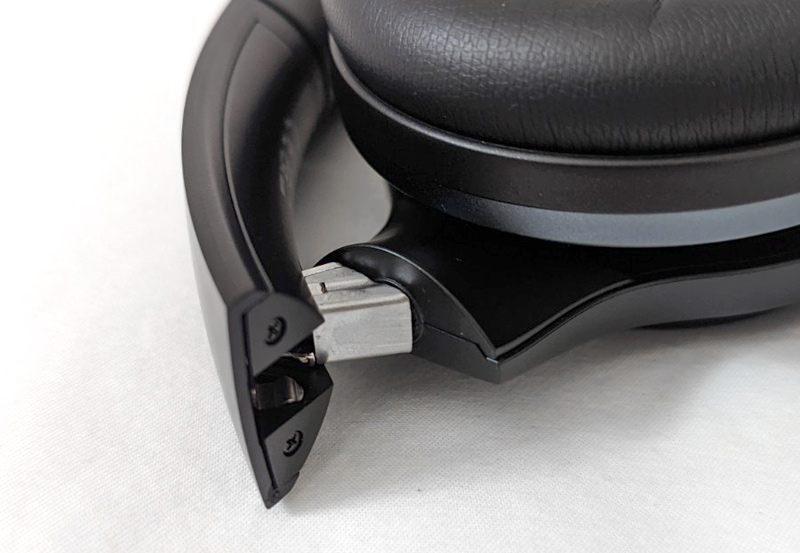 Finally, let me mention some of the other features.  The OneOdio A10 Hybrid Active Noise Cancelling Headphones are able to connect to multiple devices at once, so I was able to connect to both my laptop and cellphone at the same time and switch between them at will.  I didn't have to go through disconnecting and connecting Bluetooth.  Also, one of the best features of the A10s is the outstanding battery life. Depending on if you are using ANC or not, the range of listening time you get ranges between 35 and 50 hrs, which is amazing considering the battery is only 800 mAh! I don't listen with headphones all day, so just listening to the A10s a couple of hours a day meant that I went weeks before having to charge them, literally. And a full charge can be had by charging the A10s for around 2 hrs. In fact, if the A10s are dead and you only have 10 minutes to charge you can get between 5 and 6 hrs of playing time.  I found that hard to believe when I read it in the marketing literature so I tested it and sure enough, that's what you get.  Pretty cool. I took them on an overseas trip and used them for a 12 hr plane ride and I wouldn't have wanted to travel without them.
What I like
Amazing battery life
Balanced, respectable sound quality with an excellent experience
Comfortable fit
What I would change
A deeper, richer base sound
A little more padding in the ear cups and head band
A smartphone app with mixing capabilities
Final thoughts
For the price of under $80, the OneOdio A10 Hybrid Active Noise Cancelling Headphones are a solid, comfortable choice if you want a respectable listening experience with amazing battery life and a transparency mode that is excellent. Throw in the handy carrying case and the option to listen with the 3.5mm wire, and the OneOdio A10 Hybrid Active Noise Cancelling Headphones won't disappoint you in my opinion.  Unfortunately for the SHIVR headphones, the OneOdio A10s are now the headphones I reach to grab first.
Price: $79.99
Where to buy: OneOdio or Amazon
Source: The sample of this product was provided by OneOdio.