We use affiliate links. If you buy something through the links on this page, we may earn a commission at no cost to you. Learn more.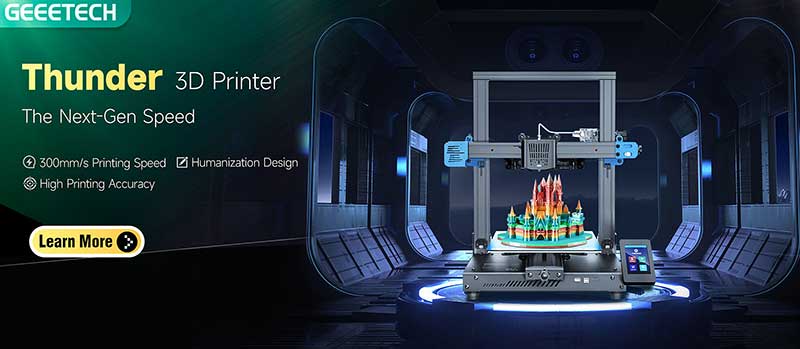 DEAL NEWS – Geeetech, an established 3D printing company, has always been favored by consumers for its high-quality filaments. In September 2022, the company released its high-speed printer, Thunder, which boasts a printing speed of up to 300mm/s and an acceleration of 5000mm/s² for the X-axis and 4000mm/s² for the Y-axis.
From April 25th to May 2nd (GMT+8), customers can enjoy a 33% discount on the Geeetech Thunder 3D printer, which is now available for the affordable price of $469.
Where to buy: https://www.geeetech.com/link-138.html
How can the Thunder 3D printer achieve faster printing?
The Geeetech Thunder 3D printer has a unique machine design that enables it to achieve fast printing compared to traditional 3D printers. The extrusion system has been upgraded from previous models to feature a 70W dual drive gear extruder with a larger volume nozzle, allowing for smoother extrusion during fast printing and avoiding filament blockage.
The Y-axis damping structure is also intelligently designed to manage speed changes and significantly reduce machine vibration. The X/Y axis closed-loop control drive produces greater torque for a faster response on speed.
To provide cooling power for high-speed printing, the Thunder printer has four cooling fans (two main fans and two auxiliary fans) that can be activated with one button.
Additionally, the Thunder features a dual Z-axis and all-metal construction, which enhances its durability and stability, improving the printing quality even when running at high speeds. With a printing volume of 250mmx250mmx260mm, it can fully meet daily printing needs.
Review Video
Model Display Video
Specifications
Forming technology: FDM
Power input: AC 115/230,50/60Hz
Print thickness: 0.1~0.2mm
Power output: DC24V/14.6A,350W
Supporting filament: 1.75mmPL A/ABS/PLA Wood-polymer/PVA/ HIPS/PETG,ETC
Print size: 250*250*260mm
Printing method: TF card/USB cable
Printing speed:≤300mm/s
Print precision: +0.1mm
Nozzle diameter: 0.4mm
Slicing software: EasyPrint,Repetier- Host,Cura
Number of nozzles: 1
Maximum temperature of hot bed : 110'C
Supported file formats: .Gcode
Operating ambient temperature : 10~40°C
Maximum nozzle temperature : 250°C
Printer size: 472(L)*488(W)*525(H)mm
Package size: 553(L)*544(W)*330(H)mm
Net weight:. 10.7kg
Package weight. 13.4kg