We use affiliate links. If you buy something through the links on this page, we may earn a commission at no cost to you. Learn more.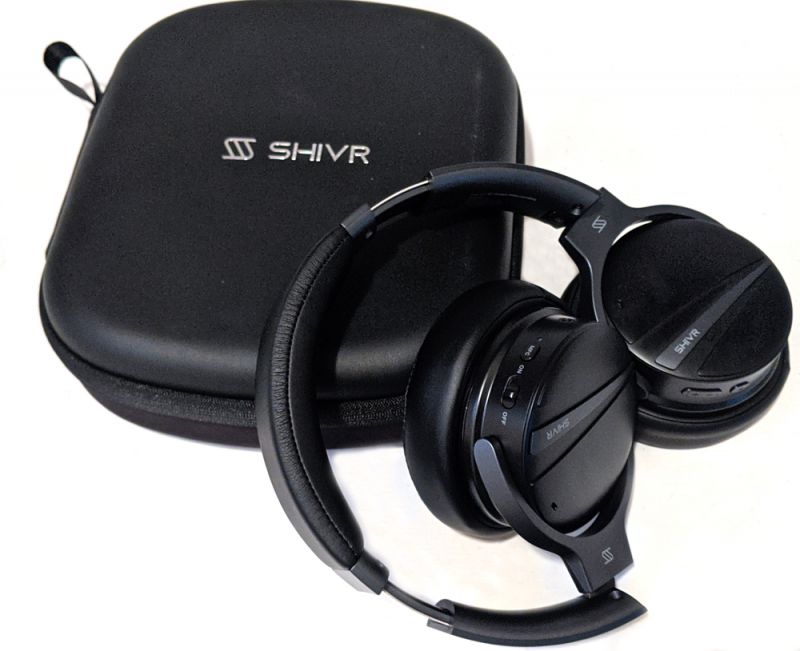 REVIEW – Over the years I have owned many headphones of all shapes and sizes.  Wireless.  Wired.  Over the head. Around your head.  Over the ear.  In your ear.  The list is endless.  And when I look back over the years up till today, I see very few that I still have and use, for various reasons.  They wouldn't stay in my ears. The build quality wasn't good enough to last the wear and tear. They got crushed because they never came with a case. Something better came along. You know the deal.  So I am always on the lookout for something new and different.  Enter the SHIVR 3D Noise Canceling Bluetooth headphones. You know, sometimes it's the little things that make a difference.  And I think that with the SHIVR 3D, this is true more than ever.  Let's take a look.
What is it?
Noise canceling stereo Bluetooth headphones that fit over your head.
What's in the box?
SHIVR 3D headphones
Hard shell zippered case
USB-C charging cable
Cloth drawstring bag
5mm audio cable
Airline audio adapter plug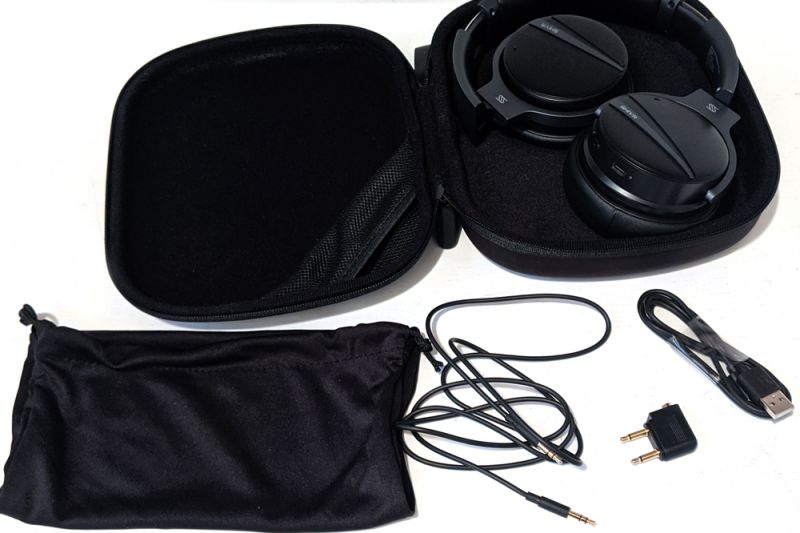 OK, for those audiophile folks, here are the specs from SHIVR:
Over the head design with cushioned ear cups and headband
Weight: 10.4 oz
Speaker Driver Unit – Φ40mm
Impedance – 32Ω
P.L. – 115±3 dB S.P.L. at 1 KHz
Frequency Response – 20 Hz – 20,000 Hz
Omni-directional microphone
Active noise-cancelling
Bluetooth ver 4.2, good up to approx. 30ft
Battery: 740 mAh rechargeable lithium
Charging input: DC 5V/.05A
Charging time: 2 hours
Running time: up to 20 hours
Charging port: USB-C
Smart-sensing auto play/pause
Ambient mode for conversations
Acoustic Power Field (APF) with built-in gyroscope for 3D sound
Features and performance
My first impressions of the SHIVR 3D are pretty good.  It comes with a cloth bag, which is common I think.  But the hard shell case is what I really like.  I have crushed several headphones in the past because all I had was a cloth bag that didn't protect from a tightly packed suitcase or backpack. This hard shell case is gonna help these last much longer.
The comfort is also top notch.  I have worn them for hours at a time and didn't experience any fatigue on my ears or my head.  The headband is covered in padded leather and the ear cups as well.  The ear cups can be extended from the headband and they rotate on hinges so they can easily fit the size of anyone's head. On the left ear cup is the power button, the audio cable plug, and the MFC button (more on that later).  On the right ear cup is the USB-C port, the volume up/down and the play/pause button.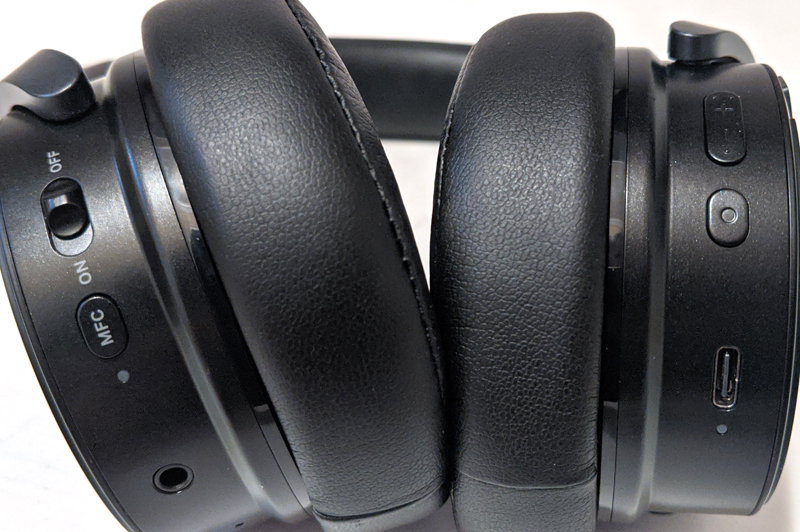 SHIVR says that a single charge will last you up to 20 hours.  I have experienced pretty close to this.  I can go several days without charging them since I don't sit at a desk all day long with headphones on.  For those folks that do, I would expect you to get at least 2 full work days of use out of them before having to charge them.
You can, of course, use them wired or wireless.  If you use the 3.5mm audio cable you don't have to turn them on and use the battery (my Google Pixel 3a XL has an audio port, thankfully).  The Bluetooth wireless connection can only connect to 1 device at a time, which might be a deal-breaker for some.  Not for me.  I use a Plantronics Voyager headset all day for work and only use the SHIVR when I want to listen to music, watch a movie, walk the dog, travel, etc.
You can make and take calls just like many other headsets.  I found the quality on my end of the call was very good due to the great quality of the sound in the SHIVR.  The quality on the other end of the call is what you would expect from a headset where the call features are secondary.  My wife said it sounded like I was kind of inside a tunnel, but it wasn't hard to understand anything.  I don't make many calls on the SHIVR, and again, call features to me are secondary on this device.
All of those things I just mentioned make the SHIVR a really good headset.  But there are few things that I think make the SHIVR a great headset.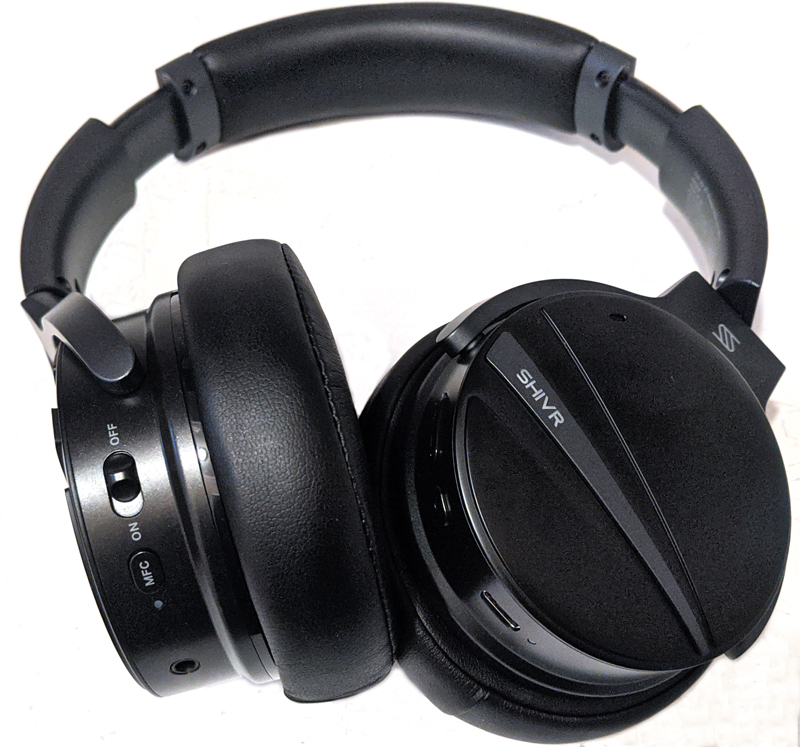 The sound quality is excellent. The highs aren't too high and the lows aren't too low. The sound is just really, really good. The noise canceling feature is also excellent and is the best I have experienced so far in a headset. I have used them walking on noisy streets, while the vacuum cleaner was running in the house, at a noisy coffee shop, walking in the neighborhood while the mowers were running everywhere.  And I hear very little surrounding noise at all when the music is playing.  Which brings me to the Ambient mode.  This is the feature that allows you to pause your music and have a conversation with someone without taking off the headset, and it works really well!  It picks up the sound of their voice and amplifies it a little in your ears.  All you have to do is press the MFC button once on the left ear cup and it will pause the music and start Ambient mode.
Another great feature is something I have on my Plantronics Voyager.  There is a wire mesh thing inside the ear cups that can sense when you take the headphones off.  So if you are listening to something and remove the headset it will automatically pause.  And of course, when you place them back on your head it will automatically resume the music.  Nice. (see picture below)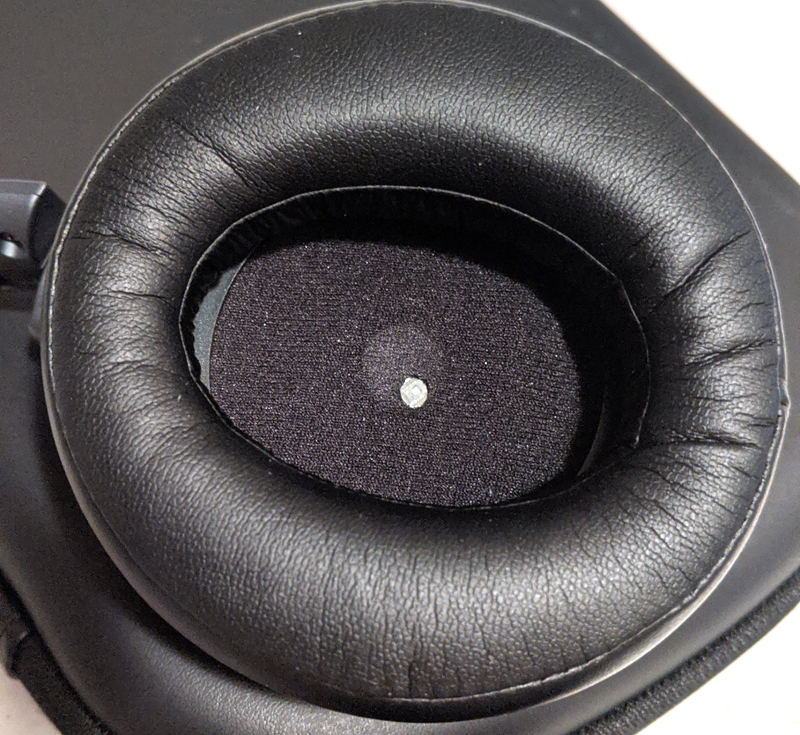 The feature that I saved for last is the most interesting yet.  I have never experienced a headset with 3D sound where you can experience sound coming from different points in the room, and there are lots of headsets out there with this feature.  And the SHIVR does an excellent job of it.  Imagine watching a movie and in the scene, a phone on the left side of the room rings, and that sound is heard in the left ear cup of your headset.  Pretty cool.  What the SHIVR also does though is this… when you activate the 3D mode by pressing the MFC button 2 times quickly, you will hear the music you are listening too as if the artist is sitting in front of you, kinda like you are at a concert.  But if you turn your head to the left, it appears as though the band is now on your right side.  The first time you experience it you will find it pretty amazing.  Eventually, the sound comes around and settles itself as if it is in front of you again, but this feature is just really cool.  Have I said that yet??
Final thoughts
The SHIVR 3D is an excellent set of headphones at this price point, especially when you consider the number of features you get and the excellent sound quality.  The build quality is great and the hard shell case is great for storing it and traveling with it to keep it safe. It is perfect for those folks who listen to music and watch movies, as well as those who are gamers.  I would also say that due to the excellent noise cancellation it might be a great choice for those people who have anxiety issues around noisy environments and want to block out surrounding noise.  I have a feeling that the SHIVR 3D is going to be my go-to choice for headphones for a long time to come.
Price: $139.99
Where to buy: Buy here on Amazon
Source: The sample of this product was provided by SHIVR.