We use affiliate links. If you buy something through the links on this page, we may earn a commission at no cost to you. Learn more.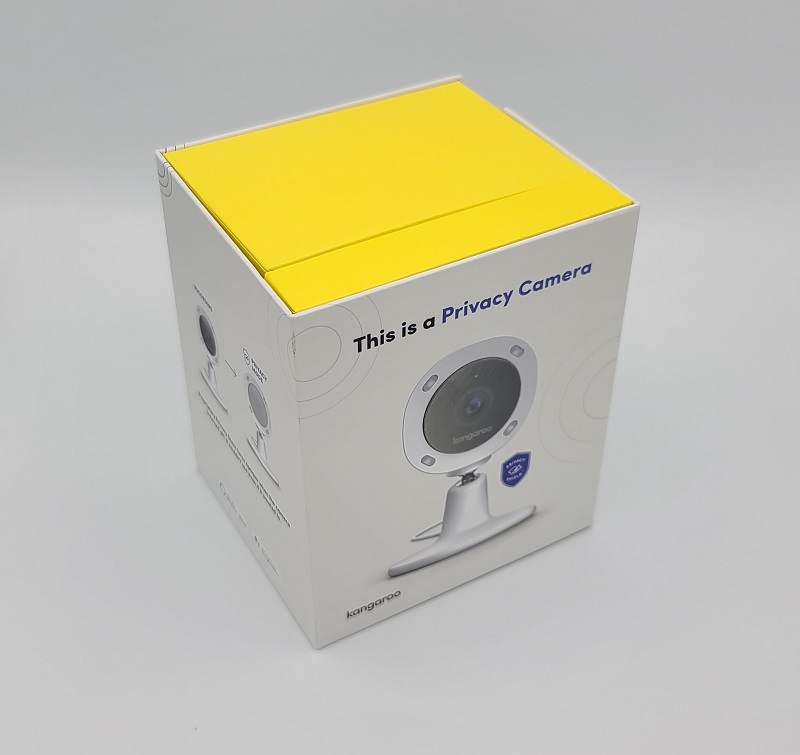 REVIEW – What if you wanted a security camera, but were worried about Big Brother or hackers watching you or your loved ones through said camera?  What if I told you there was a camera that can completely block its lens at the push of a button (or through a smartphone app)?  The Kangaroo Privacy Camera promises this and more, but besides it's privacy-focused features is it a good security camera?  Let's find out!
What is it?

The Kangaroo Privacy Camera is a fairly standard security camera outside its lens-blocking privacy screen feature.  It captures high quality video, can be set to be movement-activated and will store clips online if triggered, and can be integrated into the Kangaroo security ecosystem.  Kangaroo offers home monitoring and alarm response services (monthly/annual subscription options), and they have other sensors and gadgets to build out your own security system.  However, this review is focused on the function and features of this camera model alone, I was not provided with any other components to test with.
What's in the box?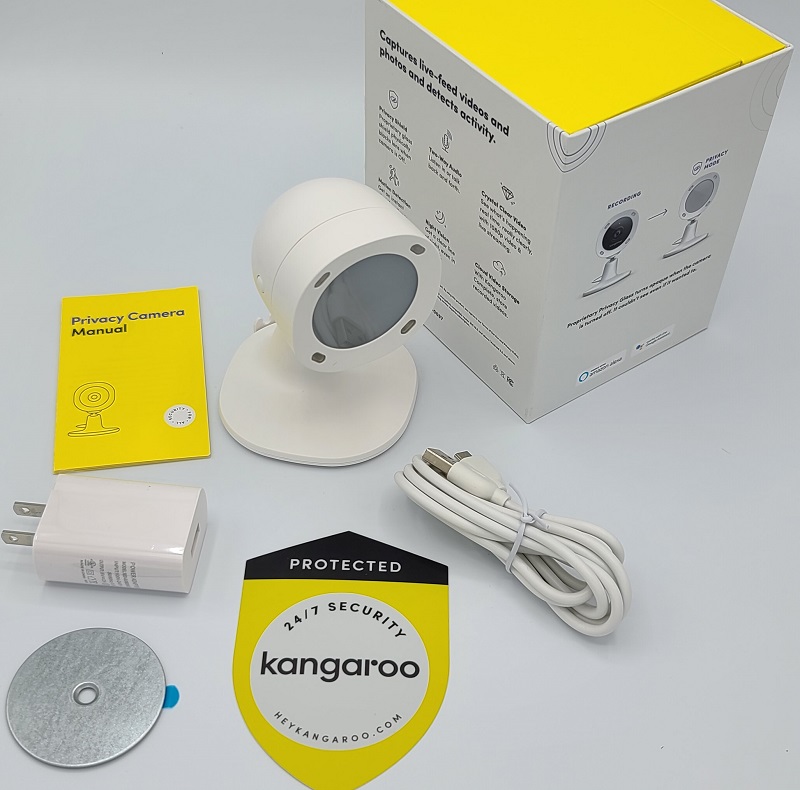 Included in the box is:
Kangaroo Privacy camera
Mounting hardware (single screw design plate that the camera can attach to, allows for vertical or horizontal mounting
Power adaptor
Power cable (about 1 meter long
Manual
Door/window decal
Hardware specs
1080p Live Video / stills
2-way audio (with subscription)
Physical Privacy Shield
Night Vision
Design and features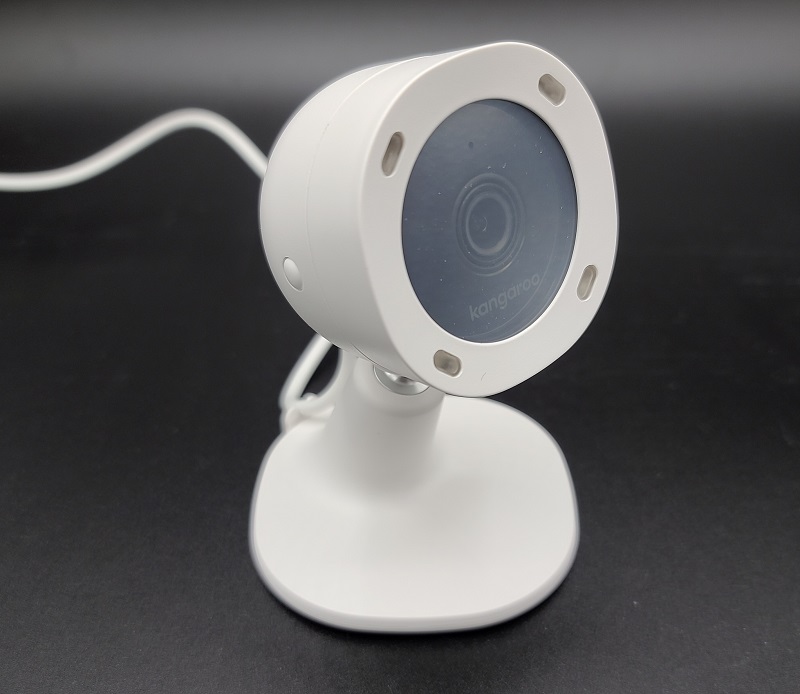 The design is fairly standard, looking similar to offerings from other companies.  The front of the camera has the camera sensor itself, an LED indicator to show it's active, and IR illuminators for night vision.  On the side is a physical button to toggle the privacy shield on and off.  You can visually see that privacy shield go opaque when toggled, which is nice.
On the subject of privacy, concern about having webcams/security cameras hacked is valid, with reported cases all the time.  This is even more sensitive if you wanted to use cameras in private areas like bedrooms.  I'm no security expert, but it seems like Kangaroo is doing all the right things when it comes to security, even before taking into account the physical privacy shield.  They had me enter a mobile phone number to associate with my account (for alerts in case of repeated failed logins), and they claim things are encrypted and secure.  This security is only as strong as your password policy, but the extra layer of the physical shield is very nice; if you were hacked and malicious users were accessing your camera, you could visually see that the privacy shield is enabled/disabled.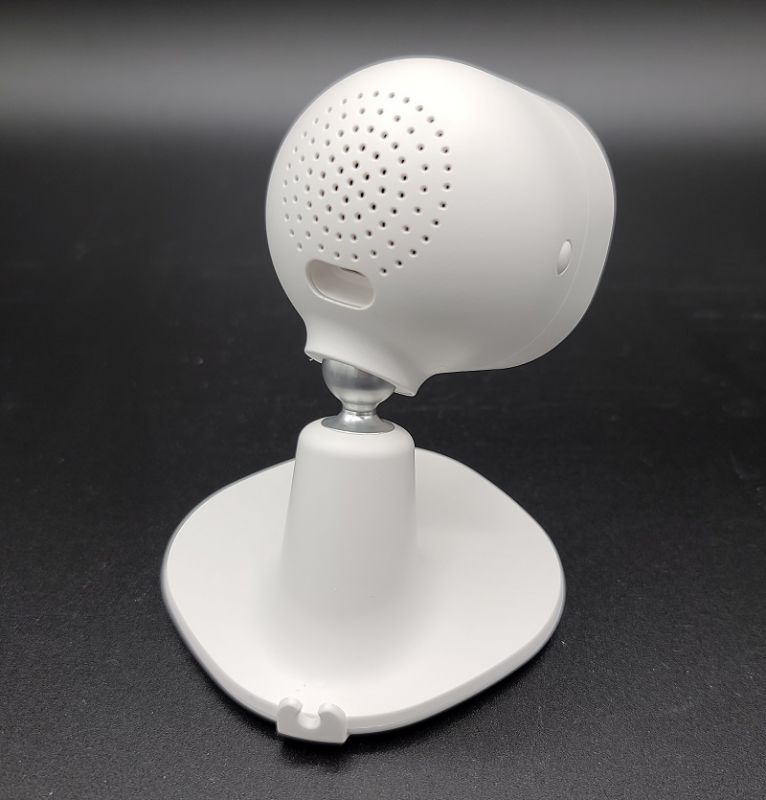 The back of the camera has the 2-way speaker system and power port (micro-USB).  The camera is on a swivel joint that allows for 360 degrees of horizontal adjustment, and about 45 degrees up and down. The speakers were loud enough to hear in a large room, and the microphone picks up even very quiet sounds, I found it to be better than expected.
Installation and setup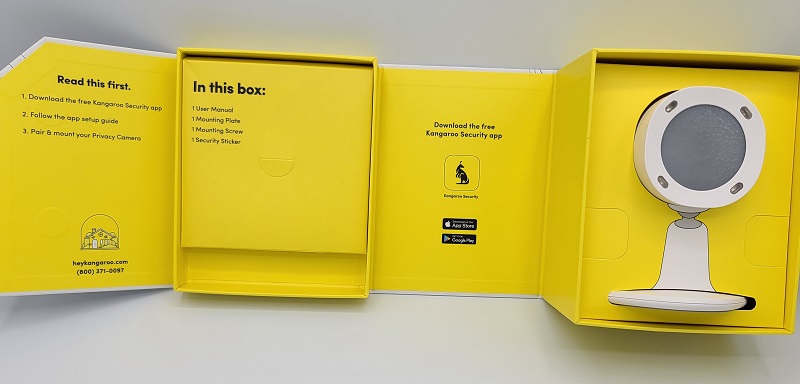 The packaging itself doubles as a quick-start guide, which was nice.  I didn't mount the camera, but having mounted lights and cameras before, it looked like a very easy system.  Downloading the app was quick and easy, I tested on Android for this review (Samsung Galaxy S20 Ultra).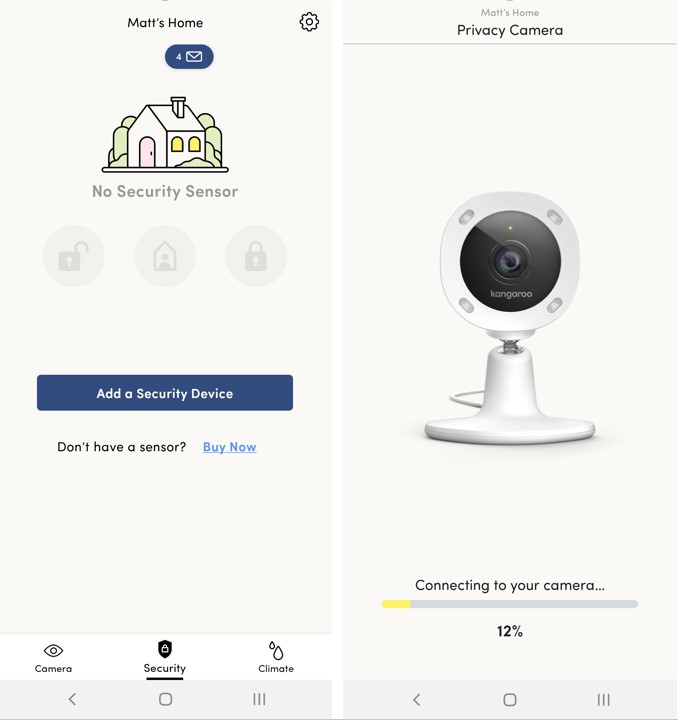 After creating an account, the app walks you through connecting and setting up the camera.  There are many features designed for a full security system with many sensors, but I found it to be easy to use to simply manage the single camera.  I thought the user interface was intuitive, it didn't have strange sub-menus and hard-to-find options that I've encountered with other security camera systems.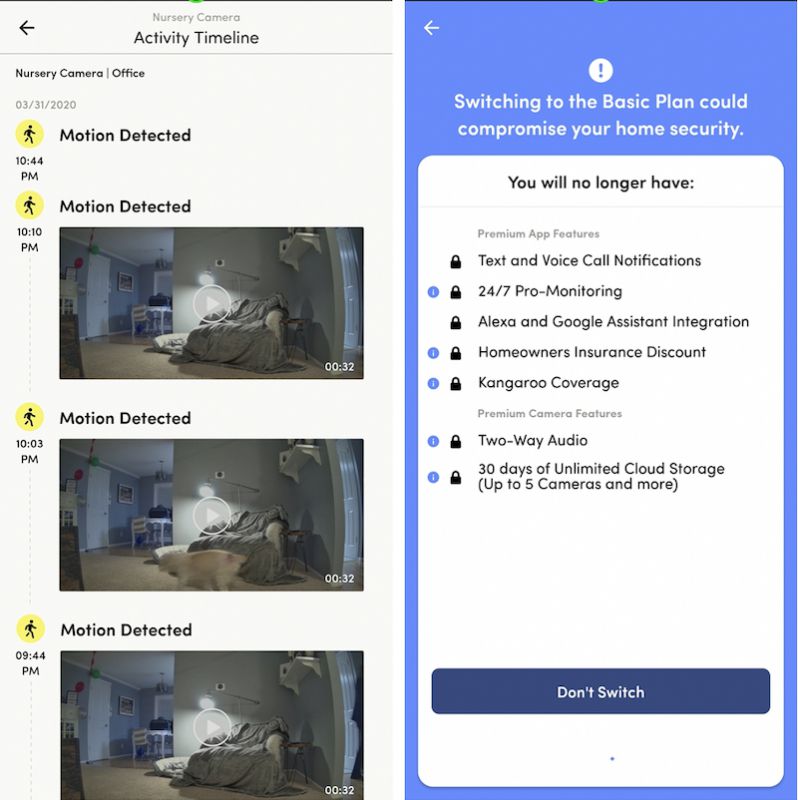 The camera is quick to go to a live view when selected (some cameras in my experience can take quite a while to spin up, it's nice to have fast access).  The motion detection and recording was excellent, worked exactly as expected.
The camera came with 1 year free of Kangaroo's premium plan.  When I turned off automatic renewal, the message informed me I'd be losing 24/7 pro monitoring, text and voice call notifications, 2 way audio, Google/Alexa integration, and 30 days unlimited cloud storage.  As far as I can tell, if you were to buy the camera and not use the paid service option, you would still have access to the app and app-notifications. However, I wasn't able to test this; even after canceling the free year of service, I was still in the paid service mode (until a year from my start date).
What I like
The privacy feature works well, rather than being gimmicky
Solid app, no bugs or bad UI
Good camera performance
What I'd change
Longer power cable would be nice, cameras often need to be mounted more than 3 feet from a plug
When I first started reviewing this camera, every time I turned the privacy mode on or off, the camera loudly announced which mode it was in.  I couldn't find any settings to change this behavior, but weeks into the review period it stopped this behavior.  I'm not sure if it was a camera software update fix or a glitch, but if it returns I wouldn't want this camera anywhere near a bedroom or nursery, I'd be worried about it waking people up or bothering them.  Without a setting to control this voice-feedback feature, I'm at the mercy of Kangaroo if they re-enable it in the future.
The first 2 weeks of the review period saw the camera disconnecting from wifi multiple times per day, which resulted in app notification and a loud voice warning (see previous).  This hasn't happened at all during the second 2 weeks, again I'm not sure if an update fixed things, or what.
Final thoughts
Overall, I feel like this camera is good when considered as a standalone security camera for the privacy-conscious.  If you were building a full security system for a home or apartment using various Kangaroo products, I think the value proposition increases.
Price: $99
Where to buy: Kangaroo or Amazon
Source: The sample for this review was provided by Kangaroo.