We use affiliate links. If you buy something through the links on this page, we may earn a commission at no cost to you. Learn more.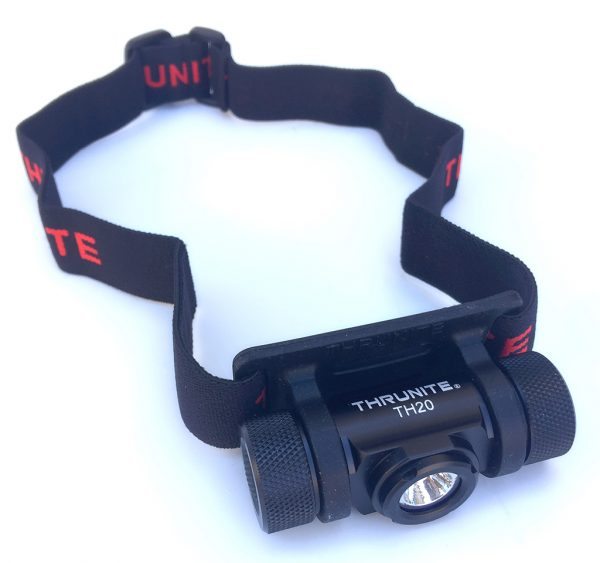 Since I began participating in (and actually completing) GORUCK Challenges back in 2014, I've thought a lot more about headlamps than I ever thought I'd think about headlamps. I have one that I have worn for thirteen GORUCK events and for tasks around the house, and it has performed fairly well for me, but it's starting to act wonky and I had been considering getting one that was a bit more heavy-duty, and that could take more abuse. Thus, it was serendipitous timing that Julie offered the ThruNite TH20 Headlamp for review. With its super-adjustable beam brightness and metal body, not to mention tough-looking styling, I thought it would be worth trying. Let's check it out!  Gadget on!
Tech Specs
Per the ThruNight site:
Max output = 520 lumens (using 14500 battery)

Peak Beam Intensity =1120 cd
Beam Distance = 67 m (max)
LED type = CREE XP-L V6 LED with a lifespan of 20+ years of run time
Brightness Control Mode & Runtime (Tested by one Eneloop AA 2450mAh NIMH rechargeable battery) = Logarithmic scale brightness adjustment, which varies by battery type.  Below shown values are for AA battery:
– Firefly (0.3 lumens, 14 days

)


– Infinity Low (1.6 lumens, 21 hours

)


– Infinity High (230 lumens, 95 minutes )
– Turbo (250 lumens, 93 minutes)
Working voltage =0.9-4.2 Volts
Power = 1x AA battery or 1x Li-ion 14500 battery
Reflector = Orange peel finish

Weight = 96g or 3.3 oz (without battery)

Dimensions = 70 mm x 24.5mm
Waterproof rating = IPX-8 (2 meters for 30 minutes)
Impact Resistance = 1 meter
Material = Main body is aircraft grade aluminum body with premium type III hard anodized anti-abrasive finish
Accessories included = O-ring, spare rubber slot
Options
The ThruNite TH20 headlamp is available with the following options:
Cool White beam
Neutral White beam (reviewed here)
Packaging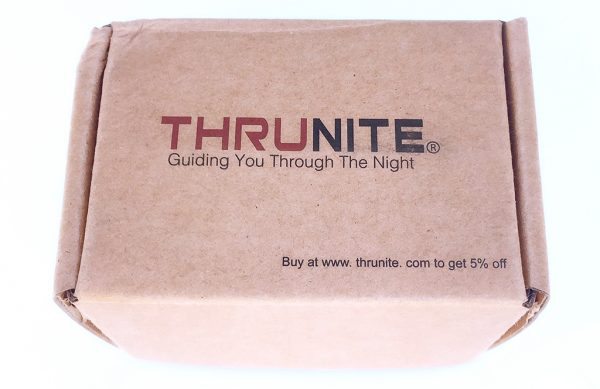 The ThruNite TH20 headlamp's packaging was a simple fold-over lid style box.  The box is small, roughly the size of its contents with little wasted material and is made from recyclable corrugated cardboard material, all of which I consider a plus.  However, it has no window or other transparent area from which to view the product inside, which I generally consider a minus.  The caveat to this is that a view-ability of the product inside is only really useful if a product is sold in a retail setting; products sold only and shipped directly to the buyer do not have as much a need for view-ability of the product.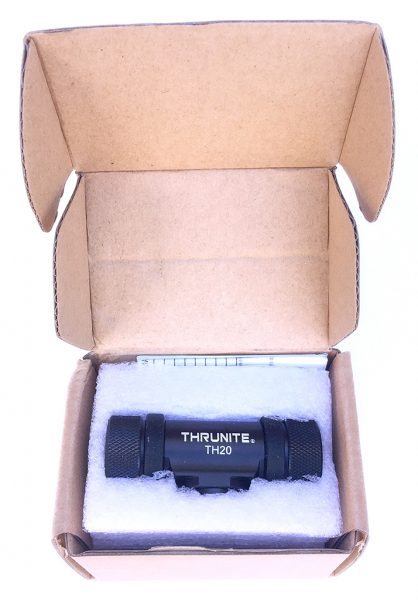 In addition to the corrugated cardboard box, which provides an outer layer of bump protection, inside the box, the TH20 headlamp is nestled snugly into a thick piece of foam for additional protection during the shipping and handling process.
Contents
The contents of the ThruNite TH20 Headlamp are shown above, and listed below:
TH20 Headlamp
Instruction manual
Spare O-rings (2x)
Spare rubber mounting bracket
Features, Functions, and Performance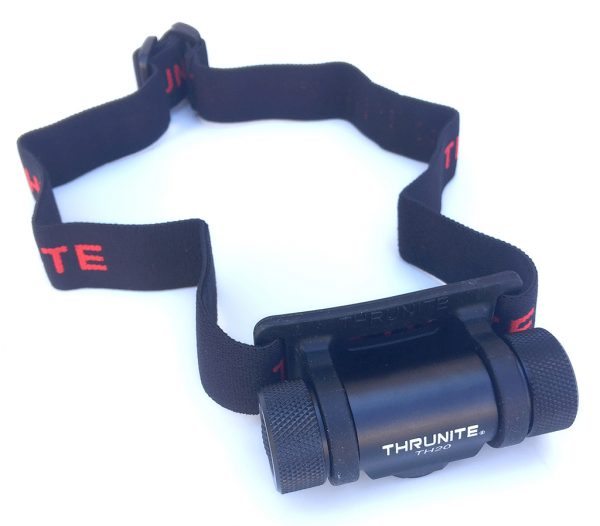 Right out of the box, my initial impression of the TH20 headlamp was that this thing feels solid.  Very solid.  With the main body being made from aircraft grade with a premium type III hard anodized anti-abrasive finish, it feels very heavy-duty and tough.  The adjustable elastic head strap appeared to be fairly standard, but well-built.  However, I found the rubber mounting bracket to be a bit curious.  I had expected it to be more like a hard plastic, but it is a very soft material.  More on this later.  Curiously, the TH20 arrived with the main body rotated such that the lens was pointed in a downward directly, and I had to rotate the body upward to be able to actually use the lens (as seen below).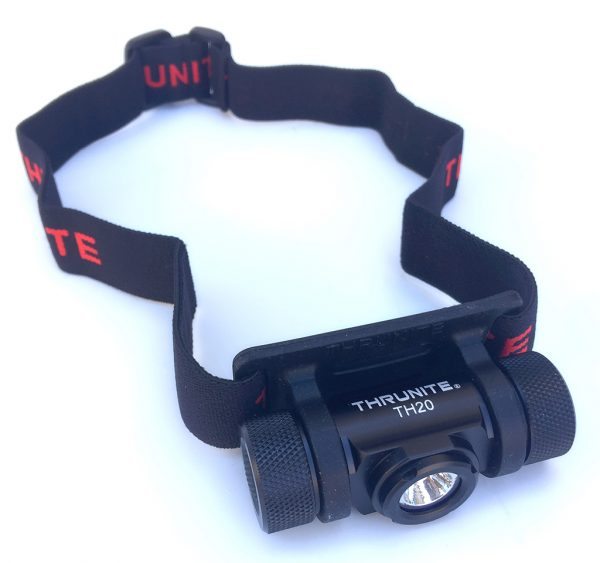 After rotating the main body upward, the lens was visible and ready to be used, as seen above.  The ThruNite logo and TH20 model number are printed on top of the body in white, which gives a good contrast against the matte black body.

In addition to the main body, TH20's battery cap is made from aluminum as well.  The aluminum components aid in heat dissipation, which could potentially be an issue when using the brightest modes for a long period of time, and in particular when using a Li-ion 14500 battery.  It has an O-ring seal that prevents moisture ingress, which contributes to its impressive IPX8 moisture resistance rating, which basically means that the TH20 can be submerged to a depth of 1 meter (though ThruNite claims it to be 2 meters, and it may well withstand this).  Note also that a battery is not included with the TH20, you must provide your own.  Although the TH20 can use either a single, standard AA battery or a more high-performance Li-ion 14500 battery, I only evaluated it with an AA battery because I had one on hand.  Li-ion 14500 batteries can be somewhat expensive and unless I was planning to do some back country camping or other extended duration activity, I would most typically use an AA battery with the TH20.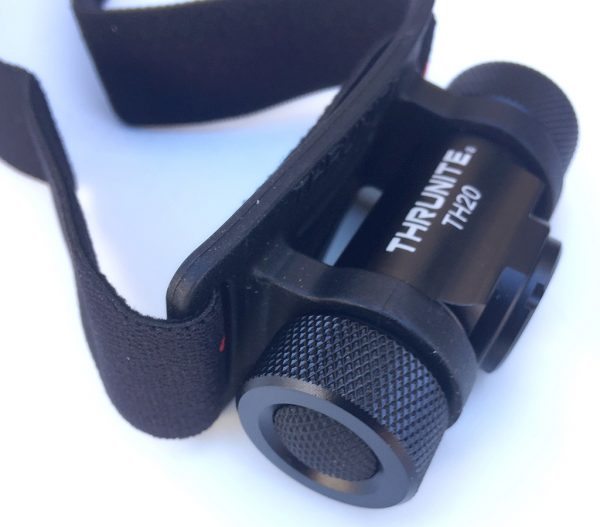 The switch end of the body as well as the battery cap are aluminum also, and both have a diamond-knurl pattern machined into them to provide a better grip when rotating the body or removing the cap, which is excellent if your hands happen to be wet.  In fact, the knurling made it very easy to unscrew the cap and change the battery.  The single switch controls all of the modes of the TH20 (more on this below). The switch is a "clicky" and it has a rubber cap which contributes to the device's IPX8 moisture resistance.  Additionally, the switch is easy to use, even when wearing gloves.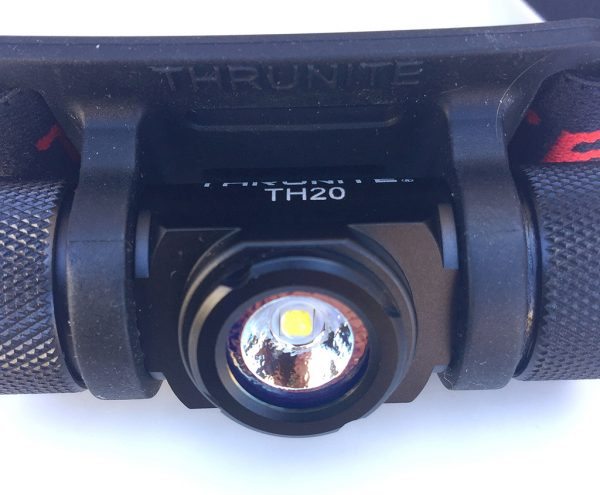 The lens itself is surrounded by a thick, raised bezel that provides added protection to the lens and reflector.  Also, you can see that the reflector has an orange-peel finish which helps provide a more smooth, uniform beam of light than one with a smooth reflector finish.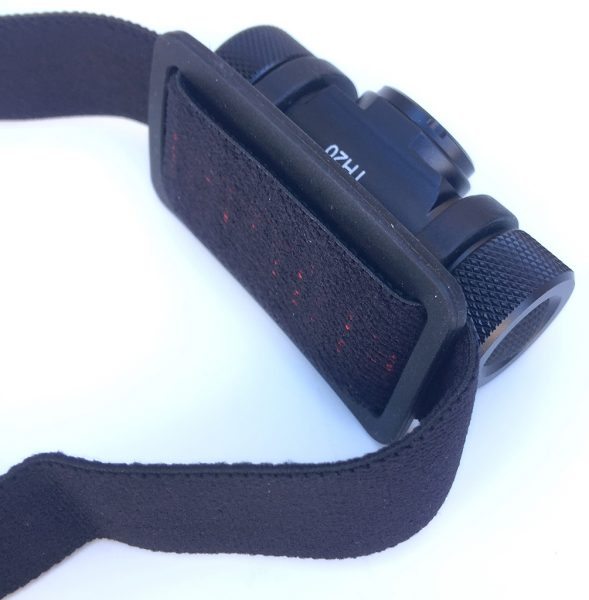 The head strap is a 1-inch wide strip of elastic material that is looped through the rubber holding bracket.  Having a segment of the strap against your head provides a bit of cushion and comfort in this spot, which will typically be against the wearer's forehead (see images below).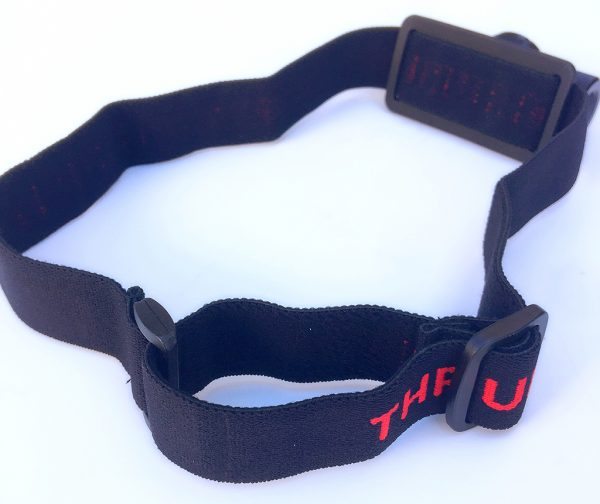 The head strap is adjustable and I found that it held tight once adjusted, so I didn't need to worry about it loosening accidentally while I was using it.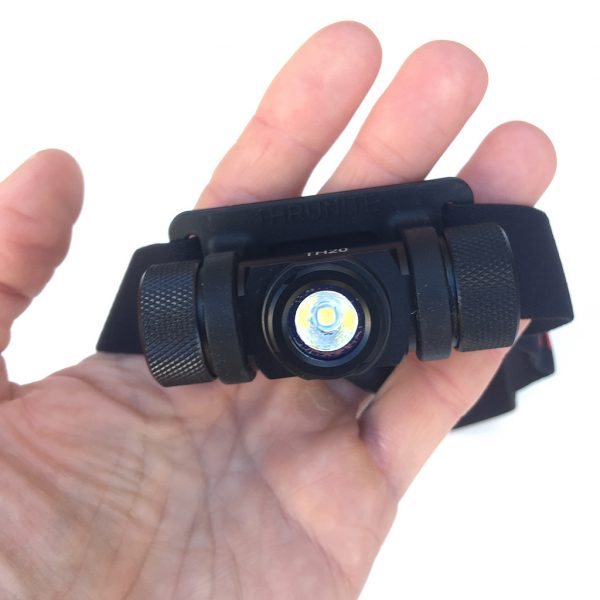 The version of the TH20 reviewed here had an LED that produces a Neutral White light beam, meaning that it has a bit more of a yellow tint compared with the Cool White light version, which has a bit more of a blue tint.  I prefer the Neutral White LED light because I think it appears more like natural light, but this is of course just my own personal preference.  One big downside of the TH20 to me is the lack of a red light mode.  I find a red light mode to be useful in overnight GORUCK Challenge events for preserving night vision and keeping a lower profile and also when reading books in bed, in order to keep from waking up my wife.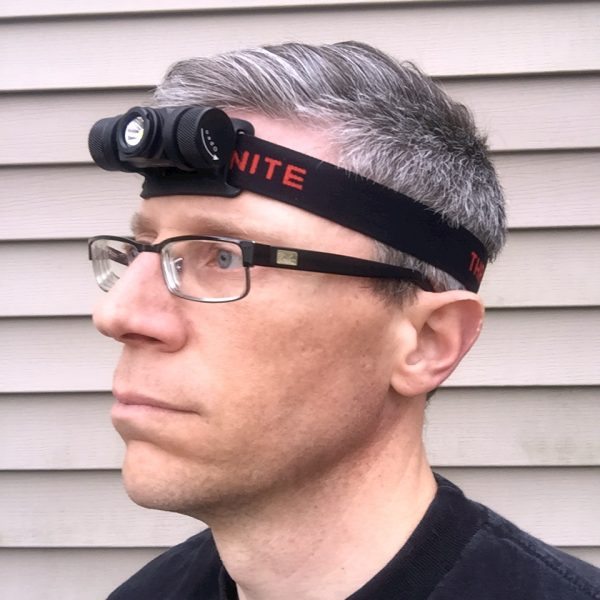 The TH20 has several modes of operation that are all controlled by the single "clicky" style button on the right end of the main body. Initially, when the headlamp is off, a quick press turns it on.  A long press on the switch activates Firefly Mode. Once in Firefly mode, long-pressing and holding the switch gradually ramps between Infinity High and Infinity Low modes and back down to Infinity High again—just release the switch at your desired brightness. A double click press on the switch from any mode activates Turbo mode, and another double click press activates a mode where the TH20 automatically blinks the Morse Code for "SOS."  A quick press in any mode turns the TH20 off.  In addition, the TH20 will "remember" the last Infinity setting it was in and will return to that setting when turned on.  I found these modes a bit tricky to learn at first, but once I did, they became second nature.  Having the ability to ramp gradually between Infinity High and Infinity Low modes was very useful to allow me to adapt my light level for various conditions.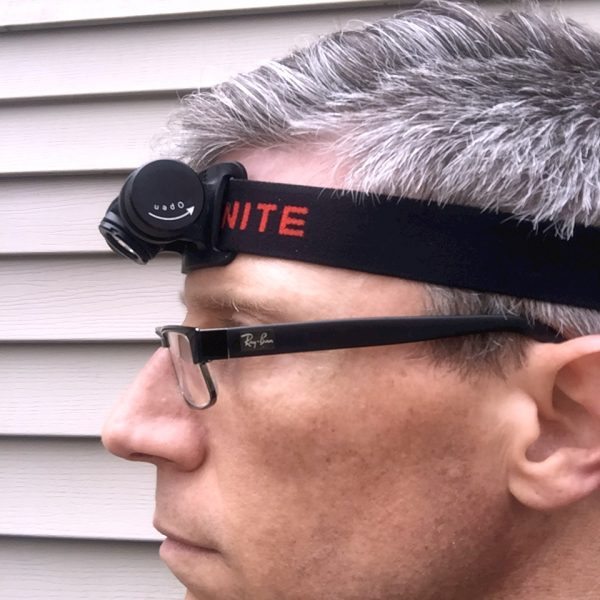 Because of the way the TH20's main body is held in its rubber bracket, it is very easy to rotate it up or down to virtually any position you may need it to be in, rather than just a handful of discreet positions as with other headlamps I have used.  Also, the rubber bracket holds the main body tightly and does not allow it to wander out of position.  The downside of the rubber bracket is that it can be a bit difficult to rotate the body within it and I sometimes needed to use two hands to do so.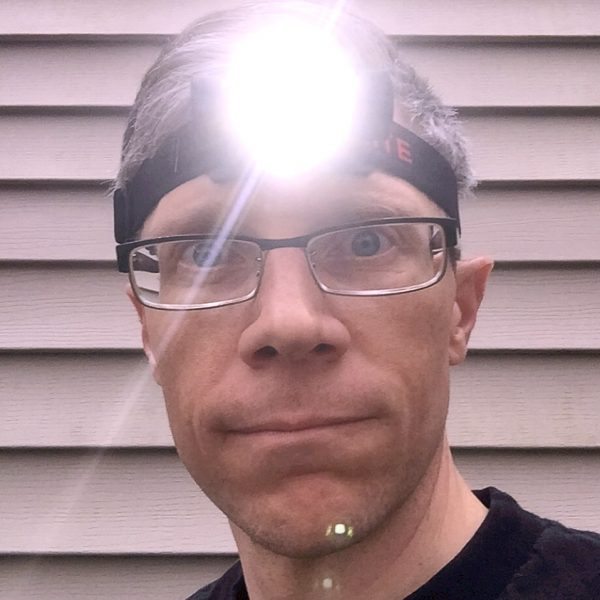 So in practical terms, just how bright is it?  Using the AA battery and in full Turbo mode, I was able to illuminate my back yard and a good portion of my neighbor's yard, out to a distance of probably 30 yards.  The beam might have gone farther had my neighbor's house not been in the way.  In addition, I took it out for an after-dark ruck training session and it worked great—it was handy to be able to slightly adjust the beam for various lighting conditions.  I would probably characterize this headlamp's  operation as more of a "flooder" (wider, shallower illumination) than a "thrower" (farther, narrower illumination).  However, for most things that I used or would use the TH20 for, that functionality is perfect.
Conclusion
The ThruNight TH20 Headlamp is very durable and functional.  Its aluminum body, O-ring battery cap seal and rubberized switch contribute to its impressive IPX8 moisture resistance, and its knurled ends help with gripping the device to adjust its position when wet.  Its rubber bracket holds the main body very securely in position, but it can sometimes be difficult to adjust the position one-handed.  The reviewed version here gave pleasant Neutral White beam and while it is probably more of a "flooder" than a "thrower," this functional worked fine for me, but I'm sure would have been even brighter had I used a Li-ion 14500 battery rather than a standard AA battery.  It has several modes of operation, with its gradual "Infinity" settings being very useful for dialing in a specific brightness depending on your changing needs. The only mode it is missing is a red beam mode.  If you are looking for a durable headlamp with high moisture resistance and unique brightness level adjustment ability, have a look at the very affordable ThruNite TH20, which retails for $29.99.
Update 5/1/20
The ThruNight TH20 Headlamp is incredibly durable, probably one of the most durable products I've ever reviewed here at The Gadgeteer. I have worn them during several GORUCK Challenge events and they have withstood rain, snow, mud, and submersion in lakes and rivers. The only feature I wish they had was a red light mode. Other than that, they are darn near perfect.
Source: The sample for this review was provided by ThruNite. Please visit their site for more info or to order. Use the coupon code: THRUNITE to save 5% on orders through the ThruNite store. You can also check Amazon.
Product Information
Price:
$29.99
Manufacturer:
ThruNite
Retailer:
Amazon
Requirements:

1x AA or 1x Li-ion 14500 battery

Pros:

Very durable construction
Impressive moisture resistance
Multiple modes of operation, with "Infinity" setting being very useful

Cons:

No red light mode
Sometimes difficult to rotate body position one-handed