We use affiliate links. If you buy something through the links on this page, we may earn a commission at no cost to you. Learn more.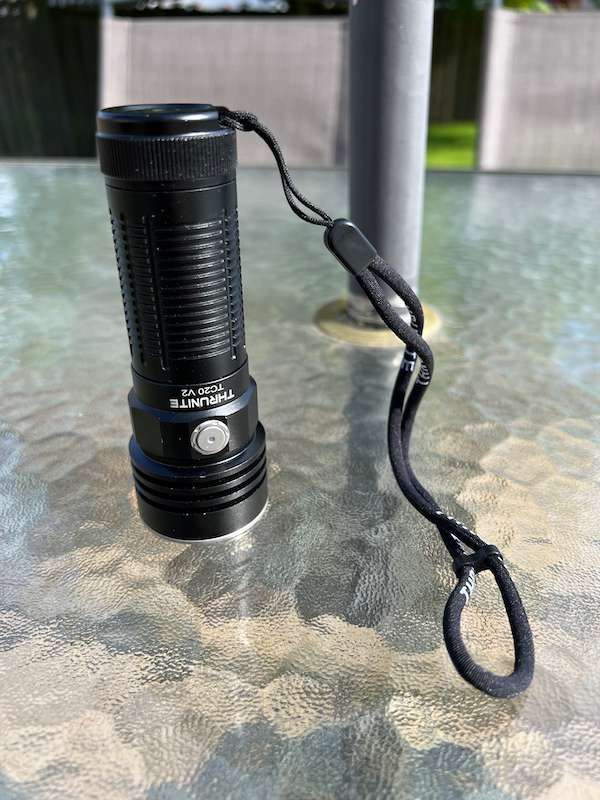 REVIEW – I almost always have a flashlight on me. With the work, I do I need to have a flashlight within reach at any time of the day. I like to have the brightest flashlight I can afford that will fit on a belt holster without digging into my side all the time. When I had a chance to review the ThruNite TC20 V2 flashlight I was excited to see if it would fit these criteria and become my everyday carry flashlight. Read on to find out how it went.
What is it?
ThruNite TC20 V2 is a compact but super bright LED flashlight with multiple levels of brightness, IPX8 water resistance, and solid aluminum construction.
What's in the box?
ThruNite TC20 Flashlight
ThruNite 26650 Battery
USB-A to USB-C Cable
Belt Holster
2x Spare O-Rings
2x Spare USB Rubber Covers
Spare Side Switch Cap
Lanyard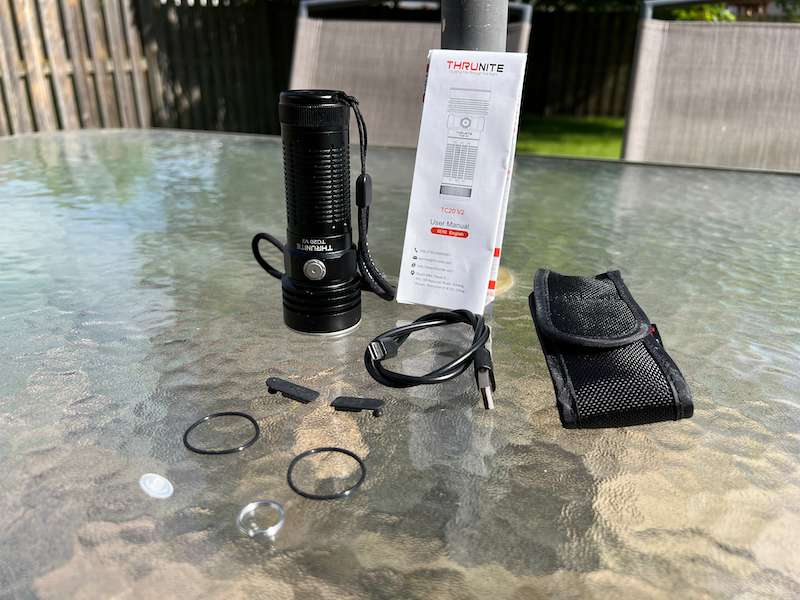 Hardware specs
Light Source: CREE XHP70.2
Brightness

Turbo: 4,068 lumens
High: 1,853 lumens
Medium: 320 lumens
Low: 35 lumens
Firefly: 0.3 lumens
Strobe: 1,475 lumens

Distance: 980 ft. (299 m) (max)
Intensity: 22,400 cd (max)
Impact Resistance: 4ft. 11 in (1.5 meters)
Water Resistance: IPX8
Battery: ThruNite 5,000 mAh 26650, 3.7 V, 18.5 WH
Construction: T6061-T6 aluminum alloy
Dimensions:

Length: 4.69 in. (119 mm)
Diameter: 1.65 (head); 1.32 in. (body) (42 mm/33.5 mm)

Weight: 5.04 oz. (143 g) (without battery)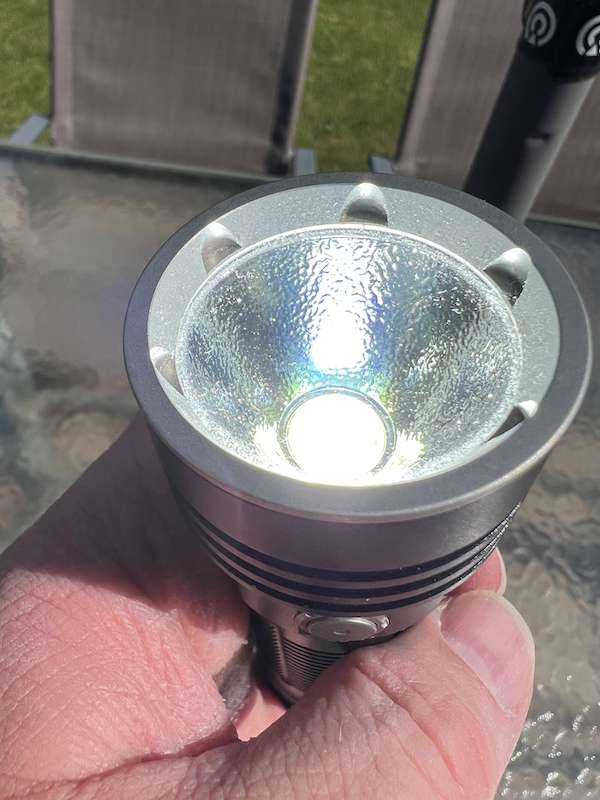 Design and features
The ThruNite TC20 V2 flashlight is made from aluminum, comes in black with silver accents, has knurling on the body for extra grip, and has grooves around the head to help with heat dissipation. There is one side switch for all the controls available, including power on/off, brightness settings, and strobe. In addition, this flashlight is IPX8 rated, meaning it can be submerged in water up to 2 meters (no duration was given).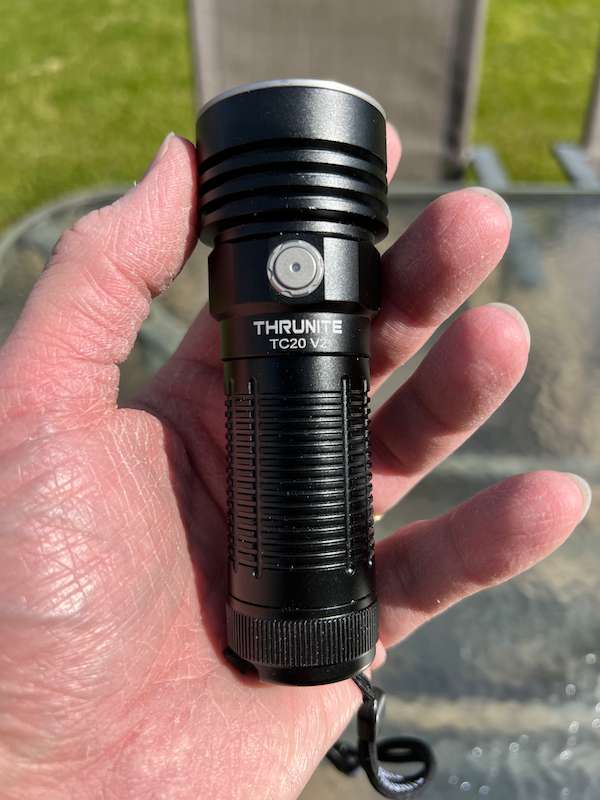 Installation and setup
All that needs to be done to use the flashlight is to take it out of the box, make sure the battery is charged up, and screw the body of the flashlight closed all the way. ThruNite leaves it a little loose so the battery doesn't make contact during shipping and accidentally turn on. You can also choose to put on the lanyard if that's how you want to use the flashlight. I've decided to do that on my last few flashlights because I'm often working on a ladder or a lift and I don't want to drop the flashlight, especially if someone is standing nearby.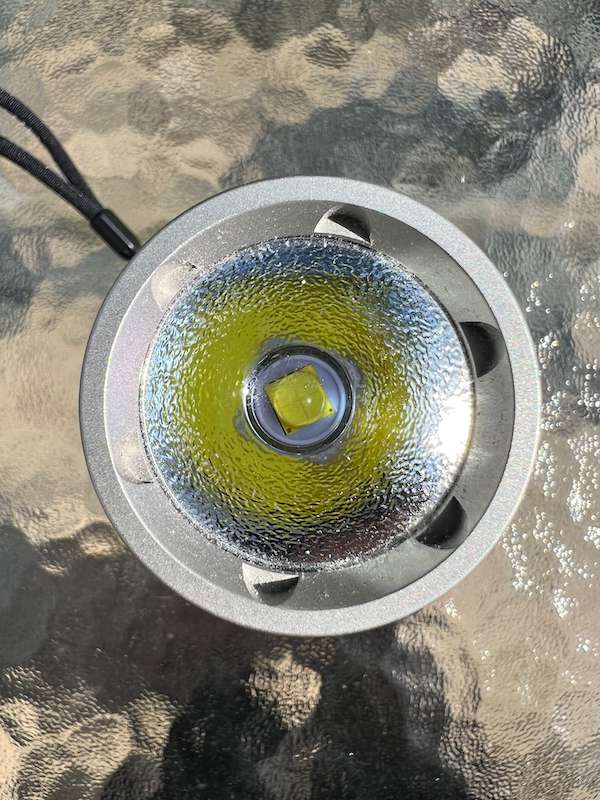 In Use
Overall the ThruNite TC20 V2 flashlight has been a joy to use. This is the brightest flashlight I've ever used. I didn't end up using the turbo setting very often, but I'm glad it's there for when I need to go that much brighter. 
ThruNite sent me the cool white version of the TC20 V2. I like this color temperature for a flashlight vs. a warm white. I do prefer warm white for general illumination around the house but for a flashlight, the cool white just seems brighter and clearer for my use.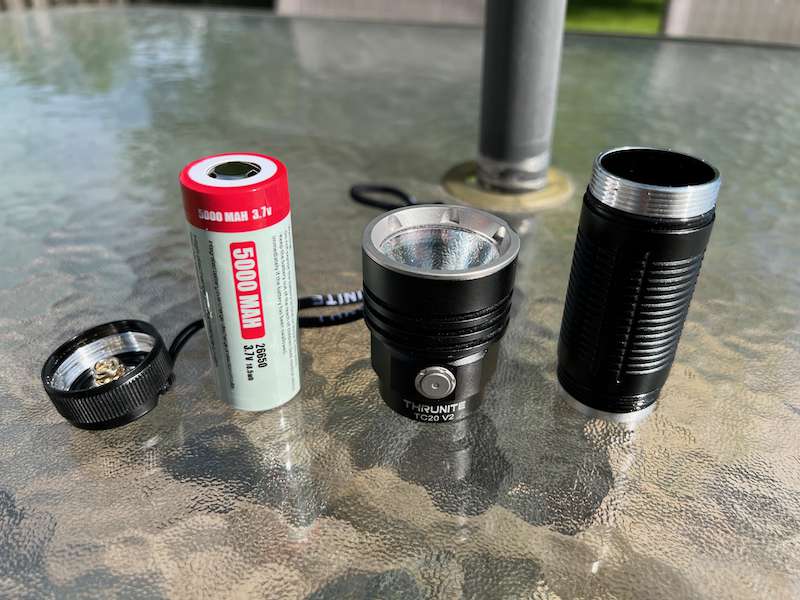 I expected this to be a lot bulkier on my belt than it actually was. I've carried a flashlight on my belt for decades and some of the holsters I've used have been very bulky and frustrating. Not so with this holster and light, even though it has the largest head of any light I've carried around. 
As with the ThruNite T2 flashlight I reviewed a few months ago there are five brightness settings plus a strobe. Brightness levels are set by long pressing the side switch; this cycles through low, medium, and high. To get to firefly mode, long press the side switch with the flashlight turned off. To enable turbo mode, double press the side switch from any mode, including off. Double press the side switch again to get to strobe mode. There's no way to get to strobe mode without going to turbo mode first. I'm not sure why this is different from the T2 which allows you to get to strobe mode by triple pressing from any mode, including off.

The solid feel of the aluminum body tells me that this flashlight could withstand quite a few drops and keep on shining. Thankfully I didn't drop it during my testing but I think it's going to last for quite a while. I did test the water resistance and it just worked. I didn't take it down to two meters or keep it under water for half an hour but it kept on shining and didn't get wet inside. I don't plan to actually use the light underwater but it's good to know that if I drop it in water or snow it's not going to be ruined by a little moisture.
I've never used a flashlight or other device that requires a 26650 battery. This isn't a negative but it is a new battery size that I'll need to keep charged up. Thankfully the battery can be charged inside the body of the light so at least I don't have to keep another charger around as well.
Another change from the T2 is that there is no lockout mode. I mentioned in that review that I felt like the process of getting to lockout mode was more difficult than it should have been but at least it's available. I could really use it with this light. In the 10 – 12 days I've carried it in the holster on my belt I think it accidentally turned on 7 – 8 of those days. I could always tell because my side started warming up. Thankfully this beam isn't as concentrated as some I've used and it didn't end up melting the top of my holster (as has happened to two people I know with other brands' flashlights), but I still wish this didn't happen. I do think the side switch could be a little bit harder to press. Without a lockout feature, this could help with at least some of the accidental activations.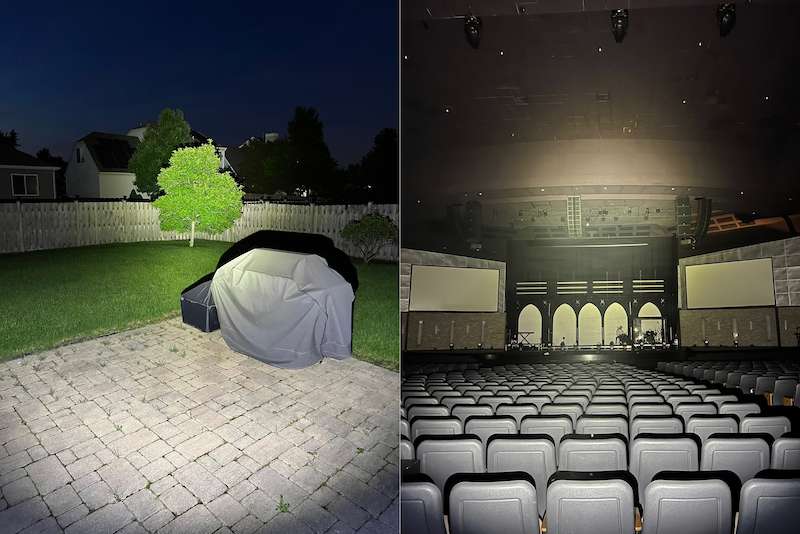 Another negative of the ThruNite TC20 V2 flashlight is that the tail cap is just flat. While I do prefer the main on/off switch to be there, since it's not it would be nice to have a magnet there to be able to use the flashlight hands free.
The last negative has to do with charging. As with the T2 the USB-C PD chargers I tried didn't work. Since most everything I use can be charged with a PD charger this is a little disappointing.
What I like
Very bright
Compact and lightweight for its brightness
Extra parts included
What I'd change
Magnetic tail cap
No lockout feature
Side switch could use more pressure to activate, hopefully preventing accidentally turning on
Update the charging circuitry to work with PD chargers
Final thoughts
The ThruNite TC20 V2 flashlight is a great choice if you want something that easily fits in the hand and a belt holster is super bright, and won't break the bank. Due to the fact that it turns on so easily, I probably won't carry it on my belt every day but I do plan to keep it with me in my backpack so I have it nearby whenever I need the brightest flashlight I have.
Price: $69.95
Where to buy: thrunite.com or Amazon
Source: The sample for this review was provided by ThruNite. For more information visit their site.