We use affiliate links. If you buy something through the links on this page, we may earn a commission at no cost to you. Learn more.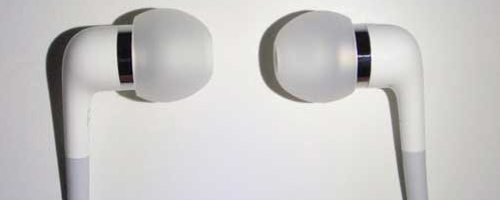 Apple is once again trying its hand at the in-ear headphone market, trying to compete with some of the higher end earbuds currently available. The Apple In-Ear Headphones with Remote and Mic is their second attempt to bring us a set of in-the-ear headphones that rival the quality and tech-worthiness of the iPod/Touch/iPhone. Apple's original in-ear headphones were, according to many, ill-fitting and produced lack luster sound. Apple's latest iteration has supposedly not only fixed those issues but also added greater functionality with the remote and mic system. Added at twice the price of the original.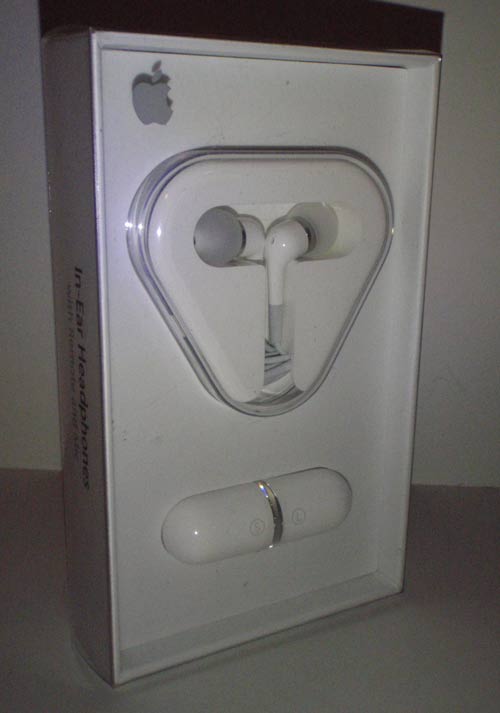 As with almost everything Apple produces, the presentation is very well done. But I find it humorous that the packaging for the headphones is larger than the packaging for either the Touch or Nano. It seems they could have included everything in half the volume.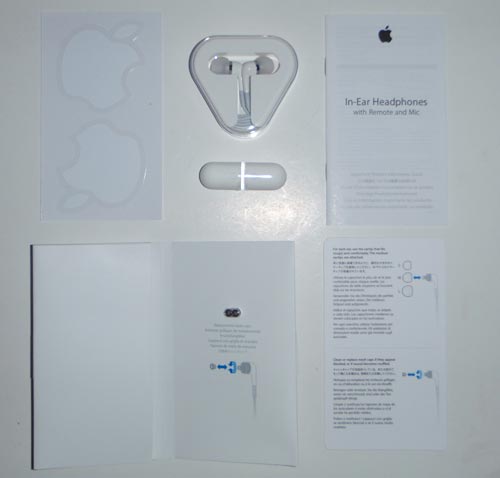 Package Contents
Apple In-Ear Headphones with Remote and Mic

Carrying case
Three sets of silicone ear tips (small, medium, large)
Two replacement mesh caps
Apple stickers
Users guide
Features
Two separate high-performance drivers
Integrated in-line remote control and microphone
New sleek design
Great case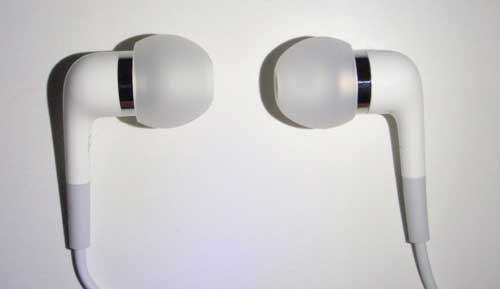 Apple has not only redesigned their new earbuds appearance but the audio electronics within. Their new earbuds are definitely nice looking, competing in look with many of the high-end headphones by Shure, Etymotic, and the like. According to Apple, each earbud contains two separate high-performance drivers — a woofer (to handle the bass and mid-range) and a tweeter (for the high-frequency). These dedicated drivers are engineered to help produce accurate, detailed sound throughout the entire audio spectrum. For the most part, this type of dual driver design is typically only found in earbuds starting at twice the price.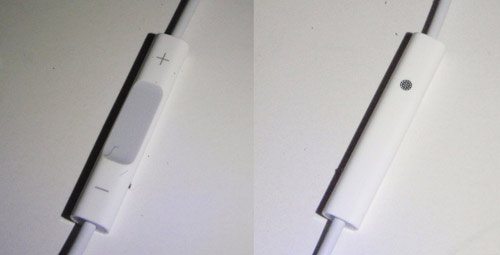 The In-Ear Headphone's remote control packs three buttons and a built-in mic in a very small, yet functional package. The button in the center allows for the single-click (pause/resume playback), double-click (skip a track), and triple-click (reverse tracks) features similar to the Apple Earphones with Remote and Mic. The two buttons on either end control volume up and down. According to my research, full remote functionality (center button) only works on the latest iPods and all iPhone models. The volume buttons only works on the most recent iPods (120GB classic, 4th generation nano, and 2nd generation Touch) as well as Apple's latest aluminum unibody MacBooks and MacBook Pros. If you have an older iPod or Macbook, the headphones enable you to hear audio, but all of the fancy functionality and microphone features do not work.
I really like the remote and its functionality a lot. As long as you have one of the new iPods or iPhone, it comes in handy and provides you excellent control of your device while packed away. The remote is intuitive and its shape makes it easy to use based on touch alone. It is placed high on the right earbud cable. It takes a bit to get use to its placement.
I tested the mic with my wife's iPhone and it worked well enough. The people I talked to said they could hear me clearly. I attempted to use the mic with my second generation Touch using Fring, a multi-messaging application capable of connecting to a Skype account. I was not able to make the application connect, so I have not tried the mic as a voice input. However, I will continue to attempt to make this work.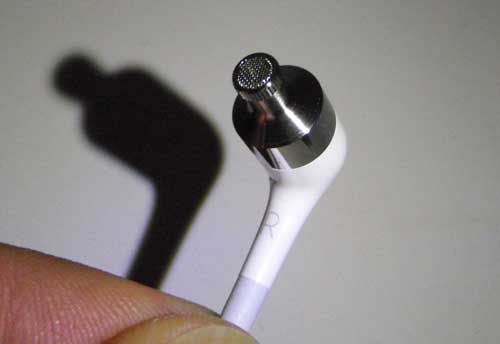 Within each earbud is a stainless steel mesh cap that protects the precision acoustic components from dust and debris (earwax). The mesh filter is removable, enabling you to clean it.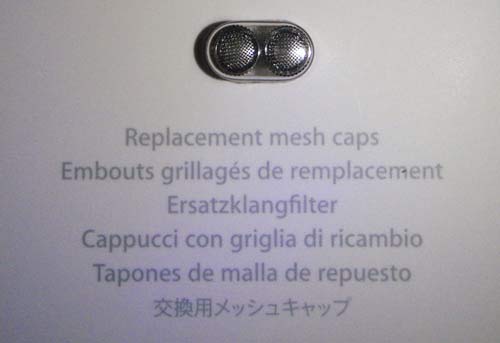 Apple also includes an extra set of the mesh caps as a spare so you can use the earbuds while you clean and dry the used ones.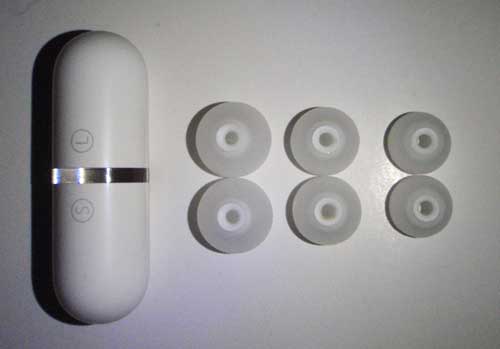 As with many in-the-ear headphones of the day, Apple includes small, medium, and large frosted silicone eartips to (hopefully) achieve a snug, comfortable fit. Apple includes a small, well-thought out, pill shaped case for the silicone tips you do not use. There is enough room within to put the extra mesh filters so you do not loose them. I doubt I will carry the eartips and extra filters with me but it is nice having a case to keep all the extras in.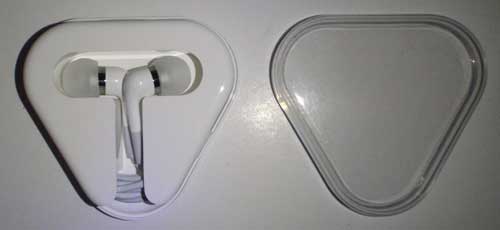 Apple also includes a nicely made storage case for the headphones. The earbuds fit into the case pretty well but you do have to get the coiling just right to easily click the top to the base of the case. The case is well sized and slips easily into a pocket or purse.
Comfort
I tried each of the silicone eartips multiple times and failed to achieve a good comfortable fit. The earbuds were continuously falling out of my ears and just would not stay in my ear canal. Definitely more of a frustration than anything else.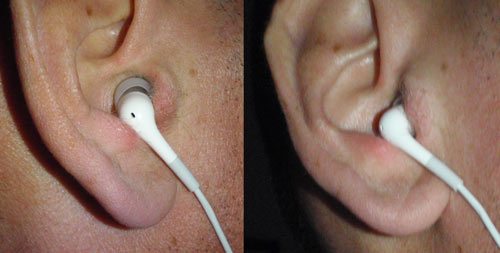 Sound Experience
When I was able to seat the earbuds correctly in my ear canal, the sound quality was okay. I have read many reviews and articles that praise these earbuds as a great sounding, incredible bang-for-the-buck, but I will have to disagree. They did not produce enough bass for my tastes and the upper end is over stated.
Overall, I have been incredibly disappointed with Apple's In-Ear Headphones with Remote and Mic. I conducted my usual earbud test (one week on my bus ride commute to and from work and one airplane trip) on them and was very happy when I was able to stop using them. I am glad I had the chance to try these earbuds because of their sleek, compact look and great reviews were calling my name, but in the end I am going back to either my old Etymotic ER6i or Future Sonics' atrio m5.
Product Information
Price:
$79
Manufacturer:
Apple
Pros:

Excellent construction and materials
Very nice looking
Two separate high-performance drivers
Intuitive and very functional remote (latest generation iPods and iPhones)
Great carrying case
One year warranty

Cons:

Could not get them to fit well
Mediocre audio experience
Fair isolation from ambient noise
Remote not fully compatible with older iPods