We use affiliate links. If you buy something through the links on this page, we may earn a commission at no cost to you. Learn more.
Autumn is my favorite time of year for a couple different reasons. I love the cooler weather, the changing colors of the leaves and … new Apple iPods! For the last 4 years around this time, we've been introduced to a new iPod nano and this year is no different…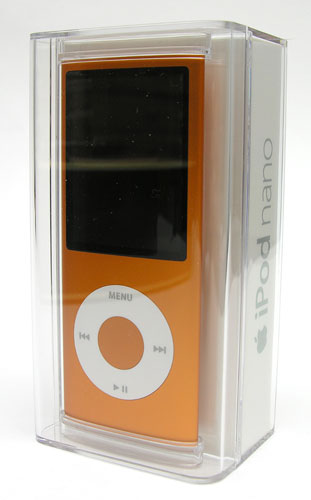 Hardware Specifications
Storage: Available in 8GB and 16GB Flash drive capacities
Display: 2.0-inch (diagonal), 320 x 240 pixels 204 DPI, LED backlight
Frequency response: 20Hz to 20,000Hz
Audio formats: Audio formats supported: AAC (16 to 320 Kbps), Protected AAC (from iTunes Store), MP3 (16 to 320 Kbps), MP3 VBR, Audible (formats 2, 3, and 4), Apple Lossless, AIFF, and WAV
Video formats: H.264 video, up to 1.5 Mbps, 640 by 480 pixels, 30 frames per second, Low-Complexity version of the H.264 Baseline Profile with AAC-LC audio up to 160 Kbps, 48kHz, stereo audio in .m4v, .mp4, and .mov file formats; H.264 video, up to 2.5 Mbps, 640 by 480 pixels, 30 frames per second, Baseline Profile up to Level 3.0 with AAC-LC audio up to 160 Kbps, 48kHz, stereo audio in .m4v, .mp4, and .mov file formats; MPEG-4 video, up to 2.5 Mbps, 640 by 480 pixels, 30 frames per second, Simple Profile with AAC-LC audio up to 160 Kbps, 48kHz, stereo audio in .m4v, .mp4, and .mov file formats
Audio: 3.5mm stereo headphone minijack
Power: Rechargeable lithium polymer battery (up to 24hrs of audio playback time and 4hrs of video playback time)
Size: 3.6 x 1.5 x 0.24in (90.7 x 38.7 x 6.2mm)
Weight: 1.3oz (36.8g)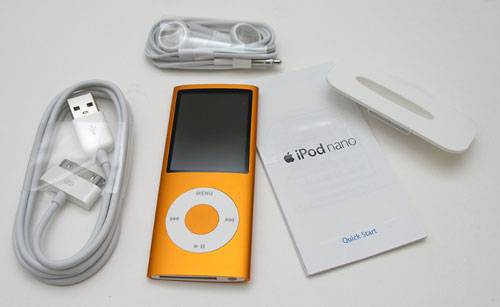 Package Contents
iPod nano
Earphones
USB 2.0 cable
Dock adapter
Quick Start guide
The nano really hasn't changed drastically since 2005 when the original model made its debut.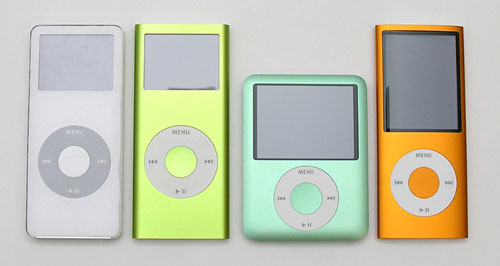 I still have all my nanos as you can see above. The 1st generation nano looked like a miniature version of the full sized iPod of that time. One year later we were given the 2nd generation version, with its brushed aluminum body and curved edges. Last year's 3rd generation nano was a bit of a surprise with its squatty design and landscape display. This year's nano is a combination of generations 2 and 3.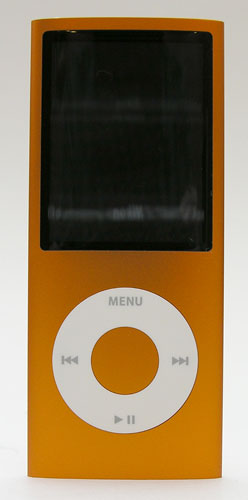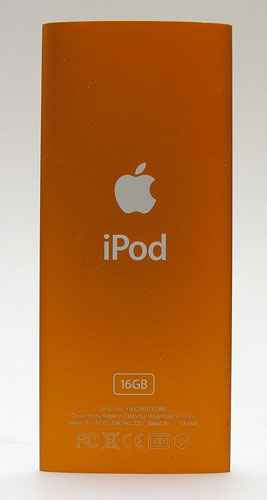 Gone is the squished design of the last model; we're back to a tall nano, with a tall display to go along with it. Available in nine colors, more than ever offered before, I decided on Orange.
Like the 2nd generation nano, this one has a one piece brushed aluminum shell.

The shape is a thin oval, making it appear quite slender from the side.

In reality, it's not that much thinner than previous nano models.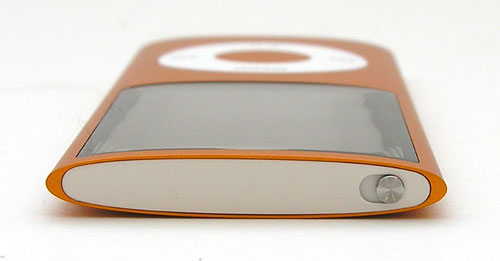 The top edge has a hold switch…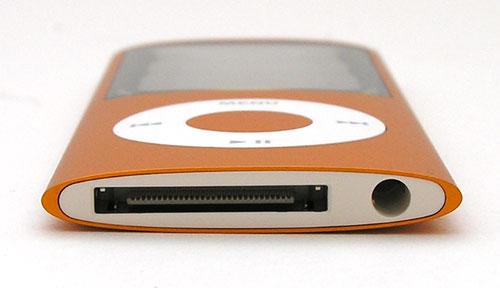 The bottom edge has the dock connector, which happily has not changed from previous models. There is also a headphone jack located next to it.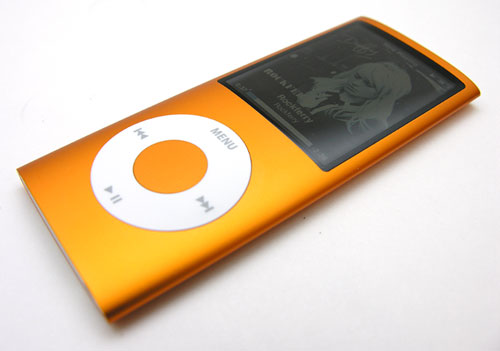 The touch wheel also remains virtually unchanged from previous nanos. The only slight difference being that it curved to match the shape of the body.
The player is solid, but very light weight. I sort of wish it weighed more as it almost feels like it's a demo unit with no innards. It does feel comfortable in hand though and is as easy to use as previous models.
The display looks oddly elongated, but is the same size and resolution as the previous nano (Fatty). It's just in portrait orientation, instead of landscape. Other than that, it seems to be similar in color and brightness. One nice feature is that the display has a glass cover – it should do a good job at remaining unscratched.
So, not much has really changed with this new nano as far as the hardware design goes. Let's take a look at the user interface.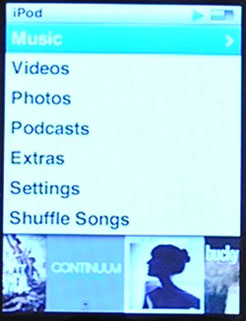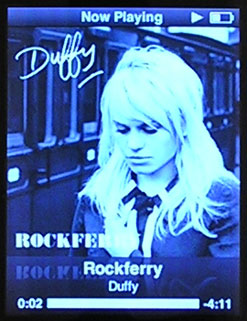 The layout has slightly changed from the previous nano. A band of album art scrolls along the bottom of the display instead of on the right side. All the same main menu items are there though.
Everything appears to be the same until you start playing a song. It's then that you notice the new Now Playing screen, which is similar to the iPhone and iPod touch. This is a nice improvement as the album art uses almost the entire display.
Sound quality doesn't seem to have changed with this new version. I have no complaints in that area.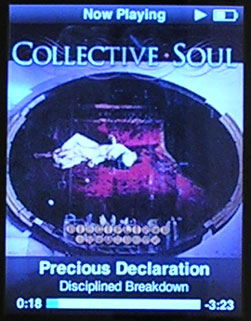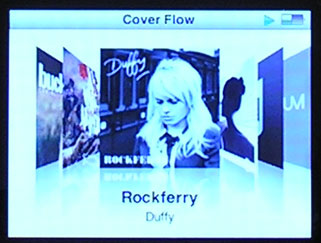 Besides the change in the Now Playing screen, this nano has inherited another iPhone / touch feature – the built in accelerometer. Rotating the nano will flip the screen. If you're playing music, or are viewing a menu, it will automatically put you in cover flow mode. The screen will rotate automatically to landscape / widescreen mode when you watch video.
Apple has thrown in a few more new goodies too. There's Genius mode, which will create a playlist of songs that go together. You can also shake your nano to shuffle to a new song. Another new feature is voice prompts. This is a great feature for people that are visually impaired. As you scroll through the menus, a male voice reads the menu items to you. And last, but not least, this nano can record voice memos if you plug in a microphone. It works well with the iPhone earbuds/mic.
Do I suggest that you run out and buy an iPod nano 4G even if you already have the 3G? Nope, not at all. Really I don't think there has been a real improvement with this new version over the previous one. Yes, you can get a 16GB model – whoopee. I guess you can tell that I'm a bit bored with the nano. I think that it is overpriced for what it can do. I'd much rather spend $30 more and get get an 8GB iPod touch instead. There's a lot more to like about the touch as it has WiFi, a bigger screen, web browser, app store, games, etc. I wonder if there will even be a new nano or regular sized iPod announced next year at this time… We'll see, but I really doubt it.
Product Information
Price:
199.0
Manufacturer:
Apple
Pros:

Light weight
Accelerometer
Voice prompts for the visually impaired
Voice recorder (have to supply your own mic tho)

Cons: